Glasgow architecture news 2023, Strathclyde buildings, Scottish architects, Scotland property design images
Glasgow Building News 2023, Strathclyde
post updated 7 December 2023
7 December 2023
Michelin Scotland Innovation Parc
Michelin Scotland Innovation Parc (MSIP) is an ambitious joint venture between Scottish Enterprise, Dundee City Council and Michelin, created in response to the closure of Michelin's Dundee tyre factory in 2020. It aims to drive innovation in the Scottish economy and address the global climate emergency:
Michelin Scotland Innovation Parc
6 December 2023
Glasgow City Council gives green light to Alumno student residence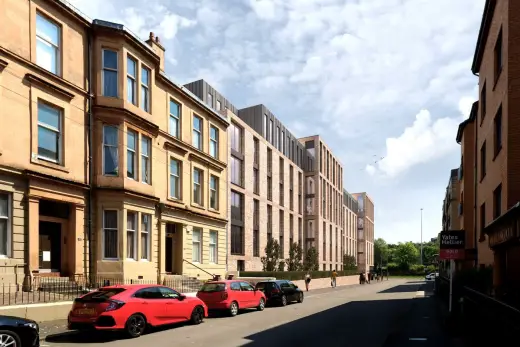 image courtesy of Alumno
Proposals for new purpose-built student accommodation (PBSA) on Glasgow's St George's Road by award-winning developer Alumno have obtained 'minded-to-grant' approval from the local authority. The submission was so well received it was granted permission by delegated decision without the need for planning committee consultation, an increasingly rare scenario:
St George's Road student housing
4 December 2023
Homes For Scotland Submits Ideas On Planning System Ambitions
Responds to call from the new Planning Improvement Champion
Homes for Scotland (HFS), the sector body representing the country's home builders, has responded to the call for ideas on planning system ambitions requested by the new Planning Improvement Champion Craig McLaren.
With the planning system having a major impact on the delivery of much needed new homes of all tenures but under considerable strain as a result of resourcing issues and the additional burdens placed on it by National Planning Framework 4 (NPF4), HFS has welcomed the opportunity to address the questions posed which are:
– What are the outcomes we need the planning system to deliver to have an impact?
– What makes a high-performing planning authority?
– How can we measure this?
In its submission, HFS highlights the Scottish Government's "Housing to 2040" vision which states "overall we need to have many more homes than ever before" and NPF4's Quality Homes policy, the intent of which is "to encourage, promote and facilitate the delivery of more high quality, affordable and sustainable homes".
It also notes the currently "unacceptable" timescales for planning determinations for home builders of all sizes, emphasising the impact this has on the delivery of new homes through increased costs and the unlocking of new housing sites.
Key issues raised by HFS include:
 sharp fee increases over recent years which have not resulted in any associated upturn in performance
 difficulty in contacting case officers following the increase in flexible working, with email largely the only method of communication
In addition to this, HFS notes the need for a simplified approach for SME home builders which takes cognisance of their particular challenges and works with them rather than against
HFS Chief Executive Jane Wood said:
"We are grateful to Craig for posing these questions and allowing us to share our views, particularly in the context of three local authorities now having declared housing emergencies.
"The planning system is fundamental to Scotland's social wellbeing and economic success as well as supporting the transition to net zero. What we need now is for confidence to be re-established to encourage more investment in housing and more sites for new homes to be brought forward.
"We fully appreciate the pressure our planning authority colleagues are under and are committed to playing our part in ensuring the system is adequately resourced and has the data it needs to meet Scotland's varied housing needs and aspirations."
4 December 2023
New Head Of Planning At Homes For Scotland
Home building sector representative body Homes for Scotland (HFS) has announced the appointment of Kevin Murphy as its new Head of Planning.
With a career spanning more than twenty years, Kevin joins from Persimmon Homes where he was Planning Manager, leading on planning applications, undertaking pre-application discussions and consultations, and making representations on matters of local and national planning policy.
For more see Edinburgh Building News 2023
4 December 2023
Refurbishment of Edinburgh College of Art Buildings News
Refurbishment of Edinburgh College of Art Buildings
1 December 2023
Paisley High Street Library Building News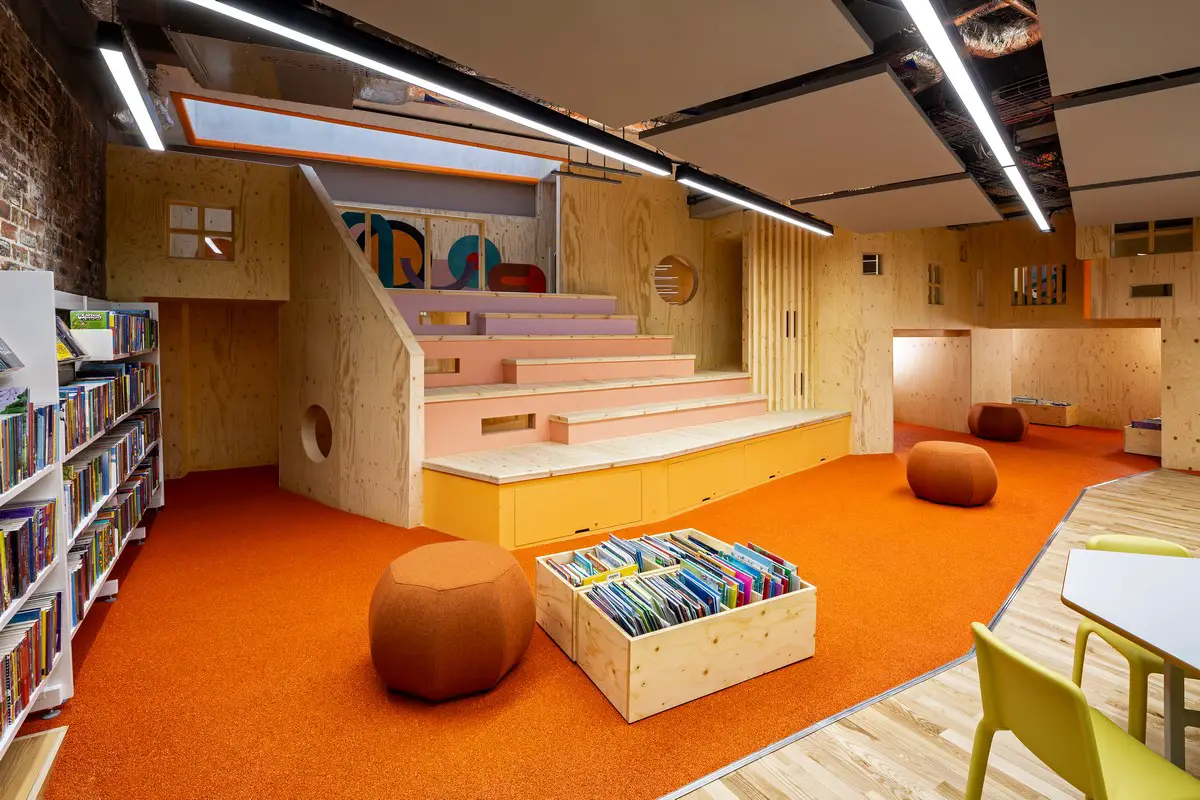 photo courtesy of Renfrewshire Council
Paisley's new £7m home of library services has now opened its doors – bringing back into use a formerly-vacant unit at the heart of the town's High Street. The Paisley Learning and Cultural Hub is the new home for Paisley Central Library and has been designed as a modern digitally-connected place of learning for all:
Paisley Learning and Cultural Hub: Library
24 November 2023
Planning submitted for Central Quay, Glasgow
Design: 3DReid, Graeme Nicholls Architects and re-form landscape architecture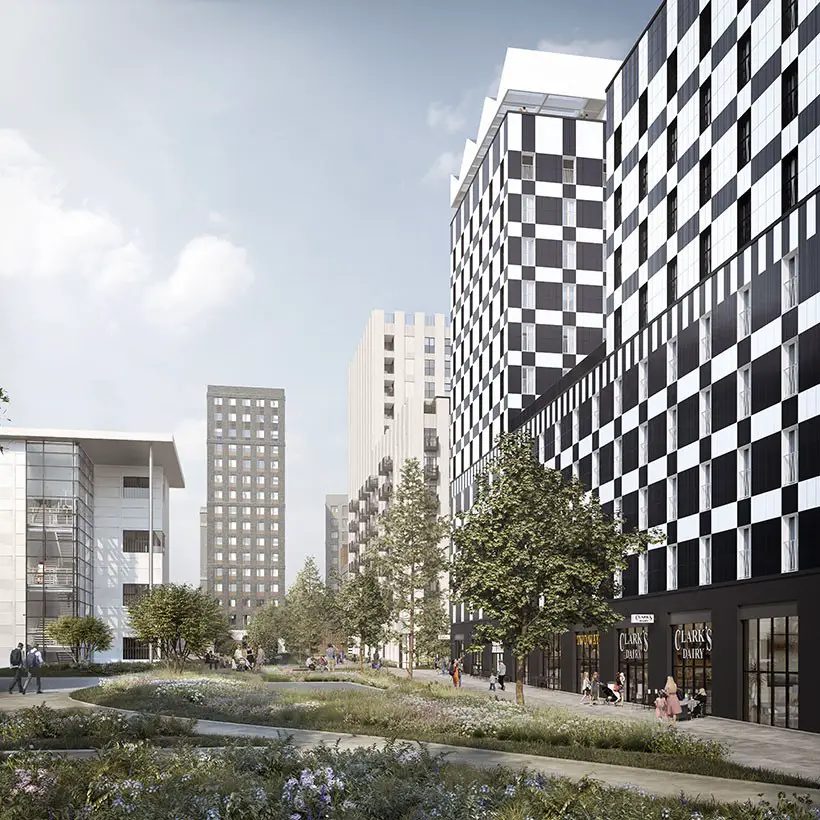 image courtesy of architects offices
Central Quay Glasgow, Anderston
3DReid, Graeme Nicholls Architects and re-form landscape architecture have submitted plans on behalf of Summix Capital for a mixed-use development comprising residential, purpose-built student accommodation, and commercial uses, with associated landscaping and public realm on a brownfield site at Central Quay, Glasgow. The proposals will deliver a major urban regeneration project.
22 November 2023
Scottish Parliament votes down housing emergency call
With today's Labour's motion that Scotland is experiencing a housing emergency defeated by a Scottish Government amendment which instead "recognises significant pressures with homelessness and temporary accommodation", Homes for Scotland Chief Executive Jane Wood said:
"In the context of our capital city having recently followed Argyll & Bute in declaring a housing emergency and a shortfall of +114,000 new homes having accumulated across Scotland since 2008, it has never been more important to consider how we meet the country's housing needs.
10 November 2023
Wellbeing Hub design competition, Clackmannanshire, central Scotland
Secondary school pupils in Clackmannanshire are being invited to have a go at designing an outdoor health and wellbeing space for the county's new Wellbeing Hub and Lochies School project:
Wellbeing Hub Design Competition
6 November 2023
Student housing at 249 West George Street
Architect: Mosaic Architecture + Design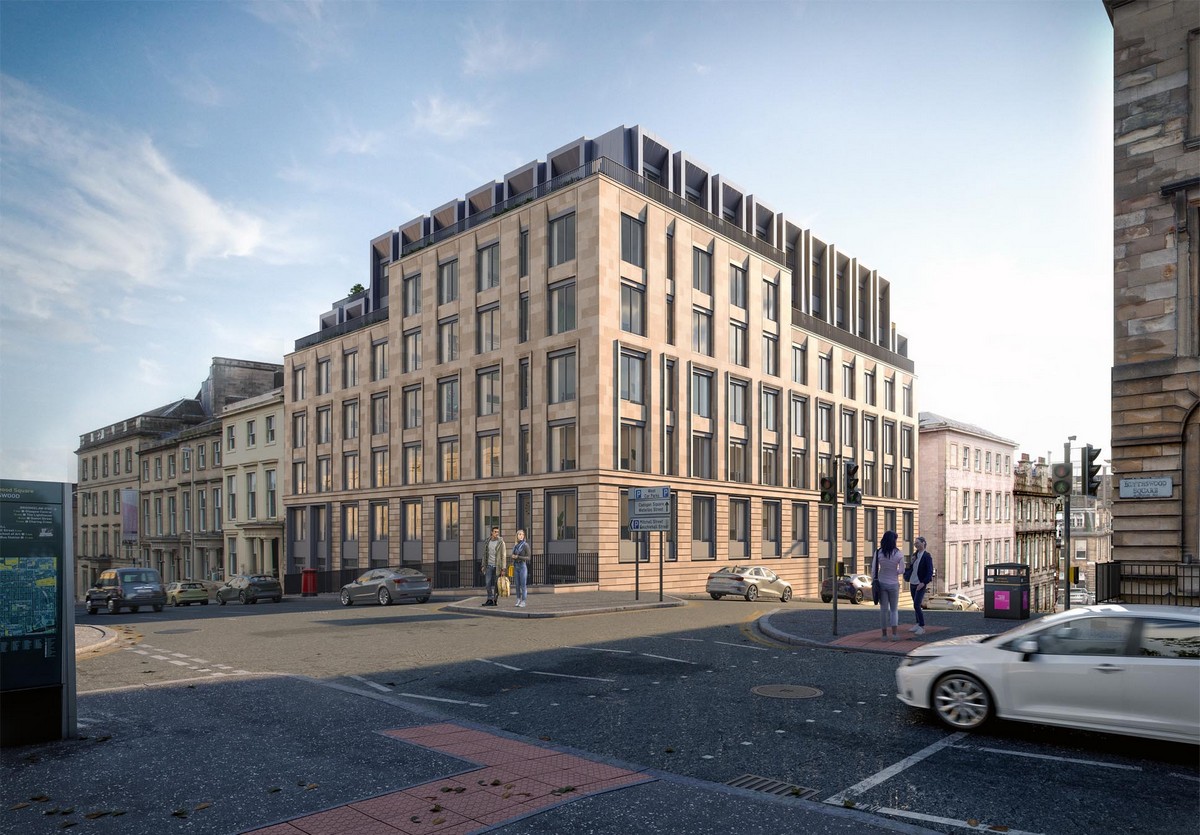 image courtesy of Mosaic Architecture + Design
Mosaic Architecture + Design, one of Scotland's most experienced practices, has submitted a planning application on behalf of Courie Investments for the £30M redevelopment of the existing underused office building at 249 West George Street in Glasgow:
249 West George Street Glasgow student flats
2 November 2023
Home builders respond to Edinburgh's housing emergency declaration
Reflects unfortunate reality across Scotland
Homes for Scotland (HFS), the representative body for those organisations building the majority of the country's new homes, including Affordable Housing, has responded to this morning's declaration of a housing emergency by City of Edinburgh Council.
30 October 2023:
Scottish Home builders welcome proposals for mandatory training on planning for elected members
Homes for Scotland (HFS) has submitted its response to the Scottish Government consultation on Mandatory Training on Planning for Elected Members.
With councillors having a crucial role in the planning decision-making process but not necessarily a background in what is a very technical area, it is vital that adequate training is provided to ensure planning decisions across Scotland are made on a consistent basis which is robust and grounded in an understanding of relevant planning principles, policies and legislation. The requirement was therefore included in the Planning (Scotland) Act 2019, alongside a package of other measures to improve performance.
HFS Chief Executive Jane Wood said:
"The decisions taken by elected members have a major impact on the delivery of new homes (both affordable and market for sale). As such, we welcome the proposals for mandatory training as a positive step in ensuring Scotland has the range of homes it requires to meet housing need and demand.
"If decisions are made according to the merits of an application which complies with local planning policy, this will help to both tackle the chronic undersupply of housing across the country and de-politicise a fundamental need which is often viewed as being too contentious to support, even when recommended for approval by planning officers."
Key HFS training calls include the need to ensure understanding of the Local Development Plan process, the appropriate use of planning conditions, development economics/site viability and the appeals process (including costs for both applicant and local authority).
Wood added:
"Home builders want to work in partnership with local authorities and communities to enable them to thrive, both socially and economically."
5 October 2023
Marshall Works in Carluke, South Lanarkshire
Leading Scottish independent firm of chartered surveyors DM Hall is inviting offers for the freehold interest of the former Marshall Works manufacturing site near Carluke, South Lanarkshire.
This site, which was used as a concrete manufacturing plant for many years but was recently closed following a management review, extends to approximately 36 acres with several large industrial buildings as well as a reception building and additional office/changing room facilities.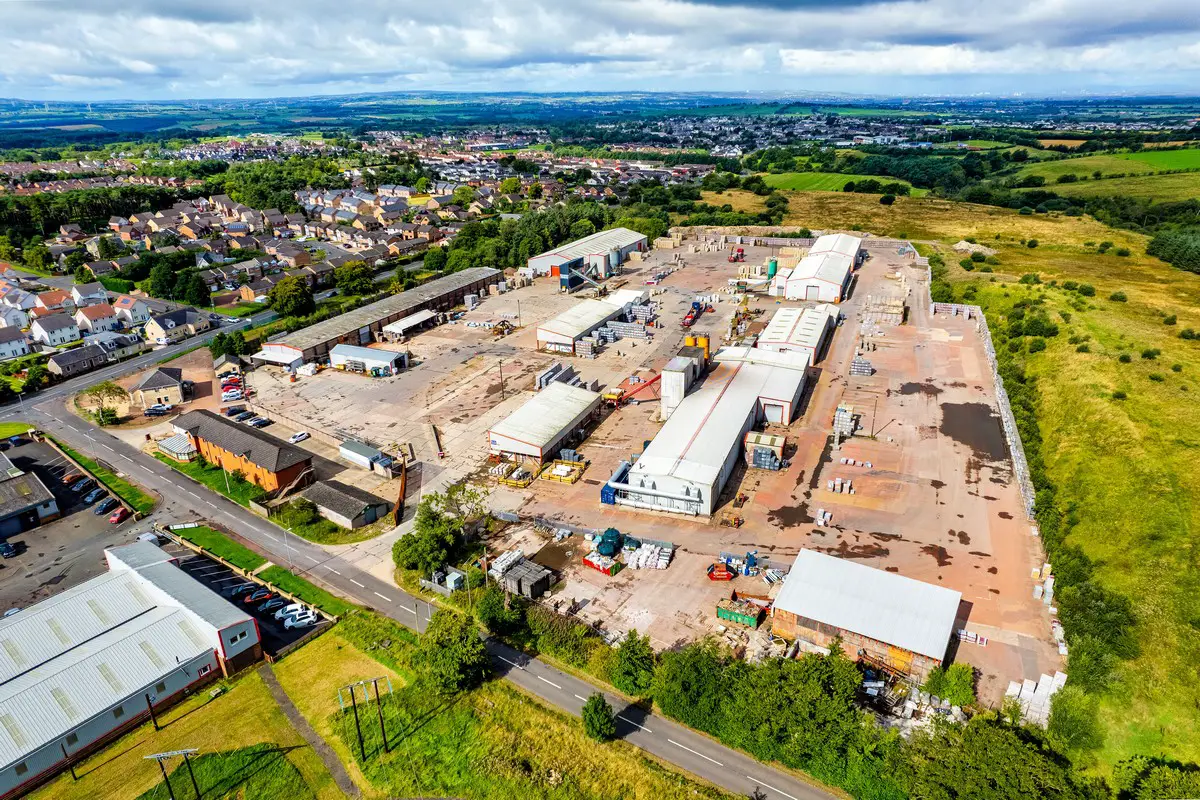 photo courtesy of DM Hall
Most of the industrial buildings are in good condition and readily available for occupation. The developed area extends to around half of the entire ownership of the site.
Located at the junction of the A721 where it meets the B7056, the site is a few minutes from both Carluke town centre and five minutes from the M74 motorway. Carluke lies in the heart of Lanarkshire and is largely a commuting town with a resident population of around 13,300. Glasgow is approximately 22 miles west with Edinburgh some 39 miles to the east.
The site is currently zoned for industrial and manufacturing use, but it is anticipated that future residential development could be considered. A willingness exists to discuss and consider long term approaches to achieve residential planning consent.
Most of the industrial buildings have been built within the last 25 years with mechanically operated roller shutter doors and 5 metre eaves heights.
Jonathan McManus, a Partner in DM Hall, said: "As a longstanding industrial site, the property lends itself to business/industrial park development. Most of the buildings are ready for occupation with some minimal changes, decoration, or repair. Interest will also be considered for future residential development and offers are invited for the freehold interest."
Viewings, strictly by appointment, can be arranged via DM Hall. Contact Jonathan McManus, Partner T: 0141 332 8615 E: [email protected] or Jacqueline Towie, Surveyor T: 01698 284 939 E: [email protected].
Group viewings are likely to be arranged for Wednesdays, Thursdays and Fridays due to security requirement to accompany visits.
DM Hall has offices across Scotland and earlier this summer expanded into the North of England with the acquisition of Hyde Harrington, an established firm of Chartered Surveyors based in Carlisle and Kendal.
29 September 2023
New Scottish galleries at the National, Edinburgh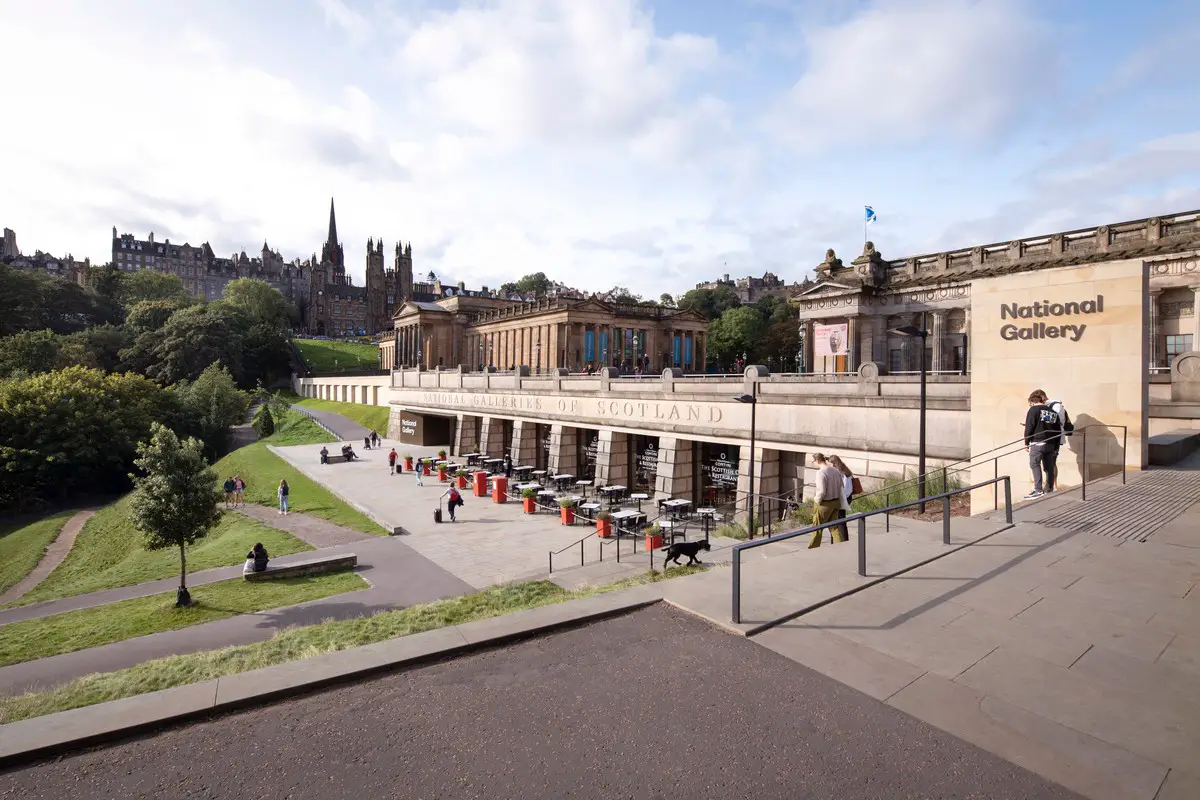 photo : dapple photography
Transforming the visitor experience and more than doubling the physical display space, 12 breathtaking galleries allow visitors to dive into dramatic landscapes, encounter iconic images and be wowed by art from 1800 to 1945. Spectacular views over the city entice visitors to come in and discover the work of pioneering Scottish artists such as William McTaggart, Anne Redpath, Phoebe Anna Traquair, Charles Rennie Mackintosh and the Glasgow Boys:
New Scottish galleries at the National
29 September 2023
Scottish Modernism Lectures News
The Scottish Historic Building Trust launch their Autumn lectures on 11th October with 'Concrete Conservations: The Conservation of Scottish Modernism". This six-lecture series launches with a lecture from Dr Alistair Fair, reader in architectural history at Edinburgh University:
27 September 2023
New Passivhaus community campus in Faifley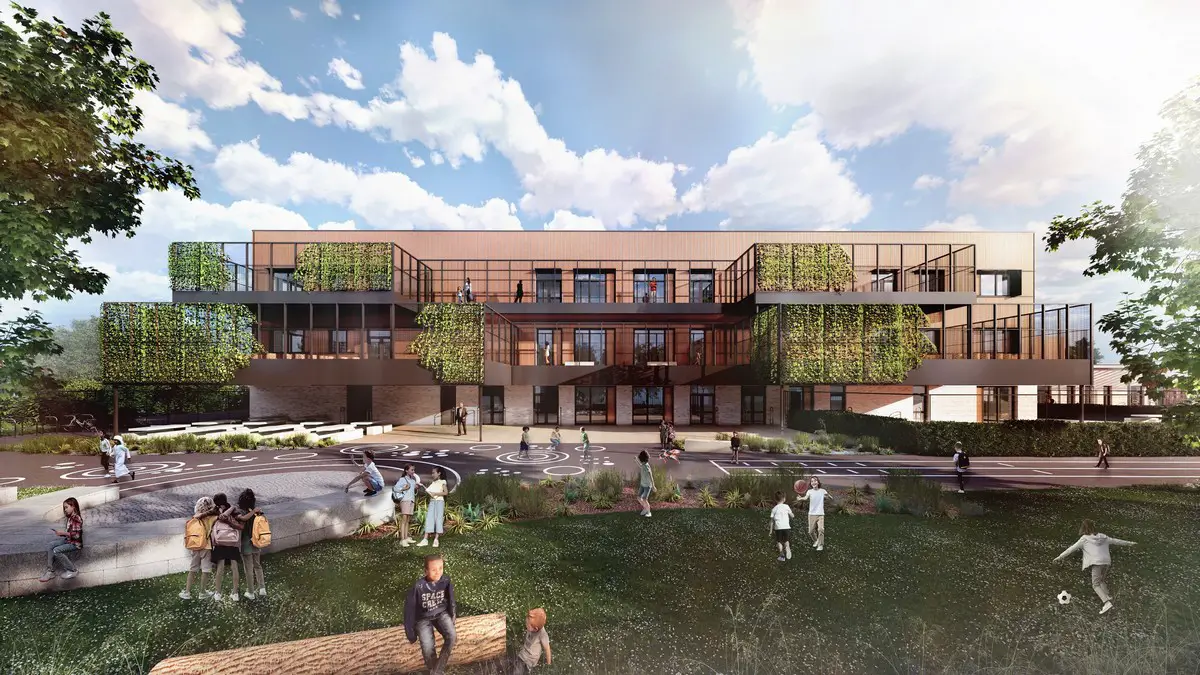 image courtesy of Holmes Miller architects
Planning permission has been granted for a new community campus in Faifley, West Dunbartonshire that will bring together two primary schools, a nursery and ASN provision with a host of community facilities, including a library:
Passivhaus community campus in Faifley Building Design
23 Sep 2023
Dumfries High School Property News
hub South West Scotland is to work in partnership with Dumfries and Galloway Council to deliver the new £48m Dumfries High School after plans for the new state-of-the-art education facility were approved:
Dumfries High School
Contemporary Strathclyde Architecture by Typology – significant properties and structures:
In the last year we have refocused away from news, and onto refining the current pages. The purpose is to create a better quality website, to form a helpful architectural resource for Strathclyde.
Posts are now more consistent, with better linking and more relevant related project posts after each articles. One key improvement is the introduction of tagging. The links below can take you to typological groups of posts. Over time these will be further refined and expanded:
Glasgow architecture competitions
Glasgow architecture exhibitions
Glasgow mixed-use developments
Over time we will add more granular types, for now they are combined, for example colleges are with universities.
15 Sep 2023
Paisley Town Hall regeneration news
Architect: Holmes Miller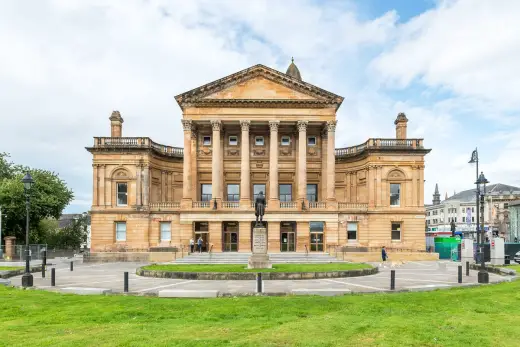 photos courtesy of architects office
The venue is due to open by October 2023 in time to host the Royal National Mòd, Scotland's largest celebration of Gaelic culture and language:
Paisley Town Hall Transformation
Number Of New Home Starts Continues To Fall
12 Sep 2023
Offsets increase in completions
Although new statistics show an increase in housing delivery in the year to end June 2023, they also reveal this has been offset by a continuing downward trend in the number of new starts.
Scottish Government figures published today report a 12 per cent fall in new home starts in the year to end June 2023, offsetting a 6.3 per cent increase in completions for the same period and further compounding the 17 per cent decrease in starts in year to end June 2022.
Jane Wood, Chief Executive of sector body Homes for Scotland (HFS), which represents members delivering the majority of the country's new homes, said:
"Our concerns regarding the downward trend in starts is not abating, with the 12% decrease year end to June 2023 evidencing the ongoing challenges and blockers facing our members in delivering the homes of all tenures that our country so badly needs.
"The sustained increase in completions is welcomed (rising 9% in 2022 and 6.3% in 2023) and clearly demonstrates both the high demand for new homes as well as the capacity of the home building sector to deliver more across the country. However, unless the challenges surrounding land availability and wider consents process are addressed, the number of completions in future years are likely to decrease."
"With every new home built in Scotland supporting 3.5 jobs but the number of major residential planning applications having fallen dramatically, it is crucial that we maintain the momentum in housing delivery to ensure future employment and investment opportunities are realised across both private and social sectors.
"Our Board recently discussed the current challenges facing the home building sector, as well as the social and economic benefits that come from increased housing delivery, directly with Housing Minister Paul McLennan MSP at its meeting last week and we remain committed to working with the Scottish Government to achieve this."
From the Scottish Government's Housing Statistics for Scotland Quarterly Update: New Housebuilding and Affordable Housing Supply (published 12 September 2023)
Green Home Festival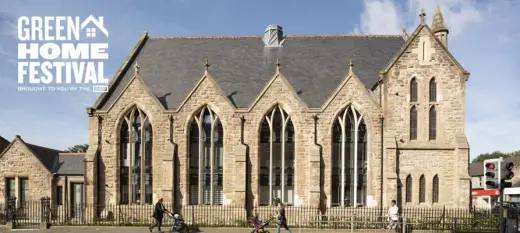 An event took place in Edinburgh which focused on how to convert a church into energy-efficient housing. Architects from Page\Park discussed a case study of a church conversion in Glasgow, and James Anthony of Eco Congregation Scotland outlined challenges with church buildings and offered ways to reduce carbon in such structures:
Glasgow Architecture Events
8 August 2023
525 Park View
New Images Unveiled of 'Spectacular' Green Neighbourhood Proposed for Edinburgh City Centre. Planning application to be submitted for 256 sustainable homes at Ferry Road site. More than two-thirds of development area delivering high-quality green space:
525 Park View, Ferry Road homes
8 August 2023
The Red Sandstone Building News
Known simply as The Red Sandstone, the building extends from 106 to 154 Leith Walk and provides a range of open-plan first floor business suites housed above a row of shops, cafes, restaurants and a popular bar and arts venue:
Red Sandstone Building in Edinburgh
8 August 2023
Green Home Festival News
WWF poll shows there is "real appetite for change" among homeowners looking to build a sustainable future
Organisers of the upcoming Green Home Festival say the results of a recent survey show that there is "very real appetite for change" among Scottish homeowners looking to make their homes more eco-friendly.
The team behind the week-long renewables jamboree have welcomed a new poll by environment organisation WWF Scotland which says that the majority of Scots support moves to phase out the use of fossil fuel boilers in existing homes.
And the Construction Industry Collective Voice (CICV) says the survey's other findings demonstrate "an encouraging willingness to commit to a green future " – and have urged homeowners to convert their enthusiasm into action at its upcoming event.
In the survey published on Monday (31 JULY) by WWF Scotland, more than half of those asked said they would support the introduction of Scottish Government policies to phase out fossil fuel boilers.
In addition, 65% said they believed there should be new rules for better insulation in existing homes at vital moments, such as buying or selling a property. Other findings included:
• 40% of respondents said they would consider installing a heat pump as an alternative to a fossil fuel boiler within the next five years.
• 57% would be willing to purchase a heat pump with some or no government support.
• 71% are aware of the negative impact of oil and gas boilers have on climate change.
• 80% believe higher oil and gas prices contribute to inflation and higher cost of living.
Green Home Festival co-organiser Fiona Hodgson, who is CEO of plumbing and heating association SNIPEF, said: "These findings show there is a very real appetite for change among homeowners, who are aware of the importance of climate change and want to help Scotland build towards net zero.
"It's particularly pleasing to see so many people recognising the need to move away from fossil fuels and embrace cleaner energy sources, and also encouraging to see that two-thirds of those polled want better insulation rules enforced.
"The upcoming Green Home Festival supports these ideas wholeheartedly and will be offering practical demonstrations of how we can make them become a reality as we aim to build a more sustainable future, one home at a time."
Kicking off in on Monday 14 August in Edinburgh, the second Green Home Festival will deliver 11 free shows on low-carbon living as part of the official Edinburgh Festival Fringe.
Topics will include how to reduce energy bills, preparing for heat pumps, community heating networks, creating sustainable kitchens, green garden rooms and offices, making retrofit projects eco-friendly, converting churches and how the home of the future will be powered.
Live Green Home Festival sessions will once again take place at the Royal Institution of Chartered Surveyors (RICS) at 10 Charlotte Square in central Edinburgh, with contributions from the likes of Home Energy Scotland, Scottish Water, SNIPEF and SELECT.
John McKinney, co-organiser of the Green Home Festival and Secretary of the National Federation of Roofing Contractors, added: "Scotland has already taken its first steps down the path to a more low-carbon future, but we still have a long way to go. However, the results of this survey show that people are aware of the need to make real and lasting change.
"Attending the Green Home Festival and taking on board the wealth of free advice from our experts will help homeowners take their next steps as we harness the power of renewables and move to a more sustainable way of living."
The festival is the latest in a string of practical and constructive initiatives launched by the CICV since its creation at the start of the pandemic in March 2020.
Made up of 28 trade associations, professional services bodies and companies, it has maintained a steady supply of information and practical advice to the sector as well as carrying out surveys, producing animations and posters, hosting webinars and maintaining close dialogue with Scottish Government ministers.
• Full details, including how to book tickets for each event, are available on the Festival's website at greenhomefestival.co.uk.
Background:
Stronger together: about the Construction Industry Collective Voice
The Construction Industry Collective Voice (CICV) was formed in early March 2020 as the Construction Industry Coronavirus Forum, in response to the urgent COVID-19 threat to people and business.
With a focus firmly on collaborative action, the CICV brings together senior representatives from 28 professional bodies and also benefits from the input of more than 40 other organisations who contribute their expertise to the CICV's 12 sub-groups. Its members operate the length and breadth of Scotland's built environment supply chain.
Whether merchant/wholesaler, contractor, or multi-million-pound building firm, Scotland's construction sector is fighting to keep its people, businesses and livelihoods intact and, in turn, the CICV is fighting for them.
By pooling expertise and knowledge, CICV represents the interests of Scotland's diverse construction supply chain with one consistent voice. Priorities include lobbying the Scottish Government to influence policy and to push for positive action, and to give expert focus to important sector issues including commercial, employment, planning for the future, skills, and health and safety.
The CICV is chaired by SELECT, Scotland's trade association for electrical contractors. Current members are:
1. Association of Brickwork Contractors (ABC)
2. Association for Consultancy and Engineering (ACE)
3. British Constructional Steelwork Association (BCSA)
4. Build Scotland
5. Builders Merchants Federation (BMF)
6. Building Engineering Services Association (BESA)
7. Chartered Institute of Architectural Technologists (CIAT)
8. Chartered Institute of Building (CIOB)
9. Chartered Institute of Plumbing and Heating Engineering (CIPHE)
10. Chartered Institution of Civil Engineering Surveyors (CICES)
11. Construction Plant-hire Association (CPA)
12. Electrical Distributors' Association (EDA)
13. Federation of Master Builders (FMB)
14. Finishes and Interiors Sector (FIS)
15. Lift and Escalator Industry Association (LEIA)
16. National Association of Shopfitters (NAS)
17. National Federation of Demolition Contractors (NFDC)
18. National Federation of Roofing Contractors (NFRC)
19. Royal Incorporation of Architects in Scotland (RIAS)
20. Resource Management Association Scotland (RMAS)
21. Royal Institution of Chartered Surveyors (RICS)
22. Scaffolding Association
23. Scottish Building Federation (SBF)
24. Scottish Plant Owners Association (SPOA)
25. Single Ply Roofing Association (SPRA)
26. SELECT
27. SNIPEF
28. Stone Federation (GB)
28 Jul 2023
Paisley Town Hall Building Renewal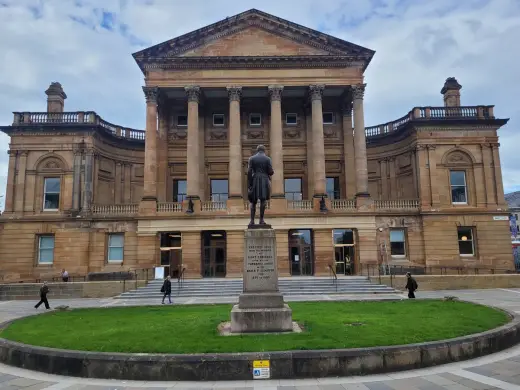 The first pictures showing how Paisley's A-listed town hall looks after a £22m transformation into one of the finest entertainment venues in the west of Scotland have now been revealed. The iconic building – a striking centrepiece of life in the town for more than 140 years – will reopen its doors ahead of the Royal National Mòd – Scotland's largest celebration of Gaelic language and culture – coming to Paisley in October.
Paisley Town Hall Transformation
26 July 2023
Scottish home builders demand planning system improvement
New planning application statistics have been described as "shocking" by sector body Homes for Scotland (HFS). The figures, published today, reveal a staggering 46 per cent drop in the volume of applications for major housing developments for 2022/23 compared to 2019/20. Despite this significant drop in the volume of applications, average decision times remain above pre-Covid levels at 39.3 weeks, nearly two and a half times the 16 week statutory timeframe for such applications.
For the full report see Edinburgh Building News 2023
22 July 2023
St George's Road Student Housing, Woodlands district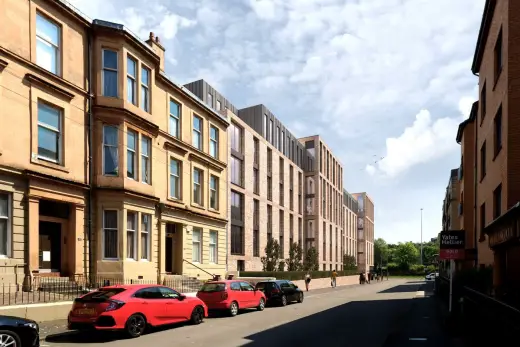 image courtesy of Alumno
St George's Road student housing
Purpose-built student accommodation specialist Alumno has applied to Glasgow City Council for permission to build a new development on St George's Road in the Woodlands district. The property development will provide much needed high-quality PSBA in a city that has the third largest student population in the UK. Glasgow's five universities host over 76,000 students, almost half of which are living principally in private rented accommodation putting pressure on local housing.
27 June 2023
Let's get together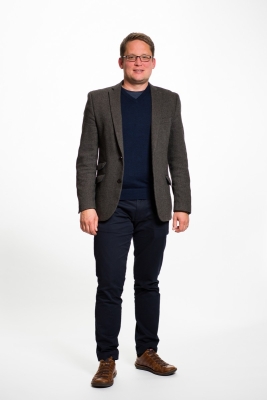 image courtesy of architects practice
Christoph Ackermann, Architect and Principal at BDP explains why our workplace environments must adapt quicker, following a shift in post-pandemic working patterns:
Workplace environments must adapt quicker
27 June 2023
Concern as decline in Scotland's new homes starts continues
Latest Scottish Government housing statistics (released today) highlight major concern for the continuing fall in the number of new homes started across all sectors, which now stands at 25% below those started in the pre-pandemic year to end March 2020.
Jane Wood, Chief Executive of sector body Homes for Scotland (HFS), which represents members delivering the majority of the country's new homes, said:
"These housing statistics are essential data for our sector and we appreciate the fact that there is no longer a time lag of a quarter that existed in previous publications for the figures presented between private-led and social home building.
"As we have been warning over the past six months, the continuing downward trend in the number of new homes started across all sectors (down 2% from 2021-22 and 25% from pre-pandemic figures (2019-2020) is of great concern, reflecting the ongoing challenges and blockers faced by our home builder members.
"Whilst we are seeing a welcome increase in completions, with financial year figures for 2022-23 (23,512) showing an edging towards pre-financial crisis total completion levels, this is still down 9% on this figure (25,788).
"The appointments of the new Minister for Housing and Minister for Local Government Empowerment and Planning present the perfect opportunity to review regulatory policy and address those barriers to development in order to ensure our members are able to deliver more housing in Scotland which meets the needs and aspirations of everyone living here."
From the Scottish Government's Housing Statistics for Scotland Quarterly Update: New Housebuilding and Affordable Housing Supply (published 27 June 2023)
15 June 2023
Blairgowrie Recreation Centre, Perth and Kinross
Blairgowrie Recreation Centre building news
13 June 2023
JRA Chosen To Operate On BMA Scotland HQ
The Grade A-listed 14 Queen Street is a notable example of Scottish Georgian architecture, situated in Edinburgh's UNESCO-protected New Town. The New Town World Heritage Site is characterised by a diverse portfolio of architecturally significant commercial and residential buildings including designs from John & Robert Adam and Sir William Chambers.
13 June 2023
Archive House, Bonnyrigg
Archive House, an existing building in the Sherwood Industrial Estate in Bonnyrigg, will be converted to a world-class facility to house the organisation's extensive records and archives, which give a unique insight in to over 5,000 years of Scotland's history.
13 June 2023
Homes for Scotland call for new National Outcome for housing
Homes for Scotland has called on the Scottish Government to introduce a new National Outcome for housing if progress is to be made in providing enough homes for the people of Scotland. National Outcomes are part of the National Performance Framework, describing what "living well together" means:
Scottish Architecture News
Glasgow Building News 2023 – Spring:
31 May 2023
Candleriggs Square Apartments Merchant City News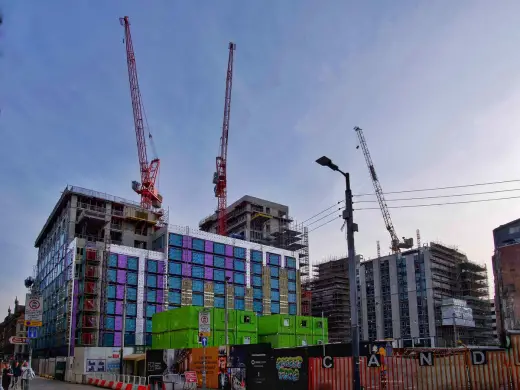 image courtesy of architects practice
Candleriggs Square Apartments Merchant City
The £300 million transformation of Candleriggs Square in Glasgow's Merchant City has reached another significant development milestone with the completion of structural work for a 346-apartment build-to-rent (BTR) complex, forward funded by Legal & General. The £81.5 million apartment complex is set on a 3.6-acre site.
31 May 2023
New Paisley Grammar School Community Campus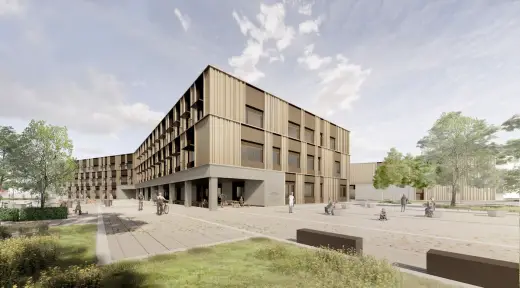 image courtesy of Renfrewshire Council
The new school is due to be open in summer 2026 and will boast a state-of-the-art set-up for pupils and the wider community, to replace the existing Paisley Grammar School:
Paisley Grammar School Community Campus Design
29 May 2023
ONE BioHub Building News
The £40 million ONE BioHub, Aberdeen, designed by BDP, is the iconic new location for life sciences in Aberdeen. Inspiring ambition, giving scientists and innovators skills and knowledge to turn research and innovation into businesses, and supporting them on the entrepreneurial journey.
29 May 2023
Homes For Scotland Celebrates Sustainability Wins At Annual Awards
With a focus on social, sustainable and environmental values, the winners of this year's Homes for Scotland (HFS) awards have been announced.
The event, which was attended by 1,000 senior representatives from across the home building sector and hosted by political satirist and impressionist Rory Bremner, saw three of Scotland's home builders take home the organisation's coveted headline Home Builder of the Year awards, with winners in five additional categories focused on an overall "People, Place, Planet" theme also announced on the day.
CALA Homes took the award for large Home Builder of the Year, with Rural Renaissance scooping top SME and Campion Homes crowned Home Builder of the Year (Affordable Housing Provider).
The headline awards were decided by an independent judging panel following site visits and senior management interviews, with the panel probing on areas such as company ethos and approach, innovation and development, customer satisfaction, health and safety indicators and the way in which the organisation supports the key objective of positioning home building as a force for good,
Chair of the independent judging panel David Knight, former Managing Director at Avant Homes, said:
"I was delighted to be asked to chair the judging panel for a second year and was hugely impressed and encouraged by both the volume of entries received – up almost 30% on last year – and the quality on show throughout submissions.
"With a particular focus this year on social, sustainable and environmental values, my fellow judges and I were struck by the many ways in which these key criteria were brought to life at the site visit and interview stage as well as the clear passion demonstrated by those we met.
"We are grateful to all who entered, congratulate all members making the 2023 shortlist and applaud those taking home awards."
25 May 2023
Scottish Design Awards 2023 Finalists
The wait is finally over as the Scottish Design Awards reveal the inspirational nominees who will battle for a coveted silver ruler. Nominees from across architecture and design illustrate the enormity of a task which necessitated not one but two judging panels to decide over two days of deliberations:
Scottish Design Awards 2023
24 May 2023
Art Fund Museum Of The Year 2023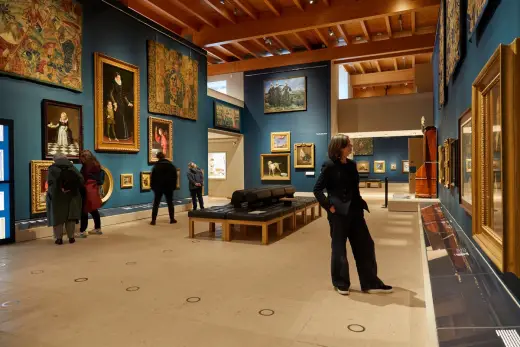 photos © Janie Airey Art Fund 2023
This building has been shortlisted for a £120,000 prize, set to be announced on 12 July:
Burrell Museum
23 May 2023
Buchanan Wharf Reaches Completion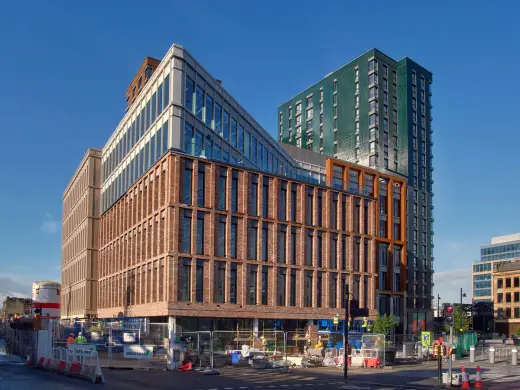 photo courtesy of Drum Property Group
Delivery of New Student Loans Company HQ Marks Final Point of Clydeside Regeneration – SLC to relocate in the Autumn. The final building phase at Drum Property Group's £500 million regeneration of Buchanan Wharf on Glasgow's Clydeside has reached practical completion with the successful delivery of the new office headquarters for the Students Loans Company (SLC):
Buchanan Wharf Glasgow Office Development
22 May 2023
The Foundry Cathcart housing development news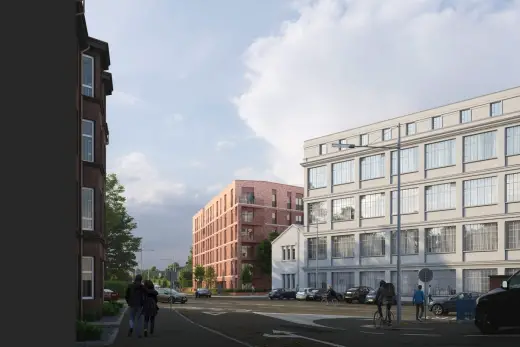 image courtesy of Cala Homes (West)
Cala Homes (West), together with Celeros FT, has reached a significant milestone for its proposed housing development in Cathcart with the submission of a formal planning application that sets out the vision, design, and aesthetic of the site:
The Foundry Cathcart housing development
18 May 2023
Sustainable Expansion of Edinburgh
West Town Edinburgh 20-minute neighbourhood announed on the Edinburgh Architecture website.
15 May 2023
Scottish Net Zero Carbon Affordable Housing
Edinburgh Home Demonstrator Project announed on the Edinburgh Architecture site news page.
3 April 2023
DM Hall set to merge Glasgow Southside and Paisley operations with new hub facility in Centura Court, Hillington Park
New 2,133 sq. ft office due to open in April 2023
DM Hall, one of Scotland's largest independent firms of Chartered Surveyors, has concluded legal terms to occupy a significant new office hub facility at Centura Court, Hillington Park, G52 4PR, from April 2023.
The new office will accommodate the surveying teams from the firm's existing branches at Kilmarnock Road, Shawlands on the southside of Glasgow and its long-established operation in Glasgow Road, Paisley. It also offers opportunities for further expansion and scope for corporate entertainment. With the firm's ongoing commitment to a substantial graduate programme, the office will serve as a regional facility to support that while also providing space for training.
John McHugh, Managing Partner of DM Hall said: "This is an exciting move, which alongside our existing city centre office in Bothwell Street, Glasgow provides a significantly larger new space which is close to the M8 and other transport links and will provide our surveying teams with much easier access across the entire expanse of Glasgow and Renfrewshire.
"Until now our Glasgow and Paisley residential teams have often overlapped in the surveying work they undertake throughout the area, and it makes perfect sense to merge the two within this excellent and fully upgraded contemporary base from which we can expand as required.
"With a long established and significant residential presence across Glasgow and Renfrewshire, we want to support all our existing clients even better than before and seek out and develop new opportunities which present themselves. In addition, to providing an attractive and contemporary new home for our team, there is sufficient space to allow us to expand and grow into the future beyond the post-pandemic period.
Centura Court, whilst being a new and readily accessible home for us, will also be a place where we look forward to welcoming clients both old and new".
DM Hall has 24 offices throughout Scotland and more than 230 members of staff.
31 March 2023
Scotland's housing deficit growing
The latest Scottish Government housing statistics (released today) reveal the drop in the number of new homes that are being started to be built across all sectors is continuing to grow, with a 12 per cent decrease in the year to end September 2022 compared to the previous 12 months:
22 Mar 2023
Home Builders Welcome Appointment To Housing To 2040 Strategic Board
Home building sector body Homes for Scotland has welcomed the appointment of its Chief Executive Jane Wood to the Scottish Government's Housing to 2040 Strategic Board which has its first meeting on Wednesday 22 March:
7 Mar 2023
New Allander Leisure Centre
Design: Holmes Miller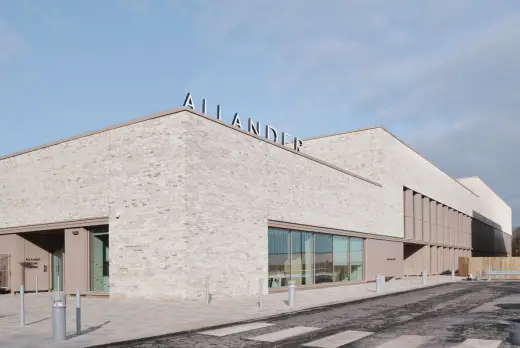 image courtesy of architects practice
Allander Leisure Centre Building in Bearsden
The architects behind Bearsden's new Allander Leisure Centre, which opened its doors yesterday, are hailing the facility as a potential future flagship for community-led, combined leisure and adult day care projects.
Glasgow Building News 2023 – Winter:
23 Feb 2023
Scottish Design Awards 2023 Entry News
For the 26th edition the early bird rates available until March 10.
The final submission deadline is on March 31.
To enter, please log into your account and submit your projects via the Scottish Design Awards website.
Read more at the Scottish Design Awards page.
18 Feb 2023
Burrell Collection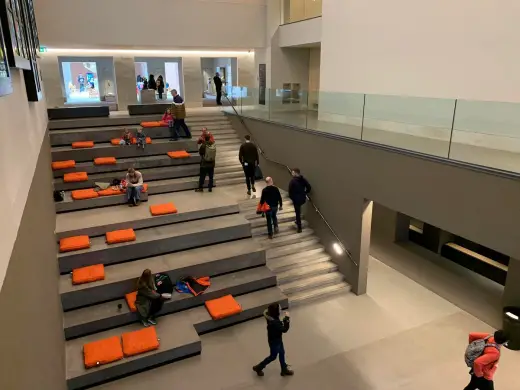 photograph © Adrian Welch
Isabelle and Adrian enjoyed a tour around the new Burrell Museum building – see some photos of the renewed interior:
15 Feb 2023
Scottish Design Awards 2023 Jury News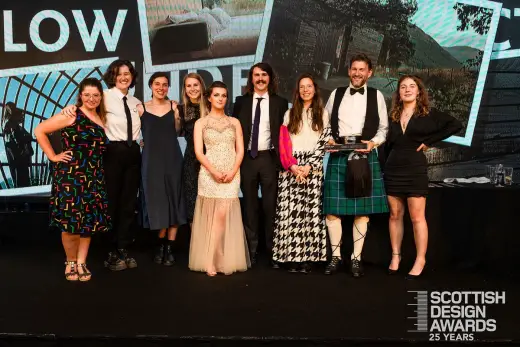 The 2023 judging panel for the Scottish Design Awards can be revealed today, showcasing a breadth of talent drawn from across the architecture and design professions. The dozen-strong line-up includes figures drawn from the construction and marketing sectors from the agency world to practices, client-side and academia.
7 Feb 2023
Ingram Street Property Development News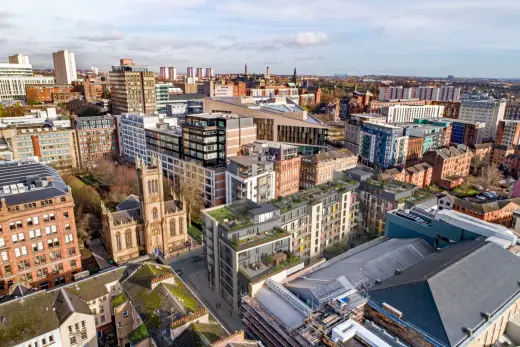 image courtesy of Artisan Real Estate
Proposals for a landscaped and carbon friendly mixed-use development at the heart of Glasgow's Merchant City have been given the go-ahead by Glasgow City Council, subject to agreement of a 'Section 75' legal agreement:
4 Feb 2023
2023 Scottish Design Awards
After 25 successful years The Scottish Design Awards return for 2023 with a showcase of boundless creativity from unsung maestros to industry heavyweights.
"It is great to be back with another edition of the Scottish Design Awards. I can't wait to see what shocks, delights and surprises our entrants have in store for us.
25 Jan 2023
Homes for Scotland News
Sector body Homes for Scotland (HFS), whose members deliver the majority of all homes built in Scotland, has announced the promotion of planning team members Liz Hamilton and Richard Lewington.
Liz becomes Director of Planning and Richard Principal Planning Adviser.
Read the news in full at the Edinburgh Buildings news 2022 page.
24 Jan 2023
Glasgow School of Art rebuilding
The first phase of physical preparation works for the rebuild of the Mackintosh Building has been completed with massive amounts of fire-damaged material removed from the site, and a complex and meticulous evaluation of the building undertaken The Glasgow School of Art confirms:
Glasgow School of Art rebuilding
More Glasgow Building News 2023 online here soon
Glasgow Building News 2022 – Highlights
Masterplan Submitted for HMP Glasgow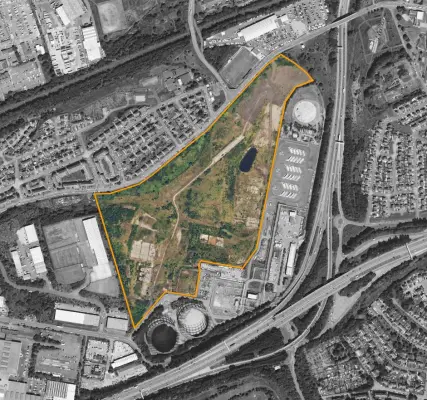 image courtesy of architects practice
HMP Glasgow Masterplan : Barlinnie replacement
Transformation of Glasgow's Historic Custom House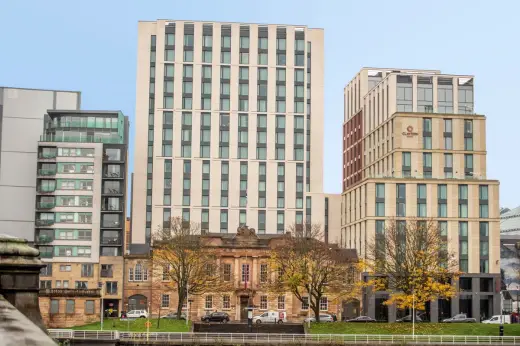 image courtesy of Artisan Real Estate
Glasgow Custom House Development
Paisley Museum transformation fundraising campaign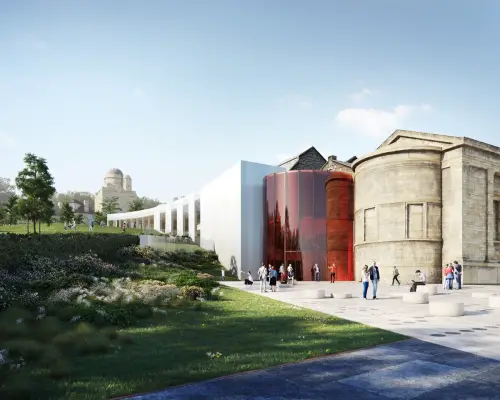 image courtesy of Renfrewshire Council
Paisley Museum Building
Cameron House Resort Building News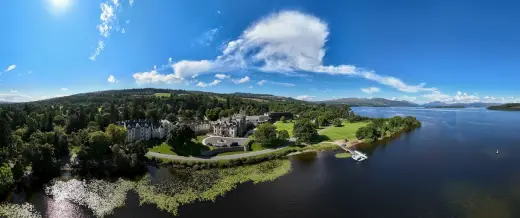 photo courtesy of Cameron House
Cameron House Loch Lomond Resort
Solasta Riverside Building Buchanan Wharf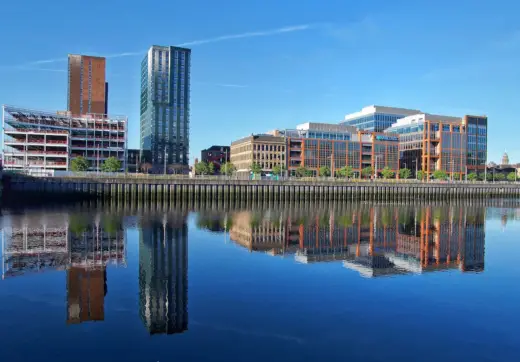 image courtesy of Drum Property Group
Solasta Riverside Building Buchanan Wharf
University of Glasgow's ARC officially opened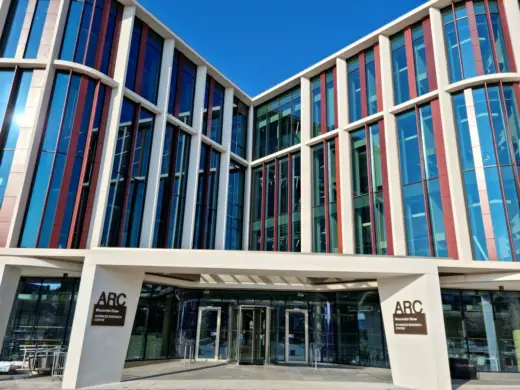 photo courtesy of UoG
University of Glasgow Advanced Research Centre Opening
Clyde Gateway Community Park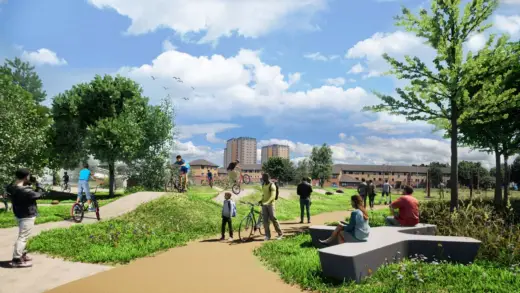 image courtesy of developer
Clyde Gateway
St Enoch Centre Glasgow Redevelopment News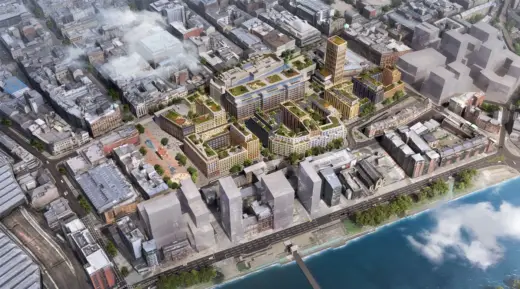 image courtesy of architects practice
St Enoch Centre Glasgow Redevelopment
Lucent at 50 Bothwell Street Glasgow Offices Start on Site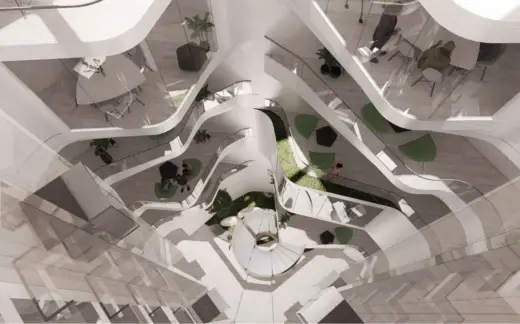 image courtesy of architects practice
Lucent at 50 Bothwell Street Glasgow Offices
New £116 million University of Glasgow research facility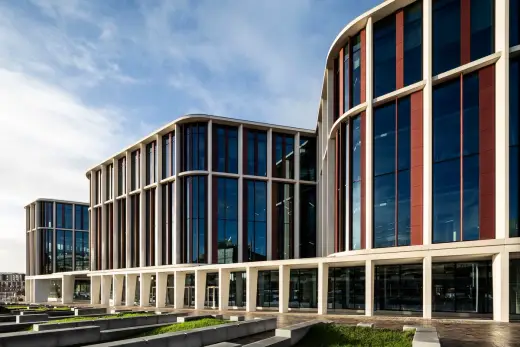 photo : Keith Hunter
University of Glasgow ARC: Advanced Research Centre
Burrell Museum Reopening News
Burrell Museum
Glasgow School of Art Fire Inquiry
Glasgow School of Art
Buchanan Wharf
Buchanan Wharf Glasgow Building News
Buchanan Galleries
Buchanan Galleries Demolition
Paisley Arts Centre Extension
Paisley Arts Centre Building
New Blue Sky Lounge at Ibrox Stadium
Blue Sky Lounge at Ibrox Stadium
Cumbernauld Town Centre Listing News
Cumbernauld Town Centre
More contemporary Glasgow Building News 2023 online soon, from Isabelle Lomholt and Adrian Welch at e-architect
Strathclyde Architectural Designs
2020
2019
2018
Glasgow Building News 2018 April – December 2018
Glasgow Architecture News 2018 up to end of April 2018
2017
Glasgow Building News from July 2017 to December 2017 – news archive
Glasgow Architecture News from end of January 2017 to July 2017 – news archive
2016
Glasgow Architecture News 2016 – end of January 2017 – news archive
2015
Glasgow Architecture News 2015 – news archive
Comments for the Glasgow Architectural News for 2023 – Scottish Architecture page welcome.