Glasgow Architecture News 2018, Strathclyde Buildings, Architects, Design Images Scotland
Glasgow Building News 2018
Scottish Architectural + Construction Updates – West of Scotland Property
2018
Glasgow Building News
15 Dec 2018
RUSK & RUSK So L.A., Glasgow
RUSK & RUSK design by Mosaic Architecture + Design.
14 Dec 2018
hub South West's ninth Building for Growth awards news
Two female construction sector managing directors are joint winners at hub South West's Ninth Building for Growth Awards Event held at Glasgow's 29 Club
Two women managing directors who have carved out successful niches in Scotland's male-dominated construction sector have been elected joint winners at the latest hub South West Building for Growth Programme awards event held last week in Glasgow's 29 Club.
In a break with tradition, a panel of eminent construction sector judges concluded that of the eight participating companies on the Building for Growth programme, two businesses, one run by Claire Donnelly, MD of Hillington-based Aspire Industrial Services, and another by Caroline Barrett, MD of CVD Fire Protection from its base in Carluke, Lanarkshire, best demonstrated their vision, strategic planning and leadership.
Aspire Industrial Services, which was established only last year is a one-stop shop for the supply hire, testing and servicing for asbestos, construction and demolition activities, with an open trade counter where customers can buy their Personal Protection Equipment (PPE), Respiratory Protective Equipment (RPE), and branded work and corporate wear.
Claire said: "We are a young business, but we have already been fortunate enough to win a number of major contracts on construction sites throughout the UK by introducing innovative products which seek to make construction sites safer.
"The Building for Growth programme has been a brilliant opportunity to consider carefully how we can make our business bigger and better and capable of regularly winning work from Tier One construction sector contractors."
CVD Fire Protection, which was established in 1997 is a 50-employee strong, £3m turnover business which provides fire protection, diamond concrete drilling and cutting services to the construction industry.
Caroline said: "I really enjoyed the hub's Building for Growth programme. It was full of ideas on how to make your business better and focused our brains to think about "working on" our businesses rather than simply "working in" them. Above all, I think, it has taught me the importance of having a strategic approach, and I am delighted to have won this award."
A public-private partnership funded by Scotland's business development agencies and a clutch of Tier One contractors including Morisons, Ashleigh, Graham, Morgan Sindall and Keir, hub South West's development programme is aimed at ambitious companies in construction and related sectors based in Lanarkshire, Ayrshire and Dumfries and Galloway.
Now in its ninth cycle, its Building for Growth programme is targeted at ambitious local SMEs looking to grow in a sustainable manner by building upon the skills and internal capacity to take on increasing volumes of work. Over 90 delegates from 72 companies across the region have now graduated from the course.
13 Dec 2018
Creative Hub Offers Artists a New Home in the Highlands
LDN Architects' regeneration of Inverness Victorian school buildings: first major arts hub in the Highlands is now open – providing urgently needed studios for everyone from photographers and textile designers to an artist who knits glass.
Wasps Inverness Creative Academy Building
13 Dec 2018
Scottish Property Federation responds to Scottish Budget
Commenting on yesterday's Scottish Budget announcement, David Melhuish, director of the Scottish Property Federation said:
"Overall there are two key incentives for development and investment that we are pleased to see retained in the Scottish Government's Budget. These include the business growth accelerator business rates incentives for new development and business occupiers; and the exemption from the Additional Dwelling Supplement for large scale Private Rented Sector investments, intended to support the new build to rent market. These are important incentives to stimulate housing supply and economic growth."
"Business rates reform remains an important issue for our members and we welcome the Scottish Government's decision not to implement the out of town supplement which would have done little to support town centres. This news, coupled with the introduction of a new £50mn fund and the decision to cap the CPI poundage increase will be important mechanisms for encouraging diversification on our high streets and supporting hard-pressed retailers and others."
"On the issue of the LBTT changes affecting non-residential properties we regret the removal of the marginal advantage which was offered to Scottish commercial investments. In a time of uncertainty, this is yet another cost that will impact pricing and investment decisions negatively."
12 Dec 2018
RIAS / RIBA Awards for Scotland 2019
Entries are now invited for the RIAS / RIBA Awards for Scotland 2019. The deadline for entries is 21 February 2019:
RIAS / RIBA Awards for Scotland 2019 News
11 Dec 2018
HLM and Kier VolkerFitzpatrick Appointed to £160 million project at RAF Lakenheath
HLM, the design and architecture company with studios in Glasgow, has been awarded the £160million project at RAF Lakenheath by the Defence Infrastructure Organisation.
11 Dec 2018
Seize huge housing opportunities builders urge Scottish Government
As the level of housing completions continues to head in the right direction according to statistics published today, the country's home building industry urged the Scottish Government to build on this positive news to enable it to deliver more of the homes Scotland's growing population needs.
Nicola Barclay, Chief Executive of trade body Homes for Scotland, said:
"It's great to see ongoing growth in the overall number of homes being built, but just under seven hundred extra homes over the last year is not going to solve our housing crisis. In order to return to the levels of a decade ago, we would need to see ten times this number on an annual basis.
"Scotland's housing market remains amongst the most affordable places to live in the UK, and huge social and economic opportunities exist for the Scottish Government to attract further housing investment from both within Scotland and elsewhere – if it can create and maintain the favourable conditions this requires.
"Ways in which this can be achieved include ensuring the Planning Bill currently going through the Scottish Parliament meets the original objective of delivering more homes; encouraging more entrants into the industry; supporting those SMEs who want to develop more homes; preserving a regulatory environment that promotes investment and ensuring policies like Help to Buy are continued until such times that the mortgage market fully supports First Time Buyers.
"Ultimately, it needs joined-up thinking across portfolios, therefore we look forward to seeing how tomorrow's Budget supports sustainable housing growth so builders can contribute even more to Scotland's social wellbeing and economic success."
11 Dec 2018
Amendments to business rates policy at the forefront of SPF calls ahead of Scottish Budget
The Scottish Property Federation (SPF) has set out the key policy areas it wishes to be addressed in Wednesday's Scottish Budget in a letter to Finance Secretary Derek Mackay MSP.
Citing a recent report from the Fraser of Allander Institute which highlighted that for every £100m of demand for commercial development an additional £73m is produced for the economy, the letter details nine key actions that the Scottish Government could take to support the growth of Scotland's real estate sector.
Chief among the SPF's list of requests is to reduce the large business rate supplement to at least English levels or removed altogether, as recommended by the Barclay Review. The SPF also urges the Scottish Government to not introduce an out of town business supplement as it would disproportionately hit an already hard-pressed retail sector.
Speaking after the publication of the letter, SPF director David Melhuish said:
"Generally, the Scottish Government have been very responsive to Scotland's real estate sector and we hope this year's Budget will create an environment to allow our sector to continue to grow and support the wider Scottish economy.
"Business rates continues to be a huge issue for SPF members. The Barclay Review advocated bringing Scotland's Large Business Supplement in line with England and that is something we are pressing the Scottish Government to outline exactly how and when this will be done.
"On the Barclay recommendation for an Out of Town business rates supplement, we responded formally to the Scottish Government earlier this year and just recently reiterated our concerns, along with a number of others, that we see no merit in introducing such a policy. We also do not see how this tax will make any substantial contributions to town centres. The economy remains fragile and we do not believe further burdens on businesses will help, particular those in the retail sector where there have been a number of high-profile administrations.
"We are also greatly alarmed by the 88 new requirements suggested for planning services, including the Scottish Government, in the current planning Bill and we believe the Scottish Government must work with Parliament to reduce these additional burdens."
30 Nov 2018
Hill House Box
Construction starts on a pioneering project designed to save the Hill House – regarded as architect Charles Rennie Mackintosh's domestic masterpiece. It will envelop the famous building in Helensburgh to protect it from the elements as part of the National Trust for Scotland's ambitious restoration plans:
27 Nov 2018
Ross Pavilion Award News
The winning competition concept design for the proposed re-imagining of Edinburgh's West Princes Street Gardens is on the 'Culture – Future Project' shortlist at the World Architecture Festival (WAF) taking place in Amsterdam this week:
26 Nov 2018
New Director of The Glasgow School of Art
The Board of The Glasgow School of Art has announced today, 26 November 2018, that it has appointed Professor Irene McAra-McWilliam as Director of The Glasgow School of Art.
The Glasgow School of Art Director News
GIA Annual Dinner
23 Nov, 8:30- 00:30
BAaD; 54 Calton Entry; G40 2SB
AF2019 – November Meet-Up
24 Nov, 0:15 – 13:00
The Lighthouse, 11 Mitchell Lane, G1 3NU
More details on the Glasgow Architecture Events page
16 Nov 2018
New Hotels at SSE Hydro Glasgow
Robertson has been appointed to build two new hotels in Glasgow on behalf of Vastint Hospitality – next to one of the world's most popular entertainment destinations.
16 Nov 2018
GSA Statement following the Scottish Parliament Culture, Tourism, Europe and External Affairs Committee meeting
Glasgow School of Art Funding News
Alexander 'Greek' Thomson Scholarship Visualisation & Ideas Competition
Friday 16th November Submission deadline
Theme: "Glasgow 2168" – What will Glasgow be like in 150 years?
In honour of the 150th anniversary of the founding of the Glasgow Institute of Architects, the GIA, as Trustees for the Alexander Thomson Scholarship, invite you to submit a single image portraying how you see Glasgow in 2168.
13 Nov 2018
Moxy Hotel News
Robertson has handed over a new hotel in the heart of Glasgow's Merchant City, with the official opening set for this week.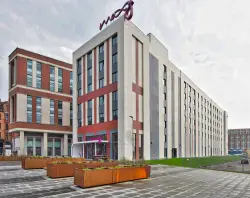 image courtesy of architects
12 + 6 Nov 2018
King's Theatre Redevelopment
Capital Theatres, the charitable trust which runs the Festival and King's Theatres and The Studio, is delighted to officially launch the King's Theatre Edinburgh Redevelopment Campaign with the announcement of the architect for the project, Bennetts Associates and the unveiling of their initial designs for the building's transformation.
12 + 6 Nov 2018
Fruitmarket Gallery Edinburgh Building
Reiach and Hall architects news – appointed to Fruitmarket Gallery building refurbishment in Edinburgh: refurb of existing gallery building with additional adjacent warehouse building by this celebrated Edinburgh architecture practice now due to go on site Summer 2019.
Reiach and Hall Architects News
12 Nov 2018
Andrew Doolan Best Building in Scotland Award
Reiach & Hall Architects win the RIAS Andrew Doolan Best Building in Scotland Award for 2018 with Nucleus, The Nuclear Decommissioning Authority and Caithness Archive in Wick.
8 Nov 2018
Edinburgh School Building
Plans submitted by City of Edinburgh Council for a new build primary school for the south east of the city, at the junction of Burdiehouse and Frogston Roads.
Broomhills Primary School has been designed by Holmes Miller Architects to include a nursery and shared space, with each element having its own separate entrance.
7 Nov 2018
No change to planning appeal rights – for now
Appeal rights remain unchanged following today's meeting of the Scottish Parliament's Local Government & Communities Committee. Responding, Director of Planning at industry body Home for Scotland Tammy Swift-Adams said:
"Scotland's planning and development communities have been on tenterhooks, waiting to see whether populism or pragmatism would win out in the debate on planning appeal rights.
"Whilst the amendments which concerned us most have been voted down for now, uncertainty remains as to what will happen at Stage 3 when the Bill is debated by the full parliament. Much work remains to be done as the Bill's progress continues.
"Homes for Scotland will continue to work with MSPs and other stakeholders to help shape a planning system that delivers what the country needs, including what the review set out to facilitate: significantly more homes. Politicians of all parties have agreed this is a top priority. Changing appeal rights would have the opposite effect, cutting off a small but vital source of housing supply.
"Substantial evidence has already been submitted on why this is the case and why it would not only exacerbate the housing crisis but also damage the Scottish economy and risk jobs.
"Fairness in planning doesn't hinge on who has access to appeal rights, but on what the planning system succeeds in delivering. It is clear, however, that more constructive and trust-building ways of positively engaging people in planning must be found."
7 Nov 2018
Home builders announce Social Bite charity partnership
7th of November 2018 – Industry body Homes for Scotland (HFS) has announced its support of the work undertaken to end homelessness throughout the country through a new charity partnership with social enterprise Social Bite. The partnership kicks off with the organisation's involvement in the Sleep in the Park event – a nationwide sleep out which will see several members of the HFS Executive Team stay out in Edinburgh's Princes Street Gardens in December.
With fundraising for the sleep out now underway, HFS Chief Executive Nicola Barclay said:
"I am delighted to announce our new partnership with Social Bite and our support of its mission to build a collaborative movement to end homelessness in Scotland.
"The money raised through December's sleep out and donations received from our 2019 Annual Lunch will be used to fund a range of initiatives, most notably Housing First – an innovative housing model providing much needed accommodation as well as wrap around support to enable people experiencing homelessness to break that cycle and reach their potential.
"Access to a warm, secure home is a fundamental right which means we can all contribute fully to society and I look forward to personally contributing my time to support this cause alongside the HFS team."
Social Bite co-founder Josh Littlejohn said: "We are delighted to have the support of Homes for Scotland and are looking forward to working together on this partnership, both through encouraging people to take part in this year's Sleep in the Park as well as the other exciting planned initiatives. We are incredibly grateful to everyone at Homes for Scotland for joining us in our mission to end homelessness in Scotland."
6 Nov 2018
RIAS Andrew Doolan Best Building in Scotland Award
Nucleus, The Nuclear Decommissioning Authority and Caithness Archive, Wick by Reiach and Hall Architects wins the RIAS Andrew Doolan Best Building in Scotland Award for 2018.
2 Nov 2018
Newton Mearns Buildings
CALA Homes and Taylor Wimpey start on site at a new housing estate in Maidenhill, Newton Mearns. The development is intended to create a new community centred around a £12.5m primary school.
3 Nov 2018
Glasgow School of Art Director News
GSA announce that Director Professor Tom Inns is to step down after five years in the role. GSA will be led by the School's Deputy Directors, Professor Irene McAra-McWilliam and Professor Ken Neil, until a successor has been appointed.
1 Nov 2018
Channel 4 Creative Hub News
Glasgow is to play host to a new Channel 4 creative hub after the city won the consolation prize alongside Bristol, after Leeds secured the stations National HQ, report urban realm.
1 Nov 2018
High Street Rejuvenation
Glasgow City Council has thrown its weight behind a regeneration strategy for the historic High Street and Saltmarket corridor between the cathedral and the Clyde.
Glasgow Architects
Glasgow Architects contact details are listed for an annual fee of £80:
Glasgow Architects Listings
30 Oct 2018
Homes for Scotland budget response
With the Chancellor announcing an additional £500m for the Housing Infrastructure Fund to help unlock up to 650,000 homes in England, Chief Executive of industry body Homes for Scotland Nicola Barclay called for a level playing field north of the border, saying:
"Homes cannot be built in isolation. They need to be connected to existing facilities like roads, water and drainage and the people who move into the new properties need to use local services such as schools, medical facilities and public transport. However, such physical infrastructure is expensive to deliver and home builders are often asked to make large financial contributions to meet these costs up-front before they have even built or sold any properties, making it extremely difficult for developments to proceed.
"The Chancellor is absolutely right when he says that building more homes in the right places is critical to unlocking productivity growth and making housing more affordable so it is great to see him address this challenge in England. With housing such a big priority for the Scottish Government, we will be looking for the upcoming Scottish budget to attach similar importance to infrastructure delivery, particularly in relation to the Building Scotland Fund and Housing Infrastructure Fund, both run by Scottish Government. This is essential if we are to create the sustainable communities required by our growing population."
30 + 25 Oct 2018
New Prince & Princess of Wales Hospice prepares to open its doors
Glasgow's new £21 million Prince & Princess of Wales Hospice, at 20 Dumbreck Road, will open its doors for the first time on Tuesday 30th October.
Glasgow's Lord Provost Eva Bolander will perform the opening ceremony for the new building which is located in a purpose-built site in the city's Bellahouston Park.
The facility will lead the way in palliative care, offering an unrivalled standard of support to 1200 new patients and families every year.
26 Oct 2018
Hotel for A-listed Custom House
Glasgow City Council has awarded planning consent for a four-star Clayton Hotel at the former Custom House on the Broomielaw. The £90m riverfront development could bring 300 bedrooms.
25 Oct 2018
Corunna House
Dem-Master have moved on site with the demolition of Corunna House as a first step in the delivery of a 227,000sq/ft office block designed by Glasgow architects Cooper Cromar.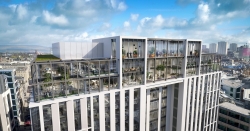 image courtesy of architects
The Grid will rise over 12 storeys. The porperty will combine a double-height reception space with a café and concierge as well as double-height sky garden, a communal rooftop business lounge and garden.
Site clearance ought to be finished by April 2019. Full completion is due for late 2021.
25 Oct 2018
Premature Land Value Capture amendment to Planning Bill unlikely to swell Council funds
Today the Local Government & Communities Committee approved an opposition amendment to include a 'Land Value Capture' measure in the Planning (Scotland) Bill. Responding to the vote, Homes for Scotland Director of Planning Tammy Swift-Adams said:
"There is every chance that the Scottish Land Commission, which is currently exploring options for Land Value Capture will, in time, conclude that changing compensation arrangements would be counterproductive. This amendment is blind to that possibility and undermines the evidence-based, inclusive approach being undertaken by the Commission, which itself is clear that Land Value Capture is a concept rather than a specific policy measure and is probably going to be best achieved in different ways in different locations and circumstances.
"In any case, a form of Land Value Capture is already in place in Scotland. The country's home builders alone contribute over £80 million pounds worth of "planning obligations" each year in relation to affordable housing, school places and other infrastructure – all of which already comes off the value of land."
"Furthermore, councils already have access to compulsory purchase powers, which they have successfully used to help deliver development, including social housing. Making those powers more complex won't encourage their further and more wide spread use.
"Today's amendment has the unfortunate hallmarks of making law for the sake of it, not because it is genuinely expected to help deliver more homes for the people of Scotland".
More info on the Edinburgh Architecture news page.
Homes for Scotland Annual Conference
Homes for Scotland's 7th annual conference will consider, challenge and debate the key issues affecting our industry's ability to deliver more homes for Scotland.
Attend on 15 November for the launch of HFS' new five-year strategy and to hear from a varied line-up of session contributors.
Visit www.homesforscotland.com for further information
25 + 23 Oct 2018
The Bayes Centre
The Bayes Centre Building
Photos by Glasgow's Keith Hunter of 9,500sqm building was completed this September as part of the University's investment into world-class facilities on its Potterrow campus, following the much lauded Informatics Forum and Dugald Stewart Buildings designed and delivered by the practice's Edinburgh studio in 2008.
HLM Announces Partnership with Glasgow Gaelic School through Developing the Young Workforce (DYW)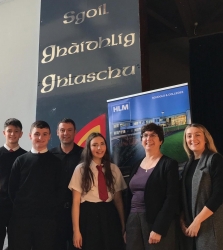 18 Oct 2018 – HLM, a design and architecture practice with studios in Glasgow, has announced its new partnership with Developing the Young Workforce (DYW).
Robin Webster OBE FRIAS RIBA Elected RIAS President
Robin Webster has been elected the next President of the Royal Incorporation of Architects in Scotland (RIAS). Robin will take over from Stewart Henderson at the Incorporation's AGM on 11th October 2018. As approved at the RIAS Council meeting on 12th September, the newly elected President will serve for 19 months.
After qualifying as an architect in 1967, Robin partnered with Robin Spence to form their own firm. During their partnership from 1972 – 1984, the practice won awards for its design of the Belsize Park Gardens residential project in Camden, and closer to home designed a new block for Ross Hall Hospital in Glasgow. In 1984 Robin's success was recognised when he was appointed Professor of Architecture at Robert Gordon University's Scott Sutherland School, in Aberdeen. During his time at Robert Gordon, the practice continued to thrive, winning a number of international competitions.
Robin set up Cameronwebster Architects in 2005 with his daughter Miranda and his son-in-law Stuart Cameron and in 2017. Robin was a commissioner of the Royal Fine Art Commission for Scotland and sat on the Govan and Craigton Community Planning Board. He served as chairman of the North Highlands Renewal Built Environment Advisory Panel, a trustee of the Glasgow City Heritage Trust, continues as trustee of the Scottish Stained-Glass Symposium, and is a former chairman of the Alexander Greek Thomson Society. Robin was appointed OBE in 1999.
Speaking today Robin said;
"I am honoured to be elected as next president of the Royal Incorporation of Architects in Scotland. I want to thank everyone who voted for me, and especially my supporters, who have challenged the status quo and argued for reform within the Incorporation. I expect that from now on we will operate a transparent organisation, fully compliant with the requirements of the byelaws and meet all good governance protocols.
That said, the problems that face the built environment and the quality of architecture in Scotland will not go away just by reorganising our committees and procedures. It is essential that we address how we enable talent and create opportunity, how our work is valued, and how we work ethically to achieve the best possible results. I believe we have much to learn from other countries and hope to challenge the Scottish Government and local authorities regarding the quality of public architecture and construction."
RIAS' current President, Stewart Henderson said:
"I wish to congratulate Robin on his election and look forward to working with him on Council"
The RIAS has also announced the results of the RIAS Council Elections 2018 for Nationally Elected Incorporation Representatives. Those elected will also begin their terms on 11th October at the RIAS' AGM.
Council Members were elected using the Single Transferable Vote. The following candidates were elected (in order of election):
1. Karen Anderson, FRIAS RIBA
2. Malcolm Fraser, FRIAS RIBA
3. Helen Lucas, RIAS RIBA
4. Ben Scrimgeour, RIAS RIBA
5. Gordon Duffy, FRIAS RIBA
The candidates released the following joint statement;
"We are pleased to have been voted on to RIAS Council and, foremost, delighted to be supporting Robin Webster to the Presidency.Having actively campaigned for change to the RIAS, we will work with Robin as he drives improvements forward.We have viewed with concern the failings within the organisation and are aware that the Charity Regulator's inquiry is "still ongoing".We will, therefore, be pushing for the RIAS to be open, in order to demonstrate that we have learned from such mistakes in building a new, relevant, vibrant, approachable and accountable professional body."
Information from The Royal Incorporation of Architects in Scotland | 15 Rutland Square, Edinburgh EH1 2BE
Green Futures; Designed By And For The Young
28 Sep 9:30 – 17:00
Venue: Grassmarket Project, 86 Candlemaker Row, Edinburgh, EH1 2QA
This years conference will take place in Edinburgh City Centre and surrounds the topic of Green Futures: Design by and for the Young.
RIAS Annual General Meeting
The AGM of the Royal Incorporation of Architects in Scotland will be held at 4pm on Thursday 11th October 2018 at the Scottish Youth Theatre, 105 Brunswick St, Glasgow.
The Prince & Princess of Wales Hospice pays tribute to talented designer
15 Sep 2018 – Glasgow's new £21 million Prince & Princess of Wales Hospice will include a moving tribute to the woman who played a key role in designing the building.
Clare Macallister, an interior designer with Glasgow firm Burns Design, was design director of the new hospice and created the innovative plans for the state-of-the-art facility which will open its doors to patients for the first time in November.
Prince and Princess of Wales Hospice Glasgow
Planning Bill – Homes for Scotland Reaction
12 Sep – Homes for Scotland comment on today's commencement of Stage 2 considerations of the Planning Bill by the Local Government & Communities Committee:
With increasing housing delivery the original focus of the planning review, Tammy Swift-Adams, Director of Planning at industry body Homes for Scotland, said:
"Whatever else happens in this Bill, it is vital we retain an evidence-led, target-based approach to planning for housing in Scotland. With an ongoing housing crisis continuing it simply makes no sense to ditch housing supply targets in favour of less-clear 'estimates' or 'aspirations'.
With the Scottish Government keen to take on a strategic planning role – and give its National Planning Framework statutory a much higher status in planning decisions – it is only right that plan sets out clear targets for what each part of Scotland needs to achieve if we really want everyone in Scotland to have a home. It is very encouraging to see support throughout the opposition parties for sensible amendments which push the Scottish Government further on robust planning for housing."
Progress of Planning (Scotland) Bill
12 Sep – Survey finds Scottish Government failing in its Original Aims for Planning Review
Info in full at Architectural News Scotland for 2018
RIAS Presidential and Council Elections – Voting Opens
10 Sep – Voting for the RIAS Presidential and Council Elections commences today.
Electoral Reform Services is administering the Elections on behalf of the Incorporation.
The candidates:
RIAS Presidential Candidates:
Gordon G Smith FRIAS RIBA
Robin Webster OBE RSA FRIAS RIBA FRSA
RIAS Council Representatives:
Karen Anderson FRIAS RIBA
Gordon Duffy FRIAS RIBA
Malcolm Fraser FRIAS RIBA
Helen M Lucas RIAS RIBA
Stephen Miles FRIAS RIBA
Douglas Read PPRIAS RIBA
Ben Scrimgeour RIAS RIBA
Further information on the candidates can be found on the RIAS website.
GIA Design Awards Deadline
Friday 7th September 2018
The awards are open to Chartered Architects, individuals or practices based in the GIA Chapter area and buildings within the UK & Ireland.
Also open to architecture practices that aren't members of the GIA but have completed buildings within the GIA Chapter area.
Glasgow RIAS Presidential Hustings
Free event today, Friday 7 September from 6.00pm – 8.00pm
at The Lighthouse, II Mitchell Lane, Glasgow, G1 3NU
Building Standards Compliance and Fire Safety – A Consultation on Making Scotland's Buildings Safer for People
The recommendations from Dr Paul Stollard and Professor John Cole's reviews of building standards and fire safety is now out for consultation. Click here to read Practice Note OS186 Review of Scottish Building Standards.
The Scottish Government is seeking the views of any organisation or individual with an interest in building standards legislation and associated Technical Handbook guidance.
The RIAS will be approving a response at the next meeting of its Council. Members are encouraged to respond individually.
The consultation closes on Wednesday 26th September 2018.
The Happenstance: The Exhibition
now on at The Lighthouse, Mitchell Lane
See the Glasgow events page for more info
Q&A with the winner of the RIAS/Saint-Gobain Emerging Architect award 2018
29 Aug 2018 – The RIAS/Saint-Gobain Emerging Architect Award recognises the crucial role architects play in delivering a better world and encourages the great architects of the future at the outset of their careers. This year, the award went to Eilidh Henderson of Page\Park Architects for her inspiring work on St. Cecilia's Chapel in Edinburgh.
RIAS/Saint-Gobain Emerging Architect Award being presented – from left to right: the BBC's Sally Magnusson, Stuart McKill Business Development Director for Saint-Gobain, winner Eilidh Henderson and Stewart Henderson RIAS President: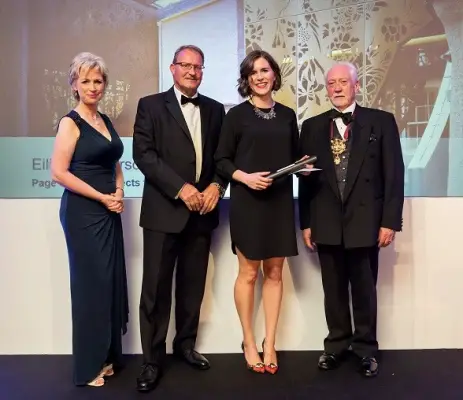 image courtesy of Saint-Gobain
We spoke to Eilidh to find out a bit more about her winning project and her role at Page\Park Architects.
What were your first thoughts when you were announced the winner of the Saint-Gobain Emerging Architect Award?
For me, this award recognises and reaffirms what we do at Page\Park, work to the strengths of each of the individuals in our team and collaborate to craft special contributions to our built landscape.
Each of our projects is a microcosm of that notion, and at St. Cecilia's we had an incredible team who worked tirelessly, some for over 10 years, to imagine, design and deliver a building that has opened St. Cecilia's up to a world of opportunity for the next 50 years.
I was humbled to win the Emerging Architect Award on what was a really special evening, shared with everyone who contributed to the making of this project.
Eilidh Henderson working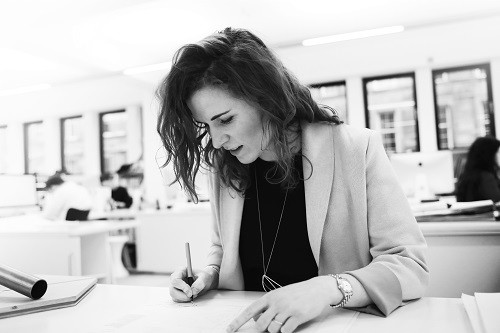 photo courtesy of Saint-Gobain
You've seen some of your projects awarded in the past. Were you somehow expecting another distinction this year?
In recent years we've grown to recognise the benefits of exposure gained through the architectural awards process. Not only is it an opportunity for our project, design and client teams to be recognised by our industry peers for successful project delivery, but it supports our growth in different sectors of work.
Whilst the real measure of success is the satisfaction of the end users of the projects we deliver, and of course we never expect to be recognised at any of these events, awards are encouraging milestones along the journey of our projects.
Assorted pictures of St. Cecilia's Hall, Old Town, Edinburgh:


photo : Jim Stephenson
You've seen one project distinguished with the Emerging Architects Award: St. Cecilia's Hall. What was your inspiration for this project?
St. Cecilia's hall has been home to the University of Edinburgh's musical instrument collection since the 1960s. An 'L' shaped arrangement of galleries wraps round Scotland's oldest purpose-built concert room at the centre.
We were appointed in 2012 to lead the project to transform St Cecilia's hall to make it the centre for all musical instrument collections for the University of Edinburgh. As a place of teaching, research and importantly a publicly accessible museum and concert hall, there were a number of challenges to resolve. These included conservation of the existing category 'A' listed building. Consideration was also to be given to creating a more appropriate entrance which, combined with the unlocking of a new core, was to facilitate full access to the building.
This space is an incredible grouping of rooms off the Cowgate in the Old Town of Edinburgh. However, what was apparent was that while these rooms held an internationally significant collection of instruments, there was no dialogue between building and collection. As a result it felt flat. What we imagined was the charging of the building with the collection to introduce a dialogue between the instruments and their container.
We were inspired by the forms, textures and materiality of the collection and how that could influence the moves that we made to create a really special, and memorable, visitor experience.
The triggering of all five of our senses played a significant role in that. Jacky MacBeath, the Head of Museums from the University of Edinburgh, tells a wonderful story of why the inside of many of the harpsichords in the collection are decorated – to trigger each of our senses; the peaches for taste, the parrots for sight, the smell of the flowers, the touch of fingers rippling across the keys and the sound of notes cascading around the room. A beautiful idea, and we sought to capture that essence in our architectural contribution.
How has the design impacted the comfort and well-being for the end users?
Feedback from visitors and end users has been overwhelmingly positive since the building re-opened following completion of the works. The protection of the collection was key though in this project and was a core reason for undertaking the works. Two humidity and temperature controlled galleries now provide a focus for visitors on the first floor of the building along with the newly refreshed concert room that sits proudly at the heart.
A rich programme of events is planned throughout the year and particularly during the Edinburgh Festival season. The museum is free and open to the public five days a week allowing a new audience to engage with the collection. It's really exciting to see the building thriving, and there is nothing more satisfying than seeing it buzz with a diverse range of people enjoying engaging with the arts.
Are you working on any exciting projects at the moment? Is there a chance that you will submit them to next year's RIAS Awards?
We are working across the practice on a range of interesting projects from schools and medical centres to theatres and housing. Completing in the coming months is Woodside Health Centre in Glasgow, a new architecture department for Northumbria University, social housing in Shettleston and a new creative hub for Edinburgh Printmakers. I've no doubt we'll consider entering a few of those into awards next year.
To find out more about St. Cecilia's Chapel please visit: www.stcecilias.ed.ac.uk
Further information about Page\Park Architects can be found here: www.pagepark.co.uk
Mackintosh cardboard competition winner News
29 Aug – The Glasgow Institute of Architects announce Alistair Reid as winner of the Big Mack Build, a live-build competition marking the 150th anniversary of Charles Rennie Mackintosh, for 'Paper Prospects'.
He combined Mackintosh-style watercolours with silhouettes of Mackintosh at the Willow.
The concept will now be realised in cardboard to take centre stage within the Billiard Room at Mackintosh at the Willow on Sauchiehall Street during Doors Open Day, 14 to 16 September.
Planning (Scotland) Bill News
28 Aug – Barton Willmore, a leading Planning and Design consultancy, are urging planners and developers to have their say and complete a survey to help influence the Planning (Scotland) Bill.
Info in full at Architecture News Scotland for 2018
RIAS Presidential and Council Candidates Announced
24 Aug – The RIAS announce that there are two Presidential Candidates for the upcoming election.
RIAS Presidential Candidates:
Gordon G Smith FRIAS RIBA
Robin Webster OBE RSA FRIAS RIBA FRSA
Election statements can be viewed by clicking on the individual names.
EAA Hustings Event
Join the 2018 RIAS Presidential Candidates for presentations and a debate on their manifestos on 29th August, RIAS Headquarters, 15 Rutland Square, Edinburgh, EH1 2BE at 5.45pm for 6pm.
This is your chance to find out about what the candidates hope to achieve should they be elected the next President of the RIAS. The candidates will take questions from RIAS members. This event is FREE for RIAS members. Please book your place.
Q&A
There will be a Q&A session for RIAS members to submit questions.
Submit a Question
The event will be recorded and will be available online (www.rias.org.uk) and will be shown at Chapter events over the next two weeks (please get in touch with your Chapter directly).
Voting
Online voting will open the week commencing 10th September and close on 1st October 2018. Details will follow.
Members who have recently changed their contact details are asked to update their information as soon as possible. This can be done by contacting the RIAS at [email protected], Tel: 0131 229 7545.
The results will be announced in October 2018. The successful candidate will take up office as RIAS President at the AGM in October (tbc).
RIAS Council Nationally Elected Candidates
The President is delighted to announce that there are seven candidates for the five positions available on RIAS Council. The Council is the body charged with providing the governance and strategy of the Incorporation. Having more candidates than places demonstrates members' enthusiasm and engagement with the Incorporation's work.
Election statements can be viewed on the RIAS website.
Voting
As above.
The results will be announced in October 2018. All newly elected members will sit on the next Council meeting scheduled for the 6th December 2018.
Glasgow Doors Open Days 2018 News
22 + 12 Aug – Glasgow Open Doors Days Festival 10th – 16th September
It's nearly that special time of year when locals and visitors to Glasgow can experience the full joys of many of Glasgow's buildings.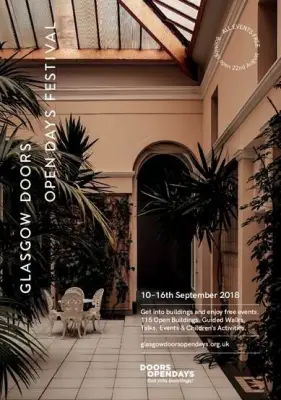 image courtesy of GBPT
Glasgow Doors Open Days 2018 – more info + photos
Drum Property Group Submits Planning Application for Glasgow's Pacific Quay
17 Aug – The completion of one of Scotland's most high-profile waterfront development sites has moved a step nearer following the submission of a major planning application to Glasgow City Council by Drum Property Group.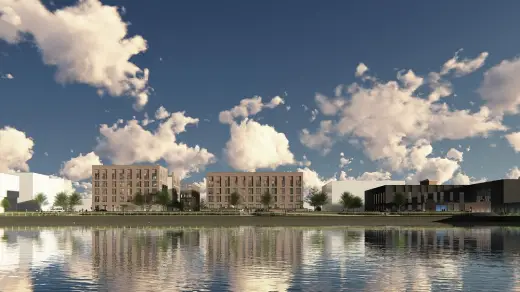 image courtesy of architects
Pacific Drive Building Glasgow
Drum Submits Major Planning Application
7 Aug – Revised Planning Proposal Set to Maintain Area's "Distinctive Feel and Character" Following Community Feedback
A significant section of Leith Walk, Edinburgh is set to be transformed into a vibrant residential, student and visitor quarter following a major planning application submitted by Drum Property Group.
City Deal News
7 Aug – Reap benefits of £1.2bn City Deal with bold planning for housing, say builders
Responding to today's sign-off of a £1.2bn City Deal for Edinburgh and South East Scotland, Director of Planning at representative body Homes for Scotland Tammy Swift-Adams said:
"This funding will allow progress to be made on the city region's ambition to boost jobs and economic growth. To really reap the benefit of this deal, the region's councils must match that ambition with bold planning for housing, as advocated in the recent examination report for the new South East Scotland Strategic Development Plan (SESplan 2).
"This deal is also an important boost for business confidence in the region, helping counter increasing concern over a no-deal Brexit. With possible challenges for our industry including workforce retention and the cost of importing materials, we welcome any measure that supports our sector and its vital contribution to Scotland's economic prosperity."
16 Church Street
3 Aug – This building designed by Keppie provides a modern workspace for 500 staff, together with associated public services, in the heart of Dumbarton Town Centre, replacing their previous, dilapidated building at Garshake Road on the outskirts of town:
Dumbarton Office Building
1 Aug 2018
Royal Incorporation of Architects in Scotland Strategy
The RIAS Strategy Group (Chapter representatives) have agreed a timetable for adopting the new five-year strategy and as part of the drive to ensure that members are consulted as widely as possible- each Chapter is doing this in its own way. Some chapters are planning questionnaires to send to members and non members in their areas: others are holding workshops such as the Coarum series organised by the EAA.
Royal Incorporation of Architects in Scotland Strategy
1 Aug + 21 Jul 2018
Doors Open Days News
Doors Open Days is Scotland's largest free festival that celebrates heritage and the built environment, new and old. Every September, you can explore hundreds of fascinating buildings across Scotland for free. Some open up once a year, some just once in a lifetime.
Doors Open Days 2018 Scotland
23 Jul 2018
Planning and Design consultancy expands in Glasgow
Barton Willmore, the leading Planning and Design consultancy which recently expanded its operation in Scotland with the opening of an office in the centre of Glasgow, has announced the appointment of a new Planning Associate.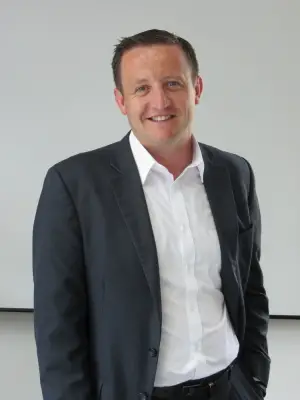 photo courtesy of architects office
Andrew Woodrow joins the Queen Street-based firm just months after the business opened its second office in the Central Belt alongside its existing operation in Edinburgh.
With more than 16 years of experience in the planning and development sector, Andrew brings a wealth of knowledge and experience to the organisation.
He previously worked for real estate and investment firm, CBRE, working across a range of high profile projects including major residential, hotel, student accommodation and shopping centre developments in Glasgow. He has also worked on large scale retail parks in Dundee and South Lanarkshire and urban expansion projects in South Lanarkshire and Renfrewshire.
Colin Lavety, planning director at Barton Willmore, said: "Andrew brings years of knowledge and experience of the Glasgow and wider Scottish market. This local expertise will sit alongside our existing team of seven Chartered Town Planners in Scotland, as we look to grow our presence in the West."
Planning Associate, Andrew Woodrow, added: "I am delighted to join a company like Barton Willmore which has such a strong reputation for planning and design across Scotland, with some fantastic projects and clients on their books. I am excited to not only join an organisation that has such a track record, but at the same time is expanding into new territory. I'm really looking forward to playing a key role in the new venture."
Barton Willmore has built up a strong reputation for the delivery of integrated Planning and Design services across Scotland. Over the last few years it has helped deliver landmark projects such as the regeneration of Pennywell in north Edinburgh and the expansion of Scotland's largest operational port in Aberdeen.
More recently it was involved in the redevelopment of a site in Pollokshaws, Glasgow, that will see 137 new homes built with vibrant public realm spaces and a well-considered streetscape alongside Urban Union as part of the Transforming Communities: Glasgow programme. It has also led on plans for the redevelopment of the former Tullis Russell Mill site in Glenrothes, Fife.
20 Jul 2018
Women into Construction News
hub South West concludes highly successful Women into Construction course held at New College Lanarkshire
hub South West, the construction and infrastructure-focused partnership which works with local authorities and private sector enterprises in Lanarkshire, Ayrshire and Dumfries and Galloway, has concluded its first highly successful eight week introductory course aimed at getting more women into the construction industry.
In partnership with its main contracting partners – Kier, Graham, Morrisons and Morgan Sindall – hub South West supported the Women into Construction course, facilitated by New College Lanarkshire.
The course, which had no formal entry requirements, was open to young females, and provided a National 5 qualification in Construction Crafts. The successful students can now progress to pre-apprenticeships or move into a professional career route at higher national certificate level.
Throughout the course, which included painting and decorating, masonry work, carpentry and joinery as well as visits to live construction sites, ambassador talks, visits to design offices at regional headquarters, CSCS specific safety training and work placements, students had the opportunity to visit sites managed by the supporting contractors, where they observed a variety of construction roles in action.
Margaret Milton, Community Benefits Co-ordinator at hub South West, said: "As an organisation which actively promotes the ethical and sustainable development of the construction industry, hub South West has been pushing hard to see a significant rise in the numbers of young women realising the fantastic career opportunities ahead of them within what has been, traditionally, a male-dominated industry.
"The course caught the young women's interest from the start. They quickly formed a collegiate, supportive environment where each participated fully in their efforts to find out more about the career opportunities available to them and I'm proud to have taken part."
Michael McBrearty, Chief Executive of hub South West, said: "Our continuing drive to show young females the possibilities of a career in construction is an aspect of hub South West's work. I take pride in. It's important that young people, regardless of gender, see the bright future they can have through a career in construction."
hub South West was established in 2012 to deliver value-for-money on public sector community-based infrastructure across Ayrshire, Lanarkshire and Dumfries and Galloway. Since then it has successfully carried through to completion projects to the value of £380 million.
6 Jul 2018
New Glenmorangie Still House Building
Glenmorangie broke ground on a new still house, part of a multimillion pound expansion designed to position the single malt whisky for a strong, successful future. This significant investment in the Highland Distillery, which this year celebrates its 175th anniversary, will enable Glenmorangie to meet soaring global demand for its award winning single malt Scotch whisky.
New Glenmorangie Still House Building
Saltire Society Housing Design Awards Winners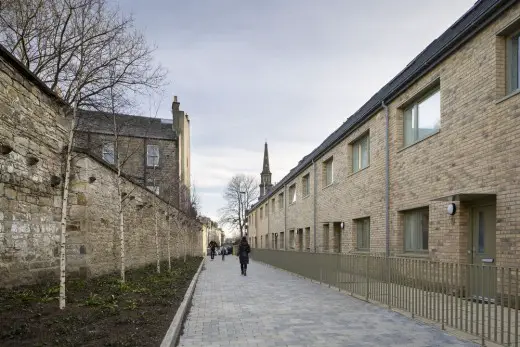 photo : Gillian Hayes
The 1.7 hectares site is surrounded by an existing category B-listed stone wall, the remains of the former Leith Fort. The proposed housing consists of 94 new-build residential units and a communal green space:
2018 Saltire Society Housing Design Awards
Glasgow School of Art Down-takings
29 + 28 Jun – statement from Glasgow School of Art:
"The areas of significant concern are the east elevation, the west elevation and sections of the south elevation.
"The plan of works will involve [site contractor] Reigart undertaking extensive down-takings and potential structural bracing.
"Due to the condition of the Mackintosh building, this work will be undertaken in a highly-controlled way to minimise any potential risk of failure and be sufficient to achieve structural stability of the Mackintosh building."
RIAS SGM; The Membership Decides
29 Jun – at a Special General Meeting held on 28 June 2018 in the Albert Halls, Stirling, 57 Chartered Members of the RIAS voted unanimously in favour of significant and progressive reform.
• New Interim Bye-laws allowing;
• nominees for President to be drawn from all the Chartered Membership,
• the President to be voted in by Chartered Members by ballot,
• Student and Associate (graduates working towards Part III) Members to vote for a maximum of two student/ associate representatives on Council by ballot.
The RIAS believe this is the first vital step towards refreshed governance making the RIAS stronger, more accountable and better placed to champion the profession as well as having a much more engaged membership.
Candidates for President of the RIAS will present their statements for membership debate over the summer.The new President will be installed at an AGM in the Autumn.
Details of the Presidential, Incorporation and student representative's elections will be released at the beginning of July.
The RIAS urge all members to participate in these elections and to help make the RIAS the organisation you would wish it to be.
Architect-led Design Team Sought
RIAS Consultancy have been appointed by Camphill School Aberdeen to manage a two-stage selection process to appoint an architect-led design team for a £10m Capital Investment Scheme. Stage one of the process is now open.
Glasgow School of Art Fire Update
22 Jun – Comment from Glasgow architect Alan Dunlop:
We should now accept that Mackintosh's Glasgow School of Art is now gone for ever and in its place create a new school of art, worthy of the master. That is how we best celebrate his memory and honour him as an architect of extraordinary invention.
Comment in full at Architecture News Scotland 2018
22 Jun 2018
Museum für Franken at Marienberg Fortress
Consortium of Hoskins Architects (Glasgow / Berlin), Ralph Appelbaum Associates and Wenzel+Wenzel to design the new Museum für Franken at Marienberg Fortress, Würzburg, Franconia, northern Bavaria, Germany
Museum für Franken at Marienberg Fortress
Test Unit 2018 in North Glasgow
Test Unit is a project conceived and produced by Agile City with strategic from Baxendale and A Feral Studio. The project's role and position within the area of north Glasgow has progressed through close partnership working with Igloo Developments and Scottish Canals and other key strategic partners including the Glasgow City Council.
Test Unit 2018 – Summer School and events programme Civic House, 26 Civic Street, Glasgow G4 9RH
17 – 23 June 2018
New Scottish Social Housing Safety News
20 June – Sprinkler systems to protect against fire.
Legislation to make sprinkler systems compulsory in new social housing is to be taken forward.
Housing Minister Kevin Stewart confirmed that the Scottish Government will take forward David Stewart MSP's proposal for a Members' Bill to make it a legal requirement for all future new build social housing properties to be fitted with sprinkler systems.
Currently all new high-rise domestic buildings, whether private or social, with a floor over 18 metres must have automatic fire suppression systems fitted.
Housing Minister Kevin Stewart said:
"I am very grateful to David Stewart for his work on bringing forward this important issue and gaining cross-party support for his proposal. I can confirm that the Scottish Government will implement the aim of Mr Stewart's proposal and will bring forward legislation as soon as is practicable in this Parliamentary session.
"This is an opportunity to further improve standards in our social housing and this work will be taken forward alongside the recommendations of the two reviews of building standards and fire safety which we will consult on later this summer.
"I look forward to continuing to work together with David Stewart and the very many others who have contributed to date in order to see this legislation through."
350 New Homes Approved in Shotts, North Lanarkshire
19 June – Work will soon begin on a new development that will completely transform Shotts, following planning approval from North Lanarkshire Council.
Advance Construction Scotland, a Bellshill-based company that specialises in large-scale groundworks and civil engineering submitted plans for up to 350 much-needed houses and a new roundabout on the eastern approach to the town.
The major regeneration project will be built on an 80-acre site at Springhill Farm.
Advance Construction Scotland, which has been working closely with EMA architects, also agreed to a planning obligation to support primary school capacity for the catchment area.
Lynsey Breen, director of strategic operations for Advance Construction Scotland, said: "We're proud to partner with North Lanarkshire Council to help transform Shotts and get the area ready for hundreds of high-quality houses, which will contribute to the much-needed demand for new homes in the area.
"It's an exciting regeneration project that will give Shotts the social and economic boost it deserves, allowing it to continue to grow in the future and serve communities for generations to come."
Shotts councillor Tommy Cochrane welcomed the decision. He said: "I'm absolutely delighted to see up to 350 new homes come to Shotts, which could bring an extra 1000 people to the town. The investment by Advance Construction Scotland provides a catalyst for the town to attract more retailers, which will create jobs and training for local people as well as providing a better shopping experience closer to home."
FitHome Village
19 June – A Saltire Award-winning concept that unites the priorities of healthcare, housing provision and tenant welfare is welcoming its first tenants in the Highlands today.
Fourteen people can now call the 'FitHome' village in Dalmore, Alness, their home, as the pilot development delivered by Albyn Housing Society, in partnership with Carbon Dynamic and NHS Highland, welcomes its first residents ranging in age from 18 to 90 years old.
Glasgow School of Art Fire
19 + 16 Jun – The Glasgow School of Art suffers a catastrophic fire for the second time in four years, with more than 120 firefighters sent to fight the blaze on Friday night. The Scottish fire and rescue service said the fire in the Mackintosh building had spread to neighbouring buildings including the O2 ABC nightclub.
Scottish Natural Heritage News
15 Jun – Scottish Natural Heritage (SNH) is launching a ground-breaking new approach that makes nature a key factor at the 'idea stage' of successful building projects.
Mike Cantlay, Chair of SNH said: "We know that living and working in great places brings huge benefits for physical and mental health. But in some areas, there is little or no opportunity to access the fundamentals of nature – grass, trees, bees and insects.
#DesignPopUp 2018
The Glasgow edition of #DesignPopUp is Double S Events' most established event. This is where Double S Events started in March 2014 and have been back every year since:
Wednesday 13th June: Exhibition open 10 am to 6pm
Thursday 14th June: Exhibition open 10 am to 6pm + Party 6pm to 9pm
Friday 15th June: Exhibition open 10 am to 3pm
Venue: The Briggait, 141 Bridgegate, G1 5HZ
Updated details on our events page
New homes increase but still long way off what's required, say builders
12 June 2018 – Scotland's home builders today welcomed official statistics showing a 4.8 per cent increase in the total number of housing completions in 2017 (17,739) but highlighted the long road that lies ahead in tackling the country's housing crisis as the figures equated to just 806 extra new homes on 2016 (16,933).
With the current undersupply of housing continuing to stymie the options of all generations, Chief Executive of representative body Homes for Scotland (HFS) Nicola Barclay said:
"It's good news that the figures for both new housing starts and completions are positive but a modest 806 extra homes demonstrates the scale of challenge facing us at a time when we need to rapidly increase supply. Our members, who deliver homes of all tenures, tell us that difficulties with the regulatory consents process means they simply can't get diggers on site quickly enough to satisfy the need and demand that exists."
HFS also pointed to regional disparities across the country through new data it was collating in relation to the geographies of its Local Home Builder Area Committees. This shows housing growth in 2017 was driven by the South East of Scotland (20.8%) and Highland & Moray (18.4%), whilst East Central Scotland fell by 16.2%. On this, Barclay said:
"It is vital Local Authorities and our member companies work together to ensure local areas get the homes they need to sustain their communities and economies."
The Scottish Homebuilding & Renovating Show in 2018
Taking place on 16 + 17 June 2018, Scotland's largest consumer exhibition for self-builders, home renovators and improvers, is back at the SECC Glasgow.
RIAS Future Directions
7th June 2018 – Second Membership Update From The President
At its meeting yesterday, RIAS Council discussed significant proposals to update the constitutional arrangements of the Incorporation. Council confirmed the interim Bye-laws needed as key steps to allow Council to put in place further reform of the Incorporation to reflect the membership's priorities and aspirations.
A Special General Meeting (SGM) is now called on 28th June 2018 to allow proposed changes to the Bye-laws to be considered by the wider membership of the RIAS. A calling notice for the SGM is attached, setting out the matters for membership consideration and approval. These include reinstating the election of the President by the membership.
Following the SGM, Council will prepare for the election of the President and the Incorporation Representatives (nationally elected) and student Representatives on RIAS Council. The results of these elections will be announced at the Annual General Meeting (AGM) which is planned to be held in September.
The AGM will also present the Trustees Annual Report and Statutory Accounts. The report provides a narrative to accompany the financial statements to the year ended December 2017. It documents the activities and achievements of the year including the ongoing governance reform and the HR and financial challenges that staff, Council and members have faced in what has been a turbulent period for the Incorporation. The report confirms that significant questions were raised regarding the Incorporation's governance and strategy and that its procedures were investigated and key operational and management changes are in place and still on-going.
Council also approved the budget for 2018 which proposes to postpone the appointment of a new CEO. The focus for the remainder of 2018: funding important constitutional changes and developing the membership strategy.
Consultation on members' strategic priorities is being led by your local Chapter at present but there will also be national consultation following their findings.
NMS Acquires Rare Charles Rennie Mackintosh Wash Stand
7 June – National Museums Scotland has acquired a rare and important wash stand by Charles Rennie Mackintosh. A highly significant example of Scottish 20th century design, the piece with go on permanent display from today to coincide with the 150th anniversary of Mackintosh's birth, on 7 June 1868.
Forming part of a bedroom set, the piece is made from mahogany and inlaid with mother of pearl. It is based on a similar wash stand designed in 1917 for the guest bedroom of the Northampton home of Mackintosh's patron WJ Bassett-Lowke.
The Knockaloe camp into which 'enemy aliens' were interned during the First World War was set up in November 1917. Many of those interned there were craftspeople who had worked as designers and makers in Britain before the outbreak of war. Due to the skilled work of the interned artisans who made them, the objects which make up these late bedroom sets are of superb quality.
Dr Sally-Anne Huxtable, Principal Curator of Modern and Contemporary Design at National Museums Scotland said:
"This exceptional piece of furniture is a major work by, arguably, the most significant Scottish designer of the Modern period. Mackintosh's designs from 1916-17 are markedly different from his earlier work in that they are beautifully made and celebrate the qualities of the materials used, rather than just focusing on form and colour. This is an important addition to our internationally significant collections of European art and design, and we are grateful to Art Fund and the Lindsay Endowment Fund for their support."
Glasgow Makes Shortlist for New Regional Home for Channel 4 – Barton Willmore Comment
1 June – Further to our post of 8th May, leading UK planning and design consultancy Barton Willmore has welcomed the decision by Channel 4 to include Glasgow on its shortlist to become its new second "national" headquarters.
The broadcaster has pledged to move some 300 staff to new headquarters outside of London by 2019 in a move to improve its UK presence and profile, and it was revealed this week that Glasgow is one of five cities earmarked to become its new regional hub.
Earlier this year, researchers from Barton Willmore's development economics team fuelled the debate by analysing the suitability of each of the contending cities in England, Scotland and Wales across four key areas. These include having: a large, qualified labour force; decent housing affordability and quality of life; an established creative media industry and strong university links.
Glasgow was ranked in the top five in the majority of these categories and, according to Barton Willmore, should be "considered frontrunners for the new HQ" ahead of more established favourites such as Birmingham.
Stephen Tucker, partner at Barton Willmore in Scotland, welcomed the decision to include Glasgow on the shortlist. He said: "Any new headquarters for Channel 4 would be a significant boost to the Glasgow economy and the City's media quarter on the Clyde would be a natural destination.
"Channel 4's selection criteria will very much be based on each city's individual merit – and the four categories we selected for our research will undoubtedly be critical in any future decision making. We used objective data sources to allow us to rank each emerging candidate city, with Glasgow scoring highly across each category."
Channel 4 said that its second main base must be in a city with a working population of more than 200,000 people, have a travel time to London of less than three hours, and provide a high quality physical and digital infrastructure. The broadcaster will now embark on a fact-finding tour next month of all the short-listed cities, which as well as Glasgow include Birmingham, Manchester, Liverpool and Leeds.
Stephen Tucker added: "Channel 4's decision making process is so far closely allied with our research findings, so Glasgow now must be in a very strong position in advance of any final decision being made.
"This is a huge opportunity for a city to benefit from one of the biggest names in UK broadcasting and its great news that Glasgow can now genuinely consider itself a very worth frontrunner in the race for Channel 4."
Voices of Experience event 'She Makes, She Changes'
25 May 2018 – Film screening and Panel discussion
Thursday 21st June 2018, 5.30-7.30pm
Glasgow Women's Library 23 Landressy Street, Glasgow, G40 1BP
Voices of Experience is delighted to present the first Scottish showing of the documentary film 'She draws, She builds' directed by Sarah Akigbogun, with Anna Schabel and Chloe Tayali.
The event – entitled ' She Makes, She Changes'- forms part of the Architecture Fringe Programme and is to be held at Glasgow Women's Library on Thursday 21st June at 5.30pm-7.30pm (poster attached).
As part of the screening we will host a panel discussion, that will include the filmmaker team, historian Diane Watters and RIBA Architects for Change members Elsie Owusu and Selasi Setufe to discuss broader examples of women 'creators' in the historic built environment.
The event is ticketed – Tickets £5/£0 via Eventbrite – via this link:
http://architecturefringe.com/#/voices-of-experience-1/
Sco.Mo Call for Sites
18 May – The Sco.Mo Project is a Landscape Institute Scotland funded project that is here to promote and implement the documentation, preservation and celebration of Scottish Modernist Landscape Architecture (1945-1999).
It has come to the attention of the LIS and Sco.Mo Team that Scotland's landscape modernist heritage is woefully underrepresented, with often little or no information to be found as a collective and engaging resource.
Scottish Modernist Landscape Project News
RIAS Festival of Architecture 2018
18 May – Call for Interest – Opening Your Practice or Promoting a Talk or Walking Tour
This year the RIAS's Festival of Architecture will support events through its 'brand' to bring a focus to Architecture during the autumn.
There has been a successful pairing of Doors Open Days and @RIASFest over the last two years and the RIAS have been invited to join the initiative this year. This is an opportunity to open the doors of your architecture practice, architect designed house or building to the public and being part of your local Doors Open Day programme.
Dalbeattie Learning Campus Building
17 May – The Dalbeattie Learning Campus, an 'all through' campus comprising nursery, primary, and secondary education set in an innovative, landscaped setting, has been named Best Social Infrastructure project at the prestigious international Partnership Awards at the Hilton Park Lane Hotel, London.
Independent Review of Building Regulations and Fire Safety
17 May – Responding to the Independent Review of Building Regulations and Fire Safety report published today, Minister for Local Government Kevin Stewart said:
"We welcome the engagement we have had with Dame Judith Hackitt and, while her report looks specifically at the system in England and Wales, we will look closely at the findings to ensure that any lessons or actions that may be needed are swiftly considered in Scotland.
Earth and Vernacular Buildings, Stirling
24 May at The Engine Shed, Stirling
This one day event will explore the local materials and skills used to make Scotland's historic rural houses. From earth to thatch, timber to stone, these buildings are the original eco-builds. More info on our events page.
Kilmartin Museum Redevelopment News
11 May – A grant of £3.2 million confirmed from the Heritage Lottery Fund (HLF) for the redevelopment Kilmartin Museum into a landmark venue that interprets and celebrates the global significance of Kilmartin Glen, one of the most significant archaeological landscapes in Britain.
Urban Union Housing in Scotland
10 May 2018 – An award-winning regeneration company is gearing up for an ambitious year with plans to build more than 250 homes across Scotland.
Urban Union – which has sites in Glasgow, Edinburgh and Perth – is committed to creating high quality accommodation, with a significant number of its stock being affordable housing.
Scottish Architectural News in 2018
Barton Willmore Research Shows Glasgow "A Frontrunner" for New Channel 4 Regional HQ
8 May – Research by leading UK planning and design consultancy Barton Willmore has revealed the city of Glasgow to be a frontrunner in the race to become the new regional home for Channel 4.
The broadcaster has pledged to move some 300 staff to new headquarters outside of London by 2019 in a bold move to improve its regional presence and profile. And now around a dozen of the UK's biggest cities, including Glasgow, are this month pitching their credentials to become Channel 4's regional hub.
Test Unit 2018 Glasgow – Agile City
8 + 4 May – This year's summer school – the first of its kind in Scotland – will challenge international art, design and architecture participants to turn talk into action by testing ideas in public space.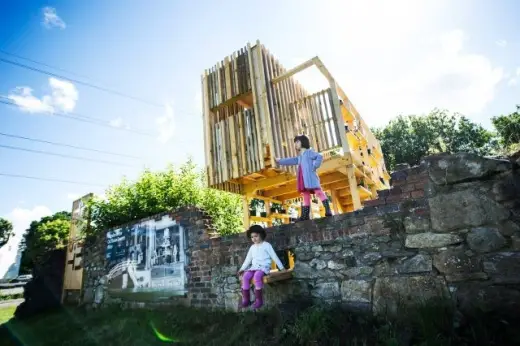 photo © John Devlin
Based in the Glasgow Canal area in the north of the city, an emerging district now going through significant change, Test Unit aims to be a method of active enquiry and learning for the area.
Glasgow Doors Open Days
The deadline for inclusion in the Glasgow Doors Open Days 2018 printed programme is Friday 11 May.
If you are interested in being involved in the programme, please get in touch with the festival coordinator Molly Whawell, [email protected] / 0141 554 4411
For more information, visit www.glasgowdoorsopendays.org.uk
Threesixty Architecture at The Garment Factory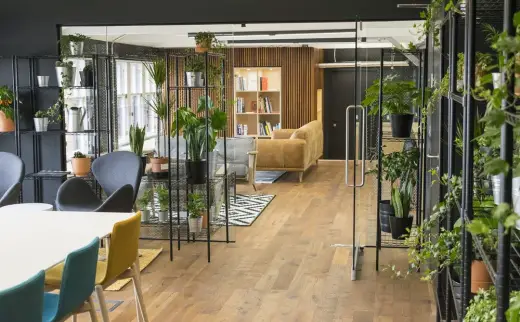 image courtesy of architects
2 May – Leading practice Threesixty Architecture has taken occupation of its new studio in The Garment Factory, a unique and contemporary office development in Glasgow's city centre:
Threesixty Architecture at The Garment Factory
Climate Change Impact on the Historic Environment
4 May 2018, 09:00 – 17:00
Venue: The Engine Shed, Stirling, Forthside Way, Stirling, FK8 1QZ
Cost: £13.50 Historic Scotland member, £15.00 Non-member
This one day seminar will bring together heritage focused projects and organisations from across the United Kingdom to showcase a range of different methods used in the sector to identify and assess climate change risk.
Glasgow Architecture News 2018 up to end of April 2018
Glasgow Building News from July 2017 to December 2017 – news archive
Glasgow Architecture News from end of January 2017 to July 2017 – news archive
Glasgow Architecture News 2016 – end of January 2017 – news archive
Glasgow Architecture News 2015 – news archive
Comments for the Glasgow Architectural News for 2018 page welcome