Glasgow Architecture News 2018, Strathclyde Buildings, Scottish Architects, Design Images Scotland
Glasgow Architecture News 2018
Scottish Architectural + Construction Updates – West of Scotland Property Jan-Apr 2018
1 January to 30 April 2018
Glasgow Architecture News in 2018
Ambassador LB News
28 Apr 2018 – Ambassador LB has committed to invest £7m across three commercial office buildings in Glasgow, delivering 60,000sqft of Grade A office space in the process, report urban realm.
The partnership between Ambassador Group and ICG-Longbow will deliver improved digital infrastructure to the Ink Building, Hanover House and the Forsyth Building (formerly RWF House), bringing all three in line with current market expectations.
Wavegarden Scotland Planning Approval News
25 Apr – Wavegarden Scotland approved to develop Scotland's first artificial surf park ad leisure complex, which will be nestled within a 23 hectare country park at Craigpark Quarry near Ratho, Edinburgh.
More at Artificial Surf Park Scotland
25 Apr 2018
SPF report highlights Build-to-Rent gap between Scotland and UK Regions
New data highlights the significant gap between the number of purpose-built rental properties in Scotland and those being constructed in different English regions.
According to the Scottish Property Federation (SPF), figures at the end of Q1 2018 show that for every build-to-rent (BTR) home in Scotland, North West England has nearly 10.
More at Architecture News for Scotland
One Week's Work Placement Leads to a Year of Success for Edinburgh Architectural Student
23 Apr – Barton Willmore Helps University Students with 'Real Life' Experience
An Edinburgh architectural student is celebrating her first-year anniversary of working with planning and design consultancy Barton Willmore, after initially joining the company for just a five-day work-placement.
RIAS Convention
RIAS Convention 2018: 11-12 May, Aberdeen, Programme now available
Speakers include:
– Winy Maas, MVRDV
– Caroline Bos, UNStudio
– Richard Murphy OBE FRIAS, Richard Murphy Architects
EAA Awards 2018 Shortlist
The Edinburgh Architectural Association is pleased to announce the shortlist for the 2018 EAA Awards. In total 58 submissions were received, all projects are designed by registered architects and built within the chapter area, with exception to the Ambassador Award which is built out with the chapter.
Sighthill Regeneration – Transformational Regeneration Area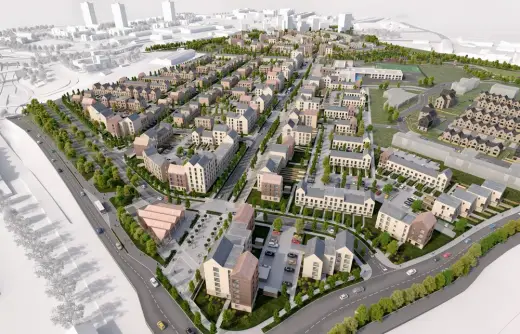 image courtesy of architects
19 Apr – Glasgow City Council has signed an agreement with Glasgow Housing Association (GHA) and Keepmoat Homes to deliver more than 800 new homes at the Sighthill Transformational Regeneration Area (TRA) in the city. Keepmoat will work with independent consultancy LDA Design to bring forward the new development:
Sighthill Regeneration – Transformational Regeneration Area
Studio LBA Appoints Associate
LBA Architects News
17 Apr – With a degree in Architecture from Edinburgh University, Brian has held senior positions in architectural practices including Richard Murphy Architects and Coffey Architects.
#DesignPopUp Dates
The Glasgow edition of #DesignPopUp is Double S Events' most established event. This is where Double S Events started in March 2014 and have been back every year since.
Dates: 13th – 15th June 2018
Venue: The Briggait (141 Bridgegate, Glasgow, G1 5HZ)
More info on our events page.
GIA AGM 2018 & 150th Birthday Party
Date: 12 April 2018
Venue: SWG3, 100 Eastvale Place, Glasgow, G3 8QG
Cost: £20 | £15 | £10
The Glasgow Institute of Architects is to celebrate 150 years with a party for the wider construction industry following its 2018 AGM.
Street food delights will be offered by Chompsky and Nomad Pizza and accompanied by a special edition GIA 150 birthday doughnuts by Tantrum Doughnuts.
RIAS Awards Dinner
7 Apr – The host of this year's RIAS Awards Dinner will be broadcaster and author, Sally Magnusson Hon FRIAS.
This black tie event will be held at the Glasgow Hilton on 20th June 2018. It will include the presentation of this year's RIAS Awards and the announcement of the RIBA Awards for Scotland as well as the presentation of the sub-category awards.
More on our events page.
Glasgow Architecture Comes to Glasgow!
7 Apr – Yes, since we had our kick off party at the top of Spectrum back in 2002 (with talks by Murray Grigor and Johnny Rodger) we have run Glasgow Architecture and Edinburgh Architecture (set up in 2000) from the East Coast of Scotland…..but now e-architect is going to jointly operate from Glasgow and Dubai.
These two architecture websites are some of the oldest in the world, in fact I'm sure when I set up the Edinburgh site the only other one out there was Death by Architecture which wasn't really an architectural resource so not comparable.
Ed. architect Adrian Welch
Stirling Society of Architects Design Awards 2018
6 Apr – Call for Entries – projects must have been completed between 1 April 2015 and 1 April 2018 within the SSA Chapter Area (Stirling, Falkirk and Clackmannanshire), with work under-taken by an ARB registered architect or practice.
All entries must be received by 30 April 2018. In order to reduce the cost and time involved in preparing submissions, entries for the awards shall be submitted in electronic format only and may be submitted by emailing [email protected]
Help to Buy scheme set to benefit even more Scots
6 Apr – News of the Scottish Government's decision to extend funding of its hugely successful Help to Buy shared equity scheme for two more years has been applauded by home builders who described it as good news for buyers and Scotland as a whole.
Women into Construction
5 Apr – Females into Construction course opens up new opportunities for 16 Lanarkshire hopefuls
Infrastructure partnership hub South West is throwing its weight behind a new initiative which is aimed at encouraging greater female career participation in the construction sector.
In partnership with its main contracting partners – Kier, Graham, Morrisons and Morgan Sindall – hub South West is supporting the Females into Construction course, facilitated by New College Lanarkshire.
The course, which has no formal entry requirements, will be open to 16 female S5 pupils, and provides a National 5 qualification in Construction Crafts. On completion, students can progress to pre-apprenticeships or progress onto a professional career route of higher national certificate level.
Michael McBrearty, Chief Executive of hub South West, said: "The course aims to encourage young females who are interested in a career in construction, while highlighting the varying career paths into the industry.
"Throughout the course, students will have the opportunity to visit sites managed by the supporting contractors, where they can observe a variety of construction roles in action."
New College Lanarkshire, which recently was rated among the UK top three institutions for skills at WorldSkills UK, will run the course from April 30 to June 29 at its Motherwell Campus.
The course will include painting and decorating, masonry work, carpentry and joinery as well as visits to live construction sites, ambassador talks, visits to design offices at regional headquarters, CSCS specific safety training and work placements.
Students who are interested in pursuing a professional career path in construction may have the opportunity to join the college's Built Environment or computer aided architectural design and technology.
Waverley Station Contract
30 Mar – Story Contracting replace Carillion as the main contractor for platform extension works at Edinburgh Waverley station.
Story confirmed in a statement it had been awarded the contract by Network Rail.
Original contractor Carillion began work on the £23m project in 2017 before its collapse in January of this year.
Story has previously been sub-contracted by Carillion to deliver elements of the works.
Waverley Station Development News
A New Chapter Statement on RIAS Reform
28 Mar – aNC is greatly encouraged by recent moves within the RIAS to implement significant reform measures. These are in line with the changes aNC has been pressing for. We are supportive of the changes proposed and agreed at this week's Council meeting and welcome the Institution's willingness to engage and work together for the benefit of the wider membership.
RIAS Reform Statement from aNC
GIA CPD Event 6 – Timber in Construction
28 March 2018
A presentation by Andy Leitch of the Forestry Commission, Scotland and Peter Wilson from Wood for Good of Timber use in construction.
Homes for Scotland Awards 2018 Shortlist
26 Mar – The shortlist for Scotland's premier home building industry awards has been announced as Homes for Scotland prepares to celebrate the sector's successes at the largest annual gathering of its kind: Homes for Scotland Awards 2018
Scottish Support for self and custom build housing
26 Mar – Local projects will share £160,000 to take forward self and custom build housing initiatives.
The Self and Custom Build Challenge Fund will support seven pilot projects in Argyll and Bute, Perth and Kinross, Highland, Glasgow and Edinburgh that will look into the feasibility of creating more self or custom built homes.
Scottish Borders Building Design Awards News
23 Mar – Scottish Borders Building Design Awards
The search is on again for the best designed new buildings in the Borders, with the launch of the Borders Building Design Awards 2018.
Inverness Justice Centre Construction News
9 Mar – Construction begins of Scotland's first justice centre, designed by Reiach and Hall Architects. As well as providing modern court and tribunals facilities, a range of justice and support organisations will be based in the centre providing integrated facilities for victims, witnesses, litigants and other users. Specialist facilities for children and young people will be incorporated within the design:
Inverness Justice Centre Construction
New Approaches for Energy Efficiency
Free event – Supporting the Scottish Government's ambition to decarbonise energy systems and reduce fuel poverty through Scotland's Energy Efficiency Programme (SEEP), the event aims to stimulate discussion, knowledge and interest amongst buyers and suppliers on the latest innovative products and services within the Scottish energy efficiency and renewables markets.
20 March 2018 09:30 – 17:00 at the Glasgow Science Centre, 50 Pacific Quay
More on our events page
CIBSE Scotland Conference
Opportunities for growth in the building services engineering sector in Scotland. Hear from experienced speakers representing all branches of our industry.
20 March 9:30 – 16:30 at the Technology Innovation Centre, University of Starthclyde, 99 George Street, Glasgow G1 1RD
GIA AGM 2018 & 150th Birthday Party
The Glasgow Institute of Architects is to celebrate 150 years with a party for the wider construction industry following its 2018 AGM.
12 April at SWG3, 100 Eastvale Place
Pacific Quay Hotel
28 Feb – News announced for expansion of the Premier Inn at Pacific Quay, design by Lawrence McPherson Architects. Whitbread require a 54-bed extension with a ground floor coffee bar, expanding the 180-room waterfront hotel completed four years ago by the same architecture practice.
Jumeirah Hotel on Argyle Street
27 Feb – Work on the Argyle Street site may progress again after it was purchased by Vanguard Real Estate.
Jumeirah Hotel site on Argyle Street
Queens Quay, Clydebank
26 Feb – Clydeside Regeneration Ltd starts construction work at Clydebank's Queens Quay, a £250m waterfront project. Site strengthening of the existing basin and river frontage in the East Wharf is being undertaken by Engineering firm George Leslie.
Haymarket Masterplan Revisions
23 Feb – Reworked designs by Richard Murphy Architects prepared for The Haymarket. Previously Interserve and Tiger Developments eventually received plannign consent for this mixed-use development.
Campbeltown Grammar
22 Feb – The new £26m Campbeltown Grammar has opened. Designed by Ryder and built by Morrison Construction and Hub North it has capacity for up to 500 pupils.
Scottish Property Federation announces top line up for its 2018 annual conference
21 Feb – Industry leaders, policy makers and academics make up the list of speakers at the 2018 annual Scottish Property Federation (SPF) conference, which looks specifically at the value of place-making, the people-centric approach to planning and design of public spaces, and how it is funded.
More info at Edinburgh Building News
Help to Buy could further boost First Time Buyer levels
21 Feb – Response to latest UK Finance data showing first-time buyer levels at their highest for a decade, from Karen Campbell, Director of Policy at Homes for Scotland:
Stirling Student Accommodation
21 Feb – Stirling's first purpose built student accommodation – £18.2m new build development will bring 207 new beds to Stirling's underserved and over-stretched student accommodation market.
Tenants secured for Johnstone's former shoe lace mill site
20 Feb – 4th Developments, owners of the former Paton's Mill site in Johnstone, has secured three new tenants, as interest increases in the regeneration of the site.
Architects are Stallan-Brand.
Phase 1 of Paton's Mill Retail Park includes Aldi, Starbucks and Home Bargains who have each signed up in recent months to create a supermarket, drive-through restaurant and retail offering respectively.
Starbucks has signed a lease for a 2,300 sq. ft. drive-through restaurant located at the High Street entrance to the development, Aldi will occupy Unit A, a 17,000 sq ft. retail unit and Home Bargains will be in the second retail unit comprising 15,000 sq. ft.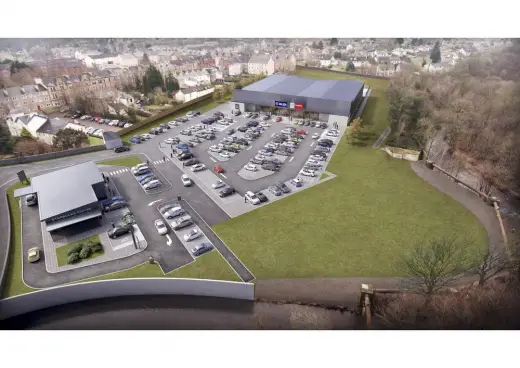 image courtesy of developers
Bell Building Projects Limited, the main contractor has been on site since mid-December and is working towards completion of Phase 1 of the development masterplan in Summer 2018.
Paton's Mill Background
Acquired in January 2012 following a process led by Renfrewshire Council to identify a developer who would review the site and identify commercial uses to enable its positive redevelopment following significant fire damage in May 2010.
The site presents a number of environmental challenges and the remains of the derelict fire-damaged structures are in a poor state of repair. Since acquisition, the private pension fund's appointed management team has undertaken a full review of the site and the existing structures, to assess their viability for retention. In addition to a subsequent extensive period of market research, the result is a proposed master plan for redevelopment which is capable of delivery.
4th Developments
4th Developments is a development company with experience in project delivery, masterplan and successful asset management strategies. 4th Developments is part of 4th Group who specialise in improving asset performance, transforming tired buildings and sites into destination retail and leisure, managed office and workspace for existing clients and within their portfolio.
The company is a young and dynamic team with over 40 years' combined experience and is focused on achieving high quality, creation and delivery of value and managed solutions within its managed and directly owned portfolio. The company's strong performance is achieved through close, efficient team working to the highest standards with all project partners.
Springfield Properties News
20 Feb – Springfield Properties, a leading housebuilder in Scotland delivering private and affordable housing, announces its interim results for the six-month period ended 30 November 2017.
Sandy Adam, Executive Chairman of Springfield Properties, said: "I am delighted to be announcing our first set of interim results as a quoted company…..In particular, we have invested in the development of our new Villages that will accelerate our building of new homes, private and affordable, in new communities across Scotland."
Community Heritage Scotland Survey
17 Feb – A large part of Scotland's heritage is managed by volunteers and community organisations, but we have no clear picture of this rapidly growing sector. A new project called Community Heritage Scotland has been launched which aims to map it and bring about positive change.
Online survey: http://bit.ly/communityheritage
Community Heritage Scotland – Going Forward
A discussion day for people involved with heritage in their communities.
Date/time: Saturday 3rd March, 10.30 am – 4.30 pm
Location: North Muirton Hall, Argyll Road, Perth, PH1 3BZ
Cost: free
Website: https://communityheritagescotland.eventbrite.co.uk
Nomination for GIA President
16 Feb 2018 – Tim Gray will be standing down as GIA President at the Annual General Meeting on 12th April 2018. Nominations are invited from the Chapter Membership to succeed in the post for the next two years.
The successful candidate will be leading the GIA at anexciting time with the AGM being the start of the Institute's 150th Anniversary year and also providing leadership for the chapter at a time of restructure at the RIAS.
Nominations should include the following information and be sent to the GIA Secretary [email protected]:
Name:
Address
Email:
Tel:
RIAS No:
Nominated by: (name and RIAS membership no.)
Personal Statement (max 150 words):
Nominations will close on Friday 25 February 2018 with a hustings event planned for early March as part of the GIA's PaperCut series with the final vote taking place at the AGM on 12 April. Any queries regarding the role can be sent to president(at)gia.org.uk
RIAS/RIBA Awards for Scotland 2018 News
RIAS/RIBA Awards for Scotland 2018: Entry Deadline – 27th February
All types of architectural projects are eligible, including conservation, conversions, extensions, interiors, new-build, public realm, regeneration and restoration.
Re-submission
Entries which have been previously submitted can be re-submitted and will be considered for both RIAS and RIBA (National) Awards. Projects may only be re-submitted once.
The entry form can be found below. Please also register your interest to [email protected]
Website: RIAS/RIBA Awards for Scotland 2018
British Linen Bank Building
15 Feb 2018 – Restoration work has commenced on the A-listed British Linen Bank building in Laurieston. Built in 1900 by architect James Salmon the Art Nouveau building is located on Gorbals Street, opposite the Citizen's Theatre.
Glasgow architects Page\Park have designed the redevelopment which includes a lower commercial space and upgraded flats above. Completion is due by Spring 2019.
West Dunbartonshire Council Place and Design Panel Members Wanted
To apply to join the Place and Design Panel or should you wish to know more prior to applying, please contact;
Ashley Mullen – Place and Design Officer, Tel. 01389 737775, email Ashley.mullen(at)west-dunbarton.gov.uk.
The closing date for applications is Friday 1st June 2018
https://www.myjobscotland.gov.uk/councils/west-dunbartonshire-council/jobs/member-place-and-design-panel-104083
Govanhill, Housing
15 Feb – 45 homes for rent on Batson Street build, designed by architects Cooper Cromar. The properties are located on the site of the former Victoria Primary School in Govanhill, for Glasgow Housing Association and CCG.
HALO Masterplan in Kilmarnock
9 Feb 2018 – Following the recent approval of Planning Permission in Principle for the HALO masterplan in Kilmarnock by Glasgow architects Keppie Design, the first phase of this ground-breaking development has now been submitted to East Ayrshire Council for detailed planning permission:
Inverclyde's Pioneering Food and Drink Incubator Receives Planning Consent
9 Feb – Riverside Inverclyde (ri) Property Holdings, the organisation charged with delivering the economic redevelopment of Inverclyde in the west of Scotland, has been given planning permission by Inverclyde Council for a new food and drink incubator in Greenock.
The incubator and its other areas of support for businesses will be the first of its kind in Scotland, assisting Inverclyde's growth in the food and drink sector as Scotland aims to double its turnover to £30 billion by 2030.
Oriam Sports Performance Centre Building
5 Feb – Award-winning Sports Performance Centre, Oriam, has been shortlisted for Project of the Year at the CIBSE 2018 Building Performance Awards. It is home to the governing bodies of Scottish football and rugby union, as well as a host of other sports including volleyball, squash and basketball:
Oriam Sports Performance Centre
Kelburn Business Park
4 Feb 2018 – Peak Scientific Announce Research and Development Expansion into Inverclyde
Riverside Inverclyde (ri), the organisation charged with delivering the economic redevelopment of Inverclyde in the west of Scotland, has concluded an agreement with international life science engineering firm, Peak Scientific, on a five year lease of 2,121 sq ft of space from 19 January 2018 at Kelburn Business Park in Port Glasgow.
Peak Scientific is a leading innovator in the design, manufacture and support of high performance gas generators for analytical laboratories. Established in the UK in 1997, Peak Scientific boasts a significant local presence on every continent – including major operations in North America, China and India.
Completed in 2015, the eye-catching £4m Kelburn Business Park offers light industrial and office accommodation ranging from 2,120 square feet to 15,564 square feet across four blocks.
BIM & Digital Transformation Scotland 2018- Towards a Digital Built Scotland
Date: 7 Feb
Venue: Strathclyde University Technology and Innovation Centre, Cowcaddens Road, Glasgow G4 0BA
FutureScot is delighted to announce BIM & Digital Transformation Scotland 2018 – Towards a Digital Built Scotland, a full-day conference examining Scotland's 'digital revolution' for the built environment.
SSEG Talk: Sunspaces and their Performance – Energy and Amenity
Time: 7 February 6.30pm – 8.30pm
Venue: Principal Seminar Room 1 (ground floor), Reid Building, The Glasgow School of Art, 167 Renfrew Street, G3 6RQ
The environmental monitoring of sunspaces, not only the measurements within them relative to rooms behind, but how the sunspaces were designed in terms of their ventilation to the outside and through to the interior, have given us some insight with this new research. This includes how the users engage with manual controls at their disposal and what uses they make of the sunspaces.
More info on our events page.
RIAS Future Directions
3 + 2 Feb 2018 – "Members will have been concerned by articles in the press and may be aware that 'A New Chapter' has published it views on RIAS and its future direction. RIAS has been silent on these matters until now as the staff and Council Members have been working hard to put in place mechanisms to ensure that governance issues and wider concerns are addressed, while at the same time ensuring the core business and Membership obligations of the RIAS continue. Below we provide background on work to date".
Planning Bill is crucial chance to ease the housing crisis
2 Feb 2018 – As Scotland continues to wrestle with how to solve its housing crisis, Homes for Scotland, which represents the providers of the majority of the country's new homes, has outlined its thinking on the proposals in the Planning Bill currently being scrutinised by the Scottish Parliament.
Setting out its position in written evidence to the Local Government and Communities Committee, the organisation believes that the Bill could deliver the balance the planning system requires as it focuses on improving collaboration rather than introducing potential areas for additional conflict.
Director of Planning Tammy Swift-Adams highlighted that there is as much to be achieved outside of the legislative framework as within it:
"In light of this week's quarterly statistics showing a good improvement on planning decision times for major housing applications achieved within the current system, we would hope to see ongoing improvements. If we can get planning reform right, good performance should be the norm and communities and home builders alike should have better trust in the process that shapes our country's development."
Referring to the debate on whether third party rights of appeal should be introduced, she added:
"Like many others, we strongly feel this would be a negative move resulting in delays to the delivery of new homes. The focus should remain on finding new opportunities for collaboration rather than conflict.
"Having seen an increase of ten per cent in new NHBC housing registrations in Scotland last year, we must keep this momentum going at a time when people are crying out for new homes."
Mackintosh Building Immersive Exhibit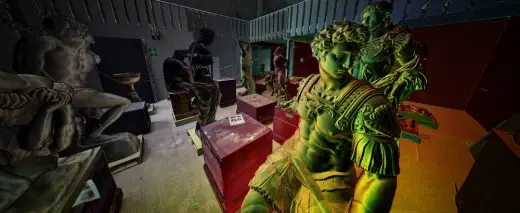 picture : 3D pointcloud image from GSA
30 Jan – The GSA awarded major grant by AHRC to develop Mackintosh Building immersive exhibit.
The project is one of a number of initiatives funded by the AHRC to demonstrate how collaboration between researchers and businesses can help the Creative Economy get maximum benefit from new Virtual Reality (VR)/Augmented Reality (AR) technologies:
Mackintosh Building Immersive Exhibit
Paton's Mill Site in Johnstone
30 Jan – The owners of the former Paton's Mill site in Johnstone, Renfrewshire have today announced the appointment of Bell Building Projects Limited as the main contractor to develop Paton's Mill Retail Park.
4th Developments, owners of the former shoelace mill site, confirm that Phase 1 of the development masterplan works are now underway.
The £3.5m development scheme, to build a supermarket, non-food retail unit and a drive through is progressing as planned and is scheduled for completion this coming summer.
Based in Glasgow, Bell Building Projects Limited support local job creation and apprenticeships and has been behind developments including the Jaguar/Volvo car showrooms at Junctions 26 Hillington/Braehead and the A&D logistics facility at Phoenix Retail Park.
Martin Bell, Managing Director of Bell Building Projects Limited added:
"Bell Building Projects is delighted to be involved in the revitalisation of this historic site. The company has been involved from and early stage with 4th Developments and the design team to deliver a striking retail development which will be a superb addition to the local area.
"We have a strong history in retail construction both in the high street and out of town developments and look forward to adding Paton's Mill Retail Park to our successfully completed projects.
A further announcement is expected in a few weeks, regarding the tenants of Paton's Mill Retail Park.
Paton's Mill Background
Acquired in January 2012 following a process led by Renfrewshire Council to identify a developer who would review the site and identify commercial uses to enable its positive redevelopment following significant fire damage in May 2010.
The site presented a number of environmental challenges and the remains of the derelict fire-damaged structures were in a poor state of repair. Since acquisition, the development management team undertook a full review of the site which resulted in the demolition of the existing structures to enable construction of the new retail park in August 2017.
The site extends to 10 acres, is bound by the Black Cart River to the north and Johnstone High Street to the East. Not all of the land is capable of development and the industrial uses in the past have prevented areas of the site being directly accessible to the community.
Public consultations took place in June 2016 and the redevelopment master plan was approved by Renfrewshire Council in January 2017. The plan included the regeneration of the former shoelace factory with retail warehouse units, a drive through restaurant, family pub/restaurant and housing, together with the opening up of the riverside woodland with a historical trail.
The design influence for the retail units flows from some of the buildings occupying the former site, with designers Stallan-Brand selecting a palette of dark grey, white brick and softened at the entrances with wood finish, soffit detailing and glazed frontages to create a modern and elegant finish.
A New Chapter Position Statement on RIAS
26 Jan – A New Chapter's Position Statement in relation to ongoing RIAS matters. This covers a range of issues relating to Police/OSCR investigations, proposals to form new Governance/Finance Committees and the current Council/Presidents' position. The Position Statement by aNC sits alongside an developing 5-point plan:
A New Chapter Position Statement on RIAS
Comments welcome at info(at)glasgowarchitecture.co.uk
Scotland to Northern Ireland Bridge
26 + 23 Jan – One of Scotland's leading architects has claimed that a bridge between Scotland and Northern Ireland is not only "feasible" but could create a "Celtic powerhouse" and cost a fraction of the one proposed by Boris Johnson between England and France.
Professor Alan Dunlop, visiting professor at the school of architecture at the University of Liverpool, said a combined road and rail crossing could be erected between Portpatrick, in Dumfries and Galloway, and Larne in Northern Ireland.
Scotland to Northern Ireland Bridge
Scottish Great Places Awards News
23 Jan – 9 special places in Scotland are celebrating an injection of £2.4million to help shape their future development. They are the first awards to be made in Scotland through The National Lottery's groundbreaking Great Place scheme.
3DReid submits plans for blue-sky thinking in Glasgow's Merchant City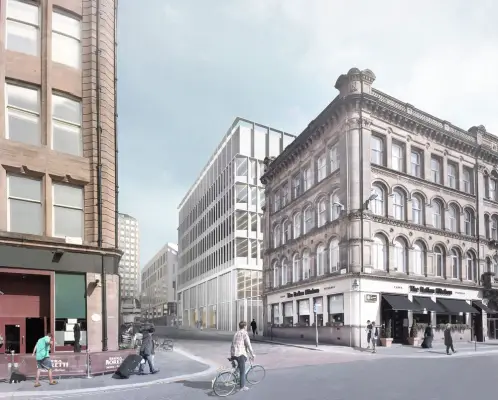 image courtesy of architects
23 Jan – A speculative office building on a key city centre site, including public realm and collaborative workspace:
NVA Film Set at St Peter's Seminary
22 Jan – Announcing Make Me Up, a new film by Rachel Maclean:
NVA are working with Hopscotch Films to co-produce Make Me Up, a new film by acclaimed Scottish artist Rachel Maclean which marks 100 years since women were first given the right to vote in the United Kingdom.
Part horror movie, part comedy, the film reflects on the shortcomings of our journey towards equality throughout the past century.
Atlantic Quay 1 Offices News
19 Jan – Department For Work and Pensions taking 85,000 sq ft at Atlantic Quay 1 building:
Atlantic Quay 1 Development
Joules at Greenock's Custom House
19 Jan – International fashion and lifestyle brand, Joules, signs three year lease extension at Greenock's Custom House.
Riverside Inverclyde (ri), the organisation charged with delivering the economic redevelopment of Inverclyde in the west of Scotland, has concluded an agreement with international fashion and lifestyle brand, Joules on a three year lease of 1,578 sq ft of space from 1 January 2018 at Greenock's recently refurbished Custom House.
Custom House Greenock Building
Future Direction : Governance Update for RIAS Membership
12 Jan – Page\Park design for historic Glasgow engineering works: detailed plans for the restoration of surviving industrial buildings, including the demolition of one fire-damaged structure to allow a new courtyard to be created.
Zephyr acquired the former Howdens engineering works in 2016 with a view to retaining the historic character of the site by fashioning an innovative business space within it, with undeveloped land given over to a mix of flats and mews-style properties.
Future Direction : Governance Update for RIAS Membership
The December update on governance outlined the process and programme for setting up the new interim governance arrangements. There has been a steady response with applications for committee members to assist with the governance committee.
The RIAS would welcome further interest from members with experience and interest in finance and audit experience that could assist with the new committee. They are therefore extending the deadline for expressions of interest to Tuesday 16th January 2018.
Please reply to Karen Stevenson, Acting Secretary, Director: Policy and Development, karen.steven[email protected], with a supporting statement of your experience.
Scottish Parliament Debate
8 Jan 2018 –
Maintenance of Tenement Communal Property Scottish Parliament Debate
Date: 9 January 2018
Time: 5pm
Venue: Scottish Parliament
Motion Number: S5M-08354
Motion Text:
That the Parliament recognises that a significant proportion of people in Edinburgh and across Scotland live in tenement buildings; believes that the maintenance of communal property, otherwise known as the common parts or "Scheme Property" as defined in the Tenements (Scotland) Act 2004, in tenements is essential to the upkeep of the buildings and the standard of living for owner occupiers and tenants; understands with concern that, in many cases, such Scheme Property is in a state of disrepair, degradation or deterioration; believes that current legislation is not consistently fulfilling its intention to encourage owners to establish effective arrangements for managing communal repairs and undertaking maintenance; acknowledges the various potential solutions put forward by groups and individuals in the housing sector to help address this issue, and notes the view that, for the wellbeing of owner occupiers and tenants and to sustain and enhance the country's urban infrastructure and environments, the government should review the situation and consider any legislative changes, new initiatives, enhanced use of existing rules and/or further action by local authorities that could facilitate improved upkeep of Scheme Property.
Highland FitHomes Funding
8 Jan 2018 – £3m funding has been agreed for a 'FitHome' assisted living project from the Scottish Government. The project is led by Albyn Housing Society in partnership with Carbon Dynamic and NHS Highland.
Calum Macaulay, Chief Executive at Albyn Housing Society, said: "The central concept of these high-quality, sustainable homes is that they will include ambient, physiological and building sensors. The sensors will collect data that can be monitored and responded to by a variety of agencies. Potentially, this will transform the way health and social care is delivered.
"The collaboration has already included potential residents, school children, doctors, nurses, occupational therapists, health and social care managers, technologists, enterprise executives – anyone who can offer experience, expertise and insight to ensure this project results in a sustainable and successful model for the future.
"We're very excited to be progressing this unique initiative as part of the Inverness and Highland City-Region Deal given its enormous potential to develop a Highland, UK, even Global, solution that encompasses housing, health, care, digital technology and economic growth."
Chair of the Highland Council's Environment, Development and Infrastructure Committee, Cllr Allan Henderson, welcomed the latest funding announcement, saying: "We all have an interest in what the City-Region Deal means to the Highlands as a whole. This is an exciting project which will bring benefits to communities across the region, together with other pan-Highland projects such as the Newton Rooms, affordable housing, free wifi, and support for small and medium businesses throughout the Highlands."
Cabinet Secretary for Economy, Jobs and Fair Work Keith Brown said: "I look forward to the development of the assisted living homes that this city region deal funding will bring – especially those in Inverness City for veterans. This £3 million investment shows the benefits of the Inverness and Highland City Region Deal and how it will improve access to healthcare and housing in the area and eventually help people live independently in their homes for longer.
Glasgow Tenement Funding
29 Dec 2017 – Residents of a historic building have held rooftop gigs and pop-up exhibitions as they try to raise £1.2 million for vital repairs, reports the Evening Times.
The B-listed Camphill Gate tenement in Glasgow needs major work to restore it to its former glory, including repairs to its glass cupolas, rooftop railings and guttering.
Residents of the 24 flats and 12 shop units that make up the five-storey building have joined together to raise funds for the renovation through a host of events
School Building in Partick
St Peter's School is being demolished to make way for 60 new affordable homes for mid market rents and social housing. The old building in Dowanhill Street is being demolished to make way for five new build closes containing 39 flats. The Chancellor Street building will be kept and converted into 21 flats, reports the Evening Times.
Merchant City Offices Building News
22 Dec – Planning submission by architects 3DReid for a speculative office development for Scottish Enterprise within the emerging Innovation District of Glasgow's Merchant City to serve as a bridge between academia and the wider city. Inovo2 will sit alongside Inovo1 and the University of Strathclyde's Technology and Innovation Centre and will deliver flexible office space designed to accommodate businesses large and small, reports Urban Realm.
Future Direction : Governance Update for RIAS Membership
From the RIAS: "Our announcement to you on the 14th December provided an outline of how the RIAS was intending to proceed with its governance review. The following provides further details -December Update-about the programme we are working to, the arrangements that will be put in place and the areas of business that will be the focus. Further updates and details will be circulated as they emerge in the New Year."
Glasgow Building News from July 2017 – news archive
Glasgow Architecture News from end of January 2017 to July 2017 – news archive
Glasgow Architecture News 2016 – end of January 2017 – news archive
Glasgow Architecture News 2015 – news archive
Comments for the Glasgow Architecture News 2018 page welcome