PAC Glasgow, Paisley Arts Centre Architect, Cultural Building Images, Scottish Design
Paisley Arts Centre Building
New cultural centre for Renfrewshire Council, Scotland
18 Nov 2022
Paisley Museum transformation fundraising campaign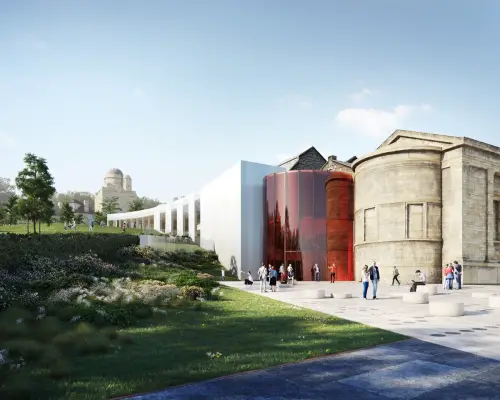 The fundraising campaign supporting the work to redesign Paisley's museum into a world-class visitor destination is celebrating after passing the milestone of £1m of funding secured:
Paisley Museum Building
Previously on Glassgow Architecture:
18 + 12 July 2022
Paisley Arts Centre Extension
Clark Contracts has begun work on the Paisley Arts Centre building refurbishment and extension. The construction will create a modern performance venue for Renfrewshire Council within the 250-year-old former church.
The changes include a redesigned public space on New Street to help open up access to the creative hub by removing railings and introducing new paving and seating. A graveyard will remain untouched by this work.
The extension has been designed in-house by Renfrewshire Council's property services department.
29 Oct 2019
Paisley Museum Planning Permission
Green light for £42m Paisley Museum project as planning permission granted
Designs by international architects AL_A which will turn Paisley Museum into a world-class destination have passed a major milestone – with planning permission now granted for the £42m scheme.
The Category A-listed Victorian building is being transformed into a leading European museum telling the unique stories of a town known around the world for the Pattern which carries its name.
24 Oct 2019
Paisley Arts Centre Renewal – PAC
First images revealed of Paisley Arts Centre after £2.8m transformation
The first images showing how Paisley's iconic arts centre will look after a £2.8m transformation have been revealed – including a new extension and public space at the heart of Paisley's nightlife district.
Internal view of transformed auditorium: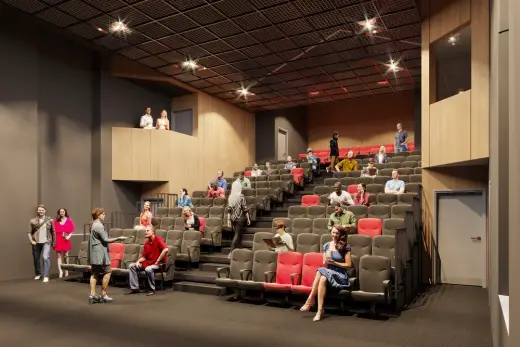 The Paisley Arts Centre stage has hosted some of Scotland's biggest names in the three decades since the 250-year-old former church building was converted into one of the country's most vibrant small entertainment venues.
The building is being upgraded as part of a wider investment in Paisley's venues and outdoor spaces aimed at using the town's internationally-significant cultural and heritage story to change its future.
And plans have been submitted for the work, with images revealed today showing:
– a redesigned public space around the arts centre, removing railings and bringing the street to the building – creating a new outdoor area for events and for people to dwell;
– how the building's location at the junction of New Street and Shuttle Street means it is perfectly placed to add new vibrancy to the surrounding already-busy nightlife area;
– a new-build extension to the existing entrance – creating more room to expand facilities inside – including an improved café-bar;
– improved auditorium with retractable seating offering a capacity of 150 (seated) and 200 (standing) and creating the flexibility to offer more events, bringing more footfall to the town;
– better audience and performance facilities – retaining the intimate atmosphere the building is known for but adding more comfortable seating with better legroom, improved sightlines, better sound and lighting, upgraded toilets, and better disabled access and facilities;
There will also be new back-of-house facilities expanding what the building can do and making it more attractive to performers – including a new kitchen, improved dressing rooms, and workshop space for rehearsals and other events.
The arts centre is due to close in summer 2020 to allow the transformation to take place, and is expected to reopen in summer 2021.
The venue is home to a year-round performance programme and last week hosted several events as part of Paisley's Spree festival, and will be packed out again for the ever-popular PACE Youth Theatre panto this festive period.
4) The building as it looks just now: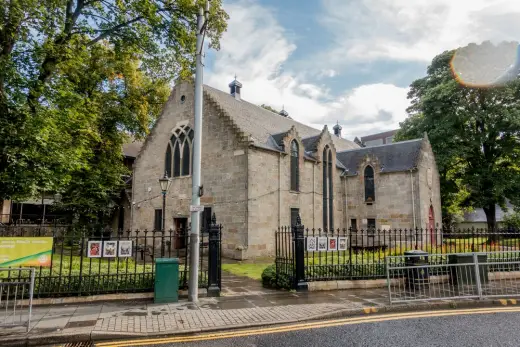 While the arts centre had a number of improvements to the outside of the building in 2012 the facilities inside had become outdated and needed more than a makeover to change that – but the planned work will create 21st-century facilities inside the historic building.
The project is being taken forward by Renfrewshire Council and the venue will continue to be operated by Renfrewshire Leisure Ltd.
Cllr Lisa-Marie Hughes, chair of Renfrewshire Leisure said: "The images revealed today show how Paisley Arts Centre will be transformed into a unique and intimate performance venue capable of hosting a greater range of events and performances than ever before.
"The council is investing in Paisley's venues as part of a wider push to use the area's unique heritage and thriving cultural and events offer to bring people into the town and create new life and footfall.
"The revamped arts centre will be more than a building – it will be a place where the town's next generation of talent can learn, be inspired and have their first time on a stage.
"It will also complement other investments happening in Paisley's venues around the town – both council and community-run – helping connect, build and support the growing creative community already active in the town.
"We expect the improved performance programme the new facilities will allow us to offer will see increased numbers coming to arts centre shows day and night – and boost the surrounding pubs and eateries while here."
Other major investments happening in Paisley town centre just now include a £42m transformation of Paisley Museum into a world-class destination showcasing the town's internationally-significant collections and story.
There's also work to preserve Paisley Town Hall's place at the heart of life in the town by turning it into a landmark entertainment venue and a new learning and cultural hub offering library services to be built in a modern facility at the heart of Paisley High Street.
For more information, visit www.renfrewshire.gov.uk/paisley or www.paisley.is
Paisley Arts Centre images / information from Renfrewshire Council
Paisley Arts Centre – post from 2008
Page Park : Glasgow Architects
Key Buildings by Page Park
Key Paisley Building
Comments / photos for the Paisley Cultural Centre Architecture page welcome