Glasgow Architecture News 2019, Strathclyde Buildings, Design Images Scotland
Glasgow Building News 2019
Scottish Architectural + Construction Updates – West of Scotland Property
Glasgow Architecture News 2020
More info on the Edinburgh Architecture news for 2020 page
2019
Glasgow Building News for 2019
3 Dec 2019
First Minister heaps praise on Mosaic-designed £110m University of the West of Scotland Lanarkshire Campus
Scotland's First Minister Nicola Sturgeon has heaped praise on the £110 million University of the West of Scotland (UWS) campus at Hamilton International Technology Park developed by HFD Property Group (HFD) and designed by Mosaic Architecture + Design.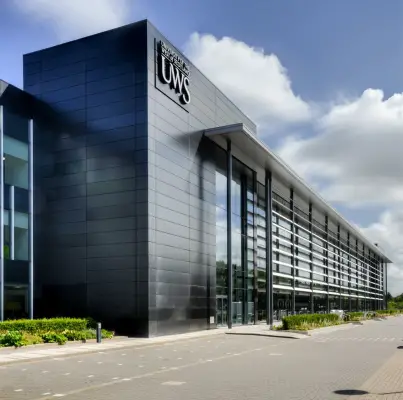 photo courtesy of architects office
Winner of a prestigious 2019 Guardian University Award which recognises the most sustainable and inspiring higher education buildings in the UK, and named Campus of the Future at last week's Green Gown Awards focusing on innovative and inspiring sustainability work carried out by universities and colleges across the UK and Ireland, UWS Lanarkshire represents a truly innovative, dynamic and collaborative new university campus hosting inspiring and flexible learning and teaching spaces packed with rich technology to give staff and students access to some of the most modern university facilities in the UK.
Speaking at the official opening ceremony, the First Minister said: "I have been so incredibly impressed by what I have seen here today. This campus truly is cutting edge, world leading, and impressive in every single way.
"I am also really struck, not just about what I have seen inside this building, but by the design of the building as well. It is easy to see why it has been recognised with a Guardian University Award."
Neil Haining, Director of Mosaic, said: "The new UWS Lanarkshire Campus is ground-breaking, filled with inspiring and flexible teaching spaces and packed with new technology.
"Three separate campus buildings are joined by 'The Street' – a well-designed bright and airy social space which provides the ideal environment for students staff and the wider public to study, relax or socialise."
Stephen Lewis, Managing Director at HFD Property Group, the University's development partner for this project, said: "We're pleased to have delivered a modern, fit-for-purpose campus for UWS. Recognising that flexibility is a priority for both staff and students, we mirrored this adaptable approach throughout the project, collaborating closely with UWS to deliver on their aspirations."
The campus embodies the UWS vision to provide 21st century, student-centred, personalised, distinctive learning and teaching experiences. With its technology-rich, innovative learning and social spaces UWS Lanarkshire is at the forefront of modern learning environments, significantly enriching the educational journey of students.
Innovative learning suites provide high-tech, flexible and collaborative spaces to deliver teaching in a powerfully effective and modern way. The campus represents a shift in the way learning and teaching is defined in the higher education sector in Scotland and across the UK.
Thanks to the new campus and its flexible and collaborative spaces specifically designed to equip students with the skills most valuable to industry, students will graduate having experienced ground-breaking learning, putting them at a significant advantage as they embark on their chosen careers.
The UWS Lanarkshire campus promotes enhanced collaboration 24/7 and supports continuous innovation between students, staff and academics and outside organisations thanks to its flexible learning environments. The design reflects theUWS belief in the transformative power of co-created learning. Every space offers an area to learn and collaborate, with a range of facilities to choose from to support students in their studies.
The campus is a sustainable space for sustainable minds and is one of the UK's greenest educational environments. It is a carbon neutral development, powered by 100% renewable energy from an associated windfarm and benefits from environmentally consciousfeatures including rainwater harvesting, photovoltaic panels, a building management system and electric car charging points.
Designed with research-driven innovative learning and teaching in mind, its colocation with enterprise enables seamless collaboration between academia and business and provides a talent-rich pipeline of work-ready, industry-focused and highly talented students right on their doorstep.
27 Nov 2019
Ashtree Road Pollokshaws Awards News
Graeme Nicholls Architects along with clients Home Group in Scotland and Merchant Homes Partnerships are celebrating this week after their Ashtree Road development won not one, but two awards at the prestigious 2019 AJ Architecture Awards.
22 Nov 2019
Mosaic applies to build £18M Holiday Inn Pacific Quay hotel on former Glasgow Garden Festival site
Mosaic Architecture + Design, one of Scotland's most experienced practices, has submitted a planning application with Iceni Projects for the construction of a Holiday Inn hotel on the former Glasgow Garden Festival site at Pacific Quay.
Situated in an unrivalled position on the south bank of the River Clyde, the 150 executive bedroom hotel will feature seven storeys with a first floor split between conferencing and co-working space and a Skybar on the top floor offering stunning views across the river to the iconic Finnieston Crane and beyond.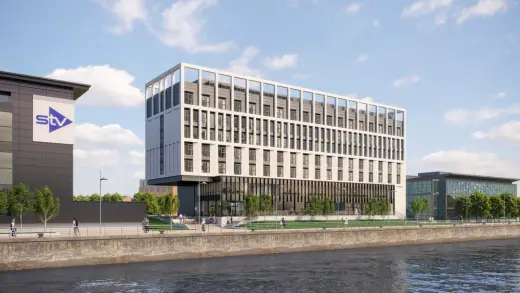 image courtesy of architects
The project represents an investment of more than £18M in Glasgow by developer Pacific Quay Developments. The hotel will be operated by RBH Hospitality Management and will create more than 50 permanent jobs.
Formerly part of the commercial dock operated by Clyde Port Authority, Pacific Quay was used for the Glasgow Garden Festival in 1988 before being transformed into one of Scotland's most successful new business and leisure destinations. The area is now home to the headquarters of BBC Scotland and STV and sits adjacent to the Scottish Events Campus.
Neil Haining, Director of Mosaic, said: "This development has been carefully designed in response to the site's immediate context within Pacific Quay and provides the area with a new business hotel of appropriate scale and with high quality materials.
"The overall scale of the development has been carefully balanced with the BBC headquarters to the west and STV Glasgow to the east of the site and completes the last waterfrontage site along Pacific Quay.
"The development has been designed to take advantage of the views of the SECC, The Hydro and the Finnieston Crane, with ground floor hotel reception and public areas connecting through to an external terrace and a rooftop Skybar and terrace with north and south facing views."
Malcolm Pearson, Director of Pacific Quay Developments, added: "Although situated on one of the prime remaining waterfront sites to be developed in Glasgow, this site has lain derelict for over 15 years.
"With Scottish Events Campus aiming to enhance its conference and exhibition offer by extending circa 200,000sq ft, adding further pressure on accommodation provision, Holiday Inn Pacific Quay will constitute an outstanding addition to Glasgow's hospitality offering to a key strategic site for Glasgow, bringing new opportunities for economic growth to the city."
13 Nov 2019
Urban Union Bolsters Team Ahead Of New Site Launch
Leading regeneration company Urban Union has grown its staff base as it prepares for the launch of its fourth site in Scotland later this year.
Caroline Wallace and Vivienne Holland are welcomed back to their roles in the Commercial Department following a period of maternity leave.
Lawrence Miller, who was brought in as Caroline's temporary replacement, has joined Urban Union on a full-time basis, further strengthening the team.
Ahead of the launch of Pollokshaws Living – the fourth development in Urban Union's portfolio – Amanda Wright began work at the end of October as a Sales Advisor for the new site.
Neil McKay, managing director, Urban Union said: "As we move to launch our fourth site, Pollokshaws Living, it is vital for us to have as strong a team as possible and we are thrilled to have Caroline, Lawrence, Amanda and Vivienne on board.
"Each brings a variety of skills and experience and we are confident that their understanding of Urban Union's values and objectives will make them fantastic additions to an already strong team."
Urban Union currently has four developments in Scotland: Laurieston Living and Pollokshaws Living in Glasgow, Pennywell Living in Edinburgh and Muirton Living in Perth. Urban Union is also working in partnership with the Robertson Group and Queens Cross Housing Association on the 600 unit mixed tenure development at Hamiltonhill in Glasgow.
7 Nov 2019
New property leader to focus on inclusive growth
The Scottish Property Federation (SPF) is delighted to announce Robin Blacklock as the next SPF Chair, following its annual dinner on 7 November.
More info on the Edinburgh Architecture news page
29 Oct 2019
Paisley Museum Planning Permission
Designs by international architects AL_A which will turn Paisley Museum into a world-class destination have passed a major milestone – with planning permission now granted for the £42m scheme.
The Category A-listed Victorian building is being transformed into a leading European museum telling the unique stories of a town known around the world for the Pattern which carries its name:
24 Oct 2019
Paisley Arts Centre Transformation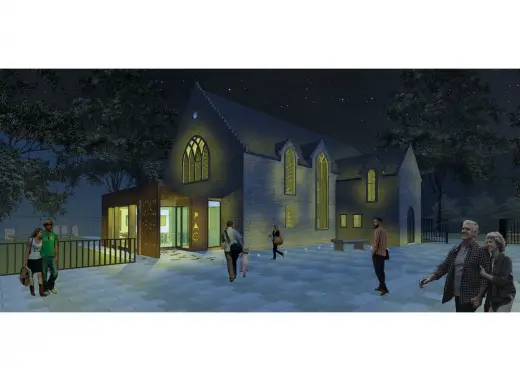 image courtesy of architects
Paisley Arts Centre Building
The first images showing how Paisley's iconic arts centre will look after a £2.8m transformation have been revealed – including a new extension and public space at the heart of Paisley's nightlife district.
15 Oct 2019
Base Glasgow Student Housing Development Opening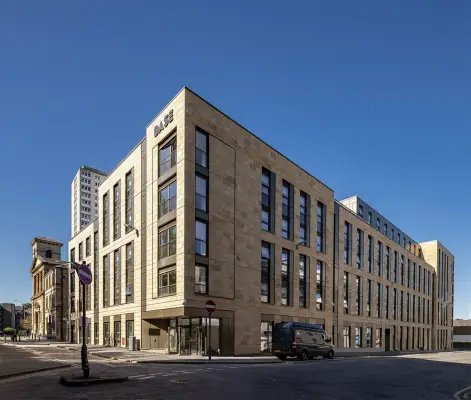 image courtesy of architects
Base Glasgow Student Housing Development
Soller Real Estate's Base Glasgow, the student housing development designed by Mosaic Architecture + Design, has opened its doors in time for the new student term.
Developed for the Royal Conservatoire of Scotland (RCS), the building was conceived as a rectangular urban block alongside the B-listed Piping Centre and A-listed Scottish Ambulance building.
'No deal' CPR guidance welcomed by SELECT
SELECT has welcomed new advice that confirms how Construction Products Regulation (CPR) could be affected by a no deal Brexit.
The UK Government has announced that if the UK leaves the European Union (EU) without a deal on 31 October, EU CPR will be retained and a UK-based system will operate, with identical European harmonised standards and UK designated standards.
Notified UK bodies currently operating under CPR will be granted 'approved body' status and listed on a new database. Where such a body has undertaken conformity assessment activity against UK designated standards, the manufacturer must affix a UKCA marking.
Goods affixed with a compliant CE marking on the UK market before exit day will be able to continue to circulate in the UK.
Additionally, goods which are made and assessed against EU harmonised standards and carry a compliant CE marking can continue to be placed on the UK market. It is intended that these arrangements will be for a time-limited period and sufficient notice will be given to economic operators before that period ends.
Dave Forrester, Head of Technical at SELECT, said: "In a time of uncertainty, this confirmation of how CPR will be dealt with going forward is welcome news and should help our Members deal with a potentially complicated issue.
"At the same time, if SELECT Members do have any further queries, we are also happy to help and offer relevant advice."
For further information, see thelatest updateon the Government website, which also deals withmanufactured goods.
New Edinburgh World Heritage Lecture
29 Oct 2019 6pm
"All in a Blaze": The Story of African-American Freedom-Fighters in Edinburgh
Last year's 'Strike for Freedom' exhibition at the National Library brought to the public's attention for the first time the remarkable story of anti-slavery campaigner Frederick Douglass and his time in Edinburgh.
Edinburgh World Heritage are delighted that the curator of the exhibition, Professor Celeste-Marie Bernier, will give EWH's Black History Month lecture this year on the little-known story of 19th-century African American authors and activists who had links to the city.
1 Oct 2019
Urban Union Goes Green With Electric Car Charging Points
Scottish home builder Urban Union is encouraging greener living at its Muirton Living development in Perth by installing electric car charging points:
Muirton Living development in Perth.
24 Sep 2019
Address Scottish barriers to housing delivery to mitigate Brexit effects and safeguard improving build rates
As new figures show an encouraging increase in home building activity in Scotland across all sectors, industry has responded to a warning from Housing Minister Kevin Stewart that "a no deal Brexit could have a damaging effect on future growth".
Nicola Barclay, Chief Executive of representative body Homes for Scotland, said:
"The continuing increase in home building revealed today is extremely welcome, providing more choice across all tenures for our growing population as well as wider social and economic benefits.
"The Minister is right to outline risks associated with Brexit, but there are domestic challenges facing the Scottish home building industry which the Scottish Government could address now to ensure build levels and investment are maintained as far as possible. It is these issues that our members are most keen to get resolved.
"Firstly, we require the hugely successful Help to Buy scheme in Scotland to be extended to 2023 in line with England to boost confidence and certainty, as well as prevent disadvantage, for both buyers and builders north of the border.
"Secondly, our Registered Social Landlord members need to know about grant funding levels post-2021 so they can plan their affordable housing programmes.
"Finally, policy must be aligned at national and local levels. This is where the real delivery barrier lies."
23 Sep 2019
The Wellington


image courtesy of Picto Studios and 3Reid
The Wellington in Glasgow Hotel
3DReid is working with developer Henley Homes Group on their ambitious plans which have been granted planning permission by Glasgow City Council.
18 Sep 2019
New report highlights wider value created by building the homes Scotland requires
Shows levels only at 80% of that necessary to meet housing need and demand
Marking Scottish Housing Day, the wider value of building the homes that Scotland needs is highlighted in a new report published today.
Full article on the Edinburgh Architecture news page.
17 Sep 2019
Contractors Welcome Local 'Hidden Gems' to Join the Construction Supply Chain
Supported and third sector businesses operating throughout Scotland are being invited to meet up with some of the country's biggest building contractors to explore the possibilities for joining the sector's supply chain.
The hub South West partnership is hosting its third annual Hidden Gems supplier showcase as part of its on-going commitment to an inclusive supply chain offering opportunities to local businesses and organisations throughout the area. This year's event is being held in partnership with hub West, the development partnership established in April 2012 covering the west of Scotland.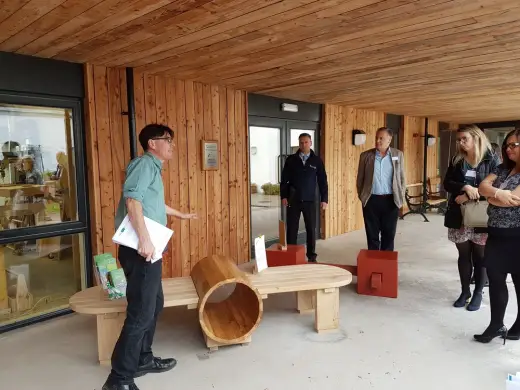 Featuring 10 organisations with the potential to sell their products and services into the sector, the supplier showcase will be held on Tuesday September 24 at The Royal Strathclyde Blindcraft Industries (RSBi) in Glasgow's Edgefauld Avenue.
From its roots as a supported factory for the visually impaired, the RSBi has grown into one of the country's leading examples of social enterprise, combining commercial success with socially responsible practices. It is committed to providing opportunities to people with disabilities, as well as helping towards the economic regeneration of the local community and beyond.
Wholly owned by Glasgow City Council as part of its City Building limited liability partnership, RSBi is credited as the largest supported business in Europe. It manufactures a wide range of products including kitchens, office and educational furniture, beds and soft furnishings, timber building kits, metal products and storage solutions.
"The RSBi is a fantastic example of a business from which the whole of society profits, and is therefore the perfect location for this year's Hidden Gems event," hub South West chief executive Michael McBrearty said.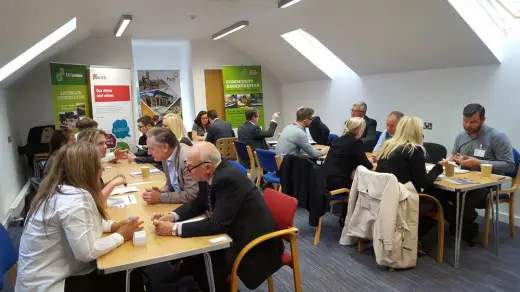 "There are many such organisations throughout Scotland providing much-needed employment and support for local people, and we want to showcase how they can benefit from contributing to the construction industry in general, and in particular to Scotland's hub programme."
The hub South West partnership was established in 2012 to deliver value for money on public sector community-based infrastructure projects to generate growth in local economies across Lanarkshire, Ayrshire and Dumfries & Galloway. It is currently processing a general pipeline of £1.1bn of works.
Hidden Gems forms part of the regular series of workshops organised by hub Club, the networking initiative of hub South West aimed at engaging local businesses and encouraging them to share their experiences. Events from hub Club are open to all members and aspiring members of hub South West's Territory Supplier Network.
Tier 1 contractors represented on the day at Hidden Gems will include Interserve, Kier, Morrisons, Graham, Morgan Sindall, BAM, CCG and Linear Design & Construct. Registration begins at 2pm and places can be booked here.
14 Sep 2019
Deputy First Minister visits Merkinch Primary School
Deputy First Minister, John Swinney, visits Merkinch Primary School as construction reaches significant milestone
John Swinney, the Deputy First Minister and Cabinet Secretary for Education and Skills, has visited Merkinch Primary School, Inverness, coinciding with the completion of a state-of-the-art Cross Laminated Timber (CLT) structure.
This is the first primary school in the Highlands and the largest school in Scotland to be built using a CLT frame, which is not only more sustainable than traditional methods of construction but which has been proven to positively impact the learning environment.
The new campus – which is being delivered by Robertson and was procured via Major Works Scotland part of the Scape National Construction framework- comprises an L-shaped modern primary and nursery block, with courtyard, astro-turf pitch and multi-use games area. The listed Victorian building which has housed the school for almost 150 years will be retained and enhanced to accommodate the school dining room and family centre.
Education Secretary John Swinney, said, "It is fantastic to see the progress already made on the construction of Merkinch Primary School, one of 117 school construction or refurbishment projects supported through Scotland's Schools for the Future.
"The innovative construction preserves the current B-listed building while employing cutting edge techniques to create a modern campus the whole community can be proud of. I look forward to seeing it again when completed."
Construction of the new school commenced in February and work on the CLT frame began in April. Frank Reid, Managing Director of Robertson Northern, said "It has been a privilege to show Mr Swinney and the rest of the attendees around Merkinch Primary School now that the timber structure is complete. This is an important milestone in the project and really highlights how much of a radical change this will bring to the education campus.
"With the wellbeing of pupils and teachers at the core of its design, this project will deliver state-of-the-art educational facilities while safeguarding the legacy of the school which has served the local community for more than a century."
Commenting further on the impact of the use of timber frames within learning environments, Bruce Wright, Project Architect at Norr, said, "Numerous studies have shown the positive impact timber can have on the occupants of a building, from reducing stress levels to boosting productivity and improving mental and physical wellbeing.
Notably Holzcluster Steiermark's year-long "Schools without Stress" research revealed pupils taught in timber classrooms were more relaxed, slept better and made less concentration errors than those who studied in classrooms built using traditional materials. With this in mind, we have designed the building in such a way as to leave as much exposed wood as possible to provide an enhanced educational environment which will help Merkinch pupils to attain and achieve their full potential."
Cllr John Finlayson Chair of the Care, Learning and Housing Committee said, "This is an exciting milestone for Merkinch Primary school as their new campus takes shape. Children, their families and school staff will no doubt be delighted with the addition of the modern school building and multi-use games area. Our commitment to continue our programme of refurbishment and renovation of Highland schools will see impressive improvements to the learning environment at Merkinch primary, both indoors and outdoors, for years to come."
Mark Robinson, Scape Group Chief Executive said, "This demonstrates the advantages of using modern methods of construction, which offer a more sustainable proposition and for Merkinch Primary School will give pupils an enhanced learning experience. Being part of the National Construction framework requires strong levels of client and community collaboration and I am pleased to see that this project will make a difference for the pupils and the local community of Merkinch."
8 Sep 2019
Scottish Design Awards
Clydebank Community Sports Hub building designed by Marc-Kilkenny Architects wins:
Scottish Design Awards 2019 News.
8 Sep 2019
Total value of commercial property sales continues to fall while Glasgow tops Edinburgh
Glasgow bucks the trend as Scottish commercial property sales fall for second quarter
A recent Scottish Property Federation (SPF) analysis of Q2 2019 data showed that, for the first time since 2015, commercial property sales values in Glasgow surpassed those of Scotland's capital.
The total value of commercial property sales in Scotland continued to fall in Q2 2019. At £614m, sales were the lowest in five years. While sales values fell, the number of transactions increased, indicating a decrease in higher value transactions rather than a lack of activity.
However, Glasgow broke from the national trend with the total value of commercial property sales rising against both the previous quarter and the same quarter in 2018. Sales in Glasgow totalled £172m for Q2, accounting for 28 per cent of Scotland's total commercial property sales.
Edinburgh lost its dominance to Glasgow in Q2 2019, following a significant fall in the total value of commercial property sales. At £108m, Edinburgh's sales values decreased by £156m on the previous quarter and £14m on Q2 2018. The proportion of Scottish commercial property sales located in Edinburgh fell from 35 per cent in the previous quarter to just 18 per cent for Q2 2019.
SPF director, David Melhuish said, "Glasgow was very impressive this quarter, outperforming Edinburgh for the first time in four years against a wider Scottish market that saw a reduced value of sales activity.
"Glasgow's sales increase was fuelled by a number of £5m-plus deals, totalling £129m, whereas Edinburgh only secured £33m in the same category.
"A notable feature of Scottish commercial property investment in the Q2 period was the rise of capital sourced from Asia, which topped £250m for the first time on record, according to CoStar data.
"Ryden reported a standout £48m transaction for a Korean client of Knight Frank Investment Management."
6 Sep 2019
Sauchiehall Street Service Hotel
Mosaic Architecture + Design has submitted applications for Detailed Planning Permission for the conversion and change of use of the former Dunnes Stores building at 218-224 Sauchiehall Street, Glasgow into a 112 bedroom full service hotel and all day café/restaurant on behalf of Manor Property Group.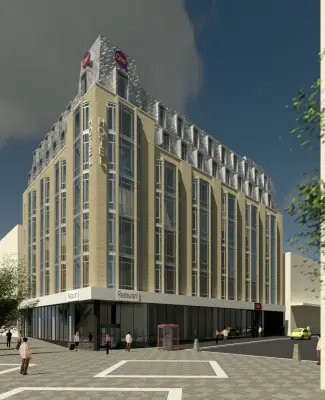 image courtesy of architects
218-224 Sauchiehall Street Glasgow Service Hotel
6 Sep 2019
First images revealed for AL_A's £42m Paisley Museum transformation
The first images showing how architects AL_A will transform Paisley Museum into a world-class destination showcasing the stories of a Scottish town whose influence reached around the globe are today revealed:
aisley Museum transformation.
2 Sep 2019
Halliday Fraser Munro Architects in Glasgow
Barclays Campus, Buchanan Wharf architects Halliday Fraser Munro relocate to larger Glasgow office after winning £200m worth of city construction projects
Halliday Fraser Munro Architects in Glasgow
19 Aug 2019
Prestigious MSDUK Innovation Challenge Announce Glasgow Based Finalist
19th of August 2019 – The organisers behind the prestigious MSDUK Innovation Challenge have announced their finalists for 2019 and it includes a Glasgow based company.
Loch Electronics is a consumer electronics company with a focus on products that have a substantial positive impact on the environment and deliver excellent user experience. Their first product is a personal dishwasher for small offices and households that is seven times smaller than a full-sized dishwasher and three times smaller than a countertop dishwasher.
14 Aug 2019
SBCC offers contract subscription service as it launches new website
The Scottish Building Contracts Committee (SBCC) has launched a new website that offers a wealth of practical advice and help.
The new site will enable visitors to discover exactly how the pan-industry body provides definitive guidance on building contracts and construction law in Scotland.
As well as easy navigation and an engaging format, www.scottishbuildingcontracts.com offers a handy subscription service that provides a full suite of online contracts.
This documentation includes homeowner contracts, standard building contracts, design and build contracts, sub contracts and minor works building contracts.
The site also features regular news updates and further information about the SBCC's vital work in both the education and public sectors.
Lisa Cattanach, SBCC Chair, said: "This new site offers an invaluable way to find out more about the work of the Committee and the many ways we help Scotland's construction industry.
"As well as the large number of digital documents hosted on the site, we also offer a large number of older contracts which are not available online but which can be purchased as printed documents."
The SBCC, which was founded in the 1960s, draws its board of directors from the following bodies:
• The Association for Consultancy and Engineering in Scotland (ACE)
• The Royal Institute of Architects in Scotland (RIAS)
• Build UK
• The Royal Institution of Chartered Surveyors (RICS)
• The Scottish Building Federation (SBF), and
• The Specialist Engineering Contractors' Group Scotland (SEC).
Other organisations support the board and provide valuable input to the organisation as a whole.
Among its office bearers is SELECT Managing Director Alan Wilson, who was elected Vice Chair at the SBCC's AGM last November.
Chartered Quantity Surveyor Lisa – who is also a director of Glasgow-based Construction Dispute Resolution – added: "SBCC adapts JCT documents for use in Scotland as well as drafting and providing additional documentation suitable to Scotland.
"As such, SBCC's combined experience and differing backgrounds places us in a unique position to produce contracts tailored for the needs of the construction industry in Scotland and to engage knowledgably on issues affecting the wider industry."
6 Aug 2019
Additional Special Needs Campus in Stevenston
Work is set to get under way this month in preparation for construction of North Ayrshire's new £27.7m Additional Special Needs (ASN) campus and Respite and Residential facility in Stevenston.



image courtesy of developer
Additional Special Needs Campus in Stevenston
6 Aug 2019
RSA Annual Exhibition 2019 – CALL TO ARCHITECTS
Be a part of the 193rd RSA Annual Exhibition
To submit work for consideration architects must register and complete the online application process at www.royalscottishacademy.oess1.uk.
Architects may submit up to 2 works of any size. Work may be submitted in any suitable medium, including drawings, photography, models and video work.
Submission deadline: 6 September 2019 @ 5pm
Royal Scottish Academy of Art and Architecture, The Mound, Edinburgh, EH2 2EL
Full regulations and FAQs are available on www.royalscottishacademy.org
6 Aug 2019
RIAS Convention
4 – 5 October
It combines both 2019 RIAS Convention and Doolan Award
https://riasconvention.squarespace.com/
#RIASclimateofopinion
31 July 2019
Cumbernauld Academy and Cumbernauld Theatre
Stunning new £37m Cumbernauld Academy and Cumbernauld Theatre is handed over to North Lanarkshire Council ahead of new school term in August.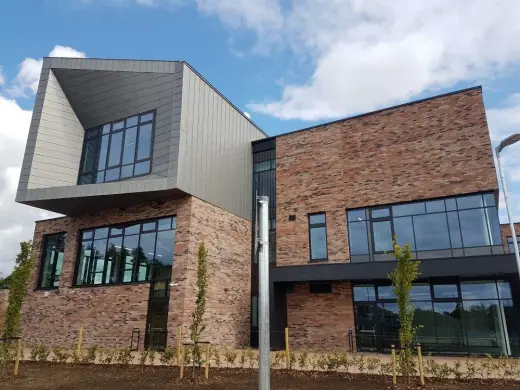 photos courtesy of article provider
Cumbernauld Academy and Cumbernauld Theatre
10 July 2019
University of Glasgow receives largest-ever donation from alumnus John Shaw and his wife Kiran News
The University of Glasgow has benefited from donations worth $7.5m from graduate John Shaw and his wife Kiran Mazumdar-Shaw, who have turned her biotech firm Biocon into one of the largest pharmaceutical firms in India:
University of Glasgow Donation News
1 July 2019
Take off for new hotel at Glasgow Airport
Planning approval has been granted for a DMA-designed hotel next to the Courtyard by Marriott Hotel at Glasgow Airport Business Park. The new 5-storey block will provide 196 guest rooms, public areas adding vibrancy on the ground floor, and 52 additional car park spaces.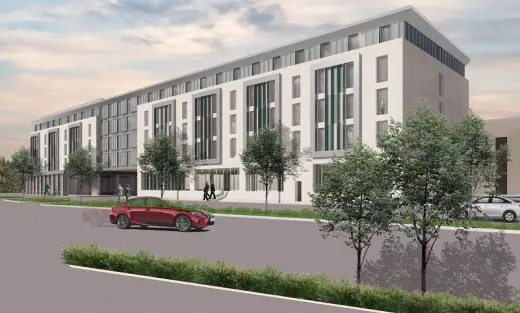 image © Dexter Moren Associates
Herbert Lui, DMA partner: "Our client, Cairn Group, saw an opportunity to meet demand for guestrooms in this location with a high-quality new building. Our contemporary approach is sympathetic in scale and massing to the context. The building is on a site that already benefits from established infrastructure. The hotel will bring investment to the area and generate opportunities for local employment. It is also designed to meet the safe guarding requirements stipulated by Glasgow Airport authorities."
The design of the hotel seeks to inject architectural interest, colour and scale through the use of a palette of high-quality building finishes consisting of reconstituted stone cladding, multi-coloured glazed curtain walls, and polyester powder coated metal cladding.
The new building is similar in length to the existing adjacent hotels but the scale is broken down by introducing a series of contrasting protruding bays at intervals to give a sense of relief and rhythm.
This project is the latest of a number of airport hotels designed by DMA. Other projects in recent years include the Crowne Plaza and Holiday Inn Express at Aberdeen Airport.
1 July 2019
Halliday Fraser Munro Architects News
Architectural and planning practice Halliday Fraser Munro has strengthened its presence in Edinburgh after being appointed to work on over £150m worth of new construction projects in the city.
18 June 2019
Scottish Home Ownership News
As new figures show 7000 households helped into home ownership over last three years, builders highlight potential for disparity with the rest of the UK:
Scottish Architectural News
17 June 2019
Planning approval for Carrick Square office development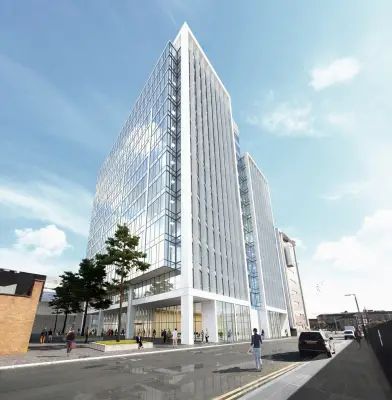 Mosaic Architecture + Design has been granted Planning in Principle approval for the Carrick Square 290,000 sq ft office development in Glasgow's International Financial Services District on behalf of property developer the Soller Group:
Carrick Square Office Development News
17 June 2019
Planning (Scotland) Bill faces final scrutiny
The final stage of the Planning (Scotland) Bill is set to commence this week with a three-day debate in Holyrood.
13 June 2019
HOKO Design Glasgow News
HOKO Design has taken its first steps in becoming the Uber of architecture after opening a debut office in Glasgow city centre and completing a successful recruitment programme, which has seen the start-up launch with a team of six:
HOKO Design Glasgow News
6 June 2019
Demolition Work Begins to Clear Way for Hundreds of New Homes in Cambuslang
Demolition work is now underway at the East Whitlawburn Regeneration Project in Cambuslang, making way for a new swath of private and rented housing.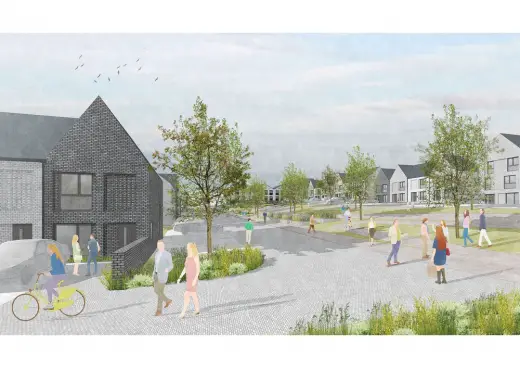 6 June 2019
AHR announces hire of new associate director to Glasgow office
Award-winning architecture and building consultancy practice, AHR, has welcomed Richard Napier to its Glasgow office, during a period of regional growth that has seen new leadership and a number of high-profile wins. With 30 years' experience, Richard is a respected figure in Scottish architecture who previously worked for AHR between 2006 and 2016.
Richard Napier AHR Glasgow Office News
6 June 2019
Homes for Scotland launches brand refresh
Trade body Homes for Scotland has refreshed its brand, reflecting the overarching purpose of its new five-year strategy and the organisation's clear call to action of delivering more homes for Scotland.
Unveiled at its recent Annual Lunch in Edinburgh in front of a crowd of 1100 senior industry representatives and guests, the refresh provides a strong new identity which clearly reflects the organisation's main purpose to its members as well as consumers and wider stakeholders.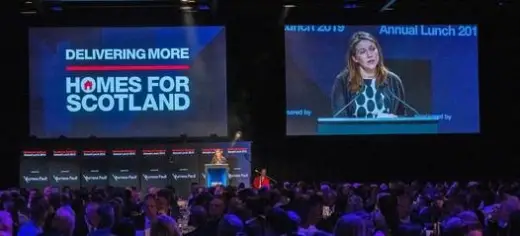 image courtesy of Homes for Scotland
Chief Executive Nicola Barclay said:
"This bold new logo perfectly complements our organisation's key objectives and core values as set out in our strategy. These include improving the understanding and image of the industry, influencing stakeholders and supporting a growing membership.
"It adds further strength to our voice and credibility as we engage with all those who have an interest in increasing vital housing supply and bolsters our commitment to delivering more high-quality homes that meet the needs and aspirations of the people of Scotland."
Cabinet Secretary for Communities & Local Government Aileen Campbell MSP addressing the audience at the recent Homes for Scotland Annual Lunch & Awards where the organisation's new logo was unveiled.
5 June 2019
#DesignPopUp Glasgow
It's now just over one week until the 6th edition of #DesignPopUp Glasgow (June 12th to 14th) – join the event for an evening of networking with friends and colleagues.
The Parmesan, Prosciutto and Prosecco party on 13th June is the perfect opportunity to check the stands and products on display while enjoying a glass of bubbles.
5 June 2019
Falkirk Campus of Forth Valley College
Indeglas to oversee the installation of thousands of square metres of internal glazed screens throughout the new £83m Falkirk Campus of Forth Valley College facility, one of the firm's flagship projects of 2019.
Headquartered in Cumbernauld, Indeglas has a 10-strong team working at Forth Valley College's Falkirk Campus, which is due for completion in August. The new 20,148sq m facility will provide the headquarters for Forth Valley College, and will also be home to 2,000 full-time students in courses across a range of science and engineering fields.
Established 18 years ago, Indeglas is a specialist contractor and sole distributor in the UK and Ireland for the products of award-winning glass manufacturer Deko of Denmark. Jeanette became the major shareholder of the company in 2010, and the name was changed to Indeglas in 2017.
5 June 2019
SELECT Industry Awards News
The deadline for SELECT Industry Awards for 2019 entries – for Scotland's electrical industry – has been revealed as Friday, June 28.
The winners will be revealed at the awards evening which will take place on Friday, October 11, at the Radisson Blu in Glasgow.
Reflecting the duty of care which the safety-critical industry has to both clients and employees, a new award category of "Best Health and Safety Initiative" sponsored by industry charity, Electrical Safety First has been introduced this year.
And, of course, the future of the sector will be recognised with the SJIB Apprentice and the Wholesaler Apprentice of the Year awards. A special Lifetime Achievement award will be made on the night.
The accolades awarded by SELECT, the campaigning body for the electrotechnical trade in Scotland, will have a special relevance in 2019, a year in which sector's campaign for recognition of qualified electricians moved to Parliamentary consideration.
For more information please contact Alan Wilson, Managing Director at SELECT, the Electrical Contractors' Association of Scotland, The Walled Garden, Bush Estate, Midlothian, EH26 0SB. T: 0131 445 5577. F: 0131 445 5548. E: [email protected]. W: www.select.org.uk
3 June 2019
Mackintosh School of Architecture students unveil Design Theses focussed on Antwerp and speculative propositions for Glasgow and New Lanark in 2019 Degree Show
• Propositions for Glasgow and New Lanark, and Design Theses focussed on Antwerp unveiled in Mackintosh School of Architecture Degree Show
• Stage 5 designs to be shown in Blueprint for the Future in London in July
Propositions for Glasgow and New Lanark and Design Theses on Antwerp have been unveiled in the Mackintosh School of Architecture Degree Show which has opened in the Bourdon Building on the Garnethill campus.
Mackintosh School of Architecture at GSA Degree Show is open to the public 9 June 2019. Entry free.
21 May 2019
CALA Homes crowned Home Builder of the Year at top industry awards
CALA Homes is celebrating its achievements as Home Builder of the Year following the prestigious win at trade body Homes for Scotland's (HFS) annual awards held in Edinburgh last Friday, 17 May.
Considered to be the most credible in the sector due to its robust nature and stringent judging criteria, the HFS awards programme showcases the high-quality work that the industry produces and the innovative practices it engages in.
Presented in front of a crowd of 1100 senior industry representatives and their guests, CALA took the top award as a result of its shortlisting for three different developments across its East and West divisions. CALA went on to win awards in the Private Development small and medium categories for Riverside at Bothwell, Lanarkshire (its collection of bespoke homes and apartments set alongside the banks of the river Clyde) and for The Crescent at Donaldson's (a unique development of apartments located within the capital's UNESCO World Heritage site). A commendation was also granted in the large development category for 21 Mansionhouse Road in Glasgow.
Private Development of the Year – Large (100+ units)
Winner:
– Stewart Milne Homes Central Scotland
Dargavel Village, Bishopton
Commendation:
– CALA Homes (West)
21 Mansionhouse Road, Glasgow
Commendation:
– Robertson Partnership Homes & Urban Union
Pennywell Living, Edinburgh
Private Development of the Year – Medium (26-99 units)
Winner:
– A & J Stephen (Builders) & ZeroC Holdings
Phase 1A, Tornagrain
Winner:
– CALA Homes (East)
The Crescent at Donaldson's, Edinburgh
Private Development of the Year – Small (up to 25 units)
Winner:
– CALA Homes (West)
Riverside at Bothwell, Lanarkshire
Affordable Housing Development of the Year
Winner:
– Sanctuary Group
Anderston Regeneration, Glasgow
Commendation:
– Clyde Valley Housing Association
Coatbridge Library, Coatbridge
Supporting Organisation of the Year
Winner:
– Contract Scotland
Company Innovation and Best Practice
Winner:
– Barratt Homes
Building without Barriers
Commendation:
– McTaggart Construction
Sustainable Communities Programme
More info on the Edinburgh Architecture news page.
17 May
Glasgow school pupils visit to Laurieston Living
More than 30 pupils from a school in Glasgow enjoyed a morning in the sun – while learning about life on a construction site.
The Primary Seven pupils from Blackfriars Primary School paid a visit to Laurieston Living, a regeneration area in the Gorbals area of the city. As part of the visit, the P7's learned how the subjects they use every day can be put into practice on a busy site and how varied a career in construction can be.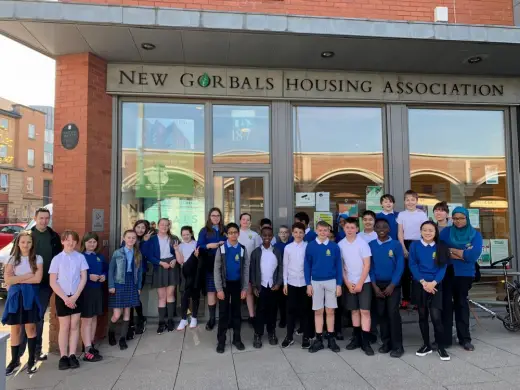 photo courtesy of article provider
Developed by award-winning housebuilder Urban Union, Laurieston Living – which welcomed its first residents in 2014 – is a community which is continuing to grow. Community engagement is a key element of Urban Union's approach, with a formal partnership in place with Blackfriars Primary School which will see quarterly site visits from pupils.
Neil McKay, Managing Director at Urban Union said: "Blackfriars Primary is the closest school to our Laurieston Living development and it is hugely important for us to engage regularly with the pupils there.
"We wanted to show them how the everyday subjects they are taught in school – like maths – come in handy later in life. It was fantastic to see so many pupils at the site and I am sure a few of them will now be interested in a career in construction, while also learning more about the work we are doing and how it is benefiting the wider community."
Laurieston Living is a £140 million revitalisation of the Gorbals area, with plans to deliver a total of four phases over a nine-year period. Phase 1A saw 201 homes constructed for social rent for New Gorbals Housing Association.
Phase 1B delivered a further 108 homes – 39 for Mid Market Rent for New Gorbals Housing Association and 69 for private sale for Urban Union. Phase 1C, completed in December 2018, delivered 55 apartments for New Gorbals Housing Association.
In Phase 2, Urban Union is building 173 private for sale homes. This latest phase is expected to complete by August 2021, and the first residents have already moved into their new properties.
For more information visit www.urbanunionltd.co.uk or call 0141 530 4575.
Urban Union
Urban Union is a unique partnership formed by McTaggart Construction and Robertson Group Holdings to specifically deliver large-scale regeneration projects. Both partners have a proven track record in delivering mixed tenure projects and working to deliver 'community benefits in procurement' in Glasgow, Edinburgh and further afield.
Urban Union is currently delivering four large-scale regeneration projects – Pennywell Living, Edinburgh, Laurieston Living and Pollokshaws Living, Glasgow and Muirton Living, Perth. The joint venture supports the priority given to targeted recruitment, training and supply chain opportunities presented all its projects. Both Urban Union partners have extensive regeneration experience and share a common view on social responsibility.
www.urbanunionltd.co.uk
14 May
#DesignPopUp 2019 Updates
12 – 14 June 2019
Venue: The Briggait (141 Bridgegate, Glasgow, G1 5HZ)
Info added to our events page:
Architectural Events Glasgow
24 Apr
Approval for Edinburgh's Dunard Centre
Edinburgh's first purpose-built music and performance venue for over 100 years will be called Dunard Centre, supported by Royal Bank of Scotland. More info on our Edinburgh Architecture news page.
Read the article in full on one of e-architect's sister site: Dunard Centre Edinburgh Building by David Chipperfield Architects
19 Apr
National Manufacturing Institute Scotland in Glasgow
Scotland's international centre of manufacturing expertise is a step closer to being realised following the appointment of the design team including architects HLM:
National Manufacturing Institute Scotland at University of Strathclyde
Why Archives Matter: Heritage, Memory and Identity conference, Stirling
17th April 2019
The Engine Shed Stirling
Supported by National Records of Scotland, Built Environment Forum Scotland, Historic Environment Scotland.
More details on our events page.
9 Apr 2019
PPWH – Pioneering Approach Brings Glasgow to Forefront of Modern Care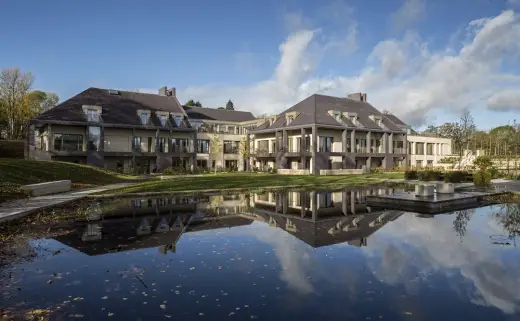 image courtesy of Architects
Prince and Princess of Wales Hospice Building
Designed by international design practice Ryder Architecture, The Prince & Princess of Wales Hospice is the first palliative care facility in the UK to follow the Sengetun model of healthcare design.
5 Apr 2019
Builders and Cabinet Secretary discuss overcoming Planning and Brexit concerns
Senior representatives of Scotland's home building industry have held face-to-face discussions with Cabinet Secretary for Communities and Local Government Aileen Campbell MSP, emphasising the leadership role that the Scottish Government has to play in increasing acceptance of housing delivery at a local level, and discussing the importance of implementing an improved planning system in the midst of ongoing Brexit uncertainty.
Chief Executive of trade body Homes for Scotland Nicola Barclay facilitated the conversation involving a representative group of the organisation's wide-ranging membership (which includes builders of all sizes and sectors as well as those in the supply chain) and said:
"With overall housing delivery still 30% below that of over a decade ago and latest figures showing a worrying drop in private sector activity, this is an absolutely crucial period – not only for those building the homes our growing population needs but also in terms of wider social and economic implications.
"This point was impressed upon the Cabinet Secretary, as was our wish that all those who want to see housing supply increased unite with us around the primary goal of delivering more homes of all types. Indeed, collaboration lies at the heart of our approach.
"Clearly, a planning system that facilitates home building is fundamental. Additionally, we must overcome the misconceptions many hold in relation to our industry and how it actually operates and navigates through what is an incredibly complex, costly and lengthy process.
"For our part, we need to be better at explaining this and in demonstrating the many positives (such as jobs, training, investment and improved health and education outcomes) that home building provides. And, although customer satisfaction levels are already high at almost 90 per cent, we recognise our responsibility to ensure this increases further which is why the extension of the Five Star Builder scheme for Scottish-only builders last year was so important.
"This will help provide a clear benchmark for customers to assess builders on and is already demonstrating results with Perth-based A & J Stephen's achievement of five stars."
Ms Campbell said:
"I was pleased to be invited to discuss current market conditions and potential with Homes for Scotland's Board. Providing more new high-quality homes across all tenures is a key priority for the Scottish Government, and we value the contribution of home builders to improving lives and sustainable economic growth.
"Improving our housing system requires partnership working, clarity and honesty about what actions we can take. I hope Homes for Scotland and their members will continue to make their voices heard as we progress our work on Housing Beyond 2021."
5 Apr 2019
St Aloysius' Church Building Bell Tower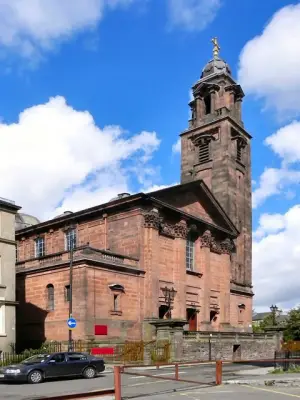 image courtesy of Mosaic Architecture + Design
Mosaic Architecture + Design secures grant of £93,400 from the Heritage Lottery Fund (HLF) for urgent masonry work and external fabric repairs to the iconic bell tower at St Aloysius' Church, Glasgow known as the 'Campanile'.
29 Mar 2019
RIAS Announces Strong Scottish Shortlist for RIAS/RIBA Awards 2019
Royal Incorporation of Architects in Scotland announce 19 strong shortlist from 82 entries.
Homes for Scotland Awards shortlist announced
27 March 2019 – Homes for Scotland (HFS) has announced the shortlist for what is the country's premier home building industry awards as the organisation prepares to celebrate the sector's achievements at what is the largest annual gathering of its kind.
The independent judging panel comprises:
Andy Mitchell (Chair) – Former Land Director, CALA Homes
Fraser Carlin – Convenor, RTPI Scotland
Douglas Cochrane – Chair, UK Finance
Kareen Davidson – Former Sales & Marketing Director, Bett Homes
Ewan Fraser – Former Chief Executive, Dunedin Canmore
Ian Gilzean – Scottish Government Chief Architect
Allan Lundmark – Former Director of Planning, Homes for Scotland
Douglas Read – Past President, RIAS
David Stewart – Policy Lead, SFHA
Stuart Tait – Manager, Clydeplan
Full information at the e-architect Scottish Building News 2019 page.
Mackintosh School of Architecture students impress with propositions for New Lanark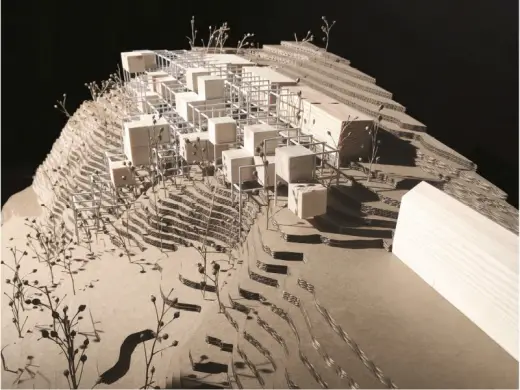 photo courtesy of the Mackintosh School of Architecture
15 Mar – Outcomes of Studio project have been presented to Trustees of the World Heritage site: Mackintosh School of Architecture News
Joint Venture Secures Prime Development Site in Merchant City
15 Mar – Drum Property Group and Stamford Property Investments have announced a joint venture to develop a significant mixed-use development site at the heart of Glasgow city centre's Merchant City following their successful acquisition of the site:
Candleriggs Quarter, Glasgow Property News
MacMag 44 Sponsorship
11 Mar 2019 – MacMag, the annual publication of the Mackintosh School of Architecture at the Glasgow School of Art. MacMag has sold over 3,000 copies in the last four years reaching a global audience across the world, from North America to Asia.
In the past it has featured dialogues from respected architects such as Steven Holl. Gaining a large social media network MacMag has been a link to a global network and a source of inspiration for architecture students internationally.
The student-run publication relies on the continuing support of the profession to which it serves. The advertisement funds go towards printing costs, allowing each book to reach as many young minds as possible.
Should you be interested in becoming a sponsor, you will have the opportunity to advertise within the publication and digitally through our website and social media platforms where your generosity will be acknowledged as part of our social media campaign.
Furthermore, we invite you to the launch of MacMag44 at the Glasgow School of Art Degree Show, where you will be presented with a copy of the publication. All rates and specifications are available upon application.
We are working tirelessly to ensure the standard of the 44th edition is of its well-established reputation and look forward to hearing from you regarding your potential support. Please do not hesitate if you have any further queries.
The deadline for sponsorship has been extended to the 20th of March.
Scotland Build News
Scotland Build (20-21 March, SEC Glasgow) is the leading and largest construction show for Scotland and is attended by thousands of building, construction, architecture and engineering professionals from across the country.
Scotland Build is a content-led exhibition that covers the latest developments in the built environment, providing extensive business networking opportunities. From SME's to Tier 1 Contractors, from local construction professionals to global CEO's – Scotland Build is the leading show to unite the Scottish construction industry.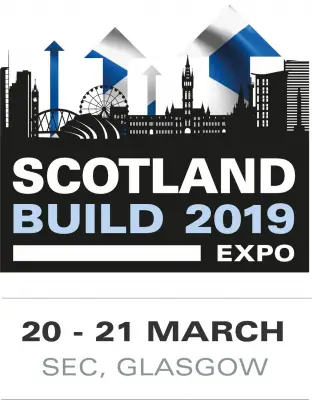 The show features 150+ high-level speakers across 5 conference theatres covering: the future of construction in Scotland; new building & construction projects; BIM & digital construction; architecture; sustainability and more. Learn of the latest innovation, products and services with over 150 exhibitors; Meet the Buyer sessions; networking events including Women in Construction; plus the Festival of Construction with live music and entertainment.
Register for your free tickets today at www.scotlandbuildexpo.com
See our events page for more details
University of Glasgow Campus Development Programme News
4 Mar 2019 – Finance Secretary marks launch of new Apprenticeship committee for Campus Development Programme. Apprentices at the University of Glasgow today marked the start of Scottish Apprenticeship Week with the Cabinet Secretary for Finance, Economy and Fair Work, Derek Mackay:
University of Glasgow Campus Development Programme News
Drum Property Group Wins Property Company of the Year
1 Mar 2019 – Scottish Property Award Win Reflects "Continued Growth and Impact"
Across Scotland and UK
Drum Property Group's position as one of the leading players in the Scottish and UK property industry has been further recognised after winning Property Company of the Year at the prestigious 2019 Scottish Property Awards, announced on Thursday (28 February 2019).
The judging panel commended Drum's continued growth over the last 12 months and the impact of the company's activity on the commercial property sector. Drum is currently developing almost half a million sq. ft. at Buchanan Wharf and their office deal with Barclays Bank last year is one of the single largest commercial property deals in living memory. Barclays, who will own the new office complex, will provide accommodation for up to 5,000 employees – doubling their work force in Scotland.
Welcoming the award, Graeme Bone, Group Managing Director at Drum said: "We are obviously delighted for Drum's continued growth to be recognised at the awards and are particularly proud to be named Property Company of the Year. This reflects our continued growth and impact across Scotland and the UK.
"The award is a fitting testament to the dedication and commitment of the team, following a period of significant activity across the central belt over the past year. In addition to the major projects already underway, we have an exciting pipeline of new projects and are looking forward to continuing to build on this success in 2019 and beyond."
Fiona Morton, Chair of the Judging Panel, commented: "On behalf of the judging panel, I would like to extend congratulations to all the finalists and winners in this year's Scottish Property Awards. 2019 saw the greatest number of both entries and firms in the competition's 6-year history which is testament to the credibility of the programme."
"I hope that the winners of this year's awards take time to celebrate their success in what has been another phenomenal year for public and commercial property in Scotland."
26 Feb 2019
Historic Environment Scotland Advanced Professional Diploma in Technical Building Conservation
TRAILBLAZING ARCHITECT FIRST WOMAN TO COMPLETE UNIQUE BUILDING CONSERVATION COURSE
Creative Design Director Amanda Jane Tervit, who runs architecture firm Auchenblae Design and Build, has achieved a Scottish first by being the first woman to successfully complete the inaugural Historic Environment Scotland Advanced Professional Diploma in Technical Building Conservation.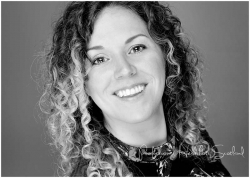 photo courtesy of architects
The unique full-time course run by Historic Environment Scotland, is based at the Engine Shed in Stirling. It was introduced in August 2017 to meet the growing demand for conservation skills across the heritage sector.
The programme gives a wide spectrum of knowledge and skills in practical building conservation techniques, backed up by a thorough understanding of Scottish architectural and construction traditions. Students also study current issues and leading technical developments, conservation principles and best practice.
Amanda said: "The course was inspiring to be part of and an absolute privilege. It is no exaggeration to say that completing this diploma has completely changed the way I design.
"The building industry is predominantly male dominated so I feel excited to trail blaze to be the first woman to have completed this diploma."
Amanda added: "I loved hearing from the practitioners who came along to speak to us during the course. They are industry experts and had an incredible amount of knowledge to pass on.
"The course teaches you about how to respect the building and care about and consider the original features when you are designing – even down to the structural hidden elements like rafters. I will never design in the same way again.
"When I look at some modern architecture there is now a realisation that because of the way it has been built it won't last. I want to strive to design and build things that will last. The course really encourages you to look at a holistic view of design."
The Stirling designer found being based in Historic Environment Scotland's head-quarters The Engine Shed "very motivating", as the historic building itself has undergone a four-year renovation, opening to the public in 2017.
She added: "The Engine Shed itself is fantastic as you have lots of experts on site to speak to and the building in itself is simply stunning and an education in good building conservation."
Amanda, who has an Interior Design HND and Degree in Interior Architecture, managed to undertake the full time course alongside running her company Auchenblae Design and Build which she set up last year after gaining extensive experience working for companies including Laura Ashley, Sterling Interior Design and architects Millson Associates.
Amanda added: "Setting up the business and completing the course was exhausting at times but incredibly rewarding. So much so I have signed up to complete my Masters!"
23 Feb 2019
AF2019 February Meet-Up
Free-to-attend monthly meet-up took place today (23 Feb) at The Lighthouse – laid back events, open to anyone considering taking part in or contributing to the Architecture Fringe 2019 Open Programme. The Open Programme is a non-curated platform for self-directed projects, exhibitions, events and happenings.
19 Feb 2019
New Building in Motherwell
The new Lanarkshire dealership for Taggarts is in the same location as the previous building on Windmillhill Street, Motherwell, but is far more than a refurbishment and is a complete re-build of the site, forming a new 90,000 sq ft dealership.
The Lanarkshire development follows a challenging year for the dealership, which suffered an arson attack during its stay at a nearby temporary site, resulting in 17 cars being damaged and an estimated loss of approximately £850,000.
The new building has now been rebranded Taggarts Land Rover Lanarkshire to better represent its customer base and takes its cue from JLR's Arch design concept. It has space to display 9 new cars inside.
Customers will also benefit from 18 front of house parking bays, including electric vehicle charging points, with an additional 60 bays reserved for aftersales customers.
There are also 11 work bays in which to carry out aftercare work, with enough capacity to add a further 3 as the business grows.
Currently the site employs 54 members of staff, with plans to employ additional sales executives, valeters and showroom hosts.
Taggarts, part of the Lookers group, is one of the best-known names in the Scottish motor trade, having been founded in Motherwell in 1896 by James Taggart and his friend Robert McMillan as a cycle shop. It would eventually be acquired by Lookers in 2003.
EAA Council Nomination Deadline
Friday 15 February
EAA are looking for enthusiastic individuals who can give some voluntary time each month to get actively involved with the Edinburgh chapter group.
Home builders question focus of Planning Performance statistics
2 Feb – Industry body Homes for Scotland has questioned the focus of official planning performance statistics, the latest of which report an average of 37 weeks being taken to decide major housing applications in the first half of 2018/19.
Read the article in full on the Edinburgh Architecture website's news page.
Homes for Scotland represents around 200 organisations which together provide the majority of the country's new homes. Visit www.homesforscotland.com for further information or follow on Twitter at twitter.com/H_F_S.
Homes for Scotland's strategy sets out the direction and prioritisation of objectives for our organisation for the period from 2018 – 2023. Their wish is that everyone with an interest in increasing housing supply can unify around the body's primary purpose: to deliver more homes for Scotland.
Visualisations of Coats Memorial and plans
2 Feb – 100 DAYS TO SAVE COATS MEMORIAL CAMPAIGN LAUNCHED
– Plans for New Venue Unveiled
– A Tapestry of Paisley Icons Created by Renowned Artist Andrew Crummy
One of Scotland's most iconic structures could be saved from ruin and transformed into a modern multi-purpose venue in plans unveiled on Friday 1 February.
An official campaign has been launched today, signalled by a performance from Paisley Opera, to save Coats Memorial in Paisley. A team of committed fundraisers aim to raise £1.5million to breathe new life into the 125-year-old Gothic church in just 100 days.
Coats Memorial, Paisley: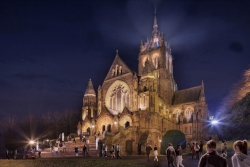 image courtesy of architects
Plans for Coats Memorial include the construction of a single storey ticketing/booking office, landscaped gardens, a car park with space for 30 vehicles, a demountable performance stage, theatre seating for events and banquets, audio/visual rigs for specialist cinema evenings and a 400kg lift to provide disabled access between the church floor and ballroom.
As part of the 100-day campaign, Coats Memorial has enlisted the talent of world-renowned tapestry artist, Andrew Crummy. Andrew has begun a Tapestry of Paisley Icons, paying homage to the town's most famous sons and daughters.
Featured on the bespoke tapestry is Thomas Coats, the original Paisley icon, without whom Coats Memorial and many other public spaces and buildings in the town would not exist.
Also immortalised in the artwork are; Gerry Rafferty; John Byrne; Gerard Butler; Paolo Nutini; Mhairi Black; Phyllis Logan and David Tennant.
Coats Memorial tapestry: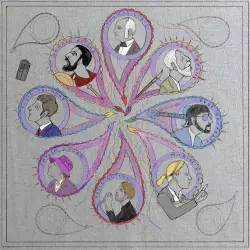 image courtesy of architects
Ian Henderson, Coats Memorial Steering Group member said: "On behalf of the Steering Group, I can say that we have been truly humbled by the support of people like Andrew and those involved in the Tapestry of Renfrewshire for lending their talents to our community campaign.
"We hope this bespoke piece of artwork will attract thousands of visitors to Coats Memorial during the 100 days so that they can stitch a piece of history. Who knows, perhaps even some of our Paisley Icons will even make an appearance themselves.
"I am also thrilled to announce that Coats Memorial will be home to the Tapestry of Renfrewshire for the duration of our campaign. And if we meet our fundraising target, it will take up permanent residency here so that people from across Scotland and the rest of the world can appreciate it in all its glory in a worthy setting."
The Tapestry of Renfrewshire was created in support of Paisley's bid to become City of Culture 2021. Sadly, the bid was unsuccessful which saw the Tapestry without a home. Now, as part of the 100 Days to Save Coats Memorial campaign, the Tapestry lives on.
Andrew Crummy, artist said: "We are thrilled that this will be the home of the tapestry. We believe it is the perfect fit. The Tapestry is being stitched using over 8000 donations of Anchor Threads that have been given by hundreds of local people.
"These threads are a direct legacy of The Coats family. The tapestry will also be a celebration of the skills and creativity of those that will stitch the tapestry.
"The icon panel is a celebration of this rich heritage and sends out a clear message to the world, that to have the tapestry in this beautiful venue we want to nurture this rich legacy and look forward to the future."
Throughout the 100 days campaign Coats Memorial will also host performances by Paisley Opera, PACE Theatre Company, Royal Conservatoire of Scotland and University of West Scotland Choir, with many more to be confirmed.
Coats Memorial will be open to the public every Saturday from 12pm until 4pm for the duration of the campaign.
To fundraise or donate visit: https://www.justgiving.com/campaign/100daystosavecoatsmemorial
For more information on plans and performances visit: www.100daystosavecoatsmemorial.com
Find us on Twitter: @SaveCoats
Follow us on Facebook: 100 Days to Save Coats Memorial
Email: [email protected]
Call: 0141 886 5020
About Coats Memorial
The former church was commissioned by the family of Thomas Coats of Ferguslie and is one of the most dominant landmarks in Paisley.
• The Coats family ran the world leading Ferguslie thread works J and P Coats in the 1830s
• Thomas Coats and his wife brought up their 11 children in Ferguslie House
• He died in 1883 and his public funeral saw a congregation of 2,000 people follow his coffin
• The first congregation in the Memorial Church took place in 1894
• The Coats family supported the Baptist Church
• The last congregation took place in October 2018, the result of a diminishing congregation and the cost of upkeep.
Scotland Build
2 Feb – The full speaker line-up for Scotland's leading and largest building & construction show has just been released.
20-21 March, SEC Glasgow
Confirmed speakers include:
• The Scottish Government – Stephen Garvin, Head of Building Standards
• Balfour Beatty – Amanda McKay, Quality Director
• Balfour Beatty – Jim Brannan, Head of Procurement
• Architecture & Design Scotland, Jim MacDonald, CEO
• Clyde Gateway- Martin McKay, Executive Director of Regeneration
• Kier Construction – Gordon Reid, Regional Business Development Manager
• Multiplex – Caron Dunlop, Head of Community Engagement
• GRAHAM Construction – Katie McGregor, Sustainability Manager
• Wheatley Group – Jackie McIntosh, Director of Property Development and Initiatives
• Scottish Federation of Housing Associations (SFHA) – Lorna Wilson, Innovation & Future Thinking Lead
• anderson bell + christie – Jonathan McQuillan, Associate
• Hamson Barron Smith – Sarah Lewis, Associate Director
• Morrison Construction – Allan Smith, Senior Design Manager
• BIM4 Infrastructure UK – Steven Eglinton, Chair and Director
• 3D Reid – Alastair Cook, Director
• John Gilbert Architects – Matt Bridgestocke, Director
• Mott MacDonald – Ester Diez Rojo, Architect
• Holmes Miller – Andrew Waring, BIM Manager
• Atkins – Will Squires, Digital Lead
• Plus many more
Gain access to over 150 exhibitors, 5 CPD conference and workshop floors with 150 high-level speakers and multiple networking events including the Women in Construction Networking, the Builder's Breakfast, Architects Hub, Meet the Buyers and more.
Centrum Office Block
27 Jan – Carrick Properties submit a change of use application to transform ground floor office space and an adjoining lightwell for food and drink usage. The proposal strips back clutter accumulated around the back areas of the B-listed Centrum office block on Glasgow's Queen Street, including removal of various lean-to structures and an access stair, to open up the south facing elevation of with glazed bi-folding doors, overseen by Stewart Stevenson Architects.
Helensburgh Pierhead Development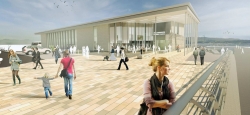 image courtesy of architects
26 Jan – Argyll & Bute Council has approved plans by DarntonB3 Architects to deliver an £18m leisure development on the town's pierhead. The new building replaces an existing leisure centre and swimming pool.
Proposed work will include new parking, better flood defences, with further shops, a play area and skate park possible at a later date.
Queen Elizabeth Hospital Investigation News
25 Jan – The Scottish government instigates an independent review into the design of Queen Elizabeth Hospital building in Govan, designed by the international healthcare architects office IBI Group.
This follows disclosure that a gap on the 12th floor had allowed pigeons to enter a plant room, depositing excrement which subsequently led to bacteria finding its way into the closed ventilation system, considered to be a contributing factor behind the death of a child.
Professor Brian Evans – Glasgow's First City Urbanist
24 Jan – Glasgow City Council appoints Brian Evans, Professor in urbanism and landscape at Glasgow School of Art, to part-time position of city urbanist, following a manifesto pledge to appoint a new city architect. This new position is for an initial three-year period.
He will serve as a bridge between the council, communities and developers in his independent role as a strategic adviser on place, design and the city.
22 Jan 2019
RIAS Future Directions Update
The RIAS chapters and members are driving forward its Strategy discussions in 2019. This Strategy will provide the forward-looking blue-print in which anticipated changes to its governance processes and operating structure can take place.
It will enable the RIAS to bring about more effective working structures, transparent reporting and better external outreach.
RIAS Trustees have listened to members requests at the AGM and have agreed that an independent review of the events in 2017 should be carried out by external advisors.
An appointment was made this week with Morton Fraser to undertake this review. This review will supplement advice that has already helped to guide the organisation in the reform of its operations and to work more collaboratively with members through its chapters.
Clydeside Rent Tower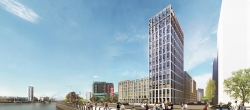 image courtesy of architecture office
25 Jan – A £100m build to rent tower by architects Keppie for Platform_ on the River Clyde awarded planning consent. The 498-apartment project ranges over four blocks ranging in height from 6 to 20 storeys. Aswell as flats there will be a mix of co-working spaces, shared residents lounge, concierge, roof terraces, gym and games room.
The project is part of their wider Central Quay masterplan, delivering 300,000sqft of office space, a 150-room hotel and further housing.
11 Jan 2019
RIAS / RIBA Awards for Scotland 2019
Entries are now invited for the RIAS / RIBA Awards for Scotland 2019.
The deadline for entries is 21 February 2019.
An early bird discount of 10% is available until 7 February 2019.
The RIAS Awards will be running in tandem with the RIBA Regional Awards.
Submission to the RIAS / RIBA Awards for Scotland also entitles entrants to be considered for the following awards (amongst others):
• RIAS Andrew Doolan Best Building in Scotland Award
• RIBA National Award
• RIBA Stirling Prize
Save the Date: RIAS Awards Dinner, Edinburgh, 30 May 2019
6 Jan 2019
SELECT welcomes Scottish Government consultation on cash retentions in construction contracts
SELECT, has welcomed moves by the Scottish Government to take action on one of the industry's main problem areas – cash retentions.
A public consultation on the use of retentions in construction contracts will take place in spring next year. This will be, in advance of any announcement on the matter in the Westminster parliament.
The move follows long-term campaigning by SELECT and the Specialist Engineering Contractors' (SEC) Group, both of which have proposed placing all retentions into a trust-based deposit scheme.
Jamie Hepburn, the Scottish Minister for Business, Fair Work and Skills, said in announcing the move: "Cash retention in construction industry contracts is common practice, including in the public sector. Its purpose is to ensure the contractor completes the job. However, it must be used proportionately and responsibly."
Alan Wilson, Acting Managing Director of SELECT, said: "We wholeheartedly support action on this troubling issue and look forward to positive developments in the upcoming Holyrood consultation"
Rudi Klein, chief executive of the SEC Group, said: "After many years, it seems that we are now making progress towards protecting cash retentions. It's great to see the Scottish Governmenttaking the lead on this."
Many in the construction industry have expressed concern about the abuse of retentions in contracts. Prompt and fair payment has been a long-standing issue and these are undoubtedly barriers to investment, productivity improvement and growth.
SELECT's 1250 member companies account for around 90% of all electrical installation work carried out in Scotland. They have a collective turnover of around £1 billion and provide employment for 15,000 people.
For more information please contact Alan Wilson, Acting Managing Director at SELECT, the Electrical Contractors' Association of Scotland, The Walled Garden, Bush Estate, Midlothian, EH26 0SB. T: 0131 445 5577. F: 0131 445 5548. E: [email protected]. W: www.select.org.uk
Twitter: http://twitter.com/updates_select
YouTube: https://www.youtube.com/channel/UCWJVjt14CvIig8bIKwidVug
Location: Glasgow, Strathclyde, southwest Scotland, UK
Glasgow Building Designs
Contemporary Glasgow Property Designs – recent architectural selection below:
Glasgow Buildng News 2018 April – December 2018
Glasgow Architecture News 2018 up to end of April 2018
Glasgow Building News from July 2017 to December 2017 – news archive
Glasgow Architecture News from end of January 2017 to July 2017 – news archive
Glasgow Architecture News 2016 – end of January 2017 – news archive
Glasgow Architecture News 2015 – news archive
Comments for the Glasgow Architectural News for 2019 page welcome