Glasgow architecture talks, Strathclyde building events 2023, Scottish architects design news
Glasgow Architecture Events
Strathclyde Architectural Talks + Exhibitions – West of Scotland Construction Lectures
post updated 9 December 2023
Glasgow Architectural Events 2023
Concrete Conservations: The Conservation of Scottish Modernism, Edinburgh
11 October onwards
The Scottish Historic Building Trust launch theirr Autum lectures on 11th October. The team have worked hard behind the scenes to develop a programme with some fantastic speakers.
This Autumn, SHBT bring you 'Concrete Conservations: The Conservation of Scottish Modernism". This six-lecture series launches with a lecture from Dr Alistair Fair, reader in architectural history at Edinburgh University. Edinburgh's architectural heritage is usually defined in terms of the medieval Old Town and the eighteenth-century New Town.
More details on the Edinburgh Architecture Events page.
Prominent Scottish leaders to shape discussion on retrofitting older housing:
+++
Beyond Niddrie Road: Retrofit Solutions for Older Housing
(19 September 2023)
Event to explore strategies for integrating retrofit in older housing
The UK Collaborative Centre for Housing Evidence (CaCHE) has announced that Zero Carbon Buildings Minister Patrick Harvie MSP, Glasgow City Council leader Susan Aitken, and Scottish Funding Council Chairman Mike Cantlay OBE will be key speakers at its upcoming conference 'Beyond Niddrie Road: Retrofit Solutions for Older Housing.'
The event, taking place on September 19, aims to explore effective strategies for integrating retrofit across older housing in Glasgow, Scotland, and the wider UK.
Held at the voco Grand Central Hotel in Glasgow, the free event will offer attendees valuable insights into crucial topics related to retrofitting older housing including the Scottish Government's Energy Efficiency Standard for Social Housing (EESHH) review, funding and delivery streams at different governmental levels, and tenement strategies for achieving net-zero emissions while preserving architectural heritage.
Mr Harvie, Susan Aitken and Mike Cantlay OBE bring a wealth of experience and expertise to the conference. Mr Harvie has been Minister for Zero Carbon Buildings, Active Travel and Tenants' Rights in the Scottish Government since 2021 and has served as MSP for the Glasgow region since 2003, advocating for environmental policies and social justice. Susan Aitken has been leading the Glasgow City Council since 2017, spearheading efforts to create a sustainable and inclusive city. Under Mike Cantlay's leadership, the Scottish Funding Council invests almost £2bn in Scotland's universities and colleges on behalf of the Scottish Government.
Patrick Harvie, Minister for Zero Carbon Buildings said: "Our homes and workplaces account for around a fifth of Scotland's emissions. Scotland has legal obligations to reduce the emissions which cause climate change and the Scottish Government's Heat in Buildings Strategy outlines our ambitious programme that reflects the scale and the size of this challenge.
"We are committed to investing at least £1.8 billion over the course of this Parliament towards heat and energy efficiency measures and to support those least able to pay.
"This event will be a vital gathering for sharing knowledge, networking, and exploring innovative retrofit strategies for older housing. It presents an excellent opportunity to engage with experts and contribute to sustainable solutions that preserve and enhance our ageing housing stock."
The conference will also showcase a comprehensive evaluation of the successful deep retrofit project of a pre-1919 sandstone tenement located on Niddrie Road in Strathbungo East, Glasgow. This project, funded by the Glasgow City Council, Southside Housing Association, and the Scottish Government, with the Scottish Funding Council also funding the evaluation, has significantly reduced energy demand, cut household bills, and provided comfortable living spaces for the tenants of the building's eight flats.
Susan Aitken, Leader of Glasgow City Council, added: "Retrofitting is critical to the global climate agenda, helping secure a just transition through delivering energy-efficient homes, developing skills and creating huge economic opportunities. The 'Beyond Niddrie Road' conference places this important agenda into the context of the tenements which give our city its characteristic look and feel, and will remain home to tens of thousands of Glaswegians for decades to come."
The Niddrie Road retrofit project is a collaborative effort between CaCHE, Southside Housing Association, John Gilbert Architects, CCG Construction Ltd., and the University of Strathclyde's Department of Architecture. The project's findings will be shared, offering valuable insights and lessons for the wider retrofitting community.
Mike Cantlay, Chair of the Scottish Funding Council, said: "Projects like the Niddrie Road retrofit point the way to wider changes that could contribute significantly to Scotland reaching its target for net-zero. This conference is an important opportunity to share what we have learned from the evaluation of the project and think strategically about how we can overcome the housing challenges associated with the climate emergency."
The event is now at max capacity. Those seeking to attend the conference can now sign up to a waiting list, where they will be offered a free ticket should one become available.
Recent Scottish Property Event:
Green Home Festival, Edinburgh
Date: 18 August 2023
Church and community groups urged to attend Green Home Festival and discover how former religious buildings can be resurrected for energy-efficient housing
Organiser of the upcoming Green Home Festival are urging religious and community groups to attend their upcoming show and discover how Scotland's abandoned churches can be transformed into energy efficient social housing that benefits whole communities.
The Green Home Festival show will feature a church building conversion in Shettleston, Glasgow: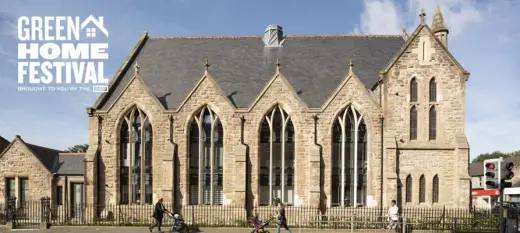 In Bringing Churches Back to Life, architects will explain what happens to former churches and community halls at the end of their working lives and how they can be converted into sustainable, eco-friendly homes for those who need them most.
And organisers say the show is the ideal opportunity for religious bodies to see how Scotland's classic buildings can be saved for future generations – and the potential of transforming them into low-carbon homes that also benefit the environment.
Green Home Festival co-organiser David Logue, who is partner at Gardiner & Theobald, said: "Scotland has a large number of churches and other religious buildings that face a wide range of challenges due to their ageing infrastructure and exposure to the elements.
"Running costs, ongoing maintenance and dwindling usage can all mean that such buildings face an uncertain future, plus their very size often means that it's difficult to know what to do with such a large space.
"Converting such buildings into energy-efficient social housing is already gaining traction and the upcoming Green Home Festival will give examples of how such ideas have already become reality.
"We hope that religious bodies, community groups and those with an interest in Scotland's heritage will join us to explore the options for resurrecting buildings that might otherwise be left to decay or stand empty."
The Green Home Festival show on Friday 18 August will see Eamon McGarrigle and Jess Davidson from Page\Park architects explain the challenges of marrying old with new to achieve 'passivhaus' standards.
They'll reveal details of the first social housing built to such standards in Glasgow and share their experience in developing retrofit plans for the conversion of existing buildings for housing, with a focus on the delivery of low-energy and zero carbon strategies.
CICV Green Home Festival church show will take place on Friday 18 August, 2023: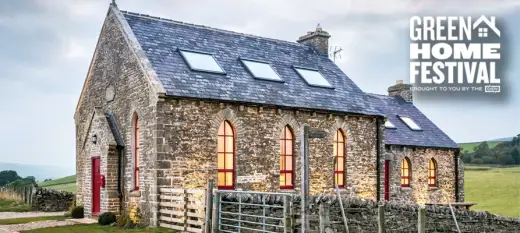 This will be followed by a presentation by James Anthony of Eco Congregation Scotland, who'll outline the many issues found in church buildings while seeking to reduce carbon and give an overview of the body's own 'greening' strategy for such structures.
Co-organiser Gordon Nelson, Scotland Director of the Federation of Master Builders, added: "Scotland has some truly beautiful religious buildings that are coming to the end of their working lives and yet absolutely deserve to be preserved, used and admired for generations to come.
"If we can combine such preservation with energy efficient-housing that benefits local communities, that has surely got to be a good thing for both the environment and the people who live in them?
"This Green Home Festival show will demonstrate some excellent initiatives and we would encourage anyone with an interest in church buildings to attend and find out the potential for bringing them back to life and giving them a useful and rewarding purpose."
Starting on Monday 14 August, and organised by the Construction Industry Collective Voice (CICV), the second Green Home Festival will deliver 11 free shows on low-carbon living as part of the official Edinburgh Festival Fringe.
Topics will include how to reduce energy bills, preparing for heat pumps, community heating networks, creating sustainable kitchens, green garden rooms and offices, making retrofit projects eco-friendly and how the home of the future will be powered.
Live sessions will take place at the Royal Institution of Chartered Surveyors (RICS) at 10 Charlotte Square in central Edinburgh, with contributions from the likes of Home Energy Scotland, Scottish Water, SNIPEF and SELECT.
The festival is the latest in a string of practical and constructive initiatives launched by the CICV since its creation at the start of the pandemic in March 2020.
Made up of 28 trade associations, professional services bodies and companies, it has maintained a steady supply of information and practical advice to the sector as well as carrying out surveys, producing animations and posters, hosting webinars and maintaining close dialogue with Scottish Government ministers.
• Full details, including how to book tickets for each event, are available on the Festival's website at greenhomefestival.co.uk
+++
Glasgow Architectural Events 2022
Expo Scotland Business Show
1 December 2022
The Expo Scotland Business Show is coming on Thursday 1st December to the C7 Conference Centre in Port Dundas, Glasgow, from 10 am to 3 pm.
The event is perfect for all businesses in any trade or profession and we welcome owners, managers, team leaders, solo workers, consultants and any self-employed professionals. The show opens with b2b networking and you can enjoy some brilliant complimentary workshops:
• PPC Advertising Made Simple
• Networking Skills
• Business Planning
• Digital Promotion
• Sales Skills
• Generate More Business from LinkedIn
This should be a great day of business opportunities, network development and learning.
Tickets are available instantly online at www.exposcotland.co.uk
Over 300 businesses have registered to attend so far so come along and meet them along with over 90 businesses exhibiting.
Past Events from 2022:
Design for Inclusion Webinar Series Event
How can we create more inclusive communities through public engagement and consultation?
Thursday 15 September 2022, 17:00 – 18.00
Don't miss your chance to register:
Join the first instalment of the Design for Inclusion Webinar Series, where BDP's inclusive design consultancy, Human Space, will present an interdisciplinary panel of global experts to discuss how we can apply the fundamentals of inclusive design, by engaging with the public to co-create better spaces for all people.
Learning Places Scotland 2022
15 – 16 November 2022
at SEC Glasgow
This is the annual gathering of the education community, in partnership with the Scottish Government.
Learning Places Scotland focuses on the funding, design, build, maintenance, and management of early years, schools, colleges, and universities, the event features a 2-day multi-stream conference, an exhibition highlighting some of the most innovative solutions around, and a glittering awards dinner celebrating excellence in the sector.
Who could you meet:
Learning Places Scotland gives exhibitors unprecedented access to estates and facilities directors, heads of education, chief executives, local authorities, architects, project teams, planning officers & managers, contractors, advisers, and headteachers from across Scotland. Please find attached a sample list of pre-registrations from Learning Places Scotland 2021 & 2019 which demonstrates the calibre of our attendees.
Whether attendees are looking at adding new buildings, considering refurbishing existing buildings or ongoing maintenance Learning Places Scotland is here to help them.
It is a truly unique marketplace where manufacturers, distributors, and service providers can meet decision-makers, and clients, generate leads and new product ideas and identify current and emerging opportunities in the education sector.
Why Should you Exhibit?
 The successful completion of Phase 1 of Scotland's Learning Estate Investment Programme was set out with an objective to benefit 50,000 pupils across Scotland through modernizing schools across 11 local authority areas.
 Phase 2, launched at the end of 2020, will see £800million of investment across 18 local authorities. 25 new schools will be constructed or refurbished to provide modern, state-of-the-art learning facilities for approximately 21,000 children and young people across Scotland. The program will deliver digitally enabled, low-carbon schools and campuses, ensuring they are inclusive and welcoming places that meet the whole community's needs.
If your company has the expertise, knowledge, or products & services to help deliver this ambitious program you need to exhibit at Learning Places Scotland. This is your best opportunity to build new connections and relationships, generate leads, share best practices, and get specified.
• Raise your profile: Specifiers and influencers attend the exhibition to find ideas for upcoming projects or existing establishments. Get noticed by taking a stand and raising your profile in the education sector.
• Showcase best practice: Use your stand to demonstrate the expertise that your company can bring to transform education buildings.
• Generate new business: Meet with specifiers, project teams, clients, and key decision-makers in the education sector and start discussing how you can help them to achieve excellence.
• Develop and grow your network: Build relationships to ensure that you are considered at the earliest stage for new projects – whether new builds or refurbishments.
• Return on investment: Exhibiting at Learning Places Scotland brings you qualified and high-value education contacts.
Examples below include the 5% discount:
(3x2m) 6m²: Shell Scheme £2,052+VAT
(3x3m) 9m²: Shell Scheme £3,078+VAT
(4x3m) 12m²: Shell Scheme £4,104+VAT
(5x3m) 15m²: Shell Scheme £5,130+VAT OR Space Only £4,702+VAT
(6x3m) 18m²: Shell Scheme £6156 plus vat OR Space Only £5,643 plus vat
(6x4m) 24m²: Shell Scheme £8,208 plus vat OR Space Only £7,524 plus vat
Sponsorship opportunities:
Sponsoring Learning Spaces Scotland will put your brand in front of the leading names in the Scottish education sector. Please head to https://www.learningplaces.scot/sponsor to find out more.
Learning Places Scotland Awards Dinner:
The Learning Place Scotland Awards Dinner is a black-tie event that takes place on 15 November 2022, at the Hilton Glasgow. The night will be a fantastic occasion Celebrating Excellence & Achievement in Scottish Education. The awards dinner is an excellent opportunity to network with your peers whilst enjoying a luxurious 3-course meal. For sponsorship opportunities, please head to https://www.learningplaces.scot/awards-dinner-sponsorship-opportunities.
For more information about the event please head to www.learningplaces.scot
Remnants – "How you repair a City"
Newspaper Launch
The Mitchell Library
Saturday 11 June, 1–3pm
Please join Panel and Voices of Experience for an afternoon of performance and conversation, to celebrate the launch of Remnants – "How you build a City", a free newspaper for Glasgow's Merchant City.
Remnants – "How you repair a City", will reflect on the newspaper, published online in 2020 and now printed in 2022. It will consider how Glasgow as a city has grown out of the historic High Street, and how it might 'repair' itself to achieve climate justice through a 21st century approach to urbanism.
Hosted by Civic Room, the event will include contributions from Heather Claridge, Urban Planner and Designer, Fiona Sinclair, Conservation Architect and Alex Wilde, Director and Chair, Govanhill Baths.
It will also feature a spoken-word performance by artist and poet Rhona Warwick Paterson.
FREE! Limited Places – Booking Essential!
www.eventbrite.co.uk/e/remnants-how-you-repair-a-city-tickets-338318278077
Remnants – "How you repair a City"
Blythswood Room
5th Floor, Mitchell Library
North Street
Glasgow, G3 7DN
(Granville Street entrance)
The Mitchell Library is a five-minute walk from Charing Cross train station, and an 8-minute walk from St Georges Cross Subway. A number of bus routes have stops nearby.
Refreshments will be served.
Please let us know about any access requirements in advance: [email protected]
Remnants is a free newspaper for Glasgow's Merchant City, commissioned by Panel in partnership with Voices of Experience for Civic Room's programme 'Of Lovely Tyrants and Invisible Women', 2019–20.
The newspaper features written and illustrated commissions from Tiffany Boyle, Morag Cross, Jade Halbert, Caitlin MacLeod, Rhona Warwick Paterson, Laura Richmond and Louise Welsh and conversations between Fiona Sinclair with Mairi Laverty, Adele Patrick with Akiko Kobayashi, Kirsteen Borland with Heather Claridge and Anne Duff with Cathy Houston, pay attention to how women's contributions have been rendered in/visible through the formation and use of urban space in Glasgow's Merchant City and beyond.
Generously supported by Historic Environment Scotland
For information about Panel please visit: www.wearepanel.co.uk
Mailing address:
Panel
32 Washington Street
Glasgow G3 8AZ
United Kingdom
Recent Architecture Events in Glasgow:
Glasgow Institute of Architects AGM
The 154th Annual General Meeting of the Glasgow Institute of Architects takes place on
28th April 2022 at 17:00
at the CCA.
The Annual General Meeting of the GIA is held once a year and is where the President gives an update on the activities of the chapter for the preceding year and the Office Bearers, including the President, and members of Council are elected for the following year.
More information at: gia.org.uk/giaagm2022
SHBT Spring Lecture Series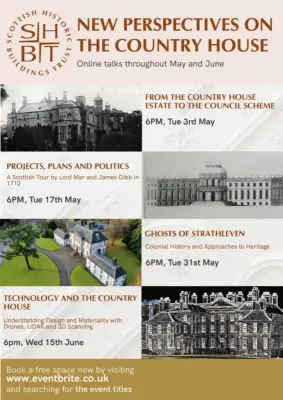 Scottish Historic Buildings Trust (SHBT) have organised a short series titled 'New Perspectives of the Country House' which contains four free online talks throughout May and June:
From the Country House Estate to the Council Scheme
Tue 3 May 6pm (free online event)
John Lowrey looks at the importance of industry as a component in the economy of the country house estate as far back as the 17th Century.
www.eventbrite.co.uk/e/327248337587
Projects, Plans and Politics – A Scottish Tour in 1712
Tue 17 May 6pm (free online event)
Margaret Stewart uses newly uncovered evidence of a Scottish country house tour in 1712 to cast light on the architect James Gibbs.
www.eventbrite.co.uk/e/327267013447
Ghosts of Strathleven – Colonial History and Approaches to Heritage
Tue 31 May 6pm (free online event)
Esmé Coppock investigates stories of colonial exploitation, and searches for approaches to heritage which recognise this past.
www.eventbrite.co.uk/e/327272118717
Technology and the Country House – Understanding Design and Materiality with Drones, LiDAR and 3D Scanning
Wed 15 June 6pm (free online event)
Dan Bochman explores the use of drones, LiDAR and 3D Scanning to better understand the design and materiality of country houses.
www.eventbrite.co.uk/e/327953948087
************
ARCHIVE FOR 2022:
The Burrell Collection Restoration AHSS lecture
Thursday 24 March
AHSS Strathclyde
Venue: Online & in person at the Renfield Centre, 260 Bath Street, Glasgow G2 4JP
Time: Lectures commence at 7.30pm
Cost: £5 / Students £2 / season ticket for all 5 lectures: £20
Tickets available on Eventbrite (and at the door at Renfield Centre)
Join a lecture on the restoration of the Grade A listed Burrell Collection.
John Rattenbury, the Burrell Collection's Guide Organiser talks about the work being done to restore and improve the Collection's building in Pollok Country Park, and the layout and design of the redisplay of its world class objects.
www.eventbrite.co.uk/e/burrell-collection-restoration-tickets-176334961617?aff=ebdsoporgprofile
The Impact of Enslavement on Scotland's Built Environment AHSS lecture
Monday 11 April
AHSS Forth & Borders
Venue: Online & in person at Augustine United Church, George IV Bridge, Edinburgh EH1 1EL
Time: Lectures commence at 6.30pm
Cost: £6 / Students £2
Tickets available on Eventbrite
Drawing on her recent research for the National Trust for Scotland, Jennifer Melville provides historic examples of the acquisition and enhancement of properties in Scotland by Scots living in the West Indies, where a disproportionate number of Scots settled, and shows how wealth derived from the enslavement of people in these far-flung colonies came to have such a significant impact on Scotland's buildings.
www.eventbrite.co.uk/e/the-impact-of-enslavement-on-scotlands-built-environment-tickets-169667793939?aff=ebdsoporgprofile
Virtual Event – Improving Lives with Architectural Regeneration
Tuesday 22nd March, 10.30am
Join the first #DesignPopUp virtual panel of 2022. This talk with Anderson Bell + Christie and Renfrewshire Council will explore how a community-led regeneration project can improve the lives of both individuals and the community itself.
The even is titled 'Improving Lives with Architectural Regeneration', and is with Project Architect and Practice Director, Stephen Lamb, and Renfrewshire Council's Head of Housing, Fraser Carlin, we will have the opportunity to hear all about the challenges, processes and outcome of the award-winning Johnstone Castle Regeneration project.
Glasgow Architectural Events 2021
A new #DesignPopUp Virtual Panel: "Designing & Distilleries", a celebration of the drinks sector
Virtual Event – Designing & Distilleries
Image: Port Ellen Distillery, Islay, building design by Michael Laird Architects, Client: Diageo PLC, Project Lead: Structure & Services: Blyth & Blyth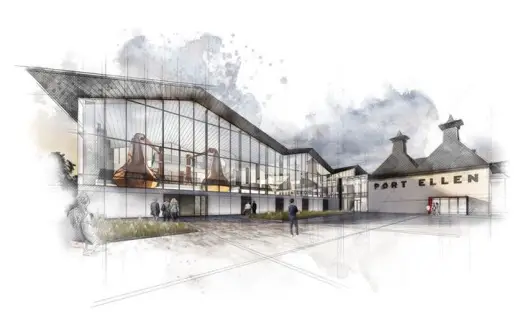 image courtesy of architects practice
For those of you who joined us in September for #DesignPopUp Glasgow, you may have been lucky enough to have caught the presentation discussing design, distilleries, and celebrating the process of making alcohol. Well, it was so good we're delighted to announce that we're bringing it back again in the form of a virtual panel.
Join us on Thursday 2nd December at 10.30 am for 'Designing & Distilleries' with Project Director Stuart Falconer of Michael Laird Architects and now with Creative Director Jason Milne of Contagious to discuss how the brand and customer journeys interact, influence and dovetail the architectural vision when designing striking and functional buildings for the drinks industry.
Thursday 2nd December, 10.30am
The Panel
Stuart Falconer
– Project Director, Michael Laird Architects
Stuart joined as an Associate at MLA in 2017 after setting up and running a successful Architectural Studio in both Glasgow and Edinburgh for 11 years. After graduating from the University of Strathclyde with a First-Class Honours degree and Masters Degree with Distinction, he worked on a wide range of projects on various scales for private, public and commercial clients in the UK and overseas.
Jason Milne
– Creative Director, Contagious
From Retail designer in London for brands like Virgin, Tesco and Marks & Spencer to industry award winner for creativity, experience and design effectiveness. Lecturer at Moonshine University in Kentucky, where his work can be found in distilleries, brand homes, airports, and bars worldwide, including Aberfeldy, Islay, Dublin, London, Louisville, Manhattan, and Texas.
Virtual Panel
Thursday, 2nd December at 10.30am
Recent Scottish Architecture Events:
Heard about Retrofit? – COP 'Conversations' in the Highlands and Islands, ICHT & IAA
2.
Title: Heard about Retrofit?
Date: 3rd November 2021
Time: 19.00-21.00
Venue: Inverness Cathedral, St Andrews, IV3 5NN
Cost: Free
Every home and homeowner in Scotland will be affected by the need to reduce carbon emissions; its part of the government's strategy to tackle climate change.Inverness Architectural Association invite you to an information evening where you can learn about retrofit and get some answers to your questions.
Link for further information:
No need to book youcan come along to Inverness Cathedralbut details and booking also on:
www.eventbrite.co.uk/e/heard-about-retrofit-tickets-196468020137
The River and Its City – COP 'Conversations' in the Highlands and Islands, ICHT & IAA
3.
Title: The River and Its City
Date: 6th November 2021
Time: 14.00-15.30
Venue: Eden Court, Inverness, IV3 5SA, Meet at the Entrance Canopy
Cost: Free
A guided walk and conversation about the River Ness and its historic and present influences on Inverness. The partially completed River Ness Flood Alleviation scheme is already an existential reminder of the city's vulnerability as a coastal city on a tidal river. 'There will be challenge and opportunity in a future of growing Climate Change on sea and land'
Link for further information/ booking:
No need to book you can just come along to Eden Court and meet us under the Entrance Canopy – dressed for the weather!
www.eventbrite.co.uk/e/the-river-and-its-city-tickets-198540228167
4.
Title: Skye Tidal Marker
Date: Saturday 6th November
Time: 11.00 TBC
Venue: Talisker Bay, Skye, Meet at the IAA Marker
Cost: Free
Volunteers will take part in a beach clean, organised through IAA Members on the Isle of Skye. No need to book but for further details contact [email protected].
5.
Title: Make It Smart
Date: 8th November 2021
Time: 19.00-21.00
Venue: On-line
Cost: Free
The Make it Smart Hub (MISH) iscomingto the Highlands andIslands. MISH is part of the Construction Innovation Scotland Centre's (CS-IC mission to support contractors and designers in Scotland to innovate and work towards a lower carbon future.) This is an opportunity to hear about their work using Scottish timber and their plans for training and access to state-of-the-art equipment in our area. Join us to hear about CS-IC and what will be available at UHI. All welcome for a glimpse into a more innovative construction future.
Link for further information/ booking: www.eventbrite.co.uk/e/make-it-smart-tickets-198561200897
6.
Title: Space for Creativity
Date: 9th November 2021
Time: 19.00-21.00
Venue: WASPS Inverness Creative Academy, St Stephens Street, Inverness, IV2 3JP
Cost: Free
Law & Dunbar-Nasmith, and subsequently LDN architects, have a long history of creative working nationally but critically for us in the Highlands and Islands. They are not only talented designers of new buildings but have key skills in re-purposing and bringing new life to existing buildings: a vital practice if we are to tackle our climate and resources challenges and support vibrant future lives for our communities. Join Stuart MacKellar, partner in LDN's Forres office, for a stimulating talk illustrating some fabulous buildings and projects.
Link for further information / booking: www.eventbrite.co.uk/e/making-space-for-creativity-tickets-198584079327
COP26 Construction Leadership Council Panel
11 November 2021, 9.30am-11am
The panel event for the conference's Cities, Regions and Built Environment Day will be broadcast live on the COP26 YouTube channel. It will be 9.30am-11am GMT.
A young sustainability engineer at Cundall, Sarah Linnell, has been selected to co-host the Construction Leadership Council's panel at the event.
RIAS Lunchtime CPD: Heritage and the Sustainable Development Goals
Date: Thursday 16th September
Time: 12pm- 1pm
Venue: Online (zoom)
Cost: £5.00 (RIAS members) / FREE (RIAS Student Members) / £9.00 (non-members)
Booking: www.eventbrite.com/e/heritage-and-the-sustainable-development-goals-tickets-165728706021
Description: Presentation followed by discussion and Q&A with attendees.
In March of this year,ICOMOS published a new policy document on Heritage and the Sustainable Development Goals.
Produced by ICOMOS' Sustainable Development Goals Working Group (Priority Action 1 Task Team), the document aims to advocate and localize the UN 2030 Agenda and SDGs from the perspective of heritage. In this presentation, Linda will briefly discuss the Policy Guidance and the SDGs, before focusing on SDG 7 (Affordable and Clean Energy) and the relevant Case Study: Lauriston Place in Edinburgh, to then explore SDG 8 (Decent Work and Economic Growth) and SDG11 (Sustainable Cities and Communities) as examples on how the PG might be localised here in Scotland considering recent policy developments.
Andy MacMillan Memorial Lecture 2021 – Dr Jos Boys
Date: Thursday 23rd September 2021
Time: 6.00pm – 7.00pm
Venue: online (zoom)
Cost: FREE
Booking: https://www.eventbrite.co.uk/e/andy-macmillan-memorial-lecture-2021-dr-jos-boys-tickets-168085364851
Description: Join us for the Andy MacMillan Memorial Lecture 2021 and to celebrate the A&DS and RIAS Scottish Student Awards shortlist announcement. This year's Andy MacMillan Memorial Lecture will be given by Dr Jos Boys, The Bartlett / Co-founder of The DisOrdinary Architecture Project.
The awards offer a rare opportunity to see all five schools together and recognise the achievement of individual students and their schools of architecture. They are a mark of the continuing high standards of Scottish architectural education and enable both the public and the profession to enjoy the creativity and vision of Scotland's future architects.
RIAS Convention 2021: Draw Together
Date: Tues 28th Sept – Fri 1st October
Cost: £20 per person (one ticket gives access to the full programme) / Free for RIAS Student Members
Venue: Online event
Booking: https://riasconvention.squarespace.com/tickets
Description: Join us for our virtual architecture and built environment conference – four days packed with talks from our international line up of over 20 speakers, CPD, debate, discussion, sustainability speed mentoring (delivered in partnership with RIBA) and more! The RIAS Convention is open to all to attend (members and non-members).
Draw Together will bring architects, built environment professionals and the wider public together to show how change is already happening to tackle our climate goals and targets, with spotlight on work across Scotland as well as UK and international examples.
View the full programme here or click below to see the programme for each day.
ARCHIVE
Principles are Principles, but Variety is the Spice of Life!
Dumfries & Galloway
Principles are Principles, but Variety is the Spice of Life!
Thursday 29 July, 5.00pm
Online
Book your ticket for 'Principles are Principles, but Variety is the Spice of Life' with James Simpson!
Conservation is securing the survival of things we have inherited from the past or even things we have made ourselves, which we value and wish to pass on to future generations. These things come in many forms: they may be 'natural' or 'cultural' and as well as buildings may include rare species, artefacts, energy, traditions, or anything else we value. Architecture covers the design, construction and alteration of buildings, based on careful thought and management.
Architectural conservation, just like good design, requires good decision-making, based on thorough research, recording and analysis. In this day and age, climate change and the need for sustainability are as strong drivers of building conservation as physical environment, culture and heritage. The joy of conservation practice, whether one is a textile conservator, a botanist or an architect lies in the range of tasks one has to face. Each project and each day are different: 'variety is the spice of life'!
In this talk, work to three buildings will be described, the survival of which has taken massive effort, but each has proved to be far more valuable in the end than seemed likely at the beginning. The Fish Teas House, the Botanic Cottage and the little villa 'by Esca's flow'ry bank, where the harmonious throughsh repeats his love'!
James Simpson OBE BArch (Hons) RIBA FRIAS studied Architecture at the Edinburgh College of Art and received his BArch(Hons) degree from the Heriot-Watt University. He trained with Ian G. Lindsay & Partners in Edinburgh, where he was trained on a range of restoration projects, including Iona Abbey, Mylne's Court, St Cecilia's Hall, and Newhaven Village. In 1977 he joined Stewart Brown to form the firm of Simpson & Brown.
Over more than forty years Simpson & Brown has grown to become a leading architectural practice in Scotland and the UK, with a particular reputation for conservation and, more recently for visitor centres and similar small work in historic settings. Projects have included work at Yester House, Arniston House, Alderman Fenwick's House in Newcastle, Auchinleck House, Law's Close in Kirkcaldy, Stirling Tolbooth and many others. The campaign of his career has been for Mavisbank. He retired from his partnership in 2009 and from his consultancy in 2019 but remains close to the practice.
James has been a member of several boards and committees, including the Ancient Monuments Board for Scotland, the Royal Commission on the Ancient & Historic Monuments of Scotland, the Architectural Heritage Society of Scotland, Scottish Civic Trust, Edinburgh World Heritage Trust and ICOMOS-UK. He has initiated and co-founded several charitable trusts, including the Building Limes Forum, the Scottish Historic Buildings Trust and the Scottish Redundant Churches Trust – now Historic Churches Scotland. He remains active in the Conservation Movement, proud of what has been achieved by so many in the last half century, and coming to believe that the survival and continued use of existing building stock has become as important to the Climate Change agenda as it is to the cultural environment and heritage.
Architectural Heritage Society of Scotland
AHSS
15 Rutland Square
Edinburgh, EH1 2BE
United Kingdom
Making Happy Space
A Virtual Panel Discussion
Thursday, 29th July 2021 at 11.00 am
Register here to attend
The Larick Centre, Fife. Design by Collective Architecture: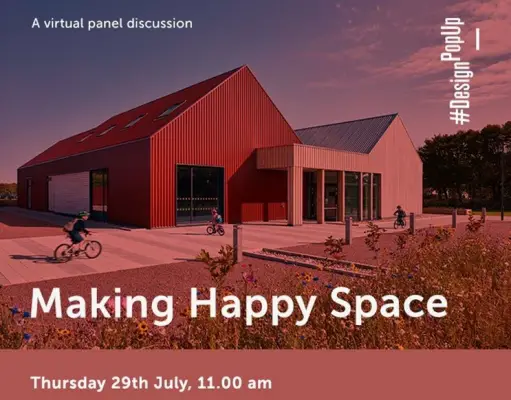 Building photo : Andrew Lee
The July webinar will be hosted by two architects from Collective Architecture, winners of Architect of the Year at the 2018 AJ Architecture Awards.
The panellists will be presenting their Community, Cultural and Care projects to explain their collaborative working processes ensuring client and user needs are fully captured.
Architects, Mairi Laverty and Ewan Imrie from Collective Architecture shall discuss some key award-winning Community, Cultural and Care projects to explain their collaborative working processes (to ensure that client and user needs are fully understood) and their ideas in designing spaces for people to feel comfortable, safe and inspired.
The Panel:
Ewan Imrie
Architect, Collective Architecture Glasgow
Ewan Imrie is an experienced architect at Collective Architecture having joined in 2004 after completing Advanced Architectural Design at Strathclyde University. Before architectural studies, Ewan completed an honours degree in Fine Art Sculpture at DJCAD in Dundee, was an artist based in Glasgow and ran a small design and build company delivering exhibitions. Ewan has been a 5th Year Architecture tutor at Strathclyde University since 2006 and currently runs a design unit titled Provocation, Art and Political Space.
Ewan's projects vary dramatically in scope and scale, ranging from bespoke exhibitions and a museum storage facility in Paisley to the delivery of large-scale housing regeneration projects. Ewan's projects have been highly acclaimed and have won numerous awards in reflection of his exceptional design ability, rigorous attention to detail and understanding of place. Recently, The Secret Collection in Paisley won several awards for excellence in dealing with a technically challenging refurbishment of a basement into a publicly accessible museum facility.
Ewan's current projects include a new Central Library for Paisley, Collective Architecture's own office fit out in Glasgow, alterations to the Scottish Sculpture Workshop in Lumsden and a residential home for young adults with autism at Camphill School, Aberdeen.
Mairi Laverty
Architect at Collective Architecture
Mairi Laverty is an Employee Elected Director and architect at Collective Architecture. Mairi joined Collective Architecture in 2010 after completing her Masters in Advanced Architectural Design at Strathclyde University. During her studies, she spent four months studying at the ETH in Zurich. Since joining Collective Architecture, Mairi has worked on multiple projects ranging from sustainable masterplans, public buildings, large scale housing, conservation and regeneration projects.
Mairi is currently developing proposals for Phase 1 of the Water Row regeneration project in Govan, Glasgow. Mairi is also leading projects in the North East of Scotland which include the RIAS competition-winning Camphill School in Aberdeen and the Bilbohall Regeneration for Moray Council.
Mairi has also taught part-time at Strathclyde University and has engaged in student design reviews as a guest critic at the Mackintosh School of Architecture and The University of Sheffield. In addition to teaching, Mairi has been a judge for the Glasgow Institute of Architects Design Awards and has most recently presented as a keynote speaker at the Aberdeen Society of Architects Annual Dinner and Design Awards.
Virtual Event
'Making Happy Space'
Thursday, 29 July 2021 at 11.00 am
[email protected]
0141 7629907
#DesignPopUp is organised by Double S Events Ltd | www.doublesevents.com
More events for Summer / Autumn are welcome please!
Architectural Conservation Masterclass
Dilemmas of Translating Theories into Practice: An Indian Perspective
Tuesday, 13 April 12.00-13.00 BST
Zoom Webinar
Aishwarya Tipnis, Aishwarya Tipnis Architects
Details: https://blogs.ed.ac.uk/sccsmasterclass/tuesday-13-april-2021/
Offered by the Scottish Centre for Conservation Studies and the Institute for Historic Buildings Conservation – IHBC Scotland Branch
The second session of the 44th annual series of Architectural Conservation Masterclasses:
Tuesday, 16 February 12.00-13.00 GMT
Venue: Zoom Webinar
FREE Eventbrite registration: Eventbrite Architectural Conservation Masterclasses 2021
NHS Heritage – A Conservation Challenge: a case study of the post-war redevelopment of the Victoria Hospital, Kirkcaldy, Fife
Harriet Richardson Blakeman, The University of Edinburgh
Details: https://blogs.ed.ac.uk/sccsmasterclass/tuesday-16-february-2021/
Website: https://blogs.ed.ac.uk/sccsmasterclass/masterclasses-2021/
Masterclasses 2021 – Architectural Conservation Masterclasses
The University of Edinburgh is a charitable body, registered in Scotland, with registration number SC005336, VAT Registration Number GB 592 9507 00, and is acknowledged by the UK authorities as a "Recognised body" which has been granted degree awarding powers.
blogs.ed.ac.uk
SCOTTISH CENTRE FOR CONSERVATION STUDIES
Edinburgh School of Architecture and Landscape Architecture
Edinburgh College of Art, The University of Edinburgh
Glasgow Architectural Events 2020
Featured:
What does the future of the Scottish Construction Industry hold?
Date: Friday 3rd July
Venue: Online Webinar
Time: 11:30am
In conjunction with Forum for the Built Environment, join this event to hear from the panel of 4 leading industry professionals including:
John Edwards: Chair of RICS Scotland and Director of PMP
Gillian Stewart: BCO Chair for Scotland and Director of Michael Laird Architects
A. Ross Taylor: Partner at Wright, Johnston & Mackenzie LLP
Graeme McCormick: Manager for Hays Construction & Property.
Book your place: www.fbeonline.co.uk/regions-branches/scotland/edinburgh/edinburgh-events/fbe-edinburgh-scottish-construction-market-discussion/
#DesignPopUp Glasgow
Update:
#DesignPopUp Glasgow 2020
New dates announced
In light of the global impact caused by COVID-19 and following careful consideration, #DesignPopUp Glasgow will be postponed until 12 – 14 August 2020.
As you can imagine, this decision has not been taken lightly, but the health, safety and wellbeing of our visitors, exhibitors, clients and staff is our number one priority.
The event's diary will remain the same with the infamous Parmesan & Prosecco party scheduled for Thursday 13th, and an additional evening event on Wednesday 12th.
On a more positive note, the new dates coincide with the end of the summer holidays for most schools in Scotland, giving the perfect opportunity to come and celebrate with us in style.
Previously:
The 7th #DesignPopUp Glasgow edition is fast approaching, and it couldn't come at a better time, as the Scottish building industry is booming.
The A&D community and specification markets alike are enjoying the benefit of several developments currently under construction in both Glasgow and Edinburgh. They focus on mixed-use buildings which will soon be offering plenty of office space, BTR accommodation, as well as hospitality and retail opportunities, all while keeping an eye on energy and sustainability standards. Not to mention the positive economic impact these projects will bring.
Don't miss the opportunity to showcase your product in our most established show, so that you can also get involved in these amazing projects.
So hold the dates in your diary now — 10th to 12th June.
Recent Scotland Events:
Webinar
6 May 2020
As the country battles through the Coronavirus pandemic, businesses have been seeking support in many ways. There are a few alternative ways to support your business during this time which offer a cash flow alternative, including Research & Development tax relief.
Catax have partnered up with The Royal Incorporation of Architects in Scotlandto host a webinar on Wednesday 6th May at 11 am for approx an hour.
Who's hosting the webinar?
Karen McFadden
Regional Development Director for Catax
Karen McFadden, Regional Director for Catax Scotland will be discussing why architects have missed out on claiming this in the past, what projects/activity count towards a claim and what financial rewards you can be entitled to. There will also be a quick touch on tax relief involving contaminated land projects too.
As an added bonus, you will get to hear from one of the case studies, John Gilbert Architects on their innovation with Passivhaus projects.
Please see link to sign up: here
Free lunchtime talk
Date & time: Thursday 20 February 2020 13:00 – 14:00 GMT
Location: The Merchants' Hall, 22 Hanover Street, Edinburgh, EH2 2EP
Free lunchtime talk for Architecture businesses in Scotland on 20th February.
The talk is about mitigating business risk amid growing rates of cyber crime as the industry is now amongst the most targeted.
Content aimed at business owners or senior managers rather than IT professionals so everything will be jargon-free.
It's not all about technical controls, more how breaches happen, the consequences and what other businesses in the architectural sector are already doing to protect themselves.
RSA Metzstein Architecture Discourse 2020
Event to be held at the following time, date and location:
Wednesday, 29 January 2020 from 18:45 to 20:30 (GMT)
Gordon Aikman Lecture Theatre
32 George Square
Edinburgh EH8 9LH
United Kingdom
Snøhetta will present this years Metzstein Architecture Discourse.
Snøhetta is an international integrated architecture, landscape architecture, interior architecture, product design and graphic design firm. The firm has offices in Oslo, New York, Innsbruck, Paris, Stockholm, Adelaide, Hong Kong and San Francisco.
See the Edinburgh Architecture Events page for more info
More Glasgow architectural events welcome
Royal Scottish Academy Open Exhibition Promenade
Open Exhibition Promenade
20 November 2019
A fabulous opportunity to listen to a selection of exhibitors in the RSA Open Exhibition discuss their work, influences and future plans over a glass of wine. Led by Kate Downie RSA.
RSA Galleries | 6.30 – 8pm
Tickets £10 | RSA Friends & Patrons £8 (includes a glass of wine)
**********************************************
Glasgow Architectural Events Archive
Glasgow Architecture Events Archive
Women Mean Business Forum
Thursday 31st October 2019
Central Edinburgh
Holyrood Insight's highly reputable Women Mean Business Forum is returning this October.
Join expert panellists showcasing innovative ways to ensure female friendly workplaces support women and help retain talent, including flexible working, maternity programmes, addressing ageism and overcoming gender bias in the design of roles.
EAA CPD & SOCIAL // EAA Award Winners 2019 : A Showcase of the Best – 6th Nov
Introduced by EAA Council members, the EAA & ESALA have brought together architects and clients from different projects to talk about their 2019 award winning projects. The concluding event to the EAA's annual programme of CPD, this packed evening will include short presentations on each project followed by some drinks and a chance to socialise with speakers and fellow attendees.
Biennale Architettura 2020
23 May to 29 November 2020
The Scotland + Venice partnership has announced details of the open tender for Scotland's proposal for the Biennale Architettura in 2020. Creative teams are invited to submit proposals for a project to celebrate architecture, with the potential to showcase the work at one of the most prestigious architecture events in the world – the Biennale Architettura, Venice. The deadline for submissions was noon on Monday 9 September 2019.
Biennale Architettura 2020
RIAS International Convention
4 – 5 Oct 2019
RIAS Convention & Doolan Award – Climate of Opinion
This year's event combines the conference and Doolan Award. Climate of opinion takes place in Edinburgh with a day of discussion, debate and celebration around designing for climate resilience, diversity and northern Europe. The A&DS and RIAS student awards ceremony will also take place and the students will exhibit their work.
Friday 4th October to Saturday 5th October
In the evening the Best Building in Scotland Award will be presented by Cabinet Secretary Aileen Campbell in the stunning surroundings of the National Museum of Scotland. The event will be rounded off on the Saturday morning with building visits and a city tour exploring some of Edinburgh's award winning architecture.
RIAS Convention Tickets
Doors Open Days, Glasgow
16-22 September 2019
Doors Open Days turns 30 in 2019, and we are asking venues to start thinking now about how to make their events extra special to mark this milestone. If you are a building or an architect's practice keen to be part of Doors Open Days in 2019 please get in touch with your local coordinator.
JUPITER RISING, West Lothian
23 – 25 Aug 2019
JUPITER RISING, Scotland's newest festival of music and contemporary art will unfold across the iconic landscape of Jupiter Artland.
EXPENSIVE SHIT: ST. PETER'S SEMINARY
9 June
An archaeological apparition talks about a Modernist ruin, where the unravelling fabric reflects the ruin of society today and why that must be valued.
Joss Alexander Durnan
Talk
SUN 09 June 2019 / 2pm – 3pm
FREE
St Peter's Seminary
Cardross G82 5EY
Not accessible
St Peter's Seminary, arguably the magnum opus of its architects Andy MacMillian and Isi Metzstein, has found cult status as an abandoned building frequented by architects, vandals, photographers, and graffiti artists. It lies on the fringes of space and time, of reality, a dangerous hulk that determined visitors choose to enter at their own risk.
St Peter's is often touted as an architectural masterpiece. But is that really what makes this place significant? The Seminary, recalcitrant in the face of its designers, its owners, its prospective saviours or destroyers seems determined to continue on its crumbling path 30 years after the lights were switched off for the last time.
Archaeologist Joss Durnan asks what fate this place demands and if, perhaps, its inevitable succumbing to ruination is the fate we deserve of it.
No one is invited.
@joss_durnan
#DesignPopUp 2019, Glasgow
12 – 14 June 2019
Venue: The Briggait (141 Bridgegate, Glasgow, G1 5HZ)
During the past twelve months, Scandinavian brands such as Swedese, Bla Station, Howe and Baux as well as innovative Scottish leather manufacturers, Muirhead, lighting specialist Fagerhult, pods experts The Meeting Pod and many other companies started to feature at #DesignPopUp.
During 2019 we can also reveal that the Glasgow edition will showcase an increasing number of exclusive Scandinavian brands as well as an array of new manufacturers joining the #DesignPopUp line-up.
The sixth #Glasgow edition of the temporary showroom for the #specification market is just a few weeks away now and shaping up to be a show with an amazing group of companies showcasing their latest collections.
Here is a snapshot of what #designers and #specifiers will be able to preview at the Briggait in June:
Guest presentations from HLM and Sheppard Robson Architects.
Award-winning bathroom product designers Crosswater will be showcasing the latest for their New Vanguard collection called ITALY.
SHELF, a fantastic addition to Schlüter-Systems' range of solutions for tile and stone.
The shelves feature the distinctive FLORAL and CURVE designs of the Schlüter®-KERDI-LINE-STYLE/-DRAIN-STYLE grates released at Cersaie 2017, allowing for coordination across the drainage and storage elements of a room design.
Allgood will showcase their newest range of ironmongery – Mode.
The Mode range is an ergonomic collection of door furniture that is both dynamic in design and aesthetics. Made from grade-316 stainless steel, the Mode collection of ironmongery is guaranteed to stand the test of time.
Domus this year is focussing on the hospitality and Build-to-Rent markets.
Ahead of its official launch later this summer, we are privileged to have a preview of their latest collection, the 'Domus Aura' range, at The Briggait in June. A precision engineered oak flooring, each plank or parquet piece displays its own unique markings, grain, and texture, showing the inherent natural characteristics of wood.
#DesignPopUp is a Double S Events production
www.doublesevents.com
#DesignPopUp | www.designpopup.com
RIAS Awards Dinner, Edinburgh
Date: 30 May 2019
The Scottish Homebuilding & Renovating Show, Glasgow
Date: 1-2 June 2019
Time: Saturday 10:00 – 17:00, Sunday 10:00 – 16:30
Venue: SEC, Exhibition Way, Glasgow G3 8YW
https://www.homebuildingshow.co.uk/
'A Place for the Work and the Human Being', Glasgow
Dorothea von Hantelman
Date: 30 May 2019 , 18.00
Venue: City of Glasgow College, 190 Cathedral St, Glasgow G4 0RF
Cost: £5 (full price) £3 (student) Free (unemployed)
This event series explores the needs, expectations and possibilities of the space for art today.
Speaker: Dorothea von Hantelmann
Glasgow architectural event in 2019
Why Archives Matter: Heritage, Memory and Identity conference, Stirling
17th April 2019
The Engine Shed Stirling
Supported by National Records of Scotland, Built Environment Forum Scotland, Historic Environment Scotland
WHY ARCHIVES MATTER
Heritage, Memory and Identity
If you haven't already booked there are still some tickets are available from www.eventbrite.co.uk/e/why-archives-matter-heritage-memory-identity-tickets-57711832645 but booking closes this Friday, 12th April.
Why Archives Matter: Heritage, Memory and Identity is the second in a series of events organised by the Scottish Council on Archives to promote greater awareness of the importance and usefulness of archives to many different sectors including education; healthcare; architecture; cultural heritage, both local and national; archaeology, academia; and genealogical research. The conference will feature presentations from academics, historians, archivists, architects and representatives of community archive groups.
Archives are the documented memory of the nation. They tell our stories and help us understand who we are as individuals and as a nation. They underpin every aspect of education, science, health, culture, law and the historic environment. Archives inform the future by helping us to learn from the past.
More info at Scottish Building News
Register for free tickets to attend Scotland Build
Scotland Build (20-21 March, SEC Glasgow) is the leading and largest construction show for Scotland and is attended by thousands of building, construction, architecture and engineering professionals from across the country.
Scotland Build is a content-led exhibition that covers the latest developments in the built environment, providing extensive business networking opportunities. From SME's to Tier 1 Contractors, from local construction professionals to global CEO's – Scotland Build is the leading show to unite the Scottish construction industry.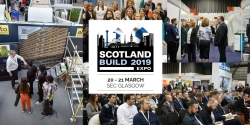 The show features 150+ high-level speakers across 5 conference theatres covering: the future of construction in Scotland; new building & construction projects; BIM & digital construction; architecture; sustainability and more. The incredible speaker line-up includes senior representatives from the Scottish Government, Wheatley Group, Morrison Construction, Mitie, SFHA, Riverside Inverclyde, Architecture & Design Scotland, Balfour Beatty, Clyde Gateway, Arup, Kier Construction, Graham Construction, Mace, 3D Reid, Galliford Try Plc, Holmes Miller, Aecom and many more.
Learn of the latest innovation, products and services with over 150 exhibitors; Meet the Buyer sessions; networking events including the Women in Construction; plus the Festival of Construction with live music and entertainment.
Register for your free tickets today at www.scotlandbuildexpo.com
Coming soon:
New Feature for Architects at Scotland Build, Glasgow
Dates: 20 -21 March 2019
Venue: SEC Centre, Exhibition Way, Glasgow G3 8YW
New Feature for Architects at Scotland Build – the leading construction and design show for Scotland.
The Architects Hub at Scotland Build will showcase the latest projects being designed and built across the country, with Scotland's leading architectural firms displaying upcoming projects and opportunities on the Architect Wall and giving insight to the latest developments through a showcase of interactive 3D models and displays.
Have you got a project you would like to showcase at Scotland Build? Find out more and get in touch today at www.scotlandbuildexpo.com/architects-hub
Your ticket will give you access to:
150 exhibitors
150 high-level speakers
5 CPD accredited conferences including Future of Construction, Sustainability, BIM & Digital Construction, Architecture, Skills, Interior & Fit-out and Building Solutions
The Women in Construction Networking Event
The Festival of Construction with live music and entertainment
All other networkings events; Builder's Breakfast, Future Generation of Construction, Passivhaus Trust Drinks Reception, Architects' Hub and more
Speakers and attendees include: Transport Scotland, Balfour Beatty, Mace Group, Amey, Clyde Gateway, Kier Construction, Arup, Multiplex, Construction Scotland Innovation Centre, GRAHAM Construction, Cundall, Atkins, The Scottish Government, Scottish Futures Trust, Federation of Master Builders, Wheatley Group, Scottish Federation of Housing Associations (SFHA), anderson bell + christie, Hamson Barron Smith, ISG, Keppie Design, BDP, Homes for Scotland, Galliford Try, Morrison Construction, Architecture & Design Scotland, BRE, VolkerInfra, BIM4 Infrastructure UK, 3D Reid, John Gilbert Architects, Mott MacDonald, Holmes Miller, Atkins, Glasgow City Council and many more.
If you'd like to receive a copy of the agenda and arrange no-cost tickets for your team, simply reply to this email or register directly at www.scotlandbuildexpo.com.
CIBSE SCOTLAND CONFERENCE 2019
Evolving Building Technology
Wednesday 13 March
A one day conference in Glasgow, where you will hear from expert speakers on a range of topics related to the application of innovation and creativity to improve how we design and construct buildings and their surrounding infrastructure.
Edinburgh Architectural Association | 15 Rutland Square, Edinburgh EH1 2BE | 0131 229 7545 www.eaa.org.uk
GIA CPD Event 5 – Materiality in Architecture by Richard Murphy, Glasgow
Date: 27 February 2019, 17:30 – 19:30
Venue: Mackintosh at the Willow 217 Sauchiehall Street, Glasgow
Architect Richard Murphy will talk about materiality in architecture.
Talks at the Lane present Colm Moore on Temporal Architecture
Date: 28 February 2019 ; Time: 18:30 – 21:00
Venue: Custom Lane, 1 Customs Wharf, Leith, EH6 6AL
Cost: £10 / £8 reduced
Talks at the Lane presents Colm Moore of Clancy Moore Architects to discuss their practice as part of the series. Colm Moore is a partner of Dublin based architecture practice Clancy Moore. Established with Andrew Clancy in 2008, the practice works across Ireland and Europe seeking to understand 'context' in the fullest sense of the word – physical, historical, social, legislative and economic.
Please come and share some thoughts with us, and as usual light refreshments will be provided for guests.
Colm Moore on Temporal Architecture
RIAS Awards Deadline, Edinburgh
Date: 21 February 2019
EAA COUNCIL Nomination Deadline
Friday 15 February
EAA are looking for enthusiastic individuals who can give some voluntary time each month to get actively involved with the Edinburgh chapter group.
Scotland's Queer Heritage Workshops, Edinburgh + Ayr
Date: 17 February 2019
Venue: Ayr
The Scottish Civic Trust and Scotland's Urban Past are co-hosting two different events for LGBT+ history month.
At the Unity Grill in Ayr on Sunday 17 February, Ayrshire LGBT+ groups will be sharing and collecting stories and offering a variety of activities, including family-friendly fun, from 14:30 to 20:30. If you have any questions, please contact [email protected]
Mackintosh 150, Glasgow
The Glasgow Mackintosh group (formerly Mackintosh Heritage Group) was established in 1980 by curators and managers of Mackintosh buildings and collections in and around Glasgow to work together on behalf of the Mackintosh heritage.
This year celebrates the 150th anniversary of his birth through a series of events in and around Glasgow Mackintosh venues. See the events section of their website for details.
A year-long programme of events will take place to mark the 150th anniversary of the birth of Charles Rennie Mackintosh. Celebrate the incredible legacy and creative genius of Glasgow's great cultural icon. Mackintosh 150 is being coordinated by Mackintosh heritage partners from across Glasgow and beyond.
Website: Charles Rennie Mackintosh 150 Anniversary Events
Architecture and Design Scotland: 4 New Board Members Required
25 January 2019 deadline
Scottish Ministers are looking to appoint four new members to the Board of Architecture and Design Scotland (A&DS). We are interested to hear from Architects and other related professions, as well as those with significant experience of communications, media or marketing as we look to build a new team to drive A&DS forward.
Please note that the advert for Board Appointments will go live by the close of business on Friday 14 December.
The deadline for applications was 25 January 2019.
TALKS AT THE LANE
Studio Niro on Handsel
Tuesday 22nd January
Custom Lane residents STUDIO NIRO will discuss their new practice accompanied by an exhibition of the practice's work, 'among other things' as part of the Talks at the Lane series. STUDIO NIRO works with clients to develop architectural, interior, exhibition and graphic design projects with a concentration on material, form and detail to make spaces and objects which sit appropriately within their physical and cultural context.
Celtic Connections; Brave in Concert, Glasgow
Date: 19 January 2019
Venue: Glasgow Royal Concert Hall, 2 Sauchiehall Street, Glasgow, G2 3NY
Time: 14:00
Cost: £16 – £36.50
Celtic Connections 2019 will present the world premiere of Brave in Concert, in association with Disney Concerts, Air-Edel and Stream Scotland.
The computer-animated fantasy adventure film will be screened live in the Glasgow Royal Concert Hall while the BBC Scottish Symphony Orchestra, with conductor Dirk Brossé, perform Patrick Doyle's iconic score.
Patrick Doyle is an Honorary Fellow of the RIAS
Review Gallery – Open Call 2019, The Lighthouse, Glasgow
21 January 2019 deadline
The Review Gallery has been a space within The Lighthouse reserved for emerging architects, designers, or businesses with a focus on new projects or endeavours. This annual call-out is an opportunity to show recent work or create new work for the space. Located on the first floor overlooking reception with a double-height wall the space benefits from being exposed to all visitors that come into the building.
Each successful application will receive a £600 stipend to help cover materials, catering for any event and other costs. They will also receive in-kind support from The Lighthouse for install/de-install and marketing.
Please address any queries to Exhibitions – [email protected]
Completed applications should be emailed by 21 January 2019 at 17:00pm.
http://www.thelighthouse.co.uk/blog/entry/review-gallery-call-for-proposals
GIA CPD – GIA Design Awards Winners
Date: 16 January 2019
Venue: Mackintosh at the Willow, 217 Sauchiehall Street, Glasgow, G2 3EX
CPD by Savills, Baxendale Studio, Stallan-Brand, Hoskins Architects, cameronwebster architects, elder & cannon architects
Short presentations from Architectural Practices on their 2017 GIA Award winning projects from all categories. This will include a presentation of the 2017 Supreme Award winning project.
https://www.eventbrite.co.uk/e/gia-cpd-series-20182019-season-tickets-51776522974
Architecture and Design Scotland Event, Glasgow
Glasgow: 17 January, The Lighthouse, 11 Mitchell Lane, Glasgow, G1 3NU
Both events run from 17:00-18:30.
Information Events: Join Architecture and Design Scotland's Board
A&DS is currently looking for four new board members. The deadline for applications is 25 January 2019. To help prospective applicants, A&DS has organised a series of events.
If you would like to attend one of these events or would like further details, please contact us on [email protected] or call 0131 556 6699.
Unravelling the spirit of place at Edinburgh's Old College, Edinburgh
The first session of the 42nd annual series of Architectural Conservation Masterclasses:
Tom Addyman
Unravelling the spirit of place at Edinburgh's Old College
Thursday 17 January, 5.30pm
Innovation Factory Tour
Date: 18 December 2018, 10:30 – 11:30
Venue: Construction Scotland Innovation Centre, 3 Watt Place, Hamilton International Technology Park, Blantyre, G72 0AG
Get a free tour of CSIC's new 35,000 sq ft. Innovation Factory designed to support construction related businesses to collaborate and innovate.
Within the tour you will receive an insight into how your organisation can benefit from the state of the art prototyping equipment, expertise and potential funding that is available in the Innovation Factory.
Sleep in the Park 2018
8 Dec 2018
Social Bite warmly invites the nation's architects to participate in Sleep in the Park 2018. On Saturday December 8, they will host major, simultaneous events in Edinburgh (Princes St Gardens), Aberdeen (Duthie Park), Dundee (Slessor Gardens) and Glasgow (Kelvingrove Park).
Entertained by Irvine Welsh, Sir Chris Hoy, Frightened Rabbit, KT Tunstall, Amy Macdonald and more, we will take a giant step forward to a Scotland where homelessness is eradicated, for good.
The ambition for the event is to have 12,000 participants across the country, to raise £6m and to put the political spotlight on the issue of homelessness.
Building on funds invested from last year, we hope to be able to bring over 1,000 people off the streets as a direct result of the fundraising efforts.
GIA Annual Dinner
Date: 23 November 2018, 8:30- 00:30
Venue: BAaD; 54 Calton Entry; Glasgow, G40 2SB
Cost: £75 (seat) £675 (table of 10)
The GIA Annual Members Dinner 2018 will be held this year at BAaD on Friday 23rd of November with catering by A'Challtainn.
The GIA Design Awards are presented during the evening. The annual GIA Awards are recognised at local and national level and are one of the main highlights of the annual GIA programme. Join us to celebrate the 2018 GIA Awards winners.
AF2019 – November Meet-Up, Glasgow
Date: 24 November 2018, 0:15 – 13:00
Venue: The Lighthouse, 11 Mitchell Lane, Glasgow G1 3NU
Join the November meet-up! These free-to-attend monthly meet-ups are very laid back and are open to anyone considering taking part in or contributing to the Architecture Fringe 2019 Open Programme. The Open Programme is a non-curated platform for self-directed projects, exhibitions, events and happenings. The meet-ups are an opportunity for you hear more about the Architecture Fringe itself, to share your project thoughts and ideas, get feedback and meet new people. The meet-ups are analogue so just bring ideas or images to stick up on the wall. Open to all, free to attend. A lovely way to spend a Saturday morning!
Around the Houses
Date: 5 August 2018
Around the Houses is a new cycling sportive set within the Campsie Fells north of Glasgow, in support of the Architects Benevolent Society and Shelter Scotland, taking place on Sunday 5th August 2018.
http://absnet.org.uk/support-us/get-involved/events/around-houses
Test Unit 2018 Glasgow – Agile City
Test Unit 2018 – Summer School and events programme Civic House, 26 Civic Street, Glasgow G4 9RH
17 – 23 June 2018
Test Unit is a project conceived and produced by Agile City with strategic from Baxendale and A Feral Studio. The project's role and position within the area of north Glasgow has progressed through close partnership working with Igloo Developments and Scottish Canals and other key strategic partners including the Glasgow City Council.
ATS Talks: Paul O'Keeffe – 'An Art For All to Learn' Ruskin on Architecture
Date: 27 June 2018
Time: 18:30 – 20:30
Venue: Glasgow School of Art, Bourdon Building, Renfrew Street, Glasgow, G3 6RQ
Cost: FREE
Art historian and actor Paul O'Keeffe joins the Society to perform John Ruskin's 'Architecture' lecture, from the Ruskin's 1853 series of lectures originally delivered to the Philosophical Institution in Edinburgh.
Sponsored by The Reproduction Plaster Company. Organised By The Alexander Thomson Society
RIAS SGM
Date: 28 June 2018
A Special General Meeting (SGM) Calling Notice was issued to all members on Thursday 7 June.
An SGM is now called for 28 June 2018 to allow proposed changes to the Bye-laws to be considered by the wider membership of the RIAS. The approval of the proposed Interim Bylaws will allow the RIAS to move forward positively in this first phase of review and change. They will allow the election of the President to be opened up to all Members and any Member to stand for the Presidency.
They will allow Students and Associates to vote for their Council Members who will be able to play an active part on Council. It is therefore very important that as many members as possible attend the SGM and make their views known. A 75% vote in favour is required for approval. We hope you will join us.
#DesignPopUp 2018
The Glasgow edition of #DesignPopUp is Double S Events' most established event. This is where Double S Events started in March 2014 and have been back every year since. From 2015 the exhibition has been held at the stunning Briggait, their favorite venue of all locations.
Dates:
Wednesday 13th June: Exhibition open 10 am to 6pm
Thursday 14th June: Exhibition open 10 am to 6pm + Party 6pm to 9pm
Friday 15th June: Exhibition open 10 am to 3pm
Venue: The Briggait (141 Bridgegate, Glasgow, G1 5HZ)
The Briggait is a category A listed building in Glasgow, Scotland. It is situated in the Merchant City area. Construction of the building was completed in 1873. The building was originally used as Glasgow's fish market until the late 1970s. It was then converted into a shopping centre during the 1980s. This proved to be a temporary venture. In the 21st century it was converted into artists studios which opened to the public in August 2010. The steeple which dates back to 1665 has been restored.
#DesignPopUp Glasgow 5.0
Dates and time: June 15th 10.30am to 3pm
#DesignPopUp is a Double S Events production
www.doublesevents.com
Coming soon:
The Scottish Homebuilding & Renovating Show in 2018
16 + 17 June 2018
Two-day event, Scotland's largest consumer exhibition for self-builders, home renovators and improvers, is back at the SECC Glasgow:
The Scottish Homebuilding & Renovating Show covers a wide range of interests from
extensions; conversions; home DIY; planning permission; interiors; lighting; doors;
windows; renewable technologies; heating systems; project insurance; energy
efficiency; home insurance; building regulations and more.
Scottish Homebuilding & Renovating Show
RIAS Awards Dinner 2018
20 June 2018
The host of this year's RIAS Awards Dinner will be broadcaster and author, Sally Magnusson Hon FRIAS.
This prestigious black tie event, being held at the Glasgow Hilton on 20th June 2018, will include the presentation of this year's RIAS Awards (which will become the shortlist for The Doolan 2018), the announcement of the RIBA Awards for Scotland as well as the presentation of the sub-category awards.
The RIAS Awards Dinner is generously supported by Geze, Nevin of Edinburgh, Knauf Insulation, Restorex, Tobermore and Xtratherm.
Architecture Fringe; Voices of Experience 'She makes: She changes'
21 June 2018, 17:30 – 20:00
Venue: Glasgow Women's Library, 23 Landressy Street, Glasgow G40 1BP
Showing of 30 minute documentary film, She Draws: She Builds (2016) and panel discussion with the filmmakers and invited 'makers'- of buildings, movements, books.
Architecture Fringe Glasgow Event
Scotland Innovates: New Approaches for Energy Efficiency
Keeping Church Buildings Alive – Workshop, Glasgow
23 April 2018, 10:00 – 16:00
Venue: Renfield St Stephens Centre, 260 Bath Street, Glasgow, G2 4JP
Cost: £15
The workshop will provide practical learning opportunities, allow groups to access expert advice and meet people from similar projects, all with a focus on maintaining the local church buildings at the heart of our communities.
By the Built Environment Forum Scotland, Scotland's Churches Trust & Scottish Redundant Churches Trust
Date: 20 March 2018
Time: 09:30 – 17:00
Venue: Glasgow Science Centre, 50 Pacific Quay, Glasgow, G51 1EA
Cost: Free
Supporting the Scottish Government's ambition to decarbonise energy systems and reduce fuel poverty through Scotland's Energy Efficiency Programme (SEEP), the event aims to stimulate discussion, knowledge and interest amongst buyers and suppliers on the latest innovative products and services within the Scottish energy efficiency and renewables markets.
Website: Scotland Innovates: New Approaches for Energy Efficiency Event
CIBSE Scotland Conference 2018
Date: 20 March 2018
Time: 9:30 – 16:30
Venue: Technology Innovation Centre, University of Starthclyde, 99 George Street, Glasgow G1 1RD
Opportunities for growth in the building services engineering sector in Scotland. Hear from experienced speakers representing all branches
of our industry.
Voice your opinions on the industry's needs in the Panel Debate and network with like-minded professionals at the conference lunch and drinks reception.
Website: CIBSE Scotland Conference 2018
BIM & Digital Transformation Scotland 2018- Towards a Digital Built Scotland
7 Feb 2018
Venue: Strathclyde University Technology and Innovation Centre, Cowcaddens Road, Glasgow G4 0BA
FutureScot is delighted to announce BIM & Digital Transformation Scotland 2018 – Towards a Digital Built Scotland, a full-day conference examining Scotland's 'digital revolution' for the built environment.
The digital transformation of the industry is well underway, offering a new paradigm for efficiencies in project delivery, equating to what industry experts are calling a 'digital construction revolution'.
This conference will bring together industry experts to discuss innovative ways to improve performance, efficiency, data management and reduce costs, as well as examine new technologies and subsequent impact across the public and private sectors.
http://futurescotevents.com/bim-digital-transformation-scotland-2018
SSEG Talk: Sunspaces and their Performance – Energy and Amenity
7 February 2018
Time: 6.30pm – 8.30pm
Venue: Principal Seminar Room 1 (ground floor), Reid Building, The Glasgow School of Art, 167 Renfrew Street, Glasgow, G3 6RQ
Cost: Non SSEG Members £10, Concession £5, SSEG Members Free
The environmental monitoring of sunspaces, not only the measurements within them relative to rooms behind, but how the sunspaces were designed in terms of their ventilation to the outside and through to the interior, have given us some insight with this new research. This includes how the users engage with manual controls at their disposal and what uses they make of the sunspaces.
The measurements and other information should give us some idea as to whether they save energy (as a solar enhanced, edge-insulating buffer, and/or a solar-ventilation-preheat source) and how they function as an amenity (e.g. relaxation, clothes drying).
https://www.eventbrite.co.uk/e/sseg-talk-sunspaces-and-their-performance-energy-and-amenity-tickets-41286945365
GIA CPD Event 5 – Housing Case Studies
17th January 2018
This talk will focus on Building performance, including lessons learned. Final details to be confirmed.
Archive:
Glasgow Architectural Events 2016 – 2017
Architecture in Strathclyde
Glasgow School of Art Building Extension



picture : Steven Holl Architects
Glasgow School of Art Extension
Charles Rennie Mackintosh Architect
Glasgow Walking Tours by e-architect – best of Scottish Architecture
Historic Glasgow : best Glasgow architecture of the past
Comments for the Glasgow Architecture Events page welcome