Paisley Town Hall renewal photos, Renfrewshire A-listed building design images, Glasgow old property news, Scottish architect
Paisley Town Hall Renewal Building
New cultural centre for Renfrewshire Council design by Holmes Miller Architects, Scotland
22 + 15 September 2023
Paisley Town Hall regeneration news
Architect: Holmes Miller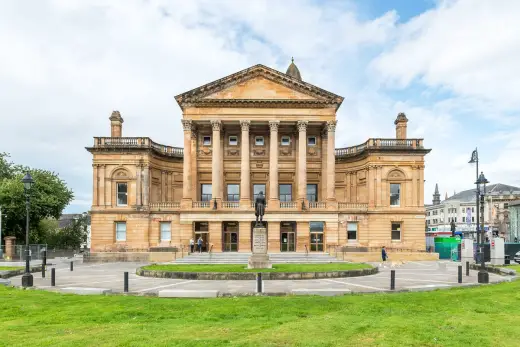 photos by Chris Humphreys
As part of Renfrewshire Council's wider regeneration programme of Paisley's historic cultural venues, the local authority has invested £22m in the transformation of Paisley Town Hall, a particularly fine example of Neoclassical architecture designed by William Henry Lynn and completed in 1882.
The council had aspirations for a high-end venue that would attract big name performers, and decided to 'spend money where it counts', to ensure public spaces and facilities for visiting artists felt opulent, and historically authentic.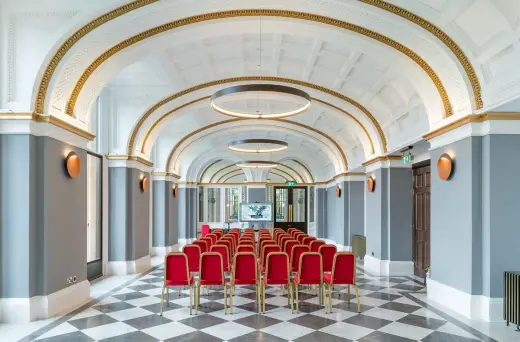 The brief they gave to architect Holmes Miller also asked them to incorporate many entirely new functions – such as a dance studio and a screening room – and to vastly improve the overall flexibility of the venue.
Other key aims were to radically improve building accessibility to ensure the Town Hall would be welcoming and approachable for everyone, and to bring neglected and damaged parts of the building back to life.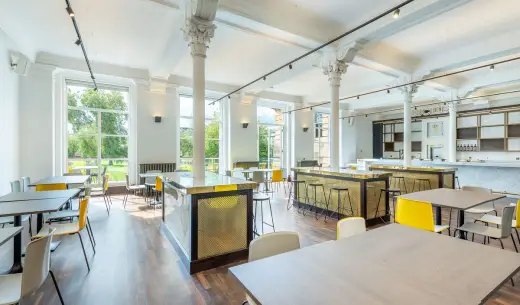 Steven Coulson, associate at Holmes Miller explained: "In their Town Hall, the people of Paisley had a beautiful external envelope, but one that encapsulated an inaccessible maze inside. Many potentially attractive spaces bursting with potential were either damaged, lying empty or being used to store furniture.
"The existing building simply didn't work well as a modern performance space, which was an essential income stream to keep the building operational. The Council predicted that if they didn't radically upgrade the building, it was in danger of both building fabric failure and prolonged commercial loss."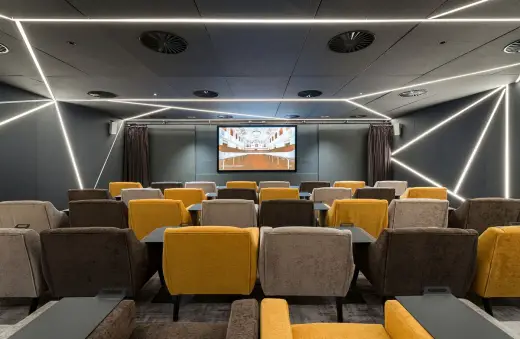 Holmes Miller's design involved stripping the building right back to almost a shell, entirely rebuilding the stage at an improved height, and drastically rebuilding the seating balconies, increasing the maximum audience capacity in the main auditorium to 1200. The ground floor seating was replaced by a moving retractable system which can be deployed or packed away in minutes, making the space genuinely multi-functional.
Long-forgotten rooms were transformed into a café / bar with an outside balcony, digital screening room, dance studio, and wedding suite. This was all supported with the inclusion of a catering kitchen, function rooms, offices and significantly more toilets.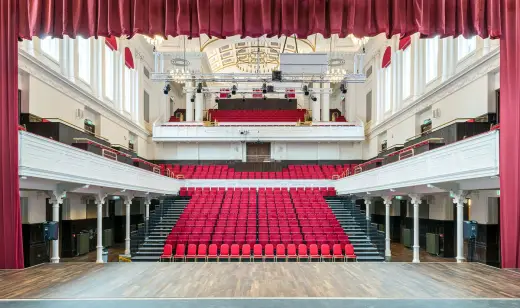 The team targeted improvements in environmental performance, and tried to build in adaptability for the future. High performance secondary glazing systems were used to mitigate energy loss, while still being visually sensitive to the listed fabric. The building heating and ventilation systems were replaced with tempered air being fed through concealed ducts, hidden beneath the timber floors. Destratification fans are used to recycle warm air before it is lost, especially useful in large halls with high ceilings.
Steven added: "For me, one of the biggest triumphs was that around 80% of this complex, multi-level heritage building is now wheelchair accessible. This is quite remarkable for a building of this age and scale, where only a tiny part of the building could previously be accessed by wheelchair users.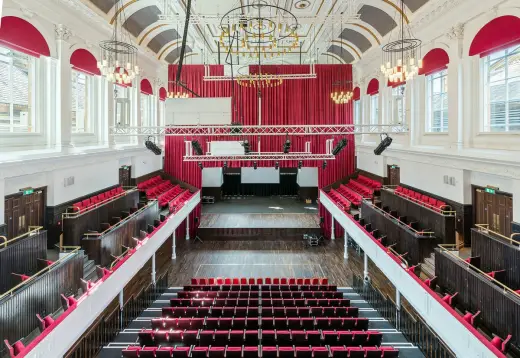 "While a small number of interior spaces, like the digital screening room, are modern in design, the ornate Victorian architectural features that everyone loves – such as the impressive main auditorium ceiling – have been preserved and restored throughout.
"The result is a grand building where every function asked for in the aspirational refurbishment brief has been delivered, to the delight of our client."
Previously on Glasgow Architecture:
28 Jul 2023
First look at Paisley Town Hall after £22m transformation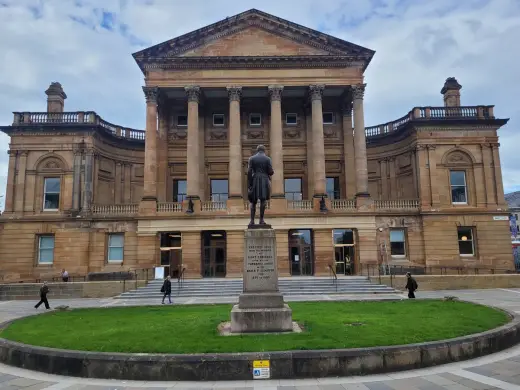 Paisley Town Hall Building Renewal
The first pictures showing how Paisley's A-listed town hall looks after a £22m transformation into one of the finest entertainment venues in the west of Scotland have now been revealed.
The iconic building – a striking centrepiece of life in the town for more than 140 years – will reopen its doors ahead of the Royal National Mòd – Scotland's largest celebration of Gaelic language and culture – coming to Paisley in October.
The building has been transformed as part of a wider investment by Renfrewshire Council in Paisley's historic cultural venues, aimed at driving new life and footfall to the area.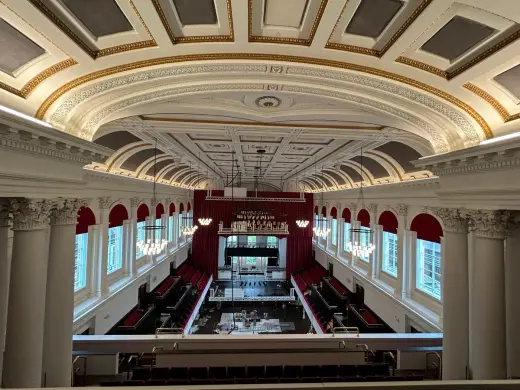 Key features of the transformation shown in the pictures include:
• A complete redesign by leading Scottish architects Holmes Miller to put audience experience and accessibility at the heart of the building
• The preservation and restoration of the unique and ornate Victorian architectural features throughout the town hall
• Adding state-of-the-art performance and back-of-house facilities such as new sound and lighting, retractable seating and lowered stage, and expanding the capacity in the main hall to more than 1,000
• New rooms added in previously-unused spaces, such as a new bar and terrace overlooking Paisley's iconic Abbey, a dance studio, and a screening room – adding a greater range of uses than ever before
• A full replacement of decades-old mechanical and electrical equipment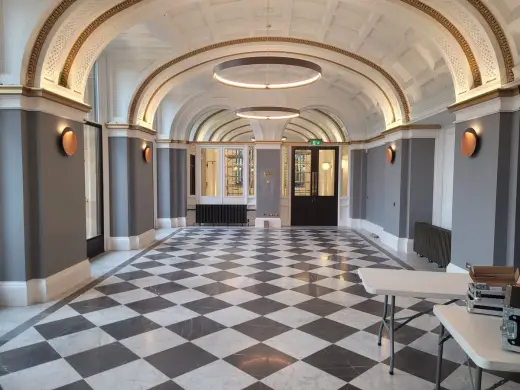 Paisley Town Hall was opened in 1882, and stands as a monument to the town's rich history as a centre of global textile production, having been gifted to the town by George Aitken Clark of the thread-mill-owning Clark family.
The building has been closed since the end of 2018. Main contractors Morrison Construction have been on site since summer 2021 but have now completed their work and staff are currently fitting it out ahead of opening. The building remains closed to the public while that work is finished.
Once reopen, the town hall will be operated by OneRen – the local charitable trust providing culture, leisure and sporting opportunities to help people enjoy active, healthy and fulfilled lives.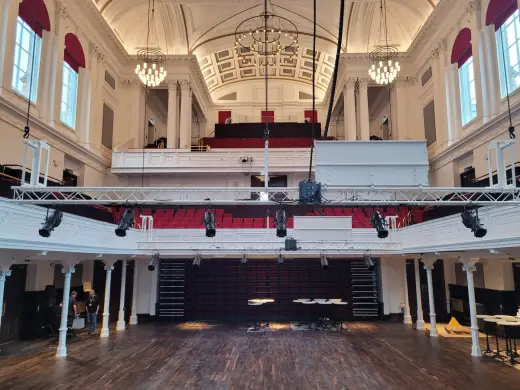 OneRen will soon be revealing a programme of town hall events to run throughout winter and beyond. As well as being a striking venue for concerts and performances, it will also be available for weddings, conferences and other events.
Cllr Lisa-Marie Hughes, Renfrewshire Council's cultural spokesperson and chair of OneRen, said: "We are thrilled to now be on the final countdown to the reopening of the town hall and can't wait to see how people will react once they get the chance to see inside it for themselves.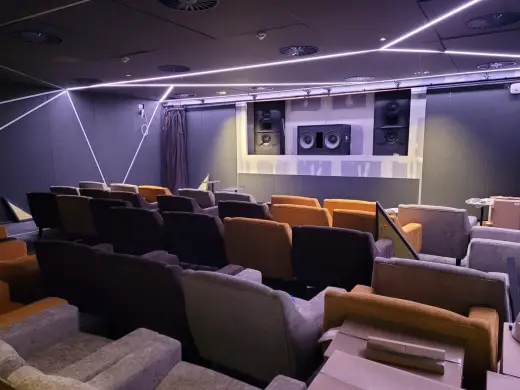 "We know generations of residents will all have their own special memories of the building – and the work done over the past few years will allow it to mean as much to future generations too.
"The building had become outdated and needed upgraded to stay in use – but the work done here has seamlessly integrated everything a 21st-century venue needs while preserving the classic 19th-century look that makes the town hall so special.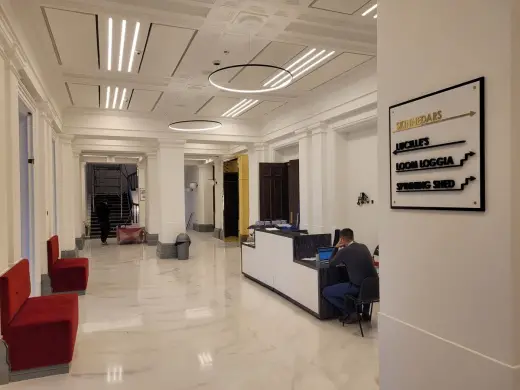 "At the same time. modern standards of accessibility are very different to those Victorian architects worked to. The town hall has been redesigned with audience experience and comfort in mind, and we've made extensive changes to the layout to create step-free access to most areas of the building.
"As an entertainment venue, the town hall will be Paisley and Renfrewshire's big stage. Soon, it will be bringing new life and footfall into the town day and night, in line with our wider ambition to use the town's unique cultural and heritage offer to change its future."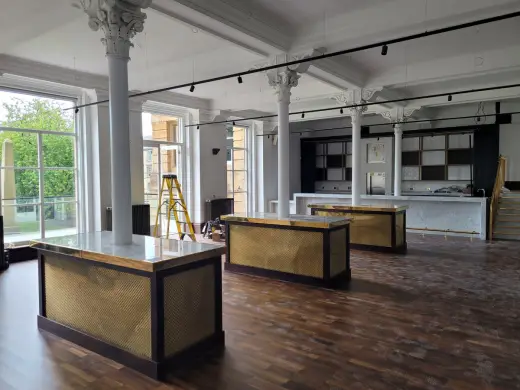 The town hall will be the first of several cultural venue investments currently being delivered by the council to open. That also includes:
• Transforming Paisley Museum into a world-class visitor attraction showcasing Renfrewshire's internationally-significant collections and bringing to life like never before the stories of how Paisley's name went around the world (opening 2024),
• A new modern home for library services in a formerly-empty unit at the heart of the High Street, to reopen by the end of the year
• An upgrade of and extension to Paisley Arts Centre
Paisley Town Hall building refurbishment images / information from Renfrewshire Council
Previously on Glasgow Architecture:
25 Jun 2021
New fly-through video gives first glimpse of A-listed town hall's £22m transformation
A new fly-through video has been released giving the first look at how Paisley's A-listed Town Hall will look after a £22m transformation into a landmark entertainment venue for the west of Scotland.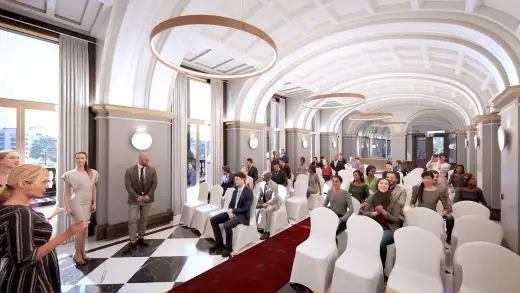 Paisley A-listed town hall's £22m transformation News
The striking Victorian-era town hall – part of the legacy of Paisley's proud past at the centre of the world's textile industry – is undergoing a major redevelopment to preserve it for future generations.
The project is part of a wider investment by Renfrewshire Council in Paisley's cultural venues aimed at driving new footfall to the town, including the work to turn Paisley Museum into a world-class visitor destination, retelling the unique stories of the town's people, Pattern, and more.
And the people of Paisley and beyond are today getting their first detailed glimpse of how the much-loved town hall will look once reopen.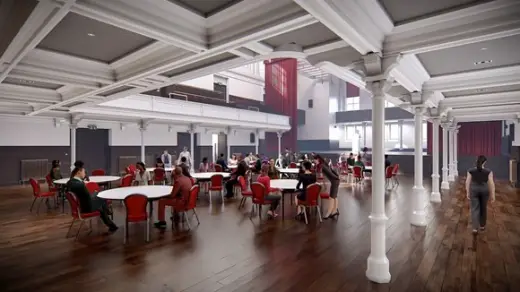 The stunning CGI animation, produced by Glasgow-based studio Visual Lane and the project's architects Holmes Miller, shows a busy day and night in the life of the building, including how it would look hosting a wedding ceremony and reception, conference, screening, and finally a packed music gig.
Paisley Town Hall has been a unique landmark at the heart of life in the town since 1884, having been gifted to the town by Sir George Clark, owner of one of the firms which at that time had made the town a global thread-making hub.
Building contractors Morrison Construction are currently on site, with work due to finish in late 2022 and the building reopen in early 2023.
Councillor Lisa-Marie Hughes, chair of Renfrewshire Leisure Ltd, which will operate the reopened building, said: "We are delighted to reveal this animation, which will give the people of Paisley and beyond their first real look at what their town hall will look like once back in use.
"Everyone in Paisley will have their own special memories of the town hall – and the work we are doing now will preserve that history and make sure future generations can have the same.
"At the same time, the town hall is a key project within the council's wider investment in the town aimed at using Paisley's internationally-significant cultural and heritage offer to change its future.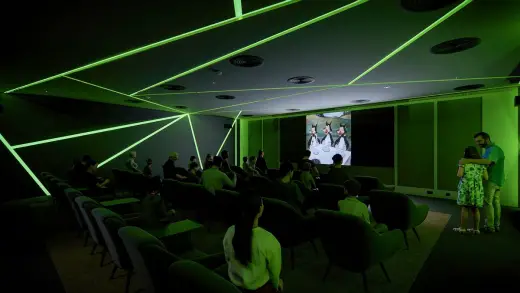 "Once reopen the town hall will build on the work already done to make Paisley one of Scotland's key destinations for heritage, culture and events – driving new footfall and visitors to the town centre, day and night, and helping the local economy build back from the effects of the pandemic."
The town hall redevelopment will deliver:
– preservation of its unique 19th-century architectural features while adding 21st-century performance facilities, guaranteeing the building's long-term future;
– the capacity of the main hall expanded to 1,200, allowing the venue to host bigger and better events and help make the town a stop-off on musical tour schedules;
– entirely new rooms created within currently-unused spaces, including a café-bar, dance studio, and screening room, widening the building's range of uses;
– new performance facilities, a much-improved audience experience, and a complete replacement of the venue's electrical and mechanical systems;
To be kept up to date on the use of the building when it reopens, register your interest with Renfrewshire Leisure via https://mailchi.mp/renfrewshireleisure/paisleytownhall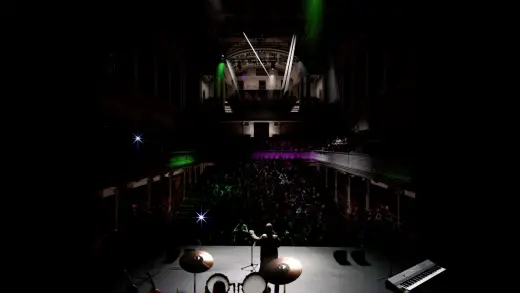 The town hall redevelopment is part of a wider investment by the council in Paisley's venues and outdoor spaces. Projects due to complete over the next couple of years also include:
– the £42m project to transform Paisley Museum, expected to help drive 128,000 visitors a year, to see the town's internationally-significant collections;
– a new modern home for library services within the Paisley Learning and Cultural Hub, currently being built in a vacant former retail unit on the town's High Street;
– a redesign of Abbey Close to create an expanded outdoor events space set against Paisley's town hall and 12th-centuery Abbey, plus work to turn County Square into an attractive arrival point and public transport hub for the town;
More information is at www.renfrewshire.gov.uk/PaisleyTownHall
Paisley Town Hall building restoration photos / information from Renfrewshire Council
24 Oct 2019
Paisley Arts Centre Renewal – PAC
First images revealed of Paisley Arts Centre after £2.8m transformation
External view of the arts centre showing the new public space: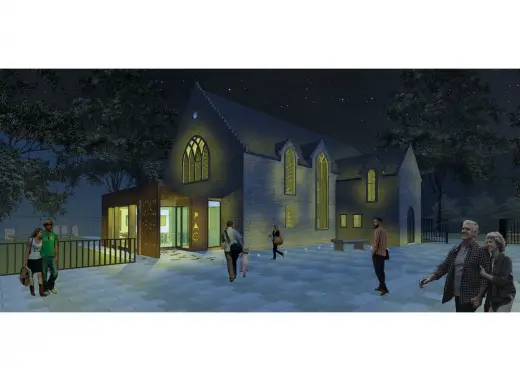 Internal view of new extended entrance area with café-bar: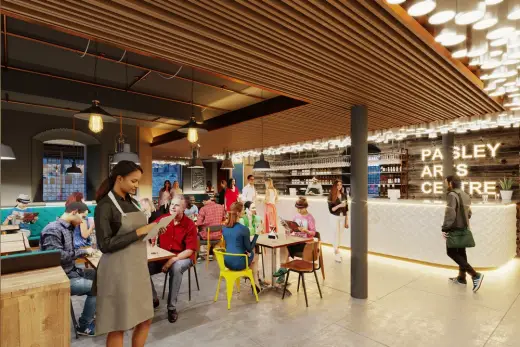 Internal view of transformed auditorium: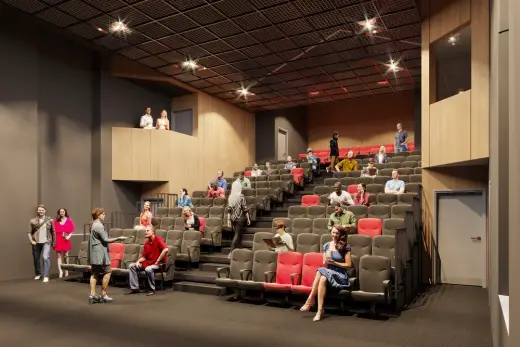 Paisley Town Hall Transformation images / information from Renfrewshire Council
Paisley Arts Centre – post from 2008
Key Paisley Building
Major Glasgow Buildings
Comments / photos for the Paisley Town Hall Transformation Architecture page welcome