Glasgow architecture offices, Strathclyde architects practices, West of Scotland design studios contact details
Glasgow Architects Offices
Scottish Architectural Firms: Strathclyde Architects Studios – Design Practices West of Scotland
post updated 1 December 2023
Glasgow Architects contact details are listed for an annual fee of £100:
Contact details required for current Strathclyde design firms listed on this page include architect practice title, address, phone number, email and website. Please email Adrian Welch at info(at)glasgowarchitecture.co.uk to start your listing here.
Glasgow Architectural Studios, practices listed alphabetically:
Glasgow Architects Practices
abbozzo
25 Newton Place
Glasgow G3 7PY – 0141 221 5110
[email protected]
abbozzo
Allison Architecture
8 Woodside Crescent
Glasgow G3 7UL – 0141 255 2171
[email protected]
Allison Architecture
Anderson Bell Christie Architects
382 Great Western Road
Glasgow G4 9HT – 0141 339 1515
[email protected]
Anderson Bell Christie Architects
ataSTUDIO
110 Brunswick Street
Glasgow G1 1TA – 0141 572 0957
[email protected]
ataSTUDIO
[BE]spoke
1A Ledcameroch Road
Bearsden
Glasgow G61 4AA – 0141 942 0960 | 07403 291 893
[email protected]
[BE]spoke
Boswell Mitchell Johnston Architects
The Hub
70 Pacific Quay
Glasgow G51 1DZ – 0141 271 3200
[email protected]
Boswell Mitchell Johnston Architects
Cooper Architectural
Studio 311 Southblock
60-64 Osborne Street
Glasgow G1 5QH – 07792921103 / 01560323405
[email protected]
Cooper Architectural
Cooper Cromar Glasgow
The Eagle Building
215 Bothwell Street
Glasgow G2 7ED – 0141 332 2570
[email protected]
Cooper Cromar Glasgow
CRGP Limited
26 Herbert Street
Glasgow G20 6NB – 0141 337 2255
[email protected]
CRGP
Elder and Cannon Architects Ltd
40 Berkeley Street
Glasgow G3 7DW – 0141 204 1833
[email protected]
Elder and Cannon Architects
George Buchanan Architects
Maryhill Burgh Halls
10-24 Gairbraid Avenue
Glasgow G20 8YE – 0141 946 2433
[email protected]
George Buchanan Architects
FBN Passivhaus Architects
Herbert House
Suite 2, 28 Herbert Street
Glasgow G20 6NB – 0141 337 1144
info(at)fbnarchitects.co.uk
FBN Passivhaus
Graven Images
83a Candleriggs
Glasgow G1 1LF – 0141 552 6626
[email protected]
Graven Images
HebHomes Limited
1.07 McLellan Works
274 Sauchiehall Street
Glasgow G2 3EH – 0141 550 7360
Hebridean Contemporary Homes
Hoskins Architects
Studio 401, South Block
60/64 Osborne Street
Glasgow G1 5QH – 0141 553 5800
[email protected]
Hoskins Architects Glasgow
Hoskins Architects on e-architect
Hypostyle Architects
49 St Vincent Crescent
Glasgow G3 8NG – 0141 204 4441
[email protected]
Hypostyle Architects
Jewitt and Wilkie Architects
38 New City Road
Glasgow G4 9JT – 0141 352 6929
[email protected]
Jewitt and Wilkie Architects
Karen Parry Architects
813 South Street, Clydeway House
Glasgow G14 0BX – 0141 438 0062
[email protected]
Karen Parry Architects
Keppie Design
160 West Regent St
Glasgow G2 4RL – 0141 204 0066
[email protected]
Keppie Design
Keppie Design on e-architect
Sheppard Robson
93 West George Street
Glasgow G2 1PB – 0141 285 3100
[email protected]
Sheppard Robson
Thomas Robinson Architects
The Red House, Croftamie
Glasgow G63 0EU – 01360 661144
[email protected]
Thomas Robinson Architects
ZM Architecture
62 Albion St
Glasgow G1 1NY – 0141 572 7001
[email protected]
ZM Architecture
Glasgow Engineers
David Narro Associates
Consulting Structural and Civil Engineers
24 James Morrison Street
Glasgow G1 5PE – 0141 552 6080
[email protected]
David Narro Associates
Scottish architecture office working in Glasgow:
Michael Laird Architects
5 Forres Street
Edinburgh EH3 6DE – 0131 226 6991
Michael Laird Architects
Glasgow Architects Studios, Strathclyde
If you wish to list your Strathclyde architecture firm on this plage please contact us. Glasgow Architects contact details are listed for an annual fee, likewise for Structural Engineers, etc.
The annual fee of £100 applies for the Strathclyde architecture practice listing. Please note we are a well-established website, operating online since 2002.
We launched this online architectural resource on the top floor of the Spectrum Building, in the heart of the city's financial district. The evening's highlights were speeches by Scottish film-maker Murray Grigor (who has worked with Sir Sean Connery) and The Mac's Johnny Rodger (The Glasgow School of Art).
A temporary exhibition was set-up with architectural models from a range of generous Glasgow architect practices, such as jm architects and gm+ad architects. The use of the space was kindly provided by Glaswegian architect Alan Dunlop in the newly-finished building.
The office design had been quite controversial, mainly for the billowing shiny Eastern facade. The curve wasn't generated by any internal space, thus upsetting architects brought up using a firm 'form follows function' education!
I had been educated at Manchester School of Architecture and later at The Bartlett School of Architecture (UCL) in London for my Diploma, with various approaches. The curve didn't bother me, it added some drama to the street, and on the flipside you could say it was a little gratutitous. Still, overall if the city didn't contain a good handful of architectural oddities it would be a dull place indeed.
Contact Us
contact: Isabelle Lomholt / Adrian Welch
e-mail: info(at)glasgowarchitecture.co.uk
phone: +44 (0)7952 149814
We are based in Finnieston, located at the West End of the city, close to the Kelvingrove Gallery and Museum. We prefer contact via email if possible so we can track discussions.
Key Strathclyde Architectural Practices on e-architect:
Architectural Website Owners
Isabelle and Adrian are based in the West End of Glasgow. They recently refurbished their Georgian home dating from 1865, located in the heart of Finnieston.
The 8-bed HMO property was reconfigured as a family home, with two bedrooms converted into a generous kitchen dining space, and the original basement kitchen changed into the master bedroom. The latter space had an en suite and a walk-in dressing room added off it.
The ground-and-basement main door duplex has a garden at the back, and retains ornate cornicing and ceiling roses in the ground floor's main spaces. The ornate iron railings at the front were painstakingly refurbished in Summer 2020.
The Glasgow architecture website is run from a location in the heart of the West end, with Adrian and Isabelle forming an active part of the Scottish architectural community. Born and bred in Scotland, Adrian has worked in architect offices around the world from Edinburgh to Dubai, and London to Hong Kong. His first work in experience in architects practices was in Banchory (1987 and 1988), then Aberdeen (1989).
We are open to suggestions on how to make this architectural website work for your needs.
Glasgow Architecture
Glasgow School of Art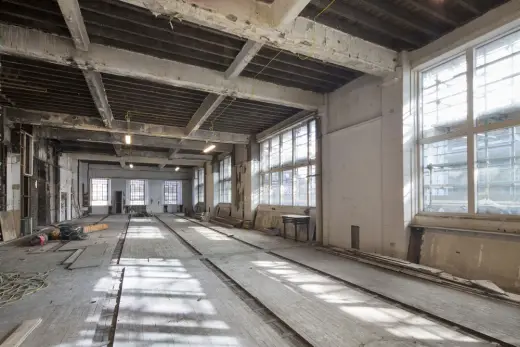 image : McAteer Photo
Glasgow School of Art – sadly damaged by fire
Glasgow School of Art Building Extension
Glasgow School of Art Extension – designed by Steven Holl Architects, USA
Charles Rennie Mackintosh Architect – probably the city's most celebrated and world-famous architect
Glasgow Walking Tours by e-architect – best of Scottish Architecture – tailor-made city walks in the West of Scotland
Isabelle and Adrian have been showing people around Scotland's two largest cities for over twenty years. These city walks are most popular with architects groups from abroad.
Our first groups were from Chicago and then Barcelona – both architectural organisations. We are passionate about the Scottish built environment, and enjoy sharing it with visitors. We have also been promoting architect practices in Scotland since 2000. Although our focus is on contemporary architecture, a quick tour of the website will reveal plenty of historical buildings. Do you have a suggestion for how you would like this site to develop? We are always open to ideas.
Historic Glasgow : best Glasgow architecture of the past
Comments for the Glasgow Architecture Offices – architect practice listings for Strathclyde page welcome.