Clyde Gateway Building, Community Park News, Architect, Regeneration Project Award, Design Info
Clyde Gateway Glasgow : Dalmarnock Development
Glasgow Development, Strathclyde, western Scotland – Urban Regeneration Company
13 Apr 2022
Construction of £1m community-led greenspace begins in Glasgow's East End
Clyde Gateway – the 5.7 acre community park is expected to be completed by Autumn 2022: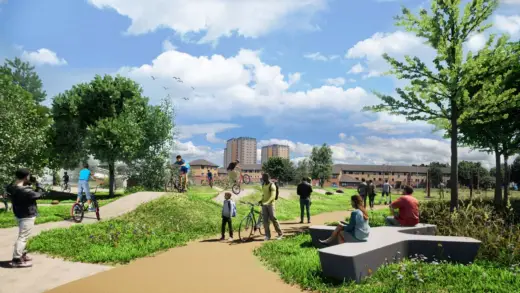 Clyde Gateway Community Park
Wednesday, 13th of April 2022 – Work is underway to transform a site in the East End of Glasgow into a community park after a £1m investment from Clyde Gateway, Scotland's most ambitious regeneration project.
The Old Dalmarnock Road Green Infrastructure project will see vacant land beside the Bridgeton Community Learning Campus transformed into "active greenspace".
Work at the 5.7 acre site will be carried out by Luddon Construction and is expected to be completed by autumn 2022. The new community park will include a woodland path for walkers, areas to support biodiversity, new entrances and a junior bike circuit.
Local groups and residents have been involved in the plans at every stage and they hope it will become an important asset in the heart of Bridgeton.
Lesley Ward, a member of the Bridgeton Community Learning Campus, said: "This greenspace will be testament to the hard work and dedication of everyone involved in the Bridgeton community and shows just what is possible when groups like ours come together."
Clyde Gateway's chief executive Ian Manson said: "This is another welcome green investment and part of our ongoing work to bring new jobs, homes and high-quality public parks to Bridgeton."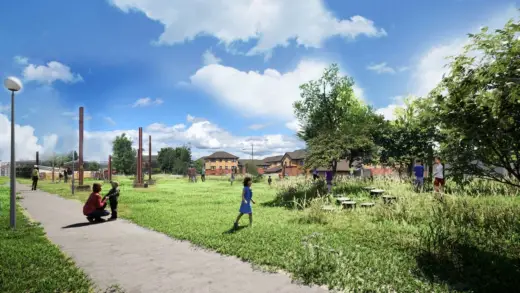 Andrew Waddell, director, Luddon Construction, said: "Everyone working on the project is really excited to see the final result and reveal the space to members of the community. The community groups involved in the project are clearly very passionate about transforming the area and we are pleased to help rejuvenate the existing site with a vibrant green space."
The new park follows the contract awarded last year for the nearby Riverside Park, developed on vacant and derelict land with around 5,000 square metres of new planting and opening-up access to the banks of the Clyde. This project is also expected to be completed this year.
Riverside Park – a £2.46m greenspace project, delivered by RJ McLeod, is the final work under Phase 4 of the South Dalmarnock Integrated Urban Infrastructure Framework (SDIUIF). Work is expected to complete summer 2022.
About Clyde Gateway
Established in 2008 following the announcement that Glasgow was to hold the 2014 Commonwealth Games, Clyde Gateway has seen over £1.5 billion invested in the area from both the public and private sector. Other recent parkland investments have included the completed Malls Mire in Toryglen and the next phase of the Cuningar Woodland Park currently on site in Rutherglen.
Previously on Glasgow Architecture:
3 Dec 2020
Clyde Gateway Announces £3.2m Sale Of Spec-built Industrial Unit
22 Oct 2013
Clyde Gateway Award
Clyde Gateway wins RICS Award
The Royal Institution of Chartered Surveyors (RICS) has named Clyde Gateway as the top regeneration project in the UK ahead of many other prestigious and high-profile projects including the London 2012 Olympic Park.
It is the first ever time, since the RICS Awards began in 2001, that a Scottish project has been given the top award in any category, which this year covered Building Conservation, Community Benefit, Design & Innovation and Regeneration.
More than 600 building projects entered the 2013 RICS Awards with eleven making the shortlist for the Regeneration award.
24 Aug 2009
Clyde Gateway
GOLD STANDARD APPROACH FOR INFRASTRUCTURE STUDY
Clyde Gateway Urban Regeneration Company (URC) has appointed three of the leading firms in their respective fields as it seeks to deliver solutions to infrastructure problems that blighted development for a generation.
Sheppard Robson Architects (lead consultants), Grontmij (strategic drainage consultants) and Jones Lang La Salle (Construction Design Management Co-ordinators) are working alongside key staff from the URC on an Integrated Urban Infrastructure study for the Dalmarnock area, which is situated adjacent to where the Athletes Village for the 2014 Commonwealth Games will be constructed.
Situated just two miles south-east of Glasgow city centre, Dalmarnock was formerly a densely populated area and home to many traditional heavy industry factories, the most famous being Arrol's engineering which was on site from 1872 to 1986, and which at its peak employed 4,000 workers.
The area has substantial parcels of vacant and derelict land, but many of the sites have severe infrastructure problems that are a legacy of their former industrial usage, including contamination, and they are also susceptible to flooding thanks to their proximity to the River Clyde.
The ambitious study will seek to identify a range of affordable solutions, including the development of a large-scale Sustainable Urban Drainage Scheme (SUDS) which envisages the creation of large open ponds to deal with rainwater rather than a dependency on the existing water and sewerage systems.
Alison Brown, the Project Manager for Clyde Gateway, said "The Dalmarnock area has incredible potential with it being so close to the city centre and having a railway station with frequent services. It is an ideal location for all sorts of use, including residential, office, business and industrial but we know that this can only be realised when we engineer a solution to age-old problems.
"But the fact that each of Sheppard Robson, Grontmig and Jones Lang La Salle have such knowledge and expertise in solving complex design and infrastructure issues gives me, and indeed everyone at Clyde Gateway the utmost confidence that we will soon be seeing new developments coming to the Dalmarnock area."
Despite being less than two years old, Clyde Gateway has already gained a reputation as an organisation that recognises the importance of meaningful and relevant community engagement.
Initial consultations, with the purpose of providing information on the aims of the infrastructure study, are already underway and are being led by Kevin Murray Associates, as part of the Sheppard Robson team.
The main consultation stage will take place in October when local residents and businesses will be given the opportunity to offer views and opinions on particular options and for the development of the new infrastructure and locations for the SUDS ponds. The aim is to complete the whole exercise with the production of a detailed Masterplan by late December 2009.
Clyde Gateway – Background:
Clyde Gateway is the name given to an area that includes a large part of the East End of Glasgow plus Rutherglen and Shawfield in South Lanarkshire. The Clyde Gateway URC was established in December 2007 as a partnership between Glasgow City Council, South Lanarkshire Council, Scottish Enterprise and the Scottish Government.
Clyde Gateway appointments news from Clyde Gateway 240809
Glasgow Architecture
Major Strathclyde Building Designs – selection:
SECC Glasgow



photo : Richard Davies
Comments / photos for the Clyde Gateway Glasgow Building – Development in Dalmarnock page welcome
Website: www.clydegateway.com