Glasgow Architecture News in 2015, Strathclyde Buildings, Architects, Design Images Scotland
Glasgow Building News 2015
Scottish Architectural + Construction Updates – West of Scotland Property
Glasgow Architecture News 2016
Glasgow News Archive
Glasgow Architecture News 2016 – news archive
The Arches
31 Dec – Petition calling for Arches to re-open. It was one of Scotland's leading arts and music venues:
The Arches Venue
Glasgow Queen Street Station News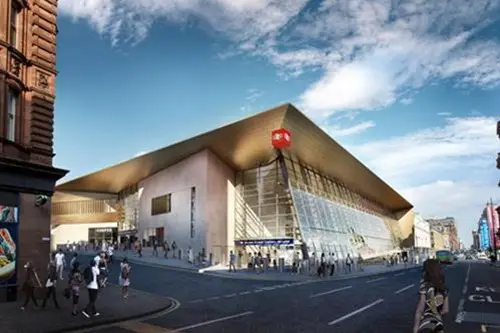 image from architects
29 Dec – The transformation of one of Scotland's most important railway stations, Glasgow Queen Street, has moved a step closer after a £112m tender was issued for its rebuild.
Year of Innovation, Architecture and Design
29 Dec 2015 – Scotland's tourism industry stands in good stead as the Year of Food and Drink draws to a close and the Year of Innovation, Architecture and Design begins, Tourism Minister Fergus Ewing said today:
"The Scottish tourism industry has finished 2015 on a high. Bolstered by a hugely successful Year of Food and Drink, businesses have continued to build on past successes, increasing the number of visitors from Europe, America and from crucial domestic markets.
"Visitors come for many reasons – and 2015 has shown the Scotland's world leading food and drink is foremost among them, with hoteliers, restaurants and other operators across Scotland rising to the challenge and giving visitors experiences to remember – from the Scottish Borders to the Shetland Isles.
"The forthcoming Year of Innovation, Architecture and Design offers a further opportunity to showcase what Scotland has to offer – with the official programme of events an excellent starting point from which to explore the huge wealth of trips and experiences linked to this wide-ranging theme.
"I am keen to ensure the benefits of tourism are spread throughout the country, and have undertaken numerous visits, from Nairn in the Highlands to Glentress in the Scottish Borders, to listen to tourism businesses and how their views can help shape policy. I am particularly interested in changes to better capitalise on out-of-season visitors and to further develop our marine assets.
"As 2015 draws to a close, I would like to thank the industry for its hard work and achievements over the year and to highlight the huge opportunity that 2016 – the Year of Innovation, Architecture and Design – will no doubt bring."
The Mackintosh Building News
23 Dec – Work to strip out the west wing of The Mackintosh Building will commence in January 2016. It is expected to be completed by the end of April. The appointment of the Principal Contractor will be finalised in May 2016 with the restoration work set to begin in the summer.
The Mackintosh Building Glasgow
Seasons Greetings
23 Dec – Merry Christmas to all our readers! Hope you all have a lovely break from work.
Victoria Infirmary Apartments
23 Dec – Luxury apartments revealed on site of closed Victoria Infirmary, at Mansionhouse Road. Developers CALA Homes (West) are to create one, two and three-bed apartments and penthouses on the Langside site, reports the Glasgow Evening Times. Patients in the Mansionhouse Unit were moved to the new Queen Elizabeth University Hospital campus in May 2015. Like the rest of the Victoria Infirmary, the 2.6 acre site now lies empty.
Glasgow School of Art
23 Dec – 2016 sees the centenary of the death of Eugene Bourdon, the first Head of Architecture at The Glasgow School of Art. Bourdon was one of the thousands of soldiers who lost their lives on the first day of the Battle of the Somme, 1 July 1916. The Glasgow School of Art will mark Bourdon's life and his contribution to the GSA with an exhibition of his work held in our Archives and Collections. Further details to follow.
Granton Marina
23 Dec – A large redevelopment of Granton Harbour in Edinburgh has been approved.
Glasgow Women's Library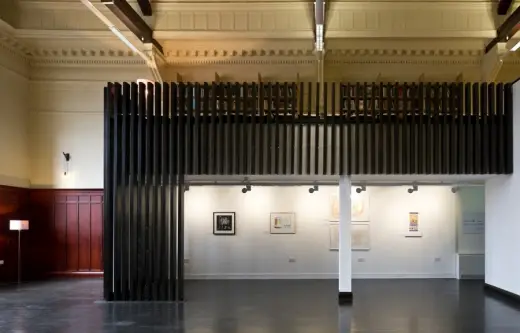 photos : Keith Hunter
22 Dec – The Glasgow Women's Library has officially opened in Bridgeton following refurbishment by Collective Architecture of a B listed Carnegie library, one of seven to be donated to the city by the industrialist.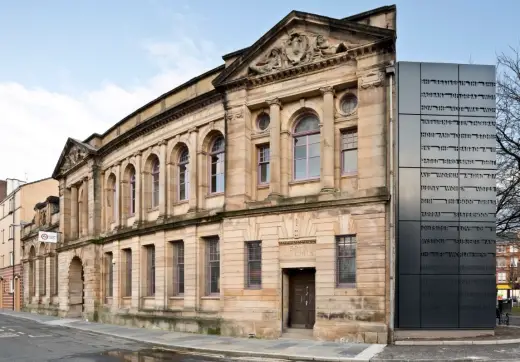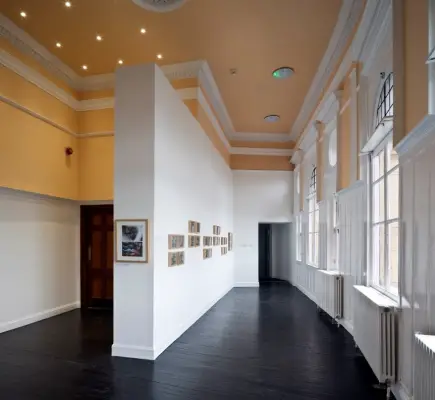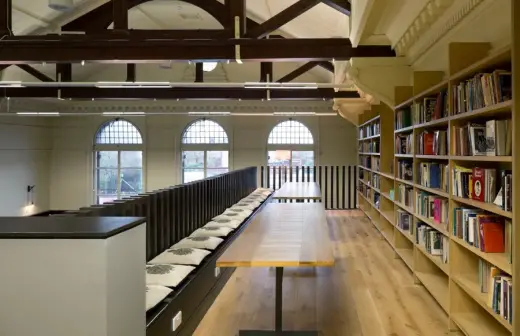 Inverness Museum and Art Gallery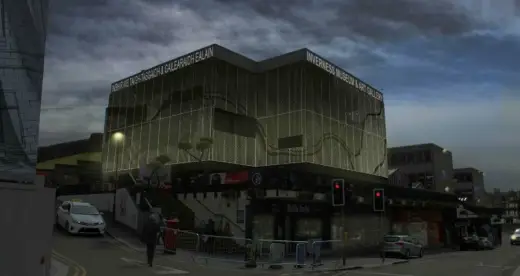 22 Dec – Plans have been submitted to encase the Inverness Museum and Art Gallery with aluminium cladding to improve the environment in front of the castle in advance of the long term proposals for the castle and surrounding areas, reports Construction News Scotland.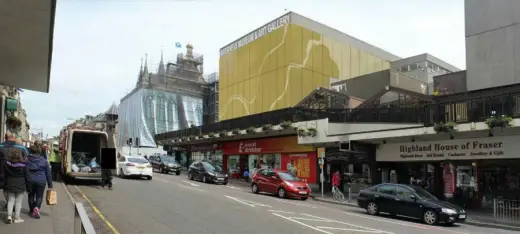 Edinburgh City Centre Development News
22 Dec – A major development by architects Fletcher Joseph Associates, landscape architects HarrisonStevens has been lodged by a joint venture between Peveril Securities and Campus Development Management for the long-neglected site between Argyle House and Edinburgh Castle.
Scottish Society of Architect Artists Exhibition
22 Dec – Special artworks by Scottish and European architect-artists will be displayed along with several items on the theme of Innovation Architecture and Design: 12 Jan – 6 Feb 2016 – see events page for details
RIAS Festival of Architecture 2016 Comment
18 Dec – Critical article by Glasgow's Professor Alan Dunlop: "The output, like all RIAS initiatives, focused on past glories, avoided controversy and seeks to please the public."
RIAS Festival of Architecture 2016 Criticism
Royal High School Hotel Rejected
17 Dec – Rejection for Royal High School Hotel scheme in Edinburgh by Glasgow's Hoskins Architects.
Ayr Academy Building News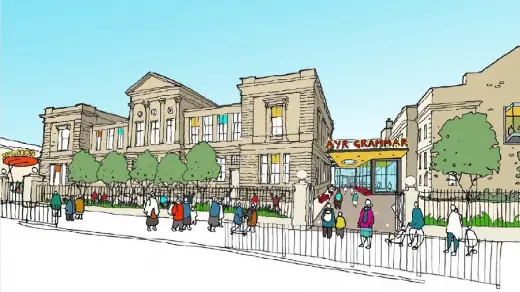 17 Dec – South Ayrshire Council is examining proposals to transform the historic Ayr Academy into a new primary school when it becomes vacant in August 2017.
Scottish Church Repairs News
17 Dec – Seven distinguished churches and a cathedral are to have urgent and essential repairs after a £1.55m funding package was announced today:
Scottish Church Building Repairs
Citizens Theatre Building Renewal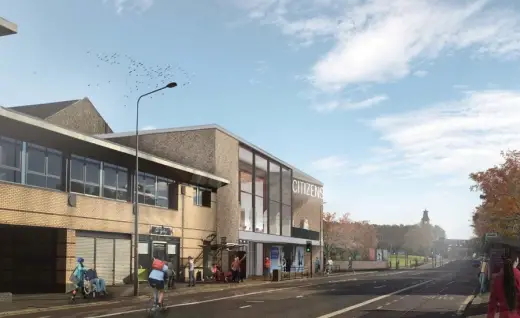 16 + 8 Dec – Bennetts Associates have submitted plans for the renovation and expansion of Citizens Theatre Glasgow by refurbishing the historic auditorium.
Former Royal High School Edinburgh Alternative
16 + 15 Dec – New images illustrating the alternative scheme for Edinburgh's old Royal High School have been published by the Royal High School Preservation Trust.
Former Royal High School Edinburgh Alternative Scheme
Mill Quarter Development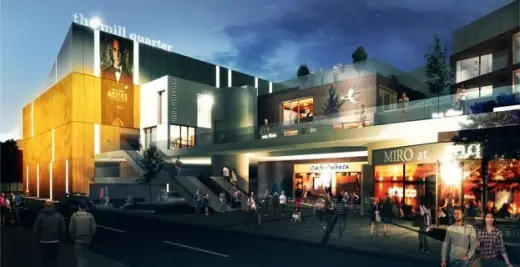 16 Dec – Work on a £30m Perth city centre regeneration project designed by Glasgow's Holmes Miller could begin in 2016.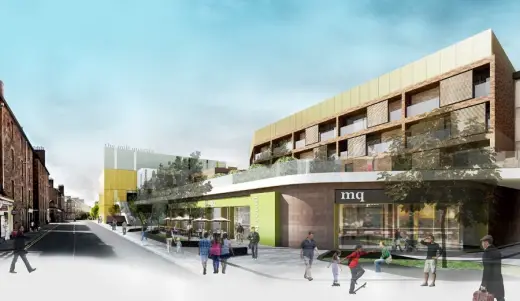 The Mill Quarter development will comprise of restaurants and bars, speciality shops, a cinema, gyms, housing, and a multi storey car park. The building – for Expresso Properties – will be located on the site of the Thimblerow car park.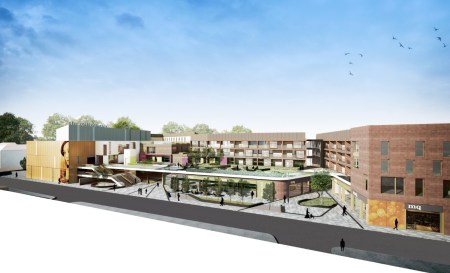 Winners of the 2015 GIA Design Awards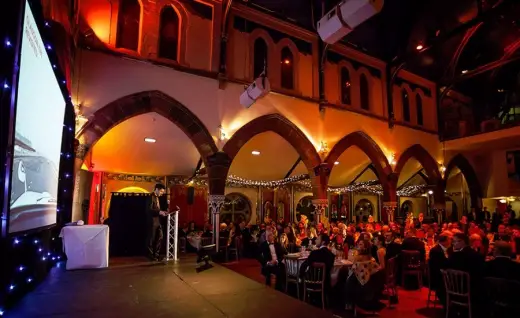 photo : Flickr, courtesy of GIA
15 Dec – The Glasgow Institute of Architects is pleased to announce the winners of the 2015 GIA Design Awards. With 51 entries from 33 practices, 7 categories including conservation and small works, and 3 special awards, the GIA Awards continues to display the talent of chapter based architects and local projects.
Homes for Scotland Awards
15 Dec – Industry body Homes for Scotland has opened up entries for its refreshed and refocused 2016 awards scheme, designed to showcase the sector's achievements in building homes that meet a diverse range of needs and aspirations.
Introduced in 2003 in order to recognise and promote best practice, the awards underpin the organisation's work, with this year's programme featuring refreshed categories: Homes for Scotland Awards
Waverley Station Mezzanine Proposal
15 Dec – A major redevelopment of Waverley Station has been announced with a new mezzanine level to free space for more platforms has been proposed by owner Network Rail: see the Edinburgh Architecture website for more news.
Neil Baxter Lecture
15 Dec – A free lecture by Neil Baxter Hon FRIAS, Secretary & Treasurer, The Royal Incorporation of Architects in Scotland, took place yesterday at the National Museum of Scotland, Edinburgh.
Bruichladdich Distillery News
14 Dec – ISG has been awarded the initial phase of a multi-million-pound development to expand facilities and create additional maturation capacity at the Bruichladdich Distillery on the Isle of Islay, in the Western Isles, reports Urban Realm.
Triple Kirks Development
14 Dec – A 13-storey accommodation facility at the former Triple Kirks site in Aberdeen, designed by local architects Halliday Fraser Munro, has received planning approval.
Glasgow School of Art Restoration Start On Site
11 Dec – Work to restore the fire-damaged Glasgow School of Art has begun with a team of heritage and conservation experts beginning the painstaking task of restoring the central library light, reports Urban Realm.
Inverness Affordable Housing
11 Dec – A development of 31 mid-market rent homes designed by Keppie on Academy Street, Inverness have been handed over by non-profit developer the Highland Housing Alliance and Highland Council.
Mansionhouse Road Property News
10 Dec – CALA Homes have submitted plans by Macmon architects for 101 homes arranged over three blocks of up to five storeys at Mansionhouse Road, Glasgow.
Patrizia Office Building News
9 Dec – Further details have emerged of an 85,000sqft speculative office redevelopment in central Glasgow planned by Patrizia and their architects Keppie Design.
The Park of Keir Project News
9 Dec – Revised plans for a proposed golf and tennis centre near Dunblane have been rejected by Stirling Council.
The Park of Keir project, which was supported by golfer Colin Montgomerie and Judy Murray, was to be located at Park of Keir, between Andy Murray's home town of Dunblane and Bridge of Allan on the outskirts of Stirling University.
The facility was to consist of six indoor and six outdoor tennis courts in addition to a nine-hole golf course with practice range and mini golf. A four-star, 150-room hotel was also proposed alongside the Murray Tennis Museum.
Sauchiehall Centre
9 Dec – Plans have been submitted by Sauchie Propco in association with asset managers Quadrant Estates to transform the Sauchiehall Centre by developing two new units on either side.
Culloden Conservation Area
9 Dec – a new conservation area to protect the historic site of the battle of Culloden has been approved by the local council. The new designation for Culloden Muir means that within the conservation area, planning permission will be required for a range of developments that would normally be permitted development under planning control including house extensions, satellite dishes, boundary enclosures such as walls and fences, and alteration to windows and doors. Substantial or total demolition of unlisted buildings within the conservation area will also require conservation area consent.
Martha Street Development
8 Dec – Proposals designed by Hoskins Architects for the Chris Stewart Group. The Martha Street development includes 59 serviced apartments, 375 student flats and 23,688 sqft of commercial space on vacant property.
Forth Road Bridge Work
The Forth Road Bridge closure could have been avoided if it were not for the "incompetence" of government agency Transport Scotland, claims engineer John Carson: he condemned the government agency for ditching plans to strengthen part of the bridge five years ago adding that Friday's closure could be directly linked to that decision.
Royal High School Edinburgh Alternative Design
8 Dec – Royal High School Edinburgh Alternative Proposals submitted by the Royal High School Preservation Trust.
Assemble
7 Dec – The Turner Prize 2015 has been awarded to Assemble, it was announced at Tramway, Glasgow, in partnership with Tate, this evening. The £25,000 prize was presented by artist, musician and songwriter, Kim Gordon during a live broadcast on Channel 4. The jury applauded the strength of all the nominated artists' work.

Top 100 Scottish Buildings
7 Dec – The RIAS list of the top-100 buildings in Scotland from the last century has been revealed. The public can now vote for their favourite building as part of the Festival of Architecture 2016, the cornerstone of Scotland's Year of Innovation, Architecture and Design.
The list was selected from more than 400 nominations put forward by members of the public, with a group of architects, critics and architectural historians whittling it down to 100 properties. Now the public can once again get involved by voting for their favourite to be named as the best building in Scotland of the last century.
More info: Scotland's Top 100 Buildings
Hinterland
5 Dec – Hinterland video by NVA –

Hinterland from NVA on Vimeo.
See St Peter's Seminary Cardross for more details.
Cuningar Loop Bridge Project
4 Dec – All ten pupils at the ceremony – five from St Mungo's Academy in Glasgow and five from Trinity High School in Rutherglen – have been working with Robertson Civil Engineering on the development of the Cuningar Loop Bridge project.
See Forth Road Crossing Education Centre for more information.
Ayrshire College Kilmarnock Campus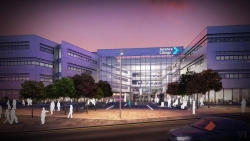 3 Dec – Ayrshire College's Kilmarnock Campus by Keppie has just achieved the highest vailable BREEAM rating of 'Outstanding' at design stage and is on target to translate the achievement to he post construction phase.
Festival of Architecture 2016 Launch
2 Dec – The Festival of Architecture 2016 launches on Calton Hill in Edinburgh this morning:
Festival of Architecture 2016 on e-architect
Hinterland to launch the Festival of Architecture 2016 at St Peter's Seminary
2 Dec – Discover Scotland's greatest modernist ruin, St Peter's Seminary, transformed by light and sound at the official launch event of Scotland's Festival of Architecture 2016.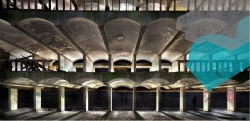 Tickets on sale now at www.hinterland.org
Fifty years on since the building opened, you can explore this architectural masterpiece re-animated at night for the first time.
As dusk falls to darkness, a walked route will weave through atmospheric woodland towards the abandoned building complex. Hinterland will reveal the full glory of the towering concrete ruin, combining moving light installations and projection with a haunting choral soundscape by composer Rory Boyle, recorded by the St Salvator's Chapel Choir of the University of St Andrews.
With a two year restoration planned to start later in the year, this will be the only opportunity for the public to witness this world-renowned building in its current state of majestic decay.
Undoubtedly the hot ticket of the year, book now at www.hinterland.org to be part of this monumental production.
Hinterland is an open manifesto for the ground-breaking creative work that will be programmed at St Peter's Seminary from 2018 onwards. The long term plans will rescue, restore and reclaim this outstanding example of 20th century architecture and bring it back into productive use as a national platform for public art and world-class heritage destination.
Join the conversation on Facebook and Twitter #hinterland
Offices over M8 in Glasgow
30 Nov – One of the most iconic office buildings in Glasgow is to be overhauled as part of a £2million upgrade. Tay House in Bath Street, which straddles the M8 motorway, is to undergo extensive refurbishment to 50,000 square feet of its office space, reports the Glasgow Evening Times: http://www.eveningtimes.co.uk/news/14111884.__2m_overhaul_of_iconic_offices_over_the_M8_motorway_in_Glasgow/
Kelvinbridge Underground Station
27 Nov – Austin-Smith:Lord have submitted designs for Kelvinbridge underground station redevelopment to planning. The proposal includes a new cupola, new escalator cladding and new glazing to draw more light into the existing ticket hall and improve access to Great Western Road.
The work for Strathclyde Passenger Transport forms part of a wider upgrade of the network, that has recently included the installation of new canopies at St Enoch subway station.
Glasgow School of Art Public Forum & Exhibition
25 – 26 Nov at The Lighthouse, Glasgow
Glasgow School of Art's public forum exploring issues of redundancy, reuse, conservation and the potential nature of new construction within the challenging locations of four former hospital sites in Glasgow, the Old Victoria Infirmary, Mansionhouse, the Western Infirmary and Yorkhill Hospital.
Dundee Post Office Art Centre News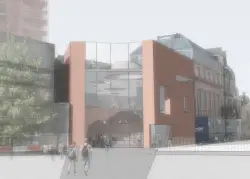 25 Nov – A planning submission for a centre of excellence for performing and visual arts on the site of Dundee's former Head Post Office has been made by Page\Park Architects, reports Construction News Scotland.
Serving as a home for the High School of Dundee's art, music, drama and home economics departments, the development will incorporate a range of studio, performance and practice spaces as well as a signature spiral staircase which will be cast in-situ.
Built in 1898 in the French Renaissance style, the empty former Head Post Office will undergo restoration and conversion, alongside construction of a feature entrance and circulation space on the site of a 1960s loading bay.. Work to complete the new centre is expected to carry through until 2020.
Link: Dundee Post Office Art Centre
Burrell Collection Refurbishment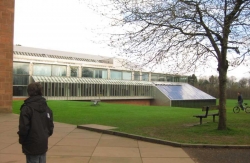 25 Nov – Glasgow's Burrell Museum is currently due to close for three years as it undergoes a £66m revamp., reports the Glasgow Evening Times today. The world famous, A-listed building in the city's south side needs a new roof, new glazing and a major internal refit. Glasgow City Council has already agreed to fund half of the cost of the refurbishment with the Heritage Lottery Fund pledging a further £15m to the target.
Motel One Group Glasgow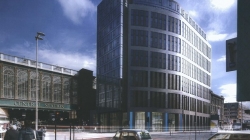 25 Nov – Ogilvie Construction has been chosen to build a new £22m hotel for Motel One Group in Oswald Street. With 374 rooms, the new hotel will be one of the largest in Scotland and the first in Glasgow for the European budget designer brand, reports Construction News Scotland. Ogilvie Construction built the Motel One Edinburgh-Princes on Princes Street in Edinburgh, which opened in 2014. The new hotel in Glasgow will open in 2017 and will include the typical One Lounge, which is the living room, breakfast café and bar all in one.
Link: http://www.scottishconstructionnow.com/9500/ogilvie-awarded-22m-glasgow-motel-one-contract/?utm_source=Scottish+Construction+Now&utm_campaign=93054d36e6-SCN_24_11_15&utm_medium=email&utm_term=0_da4310d8ed-93054d36e6-66766861
INEOS Grangemouth HQ Building
25 Nov – BAM Construction has been appointed by INEOS as preferred bidder for its new Grangemouth headquarters, reports Construction News Scotland. The project is part of INEOS' ongoing development of its1,700 acre site on Inchyra Road. The £17m building designed by Michael Laird Architects will have four storeys comprising 6,863sqm in total. Work has started on site and is scheduled for completion in the final quarter of 2016.
Stonehaven Building Development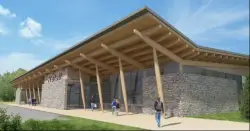 25 Nov – Revised plans for a housing and retail development on the outskirts of Stonehaven have been submitted by Halliday Fraser Munro, reports Construction News Scotland. The new proposals for the Mill of Forest site include a new supermarket, community facilities, employment land, a hotel and 500 homes, 125 of which will be affordable, plus a new road bridge across the A90.
Initial plans by developers Drum Property Group and Barratt North Scotland to build 1,500 new homes at the site were rejected by councillors late in 2014.
Glasgow School of Art Restoration
23 Nov – The restoration of Glasgow School of Art building is due to cost up to £35m, with work projected to start next summer and be completed by 2018, according to a timetable issued by the restoration team, reports Construction News Scotland.
Laurieston Buildings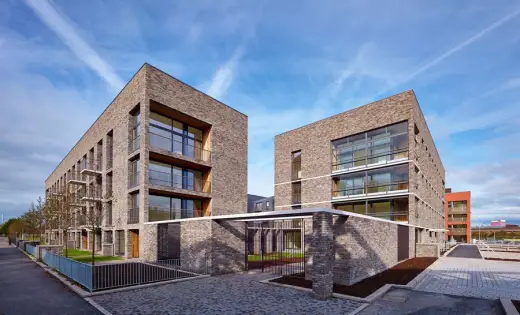 20 Nov – Laurieston Glasgow
The urban regeneration of Laurieston, Glasgow, has been praised by the Royal Incorporation of Architects in Scotland (RIAS), by way of a Special Mention at the annual Andrew Doolan Best Building in Scotland awards ceremony.
Bothwell Exchange Building News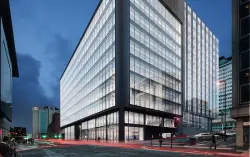 19 Nov – Sheppard Robson Architects have submitted plans for a 210,000sqft office block at 177 Bothwell Street on behalf of HFD Property, a sister build to Bothwell Exchange to the immediate south. Rising to ten storeys with basement parking the project seeks to break down massing into a series of distinct 'boxes' of varying width and height in an effort to mimic the organic growth of a city block whilst responding to the varied heights of neighbouring properties – notably the A-listed St Vincent Street Church, reports Urban Realm.
Cowcaddens Student Flats
19 Nov – Mosaic Architecture + Design have submitted plans for 280 student bedrooms and amenity space on the site of a disused warehouse in Cowcaddens, Glasgow, reports Urban Realm. Designed on behalf of the Royal Conservatoire of Scotland and Soller One the Dunblane Street project will be faced with blonde multi brick, dark grey aluminium and buff reconstituted stone banding.
Link: Cowcaddens Student Flats
New Street Station Building
19 Nov – Her Majesty The Queen reopens redeveloped Birmingham New Street station designed by AZPML.
Scotch Whisky Association Office Building
18 Nov – The Scotch Whisky Association's new bespoke and contemporary HQ at Quartermile 2 has been completed.
Scottish Property Awards 2016
The best new buildings in Scotland have been revealed in the 3rd annual Scottish Property Awards, the independent programme which celebrates excellence in commercial property. A 19-strong judging panel has reviewed 40 new developments in Scotland which are currently undergoing construction, and have now revealed the projects which will progress to the finals of the national competition. Winners will be announced at a charity-focussed awards celebration to be hosted in Glasgow on 3 March 2016: Scottish Property Awards
Builders take it offsite as skills shortage continues
18 Nov – Stewart Milne Timber Systems enquiries increase by 70%
Builders are increasingly turning to offsite construction and timber systems as the construction skills shortage continues to cause issues in the sector.
Stewart Milne Timber Systems, the UK's leading timber systems designer and manufacturer, has reported that its factories in Oxford and Aberdeen are experiencing growing demand for its build systems, with enquiries up 70% in the year to date.
In its most recent survey of its 8,500 members, the Federation of Master Builders reported that two-thirds (66%) of small builders had turned away work because of a shortage of labour. With an estimated 35,000 apprentices needed to meet market demand, only 7000 completed their training in 2013.
Island Drift
17 + 11 Nov – NVA's Island Drift exhibition opened on Saturday 14 November at Street Level Photoworks in Glasgow.
Island Drift is an immersive photographic installation, created in partnership with Loch Lomond & The Trossachs National Park. During an eight month programme of creative interventions at Loch Lomond, designer James Johnson, photographer Alan McAteer and NVA's creative director Angus Farquhar worked with park rangers to manipulate moving and static light sources on land and water, creating a powerful series of images articulating the Highland boundary fault line.
This gallery-based exhibition is a significant departure for NVA. For the first time performing in and with the landscape is not the main intention. Instead the manipulation of light and movement in real time, over large physical spaces, existed purely to release the untouched photographic artwork.
Island Drift
14 November 2015 – 24 January 2016
Street Level Photoworks, Trongate103, Glasgow, G1 5HD
www.nva.org.uk/island-drift
Hydro Arena Glasgow – A Winner at The Structural Awards 2015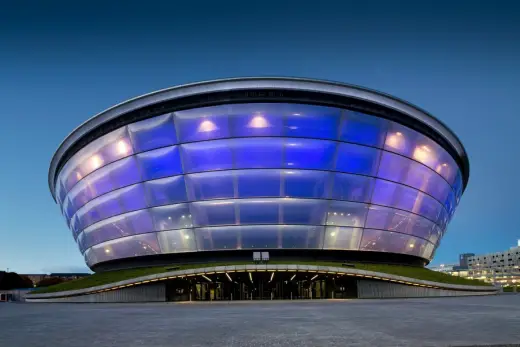 photo © McAteer Photograph
17 Nov – Award for Regional Groups: SSE Hydro (by Arup)
Prince & Princess of Wales Hospice
17 Nov – A £21m hospice designed by NORD, the first in the UK to implement the Scandinavian Sengetun model of care, is set to commence construction in 2016 after securing £15m in funding from private donations, reports Urban Realm.
Remaining money is likely to be secured through the successful Brick by Brick appeal, which is seeking to plug a remaining £5m gap in finances. Turner & Townsend are the project managers for the building which will include 16 en-suite bedrooms.
Strathclyde Business School News
16 Nov – Hypostyle have unveiled their recently-completed upgrade of the University of Strathclyde Business School, which entailed the integrated refurbishment of the Sir William Duncan, SBS and Stenhouse buildings.
Laurieston Regeneration Award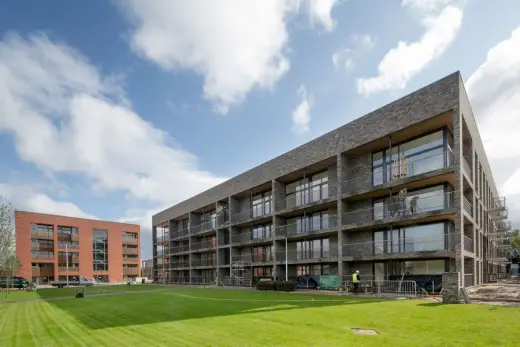 12 Nov – the team behind the regeneration of Laurieston, Glasgow, has won the Delivering in Partnership category at the Scottish Governments Quality in Planning Awards 2015.
Keppie Design News
11 Nov – Planning permission has been granted for Whitehall Park School, a new EFA (Education Funding Agency) free school in Islington. The new school by Keppie will be built within a conservation area on the site of the former Grade A listed Ashmount Primary School which was designed in 1953 by HT Cadbury-Brown, one of the chief architects of the Festival of Britain.
Dalmarnock School Homes
9 Nov – Jewitt & Wilkie Architects and Spectrum Properties have drawn up plans for the residential conversion and extension of the B-listed former Strathclyde Public School and nearby print works at Dalmarnock, Glasgow, which latterly served as the Strathclyde Business Centre, reports Construction News Scotland.
Douglas House
9 Nov – An 8,000sqm 15 storey speculative office development by Keppie Design on the site of Douglas House, Glasgow, is being developed by Patrizia UK on the corner of Waterloo and Douglas Street with grade A floor space, reports Construction News Scotland. Facilities include a double height reception space, staff showers, cycle bays and surface car parking accessible from St Peters Lane.
ESW Creative Laboratories Building
9 Nov – info + photos of this striking building in Newhaven, over on the Edinburgh Architecture website.
Laurieston Housing + Park
9 Nov – Anderson Bell + Christie Architects have submitted plans for the delivery of a second phase of 148 flats and town houses around a linear park at Laurieston, Glasgow, on behalf of Urban Union, reports Construction News Scotland. Incorporating a hotel, shops, offices, cafes and student accommodation the master plan aims to maximise the number of active frontages with prominent gables fenestrated to avoid blank walls facing the street. Making only minor amendments to an existing RMJM master plan the proposal entails creation of three perimeter blocks wrapped around semi-private common greens, following the template laid down in phase one.
Balloch Shared Campus
6 Nov – A £15.4m project to build a new purpose-built education campus in Balloch has been submitted for planning by Holmes Miller. Morgan Sindall and West Dunbartonshire Council are behind plans for this new school on the site of the existing St Kessog's Primary, reports Construction News Scotland.
Perth City Hall Demolition Abandoned
6 Nov – Perth and Kinross Council formally withdraw its controversial listed building application to demolish this Edwardian building. The surprise announcement comes just weeks after councillors backed a plan to convert the hall into a food market, reports Construction News Scotland. But a council spokeswoman said that the planning application had been scrapped for technical reasons, rather than anything more significant. Perth Market Place Ltd has been given until the New Year to prove its project is financially sound. The market plan was backed by councillors ahead of a separate proposal to turn the building into a hotel.
Dundee Waterfront News
6 Nov – The 30-year project to rejuvenate Dundee's waterfront is half way to completion with over £75m already invested in infrastructure, reports Construction News Scotland. A new report set to go before councillors on Monday has detailed the "massive" community benefits the project is set to bring as it moves from an initial infrastructure into a mostly marketing phase.
Robertson unveils plans for 56 home restoration of old hospital
6 + 5 Nov – Robertson Homes has unveiled plans to complete the restoration of Gleann Mor House, the listed fire damaged building at its Westercraigs Development in Inverness, to create 26 luxury townhouses and 30 executive apartments.
The £13 million proposal, submitted to Highland Council last week, would create over 100 local jobs, with Robertson keen to recruit a variety of skills for this development project, thought to be one of the most complex in the city's recent history.
The proposal for Gleann Mor House was submitted just days after another Robertson Homes application to build 50 new homes at Westercraigs. If approved, work will start on both projects, which together amount to an investment of £20 million, next year, with first occupation due in 2017.
John Murphy, managing director of Robertson Homes, said: "We are really pleased to submit these proposals. Built in 1864 Gleann Mor House is an historic building that was badly damaged by fire in 2009.
"The luxury homes in Gleann Mor House, with an abundance of bay windows, turrets and a raft of unique features, will offer something new in the Inverness market and will complement the modern, spacious family homes we hope to build in and around Ruihard House.
"We expect significant demand, particularly as we near completion of the West Link Road, dramatically improving road connectivity to the area."
The first phase of the restoration of Gleann Mor House, 12 luxury apartments, was completed in 2011. Robertson Homes has since reconfigured its plans to replace many apartments with townhouses, maximising open space and landscaped gardens.
Mr Murphy continued: "Our plans are to create a sustainable semi-rural community at Westercraigs, including play facilities, green space and community facilities. We are also moving forward with plans to upgrade the link road to the A82."
RIAS Andrew Doolan Best Building in Scotland News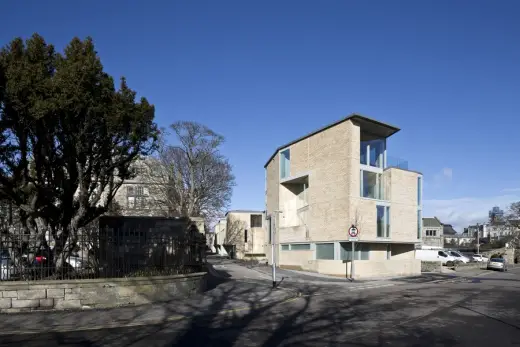 photo © Keith Hunter
4 Nov 2015 – West Burn Lane, St Andrews by Sutherland Hussey Harris has been awarded the RIAS Andrew Doolan Best Building in Scotland Award for 2015. From a shortlist of twelve projects, all winners of RIAS Awards for 2015 (presented in June 2015), the judges selected West Burn Lane as a clear winner. The award was presented at a ceremony at the National Museum of Scotland (Doolan Award winner for 2011) by the Cabinet Secretary for Culture and External Affairs, Ms Fiona Hyslop MSP alongside Mrs Margaret Doolan Hon FRIAS (the late Andrew Doolan's mother).
The judges felt that two projects merited a Special Mention:
– Laurieston Transformational Area, Glasgow by Page\Park Architects and Elder and Cannon Architects
– Arcadia Nursery, Edinburgh by Malcolm Fraser Architects
BT Rugby AcademyWork
4 Nov – Edinburgh Napier University's £2.5m rugby academy extension designed by Smith Scott Mullan Associates starts on site, reports Construction News Scotland. The two-storey development at the BT Sport Scottish Rugby Academy will host a multi-use strength and conditioning gym, rehabilitation space and studio research facility.
Willowbank Road Building
4 Nov – A Student accommodation development designed by Michael Laird Architect in Aberdeen has received planning approval, reports Construction News Scotland. Crucible Alba will develop the 221-room facility on the site of McConechy's Garage on Willowbank Rd. The building will have 44 flats across four storeys and will include a cafe, games facility and "breakout" room.
George Square Survey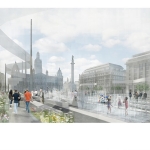 30 Oct – The public is being asked for their views on the future of Glasgow's civic square, reports the Glasgow Evening Times today. The SNP has raised a motion calling on the local authority to consider the views of city dwellers before any decisions are made about George Square. It has launched an online survey – www.surveymonkey.com/r/S8T9KG7 – which is being shared on the SNP Group's Facebook page and Twitter account.
Tayport Community Building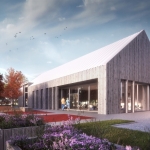 30 Oct – Plans to turn a former steel works in Tayport into a community hub have moved forward after Fife Council approved the sale of the derelict plot, reports Construction News Scotland. Councillors agreed to sell the old Abertay Works on Shanwell Road to Tayport Community Trust at a reduced price, paving the way for the 1.2 hectare site to house facilities including a café, soft play area, a new sports hub, space for arts and crafts, a camping and tourism site and a business venue.
Ghost Peloton Glasgow News
30 Oct – Due to extremely high demand, we have released a small number of extra tickets for Ghost Peloton Glasgow at the Whisky Bond on Thursday 12th November. With very limited numbers available, book now to avoid missing out at nva.eventbrite.com
Ghost Peloton Glasgow marks the first staging of NVA's Speed of Light in Scotland since the work's premiere on Arthur's Seat in 2012. Using cycling as the core of mass communal movement incorporated within stunning large-scale projection and set to an original score, a collective of ghost bikes and riders will be illuminated using NVA's bespoke LED light suit which can instantaneously change colour, flash-rate and luminosity. Inspired by the wheel in motion, the movement of massed participants choreographed by Phoenix Dance Theatre will transform the canal-side landscape of Port Dundas into an open canvas carrying a new visual language of light in motion.
EVENT DETAILS:
Ghost Peloton Glasgow
Thursday 12 November
6.30pm – 7.30pm
The Whisky Bond, Port Dundas
Tickets: nva.eventbrite.com
Lews Castle Renewal
30 Oct – Graham Construction is set to begin work on the hospitality elements of the project to transform Lews Castle in Stornoway after being awarded the £3.5m third phase contract, reports Construction News Scotland: Lews Castle Building
Dumbarton Offices Building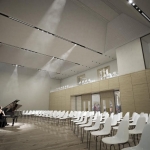 29 Oct – Planning permission for the new West Dunbartonshire Council offices in Dumbarton was granted yesterday, reports Construction News Scotland. Work to transform the A-listed former Academy Building into modern, fit-for-purpose office space is now expected to start early in 2016.
Glasgow Whisky Experience & Distillery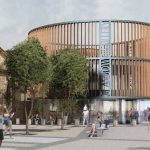 29 Oct – Plans to create a new visitor attraction and whisky distillery at Glasgow's Queen's Dock will be delivered over two phases under newly submitted proposals from Hypostyle-BR Architects, reports Construction News Scotland. The Glasgow Whisky Experience and Single Malt Whisky Distillery development will see previously approved plans to extend and convert the existing Pump House building revised to accommodate an exhibition and visitor centre alongside a new build distillery which has been simplified to a straightforward block pavilion. Currently unoccupied, the Pump House is a Grade 'B' Listed building.
Stirling Academic Centre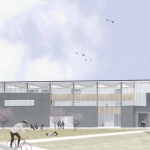 29 Oct – A new Academic Centre at Stirling University designed by Page/Park Architects has received planning permission, reports Construction News Scotland. The new building is a joint venture from the INTO University of Stirling Partnership. The INTO students will come from abroad and experience a year of learning language in the new centre, before progressing to a relevant University programme.
ICE University of Glasgow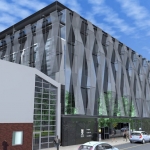 28 Oct – Work is underway on a new £16m Imaging Centre of Excellence (ICE) for the University of Glasgow, reports Construction News Scotland. The start of construction was marked by science minister Jo Johnson who helped to break ground at the Queen Elizabeth University Hospital site where the ICE will be located. The five-storey facility is supported by UK government funding through the Medical Research Council as part of the Glasgow and Clyde Valley City Deal.
Laurieston Homes
28 Oct – Anderson Bell + Christie Architects have submitted plans for the delivery of a second phase of 148 flats and town houses around a linear park at Laurieston , Glasgow, on behalf of Urban Union, reports Urban Realm.: http://www.urbanrealm.com/news/5788/Plans_submitted_for_second_wave_of_Laurieston_homes.html
Cairngorm Mountain Visitor Centre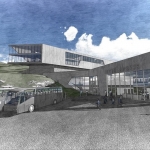 28 Oct – A public consultation is set to get underway this week on a Keppie Design plan to upgrade visitor facilities at Cairngorm Mountain, enhancing its appeal as a leisure and adventure destination, reports Urban Realm.
Glasgow College Riverside Campus
27 Oct – Scotland's First Minister opened City of Glasgow College's new £66m Riverside Campus on the banks of the River Clyde yesterday, reports Construction News Scotland. The Riverside campus is the first phase of a new £228m twin-site supercampus and was delivered on time and within budget. The City Campus site at Cathedral Street in Glasgow's city centre is currently under construction and is due to open in summer 2016. The supercampus is expected to serve up to 40,000 students and 1200 staff a year – the equivalent of six million users in its lifetime.
New Ayrshire College Building
27 Oct – Ayrshire College's new campus project in Kilmarnock has been awarded a BREEAM "outstanding" rating at its design stage, reports Construction News Scotland. Some of the key elements in the College's project which contributed to securing BREEAM accreditation are: 600kw biomass boiler, 330sqm photovoltiac panels, high efficiency cooling system and optimisation of natural daylight, reports Urban Realm.
Dundee Marina
27 Oct – Dundee Waterfront has announced that a total of £600m of investment has been secured for a raft of projects in the city; including a new marina; railway station, hotel and retail; Hilton Hampton hotel; homes by H&H Properties; a Seabraes pedestrian bridge and offices; expansion of Dundee Science Centre and the V&A Museum of Design, Dundee, reports Urban Realm.
ArcHouse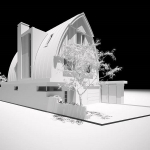 26 Oct – McInnes Gardner Architects have seen off competition from hundreds of entrants to win a Sunday Times Homes Awards competition to solve Britain's housing crisis, reports Urban Realm.
Parkhead School
26 Oct – Purcell and Glasgow Building Preservation Trust have announced plans to alter the category B listed Parkhead School, which has languished on the Buildings at Risk Register since 2011.
Finnieston Flats
26 Oct – A decision on whether to allow the development of nearly 200 flats in the Finnieston area of Glasgow has been stalled. Plans for 189 homes on the site of the Robins and Day Peugeot garage on Minerva Street were tabled at a meeting of Glasgow City Council's planning committee, reports the Glasgow Evening Times. The "unashamedly modern" designs for Glasgow-based Progressive Residential Ltd have attracted 133 objections over concerns about the height of the buildings, the design and a lack of parking.
Holmes Miller: Arke, Kilbeg, Skye
photos : Andrew Lee
26 + 25 + 21 Oct – The new ARKE (Administration, Research, Knowledge and Enterprise) building for Sabhal Mor Ostaig Gaelic College at Kilbeg on the Isle of Skye was officially opened by First Minister Nicola Sturgeon on 21 October 2015. The building was designed through an innovative collaboration between Glasgow architects, Holmes Miller and local architects Rural Design. The partnership brought together the large scale education experience of Holmes Miller and the local design presence of Rural Design to create a truly inspiring piece of campus architecture which sits confidently into its island setting.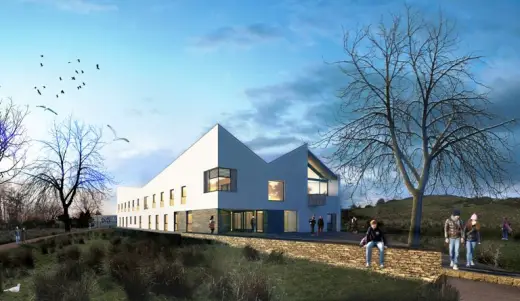 The collaboration was inspired by the timely appearance of Rural Design's Alan Dickson on Channel 4's Grand Designs programme just at the time of the public tender.
War Memorials Trust Restoration Grants
26 Oct – The War Memorials Trust has awarded £190k in restoration grants to 21 projects throughout Scotland ranging in scale from a landmark tower in Orkney to a framed memorial within Edinburgh's Waldorf Astoria hotel, reports Urban Realm.
Top 100 Buildings in Scotland
25 + 12 Oct – A reminder that The Royal Incorporation of Architects in Scotland will mark the centenary of its founding, next year. As part of a series of events to celebrate 100 years of architecture the Incorporation is asking the people of Scotland to nominate their favourite Scottish buildings from the last 100 years.
Members of the public are asked to email the name, address and architects (if known) of their favourite building in Scotland from between the years 1916–2015 (to [email protected]). Buildings can be of any type located anywhere in Scotland but should be still standing.
To celebrate the Centenary year of RIAS the Incorporation are asking everyone in Scotland to nominate their favourite buildings and explain (in no more than 30 words), why they particularly like them. The top five submissions will each receive a voucher for £100.00 to spend in the RIAS Bookshop, which also stocks high quality gifts, cards, ceramics and Lego models.
The deadline for submissions is 5pm, Friday 30th October 2015. An expert panel of leading historians and architects will shortlist the top 100 Scottish buildings of the last century which will be announced on 3rd December at the launch of the Festival of Architecture 2016.
Glasgow Architecture Website Renewal
25 Oct – Renewal and refurbishment of this website is almost complete after we experienced server issues (13th September) that were outwith our control.
Rural Design link: www.ruraldesign.co.uk/Ionad-Iain-Nobail – photos by Andrew Lee
Holmes Miller link: www.holmesmiller.com/projects/education/arke-building-sabhal-mor-ostaig-skye/154
Ingram Street Hotel
24 Oct – A city centre car park has been sold by the council for £6.75m and is destined to become a 395 bedroomed hotel. The Ingram Street site, currently leased to National Car Parks Limited, was today approved for sale by the council's executive committee, reports the Glasgow Evening Times. Merchant Hotel Glasgow Limited intends to create a part luxury budget hotel, inspired by the Hoxton in Shoreditch, London, and New York's Soho Grand Centre.
Glasgow Distillery
23 Oct – Hypostyle-BR Architects have reworked their plans for a whisky experience and distillery within the Pump House Building at Glasgow's Queen's Dock following a decision to deliver the project over two phases, reports Urban Realm.
Graven unveil BA Lounge in Singapore
23 Oct – Graven have completed their eighth airport lounge for British Airways, part of an international roll out of the carriers 'Galleries' brand that has previously landed in Edinburgh, Gatwick and Washington Dulles amongst others, reports Urban Realm.
Silverburn Expansion News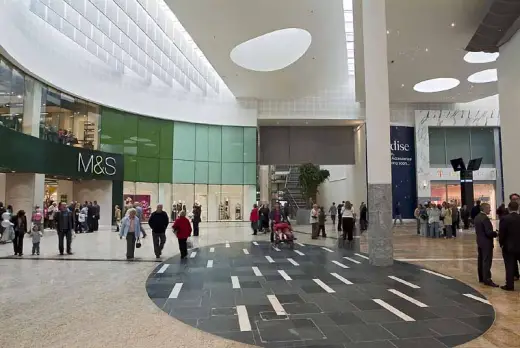 22 Oct – Glasgow City Council has given initial permission in principle for an extension to the city's Silverburn shopping centre, reports Construction News Scotland.
Developers Hammerson want to build dozens more shops, a new leisure complex, a 110-bedroom hotel, a community centre, a park by extending the complex on the other side of the M77.
Philip Hogg to move on from Homes for Scotland
22 Oct – Trade body Homes for Scotland today announced that Chief Executive Philip Hogg would be leaving the organisation in the coming months to take up a senior role within the home building industry.
Chairman Jim Mather said:
"Philip will continue in his post during his notice period, working with his Executive Team to deliver Homes for Scotland's business objectives and meet members' day-to-day needs and requirements.
"In addition, he will help us in the recruitment of his successor and, in the process, consolidate the progress that he has made for Homes for Scotland and our members in the difficult years following the financial crisis.
"In particular, over the past three and a half years, Philip has raised the profile of home building to ensure that Homes for Scotland and its members play their full parts in boosting our country's economic and social well-being, strengthening the mechanisms to engage and channel the ideas and needs of our members.
"When he eventually steps down, the proof of the quality of Philip's legacy will be seen in our highly professional Executive Team, a track record of positive progress and an organisational reputation of alignment with the wider common good.
"We wish Philip well in his new post and we will always be grateful for a very material contribution to Homes for Scotland and a job well done."
Scottish Construction Skills Shortage Crisis
22 Oct – Scotland's construction industry is facing its greatest skills challenge as workloads continue to outpace availability of skilled professionals, a survey released today by the Royal Institution of Chartered Surveyors (RICS) has revealed, reports Construction News Scotland.
Almost two-thirds of respondents (63 per cent) to the latest RICS UK Construction Survey reported difficulty sourcing labour as an obstacle to growth. A similar number highlighted specific problems in finding bricklayers.
City Deal News
21 Oct – Funding has been approved for more than £40m worth of infrastructure and business development projects under the £1.13 billion City Deal in the Glasgow and Clyde Valley area, reports Construction News Scotland.
Members of the Glasgow and Clyde Valley Cabinet agreed around £3m of investment to kick start developments in Inverkip, Greenock Ocean Terminal and the £21m Cathkin Relief Road.
New Elective Treatment Centres
21 Oct – The Scottish Government is to invest over £200m into the creation of six new elective treatment centres across Scotland, reports Construction News Scotland.
First minister Nicola Sturgeon confirmed that the new centres to carry out procedures like hip, knees and cataracts are to be built across the country including one at the Royal Infirmary Edinburgh.
Work is now underway on securing sites in Lothian, Grampian, Tayside and Highland heath boards to allow for new stand-alone facilities to be created. The Golden Jubilee Hospital in Clydebank is also to be expanded to include a new centre. Over £200m will be invested in the new centres ahead of them becoming operational.
Michael Laird Architects Glasgow Office
21 Oct – Michael Laird Architects (MLA) has announced the opening of a new office in Glasgow to support its growing portfolio of projects in the West of Scotland, reports Construction News Scotland.
The practice said the new office will increase support to its existing and future clients, with a view to further strengthening of the business.
The office will be led by Stuart Watters together with Gillian Stewart who has recently joined the practice to enhance and reinforce MLA's business in Scotland and beyond.
City Deal Cabinet approves latest stage of funding for projects worth more than £40m
20 Oct – The Glasgow and the Clyde Valley City Deal Cabinet has approved funding for more than £40m worth of infrastructure and business developments projects in the area.
These particular projects will be located in three of the eight local authority boundaries participating in the £1.13bn City Deal: East Renfrewshire Council, Glasgow City Council, North Lanarkshire Council, Renfrewshire Council, South Lanarkshire Council and West Dunbartonshire Council.
Members of the Glasgow and Clyde Valley Cabinet approved business cases for the following projects:
• Strategic business case for the Inverkip infrastructure project (Inverclyde Council)
• Strategic business case for Ocean Terminal (Inverclyde Council)
• Outline business case for Cathkin Relief Road (South Lanarkshire Council)
The Inverkip project will deliver infrastructure improvements on the A78. It will release investment and secure the development of a major 20 hectare brownfield site, particularly the former Inverkip Power Station, to create in excess of 600 houses and 6,000sqm of commercial retail space. The Inverkip project is a partnership between Inverclyde Council and Scottish Power and the business case agreed today unlocks design fees.
The Greenock Ocean Terminal project is a partnership between Inverclyde Council and Peel Ports to expand the quayside and create a new visitor facility. The Ocean Terminal, this year alone, has become the first port in Scotland to break the 100,000 cruise liner passenger barrier. The City Deal project aims to further expand Inverclyde as the cruise ship capital of Scotland.
The single-carriageway Cathkin Relief Road is aimed at relieving congestion in the Rutherglen area, will improve wider connectivity and is expected to reduce exhaust emissions.
Approval was also given for funding towards a £5.2m project by Glasgow City Council aimed at supporting growing businesses in the Clyde Valley.
Speaking after his first meeting as chair of the Glasgow and Clyde Valley Cabinet, Councillor Frank McAveety said: "Our City Deal is the biggest of its kind in the UK and offers huge opportunities and benefits for the people who live and work in the area.
"The projects we've approved today are the latest in a series of initiatives which will transform the Clyde Valley's economy and create tens of thousands of jobs in the process.
"They'll improve our infrastructure and make Glasgow and the Clyde Valley even more attractive to the investors and developers who will bring jobs to the area."
Approval of the business cases today by the Glasgow and Clyde Valley City Deal Cabinet unlocks around £3m to allow each of the projects to proceed to the next phase of work.
The City Deal will bring tens of thousands of jobs to Glasgow and the Clyde Valley over the next few decades through 20 major infrastructure projects; drive innovation and growth through the support of key sectors such as life sciences; and address challenges in the region's labour market.
Both the UK and Scottish Governments are giving Glasgow and Clyde Valley local authorities £500million each in grant funding for the City Deal, and the local authorities will borrow a further £130million to use for capital investment.
The City Deal is expected to give Glasgow and Clyde Valley a permanent uplift in its GVA of £2.2billion per annum (4.4%); generate 15,000 construction jobs during the construction period and 28,000 permanent additional jobs once construction is complete; and will unlock £3.3billion of private sector investment.
The eight local authorities participating in the Glasgow and Clyde Valley City Deal are: East Dunbartonshire Council; East Renfrewshire Council; Glasgow City Council; Inverclyde Council; North Lanarkshire Council; Renfrewshire Council; South Lanarkshire Council and West Dunbartonshire Council.
John Lane Architect
19 Oct – Notice received from Royal Incorporation of Architects in Scotland – John Lane PPRIAS (1935-2015):
"John Armstrong Lane PPRIAS died on Sunday 18th October 2015. His death was sudden and unexpected. John, formerly a partner in the Glasgow-based, Lane Bremner and Garnett, was President of the Royal Incorporation from 1985 to 1987."
Advocate's Close Project of the Year
19 Oct – The Advocate's Close project in Edinburgh has been named as the national Project of the Year by the Royal Institution of Chartered Surveyors (RICS), reports Construction News Scotland.
Historic Buildings in Scotland Funding
19 Oct – Five projects to restore and reuse historic buildings across Scotland for community facilities have been awarded £1.7m in funding.
Newly formed lead public body for heritage Historic Environment Scotland has announced the funds as part of its Building Repair Grants Scheme, reports Construction News Scotland:
– the Edwardian Govan Hill Baths in Glasgow, which is to be refurbished in a phased scheme to facilitate full community usage for three pools, a steamie and Turkish Baths suite. That project received an award of £500,000 to pay for repairs to halt water ingress and refurbish the interior of the building.
– a new use for the Old Achintore School in Fort William has been found, following years of discussions around the building's potential demolition. That project received a grant award of £269,750, which will allow the building be refurbished to act as a Civic Centre for the town, and offices for Highland Council staff.
– the former Dumbarton Academy, which on completion will be utilised as the new West Dunbarton Council HQ, housing over 500 council staff, is expected to bring much needed additional trade to town-centre businesses.
– the former Davidson Cottage Hospital in Girvan will receive funding for conversion to an Enterprise Centre for business space, childcare facilities, and office accommodation.
– the former British Linen Bank is to get a major restoration, as part of a wider scheme to regenerate the surrounding area by the Southside Housing Association, and to provide additional social housing units.
Stirling Prize Winner
15 Oct – The 2015 RIBA Stirling Prize winner is:
Burntwood School, Wandsworth by Allford Hall Monaghan Morris
Bold, characterful new campus buildings with light-filled rooms and corridors add to a sense of this being a very collegiate school.
https://www.architecture.com/WhatsOn/October2015/RIBAStirlingPrize2015.aspx
7.00pm Awards presentation in the Jarvis Auditorium
BBC from 8.10pm –
"Following a week of special reports on the contenders for Britain's best new building, BBC News reports live from London as the winner of the RIBA Stirling Prize is announced."
http://www.bbc.co.uk/programmes/b06mtkdv
While a select line-up of judges will decide the winner, the BBC in partnership with the RIBA invited users to vote for their favourite.
The vote is now closed.
The Whitworth, Manchester won – gaining 38% of all votes, with Maggie's Centre, Lanarkshire in second place. Tens of thousands of people voted.
Sighthill Housing
15 Oct – CCG have handed over 141 new homes in Sighthill for Glasgow Housing Association, including a mixture of flats and terraced housing for social rent, designed by Collective Architecture, reports Urban Realm.
Maggie's Lanarkshire by Reiach and Hall Architects
14 Oct – photos of 2015 RIBA Stirling Prize Shortlisted Maggie's Lanarkshire
Cathedral Street Student Residences
14 Oct – Plans to build a 398 bed student 19 storey residential tower designed by Urban Office Architects at 355 Cathedral Street, Glasgow, have been approved by planners, reports Urban Realm.
East Kilbride Stadium Building
9 Oct – East Kilbride Community Trust has submitted a Proposal of Application Notice to South Lanarkshire Council for a 4000-seater multi-purpose community stadium in East Kilbride, reports Construction News Scotland.
New Glasgow Hotel
9 Oct – Glasgow City Council has approved the sale of the car park at 69-97 Ingram Street to Merchant Hotel Glasgow Limited for a minimum of £6.75m, reports Construction News Scotland.
Ian M.T. Samuel
9 Oct – Annoucement by Edinburgh Architectural Association:
"It is with sadness that the Edinburgh Architectural Association announces the death of Ian M.T. Samuel. Ian passed away peacefully at home in Glasgow on Friday, 2nd October 2015, aged 85 years.
Ian studied at the Edinburgh College of Art in the late 1940s and worked professionally as an Architect and Town Planner in London, Edinburgh and Glasgow from the 1950s to 1980s, working largely for Robert Matthew Johnson Marshall and Partners. In the eleven years prior to his retirement in 1990 he worked for Glasgow City Council as architect/planner in the Planning Department responsible for conservation services and listed building repair work.
He was the loving husband to Helen and much beloved father to Mhora and Marie. He grew up in Newtongrange, Midlothian as the younger brother to May and Andrew.
His funeral will take place on Monday 12th October at 11.45am at Daldowie Crematorium, Hamilton Road, Uddingston, Glasgow, G71 7RX and afterwards for lunch at the Cafe Source, St Andrew's in the Square, Glasgow G1 5PJ."
Ghost Peloton Glasgow
9 Oct – Tickets are on sale now for Ghost Peloton Glasgow on 12 and 13 November at the Whisky Bond, Port Dundas.

Book your ticket now at www.nva.eventbrite.com
EVENT DETAILS:
Ghost Peloton Glasgow
12 & 13 November
6.30pm – 7.30pm
The Whisy Bond, Port Dundas
For further information, visit: www.nva.org.uk/ghost-peloton-glasgow
City Observatory Building News
8 Oct – Planners have approved £3.5m proposals to create a new contemporary visual arts space at the City Observatory complex on Calton Hill – more on the Edinburgh Architecture site's news page.
Finnieston Crane
8 Oct – We were advised today by e-mail of plans now with Glasgow City Council, to apparently build a 10 storey hotel complex "with massive interactive billboards on the street and blocking vies of the now iconic buildings at Finnieston Street."
Plans can be viewed on the council website:
15/02220/DC Site formerly known as 200 Finnieston Street, Glasgow. Erection of hotel with ancillary facilities, car parking and associated works.
There is also an online petition, Save our Skyline
http://you.38degrees.org.uk/petitions/save-glasgow-s-skyline
"Please can I urge you to join residents and other local groups to submit an objection to the current planning application as it will completely ruin the now globally recognised Glasgow Skyline!!!
If these plans go ahead it will ruin the local, chic ethos of this eclectic up and coming area, should we allow it to become like Las Vegas!!!!!
But mainly the beautiful skyline of Glasgow will be completely ruined. In recent years Glasgow has hosted many globally recognised events and this will help generate tourism to the city as a whole. Finnieston has a fantastic feel about it and there is no place for a ten story hotel there, I am sure there would be better suited locations for it."
Clifton House and Stewart House
7 Oct – The completion of a £10m property redevelopment in the heart of Glasgow's west end will help support a new influx of students to the city thanks to a joint venture between Kier Property and Amber Infrastructure Group, reports Construction News Scotland. Lysander Student Properties Limited, the operating name for the partnership, appointed Kier Construction to undertake the redevelopment of Clifton House and Stewart House, transforming them into much needed high quality student accommodation.
Located on Clifton Place, Clifton House will provide a total of 213 bed spaces, while Stewart House on Elderslie Street will provide 51 studio flats, each offering en suite facilities.
St Vincent Plaza Office Development
5 Oct – ABSTRACT LAUNCHES NEW PUBLIC SPACE IN GLASGOW'S IFSD
Abstract (Glasgow) Ltd – a wholly-owned subsidiary of Mark Glatman's Abstract Securities Ltd – has announced that it has officially launched its new public space as part of the construction of its St Vincent Plaza office development. The new public space now links William Street to St Vincent Street, improving access from Hilton Glasgow to the International Financial Services District (IFSD) and all that the City Centre has to offer.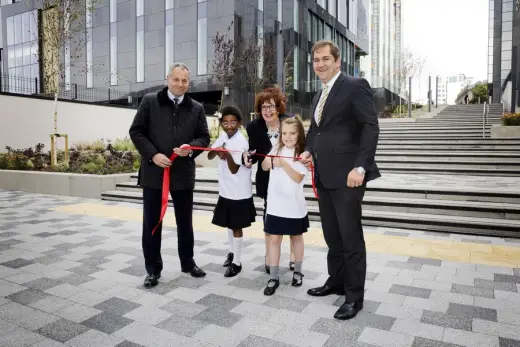 Left to right: Mark Glatman, chief executive of Abstract Securities was accompanied by Aissatou Bah (10), Oakgrove Primary School, Bailie Liz Cameron with Lauren Rennie (9) Oakgrove Primary School and Daniel Van Wyk, manager of Hilton Glasgow for the launch of St Vincent Plaza's new public space. The new space links William Street to St Vincent Street improving access at the gateway to the IFSD, Hilton Glasgow and the City Centre.
The space was officially launched by Mark Glatman, chief executive of Abstract, Bailie Liz Cameron, Daniel Van Wyk, manager of Hilton Glasgow with the help of Lauren Rennie (9) and Aissatou Bah (10) of Oakgrove Primary School. Abstract Securities has supported Oakgrove Primary School with the development of the school's Eco Committee projects.
St Vincent Plaza is a landmark development, located opposite the HQ for Scottish Power and is one of the key elements in the next phase of the IFSD. It is one of the most cost effective new build office developments in the City and in the UK with rents from just £23 per square foot.
Mark Glatman, chief executive of Abstract Securities said: "We have had a fantastic reaction to the new public space that brings a new vibrancy to the IFSD and the central business quarter of the City. The construction of St Vincent Plaza includes a 22 metre wide terraced pedestrian space, connecting St Vincent Street to William Street and Hilton Glasgow, dramatically improving access to the City Centre.
"Lighting is a key part of the scheme with a focus on creating a safe, well lit public realm link. Up-lighting to the M8 underpass and new feature signage forms part of the gateway to the space, helping define St Vincent Plaza as Glasgow's premier business address.
"Achieving a BREEAM 'Excellent' rating, the St Vincent Plaza development focuses on the use of sustainable and high quality materials within the public realm. Raised planters create a series of terraces and include native tree and shrub planting that gives seasonal interest to the space and enhancement to the ecology of the area.
"The St Vincent Plaza building features a striking granite and glazed façade which is complemented by Caithness stone, granite aggregate paving and integral feature lighting – all of which adds value to the exceptional work space and a wider contribution to the City's urban landscape."
Bailie Liz Cameron, Executive Member for Jobs and the Economy, said: "The opening of the public realm at St Vincent Plaza completes this very exciting and important development for Glasgow. The Grade A office space will now be complemented by a fantastic streetscape, making this an even more attractive building for companies looking to locate in Glasgow. I look forward to the success of St Vincent Plaza."
Daniel Van Wyk manager of Hilton Glasgow added "Hilton Glasgow are excited to welcome our new neighbours, St Vincent Plaza. This modern, attractive looking building is a fantastic addition to the area and we are thrilled to be included in the regeneration of this part of town. The new public realm and walkway from St Vincent Street will vastly improve the access to Hilton Glasgow for our customers to and from the City Centre. We really look forward to working together and building a strong relationship with St Vincent Plaza."
Jane Cerexhe, head teacher for Oakgrove Primary School explains how the school became connected with Abstract. She said, "When the Eco Committee saw the work begin at St Vincent Plaza they were concerned about the shrubs and trees growing in the car park that formerly occupied the site. We asked for the plants for our playground and Abstract created a new play space that benefits all of the school children. We would like to say thank you for their support."
St Vincent Plaza and the new public realm are designed by Glasgow-based Keppie Design. Bowmer & Kirkland is the contractor. CBRE and Ryden are the joint letting agents.
Visit www.stvincentplaza.com for more information.
Scotland Build Expo, SECC, Glasgow
1 Oct – The Scottish construction industry is growing at its strongest rate in over 5 years. Construction contracts in Scotland in the past 12 months have outperformed most other parts of the UK, as the economy returns to pre-2008 levels and the Scottish government makes significant infrastructure investment.
November 25th & 26th 2015 – see the events page for details
Malcolm Fraser moves to Halliday Fraser Munro
30 Sep – Architect Malcolm Fraser has joined Halliday Fraser Munro – more details on the Edinburgh Architecture site's news page.
Alternative Royal High School
24 Sep – A battle is brewing as leading contemporary and conservation architects collaborate on an alternative to the controversial design by Glasgow's Gareth Hoskins Archiects. The Royal High School Preservation Trust (RHSPT) has appointed Richard Murphy Architects and Simpson & Brown to develop alternate proposals for the restoration of Edinburgh's former Royal High School, see the Edinburgh Architecture site's news page for more.
RIBA Royal Gold Medal for Architect Zaha Hadid
24 Sep – Zaha Hadid – architect of Glasgow's Riverside Museum – has become the first woman to be awarded the prestigious RIBA Royal Gold Medal by the Royal Institute of British Architects.
Heritage Lottery Fund News
24 Sep – Govanhill Baths in Glasgow are among six Scottish projects to be restored with £7m investment from the Heritage Lottery Fund (HLF), reports Scottish Construction News.
The Govanhill baths in Glasgow were closed in 2001 but reopened in 2012 as a community art venue, and will now be given £1.2m to speed up restoration of the ladies' and learners' pools and the Turkish suite. The former Steamie will also be turned into a theatre venue and community events space. The baths were discussed this morning on Radio Scotland, looking at the history briefly then the potential community uses that could be rekindled and encompassed post-funding.
Other projects receiving funding include Kirkcudbright Art Gallery, The City Observatory on Calton Hill in Edinburgh, Academy Street in Inverness, the Davidson Cottage Hospital, Girvan and the Fife Pilgrim Way.
Shawfield Office Building
23 + 22 Sep 2015 – A proposal from Clyde Gateway to build a new £6.7m office block designed by Archial Norr at Shawfield has been lodged with South Lanarkshire Council, reports Scottish Construction News. If approved, the four-storey Red Tree Shawfield building will be set within the remediated area of land that sits between Shawfield Drive and the River Clyde. The 30,000sqft office block is to be targeted at small and medium sized organisations after the success of similar Red Tree office models already in operation at Stonelaw Road in Rutherglen and Dalmarnock Road in Bridgeton.
Grangemouth HQ Building News
22 Sep – Chemicals giant Ineos has revealed plans to build a £20m headquarters at its Grangemouth site designed by Michael Laird Architects, reports Scottish Construction News. Explosive demolition work at the plant last week helped clear the way for the state-of-the-art four storey facility. Sections of the 1,700 acre site will be offered to other businesses, in order to create a manufacturing hub as part of a £450m investment in the plant.
Oban High School Building
22 Sep – Planning permission for the new Oban High School has officially been granted after the Scottish Government decided not to call the £24m project in for review, reports Scottish Construction News. Argyll and Bute Council announced in August that it was minded to approve the facility but that it notified Scottish Minsters of a formal objection from the Health and Safety Executive.
The HSE objected because the school on Soroba Road is about a quarter of a mile from a bulk liquefied natural gas storage facility at Lochavullin Road. The Scottish Government has now advised the council that the application will not be called in for their determination.
Scottish housing crisis brought into focus by million new homes target in England
21 Sep – Responding to today's announcement that the UK Government wants to see a million homes built across England by 2020 in order to tackle the housing crisis there, Homes for Scotland Chief Executive Philip Hogg said:
"With the number of new homes built north of the border having fallen by 40% since 2007, Scotland faces the same challenges as those being highlighted in England today. As numerous reports have identified, hundreds of thousands of new homes are needed here over the next twenty years to meet the diverse housing needs of our growing population.
"Achieving this, however, requires the necessary support to be in place to increase delivery across all tenures. Crucial, for example, is an efficient and responsive planning system which facilitates housing delivery. Whilst this is being considered by the recently announced independent panel undertaking a 'root and branch' review, time really is of the essence in this regard.
"We also still await the detail on the £195m successor to the hugely successful Help to Buy (Scotland) shared equity scheme which is essential to builders' forward planning and investment decision-making."
Glasgow Architecture Website
21 Sep – yes we are still here, trying to recover after a server transfer that could have been handled better, news will start to flow again shortly!
Scottish Affordable Homes
17 Sep – More than 1,000 affordable homes for rent with a total value of £146m have now been delivered through the National Housing Trust initiative (NHT) over the last four years.
The milestone, which was reached with the completion of homes in Westercraigs, Inverness, means the scheme is on track to deliver more than 2,000 NHT homes in communities across Scotland. The Scottish Government, working with the Scottish Futures Trust, developed the original NHT model for councils and developers. Under the original version of the model, developers and local authorities jointly fund the purchase of newly-built homes, which are then made available for rent at below market rates for five to ten years before being sold, with tenants given priority to buy at the end of the rental period.
University of Glasgow Refurbishment
15 Sep – The University of Glasgow is seeking a contractor partner to work on a 10-year programme of refurbishment that could cost up to £775m.
The project focused on the former site of the Western Infirmar was approved in February, reports Scottish Construction News.
The scheme was made possible by the acquisition of the 12-acre Western Infirmary site and will see the university enter into a partnership to carry out planned infrastructure projects.
It is expected the programme will consist of multiple standalone work packages for individual buildings and associated infrastructure across the university's estate.
Park Circus Action Group
15 Sep – An action group has been formed to protect the heritage of one of Glasgow's architectural gems.
A-listed Park Circus is part of a planned development created by architect Charles Wilson in the 1850s, with a layout similar to the New Town in Edinburgh. It is considered to be one the finest examples of town planning in Europe, reports Scottish Construction News.
Park Quadrant was acquired by Glasgow City Council through a compulsory purchase order in 1981.
Plans to build 107 flats at the site in 2006 collapsed amid the worldwide financial crisis and a 2002 proposal was rejected following a public inquiry.
City Property Glasgow, the council's arms-length property organisation, put Park Quadrant up for sale in October 2014.
The organisation received 11 bids which they narrowed down to a shortlist of four. All four shortlisted bids were invited to present their plans to planning officials before being reviewed by the Glasgow Urban Design Panel.
When the proposals, including the design, were resubmitted the bid from Leeds-based developer Expresso Property was chosen (apparently for 111 flats) and subsequently approved by Glasgow City Council's executive committee. The action group is concerned that 11 bids became one without either the public or their elected representatives having any input.
The plans will be on display at St. Silas Church in Woodlands on Wednesday 16th September 2015 from 1 to 8pm.
New Primary School in Abington
14 Sep – The next phase of South Lanarkshire Council's £800 million-plus primary school modernisation programme is now underway with work starting on a second new primary school in the Biggar area, reports Scottish Construction News.
Maryhill Locks News
14 Sep – The third phase of the Maryhill Locks Transformational Regeneration Area (TRA) designed by Nord Architecture got underway this week. Developers started work to create 40 new terraced homes at Whitelaw Street in Glasgow, reports Scottish Construction News.
Developers are Bigg Regeneration, a partnership between Scottish Canals and the igloo Regeneration Fund, and the contractor is CCG. Each two, three or four bedroom home will benefit from its own private garden and are expected to be ready to move in to by late Spring 2016.
The architects' inspiration for the properties stems from Glasgow's long tradition of craftsmanship as well as classic West End terraces and modern European canalside townhouses. Each home will also benefit from a low energy demand and have an EPC Rating of 'B', as well as Smart meters to help owners manage their fuel use.
Rosyth Dockyard Building
10 Sep – Keppie have resumed their collaboration with Abstract following their work at St Vincent Plaza, Glasgow, by preparing designs for a 60,000sqft office development within a secure zone at Rosyth Dockyard, Fife, reports Urban Realm. This will see the existing Navy House demolished and replaced with Grade A office space for occupation by Babcock Group.
Edinburgh Building News
New Cramond Building
14 Sep – Yeoman McAllister Architects have submitted plans for a new care home on behalf of the Care Concern Group at 18 Whitehouse Road, Edinburgh, within the Cramond Conservation Area, reports Urban Realm. Sporting a rendered exterior with timber cladding and reconstituted stone detailing the 61 bedroom facility is located within an established residential neighbourhood, facing a steep wooded embankment down to the River Almond. An unlisted detached home dating from the 1960s/70s set within 0.48 hectares of land will be demolished to make way for the scheme.
New Edinburgh Student Development
14 Sep – A new 92,000 sqft student housing development is set to be built in Edinburgh following a £19m investment secured by Maven Capital Partners.
The firm will act as the asset manager on behalf of IP Investment Management (IPIM), a Singapore-based Investment Fund, on the scheme which will see 255 purpose-built bedrooms built on Gorgie Road by Summer 2017.
There are an estimated 34,000 students in Edinburgh who do not have access to university halls of residence or purpose-built accommodation.
Kelso High School Building News
14 Sep – Construction work on a £21.4m new high school in the Scottish Borders has been delayed until 2016 as a result of a European ruling affecting investment projects across the country, reports Scottish Construction News.
Scottish Borders Council, had hoped to start work on the new Kelso High School building this summer having secured planning permission in October 2014,.
However the European ruling means schemes which have been given investment through the Scottish Futures Trust and were previously treated as private sector projects must now be considered as being public sector funded.
Architecture in Strathclyde
Glasgow Building News Archive – up to Summer 2015
Demolition of Cumbernauld High-rises
27 May 2015 – Sanctuary Cumbernauld and Safedem have begun demolition of the first three of twelve tower blocks in the town as part of a modernisation drive that will see 111 new homes built on the land, reports Urban Realm.
Hunter Community Health Centre
27 May – NHS Lanarkshire has thrown open the doors to the Hunter Community Health Centre , East Kilbride, following handover of the £19.6m facility by Graham Construction. Designed by Reiach & Hall, reports Urban Realm.
Libberton Primary School Building
26 May – CCG have begun delivery of a new Libberton Primary School on behalf of South Lanarkshire Council as part of the authorities primary school modernisation programme. Replacing the existing, reports Urban Realm.
Glasgow City Centre Land Sale
26 May – Glasgow City Council looks set to continue with its policy of disposal with unused assets with the sale of land at George Street and John Street to make way for 59 serviced apartments, 375 student, reports Urban Realm., reports Urban Realm.
Dundee Affordable Flats
26 May – Work to deliver 21 affordable homes in Dundee is set to get underway in earnest next month after Hillcrest Housing Association obtained planning consent for their Dens Road scheme, reports Urban Realm.
Raasay Distillery and Visitor Centre Building
26 May – Plans to build a distillery on the island of Raasay off the coast of Skye have progressed ahead of submission of a full planning application by R&B Distillers to transform a disused hotel, reports Urban Realm.
Park Circus Vision
25 May – Holmes Miller Architects could be handed the job of completing Charles Wilson's Park Circus vision after Leeds-based developer Espresso Property emerged as front runner to purchase the last, reports Urban Realm.
St James Residencies
25 May – Graham Construction has commenced ground works on site of St James Residences, a 422 bedroom student housing development in Townhead, Glasgow, reports Urban Realm.
Scottish Design Award Winners
22 May – The Scottish Design Awards have been honouring the architectural work to be delivered since 1998 but the 2015 crop of 69 entries prove just how far the profession has come, reports Urban Realm.
AECC and Bridge of Don Masterplans
22 May – Aberdeen City Council has launched a six week public consultation into plans for the creation of a new exhibition and conference centre at Bucksburn, reports Urban Realm.
Edinburgh College of Art Degree Show
21 May – Edinburgh College of Art has announced this year's line-up for its annual degree show, showcasing the work of new architectural talent to the wider public. Taking place from 30 May, reports Urban Realm.
Redundant Scottish Rail Infrastructure
21 May – Central Scotland Green Network (CSGN) and Arup have announced that they are to advocate the greening of redundant rail infrastructure in urban areas, taking inspiration from The High Line in New York, reports Urban Realm.
Burrell Building Refurbishment
20 May – A comprehensive modernisation programme for Glasgow's Burrell Collection has received a £15m boost courtesy of the Heritage Lottery Fund, enabling Glasgow City Council to begin the work of procuring a design team. A £66m refurbishment of the eighties built venue is required to make the building watertight whilst enhancing and extending existing displays and facilities, reports Urban Realm.
Kelvinside Flats News
20 May – New City Vision have dusted off proposals dating back to 2012 to build 90 homes at Clouston Street, Kelvinside, by submitting a fresh planning application – after the original was thrown out for lacking key documentation. Despite the near three year hiatus the scheme as proposed remains largely unchanged from its previous incarnation, save for the addition of two new homes to Kelbourne Street and an increase in height of flatted accommodation on Sanda Street from four to five storeys.
Fife Distillery Building
20 May – Organic Architects have submitted plans for their latest distillery design, a contemporary addition to Lindores Abbey, Fife, home to the earliest recorded example of distilling in Scotland from 1494, reports Urban Realm.
St Peter's Seminary Building
19 May – Arts organisation NVA has announced it is to move on-site within days to deliver an ambitious culture-led regeneration of the former St Peter's Seminary, Kilmahew, Argyll. The £7.5m project will see the woodland site closed off later this week to allow a clean-up and renovation of the former seminary to proceed, with the aim of re-opening the iconic building for a specially commissioned light show next spring ahead of full completion by the end of the year. Avanti Architects, Nord and ERZ landscape architects have been commissioned to draw up the plans, reports Urban Realm.
Towhead Student Flats
18 May – Oberlanders submit Towhead student flats scheme for planning Balfour Beatty and Oberlanders Architects have submitted plans for a mixed use development comprising retail and student accommodation on Kennedy Street, Glasgow. Situated in Townhead, a light industrial area to the north of the city centre, the site is earmarked for 525 bedspaces arranged around a landscaped courtyard, reports Urban Realm.
Glasgow Academy Science & Technology Wing
18 May – Glasgow Academy science & technology wing completes A new science and technology teaching wing for Glasgow Academy is nearing completion at the independent day school's west end campus. The £10m PagePark designed facility provides 37,000sqft of accommodation, framing the main Barclay Brothers campus building along Colebrooke Street on the site of a former tenement block which had been hit by subsidence, reports Urban Realm.
Glasgow News – main page with up-to-date posts
Comments for the Glasgow Architecture News for 2015 page welcome