Cumbernauld Town Centre Architecture, Construction, Megastructure demolition, Exhibition + Symposium
Cumbernauld Town Centre
Listing and Demolition News for the Antonine Shopping Centre, Scotland, UK
20 April 2022
Listing application submitted for imperilled Cumbernauld town centre, a Brutalist megastructure once voted Britain's most hated building, reports Building Design.
An application has been submitted to give Cumbernauld town centre listed status amid plans for its demolition.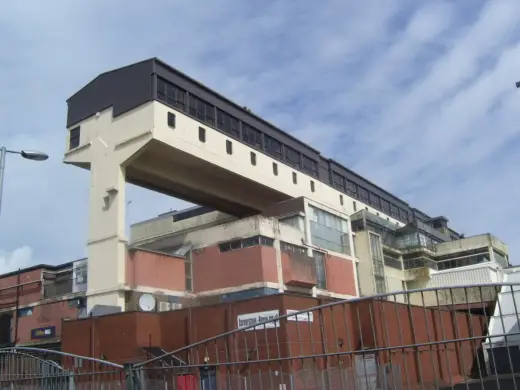 photo : Ross Watson / Cumbernauld Town Centre building, courtesy of wikimedia commons
Cumbernauld Town Centre Listing
North Lanarkshire Council announced last month that it had purchased the massive brutalist structure – known as The Centre Cumbernauld – with the intention of knocking it down it and replacing it with a new town hub.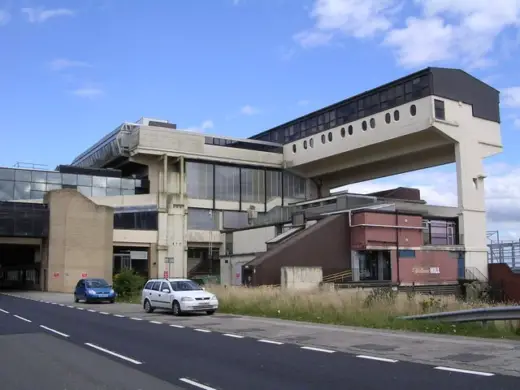 photo : Chris Upson / Cumbernauld Town Centre, courtesy of wikimedia commons
Previously on Glasgow Architecture:
Cumbernauld Town Centre Photos
Photographs from 1968 visit by Norwegian architecture student Dag Nilsen, now Associate professor at the Faculty of Architecture and Fine Art, Norwegian University of Science and Technology in Trondheim, Norway – added 6 May 2011:
Cumbernauld Town Centre – photos added 28 Apr 2011:
added 26 Apr 2011:





photos © Dag Nilsen
The date of completion for this world-famous megastructure in central Scotland is assumed to be around 1964.
Does anyone know the precise date of completion for this Scottish megastructure?
Wikipedia says 1955, but maybe a little later.
Please mail info(at)glasgowarchitecture.co.uk


photo © Adrian Welch
Cumbernauld Shopping Centre
Cumbernauld town centre never reached its full potential and now, forty years later the town centre now finds itself deprived of quality shops and has numerous vacant shop units.


photograph from NR
Through a project initiated by artist Neville Rae, originally from Cumbernauld, fifteen Art Space & Nature post-graduate students from Edinburgh College of Art will occupy numerous vacant shop units within phases one and two of Cumbernauld town centre.
This exhibition is the outcome of a dedicated five-week research and development period and will present work that responds to the geography, architecture, art and sociology of this central Scottish town.
The exhibition opens on the 14th of March 2009 and will run for one week.
The work produced ranges from architectural drawings, models, sculpture, installation, painting, video, audio, text and performance.
For the opening of this project there will be a symposium, taking place in Cumbernauld Theatre. A panel gathered from artists, architects and historians will come together and use this Scottish city's town centre as a starting point for discussion on the past, present and future of this Scottish new town.
Cumbernauld – Introduction



photo © Adrian Welch
Cumbernauld Town Centre Photos



photo © Adrian Welch
Strathclyde Building Designs
New Glasgow Properties – selection from this website:
Burrell Collection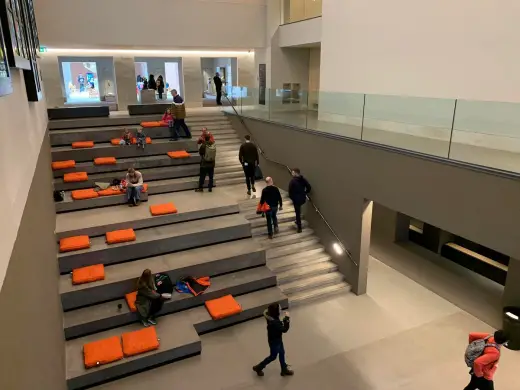 photograph © Adrian Welch
Burrell Museum
Glasgow Buildings
New Glasgow Property Designs – a recent selection from this website featured below:
Paisley Arts Centre Extension
Clark Contracts has begun work on the Paisley Arts Centre building refurbishment and extension. The construction will create a modern performance venue for Renfrewshire Council within the 250-year-old former church.
The changes include a redesigned public space on New Street to help open up access to the creative hub by removing railings and introducing new paving and seating. A graveyard will remain untouched by this work:
Paisley Arts Centre Building
New Blue Sky Lounge at Ibrox Stadium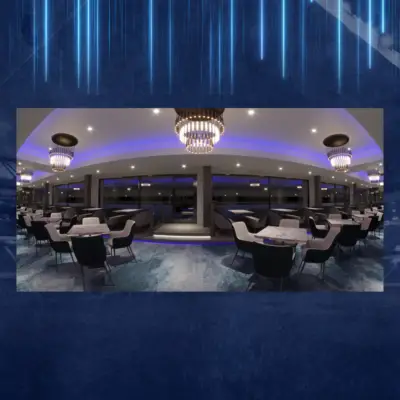 Blue Sky Lounge at Ibrox Stadium
Scottish glass and aluminium specialist Cube Glass has further increased its presence in the lucrative stadium market with a contract for the stunning glass feature attractions in the new state-of-the-art Blue Sky Lounge at the Ibrox Stadium building.
Comments / photos for the Cumbernauld Town Centre Architecture page welcome.