Glasgow architecture news 2021, Strathclyde buildings, Scottish architects, West Scotland design images
Glasgow Building News 2021, Strathclyde
post updated 3 Jan 2022
Glasgow Architecture News 2021
Festive Greetings to our readers!
Isabelle and Adrian at e-architect wish you a Merry Christmas and a Happy New Year.
19 December 2021
Richard Rogers
Richard Rogers architect has died, aged 88, on Saturday evening.
He never got a building built in Glasgow, but his bridge over the River Clyde was named winner of a competition in 2004. The £40m pedestrian arc-shaped crossing called Neptune's Way was to link Tradeston and Broomielaw:
Glasgow Bridge by Richard Rogers
15 December 2021
Two BDP adaptive reuse design projects make the AJ Retrofit Awards shortlist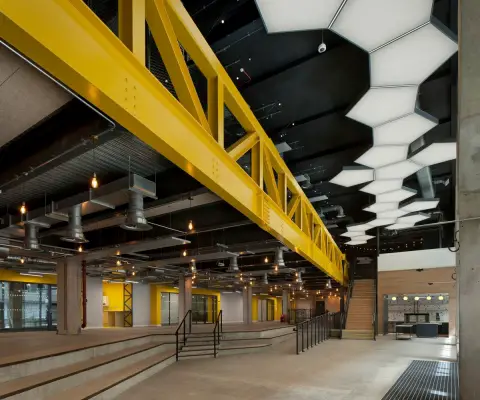 photo : David Barbour
Ayr Grammar Campus and the University of Strathclyde Learning and Teaching Project, both designed by BDP, have been shortlisted in the annual AJ Retrofit Awards:
BDP adaptive reuse design projects
10 December 2021
Will Rudd Davidson responds to ONS report showing fall in construction output
MJ O'Shaughnessy, managing director, Will Rudd Davidson Glasgow and Ireland, said:
"We had been hopeful that we would see an increase in output for the period, in part, because these figures do not reflect our experience over the last few months with our expansion into Ireland and new project wins throughout the UK in the residential, hotel/leisure and energy and renewables sectors. However, many firms continue to reckon with COVID-related staff shortages and the resulting periods of self-isolation. Further still, supply-chain issues will be having a negative impact on the pace at which some firms can deliver projects.
"Will Rudd, like all businesses in the construction industry, is looking ahead to 2022, hopeful that the sectors will return to pre-pandemic levels of growth. Additionally, as we work towards meeting ambitious net-zero carbon targets, we must consider how our engineering work can best protect, preserve and enhance our landscapes and environments in a sustainable way."
[1] Construction output fell 1.8% in volume terms in October 2021, this is the largest monthly decline since April 2020 when output fell by 41.7%; new work fell (2.8%) from September to October 2021 while repair and maintenance remained unchanged (0.0%).
Like recent months, anecdotal evidence in October 2021 from businesses continues to suggest that product shortages caused by supply chain issues leading to subsequent price rises in raw materials such as steel, concrete, timber and glass, were an important reason for the decline.
https://www.ons.gov.uk/businessindustryandtrade/constructionindustry/bulletins/constructionoutputingreatbritain/october2021
9 December 2021
"Budget Of Choices" Misses Prime Opportunity To Encourage Consumer Shift To Low Carbon Homes And Fails Would-be First Time Buyers
The "budget of choices" delivered by Cabinet Secretary for Finance and Economy Kate Forbes this afternoon has missed a prime opportunity to encourage a consumer shift towards low carbon homes and fails Scotland's would-be First Time Buyers.
That is the view of trade body Homes for Scotland (HFS) as it responded to the spending announcement which was directed by the priorities of tackling inequalities, supporting the economy and ending the country's contribution to climate change.
HFS Chief Executive Nicola Barclay said:
"With COP26 still fresh in our minds, it's essential that environmental factors become a key determinant for people when choosing a home so it is extremely disappointing that a prime opportunity to encourage such a shift by linking rates of Land & Buildings Transaction Tax and council tax to levels of domestic energy-efficiency has been missed.
"Also frustrating for the 82 per cent of households in Scotland that would like to own their own home, the Scottish Government abruptly closed its hugely successful Help to Buy main scheme and First Home Fund earlier this year due to a reduction in Financial Transactions received from Westminster. Now this has been increased by £134m but nothing has been allocated to restore these initiatives, leaving the Open Market Shared Equity scheme, the criteria for which excludes many would-be purchasers, as the only means of government assistance. Rather than tackling inequality, I fear this will see the gap between the 'housing haves' and the 'housing have nots' continuing to grow.
"Whilst the continuing commitment for affordable housing is to be welcomed, it once again appears that the fundamental role that the private sector has to play in terms of both delivery and wider economic recovery has been overlooked."
9 Dec 2021
Artists Studio Garage Conversion
Artists studio Garage Conversion Edinburgh design by Konishi Gaffney Architects
30 Nov 2021
50 Bothwell Street Office News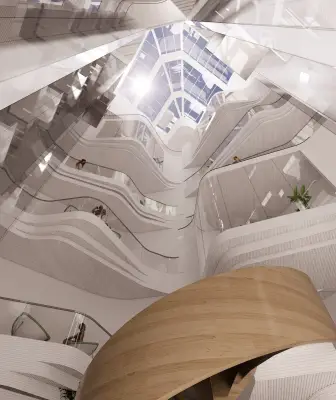 Mosaic Architecture + Design, one of Scotland's most experienced practices, has secured detailed planning permission and listed building consent for the redevelopment of 50 Bothwell Street in the heart of Glasgow city centre:
50 Bothwell Street Office Redevelopment
29 Nov 2021
BDP adaptive reuse project wins conservation award at GIA Design Awards
Design: BDP
Architects and industry experts came together to celebrate the very best architecture being produced at the GIA Annual Members Dinner and Awards Ceremony which was held at the BAad in Glasgow, on 25 November. This year's guest judge was Ingrid Petit – one of the RIBAJ's 'Rising Stars' of 2020.
Ayr Grammar Campus
24 Nov 2021
2021 Saltire Housing Design Awards Winners
The Saltire Society today announced the shortlisted houses for the 2021 Saltire Housing Design Awards, which celebrate the diversity of the best in new housing in Scotland. Supported by the Scottish Government, the Award recognises the contribution housing makes to social and cultural conversations and rewards innovation:
2021 Saltire Society Housing Design Awards
24 Nov 2021
Digital Transformation for Planning in Scotland
The delivery of the Digital Transformation for Planning in Scotland is well underway, following the programme's launch in April this year.
Read the news in full at Edinburgh Building News 2021
22 November 2021
Deposit Unlock mortgages launched nationally
Industry-led scheme for new build home buyers provides 5% deposit option.
Read the news in full at Deposit Unlock mortgages
18 November 2021
Celebrating heritage through design in Glasgow Buildings
Article by Bruce Kennedy, Architect Director at the BDP Glasgow studio:
"We walk in the footsteps of our predecessors. Just as the inherited values of past generations shape our society, their aspirations are cast in stone in the built fabric of our cities."
Celebrating heritage through design in Glasgow
16 November 2021
Homes For Scotland Appointments News
Trade body Homes for Scotland (HFS) has bolstered its Executive Team with five recent new appointments, reflecting the wide-ranging challenges facing its members:
Read the news in full at Edinburgh Building News 2021
5 Nov 2021
Glasgow School of Art Biomimetic Design Course News
GSA is developing a series of academic courses and collaborative research practice in partnership with the Eden Project and international architecture practice Grimshaw. The courses, named Biomimetic Design, will derive inspiration from nature and deliver a developing and investigative approach to design to instill a resilient and regenerative approach across the full spectrum of architecture, design, and fine art:
Glasgow School of Art Biomimetic Design Course
4 Nov 2021
Former DWP Job Centre offices in Bridgeton News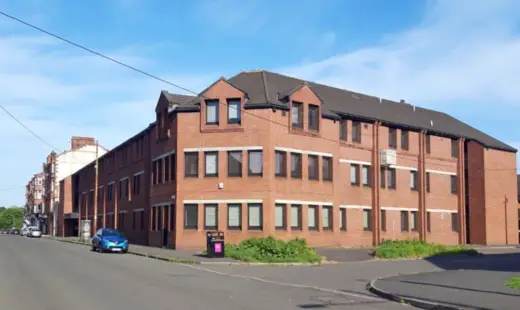 Proposal to convert former DWP Job Centre office block in Glasgow's Bridgeton to 49 private rental flats finally gets green light from city's planners. A project to convert a former Department of Work and Pensions Job Centre building in Bridgeton's Muslin Street into 49 new homes for private rental has finally been given the go-ahead by Glasgow City Council following a planning review.
Bridgeton Flats Muslin Street
3 + 2 + 1 Nov 2021
COP26 Updates
We will try and focus on architectural matters, some of these links are however more news-focused:
Glasgow Calls Out Polluters
COP26 Coalition
On 1 November a demonstration went on below our offices, outside Kelvingrove Gallery and Museum, where world leaders attended a #COP26 reception hosted by the UK Prime Minister Boris Johnson.
1 Nov 2021
Green Street
Green Street in Glasgow, just a stone's throw from COP26 will show that the only way to install 600,000 heat pumps a year and hit net zero is by replacing the UK's current gas grid.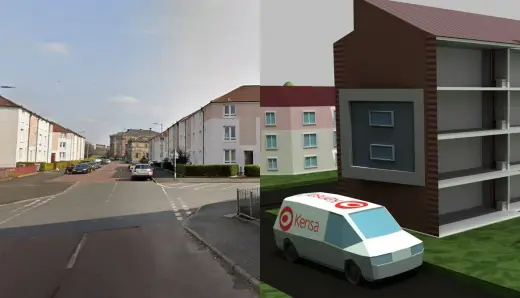 Green Street Glasgow COP26 news
1 Nov 2021
COP 26
Now COP 26 has started (on 31 October) we welcome news of any architectural events related to this global conference. Glasgow Architecture fully supports logical methods by building designers to limit climate change. We have promoted sustainable building design since going online in 2000 in Scotland.
Please email us at info(at)glasgowarchitecture.co.uk
31 Oct 2021
COP26 global climate change accountability news
New climate change accountability global ecosystem stands out from the crowd as it is specially selected for presentation at COP26:
COP26 global climate change accountability
29 Oct 2021
COP26 Wood for Good Conference, Construction Scotland Innovation Centre
A focus on sustainable forestry from the ground up could be the key to building back better, one of the leading voices on timber architecture and construction has said ahead of the Wood for Good conference running alongside COP26 next week.
Date and time:
Tuesday 2 November 2021 09:00 – 16:00 GMT
Location:
Construction Scotland Innovation Centre
Unit 3B, 3 Watt Place
Hamilton International Technology Park
Blantyre
G72 0AH
Scotland
United Kingdom
COP26 Wood for Good conference
Book a free ticket to the conference: www.eventbrite.co.uk/e/wood-for-good-tickets-186628098667
28 Oct 2021
Highland Architects Start Inspiring Conversations With Series of Climate Change Events
Architects across the Highlands and Islands are raising awareness about the impact of the Climate Emergency through a series of events as part of a national initiative coordinated by the Royal Incorporation of Architects in Scotland.
The 'RIAS Inspiring Futures' programme sees architects right across Scotland mapping running and cycle routes that highlight future sea levels and a series of COP 'Markers' installed at places at risk of water rise.
COP26 Climate Change Events in Scotland
27 Oct 2021
Go green successfully!
Edinburgh's Tim Dew and his message for companies who don't want to be left behind in the transition to net zero:
Go green successfully by involving the workforce
27 Oct 2021
Construction Scotland Innovation Centre at COP26 Event
CSIC to showcase the built environment's role in combatting climate change.
11 days of events highlight opportunities to change the construction sector during COP26:
Construction Scotland Innovation Centre at COP26 summit
27 Oct 2021
COP 26 Tidal Markers by RIAS
The chapters of The Royal Incorporation of Architects in Scotland have collaborated to produce a series of permanent and travelling 'Tidal Markers' which will be in place during COP26 and which aim to raise awareness of the dangers posed by rising sea levels to our communities and built environment. The GIA's permanent marker can be found at Historic Environment Scotland's site at Luing, Argyll, with the travelling marker making its way through the Chapter Area from Oban to Dumfries and Galloway during the two weeks of COP26.
To find out more, visit Tidal Markers
Highlighting potential sea level rises resulting from climate change are a series of Markers.
Regional Material Markers made from local and traditional materials, and Travelling Markers located at numerous locations across Scotland from Shetland to Edinburgh made from timber (generously supplied by Russwood Timber Specialists) that highlight local buildings and places potentially effected by water level rises. A QR code links you back to the RIAS Inspiring Futures website where you can find out more about how sustainable design can help to ensure our built environment can withstand climate changes and help to reduce the impacts of climate change.
23 Oct 2021
Boreraig House by Dualchas Architects
The multi-award winning Boreraig House has been inspired by the Scottish blackhouse, but abstracted in to modern architecture. The client inherited the croft from his mother, and he wanted to build a home that connected with the landscape and the local heritage:
Boreraig House in Galtrigill, Isle of Skye
22 Oct 2021
The Glasgow School of Art detailed analysis of Mackintosh Building options
The Glasgow School of Art has shared the outcome of a Strategic Outline Business Case for the Mackintosh Project, a rigorous analysis of the options for the Mackintosh Building. Commissioned by the GSA from external consultants (a hub West-led team including Avison Young) the analysis was undertaken in line with the HM Treasury Green Book guidance and Scottish Public Investment Manual, and involved detailed engagement with stakeholders including representatives of the local community, heritage sector, local and national government and GSA alumni, student and staff:
Mackintosh Building Options, Glasgow School of Art
22 October 2021
Urban Union submits plans for Pollokshaws Living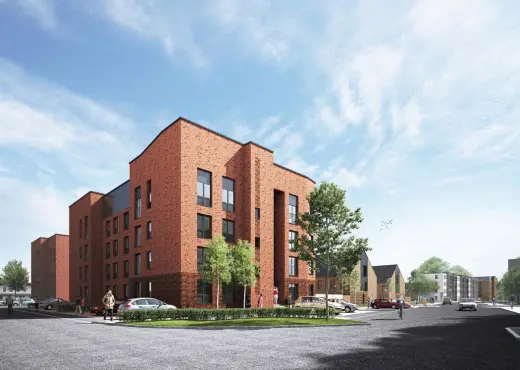 image courtesy of Urban Union
A much anticipated selection of 10 one and two-bedroom homes has now been released at Pollokshaws Living in Glasgow's Southside by regeneration specialists Urban Union:
Pollokshaws Living
7 October 2021
50 Bothwell Street Office Redevelopment News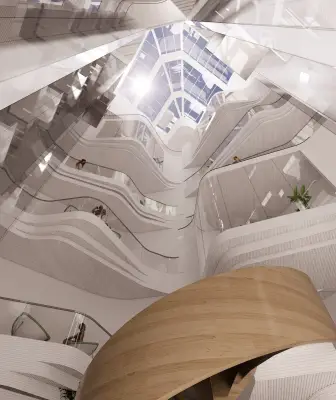 Mosaic Architecture + Design, one of Scotland's most experienced practices, has submitted applications for detailed planning permission and listed building consent for the redevelopment of 50 Bothwell Street in the heart of the city centre into an ambitious development providing refurbished office accommodation with a subdivision of ground floor retail and with a new café and business hub at street level:
50 Bothwell Street Office Redevelopment
7 Oct 2021
RHSPT Welcomes Approval Of New National Centre For Music
The Royal High School Preservation Trust welcomes decision to approve the restoration of the iconic Thomas Hamilton building on Calton Hill as a world-class centre for music education and public performance for the benefit of the whole of Scotland:
New National Centre For Music Edinburgh
30 September 2021
Professor Alan Dunlop bids to be Glasgow School of Art Chair
One of Scotland's leading architects has thrown his hat into the ring to become chairman of the Glasgow School of Art in a bid to seek reform, saying it had "lost respect" in a strong attack over the way it has been run over recent years, reports The Herald.
Professor Alan Dunlop, a School of Art alumunus, has been backing students who are planning a legal challenge of the institution over its handling of the first coronavirus lockdown and the impact of 2018's devastating second fire at the world famous Mackintosh Building.
29 September 2021
Axis Studios Serviced Apartments News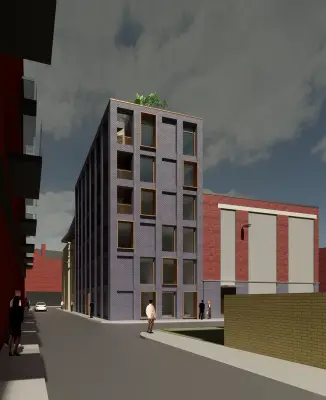 Mosaic Architecture + Design has secured planning permission and conservation area consent for the demolition of the former Annie Millers Public House in the heart of Glasgow city centre and the erection of an exciting new build development providing 18 serviced apartments:
Axis Studios serviced apartments
23 September 2021
Chris Jones is new 10 DESIGN Managing Partner for the UK, Europe and MENA
The architectural practice – with its roots from RMJM in Edinburgh – announce Chris Jones as the new Managing Partner for the UK, Europe and the MENA region. Chris worked in Scotland prior to a move to Dubai.
22 September 2021
Muriel Gray to leave role at Glasgow School of Art
Muriel Gray has announced she is stepping down as chair of the Glasgow School of Art (GSA) at the end of the month, after eight years in the role.
The broadcaster said it had been a "privilege" to assist in the running of the "magnificent institution" but felt it was time for a new person to take over.
The GSA plans to announce an interim chairperson as soon as possible, and begin the process for election of a new chairperson in the coming weeks.
16 September 2021
Scottish homegrown timber initiative secures funding to create demonstrator home for COP26
A team of experts exploring the mainstream use of homegrown timber in the construction sector has secured funding for the next phase of a demonstrator project which will see the first two-storey modular home manufactured from Scottish mass timber displayed during COP26.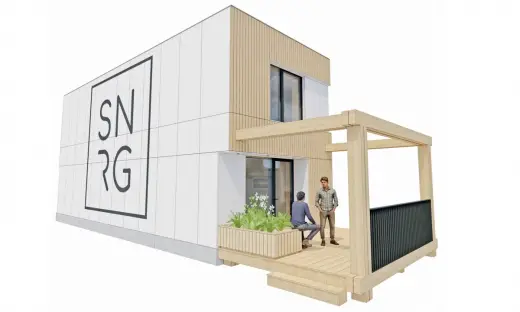 See Scottish Timber Demonstrator Home at COP26
16 Sep 2021
Cameron House Luxury Loch Lomond Spa Hotel Reopening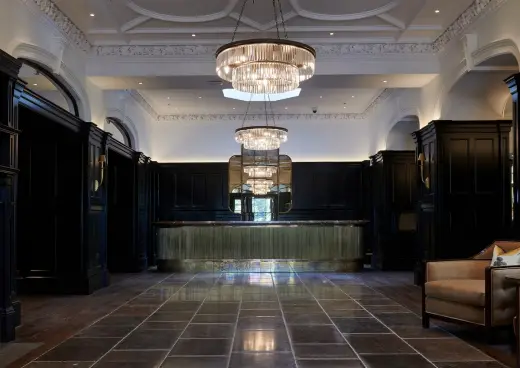 Luxury Scottish five-star resort, Cameron House, releases a glimpse of the stunning new hotel ahead of its Monday, 20th September 2021 reopening:
Cameron House Reopening
15 September 2021
Drum Secures the Student Loans Company at Buchanan Wharf, Glasgow
Drum Property Group, developers of Buchanan Wharf in Glasgow, has agreed a 20-year lease with the Student Loans Company (SLC) for a 75,000 square foot headquarter office housing up to 1100 staff at the Clydeside development.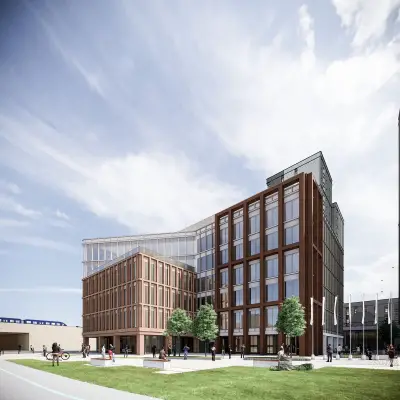 See Buchanan Wharf Glasgow
15 Sep 2021
Irish Sea Link
Alan Dunlop Architect updates us on his Celtic Crossing / Irish Sea Link proposal:
15 Sep 2021
Scottish Architects News
AMA Studio – an architecture practice that has helped shape modern Edinburgh through high-profile developments such as the £1bn St James Quarter, New Waverley and new Boroughmuir High School is rebranding, formerly Allan Murray Architects:
AMA Studio Edinburgh Architects
15 Sep 2021
Scottish Architecture Jobs
Senior Architect – Glasgow
Project Architect – Glasgow
Newly Qualified Architect – Edinburgh
Senior Architect – Edinburgh
14 Sep 2021
NMIS Construction News
Construction at the flagship National Manufacturing Institute Scotland (NMIS) facility at the heart of the Advanced Manufacturing Innovation District Scotland in Renfrewshire has reached a major milestone with the installation of 1,500 tonnes of structural steel now complete and the building on schedule to open in Autumn 2022:
National Manufacturing Institute Scotland Glasgow News
10 Sep 2021
Bell Street Stables
Glasgow housing project wins Historic Environment Scotland Conservation and Climate Change Award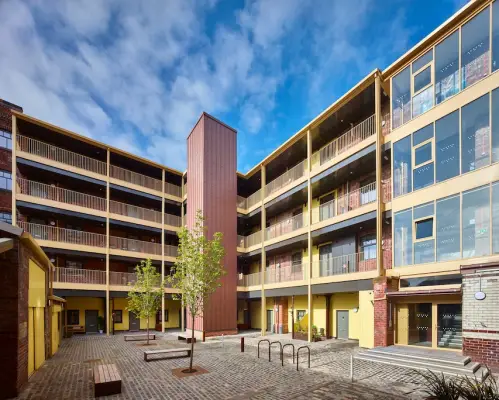 photograph © Andrew Lee
A remarkable conversion of a Victorian council depot to create 52 new homes for affordable rent in the centre of the city: Bell Street Stables Glasgow Building
8 Sep 2021
Affordable Housing Increase Welcome
But Builders Warn Of Material Shortages And Lack Of Support For First Time Buyers
Industry body Homes for Scotland (HFS) has responded to this afternoon's Programme for Government, welcoming the commitment to increased levels of affordable housing whilst warning of deliverability concerns across homes of all tenures in light of material shortages and cost pressures. The organisation also highlights the very real impact that ignoring the plight of Scottish First Time Buyers (FTBs) will have on the future prospects of our young people.
HFS Chief Executive Nicola Barclay said:
"With public and private housing delivery so crucial to our social and economic outcomes, the announcement of an extra 10,000 affordable homes as a result of the recent SNP-Green co-operation agreement is very much welcomed.
"However, the present issues surrounding material shortages and consequent price increases are causing significant difficulties for all housing developers, regardless of tenure. Unless the situation quickly returns to more normalised levels, we could see longer term problems being created.
"This is also the case with the planning and regulatory systems which are in need of increased resources to enable local councils to cope with the levels of demand for new homes. Although the move to a digital planning application platform, as announced in today's Programme, is encouraging, active support for more homes must go much further than that, as we emphasised in our recent response to the Scottish Government's call for views on economic transformation.
A disappointing omission from the Programme for Government in Barclay's view was the lack of any substantial assistance (beyond LBTT relief) for FTBs:
"One of the document chapters is 'Scotland as a Land of Opportunity' which talks about supporting young people and promoting a fairer and more equal society. In the context of the disadvantage now facing FTBs as a result of the sudden closure of the First Home Fund and main Help to Buy scheme earlier this year, coupled with the fact that 82% of Scotland's population aspire to own their own home, it is disappointing not to see any policy intentions on this. This is in stark contrast to other parts of the UK where the First Homes initiative has recently been launched, providing discounted home ownership as an integral part of affordable housing delivery. Only by providing the full range of housing options will we meet the needs of our population".
6 Sep 2021
Kelvin Hall television and film studio
Design: Reiach and Hall Architects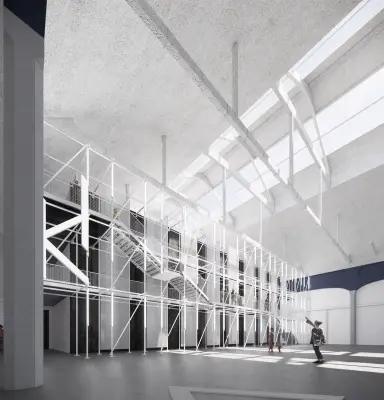 image courtesy of architects practice
Kelvin Hall television and film studio vision
Glasgow City Council secured funding from the Scottish Government to develop a new television and film studio as part of the ongoing refurbishment of the city's historic Kelvin Hall. The production facility will support Glasgow's dynamic screen and creative industries sector; an industry estimated to be worth up to £500m to Scotland each year with 60% of its revenue generated in Glasgow.
3 September 2021
Buildings in Strathbungo / Polloshaws
Strathbungo properties designed by architect Alexander Thomson: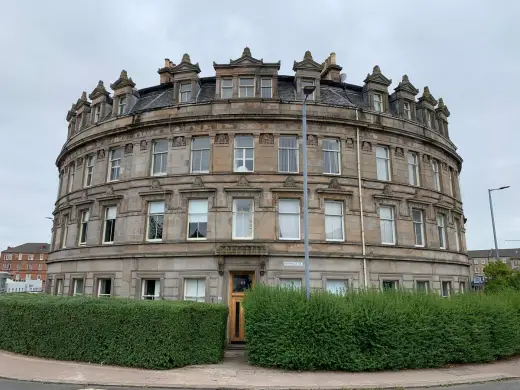 photo © Adrian Welch
Glasgow Architectural Photos
3 & 1 September 2021
Kelvin Hall studio vision
Edinburgh architects Reiach & Hall have expanded on their plans to deliver a £10m film and TV studio within Glasgow's Kelvin Hall after winning planning approval, report urban realm.
The 4,435sq/m production facility in the West End would serve a flourishing screen industry in the city which has welcomed big-name productions including Indiana Jones 5 and The Flash in recent weeks and complement the Moving Image Archive drawn from the National Libraries of Scotland.
3 Sep 2021
National Centre for Music at Royal High School Building
The Royal High School Preservation Trust has put forward detailed proposals for the restoration of the iconic Thomas Hamilton building on Calton Hill as a world-class centre for music education and public performance for the benefit of the whole of Scotland. The Trust's ambitions have evolved into a vision for a new National Centre for Music with clearly defined spaces for classical music education, community access and engagement and performance:
New National Centre For Music Building
2 September 2021
RIAS Awards Winners in 2021
Slides of Hill House found on eBay
Holiday snaps discovered on eBay have given conservation experts new insight into the history of Charles Rennie Mackintosh's domestic masterpiece, report BBC Scotland today. The images of Hill House in Helensburgh, Argyll and Bute, taken in the 1970s, include views of the interior and exterior of the property.
Taylah Egbers stumbled across the 30 slides while doing research online. The pictures, bought from a seller in the US, were taken by an architect on a visit to Scotland.
The Hill House was designed and built by Mackintosh for publisher Walter Blackie between 1902 and 1904
Conservationists said the images will help them create a visual timeline of decorative alterations made by previous owners, such as the ceiling in the drawing room, which was plum-coloured for several decades.
Ms Egbers, visitor services supervisor at the National Trust for Scotland property, said: "I stumbled across the slides online and thought 'those are brilliant'.
10 August 2021
Designing a lower carbon Scotland
Keep Scotland Beautiful partners with Architecture and Design Scotland to develop and deliver bespoke version of accredited Climate Emergency Training:
Designing a lower carbon Scotland
9 August 2021
New Building Photos
Glasgow Architectural Photos
28 July 2021
Fire at Glasgow's St Simon's church
More than 30 firefighters are at a large fire within a church in Glasgow, report the BBC. Emergency services were called to Roman Catholic Parish Church of St Simon in Partick, at 33 Partick Bridge Street after the alarm was raised at 02:40.
Nearby residents were advised to keep windows and doors closed and adjacent properties were evacuated as precaution. One person was assisted from the building and given precautionary treatment at the scene.
Some backgrond info on the Parish Church of St Simon in Partick.
27 July 2021
3DReid Student Prize 2021 Winner – Tiia Partanen
3DReid are delighted to announce Tiia Partanen from the University of Strathclyde as the 15th winner of the 3DReid student prize. The prize had more entries than ever before with 33 nominations from the top UK architecture schools. Tutors were invited to nominate their best Part II students with the chance for a shot at the £1,000 prize. This year the judging criteria were revisited to reward projects that care about societal and environmental challenges.
3DReid Student Prize 2021 Winner article
23 July 2021
Plans submitted for Mosspark Boulevard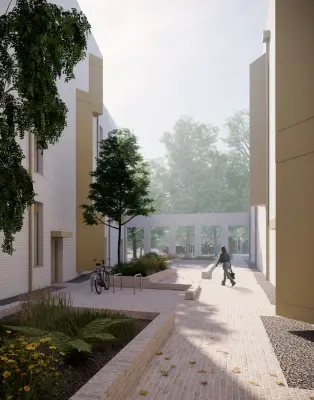 image courtesy of architects practice
Southside Housing Association has submitted plans for a proposed redevelopment of the former United Reformed Church Site on Mosspark Boulevard with a proposed affordable housing development comprising of 35 homes for social rent and associated amenity space:
Mosspark Boulevard in Glasgow News
23 Jul 2021
Learning & Teaching Building at the University of Strathclyde
Design: BDP Glasgow Studio, Architects
Learning and Teaching Building University of Strathclyde, Glasgow
The Learning and Teaching Project is a unique and collective hub for students and staff, comprising a variety of learning and teaching spaces, from small breakout spaces to a 400 seat lecture theatre. The range of spaces is reflective of the varying needs of activities throughout the building.
22 July 2021
54 Week Decision Times For Major Housing Applications Unacceptable, Say Builders
Latest annual planning performance statistics for 2020/21 showing a 17 week increase in the average decision time for major housing development to 54 weeks are unacceptable, according to home building body Homes for Scotland (HFS).
The figure represents a +40 per cent rise on the previous year and is more than three times the statutory requirement of 16 weeks. Decision times were quickest for "business and industry" at 22.4 weeks.
HFS Director of Planning Tammy Swift-Adams said:
"It was to be expected that the processing of planning applications would be affected by Covid-19 but the scale of change in relation to major housing applications is difficult to understand, particularly given the +40 per cent drop in the actual number of applications in the corresponding period and the fact that figures for business and industry have improved.
"In light of the economic lifeline that has been delivered by construction over the last year or so, and with demand for new homes of all tenures remaining high, why should this crucial sector take more than double the length of time to determine when compared to applications for business and industry? Such delays only exacerbate existing supply problems and do not bode well for new affordable housing targets.
"Regardless, it is unacceptable that any applications take more than a year. Only last week, the Directorate of Planning and Environmental Appeals reported that it had avoided accumulating any backlog in case work despite the pandemic. It is disappointing local authorities were not able to adjust business practices as quickly or effectively and highlights the need for planning services to be better resourced."
18 July 2021
hub South West homes
Milestone is reached as hub South West oversees handover of 200 new homes in South Lanarkshire and North Ayrshire
hub South West, the public-private partnership of local authorities, NHS, blue light services and a clutch of leading construction industry Tier One building contractors, will this month oversee the handover of a total of 200 new homes to families and individuals in South Lanarkshire and North Ayrshire.
East Whitlawburn Housing Development: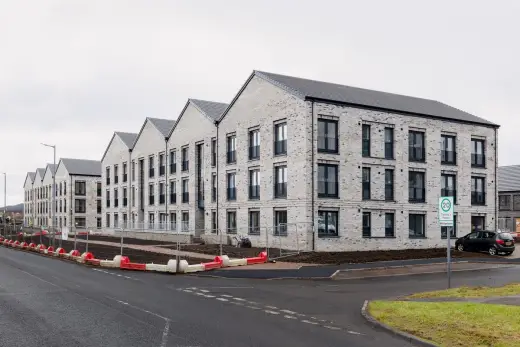 Michael Ross, operations director of hub South West, said: "We are absolutely delighted that as a result of our public private partnership relationship with Tier 1 contractors, 100 new homes have been occupied to date in Cambuslang's East Whitlawburn district of South Lanarkshire.
"With a dedicated housing supply chain with established housing contractors, our target of completed new homes in North Ayrshire will also be realised when four new homes at the Flatt Road development in Largs, making a total so far of 100, will be handed over to residents in June.
"Shortly afterwards, 18 more new homes will be handed over in July in Millport on Great Cumbrae, taking the total in North Ayrshire to 118."
hub South West homes:


Completion of the first 100 new homes at East Whitlawburn represents part of a £42m housing-led regeneration of the area which will deliver 230 new social rented homes and 100 private residences for sale. Construction is being delivered by Tier I contractors, Cambuslang-based CCG, in partnership with West Whitlawburn Housing Cooperative.
As part of the project agreement, CCG will undertake a range of community benefit initiatives such as the provision of jobs, apprenticeships and training opportunities for local residents. The company will also provide £50,000 towards the creation of an "East Whitlawburn Community Endowment Fund".
CCG and hub South West are committed also to ensuring that 70 per cent of tendering opportunities arising from the project were made available to local businesses, furthering the beneficial impact on the surrounding area.
Further new homes in North Ayrshire, including the £21m development at Flatt Road are being delivered by hub South West at a number of sites, where Prestwick-headquartered Ashleigh, is the Tier 1 contractor.
The Largs project will eventually consist of 122 units, including general needs homes, supported accommodation, amenity bungalows and a sheltered housing complex which will incorporate a community hub.
The project will eventually move to the St. Combs area of the town where a further 29 houses will be delivered with all phases completed by early 2022.
hub South West is currently progressing a housing pipeline of over £200m across its territory, including, in partnership with Ashleigh Construction, further housing developments with North Ayrshire Council, including the Brathwic development on the Isle of Arran, St. Beya on Millport, Towerlands in Irvine and the Springvale development in Saltcoats.
hub South West has delivered over £579m of infrastructure projects to date covering the education, health, leisure, housing, and residential care sectors. In the year to March 2020, £158m of projects were in construction, with £468m in development.
Currently, hub South West is engaged on site in the construction of 741 housing units in the North and South Ayrshire and South Lanarkshire council areas. The total value of contracts on these developments is £112m.
"All of these projects are important regeneration initiatives and hub South West is pleased to be participating in the development of high-quality homes alongside both North Ayrshire and South Lanarkshire Councils", said chief executive Michael McBrearty.
"Whilst we are developing and delivering energy efficient homes and communities, we see the potential to innovate even further in this sector on the journey to Nett Zero and are already challenging future developments with improvements in energy in use and carbon reduction.
"Our engagement in the sector has brought improved value for money to the provision of new homes through both the rigour of the hub South West process and the collaborative nature of our development practices. We are the only housing procurement route that offers local authorities a meaningful and structured social value framework, ensuring a lasting legacy is built beyond the homes.
13 July 2021
Glasgow Queen Street Station Building News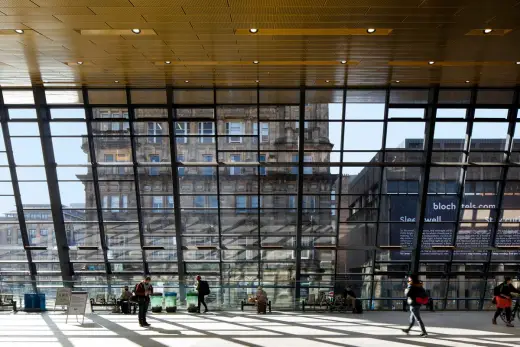 photo : Nick Caville
There is no greater proof that People Make Glasgow than to see the city without its crowds. The city centre has been dormant, feeling like a stage without a play:
Glasgow Queen Street Station Building article
12 July 2021
Newmains Primary and St Brigid's Primary campus and Family Learning Centre
Coming together of Newmains Primary and St Brigid's Primary campus and Family Learning Centre is first of three new education projects worth £60m spearheaded by hub South West on behalf of North Lanarkshire Council.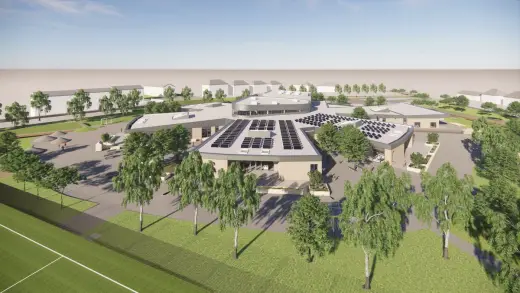 The initial stage of a £19.95m project to construct a Newmains and St Brigid's Community Hub and Family Learning Centre involving North Lanarkshire Council (NLC), BAM Construction and hub SouthWest, the public-private partnership of local authorities, and leading Tier 1 building contractors, was marked last week (Tuesday 6 July 2021) with a formal sod-cutting ceremony.
The project, the first of three North Lanarkshire Council initiatives with a cumulative value of £60m, will create a comfortable and stimulating school environment, purpose built for a shared campus serving both denominational and non-denominational primary, and early years education. It is designed to be conducive to learning for 484 pupils, 88 three-to five-year-olds and 15 two-year-olds.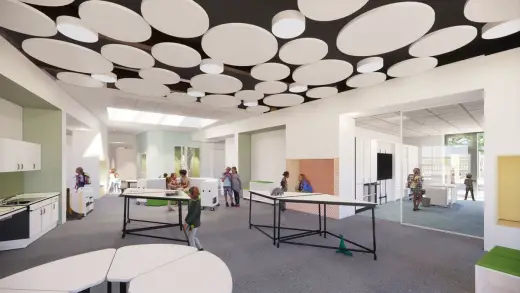 Councillor Frank McNally, Convener of Education & Families, said: "This exciting new project will soon be a brand-new home for Newmains and St Brigid's Primary schools and also the Newmains Family Learning Centre.
"Our focus on health and wellbeing and the outdoor facilities will provide enhanced leisure and recreational facilities for all members of the community to enjoy. Children and young people, staff, parents and the local community have all played a considerable role in developing the design for the new community hub, which takes into account both the requirements of the local community and the natural heritage and architecture of the area.
"It's a shining example of our drive to make North Lanarkshire the place to Live, Learn, Work, Invest and Visit providing children and residents with the benefits of first-class learning environments which will meet the needs of the community for generations to come."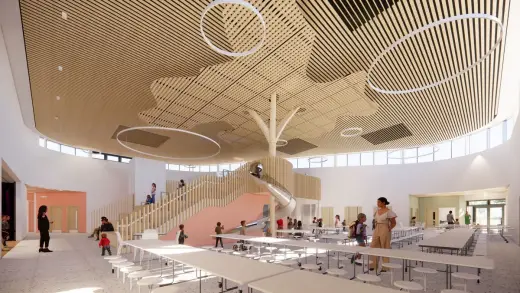 Michael Ross, project director with hub South West, said: "Good design during the procurement and construction process reflects the high value North Lanarkshire Council places on learning, communities and the environment, as well as representing a sound investment in the future.
"hub South West has worked closely with the council over the years to develop the robust processes which have permitted the commencement of this and other exciting educational initiatives.
"We also welcome this, our first contractual relationship with BAM Construction since it joined our supply chain last year and note with pleasure our shared commitment both to this project and our long-term relationship with North Lanarkshire Council.
"Our model of development and delivery prioritises People, Place and Planet and is aimed at creating well-designed places that instil a sense of pride in the community, tackle energy poverty and drive sustainability".
Jim Ward, Regional Director of BAM Ltd added: "We are delighted following the 18-month pre-construction period to be commencing construction works on Newmains and St Brigid's Community Hub. We have been so impressed with the commitment from the design team, hub South West and in particular North Lanarkshire Councils' drive to make this project happen.
"We are totally committed to delivering a quality facility along with delivering meaningful social value to the local community and leaving a lasting legacy that the community will be proud of while inspiring the next generation of young learners."
Making Happy Space – Virtual Panel Discussion
Thursday, 29 July 2021 at 11.00 am
The July webinar will be hosted by two architects from Collective Architecture, winners of Architect of the Year at the 2018 AJ Architecture Awards: see our events page for details.
8 July 2021
Two New Wasps Studios Trustees
Scotland's national provider of artist studios Wasps has appointed two new Trustees to its Board of Directors.
Architect Nicola Walls and chartered surveyor Alasdair Tweedie were appointed to the charitable institution's Board at its most recent meeting of Trustees. Both appointments bring the desired property and facilities management experience to the Board of Trustees and are skilled in carbon reduction approaches, a key agenda for the organisation in its journey towards Zero Carbon.
Read the full announcement at Edinburgh Building News for 2021
5 July 2021
Homes for Scotland Chief Executive News
Habitat for Humanity Great Britain Appoints Nicola Barclay as Board Chair
London, 5 July 2021 – Habitat for Humanity Great Britain ("GB"), a charity focused on long-term poverty alleviation through affordable social housing, announced today the appointment of Nicola Barclay as Chair of the Board of Trustees. Nicola, who joined the Habitat for Humanity GB Board of Trustees in 2020, will succeed Ian Whitehead, who served as Chairman since 1991.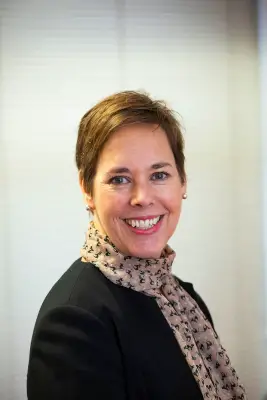 photo © Chris Watt, Tel – 07887 554 193 / www.chriswatt.com
"I am very honoured to have been appointed as the Chair of the Habitat for Humanity GB Board of Trustees", said Nicola. "Habitat for Humanity GB is uniquely qualified to build homes and support community projects, helping to break the cycle of poverty and making a real, tangible difference to the lives of people most in need. I look forward to leveraging our strategic networks and partnerships to build thriving communities around the world. The CEO, Tum Kazunga, and his team have worked tirelessly over the last few years to support those in need of safe, secure housing, and I intend to ensure that the Board is there to support and guide them through the continual challenges that the charitable sector is facing. The support from our corporate partners and individual donors clearly demonstrates to me that this charity touches people's hearts, as we all know how fundamentally important our homes are to our wellbeing."
Nicola brings over 25 years of experience in the home building industry, having worked across sales, land acquisition, funding, and planning. She is currently Chief Executive of Homes for Scotland (HFS), the membership organisation providing a voice for the new home building industry in Scotland. Previously, Nicola formed a charity partnership between HFS and Habitat for Humanity GB and travelled to India and Kenya to work on building projects as a volunteer, helping build homes for families in need. Nicola also sits on the board of Norton Park, an independent registered Scottish Charity providing shared office premises for third sector organisations in Edinburgh.
"On behalf of the board, I am delighted that Nicola has agreed to be the new Chair", said Ian Whitehead. "She has already demonstrated her leadership qualities chairing a major subcommittee of the board. With her expertise and business relationships in the building industry and her heart for Habitat's work in Britain and overseas, I have no doubt she will help steer forward the next phase of growth after the challenges of COVID-19."
25 Jun 2021
A-listed town hall's transformation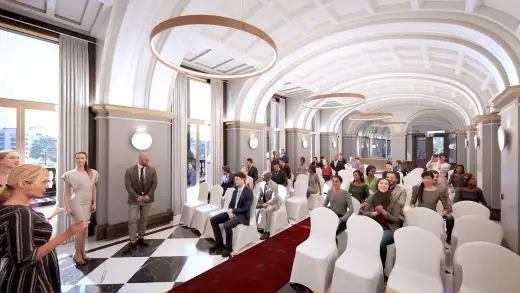 image courtesy of architects practice
Paisley Town Hall Transformation
A new fly-through video has been released giving the first look at how Paisley's A-listed Town Hall will look after a £22m transformation into a landmark entertainment venue for the west of Scotland.
Glasgow Architectural Technologist Job
£47 to £50k + Benefits
* this position is now filled *
About the Role
Two Rivers Recruitment is in the market for a talented Architectural Technologist to work with our successful client on a broad portfolio across a range of sectors. If you thrive in an environment in which you may be working in sectors such as retail, residential or high-street architecture, then we are keen to hear from you. As you would expect in a role of this nature, you will have significant responsibility in designing, managing and running projects from conception to post-delivery without supervision from a director.
About the Client
Our client's approach focuses on speed of delivery without compromising on quality and accuracy. This approach has ensured consistency in repeat business from the excellent reputation they have now developed in the architectural world. As an Architectural Technologist with our client, you would be expected to live the company values, which is about respecting all stakeholders input and shared knowledge within a supportive culture, which celebrates success. And recently, there's been quite a bit of success, which will provide you with a great platform to showcase your skills and capabilities.
About the Job
To succeed in this Architectural Technologist role, you will need to demonstrate an ability to manage a wide range of technical problems with key responsibilities in the following areas:
• Overall responsibility for project design and delivery through all RIBA work stages.
• Acting as Principal Designer under CDM Regulations 2015.
• Work collaboratively in delivering an integrated approach to engineering and cost management.
• Manage project consultant teams including Cost Managers, Design Teams, Structural Engineers and Geotech Consultants.
• Act as principal stakeholder, delivering projects on-time and in-budget.
About the Person
To succeed in this Architectural Technologist role, you will most likely have significant previous experience in a similar role with demonstrable success. As a minimum, you will hold a BSc (Hons) in Architectural Technology or Architecture or similar, with membership of either CIAT, RIBA, RICS, APM and CIOB. As you would expect, to be able to deliver on demanding timescales, your proficiency in AutoCAD and Microsoft Project, will shine through.
Reward Package
The rewards for the Architectural Technologist position will be circa £47k to £50k but could be negotiable depending on experience. This is a great opportunity to take the next step on an already promising Architectural career. If you feel this role can provide the right platform for the next stage in your career, we'd love to hear from you. We'd be more than happy to receive your CV and to discuss your portfolio. Note that all enquiries are treated with the utmost confidentiality in line with our commitment to our own professional standards as members of the Recruitment & Employment Confederation (REC).
If you would like to hear more or to apply directly for this position, please contact Sarah Watts on 07501 091 106 or email [email protected].
22 June 2021
Scottish design project makes AJ Architecture Awards shortlist
Calton Hill City Observatory in Scotland's capital has been nominated for an AJ Architecture Award this week. The design by HarrisonStevens, the Edinburgh-based Landscape Architects and Urban Designers, Calton Hill City Observatory has been nominated in the Landscape and Public Realm category in the annual awards:
Edinburgh Building News 2021
About HarrisonStevens
Formed in 2010, and employing an expert team of landscape architects, urban designers and spatial planners, the award-winning company has built an international reputation for exploring and maximising the unique potential of every site, including streetscapes, campuses, regeneration schemes, parks and green/blue infrastructure active travel corridors that enhance biodiversity and are rooted in their locations and communities.
8 June 2021
Award for Ayr Grammar primary school by BDP Glasgow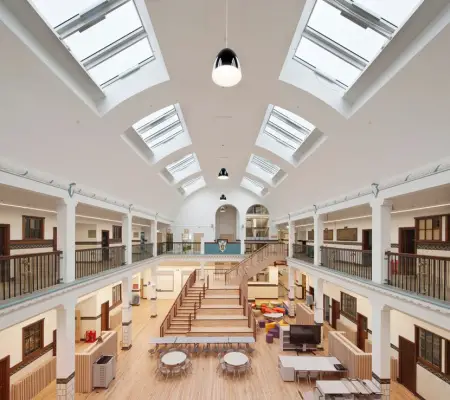 Ayr Grammar primary school, designed by BDP's Glasgow studio, has been shortlisted in the annual Scottish Design Awards:
Ayr Education Hub Building
8 June 2021
Artisan Real Estate Property News
Artisan Real Estate is strengthening its market position in Scotland with the announcement of a new management team as the developer moves forward with its £140 million investment plan focusing on low carbon city centre residential redevelopment across Edinburgh and Glasgow:
Artisan Real Estate Developments
7 June 2021
RIAS LISTEN
We share details about an open call titled 'RIAS LISTEN'. The RIAS are seeking submissions as part of their Architecture Fringe event and would love to hear from as many people and organisations as possible.
LISTEN is a collaborative and interactive event to gather voices on architecture and explore the role of the professional body in Scotland today. The event is an open call for up to 30-word sound bites, text submissions or video responses and it is open to anyone to take part.
Read more about it on the Edinburgh Architecture news page.
5 June 2021
Free Architecture Books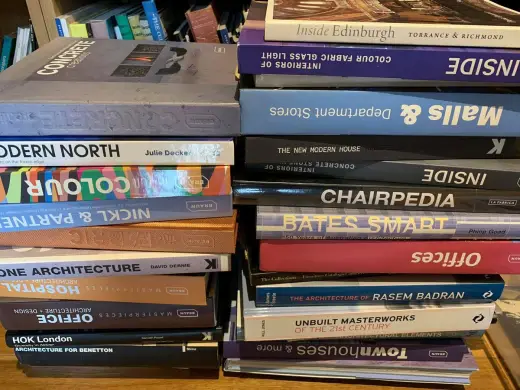 Yes, free! We have a selection of architectural books available to pick up
for the first person to email us at [email protected]
3 June 2021
Unalome by Graeme Cheevers Dining Experience Review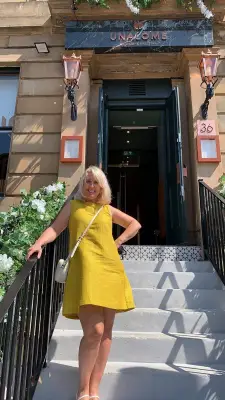 Read our review at Unalome by Graeme Cheevers Finnieston Restaurant
2 June 2021
New Hotel at 66-74 Broomielaw Street
Mosaic Architecture + Design has submitted a planning application on behalf of HMH One Clyde for a £18M new bespoke hotel development on the site currently occupied by Oswald House and the adjacent vacant site on the Broomielaw.
The site is at 66-74 Broomielaw Street, Oswald Chambers and 9 Oswald Street.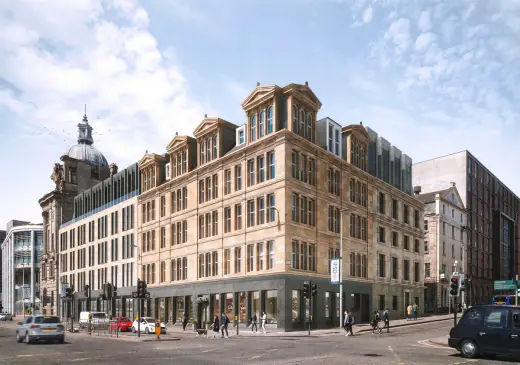 image courtesy of architects practice
2 + 1 June 2021
Unalome Finnieston Restaurant
Opening day for this new venue.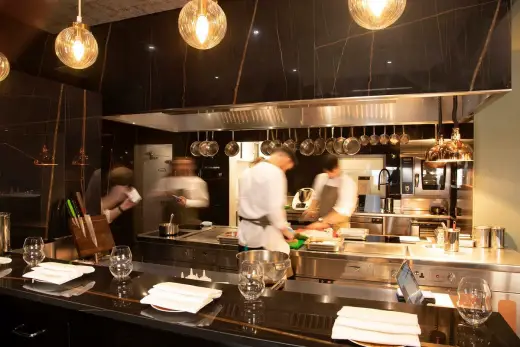 photo : Alan Donaldson
The new Unalome restaurant headed by award-winning chef Graeme Cheevers opens 2nd of June at 36 Kelvingrove St, Glasgow, G3 7RZ. It is located on the former site of Sisters restaurant, above The Slope pub.
Diners can expect a total transformation of the prominent building on Kelvingrove Street, According to Glasgow West End Today. Warm, simple walls painted with Farrow & Ball and beautiful decorative stone panels give a modern but elegant vibe.
New space has been created for safe dining but in intimate surroundings. Colours are muted earthy tones with plenty of banquette seating.
See more photos at Glasgow Restaurants
28 May 2021
Pleasure Scene Exhibition
11 June – 25 July 2021
29 Trafalgar Avenue, London, SE15 6NP
The inaugural exhibition at Trafalgar Avenue marks the culmination of an 18-month collaborative project bringing together nine artists from across the UK to respond to the iconic Scottish Modernist ruin, St Peter's Seminary.
The exhibition also features analytical work about Cardross Seminary by Scottish architecture student Daniel Lomholt-Welch – images added 1st of June.
27 May 2021
Glasgow University Architecture Photos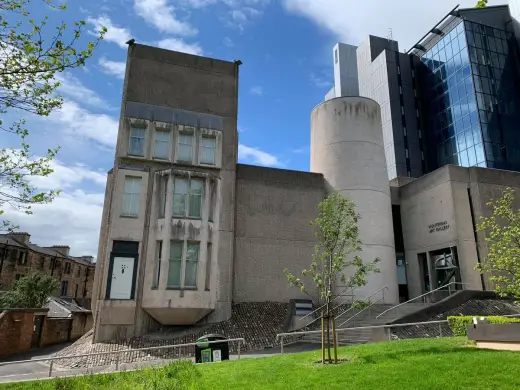 photo © Adrian Welch
Glasgow Architectural Photos
23 May 2021
North Glasgow Architecture and Landscape Photos
see link above
19 May 2021
Ayr Education Hub Facility
Design: BDP Glasgow Studio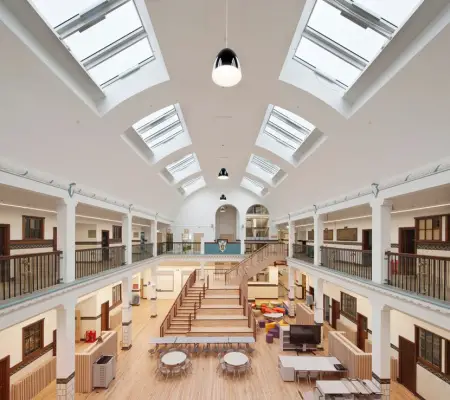 image courtesy of architects office
Ayr Education Hub Building
18 May 2021
Candleriggs Square Apartments news
First UK development for 'The Student Hotel' triggers regeneration of prominent Merchant City gap site:
17 May 2021
West End of Glasgow residential property market
The West End of Glasgow is, in normal times, variously described as busy, buzzing, vibrant and active and, as we segue out of Covid times, all these adjectives could equally be applied to the local property market:
West End of Glasgow residential property
13 May 2021
New Board Appointments At Homes For Scotland
Homes for Scotland (HFS) has announced three new appointments to its Board following its Annual General Meeting last week.
Regional Managing Director for Keepmoat Homes Beth McNeil and Managing Director for Bellway Homes West Scotland Fraser Conn join HFS Director of Policy Fionna Kell as company directors.
Vice Chair John Low, Chief Executive Officer of Robertson Residential Group, was also re-appointed for a further year.
HFS Chief Executive Nicola Barclay said:
"It is great to welcome Beth, Fraser and Fionna on to the Board. As well as bringing a fresh perspective, their particular areas of specialism and industry backgrounds further enhance the knowledge and expertise around the table. This will be crucial in the year ahead given the development of National Planning Framework 4, emerging policy from the Housing to 2040 vision and the transition to net zero."
Beth McNeil – Regional Managing Director, Keepmoat Homes
Fraser Conn – Managing Director, Bellway Homes West Scotland
Fionna Kell – Director of Policy, Homes for Scotland
11 May 2021
DM Hall markets Category B-listed Pollokshields mansion for £1m
A landmark honey stone mansion in Glasgow's affluent Pollokshields neighbourhood formerly operated as a 23 bed nursing home, is being marketed at offers over £1m by DM Hall, one of Scotland's leading independent firms of chartered surveyors.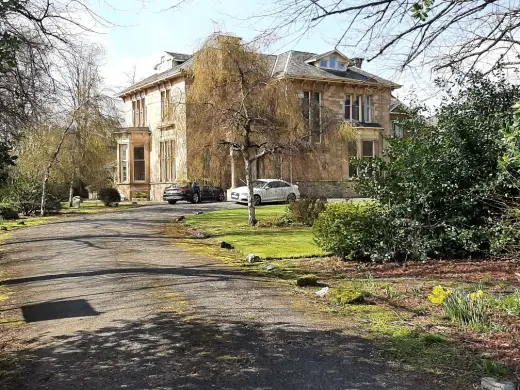 Pollokshields Mansion Property for sale
4 May 2021
Homes For Scotland Secures Political Support For The Delivery Of At Least 25,000 New Homes Each Year
Homes for Scotland, the industry body representing c200 organisations across the Scottish home building sector, has secured significant political support for its own manifesto call for the delivery at least 25,000 new homes each year.
The backing, ahead of this week's election, from key Conservative, Green, Labour, Liberal Democrat and SNP candidates was confirmed during an online hustings event focusing on the key issues affecting home building of all tenures and which was attended by 80 senior industry representatives.
Panellists taking part in the Homes for Scotland hustings comprised Pauline McNeill (Scottish Labour Party), Kevin Stewart (SNP), Paul McGarry (Liberal Democrats), Ariane Burgess (Scottish Green Party) and Alexander Stewart (Scottish Conservative and Unionist Party).
Nicola Barclay, Chief Executive of Homes for Scotland said:
"It was a great privilege to have representatives from all political parties take part in the hustings and answer questions directly from our members.
"With the Housing to 2040 vision just published, National Planning Framework 4 being developed and policy on how to tackle the climate emergency clearly setting out the role of this sector, the next few years will be crucial to all of us involved in housing delivery.
"It is therefore extremely important that prospective MSPs hear first-hand the issues hampering the industry's ability to deliver the much-needed homes that Scotland needs and for us as a sector to hear more from them in terms of their respective party's plan for home building.
"Too many Scots, particularly young people, are stuck in unsuitable housing, unable to afford their own home. This is stifling life opportunities, the creation of new families and storing up problems which if unaddressed will become an even larger problem in years to come affecting future generations as well.
"Changing this requires the focusing of minds and for all parties to work together to make sure we have the homes our people need as we look to recover, both socially and economically, from Covid-19. Let's move beyond rhetoric and seize the opportunity of a fresh Parliament to accomplish that."
23 Apr 2021
New leisure centre in Ayr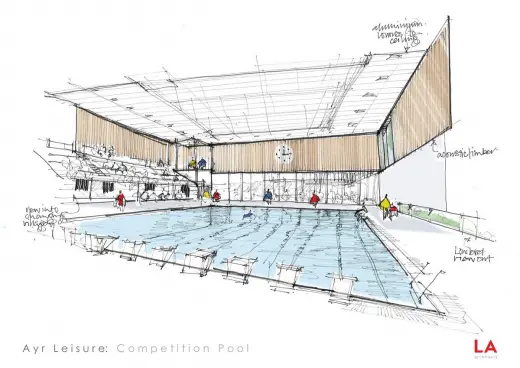 Work to develop a new leisure centre in Ayr is progressing following South Ayrshire Council's appointment of hub South West, the construction and infrastructure-focused partnership which operates alongside local Authorities and private sector enterprises in Lanarkshire, Ayrshire and Dumfries and Galloway:
Read the news in full at New Ayr leisure centre building news
22 Apr 2021
Dougall Baillie Associates gears up as affordable homes project on the banks of the Clyde gets the go-ahead
Dougall Baillie Associates (DBA), the rapidly expanding independent consulting engineer, is forging ahead with another prime opportunity after planning consent was granted for a 151-home development in Glasgow's East End.
The 41-strong East Kilbride firm, which has been engaged on civil and structural engineering design on the site since early 2019, expects the Stage 2 Building Warrant imminently, which will allow work to gather pace on the site by early summer.
Newhall Street development in Glasgow's East End: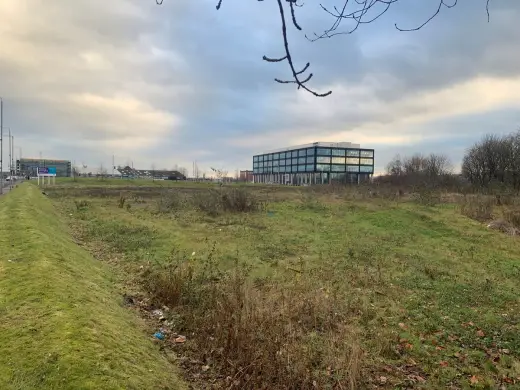 It has been instructed by Glasgow-based affordable housing developer Swan Group on the £17 million Newhall Street project, which will provide a mix of one- and two-bedroom flats on a site next to the River Clyde Walkway, on a westward bend in the river.
The project, which is playing a major part in the regeneration of the area, will comprise three six-storey blocks facing onto the river and two four-storey buildings with street views, creating homes for people who want to live and work close to the city centre.
Alan Ferns, Director of Structural Engineering at DBA, said: "It really is a most attractive site. Residents will be able to reach the heart of Glasgow in under 10 minutes by bike, or half an hour on foot, with the advantage of travelling through the adjacent Glasgow Green.
"We have been closely involved both in the civil engineering – drainage, storm drains, roads, junctions and site-levelling – as well as in the structural engineering side of the project relating to the buildings themselves.
"The Commonwealth Games in Glasgow in 2014 were a catalyst for the regeneration of the area and this project, which is also close to Shawfield Stadium, will offer workers and families unrivalled, safe access to the city centre."
Mr Ferns said the build was on a brownfield site, a former industrial facility which was demolished in the early 2000s, with the land left open. It has posed challenges relating to land contamination and local former mine workings, as well as poor ground conditions.
He said: "Like much riverine land, it is largely composed of sand and silt and we are having to pile the site to a depth of 30 metres. Rather than driven piling, which is noisy and disruptive in urban areas, we are using helical displacement piling.
"This auger-bit process is quick, quiet and virtually vibration-free, and the lateral soil displacement means that the lack of spoil makes this method additionally suitable where contaminated soil is encountered."
The Newhall Street site is the latest of a number of significant housebuilding operations for DBA. In the past year, it has been asked by contractors to provide professional services for schemes with values of up to £200 million, adding nearly 2000 new homes to the housing stock.
While residential homes work now comprises some 70% of the DBA portfolio, the firm has also marked up a number of significant scores in transport infrastructure, such as its involvement in the £14.1 million M8/A8 interchange at Bishopton in Renfrewshire in consultation with Renfrewshire Council, SEPA, Transport Scotland and BAA.
The firm has also been concerned in projects in mega shopping centres such as Braehead and Silverburn in Glasgow and the Union Square development in Aberdeen.
16 Apr 2021
Ingram Street Offices
Photos taken today of this glazed office building at the corner of Miller Street and Ingram Street, with fenestration replacement underway it appears: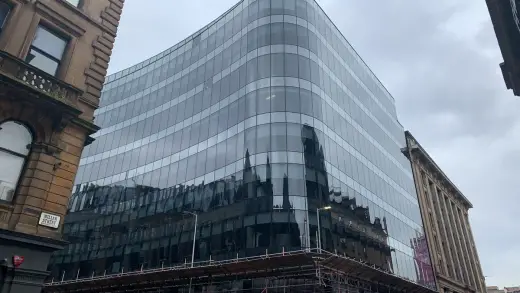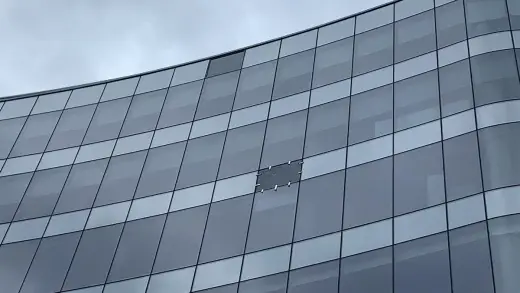 photos © Isabelle Lomholt, taken on 18th April
16 Apr 2021
Glasgow University Construction
A colourful facade in this huge new building on University Avenue opposite Reiach and Hall's Medical School: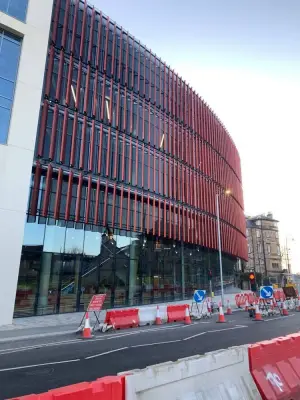 photo © Isabelle Lomholt, taken on 16th April
15 + 14 Apr 2021
RSA Annual Exhibition Medal for Architecture
Chiara Fingland and Clare O'Connell from Studio LBA and the Imagine If… research collective, have just been awarded the prestigious RSA Annual Exhibition Medal for Architecture for their work on the Home of 2030 project:
more info on the Edinburgh Architecture News page.
14 April 2021
voco Grand Central Glasgow Hotel Building Refurbishment
Works complete on the refurbishment of voco Grand Central, a 19th Century former Great British Railway Hotel, in the heart of Glasgow city centre. Part of the IHG Hotels & Resorts group, this is the first voco branded hotel in Scotland – refurbishment design is by HLM Architects: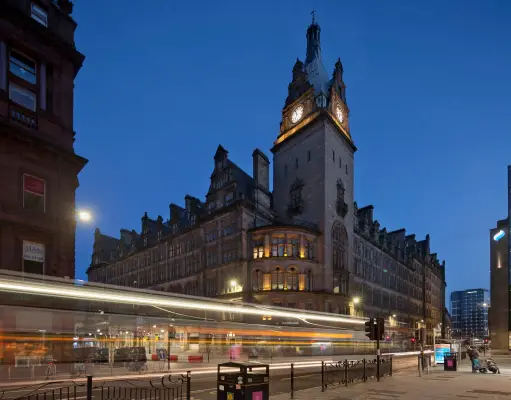 photo courtesy of architects office
voco Grand Central Glasgow Hotel Building News
9 Apr 2021
Duke of Wellington Statue & Gallery of Modern Art
Why is the cone not on his head?!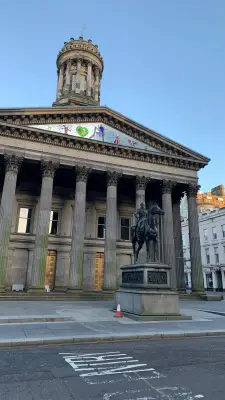 photo © Isabelle Lomholt, taken on 9th April
Equestrian statue of the Duke of Wellington, Glasgow – "typically capped with a traffic cone, a practice which has become traditional in the city and is claimed to represent the humour of the local population" – has the city lost its humour? Surely not!
2 Apr 2021
The Pineapple, Dunmore Estate
Conservation charity the National Trust for Scotland has lodged a formal objection to a planning application lodged by George Russell Construction for a housing development at Mains Farm, Airth, directly adjacent to The Pineapple and the historic Dunmore Estate. Dating to 1761, The A-Listed Pineapple is one of Scotland's most exotic and celebrated buildings and was constructed by the Earl of Dunmore amid a purpose-designed landscape. The property has been in the Trust's care since 1973.
The Dunmore Pineapple, Falkirk: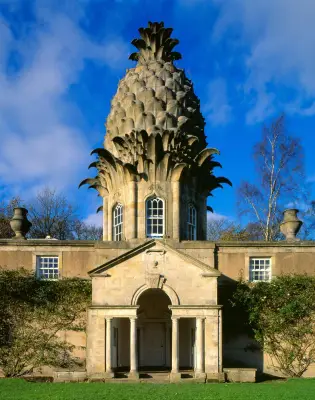 photo © David Robertson 1999, National Trust for Scotland
More details on our Scottish Architectural News
2 April 2021
5 Corunna Street, West End
Delightful Georgian house for sale in Finnieston:
5 Corunna Street, Finnieston from Vimeo.
Address:
5 Corunna Street
Finnieston
Glasgow
G3 8NE
A substantial and very private main door home in the heart of the Westend, situated just off St Vincent Crescent and Argyle Street in the hugely popular and sought after Finnieston District. This wonderful home provides seven bright and impressive apartments over two levels (ground and garden), together with a dining kitchen extending over 7m, two wet rooms, main bathroom, utility room and WC/cloaks.
This traditional main door Georgian tenement has been carefully and cleverly reconfigured with professional skill and attention to detail allowing each part to flow effortlessly and compliments the next. The property also enjoys taking full advantage of direct access to a well maintained and shared rear garden which offers a surprising quiet retreat in the city.
Located in Finnieston, an area of the City which has seen significant improvement in recent years with a mix of both residential and commercial redevelopment, this location now offers an envied and favoured social location for concerts at the nearby SSE Hydro, Clyde Auditorium (Armadillo) and SSEC, together with a wonderful selection of restaurants and bars on Argyle Street. It is handy for the City Centre and is within easy reach of Kelvingrove Park as well as a number of gyms.
The property is being sold with Rettie – Finnieston property for sale
31 Mar 2021
Home Builders Look Ahead To Lockdown Lifting
Non-essential maintenance work in homes allowed from 26 April
Scottish home builders are keenly awaiting the planned 26 April lifting of restrictions which have prevented workers from entering customers' homes for non-essential aftercare work during the latest lockdown and over a large part of the last year.
This is one of the top priorities for the Board of trade body Homes for Scotland (HFS), which met last week, coinciding with the positive news that the industry had achieved a record level of customer satisfaction with 91% of customers willing to recommend their builder to a friend.
HFS Chief Executive Nicola Barclay said:
"As every new home is a bespoke product, there will inevitably be some aftercare required but, for much of the last year, builders have been unable to undertake anything other than essential work in people's homes.
"Our members tell us that customers have been extremely patient as they recognise the Scottish Government-imposed lockdown restrictions have been for their own safety, but the end of April really can't come soon enough. Undeniably, there will be a backlog to work through, but our members are busy preparing for that challenge and are keen to resolve any outstanding issues for their customers as soon as they can."
24 March 2021
Holland Park Glasgow Buildings News – Angel Gardens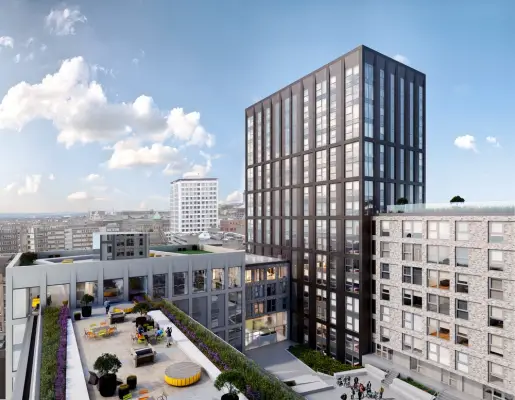 Construction work on Moda's Holland Park neighbourhood, which saw Ryder Architecture appointed following planning approval, is well underway:
19 March 2021
Collegelands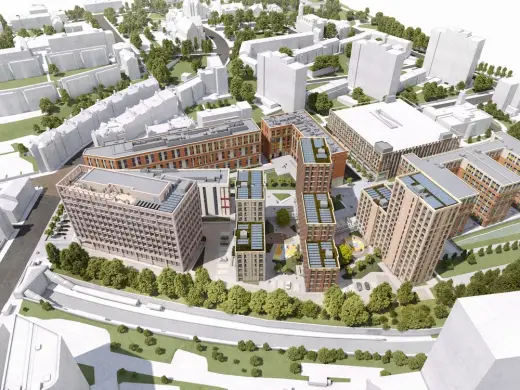 image courtesy of architects practice
Vastint's emerging proposal seeks to transform vacant and under-used former railway land to the East of the historic High Street into a coherent and connected part of the City Centre. The development will provide over 220 new apartments for rent within three stepped blocks.
The proposal includes a new office development facing High Street Station. Based on Vastint's Business Garden model, the office will provide over 6,000sqm of space across eight floors with café and co-working spaces at ground level.
Read more at Collegelands Glasgow
18 Mar 2021
Spectrum Properties snaps up prize unit on Dixon's Blazes Industrial Estate
Spectrum Properties, one of Scotland's largest family-owned property businesses, has scooped a prize industrial facility in Glasgow to add to its portfolio of more than 700 commercial units in the city.
It has taken on a 25,000 sq ft former factory on the Dixon's Blazes Industrial Estate in the South Side for a sum in the region of £800,000, and the company now plans to spend up to £500,000 on a comprehensive refurbishment.
Spectrum Properties, which operates all over Glasgow, Edinburgh and Stirlingshire, acquired the property from the Matthew Clark Group, a national drinks wholesaler which supplies thousands of premises across the UK. The group was disposing of the property following a reorganisation.
Dixon's Blazes estate – named after the iron works blast furnaces which lit up the night sky in the 19th century – is a prime industrial area offering high quality industrial, warehouse and office space.
Bill Roddie, Spectrum Properties MD: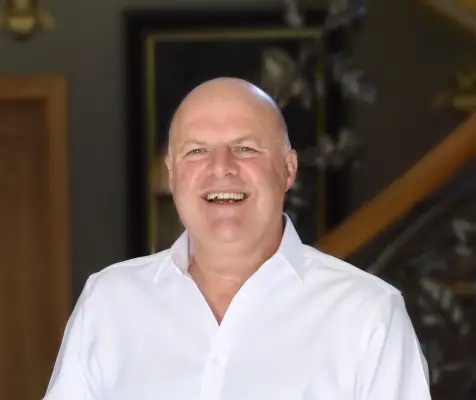 Bill Roddie, Managing Director of Spectrum Properties, said: "The estate is located in the Gorbals area and is within walking distance of the city centre. It has enviable transport connections and is only a short distance from the M74.
"We intend to carry out a major renovation, including re-roofing, re-cladding, re-plumbing and re-wiring. The unit will be sub-divided into four new facilities, ranging in size from 10,000 sq ft to 3,000 sq ft. Planning applications are already in, and we expect work this month (March 2021) and to last four months."
Mr Roddie said that there was a noticeable shortage of good industrial property in the Glasgow area as markets continue to evolve to accommodate changing consumer patterns and demands.
He said: "There is a significant appetite for space for parcel delivery businesses, which are expanding rapidly to deal with the enormous upsurge in online retail, especially since March last year when the pandemic changed everything.
"Similarly, because so many people are spending so much of their time at home, there has been a huge increase in companies looking for space to provide products such as replacement windows and doors, garden furniture, sheds and home improvement.
"This facility will be a very attractive prospect when we have finished with it, creating a large amount of valuable space in line with all the current regulations and situated in a well-established industrial estate."
Although Spectrum Properties has moved into residential development in the last 10 years, its primary focus remains on commercial property, which comprises some 70% of its group holdings.
The company directly employs 75 people and the same number of sub-contractors. It is actively recruiting to cope with rapid expansion. Established by Mr Roddie in 1988, the company now has a portfolio valuation of £60 million and a turnover in excess of £5 million.
17 Mar 2021
Radisson Hotel Planning Application
"A tower, rising from the courtyard could give you, by my estimation 150 rooms"
– the architect Alan Dunlop
"Best contemporary hotel in a sea of hotel rubbish in Glasgow"
– Malcolm Fraser
More quotes from:
– Andrew Taylor
– Andrew Brown
– Charles MacLachlan
– Robin Ward
– David Reat
– Henry Mckeown
Read the objections in full at Radisson Hotel Glasgow Building News
12 Mar 2021
Hoskins Architects Win at Civic Trust Awards
With two projects among just 40 winners from around the globe, Hoskins Architects are thrilled to have won the National Panel Special Award, for our transformational project at Aberdeen Art Gallery.
Their project at Strawberry Field, a visitor and training centre for young people with learning disabilities, for the Salvation Army, was also a winner in the Selwyn Goldsmith award:
Read more at Hoskins Architects Civic Trust Awards
2 Mar 2021
Radisson Hotel News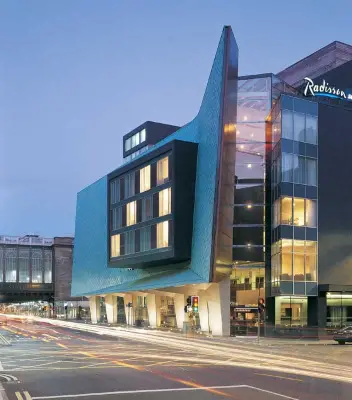 photo : Andrew Lee
Planning Application by North Planning & Development Ltd
From Architect Alan Dunlop:
As the architect and designer of the Radisson SAS, a project that has garnered many architecture and hotel design awards, nationally and internationally. I write to object in the strongest possible terms to these proposals.
Read Professor Alan Dunlop's objection in full at Radisson Hotel Glasgow – Planning Application 21/00574/FUL
2 Mar 2021
Say hello to the 2021 Scottish Design Awards panel

Social distancing may remain the order of the day but amidst the lockdown, the Scottish Design Awards have assembled a ten-strong panel of judges to lead us into a post-crisis future.
Whatever the world throws at us great design remains as the hallmark of any great practice, agency or business and our judges are itching to see how you've set new standards while working from home.
2021 Scottish Design Awards panel
2 Mar 2021
BDP to design new learning and leisure campus in Neilston
Neilston is set to benefit from a learning and leisure campus as East Renfrewshire Council has approved the design and awarded the contract to BDP's Glasgow studio.
Aerial site view – Neilston Learning and Leisure Campus: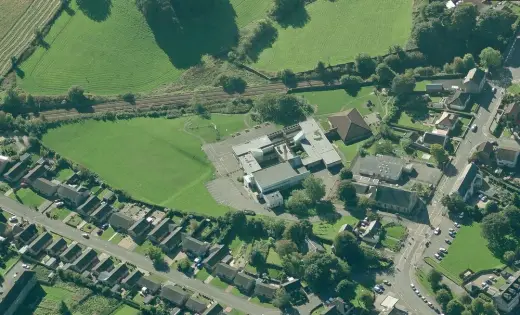 The new joint campus design will join Neilston Primary and St Thomas' Primary on one site, with the addition of the Madras Family Centre, a community library and sports facilities, all located on the site of the existing Neilston Primary School.
Consultation with children, parent councils, staff and community groups is underway to ensure the identity, legacy and individual needs of each school will be catered for.
Lindsey Mitchell BDP: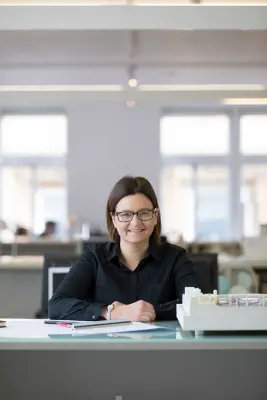 Lindsey Mitchell, Architect Director, BDP Glasgow Studio, said: "It is great to continue our long-standing relationship with East Renfrewshire Council having recently completed the award-winning Maidenhill Primary School and Nursery. This fantastic new campus will offer a great opportunity to create a real community hub for the Neilston village, and early feedback from residents has been extremely positive.
"This will be a state-of-the-art education and community facility that will not only provide amenities to meet 21st century learning, but will also adopt sustainable design principles. A passive approach to energy has been embraced in the design, with the building orientation, form factor and building fabric all contributing to making an energy efficient building. Outdoor spaces have also been designed with sustainability in mind, including a sustainable drainage strategy, the inclusion of a community growing garden and reuse of water in the external play spaces."
Councillor Paul O'Kane, Education and Equalities Convenor at East Renfrewshire Council, said: "It's extremely exciting for Neilston and will give our residents modern, fit-for-purpose facilities in the village and we will continue to work closely with the community as plans progress."
The campus is being built to meet growing demand for school places and is phase one of the Neilston masterplan which is part of the longer-term strategy for the regeneration of the village.
9 Feb 2021
Langside Halls: View New Proposals And Have Your Say
In October 2020 Langside Halls Trust, with funding from Glasgow City Council, Glasgow City Heritage Trust and the Architectural Heritage Fund Scotland, appointed Glasgow-based Hoskins Architects to lead a team of consultants including culture & heritage consultants, Jura Consultants to undertake a 20 week feasibility study of Glasgow's Langside Halls.
6 Feb 2021
Cadworks, Glasgow City Centre
Please see details below on 'Cadworks' development, in Glasgow City Centre, that will be 'Net Zero Carbon (NZC)' in operation and powered only by renewable electricity when it completes in October 2021.
Glasgow's 'cadworks' Announced As 'net Zero Carbon' And Powered Only By Renewable Electricity
FORE Partnership, the purpose-driven real estate investment platform, has announced that its 'Cadworks' development, in Glasgow City Centre, will be 'Net Zero Carbon (NZC)' in operation and powered only by renewable electricity.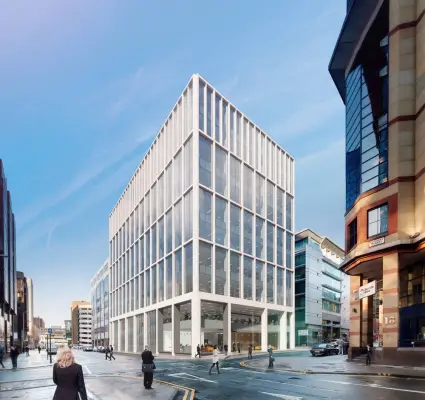 The 94,000 sq.ft. speculative office development, due to be completed to coincide with Glasgow's global climate summit in November 2021, will be one of the first large-scale office buildings in the City to be fully carbon neutral in operation. With the UK and Scottish Governments setting ambitious carbon-reduction targets, Cadworks will act as an exemplar building for the City's future. Carbon neutrality, or 'NZC' is achieved by balancing carbon dioxide emissions with their removal or eliminating the emissions altogether.
Also featuring the country's first cycle-in access ramp as well as parking only for bicycles and a small number of electric cars, Cadworks has sustainability at its very core. 75% of suppliers during the build come from the local area; materials such as glass, steel, wood and concrete are recycled and all electricity, which will be tracked via Smart meters, comes from renewable sources. FORE Partnership has also been awarded B Corp status for its commitment to building an inclusive and sustainable community.
Basil Demeroutis, managing partner, FORE, said: "One of FORE Partnership's unshakable pillars is responsible and thoughtful stewardship of our increasingly fragile environment. Cadworks will fully demonstrate that world-class headquarter space can be built without negative environmental impact and we hope that our innovation acts as a showcase for future builds, not only in Glasgow but across the world.
"Our industry must lead the way in forward thinking and in creating change so that we can continue to create new space, generate employment and support communities whilst at the same time, safeguarding the planet. This has never been more important and we hope that Cadworks acts as an exemplar building for the sector."
Cadworks is due for completion in October 2021.
www.cadworksglasgow.com
5 Feb 2021
RIBA responds to launch of Government's school rebuilding programme
The Royal Institute of British Architects (RIBA) has responded to the Government's launch of the first phase of the School Rebuilding Programme.
See our RIBA news 2021 page for more details
27 Jan 2021
Need For 25,000 New Homes Each Year in Scotland
Politicians Urged To Unite Around Need For 25,000 New Homes Each Year To Give Confidence To Consumers, Certainty For Business And +£25 Billion Economic Boost
27th of January 2021 – Clear statement of intent required from all parties ahead of election
With the importance of ensuring everyone living in Scotland has a quality home that meets their needs never more apparent, the country's home building industry today urged politicians across all parties to support a shared ambition to achieve and consistently deliver at least 25,000 new homes each year.
The call comes as trade body Homes for Scotland (HFS) launches its manifesto for the 2021 Scottish Parliament elections: "Piecing the Housing Jigsaw Together". As well as highlighting the massive +£25 billion contribution this would make to the economy over the next parliamentary term, the document emphasises the impact housing has across a wide range of policy areas as well as the interdependencies between public and private sectors.
HFS Chief Executive Nicola Barclay said:
"Housing is fundamental to both the desire for inclusive growth and the human right to an adequate standard of living, yet Scotland still doesn't have enough of the homes it needs for its citizens.
"This shortage has built up over decades, compounded by the global financial crisis of 2008 since which time some 90,000 fewer homes than needed have been built. Whilst we have seen some positive progress being made in recent years, there has only been a target for affordable housing. We fully recognise the importance of this but we also need to make sure that we are delivering enough homes of all tenures. The next Scottish Parliament has the opportunity to ensure we do just that.
"This is vital for Scotland's post-covid recovery given the huge economic and social benefits new housing brings, not to mention the crucial role it has to play in terms of increasing energy-efficiency and tackling fuel poverty.
"But the process of delivering much-needed housing is extremely complex and challenging. Our manifesto draws attention to the myriad of different elements that need to be brought together and the premise is very simple: no piece can be missing from the jigsaw if Scotland's housing objectives are to be achieved."
The need for a clear statement of intent on the ambition to deliver at least 25,000 new homes of all tenures each year is top of the HFS priority list in terms of focusing minds and encouraging private sector investment at a time when the industry acknowledges that public finances are under tremendous strain.
Barclay believes everything else flows from this, adding:
"Everyone has a role to play to make sure we have the homes our people need: national government, local authorities, public sector, private sector, the population at large. This is the opportunity and mechanism with which to galvanise them all."
PIECING THE HOUSING JIGSAW TOGETHER
Homes for Scotland is calling for the delivery of 25,000 new homes of all tenures each year which it says can be achieved through:
 Support for consumer and business confidence
 Specific measures to support Affordable Housing
 A deliverable housing vision
 Leadership towards green transition
 Support for SME home builders
 A national delivery agency
 A planning system focused on the delivery of quality homes and places
 Up-front strategic infrastructure delivery
 Promotion of low-carbon housing
 Alignment of national and local policy
For further information, please visit www.homesforscotland.com.
Background:
Homes for Scotland represents c200 companies which together provide the vast majority of all new homes built across the country. Visit www.homesforscotland.com for further information or follow us on Twitter at twitter.com/H_F_S.
Homes for Scotland's 2021 Scottish Parliament election manifesto "Piecing the Housing Jigsaw Together" can be accessed here.
The 90,000 fewer homes figure referred to is based on Scottish Government all sector housing completion statistics which can be accessed here. Assuming annual pre-financial crisis production levels would have been maintained at around 25,000, these show 88,224 fewer homes have been built since 2008.
Scotland's home building industry is a major contributor to the country's social and economic wellbeing. As well as every home built supporting four jobs, new housing delivery results in improved health and education outcomes and generates over £3bn per annum in direct, indirect and induced GVA.
Given its fundamental importance to our social wellbeing and strong economic multiplier effects, housing delivery can be the springboard for a Scotland-wide recovery from the impact of Coronavirus. Find out about the action we believe is necessary to achieve this here.
6 Jan 2021
Glasgow's Met Tower £100m refurb gets green light
Plans to transform the city's iconic college tower, dubbed the Met, into a hotel with leisure and grade A office space are set to become a reality.
Glasgow city council has granted developers Osborne & Co detailed planning permission to convert the 11-storey tower into a 260-bed hotel with grade A office for up to 1,200 people.
The redevelopment of the 1960s B-listed building on North Hanover Street will also offer 25-23,000 sq ft of retail leisure, food and drink space.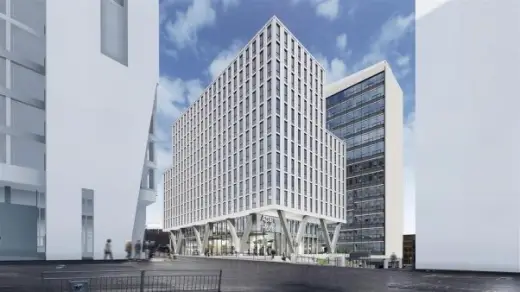 Osborne & Co development director Will Hean said: "Achieving planning consent comes at a critical time in the real estate market which continues to be challenged because of the coronavirus pandemic.
"Despite this, we are committed to investing significantly in Glasgow as we recognise the strength and diversity of the Glasgow economy. Glasgow's tech sector in particular will be significant as the economy works its way back to strength."
Tower set to be tech magnet
The building lies in the city's innovation district close to the University of Strathclyde's technology and innovation centre and the Inovo building which have attracted a host of tech firms.
Brokers Hank Zarihs Associates said development finance lenders regarded the area as a business hot spot and were keen to offer funding for refurbishment and new building schemes.
Osborne & Co plans to demolish an existing 'podium' building facing Cathedral Street to make way for the hotel, which would connect to the Met Tower via a landscaped plaza.
A flexible double-height auditorium space is to be created below the plaza which could also suit a market hall, co-working space or suite meeting rooms and theatre-style conferencing facilities. This would link to the reception level of the tower and will have its own separate entrance on North Hanover Street.
The project team for the refurbishment of the tower and surrounding developments include architects Cooper Cromar and structural engineering firm Woolgar Hunter. Environmental design and mechanical & electrical consultants Atelier Ten, planning and property advisors Savills, construction consultants Gardiner & Theobald and quantity surveying consultants Thomas & Adamson are also involved.
Glasgow's College of Building and Printing was opened in 1964 by Labour prime minister Howard Wilson and was designed by Wylie Shanks Architects.
LinkedIn Question: How important will the development of regional cities be for kick-starting the UK economy post the pandemic?
Strathclyde Architectural Designs
Highlights from December 2020:
News from May to Dec 2020:
Holiday Inn Pacific Quay Hotel
News from January to April 2020:
2019
Glasgow Building News 2018 April – December 2018
Glasgow Architecture News 2018 up to end of April 2018
Glasgow Building News from July 2017 to December 2017 – news archive
Glasgow Architecture News from end of January 2017 to July 2017 – news archive
Glasgow Architecture News 2016 – end of January 2017 – news archive
Glasgow Architecture News 2015 – news archive
Comments for the Glasgow Architectural News for 2021 page welcome