Glasgow Architecture News 2022, Strathclyde Buildings, Architects, Scotland Design Images
Glasgow Building News 2022, Strathclyde
post updated 4 February 2023
Glasgow Building News 2022 – Autumn / Winter
31 Dec 2022
Glencoe Base Station by Glasgow's anderson bell + christie
Glencoe Base Station Building
23 Dec 2022
Passivhaus News
The Scottish Government adopt and bring forward the private members bill proposed by Labour MSP Alex Rowley.
The bill will become law within two years. It will see Scottish new-build housing having to meet Passivhaus standards or equivalent.
A proposal for a Bill to introduce new minimum environmental design standards for all new-build housing to meet the Passivhaus standard, or a Scottish equivalent, in order to improve energy efficiency and thermal performance:
Domestic Building Environmental Standards (Scotland) Bill
21 Dec 2022
Masterplan Submitted for HMP Glasgow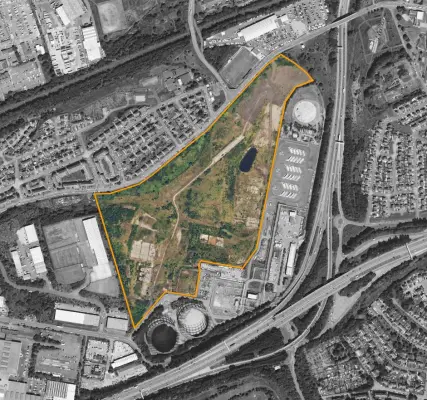 image courtesy of architects practice
A masterplan application has been submitted for the Scottish Prison Service's new HMP Glasgow prison facility, the modern, fit-for-purpose replacement for HMP Barlinnie which is due to open in 2026:
HMP Glasgow Masterplan : Barlinnie replacement
17 Dec 2022
Rachel Dickson appointed Deputy Director, Academic at The Glasgow School of Art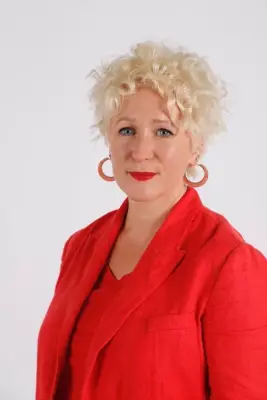 photo courtesy of the GSA
Rachel Dickson, current Dean of Academic Programmes at Central Saint Martins (University of the Arts, London) is to be the Deputy Director, Academic at The Glasgow School of Art. Rachel, who graduated from the Royal College of Art with an MA Ceramics and Glass, has an extensive career as an academic leader within creative education:
Glasgow School of Art Deputy Director, Academic
17 Dec 2022
SNIPEF's response to the Scottish Government's budget commitments to a Net Zero economy
Funding needs to prioritise developing the skilled workforce to deliver a transformative green agenda
In response to John Swinney's budget announcement of over £500M Net Zero initiatives, Fiona Hodgson, Chief Executive of the Scottish and Northern Ireland Plumbing Employers' Federation (SNIPEF), said:
"The government's transformative Net Zero agenda is welcomed and supported by our sector; however, we urge greater priority is given to the skills development of the people needed to realise these already challenging targets.
"It is critical that apprenticeship funding is focussed towards developing the essential skills of our next generation of plumbers and heat engineers, as well as upskilling the current workforce in areas such as heat pumps.
"By ensuring the people with the needed skills are recruited and developed today and in the future, the government can showcase to the world that the green economic model contained within their Net Zero ambitions is both viable and sustainable."
15 Dec 2022
Transformation of Glasgow's Historic Custom House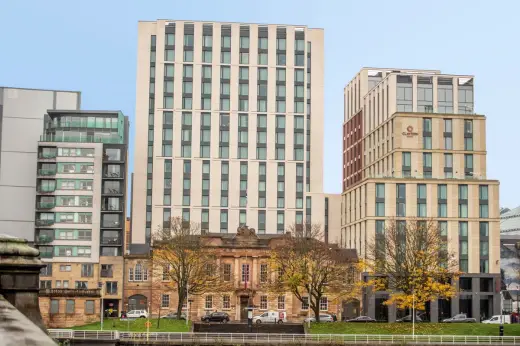 image courtesy of Artisan Real Estate
Artisan Real Estate's £80 million transformation of Glasgow's A-Listed Custom House and neighbouring buildings is complete following the successful completion of two major new hotels for the city. The historic sandstone building, with its distinctive Greek revival frontage, now forms a stunning centrepiece for a brand-new hotel quarter bringing together a 303-bed four-star Clayton Hotel together with a 164-bed Adagio Aparthotel:
Glasgow Custom House Development
18 Nov 2022
Paisley Museum transformation fundraising campaign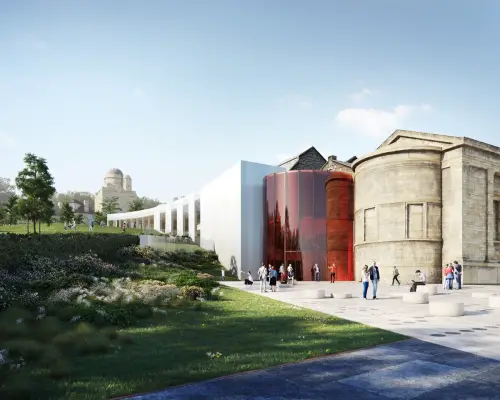 The fundraising campaign supporting the work to redesign Paisley's museum into a world-class visitor destination is celebrating after passing the milestone of £1m of funding secured.
The Paisley Museum Reimagined Ltd charity is raising the final money needed to complete the £45m transformation of the museum, believed to be Scotland's biggest current heritage project:
18 Nov 2022
Glasgow Senior Site Engineer
Salary: £45000.00 – £50000.00 per annum
Edinburgh Project Manager
Salary: £65000.00 – £75000.00 per annum
See the jobs page for details.
16 Nov 2022
BDP scoops double win at Learning Places Scotland Awards
BDP was presented with two awards and a double commendation at the annual Learning Places Scotland Awards on Tuesday 15 November at the Hilton Glasgow. The awards celebrate outstanding projects that support the best education outcomes:
See Ayr Education Hub Building
11 Nov 2022
Building a green heat industry
A new drive has been launched to develop Scotland's green heat sector and ensure the right people, skills and technology are in place to make homes and buildings warmer, greener and cheaper to run.
To launch the plan, Zero Carbon Buildings Minister Patrick Harvie visited the Vaillant Group's National Training Centre of Excellence in Glasgow:
For the full announcement see Scottish Architecture News
10 Nov 2022
Holmes Miller Architects News
Holmes Miller up for four accolades at flagship schools design awards. This Scottish architectural practice has been designing educational buildings for four decades, with a more recent focus on sustainable and Passivhaus design:
Edinburgh Architecture News Mid 2016
4 Nov 2022
Cameron House Resort Building News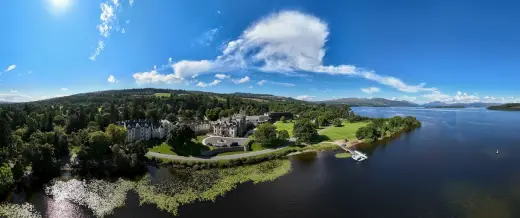 Cameron House Hotel has completed the final phase of its extensive transformation as it opens its new Lomond Wing. The multi-million-pound extension will significantly scale up the Loch Lomond resort's already impressive facilities, adding 68 new luxurious bedrooms and suites, a 700-sqm ballroom, and a new loch-facing terrace:
Cameron House Loch Lomond Resort
28 Oct 2022
Senior Architect Job in Glasgow
Salary: £40,000 – £45,000 per annum
A leading UK construction group, who operate in both the public and commercial sectors, deliver architectural services to the construction, infrastructure, fit-out, urban regeneration and the affordable housing arm of their business:
Senior Architect Job in Glasgow
24 Oct 2022
Cramond Inn News
The Cramond Association has arranged a public meeting to bring the local community together to discuss the future of Edinburgh's historic Cramond Inn which has remained closed since the pandemic.
Working in partnership with Cramond & Barnton Community Council, the meeting is geared to creating a local action group to get the Inn, owned by brewery company Samuel Smiths, open and functioning again.
Read the news in full on the Edinburgh Buildings news 2022 page.
19 Oct 2022
New Historic Environment Grants Programme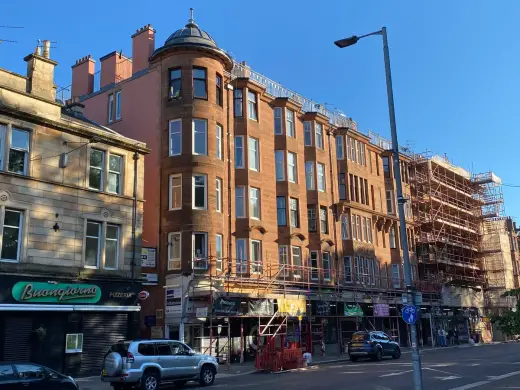 image : Glasgow City Heritage Trust
Have you got a new heritage project which needs funding? A listed building which needs a little TLC? Be it an exciting community outreach project, a historic building repair or a traditional skills knowledge exchange – Glasgow City Heritage Trust (GCHT) may be able to support it via our new grants programme:
New Historic Environment Grants Programme
18 Oct 2022
Redevelopment of Former Deutsche Bank Offices in Edinburgh
A public consultation for the homes-led redevelopment of one of Edinburgh city centre's largest potential development sites is to be launched later this month.
Regeneration specialists Artisan Real Estate has formed a joint venture company with fund manager REInvest Asset Management to redevelop the former Deutsche Bank House at 525 Ferry Road, Edinburgh, near the Crewe Toll roundabout. The office and data-processing centre was formerly the Scottish base for State Street Bank until the building was vacated by the bank in 2018.
Read the news in full on the Edinburgh Buildings news page.
6 Oct 2022
Reaction to the new Scottish Government Protection of Tenants Bill
Private landlords are under assault from a government which has no intention of listening to their concerns. This will end badly
By Riccardo Giovanacci at Newton Letting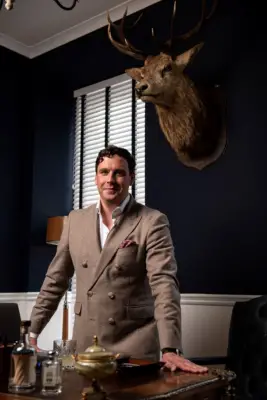 6th October, 2022 – It is a fundamental principle of a functioning democracy that parties, when in power, should pay at least lip service to the concept of balancing the competing needs and aspirations of all elements of society, not just those they hope will shore up and increase their voter base.
Simple fairness – the cornerstone of democratic philosophy – dictates that consistently favouring one side of any argument to the detriment of the valid case of the other side will lead to imbalances and injustices which can only, ultimately, be injurious to the health of the body politic.
This, I am sad and disappointed to have to say, appears now to be the situation we have arrived at with the latest Scottish Government intrusion into the workings of the residential rental market, which puts a roof over the heads of 38% of the population.
The Cost of Living (Protection of Tenants) (Scotland) Bill, which currently is being bundled unceremoniously through the Holyrood system, will impose a freeze on rent increases and a moratorium on evictions, with the provision to extend for further six-month periods.
Billed as an "emergency response" to increasing energy and other prices, it appears more to be another knee-jerk reaction to the measures the UK Government has been introducing in Westminster.
The political principle governing the present Scottish administration seems to be that if Westminster says it plans to do X, then Nicola Sturgeon's regime will say it will do Y, with the proviso that Y must always be greater than X.
Its thinking, attitudes and actions would appear to give greater weight to oneupmanship against the Tories than the more onerous task of trying to find solutions to problems which address the issues facing the parties concerned.
I have said before that I am a keen advocate of some regulation in all spheres of professional activity, and that I am a keen advocate of measures to tame the undoubted, and admitted, Wild West elements in the Private Rental Sector.
But what Scottish landlords – across the board, not just private letting – are subject to now is Government decree, biased strongly in the interests of its client base but dressed up in the trappings of democracy, such as the hearing of evidence.
Representatives of the sector could present the most unassailable logic at the hearings that are being held at the moment and it would matter not a whit. The decision has been taken. The landlords' voice has been pre-emptively dismissed and they will, once again, just have to like it or lump it.
There is only so much of this high-handed – not to say oppressive – political behaviour that the sector can take. The new measures will further disadvantage them while, perversely further incentivising unreasonable tenants not to play ball.
The tragic irony is that most landlords are perfectly capable of self-regulation. Most will willingly forego rent increases if they have a good tenant in place and be satisfied with reasonable increases when a property is re-let.
For me, there was a dispiriting illustration of the dichotomy in landlord/tenant thinking when I sent emails out to both parties at the start of the pandemic, warning of the effects of the draconian measures then being imposed.
Almost without exception, the replies from landlords offered rent reductions and asked what they could do to help. In contrast, tenant replies focused on whether or not they would have to continue to pay rent and whether landlords were getting any preferential treatment.
The scales have been tipped in favour of tenants' rights for a considerable time, but in Scotland now it is not just a gram or two at a time, but kilos. The inevitable effect will be that landlords will sell up, supply will be reduced, demand will increase and prices will soar – exactly what the administration professes that it wants to avoid.
But there is no dialogue with the deaf. By the time those imposing these latest changes wake up to the reality of what is being done to the sector, it will be far too late.
And the climb back up will be 10 times more difficult.
Riccardo Giovanacci is Managing Director of Newton Letting,
For further information, please contact, Riccardo Giovanacci, Managing Director, Newton Letting, Suite 2.1, 116 Elderslie Street, Glasgow, G3 7AW. T: 0141 378 1770.
W: www.newtonletting.co.uk.
E: [email protected].
6 Oct 2022
Regeneration Specialist Appoint Three New Board Members
6th of October 2022 – Urban Union, one of the country's leading regeneration firms, is strengthening its board with three new appointments to drive the business forward as it expands its operations across the central belt.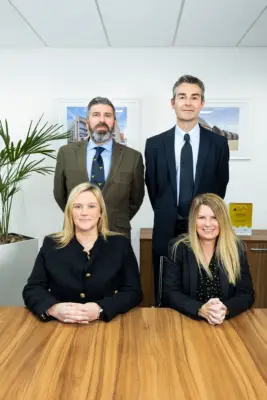 Founded in 2011, the company which, is part of Robertson Group, regenerates urban areas through building new, high quality, affordable homes while creating employment and training opportunities, and counts The City of Edinburgh Council; Glasgow City Council; New Gorbals Housing Association, and Queens Cross Housing Association among its client partners.
Managing Director, Neil McKay will be joined on the board by; Kirsty Parry, Sales and Marketing Director, Alan Dunsmore, Technical Director and Carole Lambie, Finance Director
Kirsty and Alan are being promoted internally, having been with Urban Union for eight and four years respectively and Carole joined Urban Union earlier this year from Cruden Building (East Ltd) where she was Head of Finance.
Elliot Robertson, Chief Executive Officer, Robertson Group, said: "Urban Union has been delivering some of the most desirable regeneration projects over the last 11 years, creating positive social and environmental impact, to enhance local economic prosperity, wellbeing, inclusion and resilience. The appointments to the board are aimed at strengthening our governance and creating enhanced opportunities for senior level engagement with our customers, as we listen and plan to develop regeneration solutions that address their challenges head on. The appointments also demonstrate our commitment to our people, and I am proud that we have two internal promotions to announce."
Neil McKay, Managing Director, Urban Union, said: "I am delighted to be joined on the board by such a strong team. Both Kirsty and Alan have been key members of the Urban Union team for a considerable time and it's fitting recognition that they have been appointed to the board, which is complemented by Carole who joined us earlier this year.
"We have solid plans for growth and having the right structure in place will allow us to deliver meaningful regeneration projects across Scotland. Our unwavering commitment to our partners, clients customers and to contributing social value in the areas we operate has enabled us to establish ourselves as a key delivery partner for local authorities and SLAs.
"Our private market offering is also an important part of our business, and we take great pride in the quality of homes that are being delivered for the affordable market."
In the coming weeks, Urban Union is launching a new app for customers which will enhance the customer journey and enables progress updates at every stage of the build. Providing a live experience, the app has been designed with the full customer journey at its core from pre-purchase through to home demonstrator videos.
Urban Union
Urban Union specialises in the successful delivery of large-scale regeneration projects. Part of Robertson Group, the company has a proven and award-winning pedigree in creating new communities across Scotland.
Urban Union is currently delivering four mixed-tenure developments – Pennywell Living in Edinburgh, Laurieston Living, Pollokshaws Living and Hamiltonhill Living in Glasgow.
At the heart of Urban Union's approach is an unrivalled commitment to creating communities, not simply building new homes. This is achieved by working in close partnership with local authorities, housing associations, community groups and residents.
The company is also dedicated to ensuring opportunities for people living in the areas it operates in, supporting targeted recruitment, training and supply chain opportunities.
www.urbanunionltd.co.uk
5 Oct 2022
New statistics show housing completions still below pre-Covid levels
The Scottish Government's latest housing statistics have revealed that housing completions across all tenures in Scotland are still below pre-Covid levels.
Whilst 20,767 new homes were built in 2021/22, Homes for Scotland (HFS) highlighted that this is still lower than pre-pandemic levels.
HFS Chief Executive Jane Wood said:
"After the challenges presented by the pandemic, these figures demonstrate the resilience of the home building sector after completion levels dropped below 15,000 in 2020/21. However, they also show how far behind we still are, so it is frustrating that there is such a timelag in reporting, particularly when we continue to face major obstacles to achieving sustained growth, not least of which include planning, material and labour shortages as well as increased costs.
"Up-to-date statistics are essential to supporting effective, evidence-based policy decision-making which is why we have committed to working with the Scottish Government to identify and address the data gaps that exist.
"Such collaboration between the public and private sectors and government at national and local levels is vital to delivering the homes that Scotland's people need."
3 Oct 2022
Glasgow's Buchanan Wharf Reaches 'Topping Out' Milestone
Drum Property Group's £500m regeneration of Buchanan Wharf on Glasgow's Clydeside has reached another significant development milestone with the completion of structural work for its final building phase:
Buchanan Wharf Glasgow Building News
28 Sep 2022
Bothwell Street Office Development News
DM Hall secures 30k square foot lease for wealth management group Evelyn Partners at Bothwell Street flagship office development
In its biggest commercial property deal since the onset of the Covid-19 pandemic, DM Hall has secured the lease of 30,000 square feet of offices at 177 Bothwell Street on behalf of wealth management and professional services group, Evelyn Partners.
The business, formed from the long-established and merged Tilney and Smith & Williamson operations, rebranded itself as Evelyn Partners earlier this year. DM Hall partner and Head of Commercial Agency, Jonathan McManus, has acted on behalf of Smith & Williamson over the past 15 years, across Scotland.
The new lease agreement will bring together 350 staff from two locations in the city to create Evelyn Partners' largest operation in the UK outside its London headquarters. The annual rental will reach the seven figures mark.
Jonathan McManus oversaw the transaction. He said: "We are exceptionally pleased to have assisted Evelyn Partners secure its lease and I am confident the business will thrive and prosper from such a high-quality location. I first acted for Smith & Williamson many years ago acquiring a mere 2,000 sq ft in Blythswood Square, before the firm progressed to St Vincent Street. Its rapid growth pattern has shown a belief in Glasgow as a prime location for business".
Paul Frame, regional managing partner for Scotland and Northern Ireland at Evelyn Partners, said: "The building's location in the city centre, close to excellent transport links, makes it convenient for our clients to meet with our specialist teams and attend events."
Earlier this year, HFD Group, the developer of the property, announced that it had sold it to Spanish investment company, Pontegadea, but would be relocating its headquarters to the top floor of the 315,000 square-foot building.
Other occupiers include Virgin Money, BNP Paribas, AECOM, CBRE, and Transport Scotland, while HFD's technology business Data Vita, also operates from the building. Evelyn Group's presence will bring the building to full occupancy.
With its energy supplied by Blantyre Muir Wind Farm in South Lanarkshire, 177 Bothwell Street has achieved an EPC rating of A and is also targeting BREEAM Excellent standard.
It is the first Scottish property to commit to attaining the new SmartScore accreditation for smart buildings and has already achieved a 'Platinum' WiredScore certification.
The building features a rooftop terrace and running track, reportedly 177 metres in length, 318 cycle spaces, electric vehicle charging points and touchless technology.
With 24 offices and over 250 members of staff including 24 Partners, DM Hall is one of Scotland's largest independent firms of chartered surveyors and this year celebrates 125 years since its foundation in 1897.
23 Sep 2022
UK Chancellor's growth plan announcement
Scotland's home builders have responded to the Chancellor's Growth Plan announcement by highlighting the growing policy divergence between Scotland and the rest of the UK.
As the Chancellor permanently doubled the nil rate for Stamp Duty to £250,000, raised the threshold for First Time Buyers to £425,000 and announced measures to increase housing supply, Homes for Scotland Chief Executive Jane Wood said:
"Today's announcement goes to further highlight the policy divergence between Scotland and the rest of the UK.
"At a time when Scotland has an undersupply of housing approaching 100,000 homes, this is highly concerning in the context of attracting investment and ensuring that those delivering the homes that our country desperately needs are on a level playing field with their counterparts south of the border."
20 Sep 2022
Springfield suspends affordable and PRS housing activity
Springfield Properties advise it has put all long-term fixed-price affordable housing contracts on hold and has temporarily suspended its expansion into the private rented sector (PRS) amid concern about market conditions and the Scottish Government's future rent freeze policy.
The stock market-listed housebuilder said it had taken the "pragmatic decision to temporarily pause entering into new large, long-term affordable contracts in order to protect its margins".
Read the news in full on the Edinburgh Architecture news page.
13 Sep 2022
WAF 2022 Finalists for the Special Prizes News
World Architecture Festival (WAF) has announced the 2022 Special Prize shortlist ahead of this year's festival. The projects shortlisted for the Special Prizes have been selected from across the greater WAF Awards shortlist.
Including both completed and future projects, The Futureglass Prize, is awarded to the project that best demonstrates new ways in which glass and glass technology can be deployed. The finalists for the inaugural Prize range from chameleonic glass-paneled buildings to innovative glass interventions in existing structures, showcasing the breadth of how glass and glass technology can be used in new and inventive ways. The shortlisted projects include the Burrell Collection:
Burrell Museum
6 Sep 2022
A Third Of Affordable Housing In Scotland Delivered Through Private Developer Contributions
Around a third of new affordable housing in Scotland is directly delivered through contributions from private developers, it was revealed today.
This follows a survey undertaken by sector body Homes for Scotland which compared the output of a representative sample of its members against available Scottish Government data:
3 Sep 2022
University of Strathclyde Innovation Hub
The University of Strathclyde has shared early concept designs for a 20,000 sqm Passivhaus standard collaborative research facility within the Glasgow City Innovation District.
The Charles Huang Advanced Technology & Innovation Centre is conceptualised around the history of the site as a network of closes and courts with four buildings framing a series of public routes and spaces.
31 Aug 2022
Buchanan Galleries Demolition News
London-based architects Foster + Partners team to demolish and replace the Buchanan Galleries, report the AJ today. The public will be consulted next month on early plans by a Foster + Partners-led team to flatten and replace the late-1990s Buchanan Galleries shopping centre in Glasgow:
Buchanan Galleries Demolition
24 Aug 2022
private rented sector in Glasgow
By Riccardo Giovanacci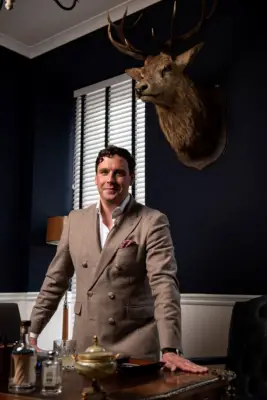 Why Scotland needs to attract more landlords into the private rented sector, rather than continuing to drive them away
In an ideal world, home ownership would be the accepted way for everyone to live, with people enjoying the security, warmth, shelter and sense of belonging that comes with being able to shut your own door behind you.
But this is not an ideal world – in fact, it sometimes feels that each passing day makes it less ideal – and home ownership remains, and will remain, out of the reach of substantial proportions of the population.
In this real-world scenario, in which continuing lack of housing stock is stifling residential sales, the role of landlords in the private rented sector [PRS] can only become more important, since they provide a viable, and vital, alternative for many individuals and households.
But in the current climate, especially in Scotland, the positive contribution that the PRS makes to the ongoing housing crisis can seem not only to be overlooked, but to be actively denigrated and obstructed.
The trope of the Rogue Landlord is deeply embedded in a great deal of current thinking around housing needs and, indeed, it can sometimes feel to an objective observer that it is the main driver of policies – policies which are pushing increasing numbers out of the sector just at the time when they are most needed.
The reality is that the overwhelming majority of players in the PRS are well aware of, and fully on side with, the understanding that they can't treat the market like the Wild West, and they are wholly supportive of cleaning up and regulating the sector.
So, it is perhaps not unreasonable to propose some counter-arguments to the perception that landlords are pushing up rents at a prodigious rate just at the time that many tenants are facing a very real and very well-documented cost-of-living crisis.
In fact, when I started in this business some 15 years ago, rents in Scotland were not only very cheap in comparison to other parts of the UK, but had been stagnant for some considerable time.
Yes, rental increases were marginally higher than in England at the start of the year, but what is not generally known is that they were substantially lower in the preceding six years, so Scotland is only belatedly catching up.
It should also be noted that Scottish Government data shows that, in recent years, rental increases have only risen at a rate very similar to inflation, and it would be wholly unreasonable to suggest that this should not be the case – after all, nobody expects a loaf of bread to cost the same this year as it did in 2012.
It could be further argued that, with inflation soaring as it is now – the latest projections are for 15% – tenants are actually benefitting from a cut in rental costs in real terms.
What landlords and agent have to do is be much better and much more proactive about explaining to tenants and their representative organisations the reasons behind increases, such as the greater costs that they face.
At the moment, many "accidental landlords" from 2008, and others who are just fed up with the regulatory burden, are exiting the market, further reducing the stock available and stoking demand for what remains.
The only way to ease the pressure on stock – and the consequent rent inflation – is to attract more landlords into the market, but little, if anything, is being done at political levels to encourage this. Quite the reverse – the inclination seems to be to drive them out.
Some measure of tax incentive would be the obvious way to stem the haemorrhaging of stock, but that seems unlikely in the current climate. Nor is there any real likelihood of a return to offsetting mortgage costs against tax.
Perhaps what might attract more entrants to the market is the reality that there are still some good deals to be done if people are prepared to look just that bit harder and, in inflationary times, the PRS is a much better bet than keeping depreciating money in the bank.
We need to attract property owners who are not in it for a quick buck but are more old-school, and prepared to invest for the long-term.
There are huge numbers of people who, for lifestyle reasons, want to rent for long periods in the manner of the European model and responsible landlords are perfectly equipped to meet that demand – if only they are given the chance.
Riccardo Giovanacci is Managing Director of Newton Letting,
23 Aug 2022
Bringing Life To The Desert With Biophilic Design
Bruce Kennedy, Architect Director at BDP Glasgow, talks about the use of biophilic design for the Heriot Watt campus in Dubai. The style helps bring interest and comfort into the building, particularly as it sits in such an extreme environment:
Biophilic design at Heriot Watt campus Dubai
17 Aug 2022
Solasta Riverside Building Buchanan Wharf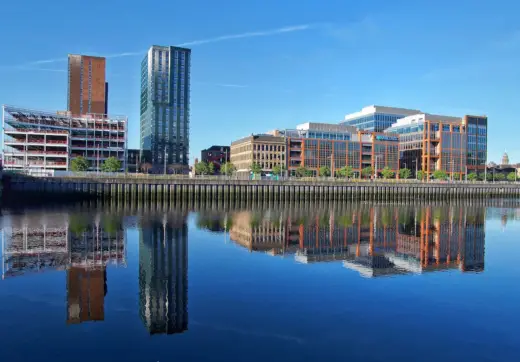 image courtesy of Drum Property Group
Solasta Riverside Building Buchanan Wharf
Drum Property Group has completed the construction of 324 Build to Rent (BTR) apartments for Legal & General Investment Management (LGIM) at Buchanan Wharf on Glasgow's Clydeside. Named 'Solasta Riverside', the 280,000 sqft complex has been purpose designed to meet the increasing demand for high-quality rental accommodation across Scotland.
25 July 2022
Shortlist for Scotland's Best Building Award
The 5 buildings competing to be Scotland's building of the year have been announced today.
RIAS Andrew Doolan Best Building
21 July 20222
Scottish Education Campus is Stirling Prize Shortlisted
The six buildings contending for the UK's most prestigious architecture award have now been revealed, including Forth Valley College designed by Reiach and Hall Architects:
Stirling Prize
19 July 2022
Hoskins Architects Transitions to Employee Ownership
Hoskins Architects has re-structured to better reflect its growing international business and, at the same time, transitioned to employee-ownership in a move that enshrines our long-held company ethos, reflecting our core vision and collaborative, collegiate approach to our work:
Hoskins Architects
18 July 2022
Paisley Arts Centre Extension
Clark Contracts has begun work on the Paisley Arts Centre building refurbishment and extension. The construction will create a modern performance venue for Renfrewshire Council within the 250-year-old former church.
The changes include a redesigned public space on New Street to help open up access to the creative hub by removing railings and introducing new paving and seating. A graveyard will remain untouched by this work:
16 July 2022
Oswald Street Hotel Building News
Riverfront Property has unveiled plans for a 174-room hotel at 11 Oswald Street. Conservation Area Consent will be required for demolition of the current unlisted structure.
This city centre property development aims to 'activate' the street by driving footfall and delivering an open ground floor frontage comprising the front of house areas including a lounge and breakfast room. The team includes architects Sheppard Robson and planning consultants Turley.
15 July 2022
RIBA House of the Year 2022 Winners
The Royal Institute of British Architects announce the longlist for the 2022 RIBA House of the Year. The shortlist and winner will be revealed on Channel 4's Grand Designs: House of the Year.
Here are the two Scottish longlisted homes:
– The Den, Tighnabruaich, designed by Technique Architecture and Design in collaboration with Stallan-Brand
– Ostro Passivhaus, Kippen, designed by Paper Igloo
RIBA House of the Year 2022 Longlist
10 July 2022
New Homes at Govan Graving Docks Site
Plans for the site of the Govan Graving Docks are being brought forward after a Proposal of Application Notice (PoAN) was submitted to Glasgow City Council.
The submission by O'DonnellBrown Architects signals the start of a 12-week pre-application consultation period on the residential element of the project, giving the public the opportunity to leave feedback which can shape the developer's plans.
Taking a hybrid form, the consultation programme will include both online and in-person events. An in-person session will be held on Thursday 25 August and Thursday 6 October at The Riverside Hall between 11:00am – 4:30pm before an evening session on both dates at The Pearce Institute (840-860 Govan Rd, Govan, Glasgow G51 3UU) between 5:30-7:30pm.
In addition, two live interactive chat sessions will be held on Tuesday 30th August and Tuesday 11th October between 3-7pm and will be accessible at govangravingdocks.com.
Having lain derelict for almost 40 years Govan Graving Docks are at the centre of ambitious plans to create a new, vibrant mixed-use neighbourhood.
The development is being led by New City Vision working closely with a range of partners and enthused about creating a new economically robust neighbourhood which will contribute to the local and city-wide economy.
10 July 2022
Central Quay BTR Construction News
Contractor GRAHAM has completed the core of developer PLATFORM_'s landmark build to rent (BTR) scheme at Central Quay, which now stands as one of Glasgow's tallest buildings at 20 storeys (circa 60m high).
Designed by architects Keppie, the £100 million residential-led development will create 498 high-quality apartments across four blocks, ranging from six to 20 storeys in height.
Located on the west side of the M8 / Kingston Bridge, the Broomielaw development will be complete with a range of amenities including a state-of-the-art gym, landscaped courtyard, two roof terraces, library and cinema room, creating an exclusive waterside community which will be home to over 1,000 residents.
9 July 2022
Open call: Scotland + Venice 2023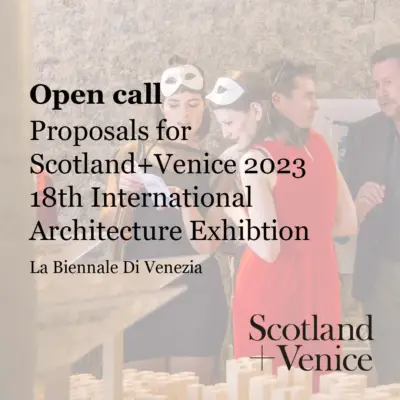 The Scotland + Venice partners are seeking proposals for a team to develop and deliver a major exhibition to represent Scotland at the 18th international architecture exhibition at La Biennale di Venezia in 2023.
Scotland + Venice is looking for projects which will make the strongest impact within this internationally significant context and explore how good architecture and the built environment can be more available to, and inclusive for, everyone creating places that are healthy, sustainable, and thriving.
Proposals should provide a strong and compelling response to the overall themes set out by curator Lesley Lokko under her title: The Laboratory of the Future.
More information on the project and how to submit are available at https://bit.ly/3yKbaAo
The submission deadline is noon 15 August 2022.
Scotland + Venice is a partnership which comprises, Creative Scotland, British Council Scotland, National Galleries Scotland, Architectures and Design Scotland, V&A Dundee and the Scottish Government.
2 July 2022
Scottish Design Awards Winners News
Glasgow's Anderson Bell + Christie won the Architecture Grand Prix for Fielden Street, praised by judges for its attention to detail. The Design Grand Prix meanwhile was awarded to BRC Imagination Arts for the Johnnie Walker Visitor Centre:
Scottish Design Awards 2022 winners
2 July 2022
New Blue Sky Lounge at Ibrox Stadium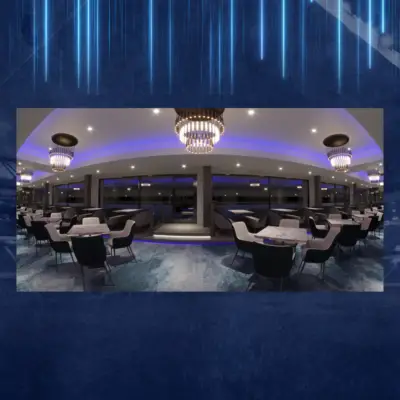 Scottish glass and aluminium specialist Cube Glass has further increased its presence in the lucrative stadium market with a contract for the stunning glass feature attractions in the new state-of-the-art Blue Sky Lounge at Ibrox Stadium:
Blue Sky Lounge at Ibrox Stadium
24 June 2022
Briar Homes is Highly Commended at Scottish Home Awards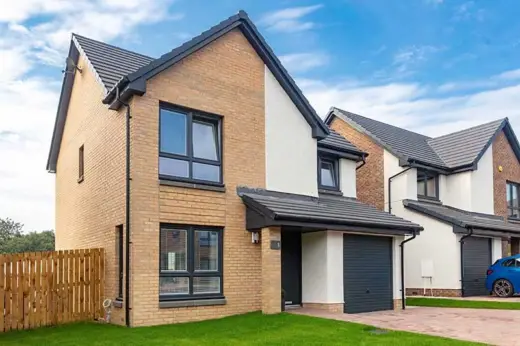 photo © Jaggy Pixels Imaging.com
Independent property developer, Briar Homes, was highly commended at the Scottish Home Awards 2022. The prestigious awards ceremony saw an array of industry experts gather together to celebrate excellence across Scotland's new build housing sector:
Briar Homes Woodlea Darnley
23 June 2022
RIBA Awards 2022 Winners
Scotland has 3 one of the 29 winners of the 2022 RIBA National Awards for architecture, announced today:
• Forth Valley College – Falkirk Campus by Reiach and Hall Architects
• High Sunderland by Loader Monteith
• Quarry Studios by Moxon Architects
22 June 2022
Glasgow digital marketing agency news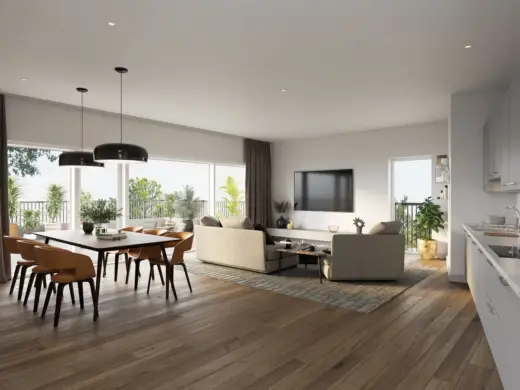 The measure of the value of Glasgow-based boutique marketing agency Trend Differently's offering has been once again emphasised by the fact that its clients are in contention for no less than seven prestigious national awards:
Trend Differently
14 June 2022
Concern Over Scottish Affordable Housing Approvals
Completions have reached 20,056, helping the Scottish Government to achieve its 50,000 affordable homes target, but there was a 44% drop in housing association approvals:
Scottish Architecture News
9 June 2022
MP to open Clyde Gateway's new £3.5m woodland park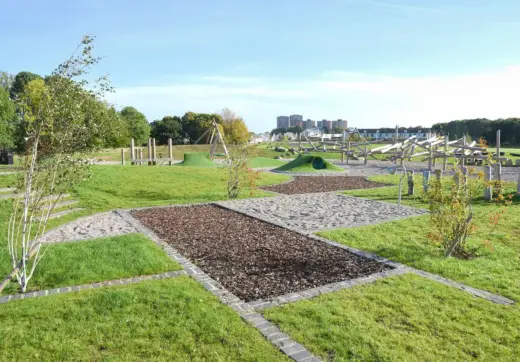 photo courtesy of Clyde Gateway
A new £3.5m woodland park in Toryglen, the latest development from Clyde Gateway, Scotland's most ambitious regeneration project, will be officially opened by Alison Thewliss MP at a special community event on Saturday 11 June:
Malls Mire Woodland Park, Toryglen
8 June 2022
University of Glasgow's ARC officially opened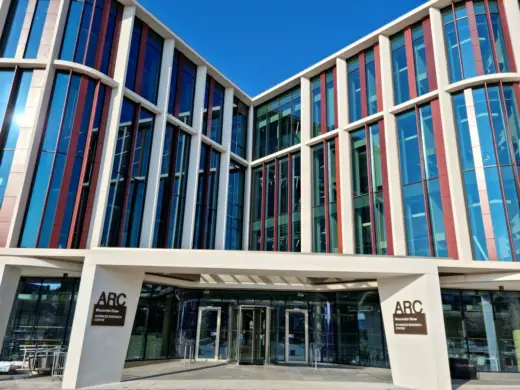 photo courtesy of UoG
A flagship research facility at the University of Glasgow was opened today (Wednesday 8 June) by Nobel prize winning Chemist, Professor Sir David MacMillan. The £118 m Mazumdar-Shaw Advanced Research Centre (ARC) will be the creative and collaborative heart of cross-disciplinary research at the University of Glasgow:
University of Glasgow Advanced Research Centre Opening
7 June + 23 May 2022
New Olympia House in Bridgeton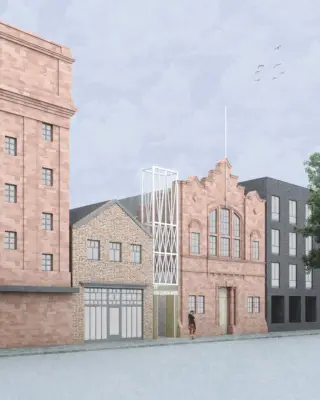 image courtesy of Clyde Gateway
Clyde Gateway, Scotland's most ambitious regeneration project, is investing £1.67m to breathe new life into the landmark Olympia House building in the heart of Bridgeton Cross, creating 350 sqm of modern and flexible commercial office space:
New Olympia House in Bridgeton
7 June 2022
Artwork by renowned artist and writer is being considered for listed status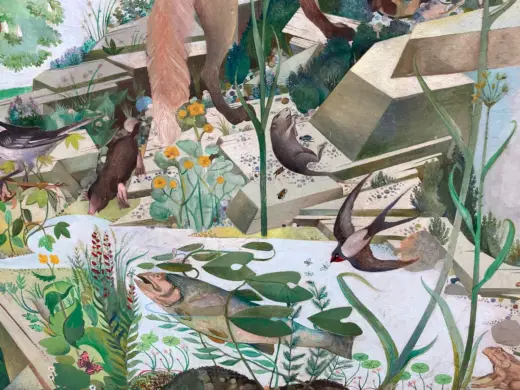 image courtesy of Historic Environment Scotland
A mural by one of Scotland's most celebrated writers and artists could soon be recognised with listed status, as Historic Environment Scotland (HES) announced it is seeking views from the public on proposals to list the Palacerigg Visitor Centre in Cumbernauld – which houses Alasdair Gray's Scottish Wildlife Mural – at Category B due to the special architectural and historic interest of the artwork:
Alasdair Gray mural at Palacerigg Cumbernauld
6 June 2022
RIAS Award Winners News
Eight exceptional buildings are unveiled as the winners of Scotland's national architecture awards:
RIAS Awards 2022 Winners
3 June 2022
Garelochhead Residential Development News
DM Hall invites offers for 8.47-acre Garelochhead residential development site with planning permission
DM Hall is inviting offers for an 8.47-acre residential development site with planning for 24 homes on an elevated position above Garelochhead in Argyllshire.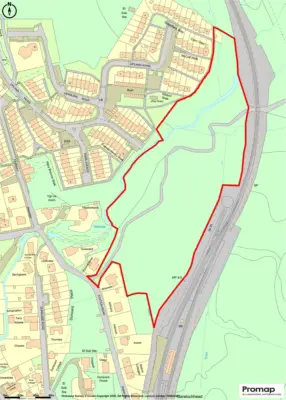 The site is in Station Road, Garelochhead, G84 0DB, the principal road leading towards Garelochhead railway station to the east of the town, with the site occupying an elevated position on its eastern side with views across the Gare Loch.
The site has mixed gradients, extending to around 3.43 hectares 3.43 hectares (8.47 acres).
Planning permission is in place under reference 19/02328/PP for residential development and the construction of 24 homes. Plans for the consented development are available upon request.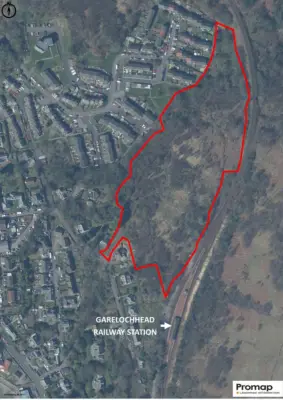 Garelochhead is a town of almost 3,700 residents located on the northern tip of the Gare Loch, within the Argyll and Bute region, around 8 miles north of Helensburgh and 42 miles northwest of Glasgow, via the A814.
The HMNB Clyde (Faslane) and RNAD Coulport bases are located nearby as is Loch Lomond, around 12 miles east.
Journey time to Glasgow is one hour and there are currently up to ten services a day to Glasgow's Queen Street station.
Anthony Zdanowicz, an Associate at DM Hall who is overseeing the sale, said: "This site, with full planning permission, represents an outstanding opportunity for a developer to undertake an exciting residential project in a beautiful part of the country and we expect to see lots of interest.
"Anyone interested should contact me on 07768 031297 or at [email protected]".
DM Hall, with 24 offices and over 250 members of staff including 24 Partners, is one of Scotland's leading independent firms of chartered surveyors and this year celebrates 125 years, since its foundation in 1897.
3 June 2022
RGU alumna wins Royal Scottish Academy Medal for Architecture
An alumna from The Scott Sutherland School of Architecture (SSA) at Robert Gordon University (RGU) has won the prestigious Royal Scottish Academy Medal for Architecture:
Scott Sutherland School of Architecture
1 June 2022
Golfhill School Flats News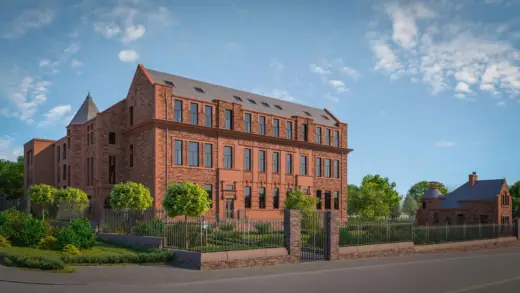 image courtesy of Spectrum Properties
Construction of 130 stunning new flats at Dennistoun's Golfhill School just a short walk from the city centre is given the green light by Glasgow City planners:
Golfhill Public School Dennistoun Flats
More current Glasgow Building News 2022 online soon
Glasgow Building News 2022 – Spring
23 May 2022
Trio Of Wins For Scotland's Home Builders At Industry Awards
Three of Scotland's home builders are celebrating winning headline awards at the return of trade body Homes for Scotland's (HFS) annual ceremony held in Edinburgh last Friday 20 May:
Homes For Scotland 2022 Awards Winners News
20 May 2022
The Great Tapestry of Scotland Gallery
The Great Tapestry of Scotland Visitor Centre Galashiels Building
The Great Tapestry of Scotland Gallery building design by Glasgow's Page \ Park architects is in Galashiels at the heart of the Scottish Borders. The building was designed to house a unique visual history of the nation crafted by the hands of a thousand stitchers.
19 May 2022
Helenvale Street for Parkhead Housing Association
anderson bell + christie were appointed by Parkhead Housing Association to develop proposals for a residential development on a currently derelict site in the Parkhead area of Glasgow. The scheme sits a stone's throw from Parkhead Cross and to the rear of Parkhead Library:
Helenvale Street Glasgow
18 May 2022
St Rollox Locomotive Works Listing News
The former St Rollox Locomotive Works in Springburn has been listed at Category B in recognition of its special architectural and historic interest, Historic Environment Scotland (HES) announced today, Wednesday 18 May.
St Rollox Locomotive Works Listing News
17 May 2022
Holmes Miller bolsters green credentials with raft of promotions
Holmes Miller has strengthened its senior team as it continues to grow with the promotion of seven staff across its Glasgow and London offices.
Matt Heaney has been promoted to Project Director in recognition of his contribution to the growth of the residential sector with a particular focus on Later Living opportunities across the UK and Ireland:
Holmes Miller Glasgow Architects
16 May 2022
Magnet – New Office Building in Glasgow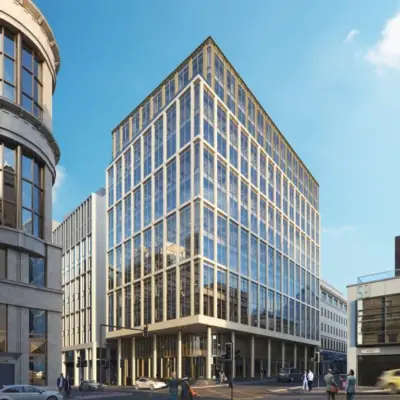 Mosaic Architecture + Design, one of Scotland's most experienced practices, has submitted a planning application on behalf of Garroch Investments to demolish Glasgow's Princes House and develop Magnet, a brand-new class-leading £75M Grade A office development with the highest environmental credentials:
Magnet Glasgow Office Building
16 May 2022
John H Young Bursary for University of Glasgow students
DM Hall, one of Scotland's largest independent firms of chartered surveyors, currently celebrating its 125th anniversary, has launched a £500 annual bursary scheme open to any student entering the MSc course in Real Estate Management at the University of Glasgow. The scheme, which will get under way later this year, honours the enduring contribution made both to the profession of surveying and to his firm by its former Senior Partner, John H Young:
John H Young Bursary for University of Glasgow students
16 May 2022
Homes For Scotland New Chief Executive News
Homes for Scotland (HFS) has announced Jane Wood as its new Chief Executive with effect from Wednesday 1 June. Read more here:
Edinburgh Building News 2022
12 May 2022
Share your views on Cumbernauld Town Centre
Historic Environment Scotland (HES) is asking members of the public to share their views on Cumbernauld Town Centre, after the organisation was asked to consider designating the building as a listed building:
Cumbernauld Town Centre public consultation
10 May 2022
Scottish Design Awards 2022 Finalists
The final shortlist for the Scottish Design Awards 2022 is unveiled, from which all this year's winners will be named:
Scottish Design Awards 2022
10 May 2022
The Den, Tighnabruaich
Jamie Ross, Founder of Technique Architecture and Design was the project architect, and the project was undertaken in collaboration with Paul Stallan and Stallan-Brand Architects. The main building was built in 1870s and housed 6 flats, with two further flats in the small adjoining cottage:
The Den, Tighnabruaich
6 May 2022
Scott Sutherland School of Architecture Exhibition
Scott Sutherland School of Architecture Exhibition 2022
5 May 2022
Spectrum Properties expands its property portfolio in the East End
Spectrum Properties expands its property portfolio following planning permission to develop further business and commercial units in Glasgow's East End.
Bill Roddie, Spectrum Properties: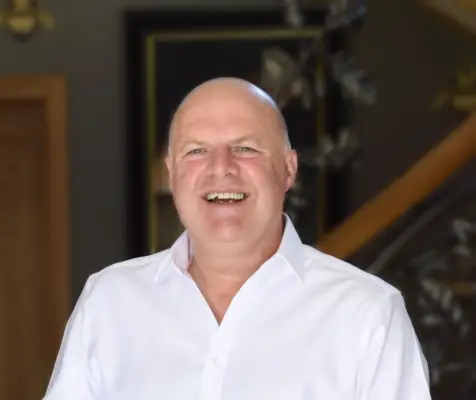 Glasgow-headquartered Spectrum Properties is set to expand an existing business park on a brownfield site in south east Glasgow with a range of different sized industrial and commercial units on a 1.8-acre site in Broad Street, close to the city centre.
Since 1861 the site has had various incarnations including use as a cotton mill, an egg distribution factory, a printworks and a Fire Brigade storage facility.
Now, the family-owned company has received full planning permission to bring new life to the neighbourhood by constructing and operating up to five new business units for general industry, storage, distribution and general business operations. The combined purchase and build-out cost will be around £3m.
One of the largest property companies in Scotland, Spectrum Properties, which focuses primarily on commercial property and owns some 700 such properties across Glasgow, has in recent years moved increasingly into residential development.
Managing Director, Bill Roddie, said: "the new development in Broad Street, which is bounded by Fordneuk Street and the Camlachie Burn, stands directly across from our existing Broad Street Industrial Estate.
"So, we know the area exceptionally well, having developed two acres of the site as successful, fully tenanted commercial units in recent years.
"Equally, we are aware that there continues to be substantial underlying demand from business people for units of these dimensions and specification. Developments such as these are part of our contribution to the ongoing regeneration of Glasgow's East End and we are confident that a significant number of jobs will be created when these units are occupied."
Spectrum Properties directly employs 75 people and the same number of sub-contractors. It is actively recruiting to cope with rapid expansion. Established by Mr Roddie in 1988, the company now has a portfolio valuation of £60 million and a turnover more than £5 million.
3 May 2022
CICV tells construction clients that rise in project costs reflects ongoing global turmoil
The Construction Industry Collective Voice (CICV) has reassured clients that ongoing price rises for projects are caused by global events not "profiteering" – and says any increases only reflect the spiralling costs that are affecting the whole construction industry.
Clients have voiced concerns at the increasing costs of construction work, but the body insists this is due only to ongoing global events sparking a rise in fuel costs and shortages of raw materials and labour.
Iain McIlwee, Chief Executive of CICV member the Finishes and Interiors Sector (FIS), said: "The war in Ukraine, energy price hikes, impact of Brexit and fallout from COVID-19 have all created a 'perfect storm' just as there is a surge in demand, with price increases being imposed on the industry as a result.
"Construction professionals are increasingly being forced to shoulder these ongoing rises, particularly when it comes materials, and are having no option but to pass these increases on to clients. But it is not profiteering – it is a necessity for these businesses to survive."
The CICV's Post-Brexit & Trade sub-group this week discussed the higher costs for raw materials, energy, labour and transport being faced by construction businesses of all sizes in Scotland, with particular focus on inflationary pressures for SMEs caused by external factors.
Mr McIlwee added: "This is a really challenging time for all in the construction supply chain with costs rising, often at short notice. The critical thing now is that we work together as a supply chain.
"Too often in construction we have contracted down all risks, but we are now in a position where fixed prices could undermine the resilience of contractors or suppliers and we need to adopt a more collaborative approach and consider how fluctuations clauses can be deployed and any risks fairly shared so as not to undermine the quality or viability of a project or businesses."
The CICV says as well as the negative impact of political, military and health issues, the withdrawal of red diesel in April has also led to higher costs for construction firms.
Chris Cassley, Policy Manager at CICV member the Construction Plant-hire Association (CPA), said: "The UK Government's environmental strategy with the removal of red diesel for construction plant has undoubtedly contributed to the current financial impact on industry, and despite representations to government departments, has proceeded regardless.
"The rise in energy and material prices, together with supply chain pressures and higher inflationary figures, has led to a tipping-balance for suppliers and customers alike, and in many instances resulted in necessary price increases. These increases are very likely to be passed back up to the client and for government projects, it will be the taxpayer who will ultimately have to pay."
Another warning came from Andrew Richards, Strategic Director of Safedem and a member of the Construction Scotland Industry Leadership Group, (representing SMEs and the supply chain) which is working in tandem with CICV to support the industry.
Mr Richards said: "The knock-on effects caused by the global events of the past two years looks like they will continue for the immediate future, so clients should consider fluctuations and rises in construction costs as part of 'the new normal' and shouldn't expect prices to fall any time soon.
"Construction professionals are equally concerned about the uncertainty that surrounds the marketplace and are only passing on cost increases through necessity, not greed."
The Post-Brexit & Trade panel is one of 12 sub-groups run by the CICV, covering a range of issues ranging from health and safety and skills to the supply chain and project bank accounts.
The collective was rebranded from the Construction Industry Coronavirus (CICV) Forum at the start of 2022 to reflect its widened remit, which now covers all areas of construction.
Since its creation in March 2020, the CICV has drawn on the collective expertise of its members to maintain a steady supply of information and practical advice to the sector as well as carrying out surveys, hosting webinars and making appeals to government ministers.
2 May 2022
Historic Environment Scotland Green Recovery Statement
Historic Environment Scotland sets out its vision for how heritage can be the keystone of Scotland's green recovery with publication of its Green Recovery Statement for the historic environment:
Historic Environment Scotland Green Recovery Statement
27 Apr 2022
Built Environment – Smarter Transformation News
Built Environment – Smarter Transformation, formerly Construction Scotland Innovation Centre, has announced a new strategic focus prioritising the built environment's transition to zero carbon and improving the sector's contribution to the fight against climate change:
Built Environment – Smarter Transformation News
27 Apr 2022
Glasgow Institute of Architects AGM News
The 154th Annual General Meeting of the Glasgow Institute of Architects takes place on 28th April 2022 at 17:00 at the CCA.
The Annual General Meeting of the GIA is held once a year and is where the President gives an update on the activities of the chapter for the preceding year and the Office Bearers, including the President, and members of Council are elected for the following year.
Find out more information at: https://gia.org.uk/giaagm2022
The Royal Incorporation of Architects in Scotland
20 Apr 2022
Cumbernauld Town Centre Listing News
Listing application submitted for imperilled Cumbernauld town centre, amid plans for Brutalist megastructure demolition:
Cumbernauld Town Centre
13 Apr 2022
Clyde Gateway Community Park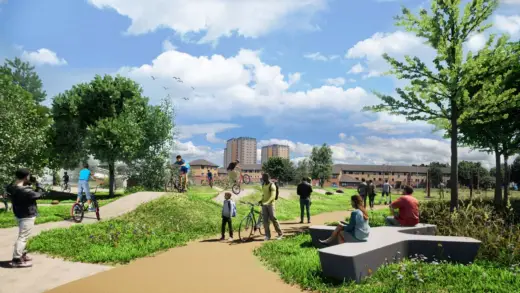 image courtesy of developer
Work is underway to transform a site in the East End of Glasgow into a community park after a £1m investment from Clyde Gateway, Scotland's most ambitious regeneration project:
Clyde Gateway
12 Apr 2022
St Enoch Centre Glasgow Redevelopment News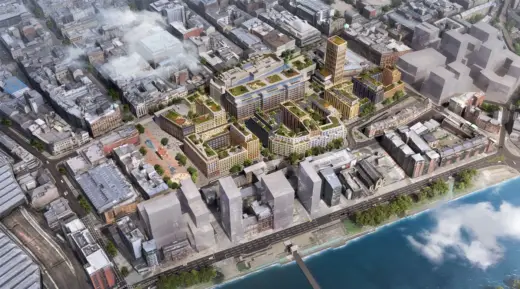 image courtesy of architects practice
Following the appointment by asset and development manager Sovereign Centros, urban renewal practice Leslie Jones Architecture (LJA) has submitted a planning application to transform the St. Enoch Centre in Glasgow into Scotland's foremost sustainable, mixed-use development with retail, leisure, entertainment, offices and hospitality:
St Enoch Centre Glasgow Redevelopment
12 Apr 2022
Homes for Scotland responds to Scottish Conservative home building boost proposal
Homes for Scotland respond to Douglas Ross' announcement that the Scottish Conservatives would increase home building targets to 25,000 new properties each year:
Edinburgh Building News 2022
11 Apr 2022
Mansion House in Tollcross Park
Spectrum Properties to preserve historic Mansion House in Tollcross Park in prestigious development for Glasgow's East End:
The future of the A-listed Mansion House, the Scottish baronial masterpiece in Tollcross Park in Glasgow, has been secured by its sale to a local property company which has already contributed hugely to the preservation and enhancement of some of the East End's most outstanding buildings.
Family-owned developer Spectrum Properties, which operates all over Glasgow, Edinburgh and Stirlingshire, has paid an undisclosed sum to save the building and plans to spend a further £1 million converting its 13 spacious apartments for rental.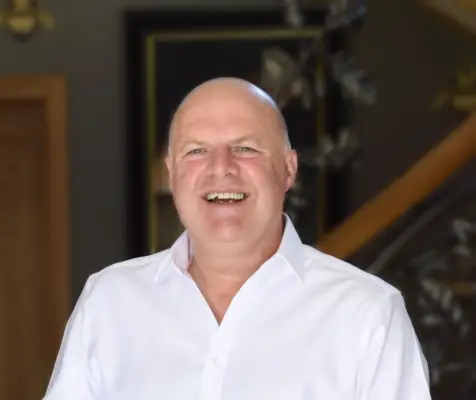 The purchase, from Shettleston Housing Association, is the latest development in the building's 174-year history and will create much-needed homes in the park, which is regarded as one of the East End's most attractive assets.
The Mansion House, built by the architect David Bryce for the mine-owning Dunlop family, features classic crow-stepped gables, corbelled turrets and pointed roofs. The new homes will be served by a private road sweeping through the park.
Spectrum Properties has been instrumental in preserving much of Glasgow's Victorian architectural and industrial heritage and has invested tens of millions of pounds in saving and repurposing properties of recognised architectural merit.
Spectrum Properties Managing Director Bill Roddie said: "The Mansion House is a quite spectacular property, built in a distinctive Scottish style and set on the summit of what was then the Dunlop family's private estate.
"In its essentials the building is similar to the Great Western Road, Glasgow mansion of the art collector and city benefactor, Sir William Burrell which we restored as high-end apartments a couple of years ago. As ever, we plan to undertake a sympathetic restoration of the entire property, keeping it in its original form and retaining the 13 residential apartments currently onsite.
"It has had its ups and downs over the years, and at one stage was facing demolition before it was preserved by a far-sighted restoration project which was completed nearly 30 years ago. We are delighted now to be able to take on the challenge of custodianship.
"When completed Tollcross House will be the centrepiece of the park and will complement other improvement work such as the £1 million restoration of the Winter Gardens glass house, which is a classic example of its kind."
It is anticipated that the new properties in the Mansion House will be ready for market by the end of next year.
Spectrum Properties has previously been involved in preserving properties such as Victorian warehouses in French Street and Carstairs Street in Dalmarnock; the historic Shakespeare Street public school in the West End; the façade and towers of architecturally important Golfhill School in Dennistoun; and a factory on the 19th century Dixon's Blazes Industrial Estate.
One of the largest property companies in Scotland, it has also restored and converted sites such as Hillhead High School in Cecil Street in Glasgow, the former Hydepark Public School in Springburn and Shettleston Public Baths..
Although Spectrum Properties has moved into residential development in the last 10 years, its primary focus remains on commercial property. It owns some 700 commercial properties across the city, comprising 70% of its group holdings.
Spectrum Properties directly employs 75 people and the same number of sub-contractors. It is actively recruiting to cope with rapid expansion. Established by Mr Roddie in 1988, the company now has a portfolio valuation of £60 million and a turnover in excess of £5 million.
6 Apr 2022
Kepdarroch Farmhouse
This is a new-build home on a working farm, designed by Baillie Baillie for a young family. Set in an open agricultural landscape, the house is arranged loosely around an informal courtyard, making reference to familiar clusters of farm buildings, steadings and cottages:
Farmhouse in Stirlingshire
5 Apr 2022
New Dumfries High School
Dumfries and Galloway Council has appointed hub South West Scotland, the construction and infrastructure-focused partnership which works with local authorities and private sector enterprises in Lanarkshire, Ayrshire and Dumfries and Galloway, to develop the new Dumfries High School:
Dumfries Architecture
4 Apr 2022
Laidlaw Music Centre Building, St Andrews
Designed by architects Flanagan Lawrence, the £12.5m Laidlaw Music Centre will become an integral part of the St Andrews cultural quarter:
Dumfries Buildings
1 Apr 2022
Holmes Miller make announcement of new Equity Director
Ryan Holmes' promotion to Equity Director follows a 20-year journey at the company, where he has championed new sustainability practices and the early adoption of digital technology.
As part of Holmes Miller Architects' growth strategy and continued expansion across the UK, the business today announces the promotion of Ryan Holmes to the position of Equity Director, based out of their Glasgow design studio:
Holmes Miller
31 Mar 2022
Key Planning Document Risks Making Housing Crisis Worse As Shortfall Since 2008 Approaches 100,000 Homes
Home building body Homes for Scotland (HFS) has said that a key Scottish Government document outlining the approach to planning and development to 2045 risks making the country's housing deficit even worse.
In its submission to the consultation on National Planning Framework 4 (NPF4), HFS highlighted that the document, as drafted, "will likely reduce the number of homes delivered, thereby exacerbating the housing crisis". It also highlights:
 the lack of recognition given to Scotland's housing crisis, despite the delivery of new homes being the original purpose of planning reform. HFS is asking for housing delivery to be included in NPF4 as a national development.
 the lack of detail in relation to the delivery strategy and associated financial interventions that will be required to deliver the ambitions of NPF4.
 the failure to address the ongoing resourcing challenges within Local Authorities whilst adding to planning officers' workloads with a raft of, at times, contradictory policies with no clear decision-making hierarchy, not to mention the introduction of a number of new technical reports.
 proposed new wording to support the identification of a deliverable pipeline of housing sites and to offer workable solutions when the pipeline is found to be under-delivering.
 the lack of an evidence base for new policy direction such as requiring vacant and derelict land to be allocated as a priority before greenfield release.
Of particular concern, however, is the figure proposed as the Minimum All Tenure Housing Land Requirement. HFS argues that the tool used for calculating this relies too heavily on past population trends and fails to identify the full range of housing need, with many excluded from the count (eg single adults living with parents or sharing a flat, families living in a home with inadequate bedroom space). This follows a recent report showing that the cumulative housing shortfall since the global financial crisis is now approaching 100,000.
HFS Head of Planning Liz Hamilton said:
"Whilst we do welcome the focus upon the 'deliverability' of sites and broadly agree with the intent and purpose of several of the policies, we are extremely concerned that, as it currently stands, NPF4 will lead to significantly fewer homes being built.
"Indeed, it appears that Scotland's housing crisis has been forgotten but this is equally as important as the climate emergency and nature crisis. A better balance must be struck to respond to all.
"With regard to the Housing Land Requirement, the purpose of a target was to shift focus away from numbers and on to the delivery, design and function of our future places. In order to do that, however, the numbers must at least reflect completions over the last ten years as an absolute minimum. Unfortunately, draft NPF4 falls short on this and looks like it is planning for decline.
"The Scottish Government intends to have NPF4 passed before the parliament's summer recess but, given the importance of this document and the extent of revision that we believe is required, we are calling for a pause until updated proposals are published in full and properly consulted on and scrutinised by MSPs.
"We all have our own examples, whether it's ourselves or people we know, of the struggle it is to find a home that meets your needs and that you can afford. That is why we need to deliver more homes, both private for sale and social affordable housing, not less. It is crucial that the public understand what is at stake if our young people, growing families, ageing population and future generations are to have the safety and security of calling somewhere home."
29 Mar 2022
Burrell Museum Reopening News
Glasgow's A-listed Burrell Museum is now open after refurbishment and redisplay, this award-winning building houses a unique collection in a beautiful woodland setting.
29 Mar 2022
Scotland Faces 100,000 Homes Shortfall
Trade body Homes for Scotland expresses its concern at latest Scottish Government housing statistics. The stats show marked drops in housing association completions and approvals:
Scottish Architecture News
27 Mar 2022
The Glasgow School of Art launches search for new Chair of the Board of Governors
Through executive search consultants, Saxton Bampfylde, The Glasgow School of Art launched the process for the election of a new Chair of the Board of Governors:
Glasgow School of Art
23 Mar 2022
Homes For Scotland Announces 2022 Awards Shortlist
Home building body Homes for Scotland (HFS) announces the shortlist for its 2022 awards programme as it plans for a return to the largest annual gathering of its kind where winners will be announced:
Homes For Scotland 2022 Awards Shortlist
The Burrell Collection Restoration AHSS lecture
Thursday 24 March
AHSS Strathclyde
Venue: Online & in person at the Renfield Centre, 260 Bath Street, Glasgow G2 4JP
The Impact of Enslavement on Scotland's Built Environment AHSS lecture
Monday 11 April
Venue: Online & in person at Augustine United Church, George IV Bridge, Edinburgh EH1 1EL
See the Glasgow Architecture Events page for details
15 Mar 2022
Virtual Event – Improving Lives with Architectural Regeneration
Join the first #DesignPopUp virtual panel of 2022. This talk with Anderson Bell + Christie and Renfrewshire Council will explore how a community-led regeneration project can improve the lives of both individuals and the community itself.
Join us on Tuesday 22nd March at 10.30 am for 'Improving Lives with Architectural Regeneration' with Project Architect and Practice Director, Stephen Lamb, and Renfrewshire Council's Head of Housing, Fraser Carlin, we will have the opportunity to hear all about the challenges, processes and outcome of the award-winning Johnstone Castle Regeneration project.
Tuesday 22nd March, 10.30am
The Panel
Stephen Lamb
Director, Anderson Bell + Christie Architects
Stephen is a chartered architect with a keen interest in all aspects of architecture, particularly housing and sustainability. After working in Cullen and London, he joined the practice in 1995. Stephen led the consultant team and was directly involved with the development of the Johnstone Castle redevelopment for Renfrewshire Council.
Fraser Carlin
Head of Housing, Renfrewshire Council
Fraser Carlin is the Head of Housing Services at Renfrewshire Council. He oversees the management of some 12,000 homes and the delivery of the Council's Homelessness services and the Council's Regeneration and Housing Investment Programme.
Fraser has worked for several Councils across his 30-year career and has been with Renfrewshire Council since 2007.
Tuesday, 22nd March at 10.30am
9 Mar 2022
RIAS Awards Winners in 2022
The shortlisted buildings for the 2022 RIAS Awards are spread widely across the country and include new school and college buildings in Cumnock, Falkirk and Jedburgh, the restoration of an iconic Modernist house in Galashields, a community centre in Fife and pioneering low energy homes:
7 March 2022
HES seeks views on listing of St Rollox Locomotive Works in Glasgow
St Rollox Locomotive Works could soon be recognised with listed status, as Historic Environment Scotland (HES) announced it is seeking views from the public on proposals to list the former railway works site in Springburn at Category B due to its special historic and architectural interest:
St Rollox Locomotive Works Listing
6 March 2022
Paisley and Govan Building Photos
The Luma Tower, a residential building in Govan area, ne of the best preserved examples of Art Deco architecture in the city, protected as a category B listed building since 1988: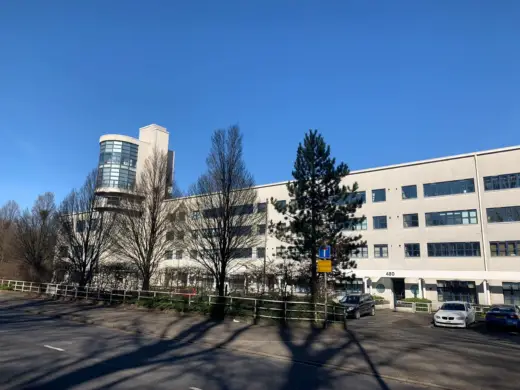 Glasgow Building Photos 2022
4 March 2022
Lucent at 50 Bothwell Street Glasgow Offices Start on Site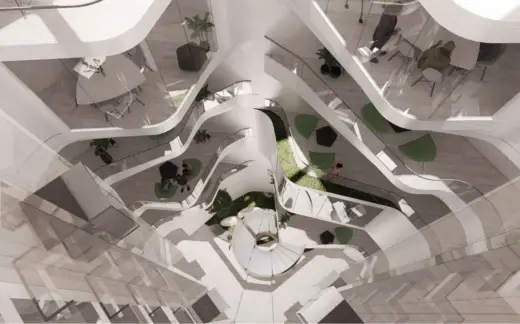 Onsite works have begun on the £35m redevelopment of 50 Bothwell Street. The commercial building will rebrand as 'Lucent' to create the next generation of prime, smart enabled offices in Glasgow, that will feature 14 outdoor terraces, a first for the city:
Lucent at 50 Bothwell Street Glasgow Offices
4 Mar 2022
new Chryston community hub building construction start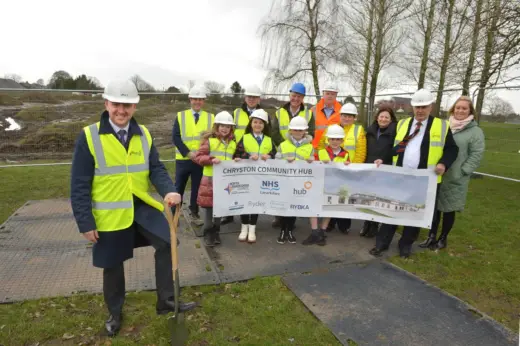 Work on a new £20 m community hub in Chryston has begun, with a turf-cutting event to mark the start of construction taking place on Monday 28 February. North Lanarkshire Council is working in partnership with NHS Lanarkshire on the project that will deliver a 21st-century learning environment along with state-of-the-art health and wellbeing facilities:
Chryston Community Hub in North Lanarkshire
More Glasgow Building News 2022 online here soon
Glasgow Building New 2022 – Winter
24 Feb 2022
Glasgow Architecture Jobs News
New vacancies:
– Architectural Director job at an AJ100 Edinburgh Practice. £60,000-£70,000 plus highly competitive benefits.
– Architect
– Senior Technologist / Senior Architect
Glasgow Architecture Jobs
15 Feb 2022
The Maker's House, Lenzie Conservation Area
Loader Monteith Architects has unified a subdivided Victorian merchant's house in the Lenzie Conservation Area of Glasgow for an architect and ceramicist, adding a striking black timber-clad extension complete with pottery studio:
10 Feb 2022
Urban Union Breathe New Life Into Historic Gorbals Building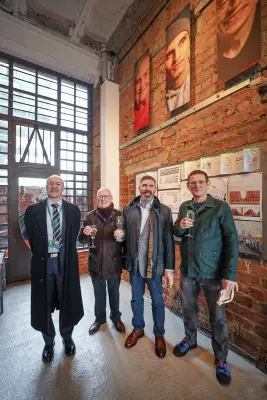 photograph courtesy of Urban Union
Urban Union has opened a new free to use community space featuring a gallery and exhibition area at 166 Gorbals Street, a Glasgow landmark and one of the last remaining historic buildings in the Gorbals.
Built in 1900 and designed by architect James Salmon, the Grade A-listed building was once home to the British Linen Bank but lay derelict for decades. It was acquired by Southside Housing Association in the early nineties and has recently undergone a £2.6million restoration:
166 Gorbals Street Glasgow Building News
9 Feb 2022
Cost of living crisis – view
The cost of living crisis is upon us as household bills and interest rates rise, but residential property
will always weather the storm
By John McHugh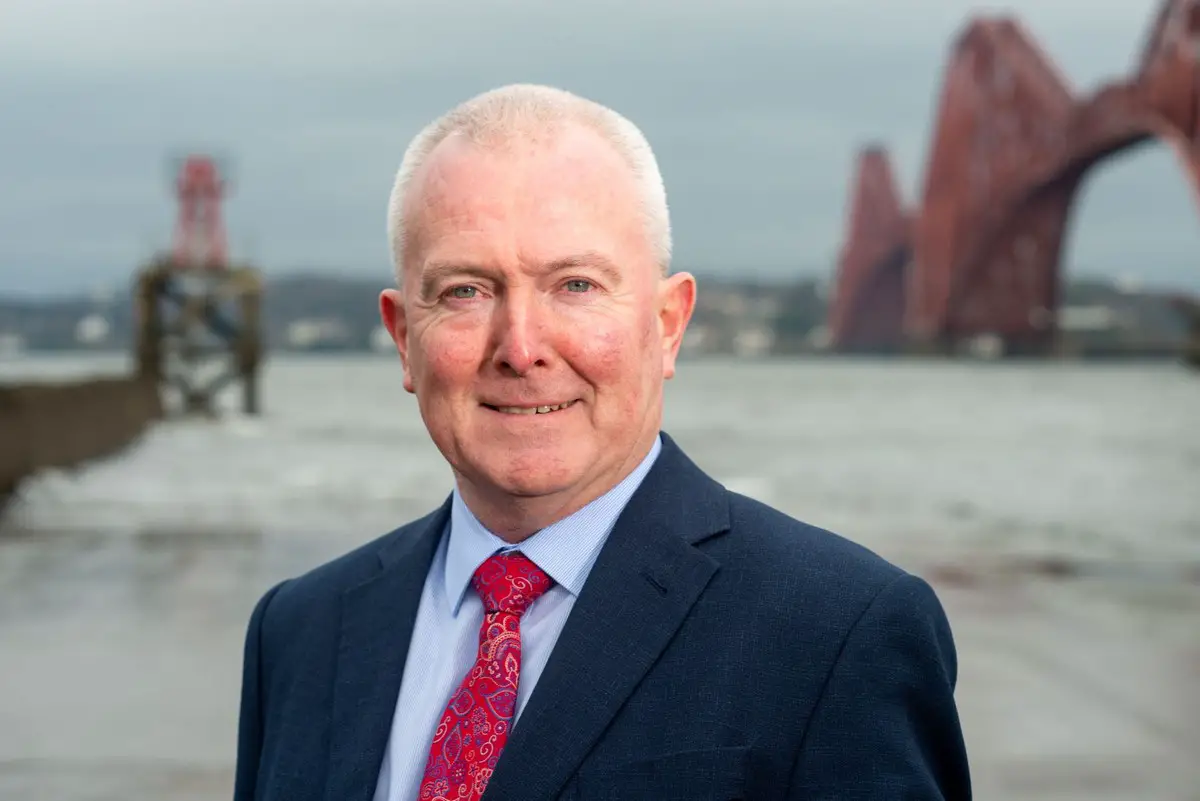 This time last year, amid frenzied activity in the residential property market in Scotland, driven by the unprecedented external factors of which we are all aware, I suggested that a levelling out and a return to more normal conditions might not be a bad development.
Chance, as they say, would be a fine thing. Instead, the impulse to transact has remained as buoyant as ever, catalysed by what now seems like the new normal – a constant lack of supply and heightened demand – leading, of course, to the ever-upward march of prices.
As we progress through the early stages of 2022, whilst it would seem reasonable to expect this exuberance to last a bit longer, the crystal ball has become rather cloudy of late as a number of fairly significant external factors start to intrude.
These include the spectre of inflation, every central banker's recurring nightmare. This (February 2022) month's Bank of England Monetary Policy Report says that inflation is expected to rise to around 7% in spring before the heavy artillery of interest rate rises is deployed to beat it back down.
This will come as a novel experience to many actual and aspiring homeowners who have known nothing other than a benign interest rate environment, but it will be nowhere near as bad as what buyers of a previous generation lived through in the seventies and eighties, when rates regularly hit 16% and 17%.
Utility prices are rising across the board – regulator Ofgem has just raised the energy price cap by £693, lifting average bills to £1,971 – and apparent muddle and indecision on future fuel security policy means price increases will continue to cause economic pain across the board.
What does this concerted assault on the general cost of living mean for the Scottish housing market as we plough through the year? That again depends on a number of interconnected factors.
Firstly, in these early weeks of the year, demand is still very much in evidence and there is still a plentiful supply of lending finance available. Deals remain on offer and borrowing is still very affordable although the spectre of interest rate rises could alter that.
Secondly, it is generally recognised that the savings mountain built up over the Covid years – £92 billion in the UK in Q2 2020 and a major factor in the demand curve – could now be subject to an element of inflationary erosion and a consequent dampening of enthusiasm.
It will take a long time to erode all the surplus money currently warming people's pockets but the inevitable changes in expectations might direct the market back to the days when affordability rather than aspiration was the primary motivating factor.
Time will tell. Meantime, good areas in Scotland's cities remain in strong demand and peripheral markets will probably continue to do well as unsuccessful urban buyers look further afield.
And, while governments may be encouraging people to return to their offices, agile or hybrid working – call it what you will – is now embedded in many people's lifestyles and they are in no rush to consign the WFH abbreviation to history.
This means that the migration to the countryside and coasts is unlikely to abate, as gardens, views, countryside and local amenities have assumed a much greater importance to many. As well as offering a very different lifestyle, they have the added attraction of often representing better value.
At the moment, the Skip Index is also very much in the ascendancy. This, like the Crane Index in city centres, is an informal guide to local economic activity and skips have been littering the streets as many home owners choose to renovate, repair or extend rather than move.
As evidenced by our Architectural Services division – which provides plans and help with necessary permissions – one of the side effects of the lack of supply is that many people living in good areas are choosing not to get involved in the market contest and are enhancing their current situation instead.
So, there could be turbulent times ahead with significant challenges to personal finances. The much-trumpeted cost-of-living crisis is squarely upon us and could be the worst that younger generations have ever experienced, with the Bank of England warning that disposable incomes will take their biggest hit in 30 years.
However, residential property has been and will remain an aspirational and attractive proposition. People have a recurring and continuing desire to better themselves and aspiration is unlikely to go out of fashion any time soon, whatever the cost.
John McHugh is Managing Partner of DM Hall Chartered Surveyors.
1 Feb 2022
Marking 25 years of the Scottish Design Awards
Organised by Urban Realm, in partnership with The Drum, the Scottish Design Awards have been showcasing boundary shaping work, industry best practice and sustainability in all forms for a quarter of a century. Now on the cusp of a new era, we will be celebrating a new generation of design professionals who've gone above and beyond in delivering their briefs:
25 Jan 2022
Glasgow School of Art fire: Inquiry unable to find cause
Fire investigators have failed to find a cause for the fire that destroyed Glasgow School of Art's world-renowned Mackintosh building in 2018, report the BBC today:
Glasgow School of Art
24 Jan 2022
First academics move into new £116 million University of Glasgow research facility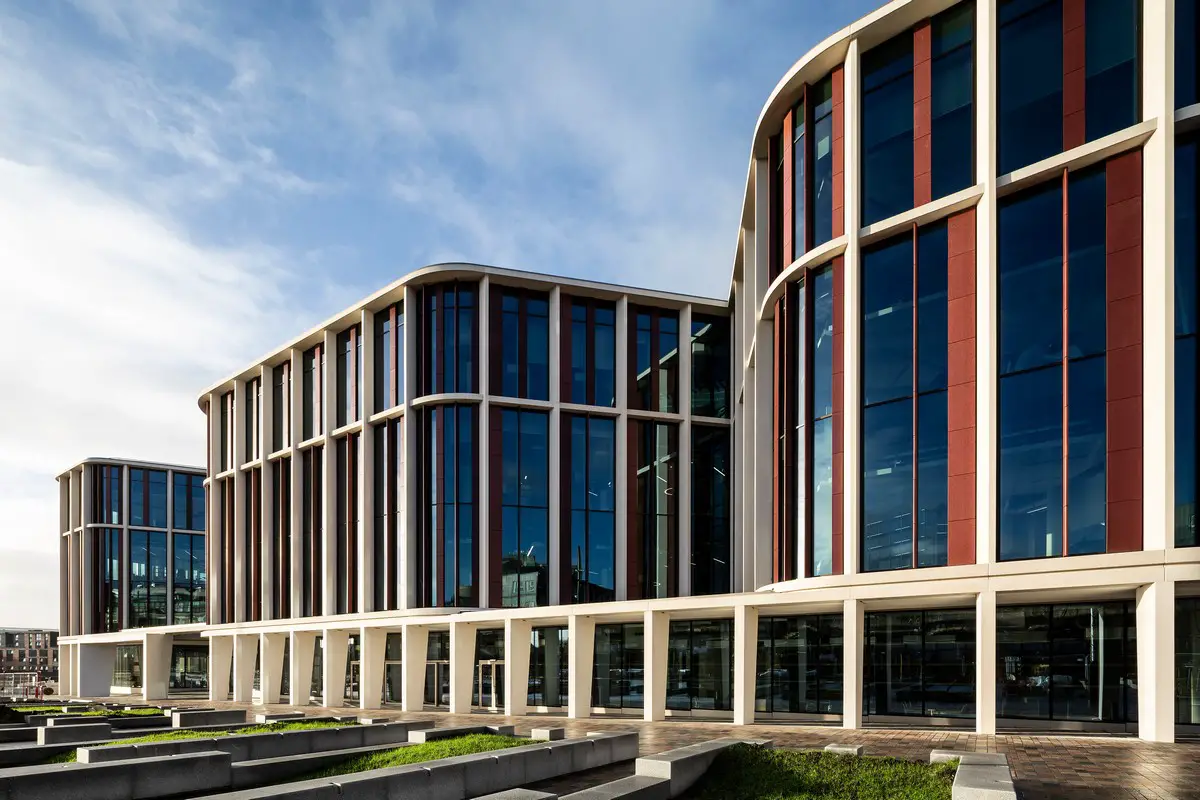 photo : Keith Hunter
The University of Glasgow welcomes the first researchers into its pioneering flagship research facility, the ARC (Advanced Research Centre). The £116 million, 16,000 metre-square building will house a collaborative community of academics from across a range of disciplines and will be fully operational from Spring this year:
University of Glasgow ARC: Advanced Research Centre
15 Jan 2022
Milngavie Streetscape Design
Since 2018, Glasgow's Page\Park Architects have been working closely with Milngavie BID, a community organisation formed of stakeholders and representatives of local businesses, to strategise and deliver a series of incremental projects in Milngavie Town Centre. The initiative was community-led, and the success of this first project, has stimulated a wider programme of improvements in the town centre:
13 + 6 Jan 2022
New Glasgow Architecture Photos
A few new pictures taken around town on a sunny day, Wednesday 5 January:
Glasgow Building Photos 2022
More contemporary Glasgow Building News 2022 online soon
Happy New Year to all our readers!
Isabelle and Adrian at e-architect wish you a Happy New Year.
Two BDP adaptive reuse design projects make the AJ Retrofit Awards shortlist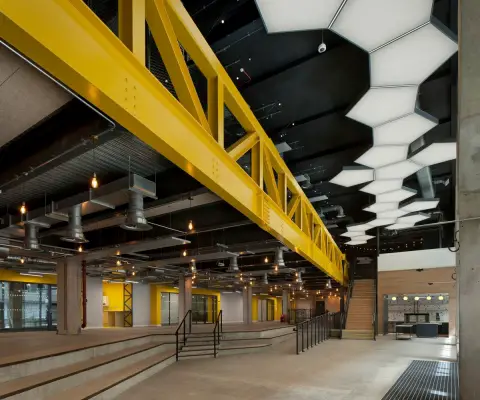 photo : David Barbour
BDP adaptive reuse design projects
Comments for our Glasgow Building News 2022 online soon
are always welcome!
Strathclyde Architectural Designs
2020
Glasgow News 2020
2019
Glasgow Building News 2018 April – December 2018
Glasgow Architecture News 2018 up to end of April 2018
Glasgow Building News from July 2017 to December 2017 – news archive
Glasgow Architecture News from end of January 2017 to July 2017 – news archive
Glasgow Architecture News 2016 – end of January 2017 – news archive
Glasgow Architecture News 2015 – news archive
Comments for the Glasgow Architectural News for 2022 page welcome