Glasgow Architecture News 2020, Strathclyde Buildings, Architects, Design Images Scotland
Glasgow Building News 2020
Scottish Architectural + Construction Updates – West of Scotland Property
post updated 31st of December 2020
Glasgow Architecture News 2020
21 Dec 2020
2020 Visions reanimates disused spaces in the centre of Glasgow
Our high streets are changing. Office blocks are emptying. Our need for shared human experience remains the same.
2020 Visions asks what the future of our neighbourhoods will be and presents it as a series of scenes in nine sites around the Tron Theatre, Glasgow. Street level windows have been taken over with installations inspired by the stories and ideas of local people, who contributed to the project online and through social media by sharing their hopes and dreams for the future. Part promenade, part treasure hunt, part collective dream, 2020 Visions empowers us all to reflect and imagine a brighter future during the darkest week of the winter.
2020 Visions is a concept where anything is possible. The creative team transformed ideas submitted by the public into temporary reality, working with local businesses and community interest companies to transform the streetscape. A core feature of 2020 Visions is collaboration with emerging artists from a variety of disciplinary backgrounds.
Visual artists Sekai Machache, Samuel Temple, and Saoirse Anis joined with the 2020 Visions team of theatre technicians, lighting designers, and set designers in a creative mash-up which has produced curious and playful artworks in response to the question "What does our future hold?". Visions have been reflective, resonant, thought provoking, and fun.
As the days get shorter and night comes earlier, 2020 Visions has populated empty spaces with light and re-animated the Trongate neighbourhood with hope.
You can share your vision through the project website https://www.2020-visions.live/
Nich Smith Lighting Design
www.nichsmith.com
Telephone: +44 (0) 7740 375 161
2 Dec 2020
New Glasgow Architectural Photos
Glasgow Architectural Photos
20 Nov 2020
Cloch Lighthouse in Gourock
Design: Benjamin Tindall Architects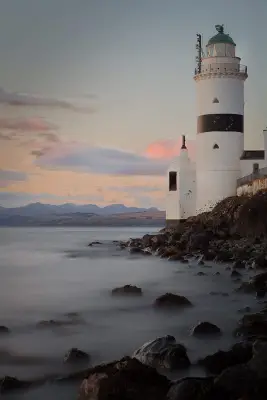 photograph courtesy of Andrew Samuel at www.TallTaleFilms.co.uk
Cloch Lighthouse in Gourock
Guiding light. Dougall Baillie Associates to advise on changes to home at the Cloch Lighthouse. The professional services of a Lanarkshire civil and structural specialist have been enlisted to advise on a significant upgrade to accommodation at one of Scotland's most picturesque and dramatically-situated lighthouses.
19 Nov 2020
Holiday Inn Pacific Quay Hotel
Architects: Mosaic Architecture + Design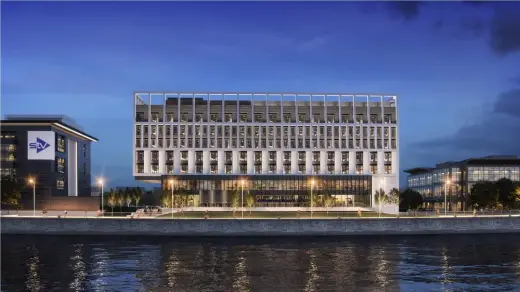 image courtesy of architects
Holiday Inn Pacific Quay Hotel
Mosaic Architecture + Design, one of Scotland's most experienced practices, has secured Glasgow City Council planning approval to build an £18m Holiday Inn Pacific Quay hotel on the site of the former Glasgow Garden Festival.
7 Nov 2020
Merchant City boutique hotel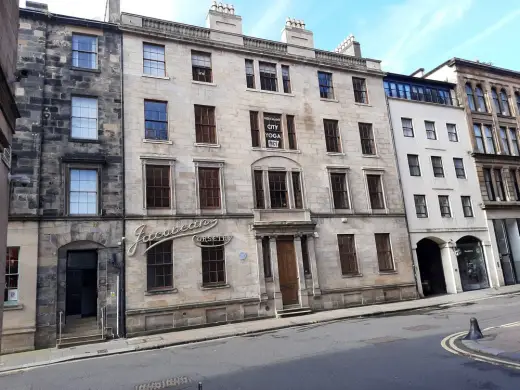 DM Hall presents rare 18 room boutique hotel development opportunity in Glasgow's Merchant City at offers over £1.33m:
Merchant City Property News
5 Nov 2020
Graven imbues a spirit of conviviality in new Chivas Brothers HQ in Glasgow
International design studio Graven, has designed new, award-winning offices for Chivas Brothers, the Scotch whisky business of Pernod Ricard, on Blythswood Square in Glasgow's city centre.
1 Nov 2020
30,000 Posts on e-architect!
The e-architect resource has over 30,000 pages of architectural information + building news.
We passed the 30k mark on 31 October 2020.
8 Oct 2020
Langside Halls: Study to find sustainable future for 'A' listed venue
Langside Halls Trust (LHT) is delighted to announce the appointment of award winning, Glasgow-based Hoskins Architects and culture & heritage management consultancy, Jura Consultants to undertake a 20 week feasibility study of Glasgow's magnificent 'A' listed Langside Halls. The study is tasked with producing a viable Business Plan and costed design and conservation proposal to enable the Trust to seek the capital funding necessary to refurbish the Halls and realise its vision.
8 Oct 2020
Residential Market in Scotland News
The residential market in Scotland is bubbling away as buyers escape the lockdown straitjacket, but is it also on the point of creating a price bubble?
Article by Eric Curran
There is, I am sure, a more measured and professional way of saying this, and in more normal times I would instinctively reach for it, but the stark fact of the matter is that the residential housing market in Scotland has gone nuts…read this in full on the Glasgow Architecture news page.
30 Sep 2020
Drum Agrees £81.5 M Deal With L&G for 346 Apartment Build-to-Rent Complex at Glasgow's Candleriggs Square
Candleriggs Development 2 Limited, the joint venture between Drum Property Group and Stamford Property Investments, has agreed an £81.5 million deal with Legal & General to deliver a major 346-apartment Build-to-Rent (BTR) scheme at Candleriggs Square, Glasgow.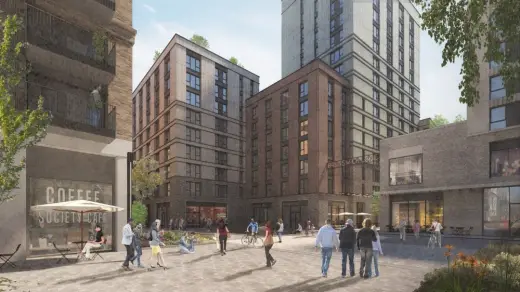 28 Sep 2020
Help for first-time buyers in Scotland extended
Scots trying to get their foot on the property ladder north of the border will benefit from the country´s first home fund for another year, following a recent government decision.
see Edinburgh Architecture News for the full report
10 Sep 2020
Scottish Architecture Conference
The programme for the RIAS 2020 convention has been announced. With the Grain will run online from Monday 28 Sept – Friday 2 October.
7 Sep 2020
Glasgow Doors Open Day Festival Project by Hoskins Architects
For this year's Glasgow Doors Open Day Festival (GDODF) Hoskins Architects brought together a range of collaborators to work together in response to recent global events and produce a beautifully illustrated, educational and accessible digital walking tour, aimed at young people.
25August 2020
Scottish commercial property salesatlowestlevelfor 10 years
The Scottish Property Federation (SPF) analysis of the latest commercial property sales figures from Registers of Scotland reveals Scotland'sworst quarter for commercial property sales in a decade.
At£285m, the total value of commercial property sales for Q2(April-June) 2020dropped 43% on the first quarter of the year and 54%comparedto the same period in 2019.
Q2 activity was heavily affected by the coronavirus crisis and restrictions onpropertytransactions and registrations.
Regionalbreakdown
Scotland's two largest cities,Edinburghand Glasgow, both saw adramatic decrease in activity during Q2.
Edinburghrecordedthe highest value of salesfor Scotland,with£91m transacted over the quarter,significantly down on both the previous quarter and Q2 2019, which saw sales of £126m and £108m,respectively.
Glasgow also saw activityaffectedheavily byCOVID-19, with total sales of £24m, some £148m (86%) down on the second quarter of last year.
SPF Director David Melhuish commented:
"The SPF conducted a survey of commercial property owners in May that foreshadowed the extent that the industry would be effected by the pandemic.
"While reduced activity in the commercial property market was expected for this quarter, these figures indicate a much deeper and more rapid fall than we saw even at the time of the financial sector crisis in 2008-09.
"The extent of the fall in sales reveals a weakened wider economy, and consequently a reducedlevel of investment activity.
"The commercial property sector is facing a perfect storm of loss of income, minimal market activity and increasing liabilities in the form of empty property rates as businesses close stores or delay office moves.
"Unless we see a return to a sustainable level of business activity, the sector will struggle to produce the new buildings and places for a modern workforce, or to provide the quality property investments sought by long-term investors that provide reliable income returns for pension and life funds."
15 Aug 2020
Unusual Bearsden House for Sale
This contemporary house, "arguably one of the most imaginative and creatively designed contemporary homes to have been built in Glasgow in recent decades" is on sale.
Amazing architect designed house, completed 2017, offers over 650k:
Unusual Bearsden House for Sale – Rettie website post on this luxury modern property (link no longer working, 1 Dec 2023)
7 Aug 2020
North Kelvin Apartments, Shakespeare Street Building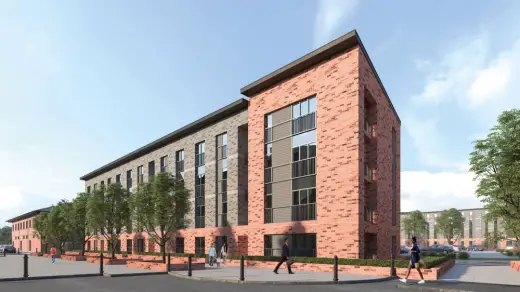 All systems go again on project which saved North Kelvin's Shakespeare Street school building.
The third and final stage of a pioneering residential development close to Glasgow's West End has restarted following the construction industry shutdown, bringing to fruition the preservation of an historic and much-admired old school building.
5 August 2020
Scottish Government planning proposals news
Scottish Government planning proposals at odds with announcement on generating growth and supporting jobs, builders warn
Industry body Homes for Scotland (HFS) has welcomed today's Scottish Government announcement on its plans to "generate significant economic growth, combined with a focus on supporting jobs, skills and training" but warned that new proposals on planning contradicted such intentions.
HFS Chief Executive Nicola Barclay said:
"Delivering more of the new homes that our country needs is fundamental to Scotland's post-lockdown recovery effort.
"In economic terms, the industry contributes billions in GVA every year and supports tens of thousands of jobs, both directly and indirectly, right across the country. But the impact is much wider than this from both social and environmental perspectives, supporting improved health and education outcomes as well as helping to lower the carbon emissions of our built environment.
"HFS members stand ready to play their full part in ensuring Scotland makes its strongest possible recovery in the months ahead, which makes new proposals to remove the presumption in favour of sustainable development where local plan allocations prove undeliverable all the more frustrating.
"A system that doesn't encourage local planning authorities to take advantage of sustainable opportunities to deliver much-needed new homes, where council-backed supply is falling short, is a threat to Scotland's economic stability and its efforts to achieve a more equal society where everyone's needs for a home are met."
5 August 2020
Scottish Government's blueprint for Scotland's wellbeing economy
The Scottish Property Federation (SPF) Commenting on the Scottish Government's response to the Advisory Group on Economic Recovery report.
Full post featured on our Edinburgh Architectural News page.
28 July 2020
Construction work on Paisley Town Hall News
Work to transform the future of Paisley's much-loved town hall is due to restart – with construction workers due on site at the start of August.
27 July 2020
Maven acquires site to develop new purpose built student accommodation
Maven Capital Partners, a leading UK property and private equity manager, has purchased a site at Murieston Crescent, Edinburgh, for the development of a purpose built student accommodation (PBSA) complex.
26 July 2020
Cardross Seminary Building News
Catholic Church Transfer Cardross Seminary. The ownership of an A-listed modernist building which the Catholic Church has been trying to get rid of for years has been transferred to a charitable trust.
23 July 2020
Mackintosh at the Willow
Help Save Mackintosh at the Willow is live on Crowdfunder.
With one day left the trust has met their £20,000 target, so far reaching £20,655. This fund request is to allow the premises to survive through lockdown:
New photos of the Salon de Luxe interior.
20 July 2020
St Columba of Iona RC Church, Woodside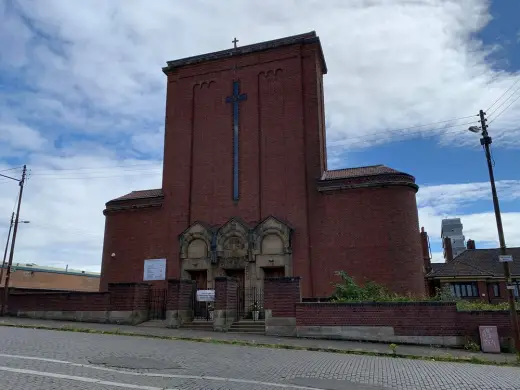 photo © Adrian Welch
New photos of 1941 building design by Glasgow's Gillespie Kidd & Coia Architects
20 July 2020
48 new homes in Cambuslang
hub South West agrees £7.4m social housing contract with Cruden Building & Renewals Limited to build 48 new homes in Cambuslang's Auldkirk Road on behalf of South Lanarkshire Council.
hub South West, the public-private partnership of local authorities, NHS, blue light services and a clutch of leading construction industry Tier One building contractors, has signed a £7.4m social housing contract with Cruden Group to undertake construction of 48 homes in the Auldkirk Road area of Cambuslang.
hub South West new homes in Auldkirk Road, Cambuslang :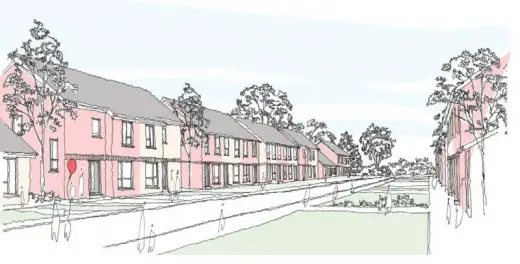 image courtesy of hub South West
The contract, hub South West's third housing project with South Lanarkshire Council, will provide homes ranging from two-bedroom cottage flats to five-bedroom semi-detached houses.
hub South West – Michael McBrearty: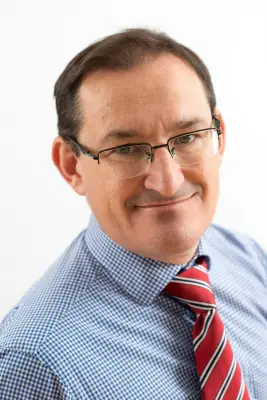 photo courtesy of hub South West
Michael McBrearty, Chief Executive of hub South West said: "We are pleased to embark again upon our third social housing project with South Lanarkshire Council this time with Cruden Building & Renewals Limited as main contractor.
"This project also brings with it a high degree of local social value through its delivery of jobs, apprentices and opportunities for local companies to contribute to the end result."
Allan Callaghan, managing director for Cruden Building & Renewals Limited, part of the Cruden Group said: "We are delighted to be appointed by hub South West to deliver this exciting housing project on behalf of South Lanarkshire Council.
"These high-quality homes will be built to Silver Standard energy efficiency levels, providing residents with warmer homes that have fewer carbon emissions and are cheaper to run.
"Throughout this build, we will provide a wide range of benefits for this local community – including employment opportunities and site-based work experience."
Work has already started on the development which is expected to be completed in January 2021.
16 July 2020
Finnieston Crane restaurant and museum
£7million plan to transform Glasgow landmark into major visitor attraction announced.
Ambitious proposals include Finnieston Crane restaurant and museum. Furthmore visitors will be able to get up to the top deck.
16 July 2020
Medicines Manufacturing Innovation Centre, Inchinnan
Interserve Construction named as preferred bidder for new £15m Medicines Manufacturing Innovation Centre
Interserve Group Limited, the international support services, construction and equipment group, has been named as preferred bidder for the new £15 million Medicines Manufacturing Innovation Centre (MMIC) in Inchinnan, Renfrewshire.
The state-of-the-art development will be located near Glasgow Airport and will be led by CPI in partnership with The University of Strathclyde, Scottish Enterprise, and founding industry partners, AstraZeneca and GlaxoSmithKline.
The centre will ensure the UK is a technology and innovation leader in small molecule pharmaceutical and fine chemical manufacturing, thereby boosting the competitiveness of both sectors.
With a collaborative innovation culture and state-of the art facilities, the new Medicines Manufacturing Innovation Centre will develop highly efficient and effective technologies. As a flexible and adaptable building, the centre will enable industry, academia, healthcare providers and regulators to work collaboratively to address challenges along the medicines supply chain.
The new manufacturing centre is funded by several sources including UK Research and Innovation through the UK Industrial Strategy Challenge Fund, Scottish Enterprise and founding industry partners GlaxoSmithKline and AstraZeneca.
Cameron Stewart, Regional Director at Interserve Construction said: "The new centre at Inchinnan is a really exciting, innovative project where our strengths in the medical sector will hugely benefit the project.
"Interserve Constriction will bring our considerable experience and capabilities in delivering similar projects like the National Biologics Manufacturing Centre for CPI in Darlington, which is currently supporting efforts to manufacture and formulate vaccines for COVID-19, and the Jack Copeland Centre in Edinburgh for the Scottish National Blood Transfusion Service. The Medicines Manufacturing Innovation Centre will be market leading for the pharmaceutical industry and we are delighted that will be part of that."
Nigel Perry, Chief Executive Officer at CPI, said: "The Medicines Manufacturing Innovation Centre will enhance the UK's existing competitive advantage by deepening the skills base and strengthening the rationale for companies to invest in new, highly productive medicines manufacturing.
"CPI is delighted to be working alongside the University of Strathclyde, Innovate UK, Scottish Government and our industry partners to deliver this globally unique centre that will prepare the pharmaceutical supply chain for vital, next generation medicines and further extend CPI's healthcare capabilities."
Scottish Government Minister for Business, Innovation and Energy, Paul Wheelhouse, said: "I am delighted that the Medicines Manufacturing Innovation Centre will be located in Scotland, given its potential to become a global centre of excellence and bringing significant benefits to Scotland's economy. The location of the MMIC is also a very positive endorsement of Scotland's Life and Chemical Science sectors and will build on our internationally recognised strengths in both Research and Development and manufacturing."
15 July 2020
Construction moves to next stage of COVID-19 restart
The construction sector is commencing Phase 4 of its restart plan in response to the coronavirus (COVID-19) pandemic.
It means that close working can now take place on-site – with appropriate PPE use – if necessary.
Full post featured on our Edinburgh Architecture News 2020 page
14 July 2020
New Glasgow Buildings Photos – 9 July 2020
Photos taken on 9 July 2020 by architect Adrian Welch, Finnieston:
St. Anne (Dennistoun) – Archdiocese of Glasgow, by Architect Jack Coia: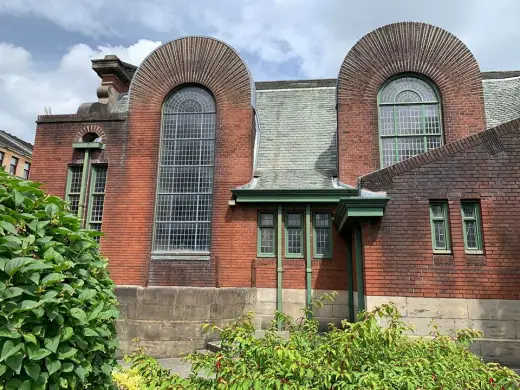 Also visited were Graham Square housing, Daily Express building, Strathclyde University, Glasgow Cathedral, Necropolis, Whitevale Baths:
1 July 2020
Demand Surges For New Build Homes
Over half now appreciate their home 'more than ever' / 40% of people want a home office
With show homes and sales offices in Scotland now open again, builders are reporting strong levels of Interest as lockdown restrictions begin to ease.
Full post featured on our Edinburgh Building News page
29 June 2020
The Prince & Princess of Wales Hospice (PPWH)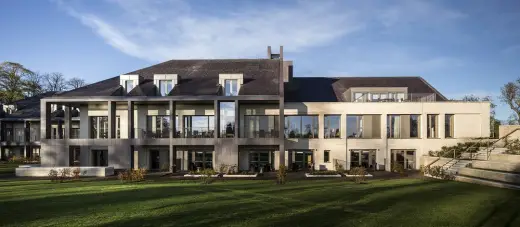 photo : Keith Hunter Photography
The Prince & Princess of Wales Hospice
New photos of this building designed by Ryder Architecture, a £21m development that is changing the face of traditional hospice care.
25 Jun 2020
Scotland's housing market re-opens
As Scotland's housing market re-opens DM Hall tells house hunters it is ready to roll on Monday, 29 June
As the Covid-19 restrictions on the country's housing market begin to ease, DM Hall, one of Scotland's largest independent firms of chartered surveyors, is ready to start work again on Monday 29 June – providing Home Reports for house hunters and those looking to sell their homes.
With a wait list in the many hundreds of people looking to have Home Reports undertaken, DM Hall has prepared a video setting the five steps for a safe survey, https://www.dmhall.co.uk/five-steps-for-a-safe-survey/.
Administrative staff will contact each household ahead of the visit to ensure that everyone is in good health. The surveyor will then 'phone the homeowner to confirm that he or she is on their way, that everyone in the property remains well with no symptoms, and that no one has been self-isolating within the last 14 days. If so, the appointment will be re-arranged.
Surveyors have also been given a clear list of instructions to preserve everyone's safety. "By communicating clearly with customers, they should feel assured that DM Hall can survey safely and support their move", it says.
Every day, surveyors will check and confirm they have sufficient PPE: gloves, masks, hand gel, and paper towels for the survey, including plenty of spares.
Guidelines confirm that "should gloves have to be removed during a survey and you wish to wash your hands remember to ask permission and bring your own supply of paper towels. Do not bring your own reusable towel to use throughout the day and do not leave used paper towels in the house."
DM Hall's Managing Partner, Eric Curran, said: "We have adhered closely throughout the lockdown to Government and Royal Institution of Chartered Surveyors (RICS) guidelines. The only homes we have surveyed over the last three months have been uninhabited properties and, even then, only if we were informed of an essential or urgent requirement.
"There is, we believe, significant pent-up demand in the Scottish marketplace, and it is our role, acting within all published guidelines, to meet that demand now that we have been given the go-ahead.
"Our preparations have been extensive and highly detailed, and we eagerly await Monday 29 June when we will return safely to work."
16 Jun 2020
CICV Forum extends range of post-pandemic consultation to seek views of whole Scottish construction industry
The Construction Industry Coronavirus (CICV) Forum has extended its wide-ranging consultation on the future of the sector to the whole Scottish construction industry.
Originally launched last week among the Forum's 50 member organisations, the unique collective is now inviting all other parties to give their opinion on what they want for the industry after COVID-19 – and how it might be achieved.
Forum chair and SELECT Managing Director Alan Wilson, said: "We appreciate that not everyone in the construction sector is represented by the Forum – our major housebuilders for example – and we are anxious that all parties within our industry contribute to the national debate on where we go next."
With companies beginning a phased return to work, the wide-ranging questionnaire addresses multiple issues which have not gone away during the pandemic and suggests that the sector cannot realistically go back to the way it was.
Led by Consultant Len Bunton, the consultation was compiled with the input of four leading quantity surveying firms, as well as Ian Honeyman, Commercial Director of the Scottish Building Federation, and Ken Lewandowski, former local chairman of Clydesdale Bank.
Mr Bunton said that, for everyone involved in construction, the ultimate objective for the post-pandemic future must be an industry which is not only fair and transparent but allows contractors and the supply chain to operate profitable businesses.
He said: "The questions in the consultation will be put not only to the many trade and professional bodies in the Forum, as well as their members, but to all parties engaged in the sector. We are seeking the broadest possible body of opinion to help form policy in the coming months and years.
"We want to look at the endemic problems of low tendering, low or no margins and the lack of regard for competency and experience. Serious cashflow and payment issues, poor quality and health and safety problems are also consistent concerns for the industry.
"We also need to hear from public and private sector clients who are the lifeblood of the industry, as their investment creates employment for the construction sector in Scotland."
Mr Bunton added: "The consultation makes the point that the CICV Forum, which was quickly and efficiently assembled to deal with the ongoing effects of the shutdown, has demonstrated the desirability of disparate parties coming together to work for the mutual benefit of the sector."
The consultation is the latest in a series of initiatives from the Forum, which has been at the forefront of information dissemination to the sector throughout the COVID-19 crisis, and which has become for many enterprises the first port of call for clarity of advice.
In the last two weeks alone it has released health and safety underpinning guidance, furloughing information for employers, a consultation about the future of the industry in Scotland and vital advice for apprentices and staff preparing to return to college.
A copy of the consultation can be obtained by emailing [email protected]. The closing date for submissions is Friday 19 June.
11 Jun 2020
CICV Forum welcomes return to domestic work
CICV Forum welcomes announcement from Scottish Government confirming return to domestic work
The Construction Industry Coronavirus (CICV) Forum has warmly welcomed today's (11 June) Scottish Government announcement that domestic work will be included amongst the scope of construction work now permitted.
The news has been eagerly awaited by all parts of the industry for whom domestic work makes up a major part of their business, and follows recent restart discussions between the Forum and Kevin Stewart, MSP, the Minister for Local Government, Housing and Planning.
CICV Forum Chair Alan Wilson, who is also Managing Director of SELECT, said: "The announcement about a return to work and the inclusion of domestic work in the lockdown easing will be a huge relief to the lots of businesses across the whole sector which provide essential services to homeowners all over Scotland.
"However, as always in construction, safety is the overriding consideration and firms must prepare to carry out work in a wholly changed working environment, which will produce its own new challenges."
Shortly before the announcement was made, Mr Stewart had responded to a letter from Mr Wilson, confirming that the move to Phase 2 of the construction sector restart plan would include work in domestic properties.
He also stressed that the restart would have to be undertaken with a new set of safe working practices in mind, including physical distancing, face coverings and enhanced hygiene provision, in order to continue to control the virus.
Gordon Nelson, Scotland Director of Forum member the Federation of Master Builders, said: "Health and safety, for employees and customers alike, will be critical as we work to bring the construction industry back to some semblance of normality.
"While this is good news, everyone concerned must recognise the importance of continuing to follow the guidance and ensuring that the only job that will be undertaken will be a safe job."
Fiona Hodgson, Chief Executive of Forum member the Scottish and Northern Ireland Plumbing Employers' Federation (SNIPEF), said: "The response from the construction industry across Scotland during this crisis has been impressive, coming together to take positive action for mutual benefit.
"While the announcement is welcome, we are not out of the woods yet and every company and employee involved in getting back to work needs to abide by the new restrictions under which we all must now operate."
The CICV Forum has been at the forefront of information dissemination to the sector throughout the COVID-19 crisis and has become for many enterprises the first port of call for clarity of advice.
Made up of trade associations, professional services bodies, companies and individuals, it went into action immediately in March with advice on how to operate safely while carrying out emergency or essential work.
It has since then been drawing on the collective expertise of its members to maintain a steady supply of information and practical advice to the sector as well as carrying out surveys, producing animations and posters, hosting webinars and making appeals to Government Ministers.
11 June 2020
Scottish residential property market fundamentals remain strong
Please see the article below by Eric Curran, managing partner at DM Hall chartered surveyors, talking about Scottish residential house prices:
Ignore the doomsayers. The Scottish residential property market fundamentals remain strong
By Eric Curran
The last thing anybody needs at the moment is someone else banging on about fake news but if you were a house seller in Scotland at the moment listening to the mainstream media you would be reaching for the pill bottle.
A combination of instinctive sensationalism, clickbait headline generation and what appears to be a fundamental lack of knowledge about how markets work has produced a stream of stories of late which suggest that the housing market is doomed and prices are falling through the floor.
This is quite simply nonsense and not supported by housing market stakeholders sentiment.
When the current crisis began to envelop us in March this year, I wrote that, because the mechanics of the Scottish residential market and its underlying strengths were not altered, there was no reason for it not to carry on as usual when the upturn comes. As it will.
Of course, activity has essentially ceased since March, but we are rapidly approaching the second stage of Holyrood's lockdown-easing review process and the smart money is on the property market lining up at the starting gate for June 18.
One of the main reasons that I remain firmly optimistic is that strong anecdotal evidence from agents tells of hundreds of viewers waiting for the opportunity to see homes and even of bids being made on the strength of virtual viewings.
There are also credible stories of deals which have fallen through early in the crisis, when the air was thick with panic, which have since successfully re-marketed and sold for more than the original bid price.
There is no doubt that there is still a powerful pent-up demand to see houses, allied to a continuing lack of supply. So, stories of the inevitability of dramatic house price falls simply do not compute. They defy the basic laws of economics.
That is not to say that variables will not come into play as the year progresses. The Coronavirus Job Retention Scheme presently is masking the possibility of substantial redundancies which, if significant enough, could have the effect of dampening demand.
But here is another anomaly.
Consider the huge numbers of individuals who have been furloughed or are working from home. They are not spending money on travelling to work, or coffees, snacks and lunches; they may have taken mortgage and insurance payment holidays; they are not going to the pub, cinemas, theatres or football; they certainly are not going on holiday.
As a consequence, they are better off in cash terms than they have been for some time.
The same situation applies to lenders. Because there has been no activity for three months, they are awash with cash and are desperate to get their reserves back into productive use rather than languishing in low and even negative interest-rate isolation.
Inexorably, they are moving back towards more traditional lending models, with deals on offer creeping back up to 85%, 90% and even 95% loan-to-value. They have no incentive to keep their money in the bank.
Another brake on the sector has been the fact that, in Scotland, it is not possible to market a property without a Home Report, which requires a visit from a surveyor. And even were visits allowed, many people may be reluctant to have outsiders in the house.
The profession has not been idle, though, during this period and has laid out well-structured plans for a rapid return to home visits, including PPE, social distancing, having homeowners leave doors and hatches open and conducting conversations outside.
Surveyors will take every step to wrap a protective blanket round their clients and prioritise their health and wellbeing, and they are willing and eager to get back to business if the gun fires on June 18.
DM Hall stands ready to bring back a phased return of surveying, backed by support teams, to serve its client base as soon as it is allowed to. The firm anticipates strong initial demand and then the likely prospect of having to rapidly scale up operations over the rest of the year.
As mentioned earlier, no one is going on holiday anytime soon, so normal low-demand periods may well be smoothed out and even rise to levels usually seen in the rest of the year.
The property market is much closer to a V-shaped recovery than I thought even in March. So, I say to people thinking of selling or buying a house: don't listen to the doomsayers. The Scottish market is in fine fettle and ready to go.
Eric Curran is managing partner of DM Hall Chartered Surveyors, based in the firm's Glasgow North office.
4 June 2020
Red Tree Magenta Shawfield, Glasgow, by NORR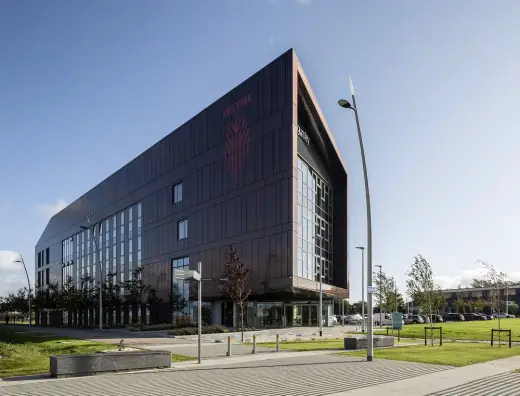 photo © Keith Hunter Photography
Clyde Gateway embarked on delivering the first commercial building at the 11ha Magenta Business Park site, Shawfield to act as a catalyst to the market, prove it as a business location and to demonstrate the viability of the remediation strategy for the wider site.
Red Tree Magenta Glasgow Building
3 June 2020
New Glasgow Buildings Photos
Photos taken at House for an Art Lover on the 29th of May 2020 by Isabelle Lomholt: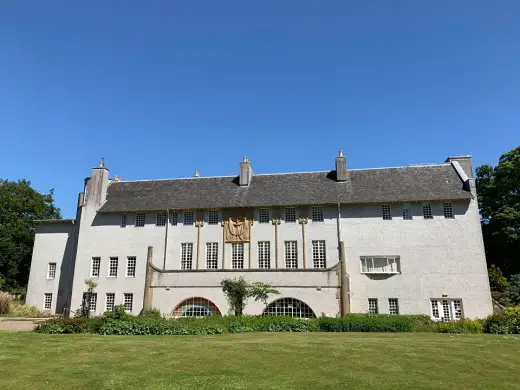 photo © Isabelle Lomholt
2 June 2020
Carrick Square Glasgow News
Soller Group has submitted a detailed planning application for its 200,000-square-foot Carrick Square Glasgow Development. The architects are Architects Mosaic Architecture + Design.
28 May 2020
Scottish Property industry relieved with recovery plan
Following the First Minister's statement today confirming the commencement of Phase 1 of the Scottish Government's route map to easing lockdown, Robin Blacklock, SPF Chair and MD Dowbrae Property Consultancy, commented.
Full post featured on Edinburgh Building News 2020.
28 May 2020
Scottish Buildings – Unidentified Images
The Scottish Development Department collection consists of approximately 70,000 plastic photographic negatives and some printed photographs, as well as additional reference documentation in the form of 'record sheets'.
These photographs and corresponding records sheets were captured by Scottish Development Department investigators, predominately in the 1970s and 1980s.
This collection was digitised as part of Canmore's three-year Digital Project, with the aim to make 'invisible' archives visible.
Some of these images do not have any additional 'metadata' – information about themselves, check them out:
Unidentified Scottish Buildings
27 May 2020
Planning Submitted for the New Boclair Academy in Bearsden, Glasgow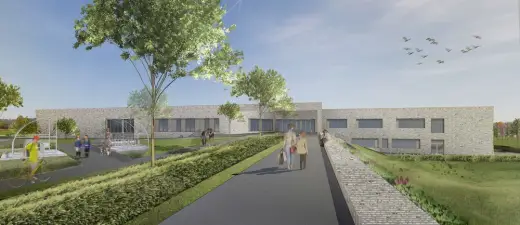 Ryder Architecture has submitted design proposals on behalf of East Dunbartonshire Council to replace the existing Boclair Academy in Bearsden. The new design will deliver a state of the art learning environment for 1,050 pupils, which includes the provision of improved outdoor sport facilities alongside a fully integrated landscape design approach:
New Boclair Academy in Bearsden
27 May 2020
New Homes Quality Board – interim board announcement:
First step towards creation of New Homes Ombudsman scheme
The first step towards the creation of a New Homes Ombudsman (NHO) scheme has been announced with the appointment of an interim New Homes Quality Board (NHQB) chaired by "New Homes Quality Champion" Natalie Elphicke MP.
Full post featured on e-architect.
25 May 2020
Glasgow Buildings Photos
Images taken on the 25th of May 2020 by Isabelle Lomholt & Adrian Welch,
around the River Clyde:
Riverside Museum Glasgow on the River Clyde, from south west (Govan):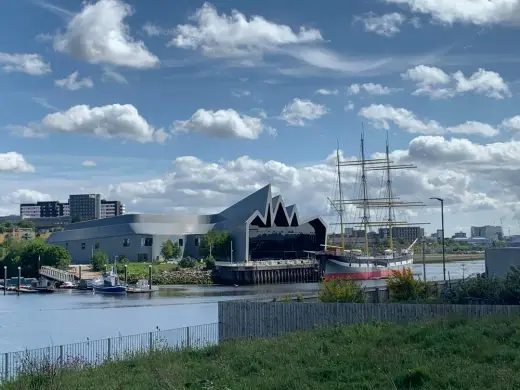 photo © Isabelle Lomholt
See more images at Glasgow Buildings Photos
and in the Govan area: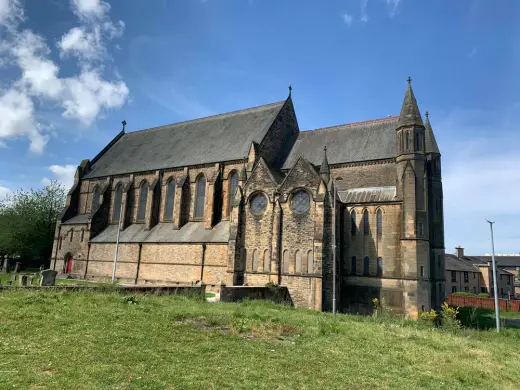 See more at Govan Buildings
22 May 2020
Construction Industry Coronavirus Forum welcomes long-awaited return to work in Scotland
The Construction Industry Coronavirus (CICV) Forum has welcomed the first tentative steps announced yesterday (May 21) to get the sector in Scotland back to work – but insists health and safety and collaboration must be at the heart of the phased return.
The collective – which has been working towards restart with a number of bodies, including the Construction Leadership Forum – commented after First Minister Nicola Sturgeon said Scotland will begin a process to reopen construction sites from next week (May 28), alongside other measures.
Under the phased return to work, businesses will be allowed to resume work on sites, based on a six-point plan which the government has developed with the industry. Collaboration and cooperation with the trades unions will also be important to ensure a safe return.
The overriding focus on safety has been promoted by the Forum, which has successfully produced a range of industry advice about correct working during course of the crisis.
Vaughan Hart, Managing Director of Forum member the Scottish Building Federation, said: "The shutdown in Scotland has been one of the biggest challenges the sector has ever faced and, while we wholeheartedly welcome the return to work, it must be carried out in the proper manner.
"This means that the health and safety of operatives is paramount, and the correct guidance and procedures must be adhered to at every phase of the proposed route map. The Forum has been at the forefront of helping the industry by clarifying advice and this effort will now come into its own."
The Forum says it now plans to release more guidance to help business owners, contractors and apprentices through each stage of the phased return, including advice for construction sites, domestic work and colleges.
Alan Wilson, Chair of the CICV Forum and Managing Director of SELECT, the electrotechnical trade body for Scotland, said: "This is the news we have been waiting for and it has not come a moment too soon.
"We all understand the reasons why Scotland has been in virtual shutdown since March, and we all need to work together to assist the sector as it faces an uphill struggle to recover."
Hew Edgar, Head of UK Government Relations and City Strategy, added "One of the most important lessons to come out of the crisis is the value of working together for mutual benefit.
"The Forum, was only created eight weeks ago, and is the perfect example of this principle, having brought together a huge range of organisations and individuals in a concerted effort to protect the industry.
"As we restart the sector, collaboration between everyone involved – clients, architects, surveyors, contractors, subcontractors and suppliers – will be of the utmost importance since many of the issues which beset the industry pre-COVID, such as late payments and retentions, will still need to be addressed."
15 May 2020
Planning Submitted for 182 New Homes in Glasgow's City Centre.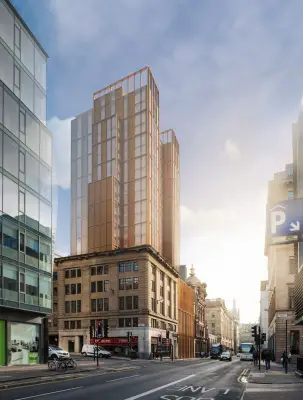 image courtesy of architects
Ryder Architecture has developed proposals for a new landmark residential and mixed use development on behalf of Brickland Ltd in the heart of Glasgow city centre, whilst Turley has submitted applications for planning, conservation area and listed building consents:
64 – 72 Waterloo Street Glasgow
13 May 2020
Recommencement of Home Building in Scotland
13th of May 2020 – First Minister asked to signal a timescale for the recommencement of home building in Scotland as housing market divergence increases:
More details on the Edinburgh Architecture website's news page
Background:
Scotland's home building industry is a major contributor to the country's social and economic wellbeing. As well as every home built supporting four jobs, new housing delivery results in improved health and education outcomes and generates over £3bn per annum in direct, indirect and induced GVA. Access "The Economic and Social Benefits of Home Building in Scotland" report here.
At the outset of lockdown, a survey of Homes for Scotland members highlighted that 65% believed they could only sustain themselves for 2-3 months in such circumstances. A more recent survey shows that this figure has now increased to 75%.
The updated Health Protection (Coronavirus, Restrictions) (England) (Amendment) (No. 2) Regulations 2020 make substantial changes to Regulation 6 on 'Restrictions on movement' and mean that the activities listed as a 'reasonable excuse' to leave one's home now include:
'to undertake any of the following activities in connection with the purchase, sale, letting or rental of a residential property—
• visiting estate or letting agents, developer sales offices or show homes;
• viewing residential properties to look for a property to buy or rent;
• preparing a residential property to move in;
• moving home;
• visiting a residential property to undertake any activities required for the rental or sale of that property
8 May 2020
Glasgow's new Coronavirus hospital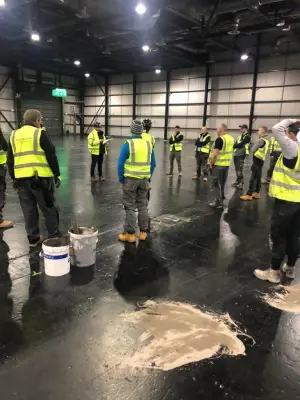 A go-ahead Scottish company has pulled off a minor miracle – while maintaining the highest possible standards of safe working – to help get the new NHS Louisa Jordan temporary hospital facility up and running in Glasgow.
NHS Louisa Jordan Hospital Glasgow
5 May 2020
Momentum and membership increase as CICV Forum continues to support Scotland's construction sector
The reach of the newly-formed Construction Industry Coronavirus (CICV) Forum continues to grow, with more organisations coming on board to help play their part in the recovery of the industry.
A total of 78 individuals are now involved with the influential group, representing 48 different official construction bodies from across Scotland and beyond, including Government agencies, private companies, professional services firms and training bodies.
The Chartered Institute of Building (CIOB) , the Chartered Institute of Architectural Technologists, the Finishes and Interiors Sector, the Scottish Plant Owners Association, the Construction Plant Hire Association and the Association for Consultancy and Engineering are the latest organisations to join the Forum, taking the total number of full members to 22.
In addition, some 26 other organisations are now represented on the Forum's seven sub-groups which help shape guidance and support on mission-critical aspects such as employment, health and safety, skills, client liaison and future planning.
Eddie Tuttle CIOB: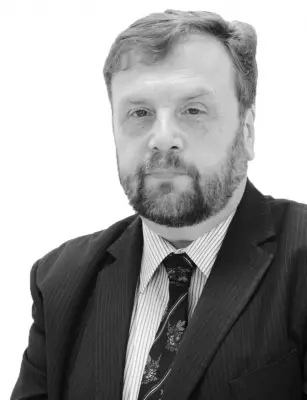 Eddie Tuttle, Director of Policy, Research and Public Affairs at the CIOB, said: "In a very short space of time the CICV Forum has demonstrated its effectiveness and, as the world's largest and most influential professional body for construction management and leadership, we are very keen to be able to play our part in supporting the industry at this trying time."
The Forum, which was formed only last month, has already played a major role in clarifying conflicting information for the sector and issuing practical guidance for companies, clients and employees. Its sub-groups now provide further insight into the wealth of talent and experience to which it now has access.
Representatives from the Scottish Futures Trust (SFT) and the Scottish Building Contract Committee are playing a key role in the Commercial sub-group.
The Skills sub-group now includes experts from Construction Scotland Innovation Centre, Scottish Electrical Charitable Training Trust, Skills Development Scotland and the Construction Industry Training Board.
Lending their insight to the Health & Safety sub-group are the Chartered Institute of Architectural Technologists & Construction Industry Council, Building Safety Group, McConnell, Hardies, Fisher Group and ISG Construction.
The Forum's Future Planning sub-group enjoys contributions from the Scottish Federation of Housing Associations (SFHA), Construction Scotland Innovation Centre, Specialist Engineering Contractors' Group Scotland, the Scottish Government, the Scottish Futures Trust, Gardiner & Theobald LLP, James Frew, Hardies, Interserve and Currie Brown.
And the Communications sub-group is now benefiting from the input of key staff members from Blueprint Media and the Construction Scotland Innovation Centre.
A new Clients sub-group has also been created, helmed by experienced Arbitrator and Adjudicator Len Bunton of Bunton Consulting, which contains representatives from the Society of Construction and Quantity Surveyors, Scottish Property Federation, NHS, SFHA, SFT and Gardiner & Theobald LLP.
The Employment group is currently made up of full Forum members.
Stephanie Lowe, Head of Employment Services at Forum member SNIPEF, said: "It is no surprise that the CICV Forum continues to attract such influential support, since the work it has done to back the industry since it was established has been quite remarkable."
Ian Cuthbert, Programme Manager for the Energy Saving Trust, added: "The growth of the CICV Forum is a classic illustration of just what can be achieved if the many disparate elements of our vital construction industry work together for the good of the sector as a whole."
And Anne Galbraith, CEO of the Scottish Electrical Charitable Training Trust, said: "A great deal of talent and expertise has been assembled in a very short time in response to an unprecedented emergency and it is clear that the CICV Forum is reacting in a cohesive and considered manner. I think we can expect more good work from this body."
Other members of the Forum, which was set up last month, include SELECT, SNIPEF, the Civil Engineering Contractors Association (CECA – Scotland), the Lift and Escalator Industry Association, the Building Engineering Services Association (BESA) Scotland, the Scottish Building Federation, the Federation of Master Builders, the Scaffolding Association, the Stone Federation, the National Federation of Roofing Contractors, the Electrical Distributors' Association, the Builders Merchants Federation, the Royal Institution of Chartered Surveyors, the Royal Incorporation of Architects in Scotland, the Scottish Contractors Group and the British Constructional Steelwork Association.
SELECT Managing Director Alan Wilson, who chairs the CICV Forum, said: "The Forum has been delighted with the speed, willingness and efficiency with which agencies and individuals have contributed their experience and expertise in the wider interests of the industry."
5 May 2020
Shopping Sheds News
Headman at Shedman, Bill Roddie, delivers 70 free small Shopping Sheds to vulnerable people in Greater Glasgow
Shedman, Scotland's leading manufacturer and distributor of garden sheds, has delivered 70 small Shopping Sheds entirely free of charge to vulnerable individuals and families throughout Greater Glasgow.
And most were delivered personally by the Headman at Shedman, Bill Roddie.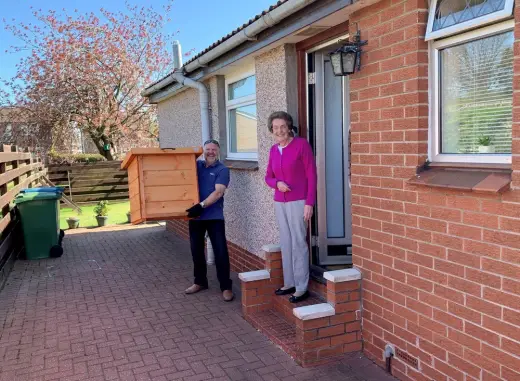 The attractively designed Shopping Sheds offer a safe and secure way to deliver shopping to friends and family, protecting essential items from the elements and easy to collect. They were distributed on a first come, first served basis.
Shedman's managing director, Bill Roddie, said: "We have had to furlough 20 team members because of the Covid-19 crisis, so, with the help of a couple of pals, I've been delivering most of the small Shopping Sheds to deserving people throughout Greater Glasgow.
"Some of those who applied for the sheds entered because they had nowhere to safely leave supplies for loved ones, including shielded senior citizens, people battling cancer or diabetes, or those with breathing difficulties.
"The reaction from people has been tremendous and we are sure that in these unprecedented times, delivering food and essential supplies to loved ones will be just a bit easier."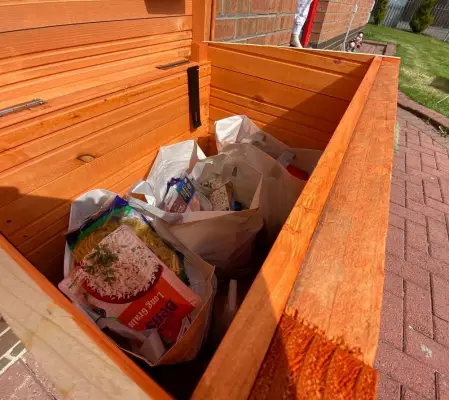 Feedback on their Facebook pages from recipients and family members of recipients across Glasgow have been uniformly positive.
Pam Lucas said: "Absolutely delighted with my free shopping shed! What a kind and wonderful thing for Shedman to do. Also delighted with the customer service, from the calls to arrange delivery to the after call to make sure everything is ok!"
Kirstin MacIntyre said: "My mother received her shopping shed today. As she is high risk and shielding this will help with deliveries etc for her. Fantastic quality, she also told me the person who delivered it was very pleasant."
Paul Friel said: "Many thanks for delivery food box so much appreciated due to our daughter isolation to liver transplant at the age of 8 months."
Sharon Bower, said: "My parents received this freebie today, they are very happy with it. Thank you Shedman for making it easier for people to receive food deliveries. "
Laura Anderson said: "cannot thank you guys enough for delivering me a free shopping shed – it will help massively with my need for shielding during this pandemic. Massive thanks again!"
The Shopping Sheds can be situated at a front door or in a garden area. When lockdown measures are lifted, they can be adapted for further use as, for example, a planter, a parcel dropbox or a children's outdoor toy box.
Shedman is a family run business with over thirty years of experience in providing high quality affordable garden sheds, workshops and playhouses. All its sheds are hand-built in Scotland using high quality, fully treated, tongue and groove Swedish timber. From its base in Glasgow, the company delivers and installs the sheds at its customer's home.
Bill Roddie, who is also a director of his Glasgow-based family-owned business, Spectrum Properties, said: "As the effects of Coronavirus worsen by the day, it is clear we are all in this together. This offer is simply meant to give a helping hand to vulnerable people who may be struggling to get by".
For further information, please visit https://shedman.co.uk or call 0141 613 1333.
29 Apr 2020
Webinar
As the country battles through the Coronavirus pandemic, businesses have been seeking support in many ways. There are a few alternative ways to support your business during this time which offer a cash flow alternative, including Research & Development tax relief.
Catax are partnering with The Royal Incorporation of Architects in Scotland(RIAS) to host a webinar on Wednesday 6th May at 11 am for about an hour.
More details on our Architecture Events page.
29 Apr 2020
CICV Forum Call to keep Key Workers Safe
Minister echoes CICV Forum call to keep key workers safe from abuse during essential construction work.
The Construction Industry Coronavirus (CICV) Forum is providing greater visibility on what constitutes 'essential work' to prevent key workers being harassed and verbally abused during vital construction projects.
More details on the Edinburgh Architecture news page
Stronger together: about the Construction Industry Coronavirus Forum
The Construction Industry Coronavirus Forum (CICV) was formed in early March 2020 in response to the urgent Covid-19 threat to people and business. With a focus firmly on collaborative action, the Forum brings together senior representatives from 16 construction trade and professional associations whose members operate the length and breadth of Scotland's built environment supply chain. Whether merchant/wholesaler, contractor, or multi-million-pound building firm, Scotland's construction sector is fighting to keep its people, businesses and livelihoods intact and, in turn, this Forum is fighting for them.
By pooling expertise and knowledge, the Forum represents the interests of Scotland's diverse construction supply chain with one consistent voice. Forum priorities include lobbying the Scottish Government to influence policy and to push for positive action, and to give expert focus to important sector issues including commercial, employment, planning for the future, skills, and health and safety.
The Forum is chaired by SELECT, Scotland's trade association for electrical contractors.
Current Forum members are:
• British Constructional Steelwork Association (BCSA)
• Building Engineering Services Association (BESA)
• Builders Merchants Federation (BMF)
• Chartered Institute of Building (CIOB)
• Civil Engineering Contractors Association (CECA Scotland)
• Electrical Distributors' Association (EDA)
• Federation of Master Builders (FMB)
• Lift and Escalator Industry Association (LEIA)
• National Federation of Roofing Contractors (NFRC)
• Royal Incorporation of Architects in Scotland (RIAS)
• Royal Institution of Chartered Surveyors (RICS)
• The Scaffolding Association
• The Scottish Building Federation (SBF)
• The Scottish Construction Group
• SNIPEF
• SELECT
• The Stone Federation (GB)
28 Apr 2020
Supporting makers in response to the Covid-19 crisis
MAKE is a manifesto for craft in Scotland, which aims to harness a collective voice for makers. Panel are the current custodians of the manifesto, guided by a committee of 10 makers.
More details on the Edinburgh Architecture website news page
28 Apr 2020
Catax Webinars News
As the country battles through the Coronavirus pandemic, businesses have been seeking support in many ways. There are a few alternative ways to support your business during this time which offer a cash flow alternative, including Remediation of Contaminated Land and Capital Allowances tax relief.

Catax partnered up with the Scottish Contaminated Land Forum and Town and Country Property Auction to host a webinar on Thursday 16th April. More webinars will be posted on this news page soon.
If you are involved in commercial property and/or contaminated land projects and are interested in finding out about alternative forms of cash injections, Catax will be explaining more about the Remediation of Contaminated Land and Capital Allowances tax benefits that are available through HMRC. They will also be touching upon Research & Development tax relief at the end.
News from January to April 2020:
2019
3 Dec 2019
University of the West of Scotland Lanarkshire Campus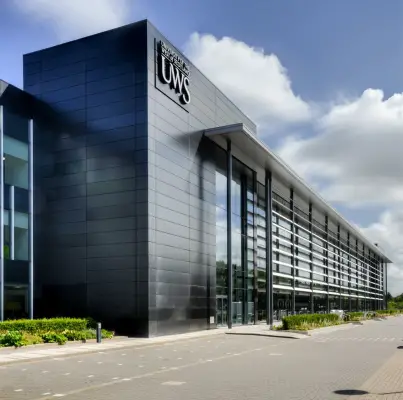 photo courtesy of architects office
Glasgow Building News 2018 April – December 2018
Glasgow Architecture News 2018 up to end of April 2018
Glasgow Building News from July 2017 to December 2017 – news archive
Glasgow Architecture News from end of January 2017 to July 2017 – news archive
Glasgow Architecture News 2016 – end of January 2017 – news archive
Glasgow Architecture News 2015 – news archive
Comments for the Glasgow Architectural News for 2020 page welcome