Glasgow Architecture News in 2017, Strathclyde building designs, West of Scotland property images
Glasgow Architecture News 2017
Scottish Building + Construction Updates – West of Scotland Property: Dec 2016 – 2017
13 Sep 2017
Glasgow Architecture News for 2017
Glasgow News Archive from 31 March 2017 up to 26 October 2017
Specifi Glasgow Event
TED-STYLE-TALK: The Water Sensitive City by Gary Grant
CONNECT: with 100 fellow landscape professionals
FREE 3-course dinner and FREE bar
The Royal Concert Hall, Buchanan Galleries, 2 Sauchiehall St, G2 3NY
Took place on Thursday 26th October 4:30pm–11:30pm
The James Miller Student Award
The James Miller Student Award is now open fur submissions. It was established by the Trustees of the Mabel Harper Charitable Trust to commemorate the work of the late James Miller, architect of many important buildings in Scotland, including many mercantile buildings in central Glasgow, transport buildings including Wemyss Bay Station and Gleneagles Hotel.
The Award is designed to assist British students who are facing hardship issues which affect their ability to complete all or part of their course. Students will be able to use the money to purchase any support necessary such as books, equipment or to assist with field trips.
The Trustees will also consider applications from students for assistance in the period following their year-out. This may include part funding of course fees for this period.
Submission Deadline: 30 November
Please click here for the submission form and the RIAS Student Membership application form (all applicants must be RIAS members).
HLM Glasgow Wins Prestigious People Development Award
10 Oct – HLM, a leading design and architecture company, has won the coveted People Development category at the prestigious Glasgow Business Awards 2017.
HLM's people development efforts are widely known, from the HLM Academy to the company's strong values, lifestyle packages and family friendly initiatives. The HLM Academy is a professional excellence programme which helps ensure all employees have the opportunity and resources to reach their full potential.
HLM Architects
Queensferry Crossing – New Forth Road Bridge
9 Oct – The longest three-tower, cable-stayed bridge in the world and also the largest to feature cables which cross mid-span:
Queensferry Crossing Construction
Homes for Scotland New Chair
9 Oct – Homes for Scotland (HFS) today announced the appointment of Ken Gillespie as Chair on a three year term with immediate effect.
A key figure in the UK construction and home building industries with over 33 years' experience, Gillespie has been responsible for the development and delivery of residential, commercial and infrastructure schemes both nationally and overseas.
Gillespie takes the reins at a time when housing completion levels remain 36 per cent down on pre-recession levels and members tell HFS that it has never been harder to open new sites and get much needed new homes out of the ground.
Considering the scale of the task ahead given the numerous challenges that must be overcome if the country's housing crisis is to be resolved, he said:
"Having worked in the construction and home building sectors my whole life, I am delighted to represent an industry which is absolutely vital to the social and economic wellbeing of the people of Scotland.
"My philosophy is clear: whether public or private sector, local or national government, we all need to work together, positively and progressively, to an agreed common objective which should be increasing and accelerating housing supply across Scotland to meet the needs of our growing population."
Building and Fire Safety
5 Oct – Update from Scottish Government ministerial working group:
The sixth meeting of a ministerial working group, set up to review building and fire safety, has heard how residents and building owners in Glasgow are being kept informed on the progress being made to identify and test cladding.
During the meeting Communities Secretary Angela Constance, Housing Minister Kevin Stewart and Community Safety Minister Annabelle Ewing, received updates from Scottish Government officials and the Scottish Fire and Rescue Service.
Mr Stewart updated the ministerial working group that he has written to remind local authorities of the breadth of their building safety enforcement powers and Scottish Government expectation that they would use those powers to ensure public safety.
Ministers also welcomed Glasgow City Council officials to the meeting. They provided an update on the work the Council is carrying out to ensure residents of buildings where aluminium composite material (ACM) cladding has been identified are kept fully informed about ongoing work and where they can access further advice.
Ms Constance said:
"Everyone involved in this group shares a commitment to do all we can to reassure home owners and residents of buildings where ACM cladding is identified are kept fully informed about any tests being carried out and know where they can get further advice and guidance.
"We are working closely with local authorities, the Scottish Fire and Rescue Service and others to ensure the highest standards in our building and fire safety regulations and I thank everyone involved for their continued commitment to this.
"Today's meeting also reflected that we are making good progress establishing a review of fire safety in building standards following the recent appointment of Professor John Cole and Dr Paul Stollard. The range of work being looked at will further strengthen standards."
The Scottish Fire & Rescue Service shared plans for the forthcoming targeted national fire safety campaign for high rise buildings and confirmed that additional fire safety guidance is being developed for any buildings where there are concerns or issues.
HundrED Listing for Hazelwood School



photograph : Andrew Lee
4 Oct – The multiple award-winning Hazelwood School, Glasgow by Alan Dunlop Architect was today included among an international list of "Inspiring Innovations in Education" 100 Global Inspiring Innovations of 2017 by HundrED.
Work begins on multimillion pound Green Infrastructure projects
4 Oct 2017 – Close to £20 million will be spent transforming urban green spaces, says Scottish Natural Heritage. The Aberdeen City Council project is in one of Scotland's most disadvantaged urban areas and, along with six other proposals, will benefit from a total investment of just under £20 million, including £5.8 million of ERDF awarded through the GIF:
Scottish Natural Heritage Announces Social Housing Research
2 Oct – On World Habitat Day, Scottish Natural Heritage announces recently commissioned research into the opportunities for green infrastructure within housing projects.
Green space and access to nature is beneficial for individuals, communities and society at large. There is also a growing recognition that access to nature can bring a range of health benefits.
The research, which will be published in April 2018, will review existing practice and research opportunities for green infrastructure to the residents of social housing and the wider community.
More information see Scottish Architectural News for 2017
Royal Scottish Academy Metzstein Architecture Discourse 2017
Monday, 2 October at George Square Lecture Theatre, University of Edinburgh
Sir David Chipperfield will present this year's RSA event. Sir David is the first British architect to do so.
Now in its fourth year, the annual Royal Scottish Academy Metzstein Architecture Discourse was founded in 2014 in memory of Isi Metzstein (1928 – 2012), partner of the Glasgow practice of Gillespie Kidd and Coia, Professor of Architecture at the University of Edinburgh and Treasurer of the RSA. More info on our architecture events page.
RIAS strategy feedback workshop
Tuesday 3 October 6-8.30pm at South Block
GIA/RIAS members discussion : to gather thoughts/critique, stimulate debate and collate ideas on the RIAS 5 years vision strategy. More info on our events page.
Support for housing
28 Sep – Challenge fund announced for custom and self-built homes.
Housing Minister Kevin Stewart will today announce £90,000 to support pilot projects to assist people wanting to build their own homes with a new Challenge Fund.
RIAS President Stewart Henderson said:
"In 2015, for the first time since its inauguration in 2002, the RIAS Andrew Doolan Award for best building in Scotland was won by a housing project. Housing continues to be a key focus of architect's endeavours.
"Our publication – Home: Housing Scotland 2000-2020, the first in our 2020 Visions series for the Festival of Architecture, amply demonstrates it is something Scottish architects do extremely well. The 100 houses and housing developments which make up this volume are as good a demonstration as any of the contribution architecture can make to improving people's lives."
Today's conference Housing – the future is being run by Scottish Government, Planning & Architecture Division (PAD), as a free event as part of the Royal Incorporation of Architects in Scotland (RIAS) Festival of Architecture 2017, and in conjunction with Architecture & Design Scotland (ADS). The programme has been designed to share approaches to housing delivery at a range of scales and to also profile a range of work happening at a strategic, city and rural level to diversify the delivery of homes across Scotland.
You can read the Build to Rent guidance here. https://beta.gov.scot/publications/planning-delivery-advice-build-to-rent-advice
'Combustible cladding' found on 57 blocks in Glasgow
21 + 20 Sep – Combustible cladding has been found in 57 private high-rise properties in Glasgow, council officials have said, reports the BBC.
Checks have been under way at buildings across Scotland in the wake of the fatal Grenfell Tower fire in London.
Council planning official Raymond Barlow told MSPs that cladding had been found on some buildings in Glasgow, but said "it's not public information yet".
Scottish ministers were informed about the concerns on 8 September, but flat owners in the buildings were not told.
The council later stressed that there was "no suggestion that these buildings are a particular fire risk".
Combustible cladding on Tower blocks in Glasgow
Day Conference and Evening Cultural Celebration: Patrick Geddes:'spirit-in-action'
23 Sep at Sanctuary, Augustine United Church, 41 George IV Bridge, Edinburgh
Speakers and Facilitators: Petra Biberbach, Lord Charles Bruce, Russell Clegg, Prof Bashabi Fraser, Dr Tom Kane, Roger Kelly, Prof Murdo Macdonald, Mike Small and Dr Ian Wight.
This Day Conference and Evening Cultural Celebration will look at issues associated with Patrick Geddes, 'spirit-in-action', 'the place of spirit in his own work'. and 'the nature' of his 'spirit-at-work'. Please see our architecture events page for more information.
Doors Open Day 2017 at St Peter's Seminary
23 + 24 Sep 2017
Walked tours of the building will take place on 23 and 24 September. This is a rare opportunity to visit Scotland's most iconic modernist building in its raw and ruined state. More info on our events page.
Marks and Spencer Port Glasgow Store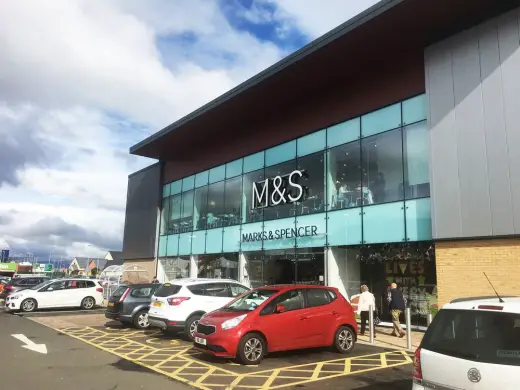 photo courtesy of architects
19 Sep – design by LK2 Architects, new 40,000 sqft M&S store – which spans two storeys – opened in Port Glasgow this month:
Marks and Spencer Port Glasgow Store
Groundbreaking at £34.5m Academy and Theatre Campus in Cumbernauld
13 Sep – Construction work starts on £37m Cumbernauld Academy and Cumbernauld Theatre Campus designed by Norr. A sod cutting ceremony was led by the Deputy First Minister and Cabinet Secretary for Education and Skills, John Swinney MSP.
Builders urge Scottish Government to guard against housing complacency
13 Sep 2017 – Scotland's home building industry is urging the Scottish Government to guard against complacency over housing as new statistics show a marginal increase of just 251 homes (one per cent) completed in 2016-17 compared to the year previous.
Homes for Scotland's manifesto setting out the action it believes is required to return to pre-recession building levels of c25,000 per annum by the end of this Scottish Parliament can be accessed here.
More information see Scottish Architecture News in 2017
Homes for Scotland Annual Conference News
Homes for Scotland's 6th Annual Conference will take a hard-hitting look at where the housing industry is now, where it goes next and how it gets there 10 years on from the Scottish Government's Firm Foundations "discussion document". This leading housing event takes place on 1 November.
2016 Award Winners Part 2
20 Sep 6.00pm at Centre for Contemporary Arts, 350 Sauchiehall Street, Glasgow G2 3JD
Short presentations from Architectural Practices on their 2016 GIA Award winning projects from the Education and Leisure/Art Categories. Cost: £20. More info on our events page.
Patrick Geddes:'spirit-in-action'
23 Sep
Day Conference and Evening Cultural Celebration – Speakers and Facilitators: Petra Biberbach, Lord Charles Bruce, Russell Clegg, Prof Bashabi Fraser, Dr Tom Kane, Roger Kelly, Prof Murdo Macdonald, Mike Small and Dr Ian Wight.
Housing system that works for everyone key to tackling housing crisis, say home builders
5 Sep 2017 – With the First Minister renewing her mission to tackle homelessness and rough sleeping in today's Programme for Government announcement, the country's home building industry emphasised the fundamental importance of ensuring that Scotland has a housing system that works for everyone.
Homes for Scotland Chief Executive Nicola Barclay said:
"With the number of new homes being built in Scotland flatlining, tackling our country's housing crisis requires a broad approach that includes all market segments. The private sector has a huge role to play by not only helping to meet the aspiration of Scots to own their own home but also in relieving pressure on social housing. Key to the Scottish Government's objectives will be its delivery of an effective planning system and the provision of the infrastructure that is needed to support development. We therefore cautiously welcome the announcement of a Scottish Investment Bank, however will need to see the detail on how it can facilitate this provision.
"By providing a policy framework that supports housing delivery, the Scottish Government can reap the benefits of the significant economic contribution and job creation opportunities home building can offer."
Rising costs and skills shortages expected to weaken construction industry outlook
By Andrew McFarlane
1 Sep 2017 – As the population of the UK inexorably increases, the most frequently employed stock response in political circles is to promise to build more houses. In Scotland alone, the Holyrood government has a target of 50,000 new affordable homes.
Vast sums of money have been allocated with a view to upping the building rate and encouraging councils, housing associations and construction companies to deliver new accommodations despite a challenging economic environment.
While such ambitions are laudable, there are many factors which can throw plans off target, and it is becoming clear that considerable increases in the price of building materials are heading up the worry list.
A newspaper investigation earlier in the year disclosed that some of the essential raw materials of the construction industry in the UK have been hit by price increases of up to 35%. Hikes of this magnitude can push the most meticulous margin planning into disarray.
The costs of some construction components, including plasterboard, chipboard and loft insulation, are rising at their fastest rate for 25 years.
The Construction Trade Survey from the Construction Products Association in Q4 last year showed that overall costs increased for 88% of civil engineering contractors, while 75% of main contractors also reported a rise in raw materials costs.
The main blame for these cost rises has been laid at the door of Brexit, with the subsequent decline in the value of sterling which is producing industry-wide inflation. Increased energy prices are also hitting manufacture of items such as bricks.
Nearly a quarter of building materials supplied in the UK are imported and a modicum of good news is that, in a typically proactive response, many trade suppliers are actively seeking to source alternatives to traditional markets.
But as well as cost issues, the construction sector is beset by an ongoing skills shortage affecting key on-site trades, with main contractors reporting at the beginning of the year that shortages of carpenters and plasterers were at their highest in nine years.
The Federation of Master Builders also warned of a shortage of labourers. Nearly one in eight comes from outside the UK and there is concern that many of these employees may decide to repatriate in the event of a hard Brexit.
As well as material costs, wage inflation is playing its part in the worries affecting construction. A survey by recruiter Hays showed that average salaries in construction and property rose by 2.8%, with building services achieving 3.5%.
Nearly two-thirds of building service employers said they had raised salaries over the course of 2016 and the same proportion expect to have to offer similar rises in 2017, with 16% anticipating that these increases will be in the order of 5% or more.
It is hardly surprising that the Office for National Statistics recorded a 1.2% decrease in construction output on May this year, both month on month and three month on three month. The most notable decline was in infrastructure, which fell 4%.
The construction industry is resilient. It has to be, considering the wide variety of external factors which can buffet it unexpectedly. But despite all its efforts, a weaker outlook for the rest of 2017 seems inevitable.
Andrew McFarlane is a consultant in the Glasgow North office of DM Hall Chartered Surveyors and a Fellow of Royal Institution of Chartered Surveyors.
Home building boss wins CEO of the Year at the Scottish Women's Awards
1 Sep 2017 – The boss of trade body Homes for Scotland (HFS), Nicola Barclay, won CEO of the Year at the inaugural Scottish Women's Awards in Glasgow on Wednesday night.
Approaching her second year in post as Chief Executive, Nicola is focused on addressing Scotland's housing crisis by creating the conditions that are necessary for increasing the delivery of new homes.
Modernism in Scotland Exhibition
2 – 28 Sep at The Lighthouse
As part of the Festival of Architecture 2017 this free exhibition showcases 34 post-war Scottish Modernist buildings, from St Peter's Seminary to the Forth Road Bridge, and has been compiled by final year students at the Scott Sutherland School of Architecture in Aberdeen. This collection of beautiful models and informative display panels, showcases an ambitious era of design, that propelled a generation of Architects careers.
For more information see Modernism in Scotland Exhibition at The Lighthouse
A&DS – Open Call: Proposals for Scotland + Venice 2018
1 Sep – Creative teams are invited to submit proposals for a project to celebrate architecture, Scotland's Year of Young People 2018, with the potential to show the project at one of the most prestigious architecture events in the world – the Biennale Architettura, Venice, report the RIAS. The Scotland + Venice partners (A&DS, Scottish Government, British Council Scotland, Young Scot and Creative Scotland) are looking for a team to deliver an imaginative proposal to respond to the theme 'Freespace', the theme of the 16th International Architecture Exhibition, Venice in 2018. The team will ideally be connected to architecture as a creative discipline.
How to apply: The deadline for submissions is noon on Monday 11 September 2017.
To be able to access the tender documents you need to register (for free) with the Public Contracts Scotland website.
Full A&DS – Open Call: Proposals for Scotland + Venice 2018 tender documentation and brief
Doors Open Days Launch
31 Aug – On Friday 1st September at 11.00 am the national Doors Open Days 2017 programme will be launched at the Botanic Cottage, Royal Botanic Garden Edinburgh.
All over Scotland, over 1000 buildings will be open and free to enter, many of them not normally open to the public and some opening for the first time. Castles, churches, mosques, museums, fire stations, offices, theatres and even a distillery are just some of the buildings taken part this year. Visit a pet hospital in Dundee, a police office in Aberdeen, a camera obscura in Dumfries, a reconstructed Iron-Age roundhouse in Whithorn, a smiddy in Stirling or a television studio in Glasgow – there is something for everyone! There are talks, tours, heritage trails and plenty more events for all ages. All the programmes can be found at www.doorsopendays.org.uk
Doors Open Days 2017 in Scotland
Doors Open Day at St Peter's Seminary
Tickets for Doors Open Day at St Peter's will be released today at 10.30am, 29 Aug 2017.
Walked tours of the building will take place on 23 + 24 Sep. This is a good opportunity to visit Scotland's most iconic modernist building in its raw and ruined state.
About to be reclaimed by NVA as an arts venue and visitor attraction, this is your chance to visit St Peter's before construction begins.
Places are limited, advance booking essential – see our events page for more details.
Mosaic acquires Glasgow's second oldest architecture practice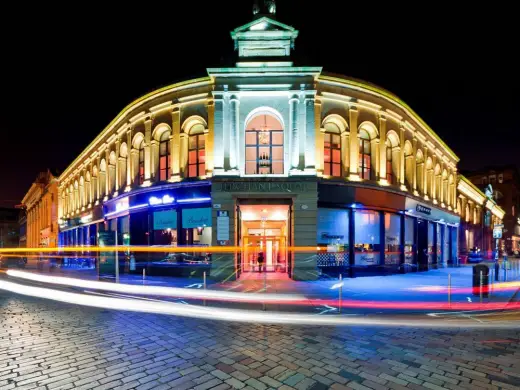 photo from architects office
28 Aug – Mosaic Architecture + Design, one of Scotland's most experienced practices, has acquired Burnet Bell (Glasgow's second oldest architectural practice, dating back to 1878) for an undisclosed sum, boosting its staff numbers to 20.
The acquisition adds Glasgow School of Art, St. Aloysius' College and St. Columba's School amongst others to Mosaic's burgeoning client portfolio and enhances its offering of consultancy services, which includes architecture, interior design, masterplanning, to a range of sectors, such as education, residential care and hospitality.
Free Architecture Event at The Lighthouse
28 Aug – Breakfast event that challenges the use of daylight to transform homes and schools into sustainable and healthy indoor learning environments.
Hosted by roof window manufacturers VELUX®, there will be a discussion of the findings from research by The University of Salford that natural light and fresh air can speed up learning.
The free event is at The Lighthouse, 11 Mitchell Lane, Glasgow on Wednesday 30 August from 8am to 10am – more info on our events page.
Royal Scottish Academy Metzstein Architecture Discourse 2017 News
28 Aug – The RSA announce that celebrated British architect Sir David Chipperfield will present this year's event, on the 2nd of October. In an interview, which will be published and available at the event, Sir David talks about how he started, the problems that international investment creates in cities, and how to help people like modern architecture – more info on our events page.
Ayr Academy Building
7 Aug – new £25m Ayr Academy building is delivered by hub South West on behalf of South Ayrshire Council
A new Ayr Academy secondary school, built by Keir Construction and delivered by construction and infrastructure-focused partnership hub South West on behalf of South Ayrshire Council, is set to open when the school summer holidays end later this month.
Ayr Academy, whose origins can be traced back to 1233 but did not come to be known by its present name until 1796, has moved to the Craigie Estate from its former location in the town's Fort Street.
The new Ayr Campus will cater for 1,000 school students, with the capacity for a further 300, and will create a modern and inclusive facility where students can learn in a sustainable and well-designed environment.
The £25M project is a part of a £94m pipeline being delivered by the authority across South Ayrshire in the next 18 months with the aim of enhancing standards through targeted investment.
During its construction the new Ayr Academy was used as a part of hub South West's bespoke programme, 'Your Future starts in Construction', during which it collaborated with the Prince's Trust and Ayrshire College to enable local youngsters to gain work experience on a live site and achieve a unique accreditation.
Ayr Academy was the first project in Scotland to reach financial close post European System of Accounts (ESA 10) resolution in January 2016.
Michael McBrearty, Chief Executive of hub South West, said: "Ayr Academy Campus is a wonderful state-of-the-art facility that I'm sure all students and teachers will enjoy.
"It is the latest project we have delivered on behalf of South Ayrshire Council over the past twelve months andis great tribute to partnership working that we can now celebrate the finished result. The new campus will be a great asset."
Brian McQuade, Managing Director of Kier Construction's Scotland and North-East England business said; "We are pleased to have delivered this leading, modern Academy with fantastic new sports facilities for students and the wider community to enjoy, building on our track record of delivering quality schools throughout Scotland.
"Through hub South West, we have worked with local suppliers and SME's to ensure that the project boosts the local economy of Ayr and the surrounding area, including training and employment opportunities. During the construction of Ayr Academy we have created 17 work placements, 16 apprenticeships and two graduated traineeships, giving local young people valuable experience of working in this thriving and rewarding industry."
More Glasgow Architecture News 2017 below:
Kirkintilloch Town Hall Building
5 Aug – East Dunbartonshire Council is inviting the public to visit the Kirkintilloch Town Hall as renovation works near completion. The B-listed property is being transformed at the hands of Michael Laird Architects to form an art, cultural and community centre by September, stabilizing and renovating the original 1906 structure with the addition of a new build extension.
New statistics bust myth of "rabbit hutch" homes
5 Aug – Data gathered from the Energy Performance Certificates of buildings in England and Wales has busted the myth perpetuated by critics of modern new homes that they are "rabbit hutches".
In fact, statistical analysis shows the mean floor area of new homes as being 94 square metres compared to 91 square metres for all domestic properties. This illustrates that, as well as new homes actually being larger than the total mean figure, they are also nearly 25 per cent bigger than the commonly referred to figure of 76 square metres which itself dates back to 1996 – over 20 years ago.
Chief Executive of trade body Homes for Scotland Nicola Barclay said:
"These official figures only apply to properties south of the border as the same information is not publicly available in Scotland as of yet, but they will hopefully help recalibrate the conversation on new homes and help bust some of the myths that surround them.
"Of particular importance, the statistics also highlight the energy efficiency of new homes, demonstrating the significant savings of more than 50 per cent that could be achieved in terms of both estimated energy usage and costs.
"With new homes built to proportions that suit modern lifestyle requirements and being much cheaper to run in comparison to their older counterparts, we must now focus on how we can all work together to deliver more homes across Scotland to meet the needs of our growing population."
New Edinburgh Landmark Contest Winner
2 Aug – wHY, a Los Angeles architecture studio beat 125 teams from 22 countries to design the £25m project to revitalise West Princes Street Gardens.
Ross Pavilion Design Competition Winner
Park Quadrant News
2 Aug – A property development at the A-listed Park Quadrant in Glasgow's west end attracted worldwide interest.
The Charles Wilson designed Victorian development, overlooking Kelvingrove Park, has generated more than 600 buyer inquiries since it was put on the market, including from the US and Hong Kong.
Considered one of the finest examples of town planning in Europe this West End development was never finished after the Victorian developers ran out of money.
Pollokshaws Transformation
2 Aug – Urban Union, a partnership between Mctaggart Construction and Robertson Group, has announced its acquisition of 5.74 acres of land off Shawbridge Street to take forward the latest phase of regeneration in Pollokshaws, Glasgow. Barton Willmore have been commissioned to design 137 mixed tenure homes in the form of terraces and apartments with construction scheduled to begin next summer for completion by 2021.
Queen Street Station
2 Aug – An upgrade of Glasgow's Queen Street Station is set to get fully underway this Sunday with the erection of temporary entrances, walking routes and road layouts to facilitate the build.
This will see the relocation of a ticket office to Dundas Street and closure of the George Square entrance as perimeter hoardings are erected to allow an office block standing in the way of redevelopment to be safely cleared.
Penicuik Renewal
2 Aug – Midlothian Council has appointed Austin-Smith:Lord, in partnership with consultants Douglas Wheeler Associates, to lead renewal efforts for the town of Penicuik: more info + photos on the Edinburgh architecture news page.
Cardoss Building One of Twelve Recipients of Getty Foundation's Keeping It Modern Grants
31 Jul – The Getty Foundation announced $1.66 million in architectural conservation grants dedicated to twelve significant 20th century buildings as part of its Keeping It Modern initiative.
Getty Foundation Keeping it Modern 2017 Grants
Glasgow's Park Circus Luxury Flats Development
2 Aug – A multi-million pound development at the A-listed Park Quadrant has attracted worldwide interest after flats were offered for sale in the missing part of the street.
St Peter's Seminary by Andy MacMillan and Isi Metzstein of Gillespie, Kidd & Coia:
St Peter's Seminary
Also awarded is a celebrated project by Scottish architect Sir Basil Spence:
Pair of Glasgow's iconic buildings to get new uses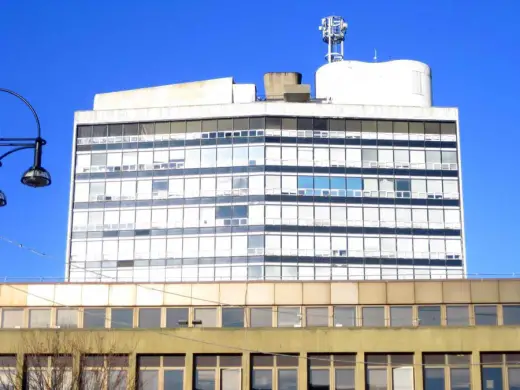 photograph © Adrian Welch
26 Jul – Plans for the Metropolitan Tower, known to generations as the College of Building and Printing and which can been seen from all of the city, will be on public display on Saturday 29 July. The exhibition will be open between 10.30am and 4pm that day in the foyer of the Metropolitan Tower.
Also on display at that exhibition will be the plans for the sister building on Cathedral Street – the Charles Oakley Building.
City of Glasgow College – Stirling Prize 2017 Shortlisted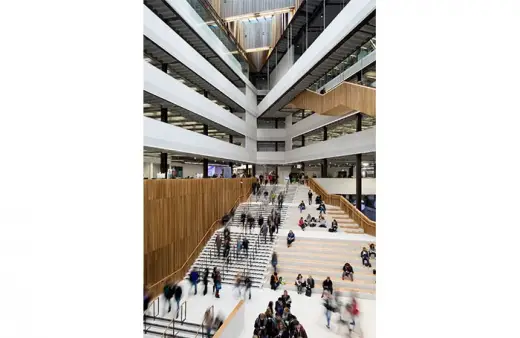 photo © Keith Hunter
21 Jul – The City of Glasgow College is one of six buildings on the shortlist for the 22nd annual Royal Institute of British Architects (RIBA) Stirling Prize for the UK's best new building:
Stirling Prize 2017 Shortlist
RIAS/Saint-Gobain Emerging Architect Award
18 Jul – The inaugural RIAS/Saint-Gobain Emerging Architect Award went to TAP Architecture, recognising two innovative Scottish buildings: the Aerial Adventures, East Kilbride, and the Scottish National Waterski Centre, Dunfermline.
A&DS and RIAS Scottish Student Awards News
18 Jul – Fifteen student projects were presented at a special event held in Edinburgh on Thursday 13 July: A&DS and RIAS Scottish Student Awards 2017
Cumbernauld Community Campus Building
12 Jul – A new £34.5m Cumbernauld Community Campus Building by Norr architects combines a purpose-built high school with a new theatre and arts venue.
Kelvin Hall Redevelopment, Phase 1 Building News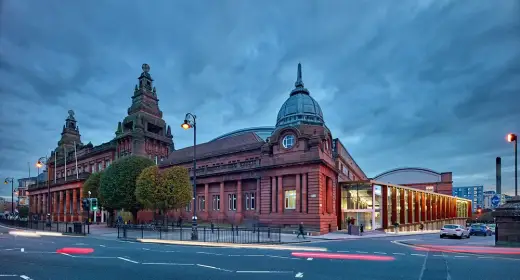 photo © Andrew Lee Photography
8 Jul – Following a large-scale redevelopment one of the Scotland's best-loved historic cultural spaces Kelvin Hall is enjoying world-class success for its innovative combination of culture, education and sports in the same multi-use venue.
As part of a multidisciplinary team, Graven collaborated with Page\Park Architects working on the interior design of specific spaces, environmental branding, exhibition design, signage and wayfinding.
The £24.5m redevelopment project transformed Kelvin Hall into a centre of cultural and sporting excellence, encouraging participation in, and engagement with, the wide range of amenities housed within. It now attracts around 25,000 visitors per week.
Irvine's Abandoned Science Centre
8 Jul – The Big Idea in Irvine had big aspirations – and cost millions of pounds of public money to build, reports BBC Scotland. It closed in 2003 after only three years of operation. Abandoned Scotland went to find out how it looks now.
How to Incorporate Scottish Tartan Into Your Home
8 Jul – This classic Scottish pattern is fantastically versatile, looking country-house classic through to coolly contemporary. The Falkirk design is the oldest recorded scrap of tartan, dating from the 3rd century, but apparently tartan as we know it wasn't commonly worn in Scotland before the 16th century:
HM The Queen Visits Helix Project
8 Jul 2017 – The Queen officially opened Scotland's newest section of canal after her. The canal was built as part of the £43m Helix project near Falkirk, which includes the famous Kelpies sculptures:
The Queen at Kelpie Sculptures at Helix Project
Ross Fountain Renewal Works Start
7 + 6 Jul – The statue at the top of The Ross Fountain in West Princes Street Gardens was lifted off marking the start of the £1.5M renovation. The event took place noon on Thursday. This is part of the wider £25m revitalisation of West Princes Street Gardens.
Home builders respond to Contraction in Construction
5 Jul – Whilst today's Scottish GDP figures show the economy growing by 0.8%, they also reveal a fifth consecutive quarter of contraction in construction.
Responding on behalf of its home builder members, David Ogilvie, Interim Director of Policy at trade body Homes for Scotland, said:
"The ongoing decline in construction is extremely concerning and reflects the view of our members that it has never been harder to open new sites and get much needed homes out of the ground."
A&DS and RIAS Scottish Student Awards Event
4 Jul – The Architecture and Design Scotland (A&DS) and the Royal Incorporation of Architects in Scotland (RIAS) Scottish Student Awards for Architecture showcase and celebrate the best of Scotland's emerging talent.
The event will take place on 13th July at Cafe Camino in Edinburgh, with presentations from this years nominated students.
The 2017 Andy MacMillan Memorial Lecture will be given by guest judge Sunand Prasad of Penoyre Prasad Architects
Architecture Fringe
4 Jul – Initiated by a group of architects, designers, photographers, engineers, visual artists, curators and musicians the Architecture Fringe is an independent, contributor-led series of events and projects across the arts which explores architecture and how it makes a difference to our lives.
The Architecture Fringe is taking place from 1-23 July 2017.
More details on the Edinburgh Architecture website news page.
Park Quadrant Residences
4 Jul – Expresso Property Park Quadrant Ltd, developers behind the 'missing piece' of Glasgow's Park Circus district have published a pair of illustrative video fly-throughs showing a bird's eye perspective of 98 planned apartments and penthouses.
Park Quadrant Residences takes the form of an outer ring of accommodation to the north of Park Circus, completing a masterplan concept first devised by architect Charles Wilson in 1851.
The development includes eleven apartment blocks spanning six floors and consisting of one, two and three bed, duplex and penthouse apartments.
See Park Quadrant Residences Films
David Livingstone Centre Building Renewal
3 Jul – David Livingstone's great, great grandchild welcomes multi-million pound funding from the National Lottery and Scottish Government to create a state-of-the-art visitor centre celebrating one of Scotland's National heroes.
Exciting plans to transform the birthplace of influential explorer and missionary, David Livingstone, into an international tourist destination are due to be unveiled on the 4th of July.
Help to Buy provides economic boost
2 Jul – The number of households that have purchased a new home through the Scottish Government's Help to Buy shared equity scheme has topped ten thousand, according to latest figures.
The scheme, which means buyers can purchase a new home with only a five per cent deposit, saw a total of 2,370 sales during 2016/17. This takes the overall number of transactions since the introduction of Help to Buy (Scotland) in 2013 over the ten thousand mark – supporting thousands of jobs and contributing £1bn in Gross Value Added to the economy.
Read more at Scottish Architecture News 2017
Reynobond PE Cladding Strip
2 Jul – UK Tower ACM Cladding Tests – news of aluminium cladding samples from high rises in 41 England & Wales local authority areas failed fire safety tests.
Dennistoun Primary School Building News
2 Jul – Barony Homes propose to convert the B-listed former Golfhill Primary, Dennistoun, to flatted residential accommodation, plus associated new build on a playing field. The project is designed by Jewitt & Wilkie Architects.
Only the façade of the school will be retained after full retention of the structure was deemed uneconomic. An adjoining janitors house and perimeter railings will be fully restored alongside new build flats fronting Fir Park Street.
Scottish Tower Block Safety Review
28 Jun – The Scottish Government has launched a tower block safety review in the wake of the Grenfell Tower blaze in London as part of a wider review of building standards in the wake of the tragedy.
UK Tower Block Safety Review News.
University of Edinburgh Student Centre by Page\Park
27 Jun – Edinburgh University has unveiled plans for a radical extension to Teviot Row House, billed as the world's oldest purpose-built student union, under a £75m modernization plan, report urban realm.
Indicative plans by Page\Park Architects were placed on display on 27th June, illustrating how a rear access lane could be reborn as a public square.
Edinburgh Printmakers by Page\Park
18 + 22 Jun – £12.3m centre for printmaking and the creative industry in Edinburgh designed by Page\Park to commence.
Housed within a C-listed disused industrial building the project involes formation of new galleries, a studio, printmaking workshop and a café, in the Fountainbridge district.
Royal College of Surgeons Building
23 Jun – Architects Austin-Smith:Lord were appointed by The Royal College of Surgeons of Edinburgh to refurbish the four upper storeys of their category B listed property at 21 Hill Place in Edinburgh:
SEDA Conference & AGM 2017 – Conservation / Restoration / Retrofit
Date: 23-24 June
Venue: The Engine Shed, Forthside Way, Stirling FK8 2BY
This year SEDA will head to The Engine Shed in Stirling – Scotland's new building conservation centre. Inspired by the venue, this year's theme is Conservation / Restoration / Retrofit.
CIOB School Building Investigation News
22 + 21 Jun – The Chartered Institute of Building (CIOB), in light of the report into the defects that led to the closure of 17 schools in Edinburgh earlier this year and subsequent events, announced the formation of a Commission of Past Presidents to investigate the issue of build quality in the construction industry, and what needs to be done to address it.
Edinburgh School Building Investigation
New Vision for Glasgow's Pacific Quay Unveiled
21 Jun – Public Exhibition Highlights Plans for More Homes, Offices, Restaurants and Attractions at Prime Waterfront Site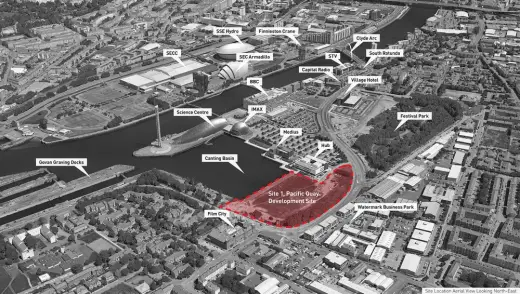 image courtesy of Drum
Drum Property Group is unveiling a new vision for one of Glasgow's most high profile waterfront sites at a public exhibition on Thursday (June 22).
Engine Shed in Stirling
21 Jun – The launch of Historic Environment Scotland's £11 million Engine Shed in Stirling is imminent: the building will be officially opened by Cabinet Secretary for Culture, Tourism and External Affairs Fiona Hyslop on Monday 26 June.
The Engine Shed is Scotland's pioneering new building conservation centre – the first facility of its kind in the world to combine research, education and public access – which will serve as a national conservation hub, using world-leading innovation to bring Scotland's built heritage to life through technology and hands-on activities.
Open to the public from Monday 3 July, the learning and visitor resource centre aims to spark the public's passion and interest with Scotland's historic environment and inspire a new generation to care more for Scotland's diverse built heritage.
Seven Major Architects Compete on Key Edinburgh Site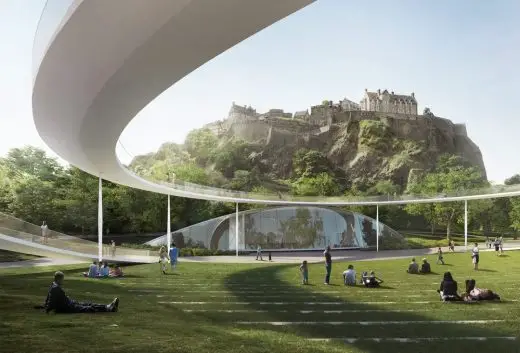 image courtesy of architects
20 Jun – The seven diverse proposals from the teams vying to win the Ross Pavilion International Design Competition and revitalise West Princes Street Gardens now go on show to the public.
• Concept designs displayed in online gallery, and at a public exhibition from 21 June until 30 July 2017
• Public invited to comment at the exhibition or directly via email
• Winner to be announced in early August 2017
Ross Pavilion Building Designs – images on e-architect
Ross Pavilion Edinburgh Competition – news from today
Bridgeton Homes by Elder and Cannon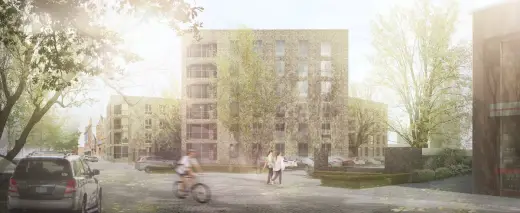 image courtesy of architects
19 Jun – 68 homes for social rent at Olympia Street, Bridgeton, to be an 'exemplar model of inclusive and affordable inner city living'.
Elder and Cannon Architects have been engaged by Link Group to assume the role of lead consultant. Located on the site of a former supermarket the scheme will incorporate extensive landscaping by Rankin Fraser with wide pavements and dropped kerbs to ease accessibility.
RIAS Awards 2017 Winners
16 Jun – The Royal Incorporation of Architects in Scotland (RIAS) announced 12 winners for its 2017 Awards, representing the very best of current Scottish architecture.
Dualchas News
5 Apr – Dualchas Architects have marked their 21st anniversary with a practice re-brand that has seen it adopt the image of a wild Hebridean goat, a symbol of resistance dating back to the Highland clearances, as a new identity, report urban realm.
Formed in 1996 the Skye architecture practice has built a reputation for rejuvenating residential architecture throughout the Highlands and Islands by reinterpreting historic styles such as basic turf-topped blackhouses.
Scotland's Film Studio News
5 + 4 Apr – The plans for the 106-acre site on the southern outskirts of Edinburgh – chosen from 28 in Scotland – have received the go-ahead from the Scottish Government. The news should pave the way for a new role for Scotland on the global movie-making stage beyond location filming.
Alexander 'Greek' Thomson
3 Apr – Alexander 'Greek' Thomson did more to transform Glasgow into a city fit to be described as the "Second City of the Empire" than any other architect, reports BBC Scotland today.
"The booming powerhouse city, which quadrupled in size between 1800 and 1850, needed a new vision as it expanded out from the old slums and Thomson was the man who supplied it.
However, the city on which he made his mark during the Victorian era later allowed his legacy to fall into neglect."
Link: Alexander 'Greek' Thomson Article
More Glasgow Architecture News 2017 posted below:
Queen Street Station Renewal News



image from architects
3 Apr – Network Rail have been granted permission to proceed with a major facelift of Queen Street Station to accommodate projected growth in passenger numbers.
The scheme by BDP will entail demolition of the present concourse and its replacement by a new expanded platform area extending out to George Square via a 500m glass facade, creating the necessary space for a new fleet of longer Class 385 carriages.
Queen Street Office Conversion
3 Apr – Carrick Properties are to take on a disused former nightclub in Glasgow's Queen Street for conversion by McGinlay Bell Architects. It will provide speculative office space, while retaining the existing ground floor units.
This will allow provision of 3,240sqm of Grade A office accommodation over four upper floors at 21-41 Queen Street.
RIAS Awards 2017 Shortlist News
2 Apr – Shortlisted buildings and architects announced: RIAS Awards 2017 Shortlist.
Glasgow Architecture News 2017 archive comments are welcome.
Glasgow Architecture News 2016 – end of March 2017 – news archive
Glasgow News – main page with up-to-date posts
Glasgow Architecture News 2015 – news archive
Comments for the Glasgow Architecture News 2017 for 31 March 2017 up to 26 October 2017 page welcome