Ashtree Road Glasgow Property, Pollokshaws Flats, Home Group Development News
Ashtree Road, Pollokshaws
New Residential Property in Western Scotland design by Graeme Nicholls Architects
27 Nov 2019
Ashtree Road Pollokshaws Awards
Design: Graeme Nicholls Architects
Pollokshaws Flats win two major awards
The Ashtree Road development in Glasgow wins at AJ Architecture Awards
Graeme Nicholls Architects along with clients Home Group in Scotland and Merchant Homes Partnerships are celebrating this week after their Ashtree Road development won not one, but two awards at the prestigious 2019 AJ Architecture Awards.
As well as picking up the prize for the best 'Housing Project (up to £10 million)' category, the development also won the coveted 'Editor's Choice' award as their top building of the year across the UK.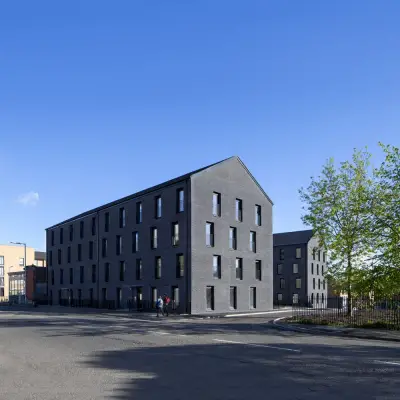 AJ Editor Emily Booth upon awarding the project said, "This is a striking piece of urban architecture for a strikingly low budget. It creates a new centre of gravity in a rather neglected part of this great city. And it is the first significant scheme to complete for Graeme Nicholls Architects – a milestone for a young practice that only set up in 2016."
Ashtree Road, which consists of 24 mid-market rent flats, has been designed according to the practice's narrative-led approach.
In this case they became fascinated with the neighbourhood's historical association with the weaving industry, which in the early 19th century saw an influx of Flemish weavers come to the area to provide a skilled workforce for the emerging textile mills. Motifs related to weaving can be found in several aspects of the buildings – from the offset pattern of the tall windows, to the decorative brick at ground-floor level and in the stepped vertical rails of the upper-floor balustrades.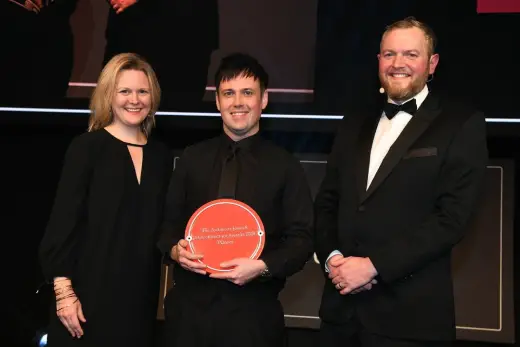 Architect Graeme Nicholls said, "It was great to win in the 'Housing Project' category where we were shortlisted alongside some exceptionally talented architects. To then also win the 'Editor's Choice' award which selected a favourite project from across all categories was incredible. It's such an honour, and I must thank the judges for recognising our project, and also of course our clients for giving us such an exciting opportunity in the first place. I'm so glad that it's being recognised as a great addition to the area."
The flats have been extremely popular with residents thanks to the layouts which have been designed to ensure an abundance of light, storage and space.
Stuart Dixon, head of development at Home Group Scotland, said: "Ashtree Road is one of several developments we have established in the South Side of Glasgow. We take pride in the design and delivery of our developments and were thrilled to work with Graeme Nicholls on his first big residential project. We're extremely proud that the development has won two such prestigious awards, it's very well deserving."
The project was delivered by Merchant Homes who have worked with Home Group on several developments in Scotland.
John Jack from Merchant Homes, said: "We have a great relationship with Home Group and we're proud to work with the association to deliver the mid-market rent properties at Ashtree Road. Graeme Nicholls Architects did a fantastic job with the flats and they have made a real impact in the area. We're honoured to be associated with these prestigious awards."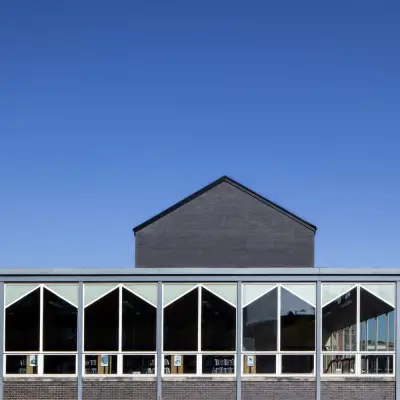 About Graeme Nicholls Architects
Graeme Nicholls Architects is an award winning architectural studio based in Glasgow which was formed by Graeme Nicholls in 2016.
They love architecture and are proud to create buildings and spaces that are relevant and valuable to the people who use them. Their projects are arts-led and are characterised by our interest in proportion, innovative use of materials, and a rich layering of cultural references to create a unique 'narrative' for each design. They apply these interests to their design process which challenges the client's brief, the site, and the scope of the project to ensure that the best possible architectural solution is achieved.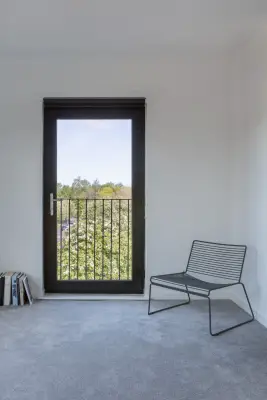 About Home Group Scotland
Home Group Scotland manage almost 5000 homes across Scotland with a mission to build homes, independence and aspirations to people and communities. Home Group Scotland has spent £170 million building and maintaining homes over the past five years. Home Scotland is a registered Scottish charity No. SC005247
Home Group Scotland is a subdivision of Home Group, one of the UK's largest providers of high-quality housing, integrated health and social care. Home Group supports close to 120,000 customers across 55,000 properties in England, Scotland and Wales, which includes around 26,000 people with mental and physical health issues.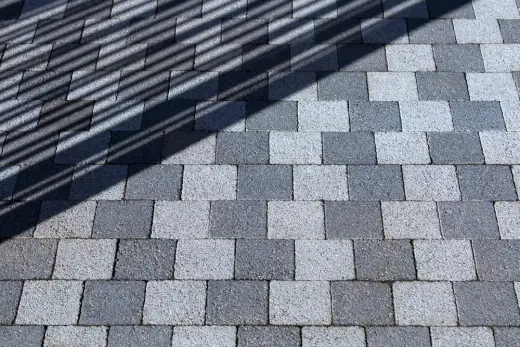 23 July 2019
Ashtree Road Pollokshaws Development
Design: Graeme Nicholls Architects
Ashtree Road Flats in Pollokshaws
Ashtree Road is a newbuild development of 24 two-bedroom flats for midmarket rent in Pollokshaws, Glasgow, UK.
The site had lain vacant since 2010 following the demolition of Victorian public baths which had previously occupied it.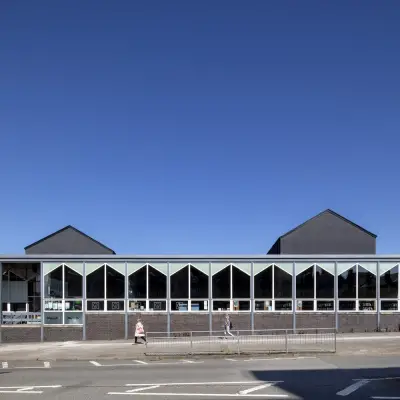 Architect Statement
Our clients challenged us to design a scheme which would appeal to the planners (previous architects who had looked at the site had had little success). They also had a pragmatic requirement for it be buildable by adopting construction methods and materials familiar to them such as pitched roofs, facing brick for the external finishes, timber kit construction and so on.
As well as the client's constraints, which we embraced, we also developed our own stance for the project. This was to create a strong narrative-led architectural work which was site specific and which would create an authentic sense of belonging to the neighbourhood in which it is set.
We achieved this by adopting familiar building forms and in the architectural expression of motifs relating to the area's historic connection to the weaving industry. This has seen the design being extremely well received by both the planners and also the local community during a series of consultation events.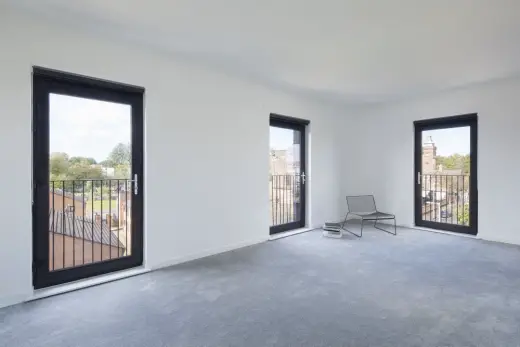 Our design is realised as two blocks, which synthesise the prevalent typologies found on each street- a 'Tenement' block to Ashtree Road, and a 'Villa' block to Christian Street. These two blocks are placed at the site boundaries, aligned with the splaying angles of the roads. This configuration provides a strong urban edge while also enclosing a private rear court which overlooks the neighbouring Ashtree Park.
The project has been an important milestone for our office. Of the larger schemes we have worked on since setting up in the summer of 2016 it is the first to complete on site. It has been a great opportunity to showcase our approach.
Graeme Nicholls, Founder, Graeme Nicholls Architects
Architect's Detail Design Statement
We have a narrative-led approach to design on all of our projects. With this in mind, we view the selection of ma-terials and development of construction details as important opportunities for us to express the themes that we are interested in on any particular job.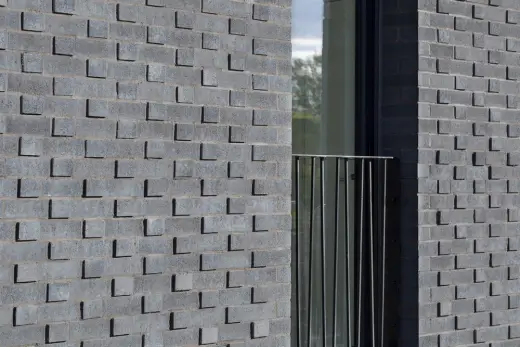 At Ashtree Road we became fascinated with the neighbourhood's historical associations with the weaving indus-try. The early 19th century saw an influx of Flemish weavers to the area to provide the skilled workforce required for the emerging textile mills. We made a connection between this unique local history and Gottfried Semper's 'Four Elements of Architecture', in which he suggests the idea of the external wall as a metaphor for textile hung off of a supporting structure.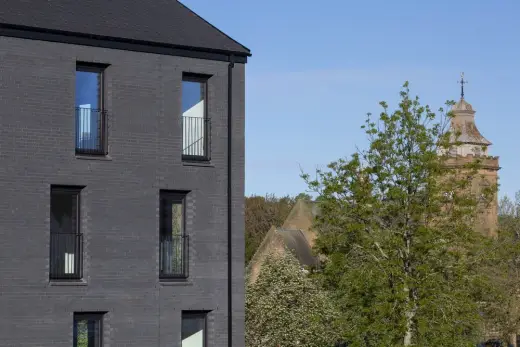 Motifs associated with weaving therefore manifest themselves in a number of ways throughout the project. In the detail drawings presented here we see the offset configuration of the windows (tall in proportion in a nod to the historic tenement windows which are found throughout Glasgow) which create a 'woven' pattern at a larger scale across the building facades. This is mirrored in a finer grain with the projecting ends of the black concrete facing bricks at ground floor level which are laid in a Flemish bond.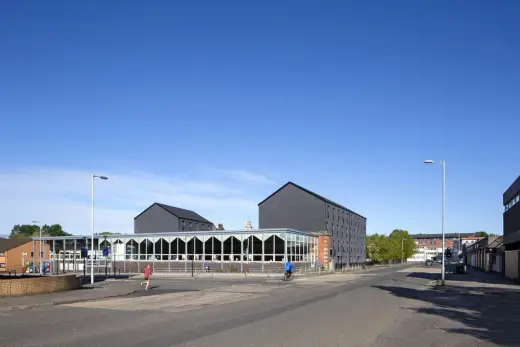 Further allusions to the narrative can be found in the manifestation pattern on the ground floor windows and in the stepped vertical rails of the upper floor balustrades which create a kinetic visual effect, evoking the idea of a loom in operation.
Graeme Nicholls, Founder, Graeme Nicholls Architects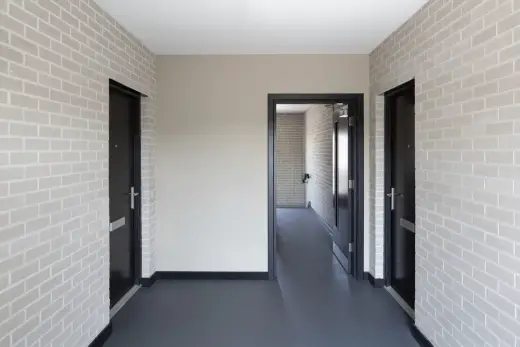 Client Statement
We have been impressed by the approach taken by Graeme Nicholls from the earliest discussions regarding the project. As an organisation, Home Group embraces place making as a key element of everything we do and we strongly supported Graeme's early research regarding the history and context of the area. We were excited to see an approach which recognised the links with the Flemish weaving community which had established itself in Shawbridge in the 19th century and we later met residents in the area who had some connections to this community.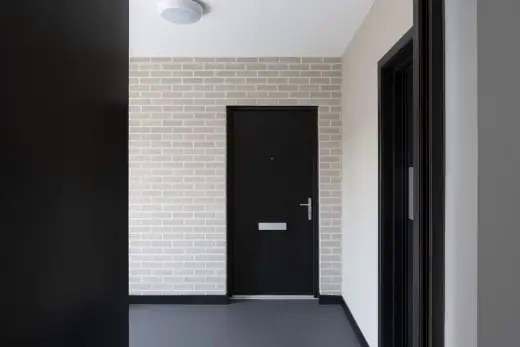 Graeme's incorporation of some elements which reflect this heritage was cleverly done without delivering anything clichéd. Our local consultation process was extremely successful and the bold approach to the design of the new building was met with strong support locally. The project delivery has gone well and the design had not deviated from Graeme's original concept design and this has been welcomed by Home Group.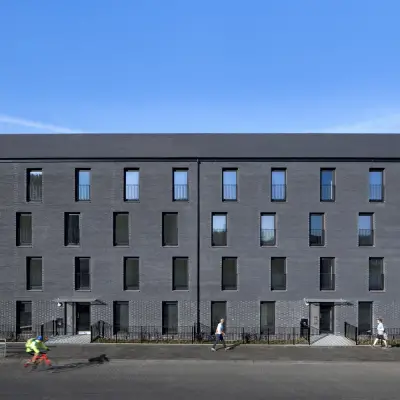 Home Group has a strong presence in Glasgow and all or our developments are different ranging from refurbish-ments of listed school buildings to new build contemporary family homes. The Ashtree development is valuable and a very popular addition to our housing portfolio and we hope to work again with Graeme Nicholls Architects in the near future.
Graeme Gemmell, Delivery Manger, Home Group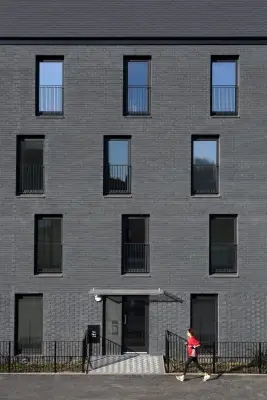 Planner's Statement
Graeme Nicholls Architects approached the challenge of developing new housing on a vacant site in a regeneration area with imagination. Their research resulted in proposals which contain a historical allusion which has met the client's brief and is welcomed by the local community.
Eddie Warde, Principal Officer, Development and Regeneration Services, Glasgow City Council
Ashtree Road Pollokshaws Flats – Building Information
Project name: Ashtree Road
Architecture Firm: Graeme Nicholls Architects
Client: Merchant Homes Partnerships/ Home Group
Main Contractor: Merchant Homes
Website: www.graemenicholls.com
Contact e-mail: [email protected]
Architecture Firm Instagram: @graemenichollsarchitects
Project Data
Completion: May 2019
Gross Built Area: 2140m2
Project location: Ashtree Road, Pollokshaws, Glasgow, United Kingdom
Design Team
Architect: Graeme Nicholls Architects
Structural Engineer: Fairhurst
CDM coordinator: Brown + Wallace
Thermal Modelling: Crawford
Project Manager: Campbell Martin Associates
Media Provider
Photo credits: Dapple Photography
Photographer's website: www.dapplephotography.co.uk
3D Visualizations: Forbes Massie Studio
Brands / Products used:
Brand – Product Name / Code
Edenhall Facing Bricks (external) – Sapphire
Edenhall Facing Brick (internal) – Diamond White
Sterling Precast Precast Cills & Panels – Black Pigmented
Walker Profiles Windows – UPVC, RAL 9001 'Graphite Black'
Russell Roof tiles – Galloway, Anthracite
Tobermore External Paving – Sienna Setts
Ora Ceramics Ceramic Tiles – Ce.Si Full Bodied
CTM Fabrication Balustrades – Bespoke Staggered 'woven' detail
Software used
Brand – Product Name:
Nemetschek – Vectorworks
Trimble – Sketchup
Architecture in Strathclyde
University of Glasgow Building
Comments / photos for the Ashtree Road Flats in Pollokshaws Development page welcome