Propositions for New Lanark World Heritage Site Scotland, Mac Students
MSA Propositions for New Lanark World Heritage Site
Mackintosh School of Architecture students in Scotland News
15 Mar 2019
Mackintosh School of Architecture students impress with propositions for New Lanark
Outcomes of Studio project have been presented to Trustees of the World Heritage site
Propositions for New Lanark by Stage 2 students at the Mackintosh School of Architecture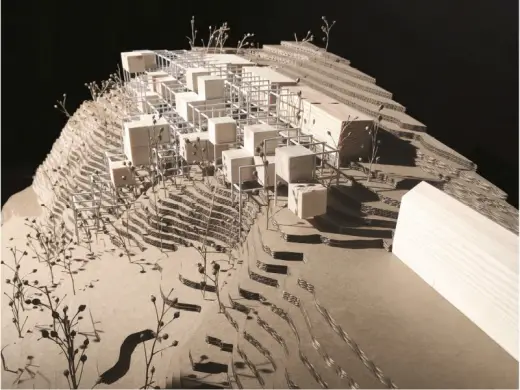 photos courtesy of the Mackintosh School of Architecture
Mackintosh School of Architecture Propositions for New Lanark World Heritage Site
"A project like this, which takes the historic ethos of the site and applies it to
 21st century issues, is food for thought for the future of the village."
Jane Masters, Heritage Manager of New Lanark Trust
Proposals for new forms of living and working within the New Lanark World Heritage site by Stage 2 architecture students of the Mackintosh School of Architecture at The Glasgow School of Art have impressed Trustees of the site. Selected work was presented to the Trustees following a major Studio project last semester.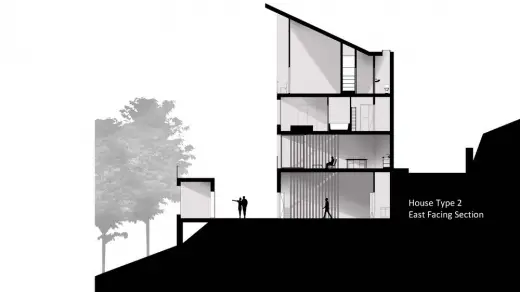 The Studio asked the students to reflect on Robert Owen's legacy within contemporary social and economic conditions, and to speculate about new forms of living and working in the New Lanark World Heritage Site.
The students' innovative responses ranged widely in terms of activities proposed and architectural resolution both in relation to the built and natural context and resident lifestyles.
In one proposition living and working spaces are merged to offer accommodation for art and craft activities. Another suggested supporting gardening as a convivial activity for an inclusive intergenerational community in projects located on the path to the falls of Clyde. Bringing together orphan refugees and their carers in a vertical garden village was a further proposition.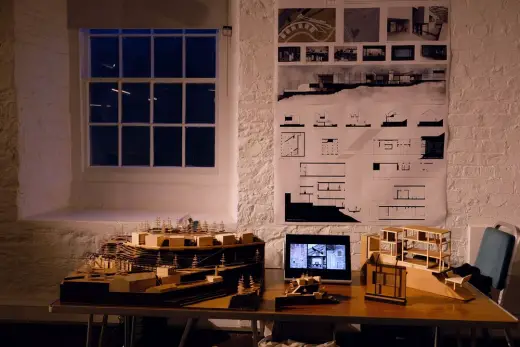 Projects also explored the potential of co-locating specialist manufacturing activities and creating new forms of live/work and leisure pursuits to enjoy New Lanark and the Clyde scenic landscape, or to harness local clay natural resources for the craft production of bricks.
In another proposal the light timber frame, incremental process of construction of domestic structures was conceived as a long-term strategy to sustain mental health and well-being of residents with a minimum of environmental impact to the setting.
MSA Students present their propositions to the Trustees of New Lanark
Jane Masters, a graduate of the Mackintosh School of Architecture at The Glasgow School of Art is now Heritage Manager of New Lanark Trust. She supported the Studio from the outset and attended the final reviews at MSA in December 2018.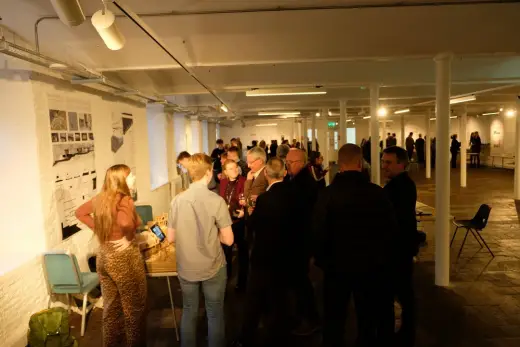 "New Lanark Trust was delighted to work in partnership with the Stage 2 students on their 'live / work' project,"says Jane. "As the Trust enters the delivery phase of its new World Heritage Site Management Plan, 2019-2023, it is wonderful for us to see the potential, both real and speculative, which others see in the site."
"The Trust has always aimed to run New Lanark as a living and working village, and not merely as a museum dedicated to the past so a project like this, which takes the historic ethos of the site, and applies it to 21st century issues, is food for thought for the future of the village."
Studio-based practice is at the core of the GSA's approach to teaching and learning, and MSA challenges students to apply their creative thinking to real live scenarios.
"The New Lanark Studio was an excellent example of how our Stage 2 students can extend and deepen their design skills in working in with contemporary situations and in collaboration with real clients," says Prof Sally Stewart, Head of the Mackintosh School of Architecture. "The students were encouraged to speculate in developing innovative propositions, while ensuring that both philosophical and historic context were respected.
"I am delighted that we have had the opportunity both to work with the Trust in developing the project, and to present the resulting work to them and a wider audience.  New Lanark was itself used by Robert Owen as a place of ground-breaking experimentation in social, moral, educational and workplace reform and today it is one of Scotland's six UNESCO World Heritage sites."
Some of the work from the New Lanark Studio will be on show as part of Degree Show 2019 which runs from 1 – 9 June.
Glasgow Building Designs
Contemporary Glasgow Property Designs – recent architectural selection below:
Buchanan Wharf Office Development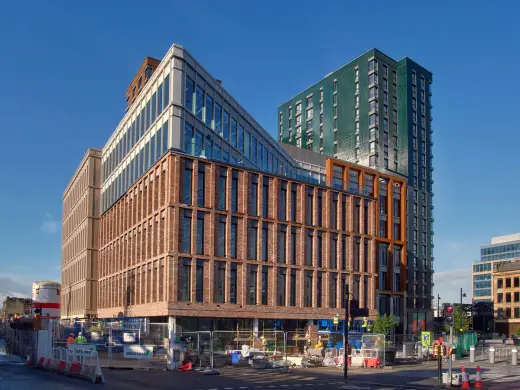 photo courtesy of Drum Property Group
Buchanan Wharf Glasgow Office Development
The Foundry Cathcart housing development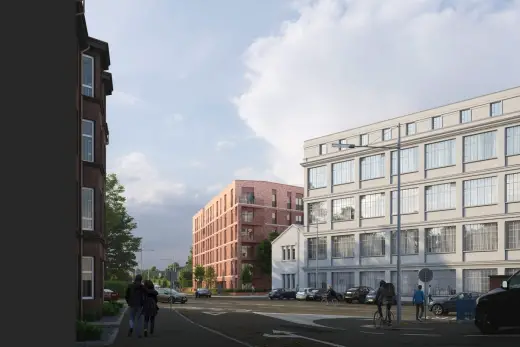 image courtesy of Cala Homes (West)
The Foundry Cathcart housing development
Maggie's Gartnavel Centre designed by OMA
Maggies Glasgow by Page & Park
Comments / photos for the Mackintosh School of Architecture Propositions for New Lanark World Heritage Site page welcome