Glasgow Building Photos, Strathclyde Building Images, Scotland, Architectural Pictures
Glasgow Architectural Images
Western Scotland Building Photography
6 Jan 2022
New Glasgow Architecture Photos
A few new pictures taken around town on a sunny Winter's day:
Photo below © Isabelle Lomholt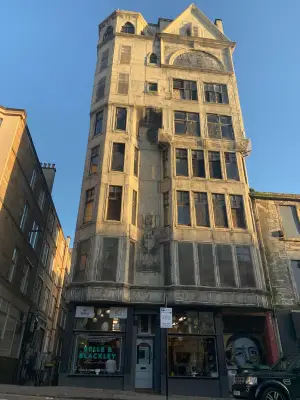 3 September 2021
Key Buildings in Strathbungo / Polloshaws
Homes at Nithsdale Drive and Nithsdale Street, Strathbungo, by Alexander Thomson: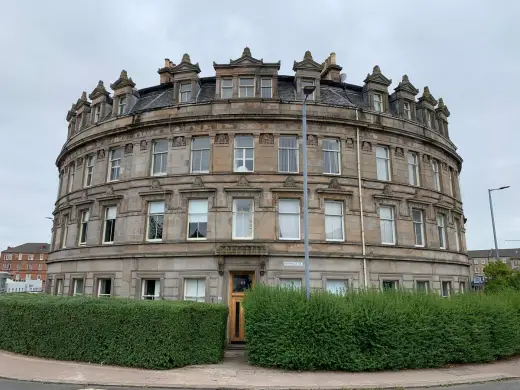 Strathbungo was agreed to be developed as a suburb in 1860 by landowner Sir John Maxwell of Pollok, located just west of Pollokshaws Road. Alexander Greek Thomson designed the masterplan. He also formed the first terrace at Moray Place. Alexander Thomson built the house at No. 1 for himself. He later died in 1875 at the property. Three other terraces were built between 1862 and 1880.
1 Moray Place, Glasgow:
Side elevation from the North, by the roundabout at the East end of Nithsdale Road: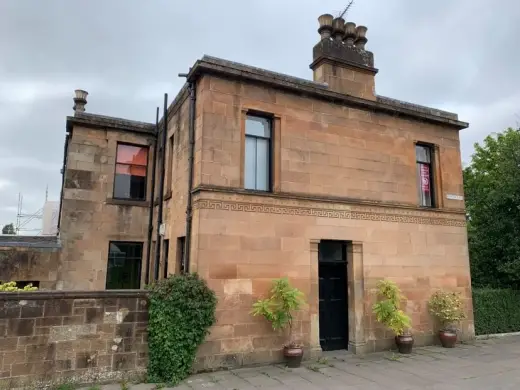 Front view of 1 Moray Place: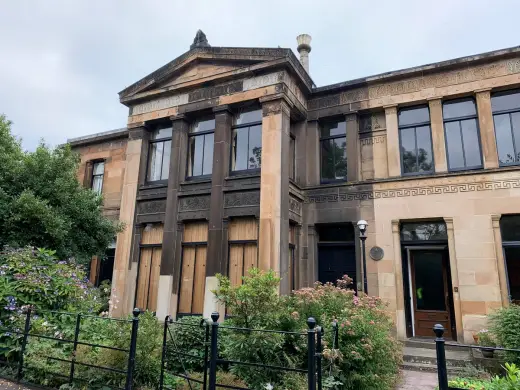 The terrace, looking South: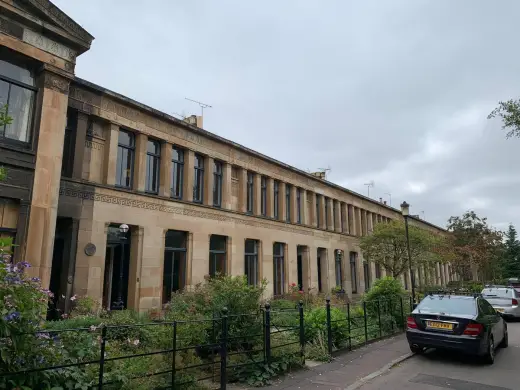 No. 1 Moray Place is where architect Alexander Thomson's vision for the area was most fully realised: it features Greek-style columns, pediments and stonework with his own typical twist.
Close by to the South is 27 Regent Park Square where fellow Glaswegian architect Charles Rennie Mackintosh (first ever winner of the Alexander Thomson medal) lived in the 1890s.
1 September 2021
St Simon's Catholic Church, Partick, west Glasgow – this building could sadly be demolished after being devastated by a fire that destroyed the roof, interior and walls on 28 July 2021: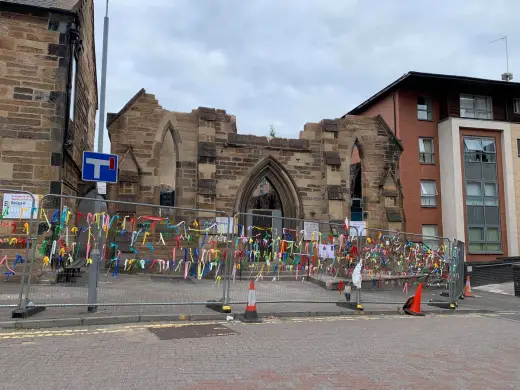 photo © Daniel Lomholt-Welch
29 August 2021
Architecture photos in the Pollokshields area:
Pollokshields Burgh Hall frontage: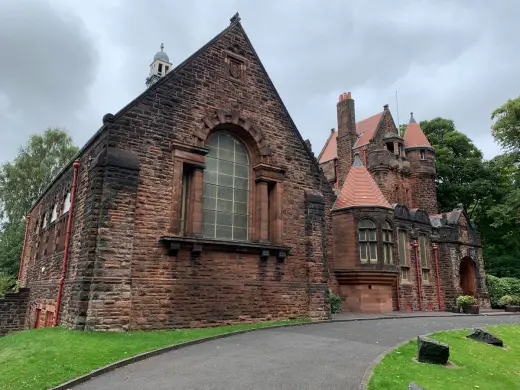 Freemason carved symbols (inscriptions) to rear of Pollokshields Burgh Hall: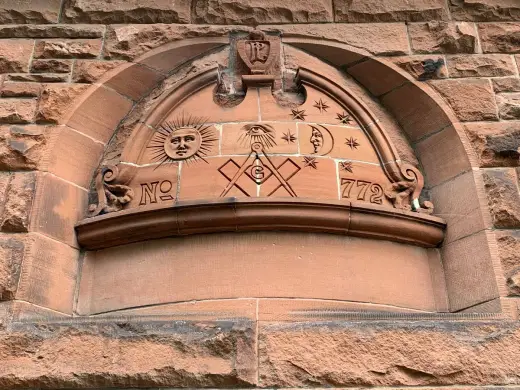 Tower building, now 'Little Einstein's Nurseries', 620 Shields Rd, Glasgow G41 2RD, this looks like a gentle design by Alexander Thomson (comments welcome), albeit his work in this area, from 1871, seems to be located at 200 Nithsdale Road:
A Greek Thomson building close by is 'The Knowe', 301 Albert Drive, an Italianate Romanesque style villa designed for John Blair, completed in 1852.
25 August 2021
e-architect took a trip to Dennistoun today, enjoying a lovely lunch at Celino's Alexandra Parade!
This church building on the Haghill side of Alexandra Park Street is a beauty:
St Andrew's East Parish Church, 685 Alexandra Parade, Glasgow G31 3LN
– view from the South East: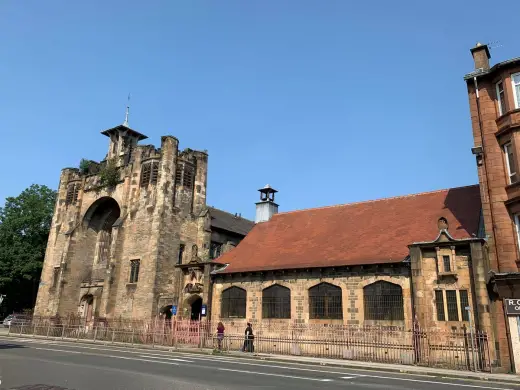 – view from the South West: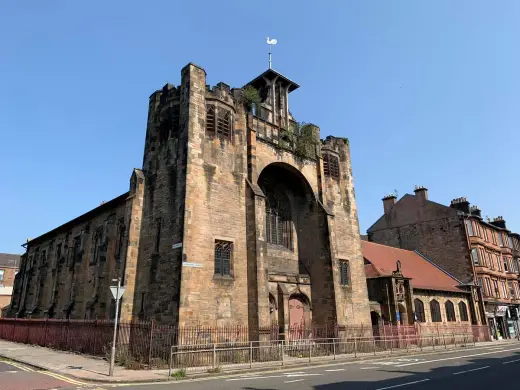 Former Haghill Primary School, 16 Marwick Street:
– view from the South East: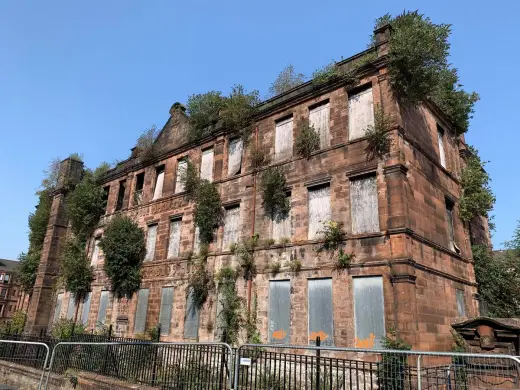 According to the Canmore website, Hagill Primary School is made up of a "3-storey and basement, irregular plan, simple Free Renaissance School Board School. Red sandstone ashlar. Rusticated base course, 1st floor double cill course, 2nd floor cill course, eaves cornice and parapet. Slate roof".
According to the Glasgow Times, Spectrum Properties want to redevelop the former Haghill Primary School and Schoolhouse on Marwick Street. Spectrum Properties say they want to create a residential development within the existing school building and schoolhouse, and a four storey new build block. This would offer 51 two bedroom flats and one three bedroom house, and associated parking.
9 August 2021
Thunder clouds hanging over the Kelvingrove Gallery: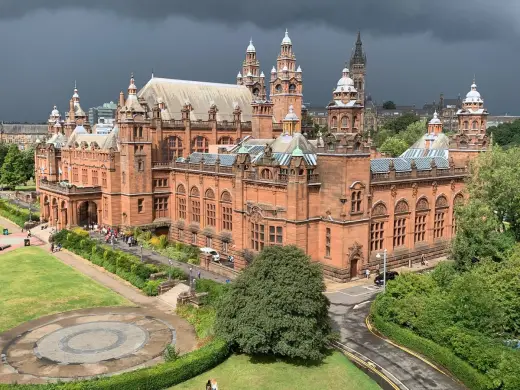 3 August 2021
Kelvingrove Art Gallery and Museum
View looking west from the new home of e-architect, with Kelvingrove Art Gallery and Museum on the right: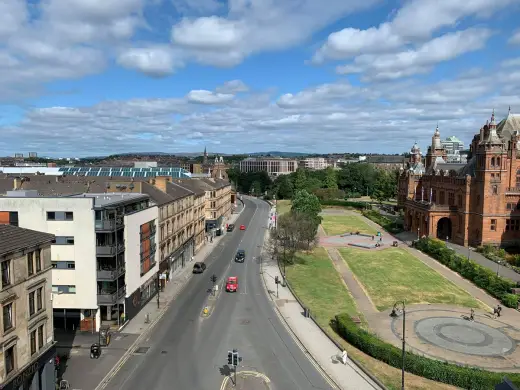 coloruful evening lighting: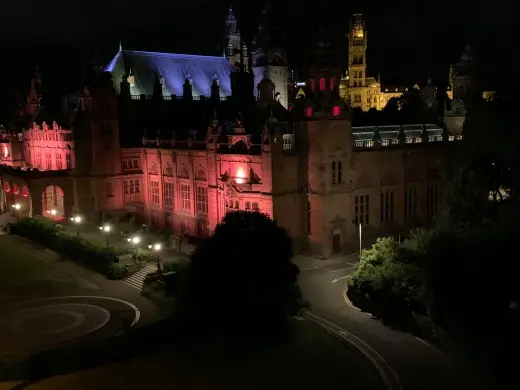 23 June 2021
Clydebank Town Hall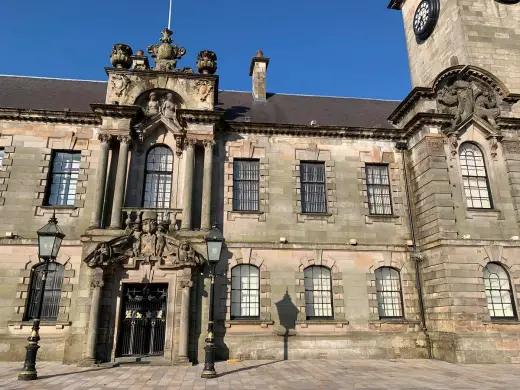 Clydebank Town Hall is a municipal building in Dumbarton Road, Clydebank. The town hall, which was the headquarters of Clydebank Burgh Council, is a Category B listed building: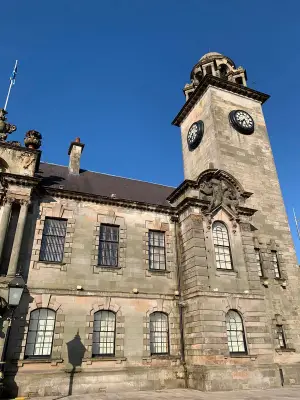 9 June 2021
Lilybank House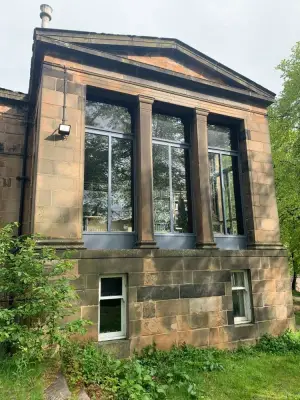 Lilybank House was built in the 1830s for Glasgow merchant, Robert Allan. It was later home to publisher John Blackie, under whose ownership the house was extended by Alexander "Greek" Thomson in the 1860s.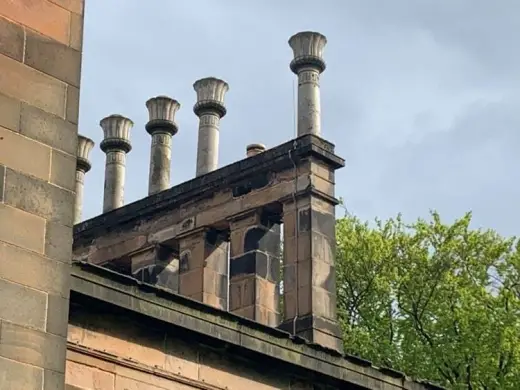 Further additions made in the 1890s by John Honeyman & Keppie. Architect Alexander Thomson added a new wing onto the south end of the villa, and relocated the entrance, after John Blackie's purchase in 1864.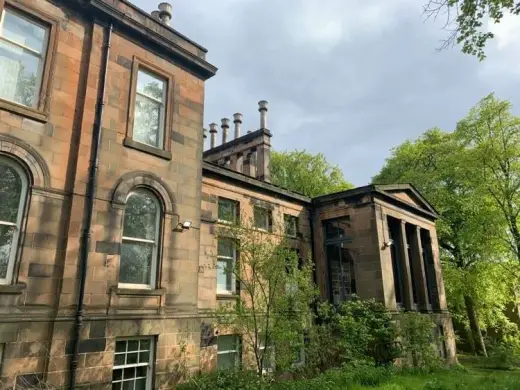 8 June 2021
River Clyde Pictures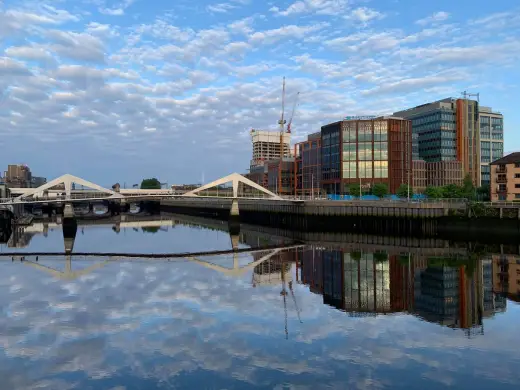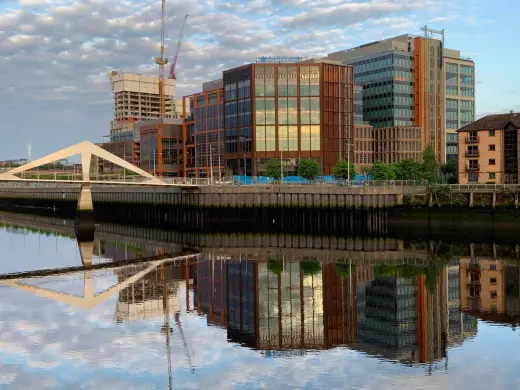 27 May 2021
Glasgow University Architecture Photos
McMillan Round Reading Room: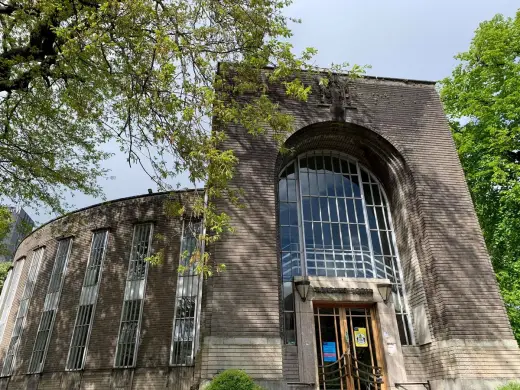 University of Glasgow Library (and Hunterian Art Gallery on left), University Of Glasgow, Hillhead St, Glasgow G12 8QE: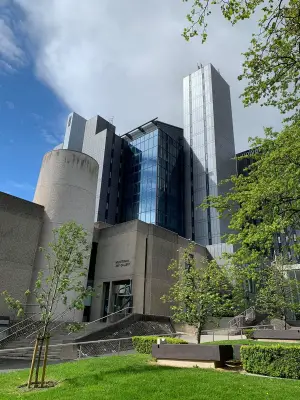 Hunterian Art Gallery, University Of Glasgow, 82 Hillhead St, Glasgow G12 8QQ: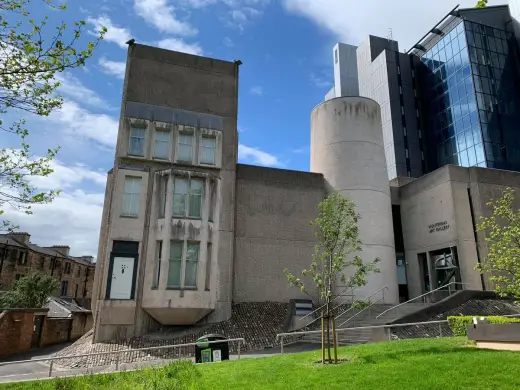 Wellington Church of Scotland Glasgow building, 77 Southpark Ave, Glasgow G12 8LE: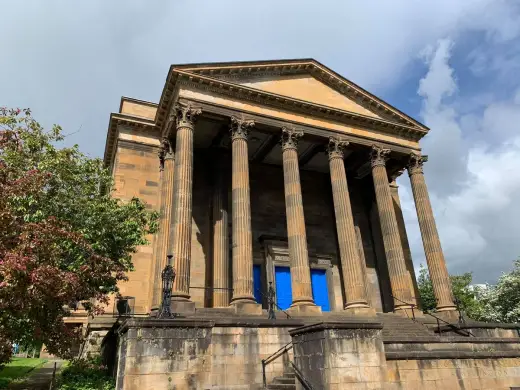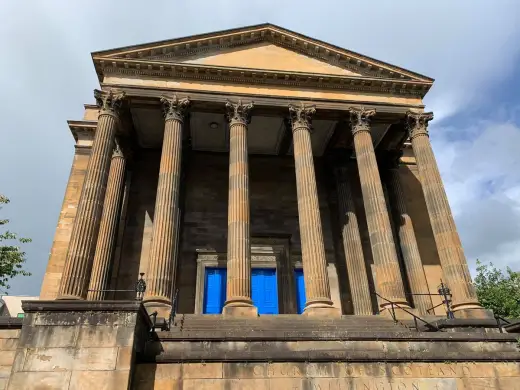 In the city centre, not part of the university:
The Glasgow Royal Concert Hall, 2 Sauchiehall St, Glasgow G2 3NY: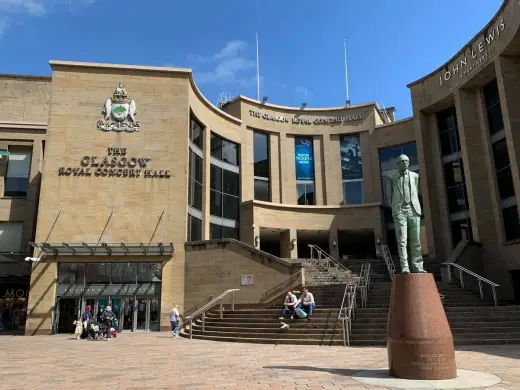 23 May 2021
North Glasgow Architecture and Landscape
St Columba of Iona Roman Catholic Church, Woodside, 1941, designed by Gillespie Kidd & Coia Architects (more photos lower down this post):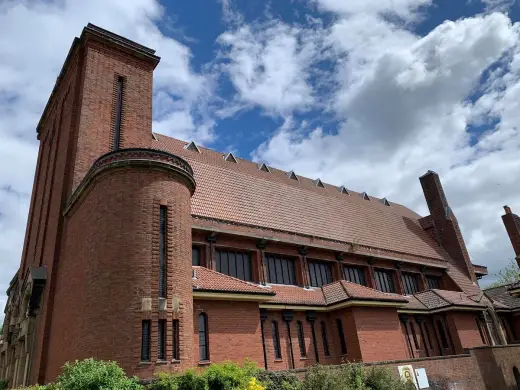 Forth And Clyde Canal at Firhill Basin, Blocks of flats at Wester Common Drive beyond: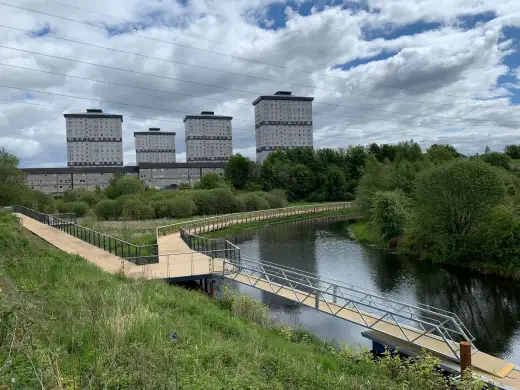 Housing on the north side of the Forth And Clyde Canal, just west of the Firhill Basin: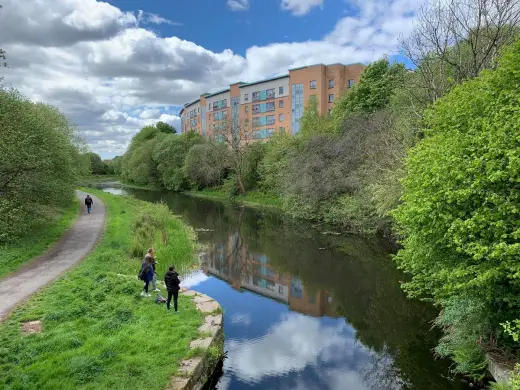 14 May 2021
Pandemic Architecture
New pods outside Eusebi Restaurant & Deli, junction of Eldon Street and Park Road, north west access to Kelvingrove Park – comments welcome – they seem too bulky, I assume they are on a temporary planning permission?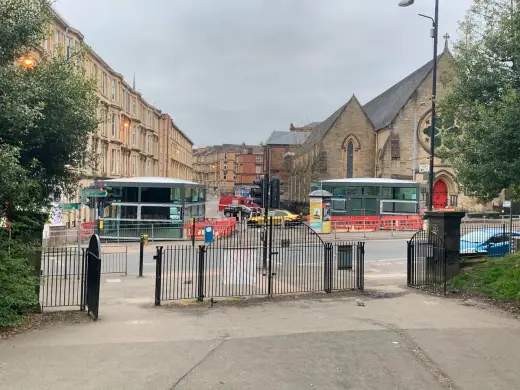 photo © Isabelle Lomholt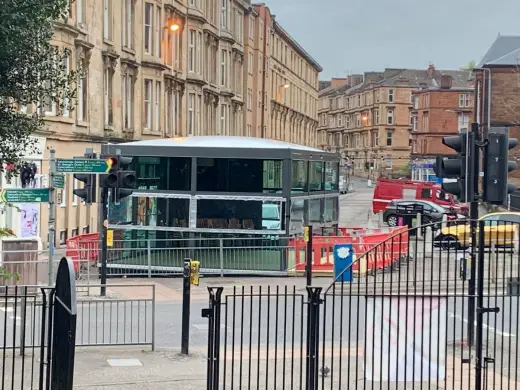 photo © Isabelle Lomholt
2nd of December 2020
Glasgow Buildings Photos in 2020
2 Dec 2020
I am not a huge fan of the new Queen Street Station, it feels too simple and quite harsh against the filigree detail of adjacent buildings: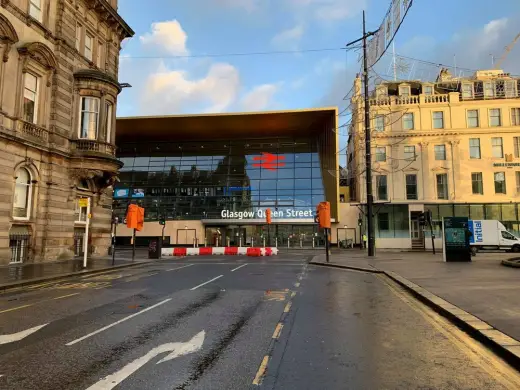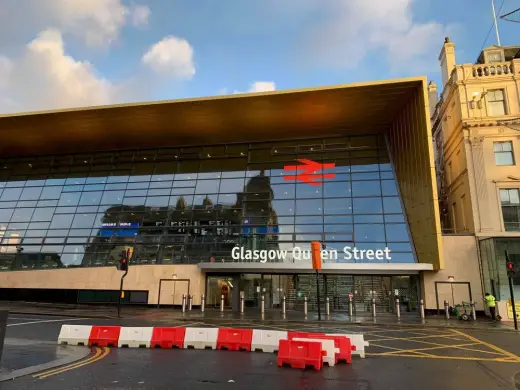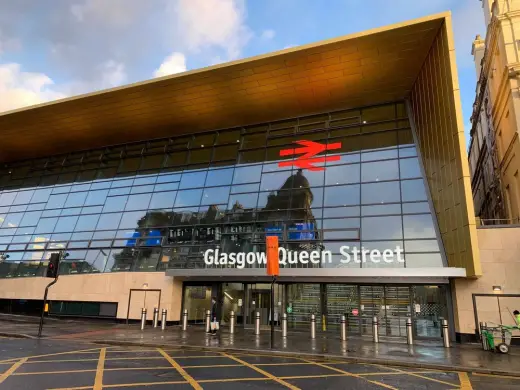 photos © Adrian Welch
West Nile Street building facing (East) end of West Regent Street, this is enjoyable, with good balance and decent colours: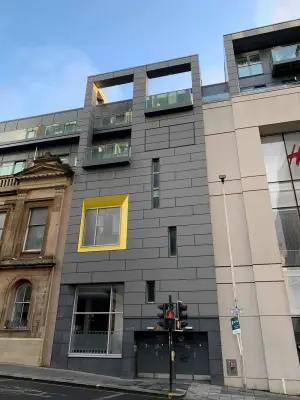 Greek Thomson building on West Nile Street, sandstone facade in a fairly poor state, one of his smallest and weakest buildings in the city: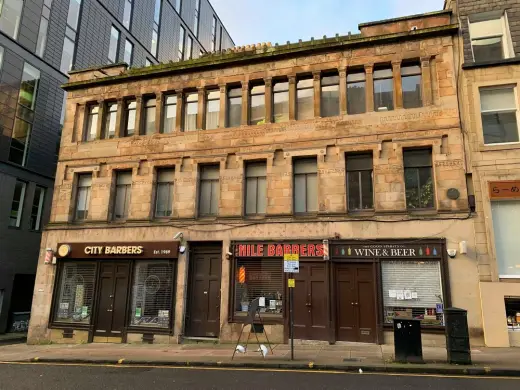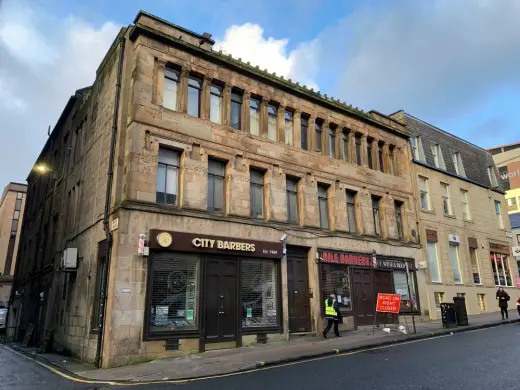 St George's Tron Church steeple, an elegant if slightly weak spire for such a focal point in the city's grid: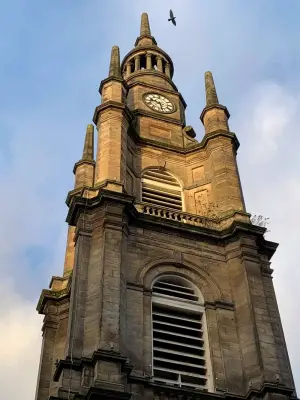 Debenhams store, Argyle Street, a massive brooding mass, ominous skyscape, and economic situation it appears: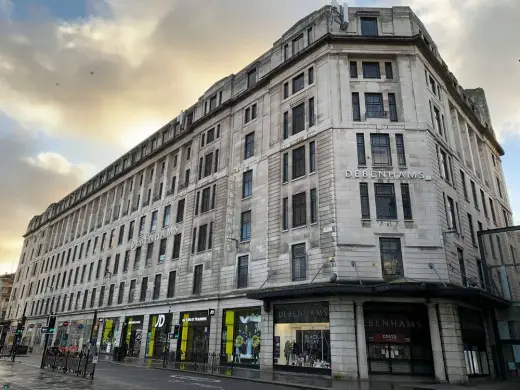 7 August 2020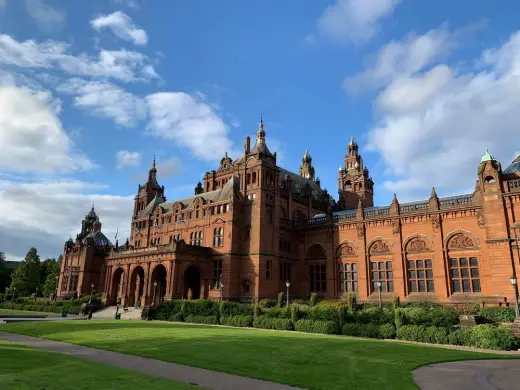 20 July 2020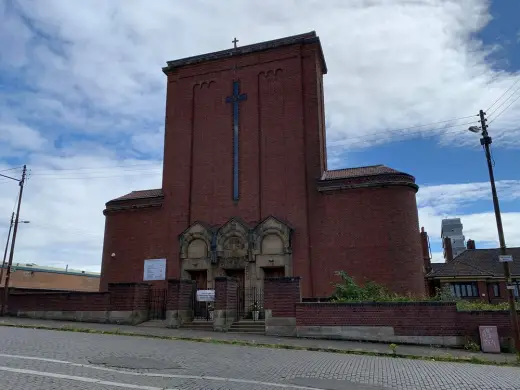 photos © Adrian Welch
St Columba of Iona RC Church, Woodside, Glasgow
Design: Gillespie Kidd & Coia Architects
Date built: 1941
Style: Italian Romanesque
12 July 2020
Ruchill Hospital water tower: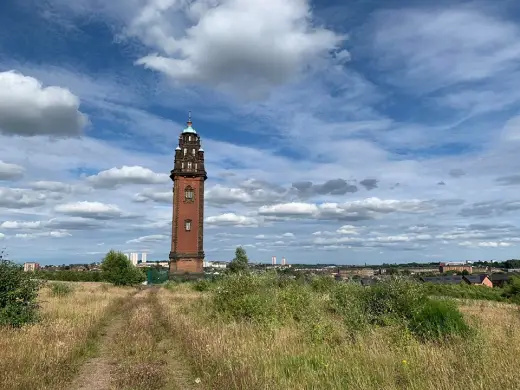 The centrepiece of Ruchill Hospital – an infectious diseases hospital in the Ruchill area – a 165 ft (50 m) water tower.
St John's Renfield Church, 22 Beaconsfield Rd, Kelvindale, Glasgow G12 0NB: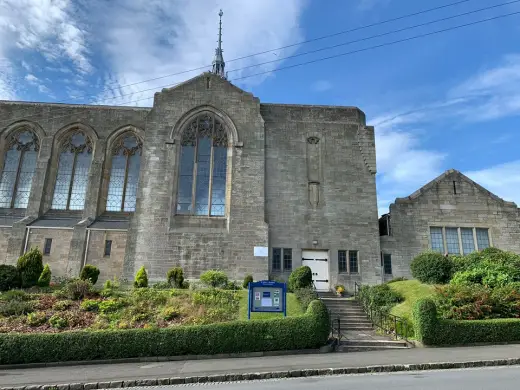 The church was designed by architect James Taylor Thomson (1887–1953).
Style: Gothic revival style
Status: Category B listed building
Dates built: 1929 – 1930
9 July 2020
St. Anne (Dennistoun) – Archdiocese of Glasgow, 21 Whitevale St, Glasgow G31 1QW
Category A listed building.
Architect: Jack Coia
Style: Romanesque, Byzantine
Groundbreaking: 1932
Completed: 1933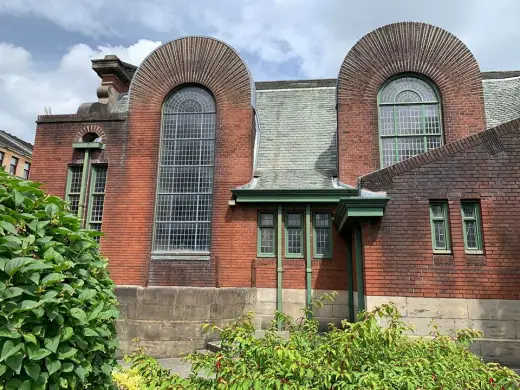 My son and I were kindly shown the interior of this intriguing church, having given some advice on various aspects of building maintenance! The church serves the Polish community in the East End.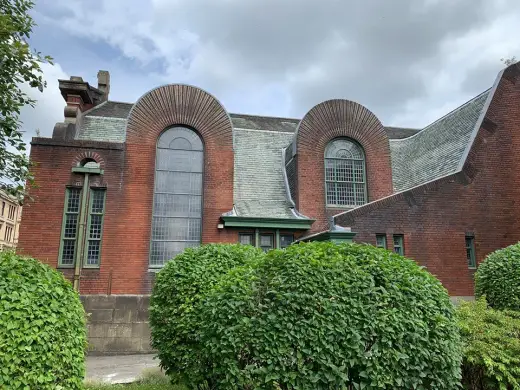 The architect was Jack Coia, who designed the church in a mixture of Romanesque and Byzantine Revival styles. Coia would design around 30 buildings for the Catholic Church.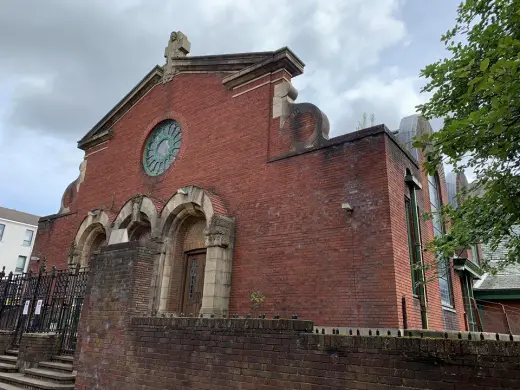 The church takes its cruciform shape from a series of semi-circular reinforced concrete portals converging on a central apex.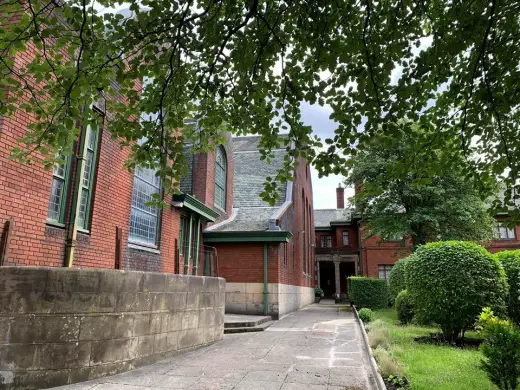 Archbishop Mario Conti described St Anne's as the "Jewel of the Archdiocese".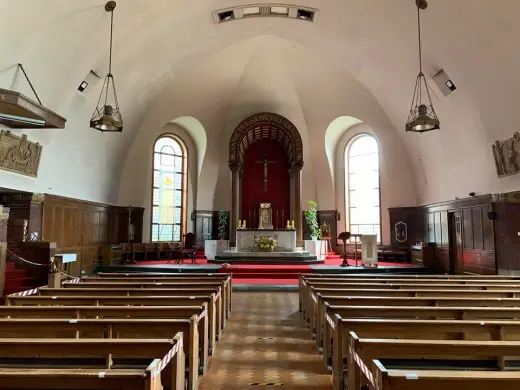 To the south, we revisited this interesting cluster of homes:
Graham Square housing designed by various architects – Page & Park Architects ; Richard Murphy Architects ; McKeown Alexander: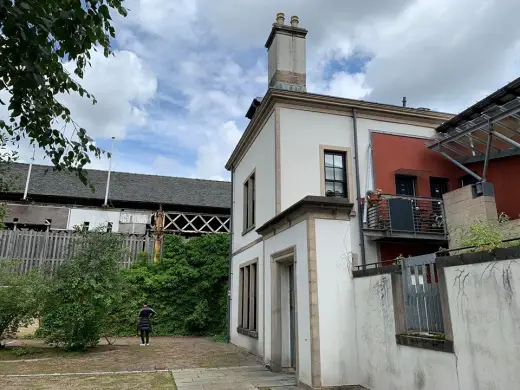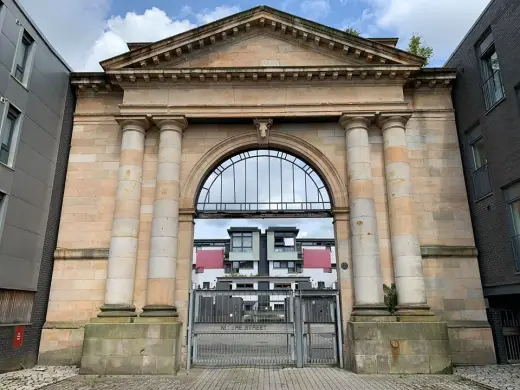 Daily Express building: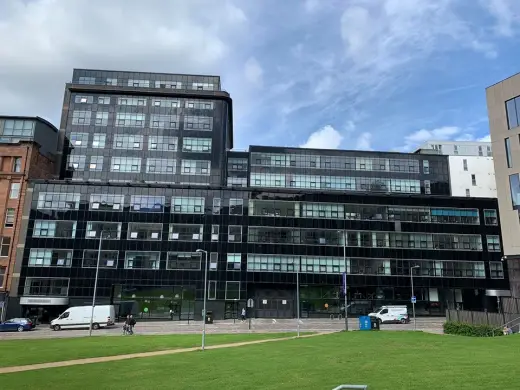 Strathclyde University tower building: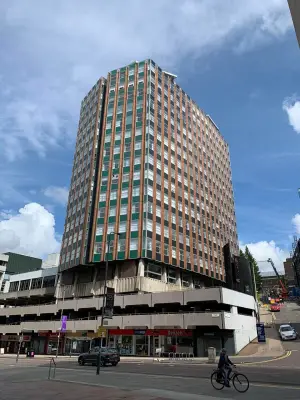 Strathclyde University architecture school: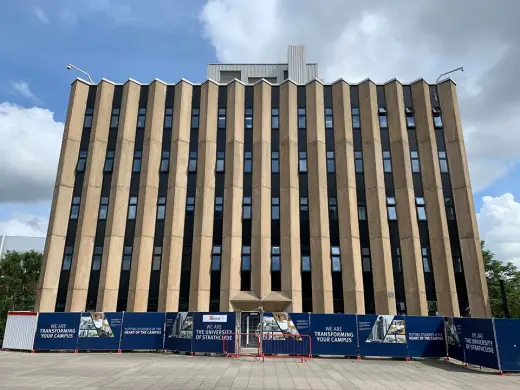 Glasgow Cathedral building from Necropolis: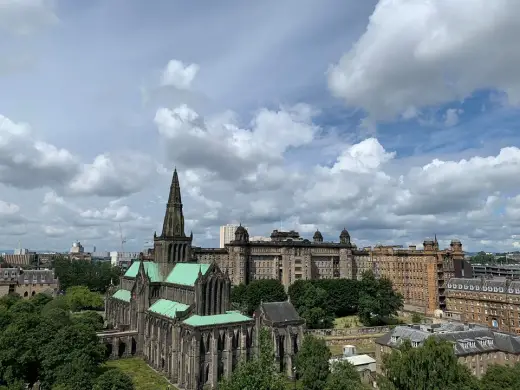 Glasgow Cathedral building from south: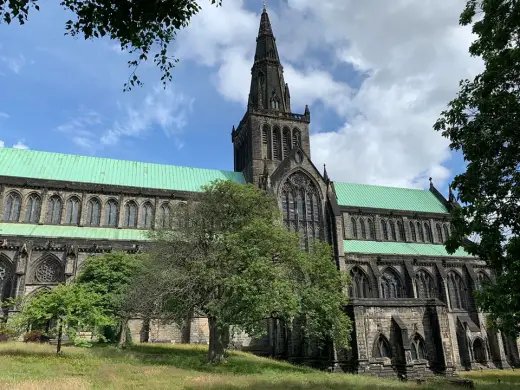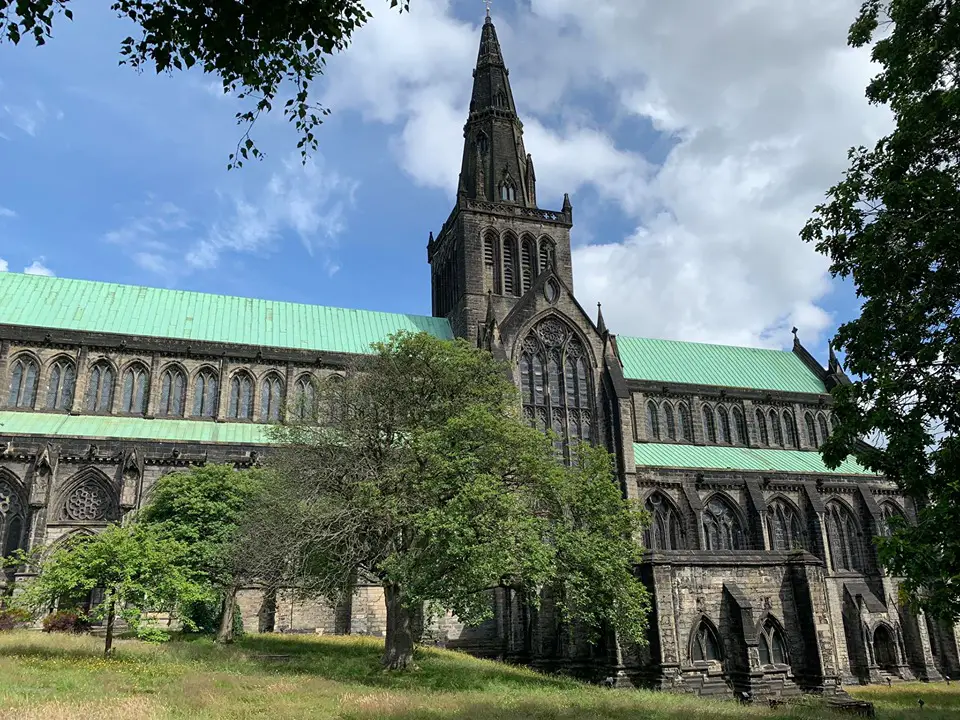 Necropolis Glasgow monument: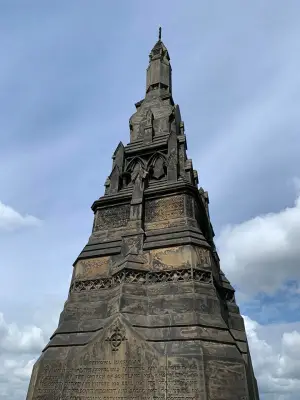 Whitevale Baths Glasgow east end: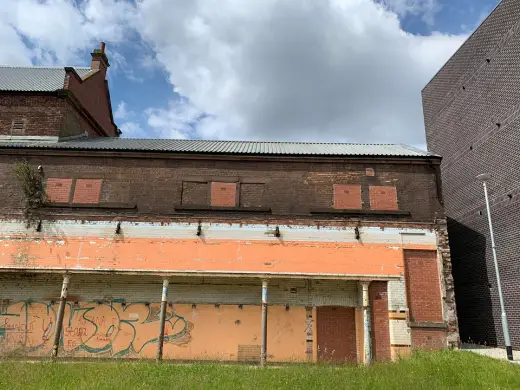 5 July 2020
Photos taken at 1 Kelvinside Gardens (G20 6BG) in North West Glasgow the 5th of July 2020 by Adrian Welch:
Another visit to St Charles Borromeo Church in North Kelvinside, this time with my architecture student son. The rather austere building dates from 1959/60, using a reinforced concrete skeletal frame.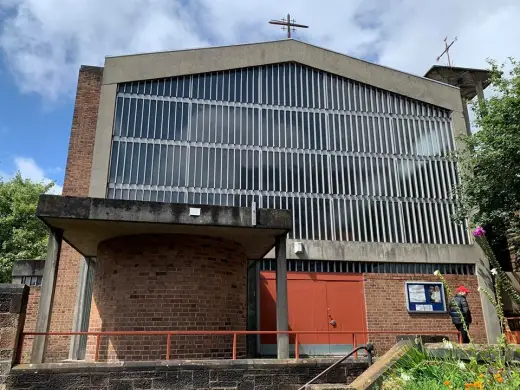 The main body of the church was formed from seven concrete portals, infilled with red rustic brickwork. It is an interesting design by former Glasgow architects Gillespie Kidd & Coia, but the East gable (pictured) is a little flat, and the 'bell' tower with three underslung speakers is too heavy.
The church was closed but post-pandemic it will be good to revisit and enjoy the interior.
Designed by Andy MacMillan and Izzy Metstein of Gillespie Kidd & Coia for a tight, steep hillside site and built 1959-60.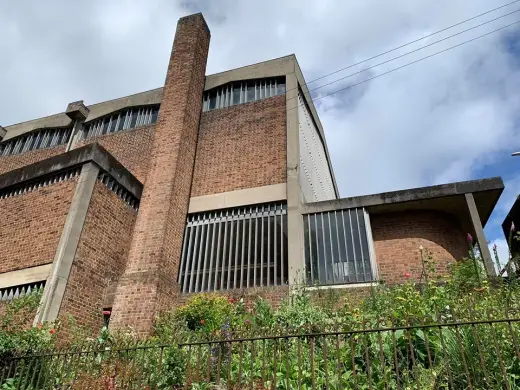 The most notable internal feature is the facetted concrete roof.
The church contains excellent sculptures by Benno Schotz: bronze altar frontal, crucifix and lampholder and twelve terracotta Stations of the Cross based on parishioners and friends of Schotz.
The concrete tower acts as a spire and sits separately to the north of the church next to the presbytery, a large red sandstone building.
More photos here:
Historic Glasgow: best Glasgow buildings of the past
Comments / photos for the Glasgow Architectural Photos page welcome