Citizens Theatre Glasgow, Gorbals Regeneration, Planning Consent, Building Renewal Images, Design
Citizens Theatre Redevelopment : Glasgow Architecture
Victorian Building Renovation, Scotland: Planning Permission design by Bennetts Associates
18 Dec
Design: Bennetts Associates, architects
Citizens Theatre Renovation HLF Grant
£4.8 million HLF grant for a transformational redevelopment project
Citizens Theatre Awarded £4.8 Million National Lottery Support
Citizens Theatre Renovation HLF Grant
Glasgow's Citizens Theatre has received a confirmed grant of £4.8 million from the Heritage Lottery Fund (HLF) for its transformational redevelopment project, it was announced today (Monday 18 December).
Thanks to money raised by National Lottery players, this exciting and ambitious project will result in the conservation, repair and expansion of one of Scotland's oldest, and much loved, working theatres. It will protect the physical asset for future generations whilst preserving and revealing the most significant parts of its heritage: the Victorian auditorium at the heart of the site; its rare collection of original 19th century stage machinery and a unique example of a working paint frame.
The project will also explore and celebrate the fascinating social and cultural heritage of the building and the Company, increase public engagement and ensure 'The Citz', as it is affectionately known, continues to make and deliver world class theatre for the benefit of local, national and international audiences.
The redevelopment, designed by architectural practice Bennetts Associates, is a radical reworking of the existing building to provide new learning spaces, rehearsal rooms and a 152 seat studio theatre. It will also improve working conditions for staff and transform front of house spaces for greater use by audiences, participants and the local community.
The project will be underpinned by 12 creative heritage focused activities including creating a heritage hub on the theatre company's website; helping people to share their stories about the Citizens; providing volunteer opportunities; and bringing the work of the theatre to life through specially linked heritage productions, to wider audiences and visitors.
Commenting on the award, Judith Kilvington, Executive Director of the Citizens Theatre, said: "We're delighted that we've received this significant support thanks to National Lottery players. This critical funding will allow us not only to preserve our Victorian theatre but also to tell stories which help to uncover and communicate the physical, architectural, social and cultural heritage of the Citizens Theatre to many future generations of theatre goers, participants, and visitors.
"With our increased heritage engagement plans, we will be able to attract new audiences and participants to the theatre for the first time and encourage a deeper level of engagement amongst our existing audiences by offering a variety of ways to explore the Citizens Theatre's rich and multi-faceted heritage.
"Our redevelopment project is at the heart of the regeneration of the Gorbals and Laurieston and will create a vital cultural landmark and community hub for all the people who use the building."
Lucy Casot, Head of the Heritage Lottery Fund in Scotland, said: "We are delighted to bring some Christmas cheer to one of Scotland's oldest and best-loved theatres. Thanks to players of the National Lottery, the Citizens Theatre will undergo a transformation which shines a light on its incredible Victorian heritage while providing the modern facilities expected today. After 139 years of entertaining audiences, her future as one of the country's outstanding production theatres is rosy."
In June 2018, Citizens Theatre Company will move out of the Category B listed building, which it leases from Glasgow City Council, for over two years. Thanks to a partnership with Glasgow Life the Company will continue to produce its ground-breaking work at Tramway and provide its Citizens Learning activities at Scotland Street School Museum. The Company will move back into its iconic Gorbals home in autumn 2020.
The Citizens Theatre Building is now one of the few remaining old buildings left in the area and has been at the heart of the Gorbals since it opened as His Majesty's Theatre in 1878. It was then known as the Royal Princesses Theatre until the building was first leased to James Bridie's Citizens Theatre Company in 1945. The building has significant community and historical relevance for the city of Glasgow, and specifically for the Gorbals.
For more information please go to: http://www.citz.co.uk/support/citizens-theatre/theatre-redevelopment
Citizens Theatre in Glasgow
Background
Citizens Theatre – A Building, A Company, A Community
The Citizens Theatre Company's vision is to transform and enhance lives though performance and participation that everyone can access. The Company has already successfully secured £16.3m in pledges towards the redevelopment project from Glasgow City Council, Heritage Lottery Fund, Scottish Government (Culture Budget, Regeneration Capital Grant Fund and Historic Environment Scotland), The Robertson Trust and a variety of other trusts and individuals.
An application (Round 2) to Creative Scotland for £1.5m has been submitted with a decision due in January. The theatre recently launched its 'We Are Citizens' public fundraising campaign which will inspire, engage, and encourage others to help raise £1.6 million for the building redevelopment. The theatre's first production at Tramway will be Cyrano de Bergerac, a co-production with The National Theatre of Scotland and the Royal Lyceum Theatre Edinburgh from 1 to 22 September 2018.
Citizens Theatre Redevelopment
Auditorium and Stage House
The Victorian auditorium and stage-house will be overhauled to provide a much improved standard of accommodation and facilities. Effective heating and ventilation will be added to the auditorium resolving current issues around comfort. New seating will be installed in the upper level which will improve sightlines and capacity.
There will be decoration and repairs throughout. The stage-house will receive significant upgrades with the addition of a new fly tower and a new stage with the original rake will be re-installed; new openings to improve access to the stage for actors, equipment and scenery; new band pit; and the development of a viewing gallery that takes the visitor into the heart of the historic stage machinery.
New Wing
Failing and poorly conceived architectural interventions and additions from the 1980s will be demolished to make way for a new wing that will link back of house and front of house effectively for the first time. The public will to be able to visit and see into key areas of Victorian heritage including the paint frame, fly floor, auditorium, under-stage and cellar including the historic stage machinery, on a day to day basis making the heritage some of the most readily accessible examples of its kind in Europe.
This wing will also provide a spacious new public foyer, characterised by the newly exposed sandstone gable wall of the Victorian auditorium, complete with café, ground floor and first floor bars, a bookable multi-function space, increased numbers of toilets including more disabled toilets, and new cloakroom and box office.
From the courtyard and the close that runs to back of house there will be easy access to the existing main rehearsal room (previously only accessible from backstage), a new studio rehearsal room, a dedicated learning rehearsal/workshop space, and two learning/events spaces. There will also be the creation of a new 152 seat studio theatre.
The new wing will incorporate a larger, more practical construction and carpentry workshop as well as new painting and metal work areas with the Victorian paint frame still in regular use at the heart of this operation. Additional dressing rooms with better facilities will be added along with new showers and toilets. There will also be improved facilities for backstage staff with new wardrobe making facilities and reorganised technical storage provided.
Backstage
The current arrangement of tiny offices spread throughout the building will be consolidated in a large open-plan office situated backstage but well connected to the foyer. It will be supported by a large breakout area for informal meetings, a green room/staff room as well as eight new spaces that can either function as office space, bookable meeting rooms or self-contained offices for external cultural partners to take up residency at the Citizens.
Accessibility
The current arrangement featuring multiple level changes and stairs has been redesigned to create level access and easy/transparent circulation routes for staff, participants and audiences members throughout the majority of the building. There is new and improved lift access from the basement right up to the top floor enabling those with impaired mobility significantly better access to the upper tiers of the auditorium and front of house in particular.
There are also new positions for wheelchair users designed into the Dress Circle for the first time and a much improved selection of positions in the Stalls auditorium and studio theatre, as well as improved way-finding and technology to make the theatre more accessible.
Repairs/Environmental
There will be repairs to the external stonework and masonry, the statues, roof-works and drainage as well as replacement or refurbishment of windows and doors throughout. All mechanical and electrical installations will be replaced and modernised with efficient new installations as well as complemented with zero-carbon technology including photovoltaic solar panels and air source heat pump. This, along with much improved material performance and air tightness, will ensure the future sustainability of the company's operations.
About the Heritage Lottery Fund
Thanks to National Lottery players, we invest money to help people across the UK explore, enjoy and protect the heritage they care about – from the archaeology under our feet to the historic parks and buildings we love, from precious memories and collections to rare wildlife. www.hlf.org.uk. Follow us on Twitter, Facebook and Instagram and use #HLFsupported.
CITIZENS THEATRE
119 Gorbals Street
Glasgow, G5 9DS
0141 429 5561 (Switchboard)
25 Mar 2016
Citizens Theatre Renovation Planning Approval
Design: Bennetts Associates, architects
Citizens Theatre Renovation Planning Approval
Redevelopment plans for Glasgow's Citizens Theatre have taken a major step forward with the granting of planning consent.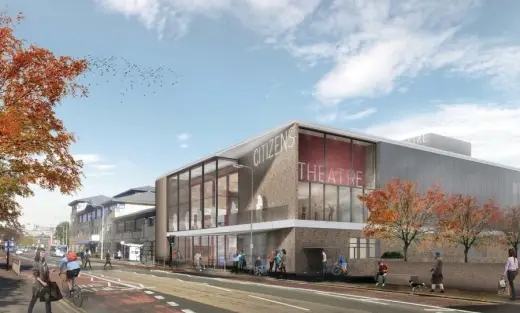 Work on the £20.5 m project is now set to start in late 2017 or early 2018 and be completed in spring 2020, subject to funding being in place.
The 138-year-old theatre will remain open throughout the project, which does not include any major changes to the existing auditorium, apart from improvement to the air-conditioning.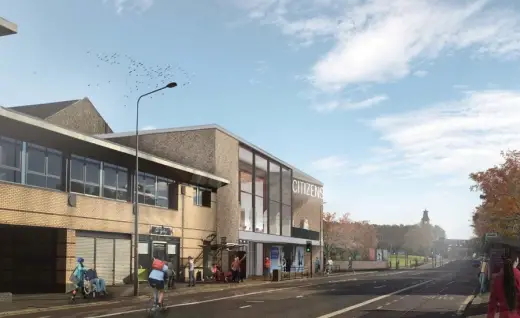 The major part of the work is to the 20th century additions to the original Victorian structure. The actors' facilities, backstage areas and construction workshops will be improved through reorganisation and refurbishment. A new administration hub will also be created.
Expressing her delight in the decision from Glasgow City Council, the theatre's executive director Judith Kilvington said: "We are passionate about being an inclusive organisation that breaks down barriers to participation but the building in which we operate is no longer fit for purpose.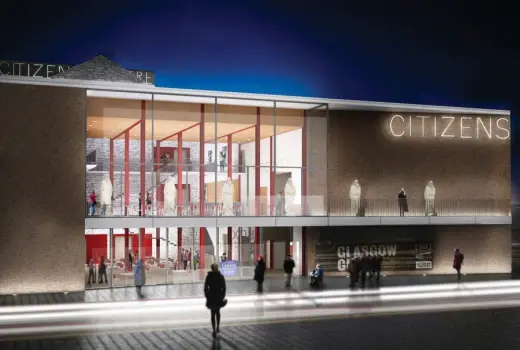 "Our vision for the future of our building is that will be able to engage with every aspect of our programme, heritage and history, and that we will provide improved working conditions for artists, participants and staff."
Front-of-house work will include the creation of new public areas including a new foyer, cafe, learning and rehearsal studios, with accessibility improved throughout the building.
11 Dec 2015
Citizens Theatre Renovation Submission
Design: Bennetts Associates, architects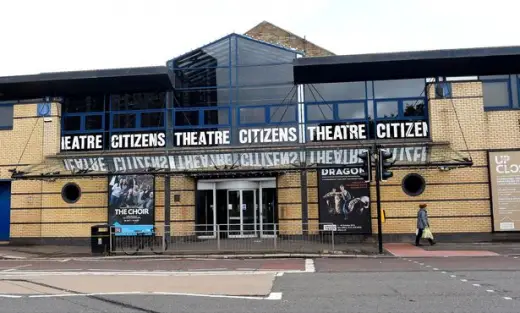 Bennetts Associates have submitted plans for the renovation and expansion of Glasgow's Citizens Theatre by refurbishing the historic auditorium whilst sweeping away later piecemeal additions to allow a wraparound new build structure.
This will allow creation of additional accommodation for learning, studios and workshops as well as building a new street frontage and foyer with a new front to back connection created alongside the existing auditorium to provide full public access to historic stage machinery.
The architects maintain that "The façade to Gorbals Street has open-ness and transparency that will reveal the auditorium gable and the activity of the foyer. It will make the theatre open and welcoming, and allow it to engage with the street.
"The auditorium will be at the centre of the scheme, and the layers of modern finishes will be stripped back to reveal its sandstone walls. Foyer spaces will be placed dramatically between the new accommodation and the old walls of the auditorium, with stairs and bridges occupying the space between."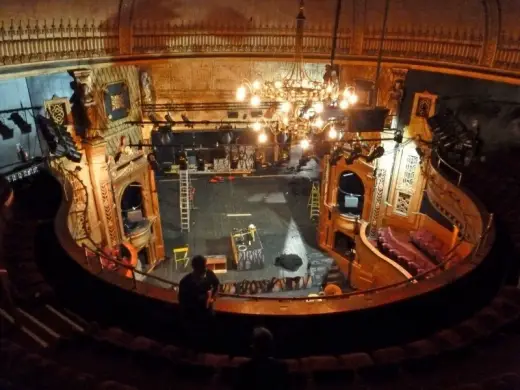 Elevation materials:
brick ; pre-cast concrete string course ; metal cladding
18 Feb 2013
Citizens Theatre Renovation
Design: Bennetts Associates
Location: Gorbals, south Glasgow
Citizens Theatre Appoints Bennetts Associates as Architects for Major New Redevelopment Project
The Citizens Theatre announces today that architectural practice Bennetts Associates has been selected to work on the plans for a major redevelopment of its iconic Gorbals home. This will be the most comprehensive redevelopment of the building since it opened as a theatre in 1878.
With the support of Glasgow City Council, the Company is now working with Bennetts Associates on the project, anticipated to commence in 2016 subject to funding being secured. It is anticipated that construction costs will be in the order of £6.5m, exclusive of professional fees and VAT. Bennetts Associates is based in Edinburgh and London and recently won numerous awards and plaudits for its work on the transformation of the Royal Shakespeare Theatre, Stratford-Upon-Avon.



image courtesy of architects practice
The original Victorian building has been home to the Citizens Theatre Company since 1945. Over the years the building has seen a number of small-scale extensions and developments as it has grown into one of Scotland's flagship producing theatres. However, it is now in need of repair and renovation. The planned capital project will transform the building creating a new vision for improved rehearsal, administration and learning accommodation, as well as improved facilities for the public.
The Citizens Theatre is owned by Glasgow City Council and the Company is working in partnership with the Council which has supported the cost of the feasibility study for the project.
Announcing the appointment of the architects, Chair of Citizens Theatre Adrienne Scullion said: "I'm delighted that the Citizens Theatre will be working with Bennetts Associates and Glasgow City Council to redevelop our landmark theatre building. This is an important capital project for both the Company and the city.
The Citizens has always valued its place in the heart of the Gorbals and now, with the Laurieston regeneration project underway, it's the right time for us to invest in a more efficient, more sustainable building for future generations to enjoy."
Bailie Liz Cameron, Executive Member of Development and Regeneration Services at Glasgow City Council commented: "The Citizens Theatre is a jewel in the crown of Glasgow's cultural life, and the plans for this capital project will mirror the regeneration of the neighbouring Laurieston area.
The council has been a supporter of the theatre for many years, and will continue to do so through our funding of the feasibility study. This is just the start of the process, and I look forward to the development of this building, which has hosted so many fantastic productions and raised the city's artistic profile, in the coming years."
Citizens Theatre Artistic Director Dominic Hill said "I'm looking forward to working with Bennetts Associates to realise our vision for this beautiful and historic theatre, and to provide audiences, artists and staff with quality spaces in which to make and enjoy theatre.
My ambition is to have a building that reflects the Citizens' reputation for contemporary interpretations of classic texts, while respecting the theatre's important heritage. I'm grateful to Glasgow City Council for having the vision to support us in our plans to ensure that the Citizens Theatre remains a vital part of the city's cultural provision for years to come."
Alasdair Gordon, Associate Director at Bennetts Associates' Edinburgh office, said: "It is such an exciting time for the Citizens Theatre and we look forward to being a part of this new chapter in the theatre's remarkable history. From breathing new life into the wonderful Victorian auditorium to providing new rehearsal, education and studio spaces, this ambitious project will transform the experiences of visitors, staff and performers and will secure the future of one of Scotland's leading producing theatres."
Bennetts Associates, Citizens Theatre and Glasgow City Council are now working together to take the plans to Royal Institute of British Architects Stage B, enabling the fundraising campaign to begin.
Citizens Theatre Glasgow
The Citizens Theatre is an iconic venue and theatre company based in the Gorbals area of Glasgow. It has been one of Scotland's flagship producing theatres since 1945, recognised internationally as a leader in its field. It is led by Artistic Director, Dominic Hill.


image from architect
Within a beautiful Victorian auditorium that dates from 1878 the Citizens presents a world-class, contemporary repertoire based on British and foreign classics and new writing. The Grade B listed building opened as His Majesty's Theatre and was also known as the Royal Princesses Theatre until the building was first leased to the Citizens Theatre Company in 1945.
The theatre retains many of its Victorian architectural features; it is the only theatre in Scotland still to have its original machinery under the stage and features an original Victorian paint frame and related fly system, which is still used today to paint backcloths. The remnants of an old bowling alley and a shooting range are closed up beneath the theatre.
As its name suggests, the Citizens believes that its work can enhance and transform the lives of people of all ages, cultures and social backgrounds. Every week of the year, the Citizens Learning team run activities for children, young people, students, older people and families as well as working closely with marginalised groups, people with additional support needs and in disadvantaged communities across Scotland.
Website: citz.co.uk
Bennetts Associates
Bennetts Associates is one of the UK's leading architecture practices with a portfolio of work that has won more than 125 awards, with projects in education, commercial and public-sectors as well as theatres, cultural and historic buildings. The firm has a reputation for its design quality, approach to sustainability and for its collaborative style of working.
The practice was behind the highly acclaimed transformation of the Royal Shakespeare Theatre in Stratford-upon-Avon, completed in 2010, and the new Hampstead Theatre in London. It is currently working with leading UK theatres on a variety of projects, including a new £40m theatre and library in Chester.
Bennetts Associates is based in London and Edinburgh and is currently around 70 strong. bennettsassociates.com
Architects Shortlist
Bennetts Associates was selected to deliver the planned project from a shortlist of six which also included John McAslan & Partners; cr8 Architects with RHWL Arts; PagePark Architects; Malcolm Fraser Architects and Haworth Tompkins Architects. The shortlist was created following the Official Journal of the European Union tendering process.
Citizens Theatre Redevelopment images / information from Bennetts Associates
Citizens Theatre Glasgow renewal architect : Bennetts Associates
Glasgow Theatre



photo © Adrian Welch
Tron Theatre
Design: RMJM Architects



image from architects
Is Equity Release Right For Me
Glasgow Buildings
BBC Glasgow
Bennetts Associates Architects
Comments / photos for the Citizens Theatre Redevelopment – Gorbals Architecture design by Bennetts Associates page welcome