Laurieston Glasgow, New Gorbals Housing Association, NGHA Regeneration, Buildings, TRA Project
Laurieston Glasgow Gorbals Housing
City Centre Quarter Development in Strathclyde, Scotland, design by various architects
post updated 12 August 2023 ; 20 Nov 2015
Laurieston receives special mention at 2015 RIAS awards
The urban regeneration of Laurieston, Glasgow, has been praised by the Royal Incorporation of Architects in Scotland (RIAS), by way of a Special Mention at the annual Andrew Doolan Best Building in Scotland awards ceremony.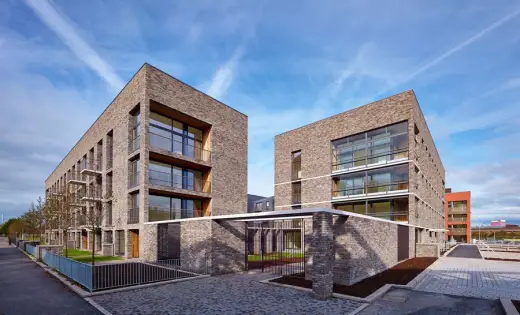 Laurieston Housing
The awards – supported by the late Andrew Doolan's family and the Scottish Government – are recognised as one of the most prestigious architectural prizes in the UK and one of the most significant in Europe.
Projects shortlisted demonstrate innovation and design excellence, irrespective of size or type. Other key considerations include detailing, accessibility, environmental standards and technical skills. From the sixty five entries submitted to the 2015 RIAS Awards only twelve were shortlisted for the 'Doolan' which was eventually awarded to West Burn Lane, St Andrews.
The panel of judges was chaired by Willie Watt PRIAS, along with Dame Barbara Kelly Hon FRIAS, Peter McIlhenny FRIAS, Past President of the RIAS' Inverness Chapter and Margaret Richards FRIAS, winner of last year's RIAS Lifetime Achievement Award.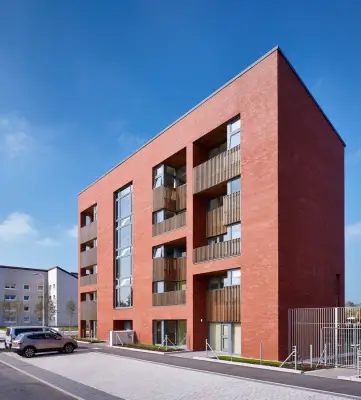 The £100 million regeneration project in Laurieston is being delivered through an innovative partnership involving Glasgow City Council's special purpose regeneration vehicle Transforming Communities: Glasgow, New Gorbals Housing Association and developer Urban Union.
The completion of the first phase of the project, which was handed over in August 2014, was designed as collaboration between Page\Park Architects and Elder & Cannon Architects who were appointed by New Gorbals Housing Association, in partnership with Glasgow City Council to design the new city centre quarter.
Craig Kidd, Urban Union said: "Our vision is to provide quality housing for the people of Laurieston, building not just homes, but communities and deliver a new world-class city quarter.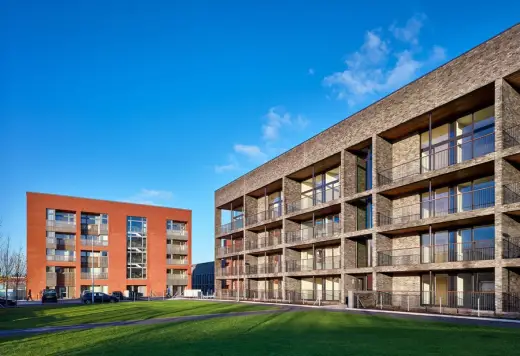 "We are proud to support excellence in architecture and are delighted to see this acknowledged by the RIAS in their award for the contrasting but also complementary designs of Page\Park and Elder Cannon Architects at Laurieston. Their designs have got our vision for Laurieston off to a flying start and have united to help us deliver our vision for Laurieston.
"As the development progresses, we will continue to work closely with our partners, including Glasgow City Council, New Gorbals Housing Association and the local community to further develop this vibrant quarter of the city."
The development was praised for its reinterpretation of the traditional Glasgow tenement, which are fittingly urban in scale and provide high quality high amenity homes, close to the heart of the city.
The affordable-rent homes, set in a layout of streets and mews, were identified as building on the urban character of Glasgow, comprising contemporary, supremely elegant clearly-defined blocks which reinforced the city grid.
Neil Baxter, CEO, RIAS commented: "Laurieston is both a superbly development and an example of fantastic placemaking. It reinforces the grid of Glasgow and helps to remake Laurieston as a highly attractive place to live and to visit: a triumphant piece of urban regeneration."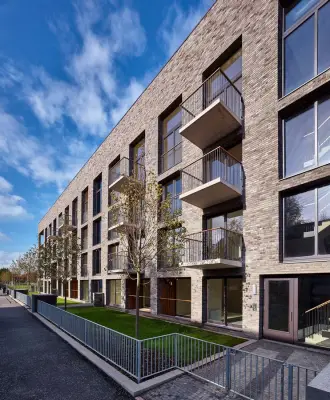 Laurieston Glasgow: Award – Background
The RIAS Andrew Doolan Best Building in Scotland Award
The RIAS Andrew Doolan Best Building in Scotland Award was founded in 2002 by the architect and entrepreneur Andrew Doolan who sadly died in 2004. Andrew determined that this award would be the richest in the UK and that it should go to the best building in Scotland each year. The Award is now jointly funded by the Scottish Government and the Doolan Family.
The Royal Incorporation of Architects in Scotland (RIAS) was founded in 1916 and is the professional body for chartered architects in Scotland. Including student members, Honorary Fellows and retirees, the Incorporation has over 4,700 members. The RIAS promotes excellence in architecture in Scotland
Urban Union
Urban Union is a joint venture partnership between McTaggart Construction and Robertson Group Holdings. It is a unique partnership formed specifically to deliver large scale regeneration projects.
Both partners – McTaggart Construction and Robertson Group Holdings – have a proven track record in delivering mixed tenure projects and working to deliver 'community benefits in procurement' in Glasgow and further afield.
In addition to the regeneration of Laurieston, the company has recently been appointed to develop the Pennywell area of Edinburgh.
The consortium supports the priority given to targeted recruitment, training and supply chain opportunities presented by the Laurieston project.
Each Urban Union partner has extensive regeneration experience and shares a common view on social responsibility.
New Gorbals Housing Association
New Gorbals Housing Association is a community controlled Housing Association operating in the Gorbals area.
Committed to; providing high quality services to residents, serving the community and driving the regeneration of the area, the Association manages over 3,000 rented homes in the area and factors a further 1300.
Since 1991 the Association has been at the forefront of the regeneration of the Gorbals, investing over £180m in the building of 1,000 new homes, the modernisation of 1,500 homes and the completion of several major environmental projects.
The Association has won multiple design awards, including 6 Saltire, 2 Civic Trust, 1 Scottish Design and the RTPI New Neighbourhood Award for the creation of the best neighbourhood in the UK in 2005.
Laurieston will create mixed tenure, mixed use housing and a balanced community, integrated with the adjacent Eglinton Court which includes 114 homes built in the 1970s, half of which are now owned through right to buy.
The project was built as a collaboration between Page\Park Architects (121 units) and Elder & Cannon Architects (80 units) for residents displaced from the soon to be demolished Norfolk Court high rise, other transfer and housing list applicants and for future generations.
The site was previously occupied by four 276 unit identical high rise blocks completed in 1975-76. Demolition of the first block was carried out in 2009 and the last, Norfolk Court, is scheduled for demolition in summer 2015.
The final 120 tenants will be rehoused in the Laurieston project. Nearly 800 tenants have been rehoused from the four high rise blocks to date. All tenants seeking rehousing in a new or modernised home in the Gorbals have been accommodated – 75% in total.
Since 1994 when New Gorbals Housing Association acquired housing stock eight high rise blocks (1,770 flats) have been demolished leaving with five high rise blocks (584 flats) remaining. Prior to 1994, 1230 high rise / deck access homes had been demolished.
Transforming Communities: Glasgow
Transforming Communities: Glasgow is a special purpose regeneration company which was established in April 2012 to oversee the planning and delivery of Glasgow's eight Transformational Regeneration Areas (TRAs) in Sighthill, Gallowgate, Laurieston, Maryhill, North Toryglen, Pollokshaws (Shawbridge), East Govan/Ibrox and Red Road/Barmulloch.
Membership of the company comprises Glasgow City Council, the Scottish Government and Glasgow Housing Association (GHA). It is a company limited by guarantee and is currently in the process of application to become a registered Scottish Charity. The overriding objectives of the Company are to:
• Create sustainable place transformation through mixed-use development and housing renewal
• Lever in additional funds and catalyse private sector investment
• Develop community capacity
• Deliver outcomes across economic, social, environmental and physical regeneration
• Increase the pace of regeneration activity and project delivery
• Maximise the potential of public sector land assets
• Provide a strategic approach to tackling infrastructure issues
The Company is governed by a board which comprises City Councillors, Senior Civil Servants from the Scottish Government and GHA Board Members.
Local Delivery Groups chaired by local elected members and comprising local residents and representatives from key partners oversee delivery of the TRA's at a local level and report to the Board of Transforming Communities: Glasgow.
12 Nov 2015
Laurieston Social Housing
Laurieston Regeneration Award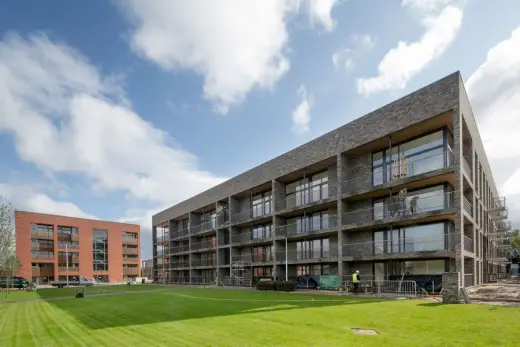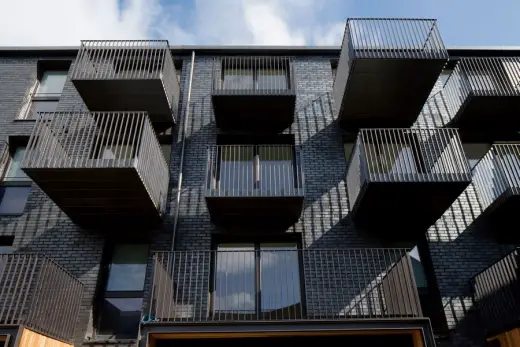 Laurieston Social Housing Glasgow
26 Oct 2012
Laurieston Redevelopment Glasgow
Glasgow regeneration project given green light by planners




images from Laurieston Living
City Council approve plans for further homes, retail and community facilities in Laurieston: The next stage of the £90 million regeneration of the Laurieston area of Glasgow has been given the green light by Glasgow City Council.
Laurieston Development Glasgow
Minister Launches £90 Million Regeneration Project for Glasgow



image from Laurieston Living
Laurieston Living – background information from 1 Jun 2012
Alex Neil MSP signals start Glasgow's new "world-class" city-centre quarter providing new homes, jobs and investment in Laurieston.
Laurieston Regeneration images / information from Laurieston Living
Laurieston Buildings Context
Crown Street Gorbals



image from Hypostyle Architects
Queen Elizabeth Square
Sighthill Transformational Regeneration Area (TRA)
Gorbals Parish Church
Design: ADF Architects



photo © Keith Hunter Photography
Gorbals Parish Church
Historic Gorbals Building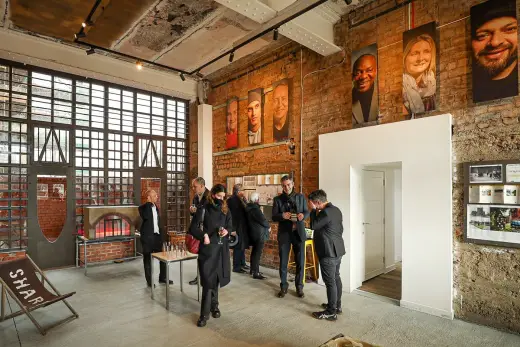 photograph courtesy of Urban Union
166 Gorbals Street Glasgow Building News
Historic Glasgow : best buildings of the past
Glasgow Buildings
Contemporary Glasgow Property Designs – recent architectural selection below:
New Chryston community hub building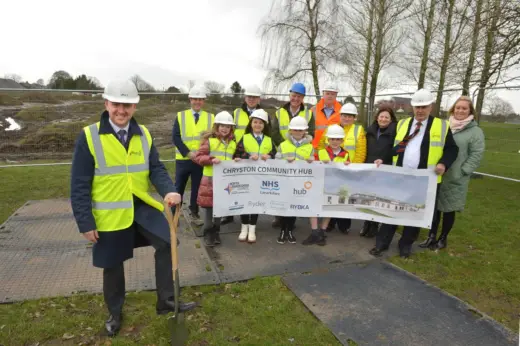 image courtesy of architects practice
Chryston Community Hub in North Lanarkshire
Comments / photos for the Laurieston Regeneration Glasgow page welcome