Maggie's Monklands Hospital, Lanarkshire Healthcare, The Elizabeth Montgomerie Building Airdrie
Maggie's Lanarkshire, Airdrie
Monklands Hospital Building, Airdrie / Coatbridge, Scotland, design by Reiach and Hall Architects
post updated 9 December 2023
Address: Monkscourt Avenue, Airdrie, ML6 0JS
Phone: 01236 771199
15 Dec 2015
Maggie's Lanarkshire at Monklands Hospital wins GIA Awards Winners
Maggie's Lanarkshire building by Reiach and Hall Architects
The Glasgow Institute of Architects is pleased to announce the winners of the GIA Design Awards in 2015. With 51 entries from 33 architecture practices, 7 categories including conservation and small works, and 3 special awards, the GIA Awards continues to display the talent of chapter based architects and local projects.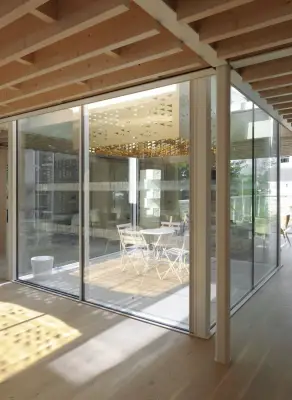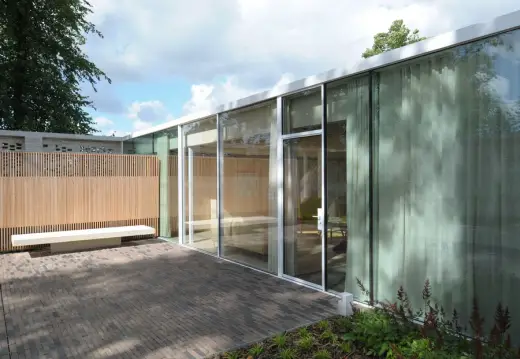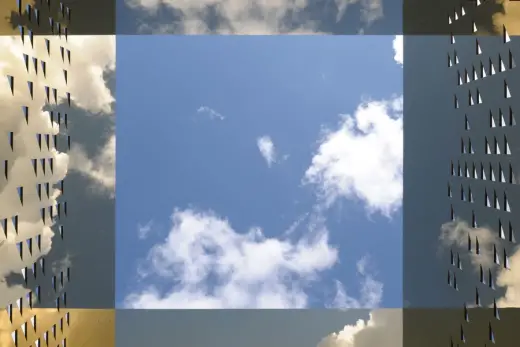 Photographs: David Grandorge
The Maggie's Lanarkshire building won not only the GIA Supreme Award but also the Healthcare Award and the Wood for Good Award.
GIA President Michael Dougall said, "The entries received by the GIA to this year's Design Awards were of an exceptionally high standard and we were delighted to have Rab Bennetts OBE in the role of Awards Chairperson overseeing the difficult, but enjoyable, task of judging.
Previously in 2015:
Maggie's Lanarkshire Stirling Prize Shortlisted
Maggie's Lanarkshire by Reiach and Hall Architects
2015 RIBA Stirling Prize Shortlisted
The shortlist for the prestigious 2015 RIBA Stirling Prize for the UK's best new building, now in its 20th year, has been announced. The six exceptional shortlisted buildings will now go head-to-head for architecture's highest accolade, to be awarded by the Royal Institute of British Architects (RIBA) on Thursday 15 October 2015.
This is a modest, low building that gathers a sequence of domestic-scaled spaces. Visitors enter via a quiet arrival court, defined by the low brick walls and two lime trees. At once, a sense of dignity and calm is encountered.
Photography: David Grandorge
29 Mar 2015 – photos added ; 27 Nov 2014
Maggie's Lanarkshire
Design: Reiach and Hall Architects
Probably the Best Maggie's Centre in the World
Maggie's Lanarkshire at The Elizabeth Montgomerie Building
27 Mar 2015 – RIAS/RIBA Awards 2015 Shortlisted
"A respite from the clinical atmosphere and built form of the nearby hospital, this is a place of relaxation and contemplation."
Brief Review & photos by architect Adrian Welch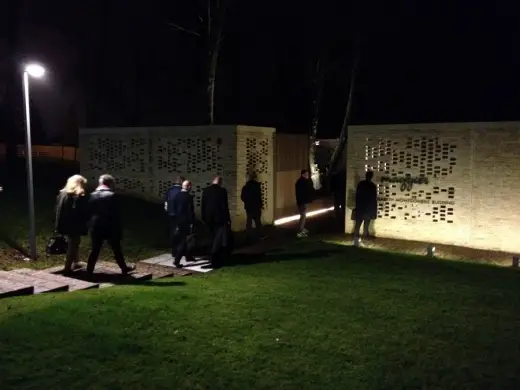 27 Nov 2014 – Yesterday evening e-architect directors Isabelle Lomholt and Adrian Welch had the pleasure of visiting the latest Maggie's Centre, at Monklands Hospital in Airdrie, just east of Glasgow. Previously we have visited Maggie's Centres in Edinburgh (the original by Richard Murphy), Dundee (by Frank Gehry), Kirkcaldy (by Zaha Hadid) and Gartnavel (by OMA).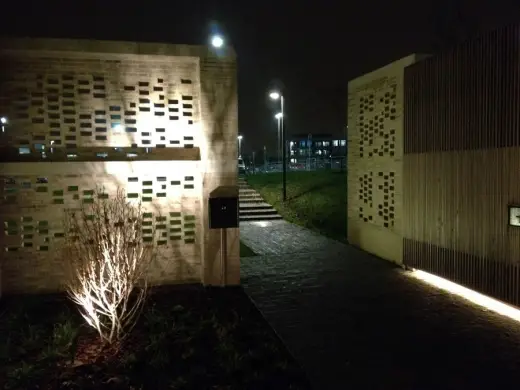 For me the original is my psychological benchmark, I visited and met with the director Laura Lee whilst I was working at Richard Murphy Architects. The building is humble, cosy and focused on its function. Later iterations across the UK have created a 'chocolate box' of buildings by well-known architects.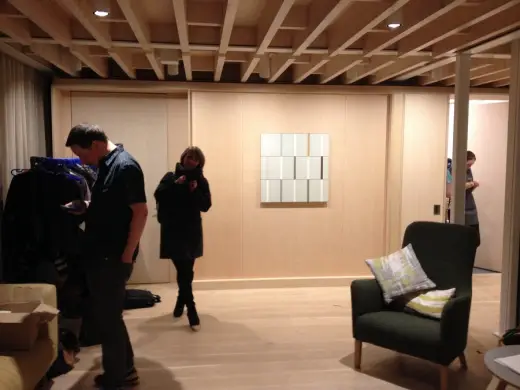 Charles Jencks is the driving force for these designs as surely all architects know, and because he is so publicly linked with 'discussion' (and I feel 'defence') of so-called iconic buildings and the globalised starchitect culture I tend to wince a little when it comes to architectural manifestation that links back to him.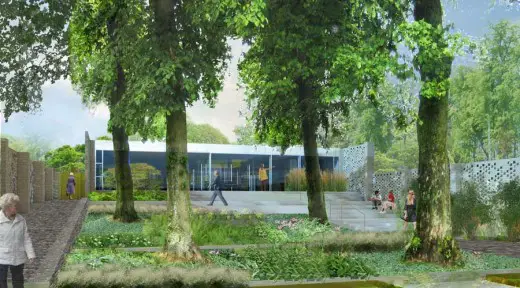 image © Reiach and Hall Architects
However, my last visit and subsequent review of the discreet and sophisticated OMA design at Gartnavel has given me hope that the Maggie's Centre programme may have returned to a beautiful synergy between excellent architecture and most importantly excellent functionality. The OMA design as you may recall was a series of simple rectilinear spaces rotating around a simple open-air garden space. I found the outcome to be successful on many levels, and given the larger spatial programme I would argue that the Maggie's Centre at Gartnavel formed a new and very high benchmark for architects of future centres to aspire too.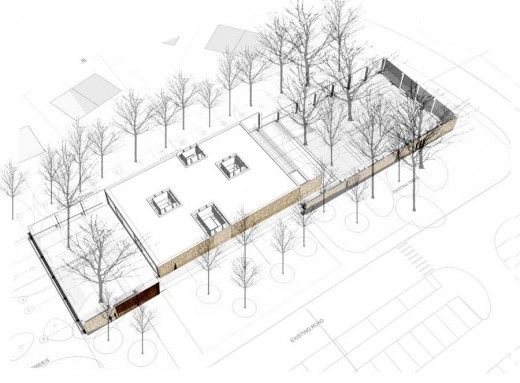 image © Reiach and Hall Architects
This latest building is by Edinburgh architects Reiach and Hall, led by the calm and intellectual Neil Gillespie. I 'interviewed' him about a decade ago walking around their West Port building as it neared completion. That building was described in the AJ as a super example of good ordinary, and the practice's work certainly sits alongside rational contemporary design approach of practices such as Tony Fretton and David Chipperfield. It tends to be restrained, orthogonal and using a simple palette.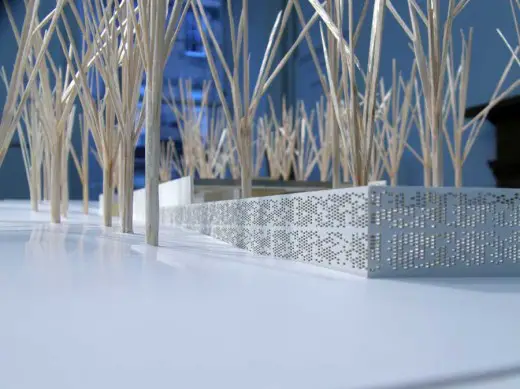 image © Reiach and Hall Architects
This building is located on the northern edge of a barren car park, formed of harshly designed galvanized steel on a tarmac sea. The centre is wrapped in a simple wall, made of delicious yellowy ochre Petersen bricks (from Denmark). These bricks have a slender proportion due to their small height. The wall has some permeability provided by clusters of missing bricks, designed according to Neil to limit the idea of the centre being elitist or separate from the main body of the hospital. He described the walls as embracing the centre, a simple subtle concept, not a one-liner. This subtle, embracing attitude permeates the design: the rooms are well-proportioned, the furnishings are tasteful and providing what I feel (for this specific typology) just the right amount of colour and pattern.
The plan is like a figure of eight, with two square lightwells set central to the long east-west axis. The lightwells are atria that you can enter via sliding screens. Neil explained that sliding doors are used predominantly in the building as their closing is gentler that those of standard swing doors. The architects seem to have pondered this building a long time and therefore it appears to work from the macro to the micro scale. Each details is thought about, yet the result is not over-wrought but simply feels right.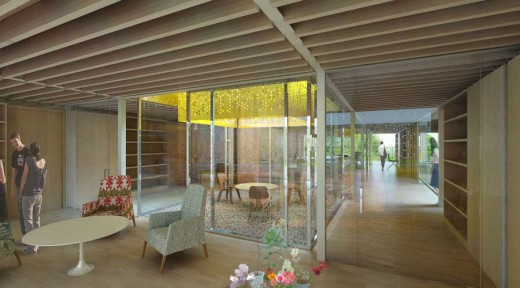 image © Reiach and Hall Architects
Well done to Maggie's Centre, Monklands Hospital and the entire design team, but also to the contractor who clearly have taken great efforts to achieve a quality finish. This is the new benchmark not only for Maggie's Centres but for Scottish architecture. I would love it if architecture students and architects were to really study this building and learn lessons from it. Of course there are stylistic references back to Aalto and Jacobsen that I love because I've admired their work since my school days, but putting aside style (if that is possible) what is so powerful about this building is the way it feels happy within itself, using mostly natural materials that feel great, a bit of colour and pattern, well-proportioned spaces and details. This should be standard, this should be our ordinary.
e-architect editor Adrian Welch, architect
Maggie's Lanarkshire at The Elizabeth Montgomerie Building
Address: Monklands Hospital, Monkscourt Avenue, Airdrie, North Lanarkshire, ML6 0JS
Phone: 01236 771199
Previously:
2 Apr 2013
Maggies Monklands
Design: Reiach and Hall Architects
Maggie's Centre at Monklands Hospital
Work is set to begin on the building of the new Maggie's Centre at Monklands Hospital in April. Construction will begin on April 8 with the centre due to open in early 2014.
"Our interim Centre at Wishaw General has been a wonderful way of introducing the people of Lanarkshire to the unique programme of support Maggie's has to offer to people with cancer, their friends and families. "The new purpose built Centre, situated close to where many people receive their cancer treatment, will mean we are able to provide a wider range of support to a great many more people."





image © Reiach and Hall Architects
Maggies Lanarkshire images / information from Reiach and Hall Architects
Maggies Lanarkshire design : Reiach and Hall Architects
Maggies Monklands Hospital
This project has relocated to Monklands Hospital


image © Maggie's Centres
Previously:
Reiach and Hall Architects to take over this building project from the liquidated Ushida Findlay Partnership: announced Sep 2004.
Ushida Findlay (Architects) to design £5.5m Maggies Centre in grounds of Wishaw General Hospital.
Ushida Findlay Partnership Glasgow Building: Homes for the Future
Scottish Hospitals
New Southern General Hospital
Forth Valley Hospital
New Victoria Hospital Glasgow
Lanarkshire Beatson Monklands Hospital
Renfrew Health Centre



photo : Andrew Lee
Glasgow Architecture
Major Strathclyde Building Designs – selection:
Small Animal Hospital



photo © Andrew Lee
Hazelwood School



photo : Andrew Lee
Monklands Leisure Centre, Bank Street, Langloan, Coatbridge
Date built: 1977
One of Womersley's final architectural projects, rather dull.
Comments / photos for the Maggie's Lanarkshire – The Elizabeth Montgomerie Building in Airdrie, Scotland page welcome