Queen Street Station Renewal, Glasgow Railway Building Images, Architect, Scottish Platform Architecture Renovation
Glasgow Queen Street Station Renovation
Railway Building in Strathclyde, Scotland – Development News: Facelift Tender
18 November 2021
Celebrating heritage through design in Glasgow Buildings
Article by Bruce Kennedy, Architect Director at the BDP Glasgow studio:
"We walk in the footsteps of our predecessors. Just as the inherited values of past generations shape our society, their aspirations are cast in stone in the built fabric of our cities."
Celebrating heritage through design in Glasgow
13 July 2021
Design: BDP Glasgow Studio, Architects
Location: North Hanover St, central Glasgow, G1 2AF, Scotland, UK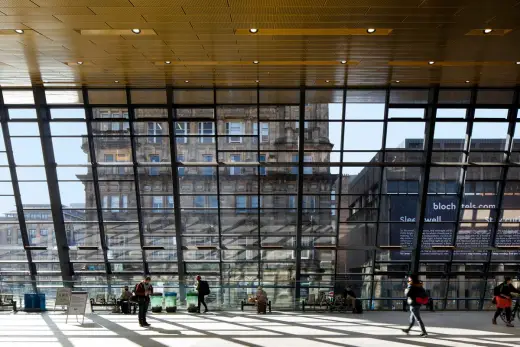 photograph : Nick Caville
Glasgow Queen Street Station Building Design
There is no greater proof that People Make Glasgow than to see the city without its crowds. The city centre has been dormant, feeling like a stage without a play. Now, the commuters and shoppers are returning from their Covid-enforced isolation and the redeveloped Glasgow Queen Street Station is there to welcome them:
Glasgow Queen Street Station Building Design article on e-architect
3 Apr 2017
Glasgow Queen Street Facelift Approval
Queen Street Station Renewal News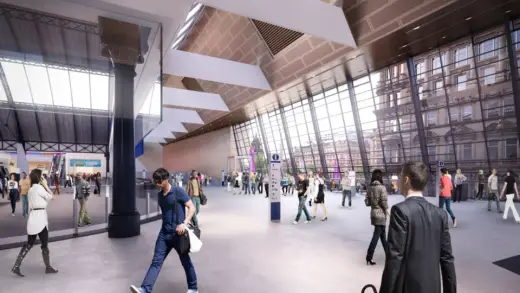 Network Rail have been granted permission to proceed with a major facelift of Queen Street Station to accommodate projected growth in passenger numbers.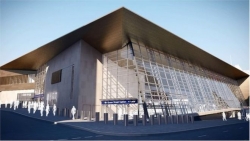 The scheme by BDP will entail demolition of the present concourse and its replacement by a new expanded platform area extending out to George Square via a 500m glass facade, creating the necessary space for a new fleet of longer Class 385 carriages.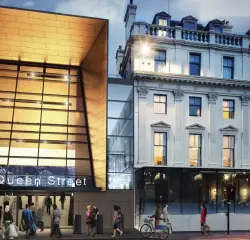 The £112m project is expected to complete in 2019, helping to meet projected growth in passenger numbers from 20m today to 28m by 2030.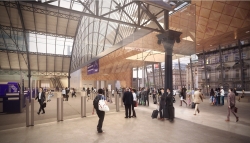 29 Dec 2015
Glasgow Queen Street Station Tender
Glasgow Queen Street Station Renewal News
Invitation to tender issued for £112m Queen Street station transformation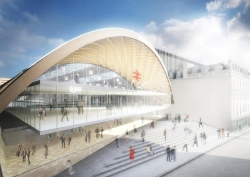 The transformation of one of Scotland's most important railway stations, Glasgow Queen Street, has moved a step closer after a £112m tender was issued for its rebuild.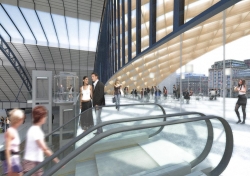 Scotland's third busiest station, with 20m passengers a year, Glasgow Queen Street needs to expand to meet predicted growth to 28m passengers by 2030.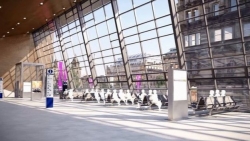 The station's platforms and concourse also need to be extended to accommodate the faster, longer, greener electric trains being introduced to Scotland's railway as part of the £742m Edinburgh-Glasgow Improvement Programme (EGIP).
Due for completion in 2019, the redevelopment will create a landmark, modern station which reflects Queen Street's role as a gateway to the city and as an important departure point for visitors heading north and east.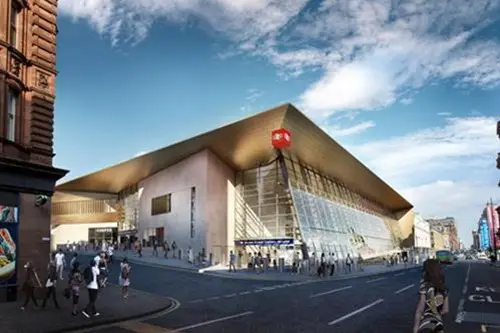 The scope of the project will include:
• Demolition of the Millennium Hotel's 1970s extension above the station
• Demolition of Consort House
• Removal of the canopy over the footway in Dundas Street
• Redevelopment of the station concourse, south and west façades, including reconstruction and extension of station buildings
• Improved station entrances at Dundas Street and George Square
• New lighting and public address systems
• New ticket office and staff accommodation block
• Construction of extended platforms to accommodate eight-car trains.
Phil Verster, managing director of the ScotRail Alliance, said: "This is another tremendously exciting step forward in our plans to transform Scotland's railway. We recently announced our largest ever Train Improvement Plan, which will deliver new trains, thousands of extra seats and great facilities such as at-seat power points and enhanced Wi-Fi across our fleet.
"Today's we are confirming that one of our busiest and most important stations will also be transformed, making it larger and with much better facilities for our growing number of customers.
"Scotland's railway is about more than running Steel Fabrication Services boxes up and down the tracks. We are all about using trains to connect people with jobs, businesses with customers and communities with more opportunities to grow and prosper. The changes we are making in the coming years will make sure that we have a modern fleet, running on improved infrastructure to and from world-class stations. That is a rail network we can all be proud of."
Rodger Querns, programme director for the Edinburgh Glasgow Improvement Programme, added: "This is further good progress in the delivery of EGIP. We have already successfully completed a number of key elements of EGIP including the electrification of the Cumbernauld line and Haymarket station and are on the ground across the Edinburgh-Glasgow railway preparing the line for electrification and building Edinburgh Gateway Interchange at Gogar, where we are also making good progress.
"We look forward to delivering this challenging, but exciting project that will realise huge improvements for passengers."
1 Oct 2014
Glasgow Queen Street Station
Glasgow Queen Street Station Development News
BDP has revealed yet another vision for its £104 m overhaul of Glasgow Queen Street Station, reports the AJ. The architecture practice tweaked its proposal for the city centre station following feedback from passengers and the public.
Key changes in the latest Glasgow Queen Street proposal include an upgraded façade and roof design, widened stairs at the George Square entrance, improved disabled access and additional cycle stands.
A second public consultation on the latest proposals will run from today (1 Oct) until 22 Dec.
26 Feb 2014
Glasgow Queen Street Station News
Queen Street Station Development News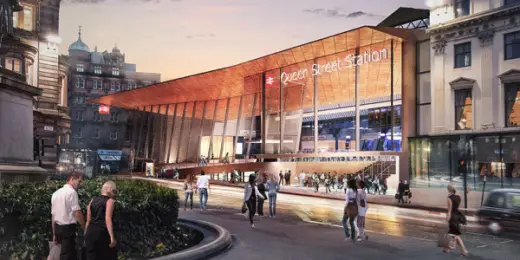 image from architects
Network Rail has published updated visualisations of a planned £120m redevelopment of Glasgow's Queen Street Station, with the project's official launch on 25 Feb in George Square, reports Urban Realm. Public consultation has also started.
Prepared by BDP (formerly Building Design Partnership) on behalf of Network Rail the plans outline extension of existing platforms to accommodate nine car trains and the creation of a new public entrance facing George Square whilst an extension to the east will provide new retail and station facilities.
An upper level pedestrian footbridge will connect to the Buchanan Galleries from both Dundas Street and Cathedral Street, linked by escalators to the main concourse – which will double in size. 26 Feb
25 Jan 2013
Glasgow Queen St Station News
Queen Street Station Development
A revised planning application for a proposed £380 million extension to Buchanan Galleries has been submitted following the Scottish Government's decision to back the project last October.


image from architects
Owners Land Securities and Henderson Global Investors still intend to press ahead with a project which they have been trying to get off the ground for several years. Masterplanned by BDP, the development would include retail, commercial and hotel elements alongside an upgrade of Queen Street Station and surrounding public realm.
21 Jan 2013
Queen Street Station News
Glasgow Queen Street Station
A Glasgow office block could be demolished to make way for an expansion of the city's Queen Street rail station.
Strathclyde Partnership for Transport (SPT) is in talks with Network Rail that could see it sell all or part of Consort House, where the majority of its 560-strong workforce is based, the Herald has reported.
Queen Street Station Glasgow – photo from 27 May 2012:



photo © Adrian Welch
The Queen Street redevelopment has been described as a once-in-a-lifetime opportunity to overhaul Scotland's third-busiest rail hub and make it more attractive for passengers when completed in 2017.
The station's entrance on to George Square in the heart of the city centre is currently dominated by the seven-storey concrete building and 1974 extension of what is now the Millennium Hotel.
A range of options have been drawn up by Network Rail, which include demolishing both buildings down to make way for a new station entrance and expanded concourse area.
It is hoped a deal on the properties can be reached.
4 Jul 2012
Queen Street Station
Glasgow Queen Street
Rail journey times to be cut between Glasgow and Edinburgh, report the BBC today.
Plans will be announced later to revamp Glasgow's Queen Street station and cut journey times to Edinburgh Waverley.
The measures, unveiled by Transport Minister Keith Brown, are expected to create hundreds of new jobs.
They involve electrifying trains services on the Glasgow to Edinburgh, via Falkirk High, line.
Confirmation is also expected that electrification of Cumbernauld line services is on target ahead of the 2014 Commonwealth Games in Glasgow.
The revamp project is being carried out as part of the £1bn Edinburgh Glasgow Improvement Programme.
The programme is expected to connect services with Edinburgh Airport via Edinburgh Gateway Station.
Mr Brown is expected to confirm the latest details of the programme at Queen Street station on Wednesday morning.
27 Sep 2011
Queen Street Station Glasgow
NETWORK RAIL ANNOUNCES QUEEN STREET DEVELOPMENT PARTNER
Phone Queen Street Station: 0845 748 4950
Network Rail has selected the Buchanan Partnership as its partner for the redevelopment of Glasgow Queen Street station.
The multi-million-pound redevelopment project will transform the appearance and facilities of the station to create a landmark mixed-use development incorporating both the current station footprint and the airspace above the station car park.
Designed to complement a wider expansion of the Buchanan Galleries shopping complex, the station concourse will be extended and redesigned to improve passenger circulation and enhance ticketing, waiting area and retail facilities.
The current 1960s front entrance will give way to a modern glass frontage. The Dundas Street and North Hanover Street entrances will be redesigned and benefit from significant streetscape improvements. New entrances from Cathedral Street and the Buchanan Galleries shopping centre will be created.
Inside, passengers will benefit from an extended concourse, access to a new mezzanine level foodcourt, and an atrium link into the extended Buchanan Galleries shopping centre.
The mezzanine and foodcourt will be created in the air space above the current station car park, while that car park will be replaced with a better designed, modern transport interchange and multi-storey parking facility.
The Buchanan Partnership's proposals for the station were selected after an extensive competitive tendering process.
David Simpson / David Biggs said: "Glasgow Queen Street is one of the busiest stations in Scotland handling more than 19million passengers a year and the proposals announced today will deliver a more modern station with enhanced retail and leisure facilities for those travellers.
"The Buchanan Partnership's exciting plans for the station will also greatly enhance the appeal of wider city centre to rail passengers and shoppers alike and this partnership allows Network Rail to redevelop this important station in a cost-effective way and generate additional revenue which we can reinvest in the nation's railways."
Lester Hampson, Head of Retail, Land Securities, said: "The Buchanan Partnership is delighted to have been selected as development partner.
"The redevelopment of Glasgow Queen Street Station will create a world-class integrated transport hub and is an important element in progressing our aspiration to enhance and expand the Buchanan Quarter, cementing Glasgow's position as the top retail and leisure destination outside London."
Work on the project is expected to commence in 2013 with completion in 2015. Passengers will notice some improvements at the station entrances prior to the 2014 Commonwealth Games.
The redevelopment will also provide significant benefits for the Edinburgh-Glasgow Improvements Programme, by enhancing one of the main stations on that route, while also making provision for potential capacity expansion at the station.
Queen Street Station – Redevelopment Background
About Network Rail
Network Rail is the not-for-dividend owner and operator of Britain's railway infrastructure, which includes the tracks, signals, tunnels, bridges, viaducts, level crossings and stations – the largest of which we also manage. Network Rail aim to provide a safe, reliable and efficient rail infrastructure for freight and passenger trains.
The company is one of the largest land and property owners in the country and will generate over £1bn in the next five years from commercial activities for re-investment in our rail estate.
Network Rail is also the country's largest provider of commercial property to small and medium sized businesses with over 7,000 properties GB-wide.
About the Buchanan Partnership
The Buchanan Partnership is a 50:50 joint venture between Land Securities and Henderson Global Investors.
Land Securities is the UK's largest commercial property company and a member of the FTSE 100. The company owns and manages more than 29 million sq ft of property, from shopping centres to offices.
Henderson is a leading property asset manager with around £12.4 billion (as at 30 June 2011) of property funds under management across Europe, Asia and the US. The property team comprises over 180 staff based in offices across Europe, Asia and the US. The company has offices in London, Frankfurt, Milan, Paris, Amsterdam, Vienna, Luxembourg, Madrid and Singapore and Chicago. It also has additional asset management capabilities through a joint venture in Hamburg.
The property business manages pooled and segregated accounts which invest in properties offering core and value-added returns. In addition to investing across all commercial sectors, the property business also manages funds with sector specialist and/or regional themes. Henderson's property business includes a market-leading research capability. Twice yearly the in-house research team carries out analysis and forecasts for over 800 local markets across Europe.
Both Land Securities and Henderson have significant existing investment in Scotland. Whilst both companies have a 50% interest in Buchanan Galleries, Henderson own and manage the St James Centre in Edinburgh and are progressing plans for redevelopment. Land Securities owns four shopping centres namely The Centre Livingston, Overgate Dundee and through it's partnership with British Land, the Bon Accord and St Nicholas Centres in Aberdeen.
Location: looking northwest towards Queen Street Station from George Square:



image © Adrian Welch
Built in 1842, the station remains the main point of arrival for people travelling from Edinburgh.
Central Station Glasgow



Glasgow Station photo : Guthrie Photography, provided by gm+ad architects
Other Scottish Railway Stations
Waverley Station
Edinburgh Park Station
Queen Street Station context : George Square Glasgow
Looking towards square from northwest:



photo © Adrian Welch
Central Station – Redevelopment Architect : gm + ad architects



photo © Adrian Welch 2011
Historic Glasgow : best buildings of the past
Comments / photos for the Glasgow Queen Street Station Building design by BDP Architects page welcome