OVO Hydro Glasgow venue, SECC Arena Scotland, Scottish Event Campus building, Architect news
The Hydro Glasgow SEC Arena
Scottish Exhibition & Conference Centre Venue design by Foster + Partners / Arup
post updated 16 September 2023
This futuristic building was designed by London architects Foster + Partners.
Address: Exhibition Way, Stobcross Rd, Glasgow G3 8YW, United Kingdom
Phone: +44 141 248 3000
Opened: September 30, 2013
Key feature: ETFE roof translucent skin which can glow in 12.8 million different colours.
2 Nov 2021
SSE Hydro Building renamed as OVO Hydro
This entertainment venue building has been renamed as OVO Hydro. The multi-purpose indoor arena is located within the Scottish Event Campus (SEC).
The venue was one of the venues for COP26 in 2021.
17 Nov 2015
Hydro Arena Glasgow Award
Hydro Arena Glasgow – A Winner at The Structural Awards 2015
Award for Regional Groups: SSE Hydro, Glasgow, Scotland (by Arup)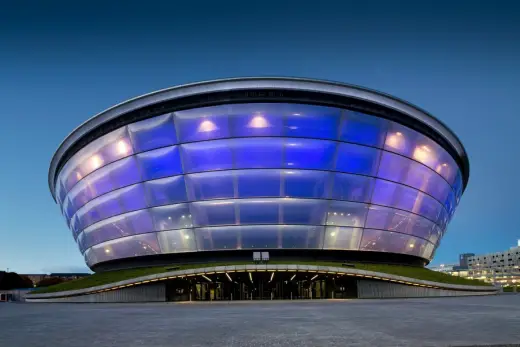 photo © McAteer Photograph
The SSE Hydro is Scotland's largest entertainment venue. The arena's 12,500 capacity auditorium provides a combination of fixed, retractable and removable seating to enable a wide range of different staging and concert layouts.
The distinctive amphitheatre form was generated to provide the best view of the stage from every seat. The Hydro was recognised with the Award due to innovative features like its lighting rig, which is one of the largest in the world, and the façade lighting display, which consists of a colour LED scheme with 16 million possible colour combinations.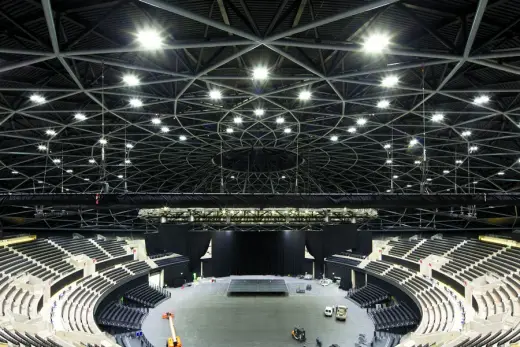 photograph © McAteer Photograph
SSE Hydro Glasgow – a winner at the Structural Awards 2015
page updated 31 Jul 2014
SSE Hydro Glasgow
Hydro Arena Glasgow
The ETFE pillowed skin looks good and the quality of the base overall design and detailing is impressive.
Photo of the completed building, from the southwest: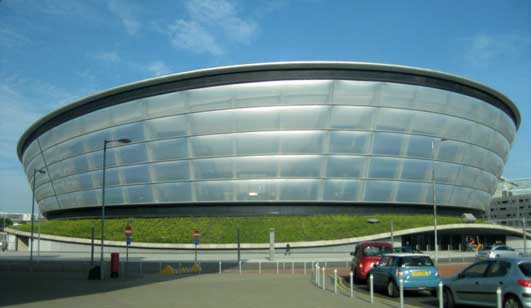 image © Adrian Welch
I visited this new building at the weekend, 29 Sep 2013:
The building's key characteristic is the ETFE facade which has an enjoyable suppleness about it. The softness of this pillowed, translucent surface contrasts well with the robust base.
In between is a varying width of planting which will eventually form a hairy green apron to the building. For once the reality has turned out better tha the CGIs!
26 Sep 2013
The Hydro Glasgow Arena
Scottish Hydro Arena
Design: Foster + Partners with Arup
The SSE Hydro, Scotland's new home of live entertainment was revealed to the world's media today (Thursday, 26 September 2013). SEC Ltd Chief Executive Officer, John Sharkey, a host of stakeholders and rising local talent, Admiral Fallow, gathered at the new arena ahead of Rod Stewart's opening concert on Monday 30 September 2013.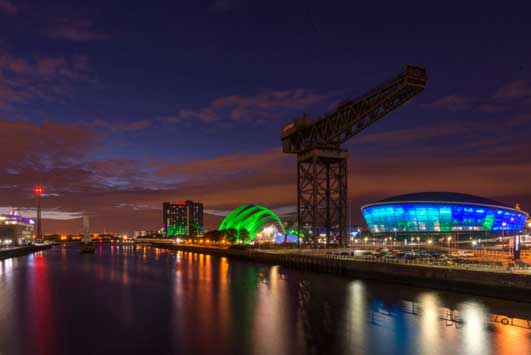 image © Foster + Partners
Designed by world-renowned architects Foster + Partners, The SSE Hydro has a seated capacity of 12,000, rising to 13,000 with a seated and standing configuration. The first purpose built concert venue of its scale, it will play host to around 140 events each year, including national and international artists and bands as well as being a venue for major comedy stars and sporting events.
The SSE Hydro has transformed the 64-acre site at the SECC into a complete exhibition, conference and entertainments complex of significant national scale. Standing at 45m high and modelled on Greek and Roman amphitheatres, it has become the newest landmark on Glasgow's skyline. Designed from the inside out, visitors will enjoy excellent sightlines from the fixed, tiered and demountable seating system and the acoustics will be of the highest standard.
There will be a range of food and drink outlets and hospitality options including a club seating area and VIP boxes. By night, visitors to the venue will be greeted by its distinctive, translucent skin (ETFE) which can glow 12.8 million different colours or have images projected directly on to the surface.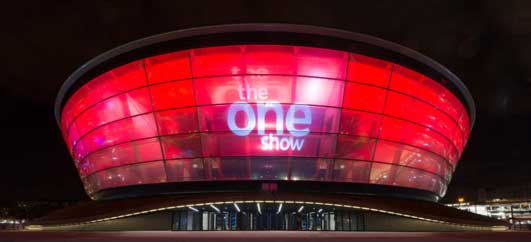 image © Foster + Partners
The SSE Hydro is one of the first major developments to be completed in the SECC QD2 master plan and has the potential to inject an additional £131 million per annum into the local economy. (The current economic impact of the SECC is £347million per annum with 1.5 million visitors a year.) The venue will also play an integral role in The Glasgow 2014 Commonwealth Games as the home for both gymnastics and the netball finals.
John Sharkey, Chief Executive Officer, SEC Ltd commented: "Building our new arena has been a very complex project, and hugely challenging. However, we are delighted to be entering the final stage of this journey today. Our calendar for 2013 through to 2014 is filling up fast and will provide fans with the eclectic mix of world class events that The SSE Hydro was built to accommodate.
"The project team, funding partners, Glasgow City Council and Scottish Enterprise and sponsor partners including SSE can be proud to have played a part in delivering a unique and iconic entertainment space for Scotland which will be the envy of Europe if not the world".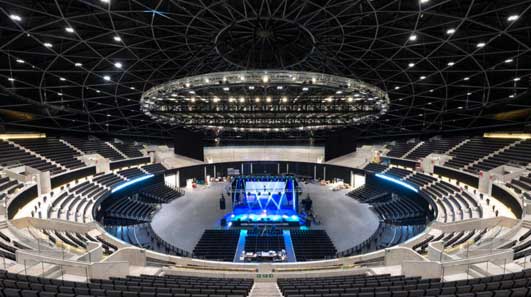 image © Foster + Partners
Sir Ian Grant, Chairman, SEC Ltd added: "This is a magnificent addition to the SECC Campus. The importance of The SSE Hydro and its global significance shouldn't be underestimated with an expected audience of over 1million visitors annually.
"In addition to expanding our capacity and being able to attract the world's biggest stars and global sporting events we have also created more availability in the existing SECC halls which in turn will generate more exhibition and conference bookings and economic impact for the local economy".
Councillor Gordon Matheson, Leader of Glasgow City Council, said: "The opening of The SSE Hydro is a landmark for Glasgow, and further cements our reputation as an international destination. We can all look forward to welcoming many of the world's greatest entertainers and performers to this state of the art venue.
"Of course, The SSE Hydro will next summer be one of the city's venues for The Glasgow 2014 Commonwealth Games, and I am sure our visitors will be impressed by such a fantastic arena. It will play a major economic role for Glasgow in the coming decades, attracting concerts, conferences and events of a standing matched by very few venues, even on an international scale."


image © Foster + Partners
External Affairs Minister Humza Yousaf commented: "The SSE Hydro is an exciting new addition to Glasgow, which will attract thousands of visitors from Scotland and far beyond when it opens its doors this month.
"This venue will not only act as a magnet for music fans but come 2014 will showcase global sporting talent as a venue for the 2014 Commonwealth Games gymnastics, boxing and netball finals. Scotland is gearing up for 2014 and is organising what will be the greatest Games ever. First class venues such as the Hydro will help us reap the economic opportunities of the Games as well as deliver lasting economic benefits for the local economy for years to come."
Adrian Gillespie, Managing Director at Scottish Enterprise, said: "With the addition of The SSE Hydro, Scotland has a unique combination of exhibition centre, conference centre and arena all within the Creative Clyde area. This is vital for growing our tourism industry, with the Hydro alone expected to generate an extra £56 million in visitor spending.
"Glasgow is now one of only a handful of European cities capable of hosting large-scale international conferences which attract business tourists. Business tourists stay longer, spend 50% more than a leisure tourist, and tend to travel around Scotland, which is great news for Scotland's tourism businesses as these visitors can fuel business growth and new tourism products. This is why we've contributed £25 million to the Hydro build, our largest grant awarded to date, which will generate £7 for the Scottish economy for every £1 we contribute."
Wendy Barbour, SSE Director of Commonwealth Games and Sponsorship said: "The opening of The SSE Hydro is a historic moment for Glasgow and for Scotland and it also marks the beginning of an exciting new chapter for SSE as we enter our first year as title sponsor of this wonderful new venue. We are very much looking forward to offering our customers access to a range of exclusive benefits associated with the venue including a 48-hour pre-sale through our brand new customer reward scheme SSE Reward and we are proud to support live entertainment in Scotland through our investment in The SSE Hydro."
Gordon Anderson, executive general manager of Lend Lease commented: "We are proud to have handed over The SSE Hydro to SEC Ltd, completed and on schedule. This magnificent building has been a highly complex feat of engineering, and its completion is testimony to the dedication of the Lend Lease team and of our whole supply chain."
Spencer de Grey, Head of Design, Foster + Partners said: "With its vast steel roof and capacity for 13,000, this is the largest performance arena that the practice has designed – operationally, it allows performers a great deal of freedom in staging events, and visually, its form helps to capture the excitement of a concert. We were delighted to have the opportunity to work with SECC once again, almost 18 years since we were first commissioned to design the Clyde Auditorium. The SSE Hydro has been a great team effort and it is fantastic to see the arena come to life for its first concert."
Speaking at the exclusive preview of The SSE Hydro, Glasgow based indie folk band Admiral Fallow's front man Louis Abbott says: "In the last year we have toured throughout the UK, USA, Europe and Australia. Yet we are so proud of Glasgow and its award winning gigging venues from King Tuts via The Barrowlands to The Clyde Auditorium and are all excited by the addition of this magnificent new, soon to be iconic, venue in our home town. We have all watched this grow from afar and hope to be lucky enough to perform in front of cash paying punters here one day."
SSE Hydro information from SE ; SSE Hydro images from Foster + Partners Architects
Scottish National Arena Glasgow


Scottish National Arena image © Foster + Partners
Scottish Hydro Arena in Glasgow
SECC Scottish Hydro Arena Glasgow : original page with earlier information.
Hydro Arena Architects : Foster & Partners
OVO Hydro Glasgow – external link





OVO Hydro Glasgow images © Foster + Partners
SECC Glasgow
The music venue is located just north east of The Armadillo at the SECC Glasgow by architects Foster & Partners:
Armadillo Glasgow



Glasgow Arena © Richard Davies, photo from Foster + Partners
SECC: Box Office 0870 040 4000
SECC Macdonald Estates – Mixed use development
SECC: 0870 040 4000
Comments / photos for the Hydro Arena Building – SECC Glasgow Concert Hall design by Foster + Partners Architects & Arup Engineers page welcome.