Glasgow council housing redevelopment, Scottish flats, Strathclyde homes, Towerblocks, West Scotland houses projects
Glasgow Council Homes
Glasgow Council Residential Development, Strathclyde, Scotland
post updated 16 September 2023
Glasgow Council Homes News
Clyde Salvage Site Housing, Waddell Street, Gorbals
Date: 2007-
Design: PagePark Architects
Adjacent buildings: Queen Elizabeth Square & Crown Street developments
Glasgow Council Housing History
In 1946 a plan was published by the Clyde Valley Regional Planning Advisory Committee, which had been set up during the war.
It suggested the dispersal of 550,000 Glaswegians into New Towns at East Kilbride, Cumbernauld, Bishopton and Houston. Glasgow at tha time had a population of around 1,130,000.
However much of the slum clearance was allowed through removal of people to outer Glasgow rahter than outside the city. High-rise flats were to be built in the inner zone. The outer zone would consist of new estates: Castlemilk, Garscadden, Nitshill and Priesthill, and part of Pollok.
Glasgow City Corporation opted in the end for overspill with building in outer Glasgow. Overspill went to new towns: East Kilbride, Cumbernauld, Glenrothes and Livingston.
Glasgow signed overspill arrangements with around 60 other councils across Scotland, in addition to the new towns. The furthest overspill we are aware of is the Riverside Drive estate in Haddington, East Lothian (where we live).
The outer Glasgow housing was for Easterhouse, Drumchapel, Castlemilk and Pollok.
The comprehensive development of central Glasgow areas was the largest of any city in the UK and thousands of tenements were demolished, principally in the fifties. The key area redeveloped was Hutchestown and the Gorbals.
In 1947, city councillors visited Marseille to inspect new tower-blocks devised by Le Corbusier. By 1979 Glasgow had more than 300 multi-storey tower blocks.
The Red Road flats at Balornock were, at 31 storeys, the highest in Europe. The first residents were welcomed in 1969, and the blocks were completed in the summer of 1971. However, by 1975 complaints were starting to emerge re the Red Road flats from residents.
The motorway network strangled the city, looping round the north and west sides of the city centre. The most disliked section was the Charing Cross part of the inner ring road, linking the Kingston Bridge to the St George's Cross interchange in 1972.
The Glasgow Eastern Area Renewal (GEAR) project was set up to redevelop 3500 neglected acres in the east end; it was finished in 1987. Bridgeton, Dalmarnock, Shettleston and Parkhead were revitalised through private housing development.
In 2003, Glasgow Council's 84,000 homes were transferred to Glasgow Housing Association, a not-for-profit social landlord
Glasgow Housing
Glasgow Housing



photo © Andrew Lee
Glasgow Housing – Southside Selection
Queen Elizabeth, Glasgow – CZWG Architects



Glasgow housing image © Adrian Welch oct 2005
Queen Elizabeth, Glasgow – Elder & Cannon



Glasgow housing image © Adrian Welch oct 2005
Queen Elizabeth, Glasgow – Page/Park Architects to south



Glasgow housing image © Adrian Welch oct 2005
Crown Street – CZWG Architects



image from CZWG architects 2005
Crown Street, Glasgow – Hypostyle Architects



image from Hypostyle architects
Current Glasgow Housing Issues
Red Road Flats
Glasgow Housing Association has announced plans to pull down the city's notorious Red Road scheme as part of a £60m redevelopment. The eight skyscrapers – 1,300 flats packed onto this small site in these eight huge tower blocks – among Britain's tallest, are expected to be demolished over the next decade.
GHA confirmed the first demolition at the site, one of two 27-storey slabs, as it announced record investment in a new scheme for Balornock and Barmulloch. Detailed plans for Red Road Flats will be a matter for future consultations and the area's tenants group.
Around 600 low-rise private and social-rented homes will be built, filling in the spaces between Red Road towers and brownfields left by bulldozers tearing down an earlier generation of tenement homes.
Glasgow Housing Association – Website: www.gha.org.uk
Bett Partnerships + Link Housing Association + Glasgow Housing Association
Work has started on a £160m regeneration project for Oatlands in Glasgow, which will bring around 1250 new homes to the area. Bett Partnerships, part of the Gladedale Group, gained planning permission for the first phase of this major Glasgow housing development. The development will include a restaurant, public hall and neighbourhood shops, new roads, relocation of allotment gardens, improvements to Richmond Park School and Richmond Park and a new 'Oatlands Square'.
Glasgow Housing News Excerpts
Jun 2004
Gallowgate Housing: Slatefield Street architectural competition
Four students have won an architectural competition to help rid a deprived area of Glasgow of its run-down housing. Leading architects worked with the students and tenants on the housing designs.
Designs are for 221 homes – to be upgraded or rebuilt – in the Gallowgate, Glasgow. The students' housing designs were selected from 40 entries and local housing managers aim to use their designs. The Slatefield Street area in Gallowgate has been earmarked for redevelopment and the competition was a way of involving local people with the planners to come up with homes people wanted to live in.
Winners:-
Gideon Purser & Stephen Mulhall, Mackintosh School of Architecture
Ewan Imrie & Rachel Cleminson, Strathclyde University School of Architecture
Euro Stock Stick
Euro inquiry into £4bn GHA housing transfer
The European Commission has launched an investigation into the financing of the £4bn Glasgow housing stock transfer
12.07.02
Glasgow Council Flats Demolition
Red Road flats owned by Glasgow Housing Association (GHA) since 2003
Glasgow Housing Design
Key Glasgow Housing Projects – architectural selection below:
Gorbals Housing



photo : Keith Hunter
Glasgow East End Homes



photo : Andrew Lee
Pollokshaws Homes


photo : Stewart Guthrie
Ingram Street Property Development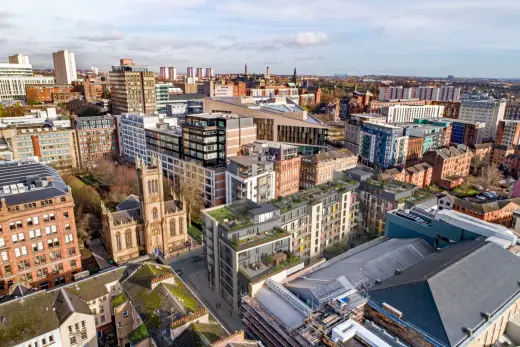 image courtesy of Artisan Real Estate
65-97 Ingram Street Glasgow
The Foundry Cathcart housing development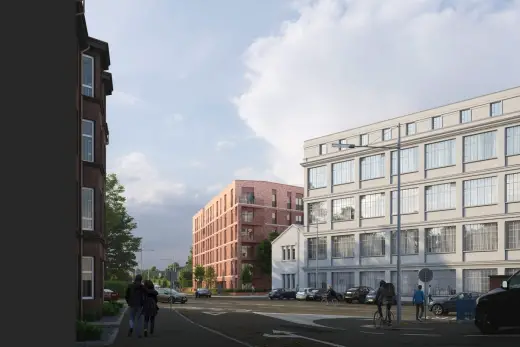 image courtesy of Cala Homes (West)
The Foundry Cathcart housing development
Golfhill School Flats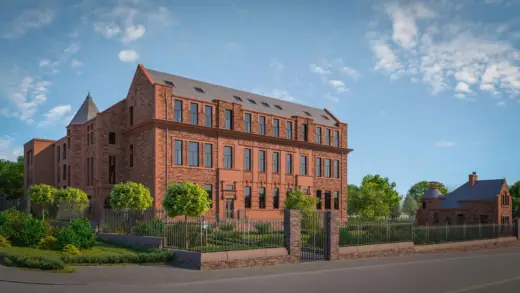 image courtesy of Spectrum Properties
Golfhill Public School Dennistoun Flats
Buildings / photos for the Glasgow Council Homes – Scottish city housing issues page welcome.