Red Road Flats, Housing Demolition, Tower Blocks Redevelopment, Strathclyde High Rise Homes Photos
Red Road Flats Glasgow Housing
High Rise Residential Development Glasgow – Strathclyde Tower Blocks, Scotland
11 Oct 2015
Hundreds of families set to be stranded overnight after botched demolition of Red Road flats
Two tall buildings have been left teetering on the brink of collapse after they were left partially standing when the demolition went wrong, reports the Daily Record.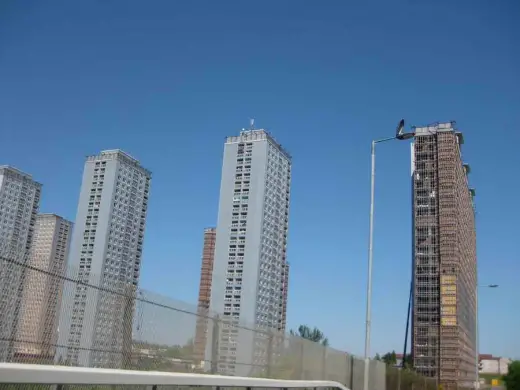 Red Road Flats Demolition Disaster
The planned demolition of the Red Road flats hit the buffers yesterday after several of the towers refused to collapse.
Two of the six buildings remained standing despite seeing their lower floors blown to bits.
The partially-exploded tower blocks are now perched precariously in the exclusion zone.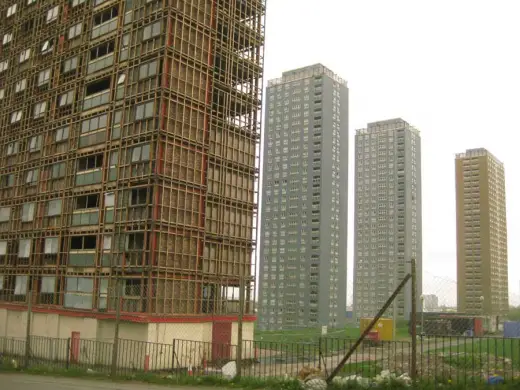 But nearby residents are terrified the unstable landmarks will collapse at any moment – potentially raining debris onto their homes.
13 Apr 2014
Glasgow Red Road Flats Demolition News
Commonwealth Games organisers have dropped the demolition of the Red Road flats from the Glasgow 2014 opening ceremony, report the BBC today.
Five of the blocks were to be brought down at the start of the Games in July. The plan proved controversial, with an online petition against the demolition gathering more than 17,000 signatures.
Glasgow 2014 said opinions being expressed about "safety and security" meant the destruction of the flats would not now feature in the opening.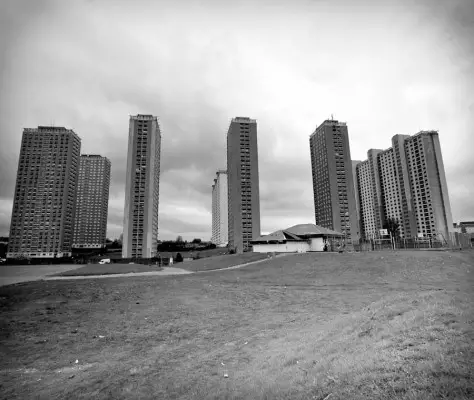 Red Road Flats photo © Tom Manley
The event was to have been shown live on a massive screen at the Celtic Park ceremony and to a huge TV audience.
Glasgow 2014 said the demolition was a matter for Glasgow Housing Association (GHA) and would take place as part of their ongoing regeneration programme.
Flats Demolition news – https://www.bbc.co.uk/news/uk-scotland-glasgow-west-27009806 – external link to BBC report, 13 April 2014




Glaswegian tower block flats photos © Isabelle Lomholt, 2012
Newsnight BBC Debate 3rd April:
"Repeatedly, Glasgow is being let down by those who represent it on the wider stage and repeatedly its architects are among the wiser figures speaking on its behalf: Dunlop argued intelligently in favour of sensible housing design and better tall buildings. He spoke passionately of his own experience growing up in a tower block and dismissed Matheson with ease." Architect's Journal
7 Apr 2014
Red Road Flats Demolition Petition
Many people have signed a petition opposing the demolition of this cluster of tower blocks as part of the Commonwealth Games opening, at the time of writing the figure has reached 8,559:
Petitioning Glasgow City Council and the Scottish Government
"Stop plan to demolish Red Road flats as part of Commonwealth Games opening ceremony. The homes and communities of families should be demolished with dignity."
Red Road Flats Petition by Carolyn Leckie, East Kilbride
Excerpts from the petition page:
"The Red Road flats, have shaped Glasgow's skyline for five decades and housed many families. But their former homes are to be demolished as part of the Glasgow 2014 Commonwealth Games opening ceremony.
Five of six remaining blocks of flats will be blown up in just 15 seconds – an event described by organisers as the biggest demolition of its kind ever seen in Europe. But one block, housing refugees and asylum seekers, will be left. Those residents and surrounding residents (approx 900) are to be evacuated and offered a free ticket to watch the demolition on a big screen.
The blocks' final few moments will be beamed live into the ceremony at Celtic Park as well as to an estimated TV audience of more than one billion people around the world. The five tower blocks will be brought down simultaneously.
Many people are dismayed by this proposal. The reasons are many: the disrespect displayed by blowing up homes for entertainment; the mixed and complex message of 'regeneration' by destruction; the insult to the families remaining in the sixth block; the disruption to families and the city at the time of a huge event; the uncertainty around safety in the context of such a big demolition project; the additional pressure placed on public services when the city will be welcoming thousands of international visitors.
Even if there is some support for the proposal, it is clearly now a fact that it has polarised people. Surely, it was never the intention of the organisers to deliver such a disuniting opening to the Commonwealth Games."
4 Apr 2014
Demolition of Red Road Flats
Plans to demolish five of Glasgow's iconic Red Road tower blocks as part of the 2014 Commonwealth Games opening ceremony have been slammed reports the AJ today.
Once the tallest flats in Europe, five of the six remaining 30-storey towers are set to be blown–up in what the Games' has described as 'a bold and dramatic statement of intent'.
The move has come under heavy fire with critics saying it sends out the wrong message to the rest of the Commonwealth as well as being insensitive to local people and for being a potentially dangerous demonstration.
Speaking on the BBC's Newsnight, architect Alan Dunlop described the plans as 'bananas'. He said: 'It could have been a sketch from Hugh Bonneville's Twenty Twelve – except it's just so wacky that they would have probably dismissed it as being something so crazy they couldn't put it forward. It is a crazy idea. The city council are taking on such a responsible. What if something went wrong?'
He added: 'How does anyone in Delhi, Australia, or Canada, or any other place in the world know anyting about or care about what has gone on there? People who are living under the sheets of tarpaulins in Delhi will wonder why we are blowing up social housing. They will have no idea what the background is or what the architectural or social history is of the red road flats.
29 May 2012
Red Road Flats
Photos by Isabelle Lomholt taken of Red Road Flats:
16 Apr 2011
Red Road Flats Demolition Photos
Photos by Adrian Welch taken as the demolition continues at Red Road Flats:




Red Road Flats photos © Adrian Welch




Red Road Flats pictures © Adrian Welch




Red Road Flats photographs © Adrian Welch
14 Apr 2011
Red Road Flats Demolition
Photos by Tom Manley taken as the demolition continues at Red Road Flats:



Red Road Flats photos © Tom Manley
Article by Malcolm Fraser in The Herald – about regeneration / refurbishment generally.
"So, is this demolition symptomatic of Glasgow repeating the mistakes of the 1960s, demonising and demolishing the historic built environment? Is this the city returning to its bad old days? Certainly, walking round Glasgow today we see a distressing number of fine old buildings standing empty, with a lot of shiny new ones of often questionable quality going up beside them."
"The necessary repairs and improvements to our Dalmarnock tenements would attract 20% VAT. Their demolition is zero-rated, as is the construction of the new buildings that will replace them. This, in practice, represents massive Government support and encouragement for the endless cycles of landfill that are wrecking us."
I could not agree more on these points, reading about the eviction of the Jaconellis over recent weeks – and demolition of old red sandstone tenements – left me cold, initial reaction is that we are repeating the same old mistakes, communities uprooted and solid buildings demolished as if the sustainability agended was unknown.
As for 0% VAT on building renewal it is a no brainer but despite many powerful campaigns over recent years this has yet to transpire. e-architect firmly support VAT change to improve renewal of old buildings and thus cement the fabric of many towns and cities.
Article about Red Road Flats by Tom Manley
Red Road Flats, Glasgow
With recent events and the preparation for demolition bringing the attention of journalists and other eyes to focus on Red Road, the current situation and future of this area is both sensitive and uncertain.




Red Road Flats photographs © Tom Manley
Constructed between 1964 & 1969 it was hoped that high rise living with lock ups, garages, and landscaping would provide a new alternative – a solution to the urgent housing needs of the time. At one time the tallest residential buildings in Europe, the Red Road Flats include properties let to the YMCA, which houses asylum seekers and refugees from many different parts of the world.
The reality, which has become associated with the estate is a troubled reputation for antisocial crime and a quick decline in the quality of the environment it has provided for many of its residents. A familiar presence to the northern skyline as one enters or leaves the city, a series of seven towers loom above the predominantly suburban style surroundings.
The demolition of buildings integral to a community, along with the associated relocation of residents and regeneration of neighborhoods has echoes across Scotland and the UK, both historically and in the present wave of clearances, which form part of Glasgow City Council's regeneration programme and future housing provision. High Rise living may be coming to an end in Glasgow, but new tensions are created, in expectation of individual's uncertain future and ongoing personal journeys.
Within the sparse walls of the towers, a mesmerising grid of windows signifies the many stories and lives, which have been contained behind these facades. Perhaps not typical but symbolising the well documented failure and isolation of many of these areas "just knock me down with the building – Don't bother shifting me" is a harsh reaction by one resident. An array of boarded up windows, now a poignant demonstration that the end of an era has been reached for Red Road.





Red Road Flats pictures © Tom Manley
Despite this, an ominous calm pervades the area whilst I was here; – courteous smiles, impeccable politeness and the sense of a community getting on with things manages to override the real crisis many residents have found themselves in. One Red Road Flats resident told me he quite liked the towers, referring to their magnificence amongst the wider landscape, – "they look better than a lot of the stuff nearby" hinting that perhaps leaving nature to take its course might be a more suitable and fitting end.
With the cost of continued repair and upkeep becoming unmanageable, and seeking a brighter future for the citizens of Red Road, the preparation for demolition has now commenced, and is due for completion by 2016/17. The future for the Red Road Flats site has yet to be decided by Glasgow City Council, and the partnerships overseeing regeneration will need to decide how to respond to the legacy that these 9 towers will leave on Springburn and its wider location.
Article on Red Road flats by Tom Manley
Red Road Flats – Demolition News Update
May 2008: Glasgow's tallest tower blocks set for demolition in £60m rehousing initiative for tenants: Red Road flats owned by Glasgow Housing Association (GHA) since 2003.
Built: 1968
Height: 31 storeys – highest blocks in the city
Previously
Red Road Flats Demolition Plans
Glasgow Housing Association has announced plans to pull down the city's notorious Red Road scheme as part of a £60m redevelopment. The eight skyscrapers – 1,300 flats packed onto this small site in these eight huge tower blocks – among Britain's tallest, are expected to be demolished over the next decade.
GHA confirmed the first demolition at the Red Road Flats site, one of two 27-storey slabs, as it announced record investment in a new scheme for Balornock and Barmulloch. Detailed plans for Red Road Flats will be a matter for future consultations and the area's tenants group.
Around 600 low-rise private and social-rented homes will be built, filling in the spaces between Red Road towers and brownfields left by bulldozers tearing down an earlier generation of tenement homes.
Glasgow Housing : main page
Glasgow Housing – Tower Blocks



Glasgow tower blocks – images © Adrian Welch 2005
The city is well known (in Scotland at least) for the Comprehensive Redevelopment Areas which decimated slums in the fifties and sixties, replacing them with brave new world tower blocks and slab blocks. Some examples above from just south of the Crown Street area (left) and from the Gorbals (right). Queen Elizabeth Square housing by Basil Spence was demolished and has now been replaced by a CZWG masterplan.


Glasgow tower block mural – scanned image © Adrian Welch 1988
Glasgow Council Housing Brief History
The comprehensive development of central Glasgow areas was the largest of any city in the UK and thousands of tenements were demolished, principally in the fifties. The key area redeveloped was Hutchestown and the Gorbals.
In 1947, city councillors visited Marseille to inspect new tower-blocks devised by Le Corbusier. By 1979 the city had more than 300 multi-storey tower blocks.
The Red Road flats at Balornock were, at 31 storeys, the highest in Europe. The first residents were welcomed in 1969, and the blocks were completed in the summer of 1971. However, by 1975 complaints were starting to emerge re the Red Road flats from residents. It was only in 1991 that Concierges were put in place at the Red Road flats.
Film: Andrea Arnold's award-winning 2006 movie 'Red Road'
GHA Housing
Euro inquiry into £4bn GHA housing transfer
The European Commission has launched an investigation into the financing of the £4bn Glasgow housing stock transfer
12 Jul 2002
Location: north Glasgow, Strathclyde, southwest Scotland, United Kingdom
Glasgow Housing
Glasgow Council Housing : Houses in Multiple Occupancy
Cart Street housing



photo © Keith Hunter
Fore Street Housing



Fore Street Housing photo : Tom Manley Photography
Glasgow Residential Building Designs
Contemporary Glasgow Housing Property Designs – recent architectural selection below:
Ingram Street Property Development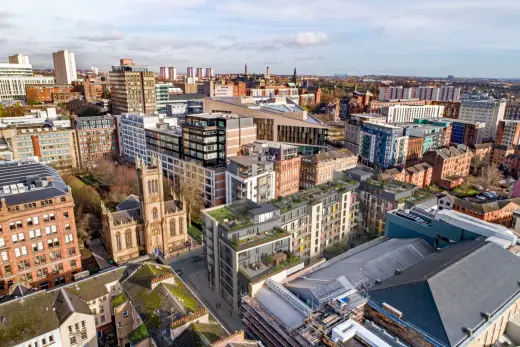 Ingram Street Property image courtesy of Artisan Real Estate
65-97 Ingram Street Glasgow
The Foundry Cathcart housing development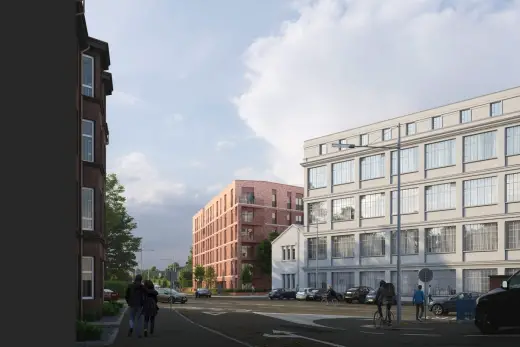 image courtesy of Cala Homes (West)
The Foundry Cathcart housing development
Comments / photos for the Red Road Flats Building in the northeast of this Scottish city page welcome.
Glasgow Housing Association – Website: www.gha.org.uk