Glasgow Council Housing Property, Homes Development News, HMO Strathclyde Landlords
Glasgow Housing: Strathclyde Homes
Houses in Multiple Occupancy: HMO – Strathclyde Properties, Scotland
25 Jan 2007
Glasgow City Council : Media Release Jan 2007
Glasgow Council Housing
Glasgow City Council sets 21st century standards for licence applications for Houses in Multiple Occupancy
After seeing the lengths to which some unscrupulous landlords have tried to fit as many tenants as possible into a property, Glasgow City Council has had enough. A new set of standards to be applied to applications and renewals for Houses in Multiple Occupancy (HMOs) in the city has been approved by the Council's Licensing and Regulatory Committee today, 25 January 2007.
The new standards will apply to all new applications. In addition, landlords renewing their licenses and wishing to make internal alterations such as adding false walls to create new bedrooms by reducing the size of the other bedrooms and common accommodation in the process will now also be subjected to the new standards. Renewal applications with no alterations will also be subject to the conditions with the exception of the space standards.
Officers have reported finding rooms with sleeping platforms above bedroom doorways at high levels to and where outstretched arms can reach each both bedroom walls. Lack of sockets has led to finds of electric cables being run down halls to rooms or sockets overloaded and burst pipes have been left to run through floors into neighbouring homes because the tenants don't have a stop-cock to turn off the main supply.
Bailie Malcolm McLean, Convener of the Licensing and Regulatory Committee said: "We've spotted a very worrying trend, especially in newer property where very cheap and sometimes down right dangerous solutions are being tried to maximise the number of beds on offer. This is after all the 21st – not the 18th century and worse – it's mostly in new property we are noticing the trend appearing."
People are also being urged to make sure they check that the property they are considering for rent has a current HMO licence and where they find one unlicensed, to report it to the Council's HMO Unit – 0141 287 6532. That way they can guarantee it's been checked properly.
HMO properties bring in more rental income for landlords, but the risk of property damage is also increased. If you are a HMO landlord, make sure that you have adequate cover in place in the form of insurance. Multi quote time will compare HMO insurance for you using their HMO insurance comparative tool.
BACKGROUND
The HMO legislation was introduced in 2000 in Scotland.
Glasgow has 2564 licensed HMOs, the majority of which are run by decent landlords. However, where people are desperate for accommodation at the cheapest price, some landlords try to jam as many into their properties as they can fit. This is not just to the exclusion of their dignity but can cause serious neighbour disturbance, and, in some cases, encourage dangerous practices such as overloading electric plugs or blocking halls with over spilled belongings.
Officials believe there are probably around 200 illegal HMOs in the city where there may be no gas, electric or fire safety checks and often health risks may extend to contact with infestations and damp conditions.
Council's HMO Unit continues to pursue owners of illegal HMOs. So far, Glasgow City Council has sent 123 reports to the Procurator Fiscal's Office. The Council has expressed concerns about low fines – averaging around £450 – which can be less than a month's rent to a landlord.
The report is available on the Council's web site – Item 6, 25 January 2007, Licensing and Regulatory Committee www.glasgowcitycouncil.co.uk/committee_minutes/public/councildiary.asp
Glasgow City Council – Houses in Multiple Occupancy: information 25 Jan 2007
Glasgow Housing
Ingram Street Property Development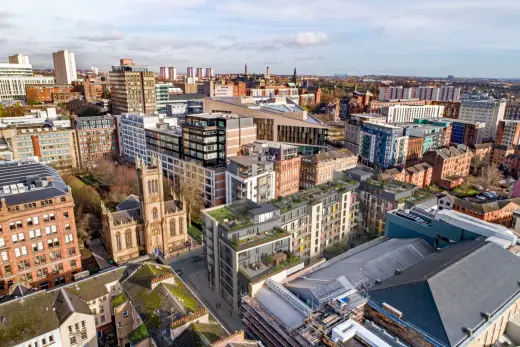 image courtesy of Artisan Real Estate
65-97 Ingram Street Glasgow
The Foundry Cathcart housing development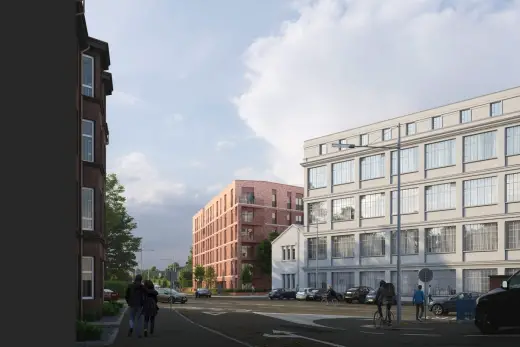 image courtesy of Cala Homes (West)
The Foundry Cathcart housing development
Strathclyde Property Designs
Contemporary Glasgow Property Designs – recent architectural selection below:
Historic Glasgow: best Glasgow buildings of the past
Glasgow East End Housing : Graham Square
Buildings / photos for the Glasgow Council Housing page welcome