Sauchiehall Street Building Photos, Strathclyde Architecture, Scotland Shops Pictures
Sauchiehall St Glasgow
Buildings on famous Glasgow street – Architecture + Urban Landscape
16 Dec 2013
Sauchiehall Street businesses say yes to Glasgow's first BID
Businesses in Sauchiehall Street have approved a plan to help make a section of one of Glasgow's most famous streets Scotland's undisputed premier entertainment destination.
Sauchiehall Street Improvement News
The city's first-ever Business Improvement District (BID) will focus on the non-pedestrianised part of Sauchiehall Street from the junction with Rose Street and Blythswood Street to Charing Cross.
92% of eligible voting businesses voted in favour by number, and 97% by rateable value, Over 50% is required by legislation. The 59% turnout also comfortably exceeded the BID legislation minimum requirement of 25%.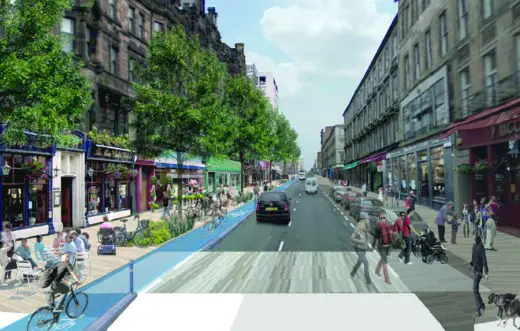 The business-led plan aims to substantially increase the number of overseas and domestic visitors through high-profile marketing, a programme of exciting events and by ensuring Sauchiehall Street is a cleaner, safer and highly inviting environment.
BID steering group chairman Brian Fulton, director of CPL Entertainment, which owns The Garage club, said: "I couldn't be more pleased that businesses have supported the project's ambitions and voted in favour of the BID. Every big and successful city in the world has streets which are synonymous with entertainment – and that is what Sauchiehall Street will become thanks to this decision. It was a famous place name in the past, and it will be that again.
"Among the priorities for Sauchiehall Street is to make it more friendly, safer, cleaner and easier to access, and for the area to be strongly marketed as our main entertainment location. This is a fantastic street which already has a wide range of bars, clubs, casinos and restaurants, augmented by a cultural core of arts venues and theatres. The city centre entertainment sector is crucial to the overall success and vitality of Glasgow, a key factor for tourists coming here, and for students deciding where to attend college or university."
Glasgow Chamber of Commerce worked closely with a group of businesses which have frontages on the street to develop the BID proposal – entitled A Business Improvement District for the Entertainment Sector.
Chamber chief executive Stuart Patrick said: "It's great news for Glasgow city centre. This section of Sauchiehall Street has gone through a significant change over the years and is no longer really a shopping street, but very much a leisure area. The BID will give this key area a greater degree of attention.
This is the first successful BID in Glasgow and it could now become a catalyst for BIDs in other areas proposed in the City Centre Strategy, such as the Style Mile and the pedestrian section of Sauchiehall Street, Argyle Street and Buchanan Street.
Glasgow City Council, through its City Centre Regeneration team, has supported Business Improvement Districts as a mechanism for businesses to work together to achieve collective objectives in an area, funding the demonstration project for the Sauchiehall Street BID. The BID also provides a great opportunity for businesses to collectively participate in the new City Centre Strategy and its emerging plans for the Sauchiehall District.
Councillor Gordon Matheson, Leader of Glasgow City Council, said: "This is great news for the city and it is very welcome that businesses are working together to enhance our reputation as an entertainment destination. With our City Centre Strategy and dedicated City Centre Regeneration team in place we look forward to working with businesses, residents and stakeholders to continue to develop the city centre as not only a must visit destination but something Glaswegians can continue to be proud of."
The BID will begin in April 2014, and run for an initial term of five years until March 31 2019.
Businesses in the area will invest the equivalent of 1% of their rateable value into a fund. Over £180,000 will be raised this way in the first five years and other funding avenues will be explored to maximise the reach of projects.
Sauchiehall Street Renewal News
5 Nov 2013 – Entertainment venues in one of Scotland's most famous streets are being balloted about a plan to make the area as big a draw as London's West End, reports the Glasgow Evening times today. The aim is to increase the number of visitors through marketing, a programme of events and by ensuring Sauchiehall Street is clean and safe. The planned Business Improvement District (BID) will focus on the non-pedestrianised section from the junction with Rose Street and Blythswood Street to the junction with Charing Cross.
A group of businesses which have frontages on the street have been working with Glasgow Chamber of Commerce to develop the proposal. It is aimed at supporting, championing and improving the large number of entertainment premises operating on that section of Sauchiehall Street. They include bars and restaurants, nightclubs, casinos, take away restaurants, cafes, licensed exhibitions and entertainment venues.
Voting papers have been sent out to all eligible businesses and in December a ballot will be held. It will be valid if there is a turnout of 25% or more and if a majority vote in favour. If they do, all entertainment firms in Sauchiehall Street will pay the equivalent of 1% of their rateable value into a ­special fund. In 2011, businesses in Sauchiehall Street were hit when a major fire closed the road for almost six months and they have since had to battle the recession.
Sauchiehall Street


building photos © Adrian Welch
Much of this long street is pedestrianised, at the east end
McLellan Galleries building, 270 Sauchiehall St




picture © AW
Most famous Sauchiehall Street building : Willow Tea Rooms



photo © AW
Art Deco building : Baird Hall



image © AW
Sauchiehall Street Bar : CCA Glasgow – Cinema, Bar, Cafe, Performance spaces



Sauchiehall St image AW
Sauchiehall Street Club : ABC Music Venue



photo : Paul Zanre
Slumdog Bar + Kitchen



photo © Keith Hunter
Sauchiehall St NightClub : Garage Club



building photo © Adrian Welch
Sauchiehall St Bank : National Bank of Pakistan



building photo © Adrian Welch
Buildings off Sauchiehall Street


Banana Building – Dental School : scanned image © Adrian Welch 1988
Buildings at the west end of Sauchiehall Street
Charing Cross Mansions



photo © Adrian Welch
518 Sauchiehall Street



photo © Adrian Welch
Tay House + Bridge over the M8




photos © Adrian Welch
Buildings at the west end of Bath Street
Variety Gate



picture © Adrian Welch
Bath Street Entry by Richard Murphy Architects




building pictures © Adrian Welch
St Stephens Renfield Church



photo © Adrian Welch
King's Theatre
Date built: 1904
Frank Matcham




building pictures © Adrian Welch
King's Theatre, 297 Bath Street, Glasgow,G2 4JN, Scotland.
Box Office: 0141 240 1111
Website : www.theambassadors.com/kings
Former municipal theatre
Location: Sauchiehall St, central Glasgow, Strathclyde, southwest Scotland, United Kingdom
Glasgow Building Designs
Contemporary Glasgow Property Designs – recent architectural selection below:
Custom House Building Renewal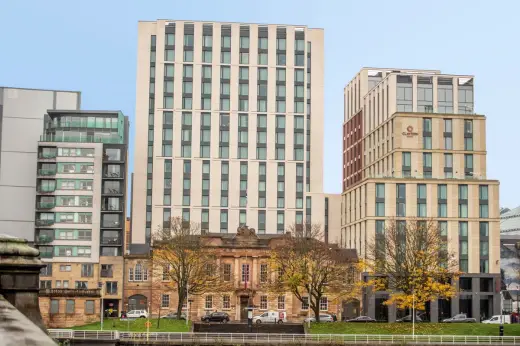 image courtesy of Artisan Real Estate
Glasgow Custom House Development
Paisley Museum Transformation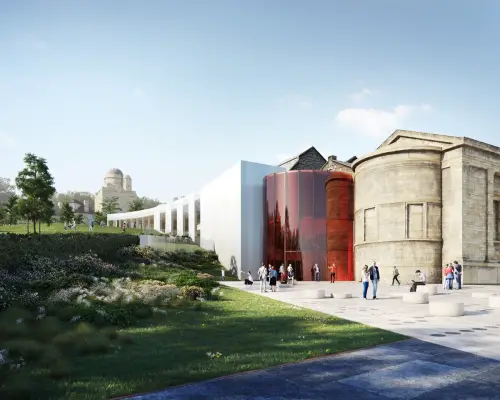 image courtesy of Renfrewshire Council
Paisley Museum Building
Glasgow Landscape Architecture
Comments / photos for the Sauchiehall Street Glasgow Buildings renewal news page welcome