Glasgow School of Art Biomimetic Design Course, Eden Project and Grimshaw Architects News
Glasgow School of Art Biomimetic Design Course – GSA
5 Nov 2021
Glasgow School of Art partners with the Eden Project and Grimshaw to launch new Biomimetic Design course
Glasgow School of Art Biomimetic Design Course News
5th of November 2021 – The Glasgow School Art (GSA) is developing a series of academic courses and collaborative research practice in partnership with the Eden Project and international architecture practice Grimshaw. The courses, named Biomimetic Design, will derive inspiration from nature and deliver a developing and investigative approach to design to instill a resilient and regenerative approach across the full spectrum of architecture, design, and fine art.
The courses are a response to the environmental and climate challenges we face today. According to the United Nations 2018 Revision of World Urbanization Prospects the percentage of the worlds' population living in urban areas is expected to increase from 55% today to 68% by 2050. This rapid change, to a urban based civilisation, demands greater synergies and dependencies between our urban and rural environments.
The Biomimetic course will map an approach to design which harnesses nature to help deliver urban growth that is truly sustainable: restorative and regenerative.
Over the next year the GSA will develop an initial set of optional post graduate courses. These will sit within the existing academic programme and draw across multiple disciplines from the design industry.
Content will build on the Eden Project's existing relationship with GSA artists and the designers-in-residence at The Eden Project in Cornwall. The Eden Project will also be developing research residences at GSA's Highlands and Islands campus on the Altyre Estate near Forres, north east of Inverness in Scotland. The new Biomimetic Design course will launch in September 2022 and continue to build on a spectrum of courses and partnerships across the art, design and architecture industries.
The launch of the new design course was hosted at The Glasgow Art Club on 04 November at 16.30 led by Professor Penny Macbeth the GSA Director, with presentations from two recent GSA graduates Kialy Tihngang and Rachel Hetherington. Following this, a panel discussion moderated by Alan Moore of Beautiful Business brought together Professor Penny Macbeth with Sir Tim Smit, founder of the Eden Project, Andrew Whalley Chairman of Grimshaw, Anna Gordon, GSA Head of Silversmithing and Jewellery.
"This is an incredible opportunity for The Glasgow School of Art to partner with the Eden Project and Grimshaw in what is a groundbreaking collaboration between world class organisations, directly engaging Glasgow School of Art's international community of students and academics."
Professor Penny Macbeth, Director, The Glasgow School of Art
"We are now at a critical moment in time, where the way we shape our relationship with our planet over the next decade will decide our future for generations to come. The Biomimetics Design will demonstrate how we can come together to harness our opportunities: bringing design, technology and the natural worlds closer, as well bringing greater collaboration across our design industries."
Andrew Whalley, Chairman, Grimshaw
"Much has been written about being inspired by nature yet it is important to realise that in order to be able to be inspired you need to closely observe how it really is, not romantically assume you've understood some lazy symmetry and that will suffice. Science is confirming that human wellbeing is closely allied to our feeling at one with nature, in it and surrounded by materials and patterning inspired from it. Eden is getting involved because we
believe the architect, designer, engineer and artist are fundamental in creating contentment and happiness for their fellow citizens and one hundred years from now we hope they will say of this period that it has the hallmarks of a movement inspired by the nature and a boldness of vision with beauty at its muscular heart…We are proud to be joined at the hip with long time collaborators Grimshaw and The Glasgow School of Art and also with insightful curation from Alan Moore and the School for Beautiful Business – believing, as we all do, that business needs the injection of beauty in all forms, in order to be…good!"
Sir Tim Smit, Founder, The Eden Project
IMAGE (from left to right: Sir Tim Smit KBE (founder of the Eden Project) Rachel Hetherington (2021 Silversmithing and Jewellery Graduate, The Glasgow School of Art), Anna Gordon (Head of Silversmithing and Jewellery, The Glasgow School of Art), Professor Penny Macbeth (Director, The Glasgow School of Art), Andrew Whalley (Chairman, Grimshaw), Alan Moore (founder of Beautiful Business), Kialy Tihngang (2021 Textile Design Graduate/Newbery Medal Winner, The Glasgow School of Art).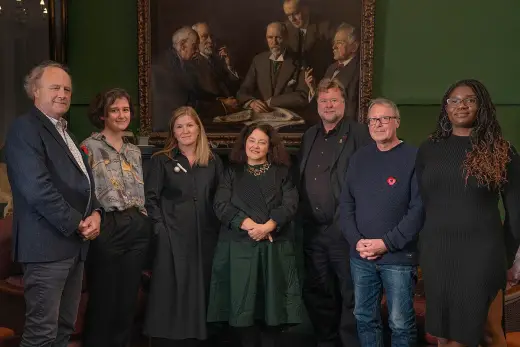 photo : Michelle Dillon
Glasgow School of Art
The Glasgow School of Art (GSA) was founded in 1845 as one of the first Government Schools of Design, as a centre of creativity promoting good design for the manufacturing industries of Glasgow. However, the School's lineage can be traced to 1753 when Robert Foulis established a school of art and design in Glasgow, which was described as the single most influential factor in the development of eighteenth-century Scottish Art.
Today, The GSA is internationally recognised as one of Europe's leading university-level institutions for the visual creative disciplines. Our studio-based approach to research and teaching brings disciplines together to explore problems in new ways and to find innovative solutions. The studio creates the environment for inter-disciplinary working, peer learning, critical inquiry, experimentation and prototyping, helping to address many of the great challenges confronting society and contemporary business.
www.gsa.ac.uk
Grimshaw
Grimshaw is an international architectural practice delivering buildings, infrastructure and places across the world. We design environments that inspire people and protect our planet. With offices in New York, London, Paris, Los Angeles, Dubai, Melbourne and Sydney, Grimshaw employs over 600 staff. The practice's international portfolio covers all major sectors and has been honoured with over 200international design awards.
https://grimshaw.global
Eden Project
The Eden Project, an educational charity, connects us with each other and the living world, exploring how we can work towards a better future. Our visitor destination in Cornwall, UK, is nestled in a huge crater. Here, massive Biomes housing the largest rainforest in captivity, stunning plants, exhibitions and stories serve as a backdrop to our striking contemporary gardens, summer concerts and exciting year-round family events. Registered charity number 1093070 (The Eden Trust). Money raised supports our transformational projects and learning programmes.
www.edenproject.com
22 Oct 2021
Glasgow School of Art Mackintosh Building options
The Glasgow School of Art has shared the outcome of a Strategic Outline Business Case for the Mackintosh Project:
Mackintosh Building Options, Glasgow School of Art
Aerial view looking west over the damaged buildings: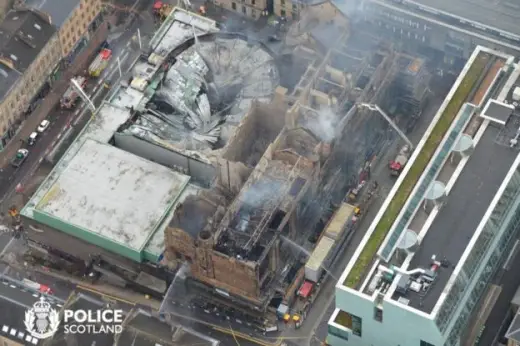 aerial photo courtesy of Police Scotland
Glasgow School of Art Campus Plans
Glasgow School of Art Campus Development Plans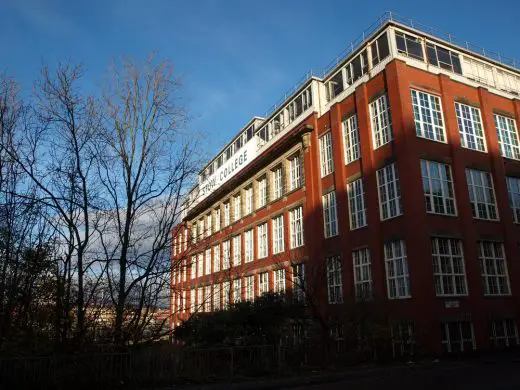 photo Courtesy of Glasgow Kelvin College
Glasgow School of Art Campus Development Plans
Glasgow School of Art Research Week Events
Glasgow School of Art Events
Glasgow School of Art Extension Building
Glasgow School of Art Refurbishment
Glasgow School Of Art Degree Show Review
Glasgow Mac Architecture Degree Show
Reid Building at Glasgow School Of Art by Steven Holl
Reid Building Glasgow School of Art
Glasgow School of Art Extension : Letter from William Curtis
Glasgow School of Art Architect : Charles Rennie Mackintosh
Address: GSA, 167 Renfrew Street, off Sauchiehall Street, Glasgow, Scotland
Architectural Designs
Glasgow Walking Tours – best of Scottish Architecture
Historic Glasgow : best Glasgow architecture of the past
Comments / photos for the Glasgow School of Art Biomimetic Design Course – GSA news page welcome