Glasgow School Building Demolitions, News, Projects, Education Developments, Architects
Glasgow Schools Buildings
Demolition: Council Proposals re Vacant Properties in Strathclyde, west of Scotland
12 Dec 2008
Glasgow School Demolitions
COUNCIL SET TO DEMOLISH VACANT BUILDINGS PLAGUED BY FIRE-RAISING AND VANDALISM
Glasgow School Building Demolitions
Glasgow City Council has approved a plan for a £1 million fund to demolish redundant council-owned properties targeted by vandals.
In demolishing these properties, the proposal, which was passed by the Council's Executive Committee today (12 December 2008), will also increase the attractiveness of some of these sites to developers as it removes prohibitive costs if the area has already cleared and is ready for future projects.
Many of the properties subjected to vandalism and arson attacks are former school buildings.
In the last nine months there has been seven such incidents affecting former primary schools across the city which has left buildings being rendered unsafe and meant emergency demolition.
This figure is over and above the numerous incidents which have forced partial demolition or extensive security measures to be out in place in an attempt to control illegal entry.
In addition to the pressure on Council resources, these attacks have also put undue strain on the emergency services in Glasgow. This move would mean fewer call outs for fire-fighters and reduce the risks associated with tackling blazes in structurally unsafe buildings.
Currently there are around 120 Council-owned properties which have been declared surplus to requirements and need to be sold on or disposed off to assist in future regeneration of Glasgow.
Demolition is not required in every case, just where the ability of the Council to effectively manage and keep the site secure is compromised and the high cost of maintaining, securing and insuring the sites, following these attacks, outweighs the value of the property.
The Council's Development and Regeneration Services have identified a priority shortlist of sites for demolition, amongst them are:
" Lochgoin Primary Annexe, Drumchapel
" St Teresa's Primary School and Schoolhouse, Keppochhill
" McGill Primary School and Schoolhouse, Bonnyholm Primary School and St Edmunds Primary School and Schoolhouse, Pollok
" St Margaret Mary's Primary School and Braeside Primary School, Castlemilk
" Rogerfield Primary School, Commonhead Primary School and Blairtummock Primary school and Schoolhouse, Easterhouse
" Braeside Primary School, Castlemilk
" Kelvin school, Yorkhill
Many of the vacant schools buildings are a result of the Council's ambitious Pre-12 Strategy to modernise and replace the current primary school stock, with £263 million invested by the Council to date.
The £1million budget covers financial periods 2008/09 and 2009/10, but the cost of demolition will be reflected in the eventual sale price.
The cost of demolishing redundant buildings would normally be deducted from the market value, but now there will be no need for this discount if the Council already carries out this work.
Long term the future demolitions should be self financing as clearing the sites in preparation for development will increase the market value of the land remove some of the constraints that developers face when looking for suitable sites.
George Ryan, Executive Member for Development and Regeneration, said: "Unfortunately incidences of fire-raising on derelict school buildings continues to be a problem in some areas, putting undue pressure on emergency services and a drain on Council resources.
"The plan to demolish these priority sites and redundant schools is one way to help to address this problem and while encouraging future development in these areas.
"Although we are proposing to allocate funds for this now in the longer term this programme should become self financing as demolition costs will be met by the increase in value of the cleared sites and improvements in market conditions for land sales."
Glasgow School Building Demolitions information from Glasgow City Council
Location: Glasgow, Strathclyde, southwest Scotland, UK
Glasgow School Buildings
Glasgow Building Designs
Contemporary Glasgow Property Designs – recent architectural selection below:
Golfhill School Flats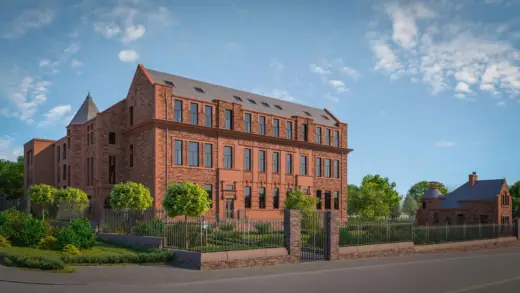 image courtesy of Spectrum Properties
Golfhill Public School Dennistoun Flats
Magnet – New Office Building in Glasgow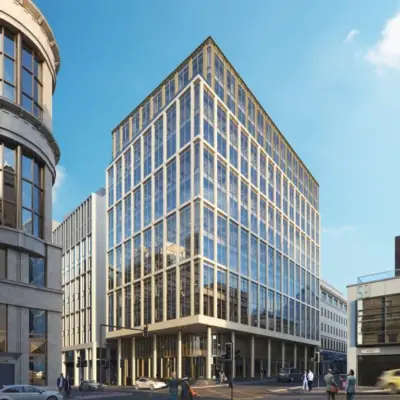 image courtesy of developer
Magnet Glasgow Office Building
Comments / photos for the Glasgow School Building Demolition page welcome