Cumbernauld Centre, Scottish Town Shops Building Redevelopment, Architecture, Architect, Image
Cumbernauld Town Centre Redevelopment
Antonine Shopping Centre: Renewal of North Lanarkshire Retail, Scotland, UK
9 Jan 2009
Bauhaus in Cumbernauld

Cumbernauld Town Centre
Not a combination one would expect to see. Following on from the recent German book Megastructures, which featured Cumbernauld town centre prominently (photographed by us) The Bauhaus School of Architecture & Design, Berlin are coming to Cumbernauld as part of an International Design Project into Modernist Architecture (se attached flyer and schedule). They will be based in the former Mackays Store on Forth Walk in the Town Centre, during the week beginning the 19th of January and they would like to meet as many people as possible who have a view on the past, present and future of Cumbernauld.


photo © Adrian Welch
Other than a planned joint Design Workshop between the five Cumbernauld secondary schools and the Bauhaus students on the Tuesday morning and two guest lectures they are free to speak to anyone and everyone so please try and go along to see them. They will be operating an open house so go and visit them and if possible bring along some photos of Cumbernauld as they are looking to produce a Social History Timeline with scanning equipment to copy your photo's and add them to the timeline. I'm told they have a 4 m by 10 m plan of the town to enable people to show them where they live/work and to point out the good and bad points of the town.
The Project was initiated by the Bauhaus following a previous Design Project undertaken by Strathclyde University in 2005-2007. The Bauhaus Cumbernauld Project is being facilitated by Strathclyde University, CNC Property Fund Management and NLC Leisure & Learning Service (Education/Libraries & Museums/Creative Services) and NLC Environmental Services (BH&D).
Bauhaus Kolleg X – Cities of Tomorrow Excursion Cumbernauld
19 – 24 Jan 2009
15-18 Jan 2009
Individual research and preparation of shop space by Bauhaus Kolleg
19 Jan 2009
– Meeting with Craig McIntyre at North Lanarkshire Council
address North Lanarkshire Council, Craig McIntyre, Fleming House 2, Tryst Road
Cumbernauld, issues introduction to planning of Cumbernauld, today's city structure
– Bus-tour by Craig McIntyre
address North Lanarkshire Council, Craig McIntyre, Fleming House 2, Tryst Road
Cumbernauld, issues introduction to planning of Cumbernauld, today's city structure
– preparation of shop space
all participants
– Meeting at University of Strathclyde not confirmed
address University of Strathclyde, Architectural building, 131 Rottenrow, Glasgow
issues casual meeting of students and stuff, food and drinks
Cumbernauld Shopping Centre
Cumbernauld's £40m Antonine Shopping Centre by Keppie Design opened 7 Jun 2007
Cumbernauld – Building News 2006
Work has commenced on the £30m Antonine Shopping Centre in Cumbernauld in a bid by North Lanarkshire Council to refurbish the town centre and end the stigmatisation. The Antonine Centre is to contain 350,000 sqft and is for London & Regional Properties. Shops set to be included include TK Maxx and Woolworths.
Previously Cumbernauld town centre has been awarded the Plook on the Plinth Award twice and featured in the Channel 4 TV programme 'Demolition'.
Cumbernauld was featured at the Scottish Design Show in 2005. This saw the return of the controversial Carbuncle Awards which seeks to name and shame Scotland's Most Disappointing Building and Most Dismal Town.
Carbuncles – Carnyx information 21 Oct 2005:
It gives us absolutely no pleasure to announce that four years after the
last award was handed out, Cumbernauld has won the Plook on the Plinth Award for the Most Dismal Town in Scotland, again. In 2001, Cumbernauld won the award and this year the public has expressed their displeasure with the state of its town centre by giving it the nod once more. Over 6,000 individuals have accessed our voting pages for the Award. Cumbernauld received 28% of the vote with its closest rival Ardrossan in second place with 17%.
The Awards are decided firstly by public nomination then whittled down by a judging panel to six. These six short-listed towns were then put to a public vote. So it isn't really our place to say why Cumbernauld won.
We have included a selection of some of the nominations we received for the town on the website. As is clear from reading the list, a large number come from local inhabitants, who are particularly incensed at the state of disrepair that its town centre has fallen into. Described as "a rabbit warren on stilts" in 2001 by a judge it was described as "the Lego fantasy of an unhappy child", this year.
"Reading between the lines, people in Cumbernauld and the surrounding regions are rightly annoyed. Cumbernauld is an affluent town that is failing to live up to its potential. According to the Information & Statistics Division of NHS Scotland, and Communities Scotland, in 2004 the Average Gross Household Income in Cumbernauld was higher than the national average. The number of children in workless households and the number of income support claimants was lower than the national average. And yet the average house price in Cumbernauld is £357K a full ten grand less than the mean cost of a house throughout the country," said Tim Abrahams, Deputy Editor of Prospect Magazine.
End of Carbuncle / Plook on the Plinth Awards information
The Awards were organised by Prospect Magazine
Cumbernauld Building Designs
Cumbernauld Property Designs – architectural selection below:
Scottish New Towns
Scottish New Town Buildings – selection:
Another Scottish Centre West East Kilbridge Shopping Centre
Another East Kilbride New Town
Glasgow Buildings
Contemporary Glasgow Property Designs – recent selection below:
Buchanan Wharf Glasgow Office Development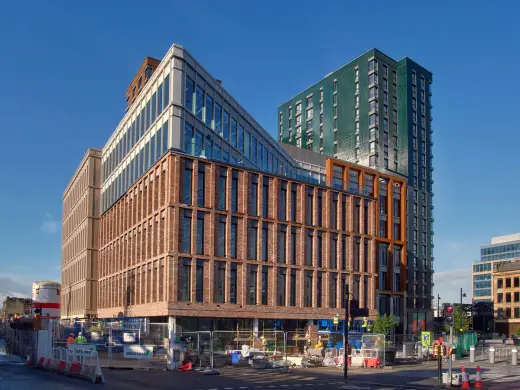 photo courtesy of Drum Property Group
Buchanan Wharf Glasgow Office Development
New Allander Leisure Centre
Design: Holmes Miller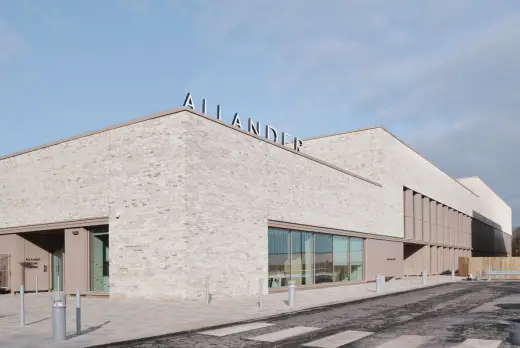 image courtesy of architects practice
Allander Leisure Centre Building in Bearsden
Comments / photos for the Cumbernauld Town Centre Architecture page welcome.