East Kilbride buildings images, Scotland New Town architecture project news, EK property info
East Kilbride Buildings
EK : Scottish New Town Built Environment, 20th Century UK Architecture
post updated 18 July 2023
East Kilbride Building Designs
Dollan Aqua Centre
Date built: 1968
Grade 'A' listed
News Update May 2008: building to get £6m restoration
Lanarkshire's only 50-metre swimming pool
Major East Kilbride building
St Bride's Kirk
Date built: 1962
Design: Gillespie Kidd & Coia Architects



photo © Isabelle Lomholt, 2011
East Kilbride Church Building
EK New Town
A Scottish New Town becomes an Net Art site
Press Release 8 Jun 2006:
Ever wondered how a town can be transformed into a web portal? Canadian artist, Sylvia Grace Borda, spent over a year addressing this very question. Her response is a new media portal, complete with interactive map of Scotland's first 'new town' of East Kilbride (located just outside Glasgow).
Unknown to many, Scottish new towns like East Kilbride were built on lofty ideals about social living and well-being. These ideals were radical for the time – focusing on the importance of light, green space, clean air, social amenities, and mechanised living. Originating in the late 40s-50s, such notions have now become passé to today's society and simply replaced by other contemporary demands.
Against this backdrop, the artist has sought to photograph every modernist structure within East Kilbride as an ode to the utopian ideas embodied in its local architecture and urban planning. As an artist interested in urban histories, Sylvia was particularly fascinated by East Kilbride's first New Town plan (started in 1947) and more so in relation to the city's current fate in 2006. From 2006 to 2009, nearly every modernist town in Scotland is in the process of being altered, demolished and/or sold for redevelopment.
Her project (consisting of over 8,000 images) chronicles East Kilbride's original modernist layout and examines buildings within each of its district areas. Instead of producing an installation or artwork to be placed in situ, Sylvia has made the town into the artwork. Her online media portal enables East Kilbride to become accessible to all. Site users can explore the town through interactive links that move through a sequence of images, related content, and historic newspaper clippings.
Viewers should note, however, that the site is not intended to be an unofficial civic guide. Rather, it is a thoughtful conceptual artwork which prompts audiences to re-contemplate and celebrate modernism and the built achievements of the new town movement before these are completely forgotten to current and future generations.
About the artist
Sylvia Grace Borda is a Vancouver based artist, and holds the positions of Assistant Professor, Digital Visual Arts Program, Emily Carr Institute, and Associate Researcher at the University of British Columbia, Department of Art History, Visual Art and Theory. Her interests cover new media, digital curation, and photo-documentation, all of which share a focus on reinterpreting cultural symbols and creating compositions from historical sources.
Sylvia's exhibition history spans over 8 years in Canada and abroad with solo and group shows including: California Museum of Photography, Eslite Vision Art Space (Taipei), Node.London (London, UK), 50, Pula Film Festival in conjunction with the Museum of Contemporary Art in Zagreb, Surrey Art Gallery (Canada), Richmond Art Gallery (Canada), Dazibao Gallery (Montreal), SAW Gallery (Ottawa), TWP Gallery (Toronto), CSA Space (Vancouver), Gallery 44 (Toronto) and the Morris and Helen Belkin Gallery (University of British Columbia, Vancouver).
Her work has been reviewed in Canadian Architect ; Air Canada's international flight magazine En route; New York Arts Review; C Magazine; Taiwanese arts and cultural magazine, Pots; the renowned net art source Rhizome.org; and in the well syndicated Japanese Oops magazine, to name a few.
Sylvia holds an MFA from the University of British Columbia.
East Kilbride Arts Centre
51-53 Old Coach Road, East Kilbride
South Lanarkshire
East Kilbride Arts Centre: 01355 261 000
East Kilbride building : Michelle Mone HQ building for MJM International
Related Events:
EK Modernism exhibition
New works by Sylvia Grace Borda 2005-06
East Kilbride Arts Centre Gallery
3 Jun – 2 Jul 2006
The artist has concentrated on photographing East Kilbride (EK) from its town center core to outlying areas to form her current body of work, EK Modernism: New Town Passages. In her work comprising over 8,000 digital photographs, the artist has created both an image archive of East Kilbride as a New Modernist Town landscape and a conceptual artwork where key public institutions, residential and industrial areas have been documented. A selection of over 100 photoworks will be on display at East Kilbride Arts Centre from 3Jun – 2Jul for audiences to see and comment on.
According to Borda, East Kilbride is an outstanding example of New Town architecture. Through her research and photo-documentation project she captures East Kilbride's original town plan in order to enable viewers the opportunity to experience Modernist ideas of utopian living which are illustrated by the juxtaposition and harmony of residential builidings, pedestrian passages, green corridors, community shops and row houses that define this Modernist Scottish centre.
Through this documentation process, the artist has come to realise that East Kilbride embodies exceptional urban design for its time. The city planners used concepts of the 'Garden City' where neighbourhoods were carefully considered to accommodate schools and shopping centres easily accessible by foot through natural woodland corridors; where industries were clustered on the town's edge; and where local road transportation systems were developed strategically around neighbourhoods to enable safer commuter transit. Additionally, planners paid special attention to sight lines throughout the community and selected prime locations in which to place important civic buildings.
Lofty ideas [EK Philosophy 101]
While it is commonly assumed post war Modernist architecture mirrored earlier architectural works designed by continental architects like Walter Gropius, Le Corbusier and others. Borda's project illustrates how Scottish New Town planners also envisioned themselves as modern visionaries who could produce a world class utopian society – complete with an Olympic size swimming centre to schools the scale of college campuses.
Interestingly, Borda has discovered that over 80% of the primary and secondary schools in East Kilbride were strategically located on hills, and these buildings appear differently from all vantage points. For instance, from a distance the buildings seem to be monolithic and from up close the structures seem light and airy with wide passages. This optical illusion of changing space is a particular feature of the East Kilbride primary schools.
In this way, Scottish New Town architects created structures which acted both as public places accommodating daily needs, while also designing their buildings as sculptures of 'high art' to be seen from all sides. Borda has concluded that the architects placed the schools at the highest vantage points throughout the New Town, and so metaphorically enlightening their pupils and elevating them to see the entire townscape that they would one day occupy and govern.
Not surprisingly, the artist uncovered that the uban development adopted in East Kilbride was well considered and was not what some may call 'built on the cheap'. Indeed the opening of Hunter Primary and Secondary schools in the early 1960s totaled over £500,000 pounds and, unlike current debates about the cost of the Scottish Parliament, there was no review of building budgets. Instead there was a further investment toppling over a quarter million pounds for Canberra and each primary school being established at the time. It is hard to imagine these costs today, when one considers the average salary in the late 1950s was less than 15 pounds per week.
Photographs on exhibition include 'portraits' of elementary and secondary schools, row houses, shopping centres, pedestrian passageways, and parks. Borda pays particular attention to architectural features of East Kilbride's modernist buildings. There are close-ups of geometric facades, coloured panels, running windows, and walls of hand-fired brick.
However, these images defy a guide-book definition of what might be considered beautiful and worth visiting. As the artist noted in a recent interview, her works on East Kilbride illustrate the post-war utopian impulse to create a " city of the future". The planners and architects who designed East Kilbride paid special homage to liveability, sustainability, and community coherence. The schools, for instance, were smartly designed and expensively executed. They often stand on hilltops, or in park like settings, enacting metaphors of enlightenment and farsightedness.
So it is not without certain regret that contemporary viewpoints have led to the demise of modernist architecture by citing its failure to fully achieve utopian aims. Yet Borda's project rises to the challenge by displaying an admiration for the achievements of the new town movement and by providing a rich visual record of East Kilbride's unique built heritage before all becomes forgotten to current and future generations.
'Look again at what you've got before it's gone', she seems to be saying. 'Just look'.
Documenting the Urban
EK Modernism – Architecture Week UK
17 Jun
Join artist Sylvia Grace Borda as she speaks about the development of her photo documentation project and research work for EK Modernism
The Lighthouse Gallery, 11 Mitchell Lane, Glasgow 0141 225 8405
East Kilbride Walking town tour – Architecture Week UK
18 Jun
Meet at East Kilbride train station
Tour and learn about the unique architectural features and designs adopted by Corporation and local architects in planning East Kilbride. Walk lead by artist and researcher Sylvia Grace Borda.
St Bride's Kirk
Gillespie Kidd & Coia Architects



photo © Isabelle Lomholt, 2011
EK Modernism: Celebrating Scotland's First New Town
East Kilbride Library
22 Jun
East Kilbride Development
Glasgow-based developers Elphinstone with financier Hunter Capital Partners to develop 10-acre Kingsgate site in East Kilbride 250107
Past EK Modernism reviews
Whitehead, Terri. "Insites: Borda Crossings: Vancouver-Based Sylvia Grace Borda Takes Inspiration From Modernist Schools in Scotland as Part of Her Photographic Explorations Relating to the Poetics of Space" in Canadian Architect, February 2006
Museum of Country Life
Museum of Country Life East Kilbride – located just north of East Kilbride
Location: East Kilbride, South Lanarkshire, Strathclyde, southwest Scotland, United Kingdom
Another Scottish New Town – Cumbernauld Centre / Cumbernauld Centre Photos
Glasgow Building Designs
Contemporary Glasgow Property Designs – recent architectural selection below:
Buchanan Wharf Glasgow Office Development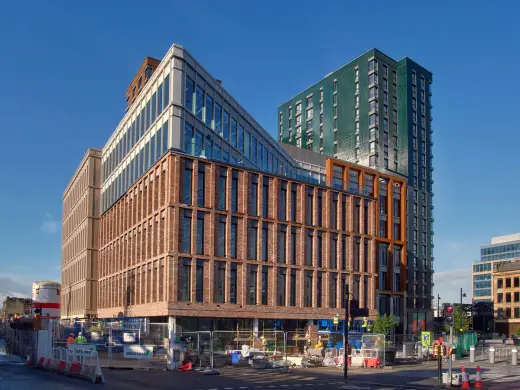 photo courtesy of Drum Property Group
Buchanan Wharf Glasgow Office Development
New Allander Leisure Centre
Design: Holmes Miller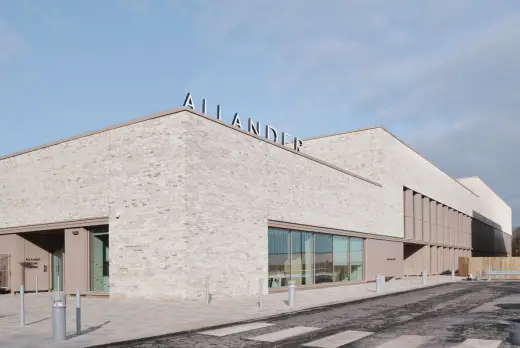 image courtesy of architects practice
Allander Leisure Centre Building in Bearsden
Buildings / photos for the East Kilbride Architecture – 20th Century new town in Scotland page welcome.
Website: www.eknewtown.com