Role of an architect, Building Designers, Architecture Profession, Design Skills
What Does an Architect Do?
11 Sep 2020
To understand what is the role of an architect, you should first define what the term means. So, what is an architect?
Buildings are incredibly important for human society. We do everything in these structures: we live, work, learn, shop, have fun, seek care, and enjoy leisure moments inside them. We evaluate the structures surrounding us based on how effective they are in serving our needs and purposes. The design of each building and structure we use daily is the work of incredible craftspeople: architects.
We all need places to tend to our daily duties and goodies in life. Architects design each of those places. Whether it's indoors or outdoors, private or public, rooms, or entire complexes, architects are the licensed professionals trained to design buildings and structures. They develop structure concepts and turn them into plans and images.
Architects design the overall look of structures, but the appearance is far from being the most important aspect of a building. A structure has to be safe, functional, economical, and suitable for the needs of those who use it. Architects will consider all important factors when designing a new building.
They design a wide variety of structures such as apartment buildings, offices, schools, factories, hospitals, churches, transportation terminals, etc. Architects also design complexes such as shopping centers, college campuses, and often even entire communities.
Sometimes, architects specialize in only one type of work or only one project phase. Some architects only design one type of building, such as residential architects who only design homes, or industrial architects who only create industrial buildings. If you ask several different architects about their daily duties, the answers are very likely to differ a lot. What an architect does depends on where they live and what they specialize.
What Does an Architect Do On a Project?
Various architects choose to work on various parts of projects. While some are present in each project stage, others only work on certain phases. Sometimes, an architect will only create predesigns, which includes thorough research of resources to help create the best possible concept. While some do minimal design work, others focus all their creativity on designing the perfect concept each time.
Many architects lead the entire design process from start to finish. From the initial talk with the client to the final opening of a completed building, they pay attention to every detail regarding the project.
The duties of most architects require a specific set of useful skills:
Designing
Engineering
Managing
Supervising
Communicating
Architects usually spend a lot of time explaining their ideas and solutions to clients, as well as discussing objectives with construction partners. Being able to communicate persuasively is an important skill for anyone who wants to be an architect.
Usually, the client and the architect in charge of the project discuss the requirements and objectives, as well as the budget. Then comes the pre design phase, which includes preparing environmental impact studies, land-use studies, cost analysis, selecting a building site, etc. The architect prepares initial drawings of the entire structural system. They include the electrical and ventilation systems, plumbing, heating, air-conditioning, communication systems, and site plans (including landscape plans).
The plans also include building materials and often even interior furnishes. They get a continual revision to fit the client's needs, budget and expected delivery time.
What Does an Architect Do On a Daily Basis?
So, what does an architect do all day? He or she may assist clients in selecting trusted contractors and participate in the negotiation process. An architect will often help the client obtain construction bids, and as the project proceeds, they will often visit building sites. Making sure the contractors follow the original design and adhere to a specified schedule is important, and so is the usage of appropriate materials while meeting all necessary quality standards.
Architects sometimes include post construction services like management of the facilities. They conduct a thorough check of a finished project and evaluate how efficiently the building answers to the client's initial needs. They then make the necessary improvements and deliver the best possible solution for the client.
During an ordinary workday, architects work with urban planners, engineers, landscape architects, interior designers, and many other professionals. A great deal of an architect's job includes coordinating between many professionals engaged in the project.
Many architects spend most of their time in offices, creating designs and consulting with clients and partners. However, frequent visits to the construction sites are obligatory when you work with an experienced architect. Long hours are not uncommon, especially when working on a big and important project or when meeting tight deadlines.
Some architects only design houses while others design churches or malls. While some of them draw all the time, others are outside visiting sites. Many architects do a little of everything.
Comments on this guide to what does an architect do article are welcome.
Glasgow Architecture
Major Strathclyde Building Designs – selection:
Radisson Hotel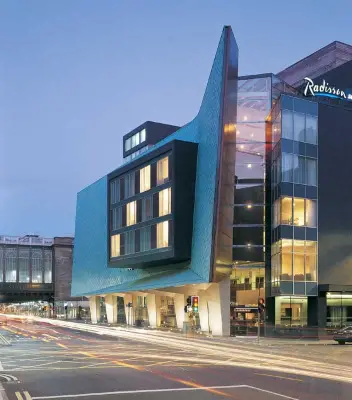 photo : Andrew Lee
Radisson Hotel Glasgow
New Glasgow Architectural Photos
Glasgow Architectural Photos
Comments on the What does an architect do advice post are welcome.