Radisson Blu Hotel Glasgow rooms, Scottish city centre accommodation photos, Building extension planning, Architect
Radisson Hotel Glasgow
SAS Scotland – Argyle Street Accommodation Strathclyde: Modern Building Design News
post updated 16 September 2023
Radisson Hotel – Application for Roof top extension and changes to front of hotel
17 Mar 2021
Info from Scottish architect Alan Dunlop:
Radisson Glasgow Hotel Building Extension
I discovered that almost all of the original concept and context analysis (Design and Access Statement) supporting the planning application for a roof extension to the Radisson Blu is taken directly from my own writing, without my acknowledgement or approval. Their document includes street views, block plans and multiple 3D views but concludes with the most elementary, least imaginative and crudest, commercially driven proposal.
Therefore, as the architect of the Radisson, I spent a few hours planning how you might extend the hotel in a way which is conducive to the ideas and context fundamental to its original design. Then made a few rough sketches.
Radisson Hotel Glasgow design by architect Alan Dunlop: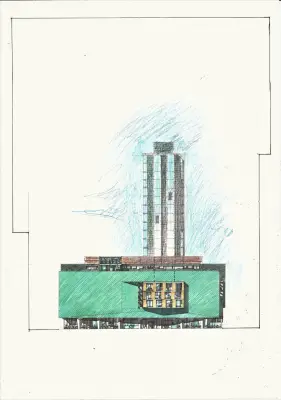 images courtesy of Alan Dunlop architect
Planning submission on left ; alternative tower by Alan Dunlop on right: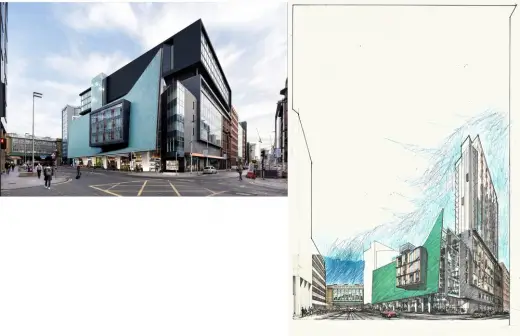 Planning submission: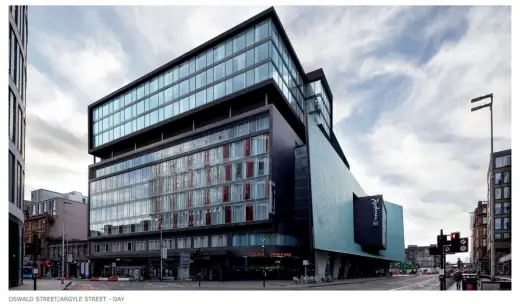 A tower, rising from the courtyard could give you, by my estimation 150 rooms. The height of the tower is determined by the adjoining buildings included as context within the proposed extension but it could be higher. This is just one simple idea, sketched in plan and drawn roughly afterwards, I know there are others.
– Alan Dunlop
alternative design by Alan Dunlop: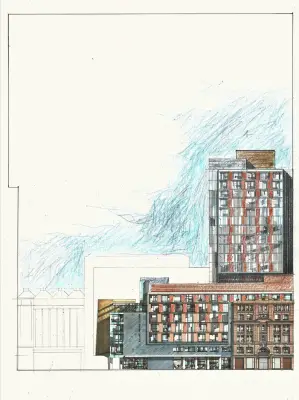 Best contemporary hotel in a sea of hotel rubbish in Glasgow and a hugely vigorous part of the city's grain. All of us should get on the planning portal and support Alan's defence.
– Malcolm Fraser
Alan Dunlop. Your alternative scheme is fantastic by comparison. Forgive me, but i can't help but ask, why are you not commissioned to deliver the next evolution of what is clearly a growing hotel, which you have unrivalled and intimate knowledge of?
– Andrew Taylor
This is a great building, that's been a successful part of the city for years. I've stayed there often and always knew where the entrance was, and felt that at ground level the building addressed the street well (just an opinion I know).
If it's not broke why 'fix' it? There's real potential to ruin something wonderful here.
– Andrew Brown
The Radisson will always be an iconic Glasgow building and these alterations will, in my opinion, only enhance its status as such. The rooftop extension looks fantastic and provides 100+ additional rooms, which is great news for the economy of Glasgow city centre. Mr Dunlop produced an amazing, original design and will welcome any alterations in the same way as a parent welcomes criticism of their child!
– Charles MacLachlan
"This exhilarating building, conceived two decades ago, remains a landmark of contemporary and contextual design. The front elevation – a full-height, canted copper screen like the hull of a great ship – was inspired by Glasgow's industrial past, rendered in a completely original way. Showy as it is, both in materiality and manner, it was scaled to fit the existing Victorian streetscape. The proposal, to add a clunky addition above it, is by far the most ill conceived intervention I have seen recently and the least respectful of its host. Alan Dunlop's alternative — a slender tower, perhaps with a reflection of the copper screen's ship's prow at its peak – would be preferable; an evolution rather than a desecration of a unique design.
– Robin Ward
Oh my good God. I don't know where to start. Firstly; I do think your building belongs in the same sentence as Gasson's. Both were ballsy moves at times we needed them, and they both put Glasgow back on the map in their respective contexts, albeit for different reasons perhaps. However; both surely to be welcomed by any self-respecting citizen of Glasgow.
I can't begin to say how underwhelmed and bewildered I am by these insipid revisions. They seek to destroy one of the best interfaces between city and building this side of the border.
I did note, however, the author of them. On that; It disappoints me, though only half as much as it doesn't surprise me. Hopefully the City Fathers take a dim view on such dim suggestions.
– David Reat
Alan, I feel strongly about this, once you as author object in anyway you are on a hiding to nothing.
As I see it the big columns provide 2 vital things; 1, on a practical level cover an shelter,2, but for me more importantly a distinctive sculptural street form that gives this part of the street identity and a clear statement about how a building touches the ground in a way that underlines an urban context, and a defining idea to support the entrance to the building.
– Henry Mckeown.
alternative design by Alan Dunlop: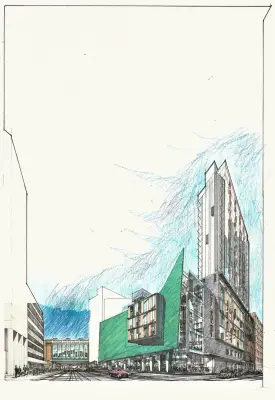 https://www.urbanrealm.com/news/9294/Alternative_Radisson_tower_plan_put_forward_as_backlash_builds.html
https://www.heraldscotland.com/news/19145308.architects-anger-ruinous-extension-award-winning-glasgow-radisson-hotel/
2 Mar 2021
Radisson Glasgow Hotel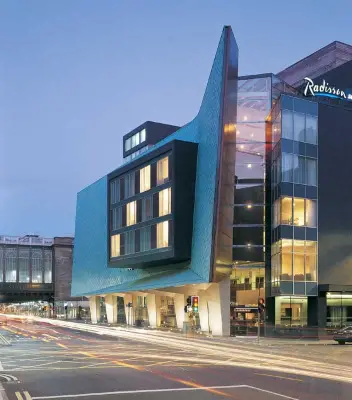 Radisson Hotel Glasgow photo : Andrew Lee
From Architect Alan Dunlop:
As the architect and designer of the Radisson SAS, a project that has garnered many architecture and hotel design awards, nationally and internationally. I write to object in the strongest possible terms to these proposals. From what I can discern from the plan and elevations submitted, it appears that the proposal glazes over the existing structural columns at the main entrance and installs a new copper canopy and a projecting glazed entrance to the basement.
Argyle Street proposed elevation: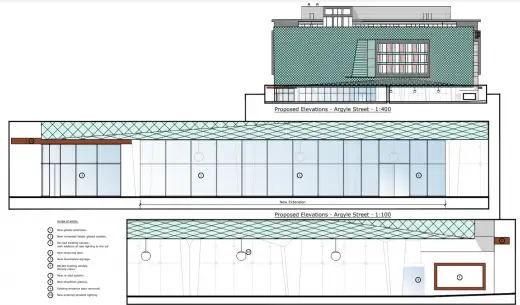 This will destroy the carefully designed foyer, which is recognised as one of the finest interior spaces in Scotland ( and of any hotel anywhere) and the sculptural column frontage to Argyle Street, with the canopy above. This building made Glasgow's financial district possible, acting as a stepping stone for the public and office staff from Central Station to the Broomielaw and the river.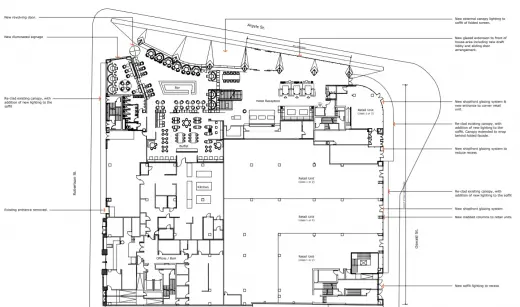 Additionally, in my view the drawings are so poor and lacking in any detail whatsoever that it is hard to see what is finally being proposed which is absurd for such an important building for Glasgow.
Consequently, I urge you to refuse this application.
Professor Alan Dunlop FRIAS FRSA
https://publicaccess.glasgow.gov.uk/online-applications/applicationDetails.do?activeTab=documents&keyVal=QOZLW4EXKAB00
Radisson Glasgow Hotel Building
Radisson Blu Hotel Glasgow, 301 Argyle Street, Glasgow G2 8DL, Scotland, UK.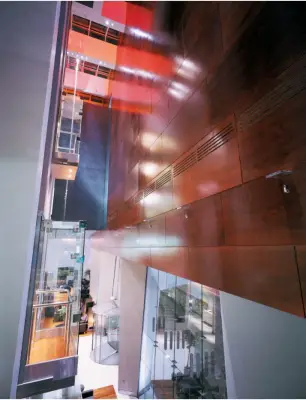 photo : Andrew Lee
Book a room at this Radisson Hotel: +44 (0)141 204 3333
Radisson Hotel Glasgow design by gm+ad architects, Glasgow.
In 1998, gm+ad architects were asked by London based site owners Pelham Developments to take part in a limited competition involving four other practices and prepare design proposals for a five star hotel on Argyle Street, Glasgow.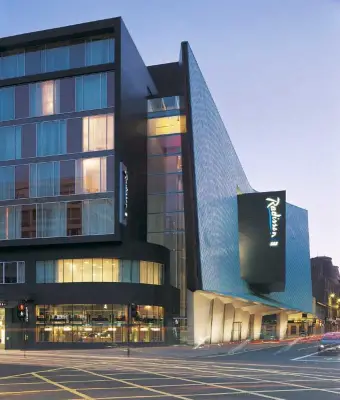 Radisson Hotel Glasgow building photo : Andrew Lee
At the time when the Glasgow Development Agency stated that there was a shortage of top quality hotels in the city centre and when Glasgow's conference centre market was growing. The site to the west of the Heilanman's Umbrella had been derelict for some time and various practices in the city, including BDP Architects, had already tried to kick start proposals for commercial developments on the site and even another hotel but somehow things could never stack up financially.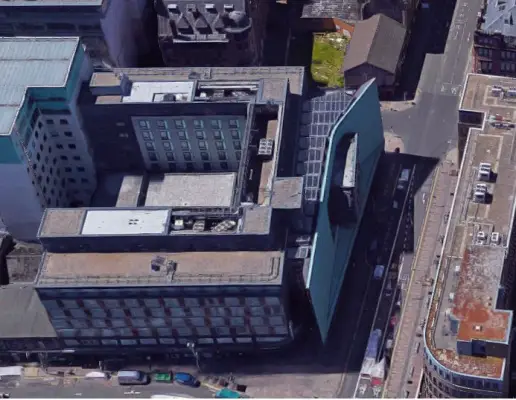 aerial photo courtesy of architect
Now with the publication of the GDA report and the interest it generated and the completion of the first part of Atlantic Quay, Pelham thought that the time was right to try an sell the site to a potential hotel developer and they needed a scheme to hang things on.
Radisson Blu Hotel Glasgow – European Hotel Design Awards
gm+ad architects won the competition with an early version of the copper-fronted Radisson Hotel Glasgow and became preferred architect. To help get things moving and because of gm+ad architects' good relationship with the city planners, gm+ad approached Glasgow City Council with their ideas and they were prepared to write a letter to Pelham which stated that should gm+ad architects present their proposals to the city they would be positively received and likely to obtain planning permission. On the basis of the gm+ad scheme and this letter of recommendation, Pelham started to look for buyers for the site.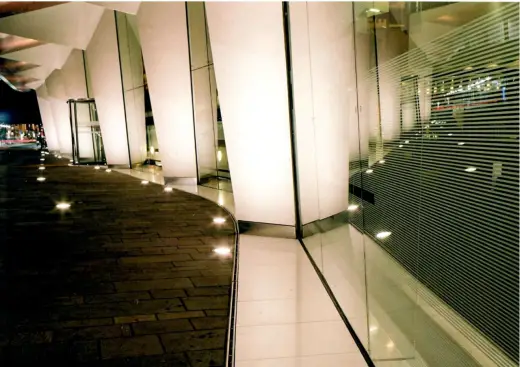 photo courtesy of architect studio
In 1999 gm+ad architects were interviewed by Marylebone Warwick and Balfour, a London base development company looking for opportunities to build in Scotland. They liked gm+ad's work and talked to the planners and gm+ad architects commissioned for the Radisson Hotel Glasgow late in 1999 to build the hotel.
Radisson Blu Hotel Glasgow Design
Anyway, we prepared design proposals for the site, for originally a 300 bedroom five star hotel, which by our early calculations could potentially be eight storeys high. When Radisson were contracted as operators this was reduced to 250 beds and to a four star delux standard.
Although the west end of Argyle Street was seedy and our site derelict we recognized that Argyle Street was one of the city's oldest thoroughfares and still retained some character and a median height of twenty metres which was evident right through the street from Trongate to Anderston and including the Heilanman's Umbrella. It is my understanding that this median height was set by the extent the fire ladder could reach in Victorian Glasgow.
The copper screen was a device which would allow us to respect and continue this median height and the scale of the thoroughfare but build a potentially seven or eight story building behind. We chose copper for the Radisson Hotel because we wanted to use an "indigenous" Glasgow material but in a dramatic way and we were always interested in Gillespie Kidd and Coia's use of copper over large areas, particularly Our Lady of Good Counsel in Dennistoun and also Aalto's technical college in Helsinki, which we use in our presentations. A lightweight and engineered foil to the buildings frontage would also allow us some flexibility of form and the Radisson elevation could potentially pull back from Glasgow's grid line at the entrance to the hotel and help us create a "public" space in-between.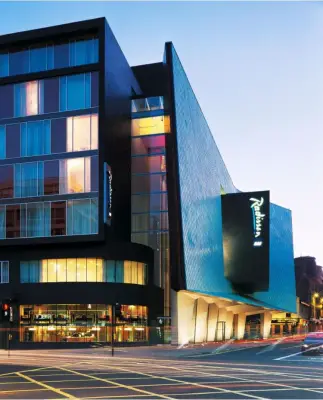 photo courtesy of architect
Radisson Hotel Glasgow Argyle Street
As a counterpoint to the flexible and lightweight screen, the main part of the Radisson hotel was to be solid and monolithic but again we wanted to use a native material and something other and more interesting than sandstone, so slate became the obvious answer. Radisson Hotel bedrooms had to have an outlook, so either looked onto the adjoining streets or into an internal courtyard. In between the monolithic residential accommodation and light weight frontage we squeezed an "internal street" atrium containing the Radisson hotel's reception and bars and restaurants, so that this space could be something more than the conventional square and regular atrium space.
The back of the copper wall was facetted so that we could view slithers of the Heilanman's Umbrella and an interesting wee classical building on the north of Argyle Street from various points in the Radisson hotel, like from the main feature stair. This five-storey space is naturally lit from above and feature lifts move through the space and guests can look into from the corridors leading to their rooms.
As the curve of the copper was played against the line of the Glasgow grid, a suite of specialist rooms cantilever through the copper wall to form a dramatic set piece in the elevation and you walk over a glass bridge inside the Radisson hotel to get to these rooms. At the base of the Radisson hotel we wanted to encourage activity and to have, if possible, people other than guests encouraged to use the facilities and therefore give some life to the street, so we designed bars and restaurants which could be used by everyone.
The City Council liked this idea very much and thought, as we did, that such a proposal could help reconnect development on Atlantic Quay and the Broomielaw with the city center. Also helpful and important was the Grade B listed Baroque building at 62 Robertson Street which we felt would help a re create an interesting street composition but would also set the floor to ceiling heights for the Radisson hotel.
Consequently the hotel bedrooms are much higher that you would normally expect in a new build hotel but you therefore get a real feeling of space and because we have floor to ceiling windows all the rooms at the Radisson are filled with light.
Radisson Hotel text from gm + ad architects




Radisson Hotel Glasgow photos : Andrew Lee
Radisson Hotel Glasgow Awards
– GIA Awards
– RIAS Best Building in Scotland Awards 2003 Shortlist
– European Hotel Design Awards
– Irish Architecture Awards 2003: Press Release
– Scottish Design Awards 2003: Architecture Grand Prix
– Civic Trust Awards 2004 Scotland Commendation
Client: Marylebone Warwick and Balfour – MWB Argyle Street Ltd
Radisson Hotel Glasgow, 301 Argyle Street, Glasgow, G2 8DL
Book a room at the Radisson: +44 (0)141 204 3333
Radisson Glasgow – website: www.radisson.com




Radisson Hotel Glasgow photos : Andrew Lee
Radisson Glasgow Bar – former Collage Bar
Scottish exclusive (on release) for photos of the £47m five-star Radisson Hotel Glasgow on Argyle Street



Radisson Hotel Glasgow pictures : Andrew Lee
New Hotel Design by gm + ad architects
gm + ad architects Radisson Glasgow Hotel information early 2002:
"This new five star 250 bedroom hotel for London based developer MWB is currently being built in Argyle Street, Glasgow at a cost of £30m.
It will be operated by Radisson SAS and will be their first new-build project in Scotland.
A curved copper wall continues the street line of Argyle Street, one of Glasgow's oldest thoroughfares, and provides a dramatic frontage to the hotel. Copper is one of the Glasgow "native" and historic building materials, used here as a foil to the six floors of hotel accommodation.
A naturally lit internal "street" containing the reception, function suite, cafe and bar spaces runs between the copper wall and hotel accommodation. A special suite of twelve rooms cantilever over the street and extend through the copper wall to Argyle Street. Previously neglected frontages on Robertson Street and Oswald Street are brought back to life with fine dining restaurants, bars and leisure uses.
Radisson Hotel bedrooms look out onto adjoining streets or into a private courtyard garden. The project will be completed and occupied by August 2002."
From The Irish Times, concerning the Radisson Hotel Glasgow:
"It is all too rare to find such a sensibility at work in the field of commercial architecture…it stood head and shoulders above any commercial project in Ireland, on a par with outstanding public buildings"
Chairman's comments re the Glasgow Radisson at the Irish Architecture Awards 2003
24.07.03
Radisson Hotel Glasgow: site photos 2002



Radisson Hotel Glasgow images by Alan Dunlop of gm+ad architects
RIAS Award 2003 – Shortlist: Excerpt
Radisson SAS Hotel, Glasgow
Gordon Murray + Alan Dunlop Architects
The Radisson Hotel has clearly aroused some popular emotion. It is big, bold, perhaps even brash but it does respect the city block, it understands the pavement, on closer examination it presents a clear concept underlying its planning. The Glasgow Radisson Hotel's various parts are made visible in a tall top-lit space rising up behind its 'signboard' street façade, its fashionable public parts clearly visible and usable at ground level and the bedrooms and business facilities above innovative and excitingly detailed.



Radisson Hotel Glasgow images by architect Alan Dunlop, gm+ad architects
Radisson Hotel Glasgow – RIAI Irish Awards – Irish Architecture Awards
Radisson SAS Glasgow Book
gm+ad: 21st Century Hotels
Apr 2005
The Radisson SAS in Glasgow is featured in a new and beautiful book on top hotels by Laurence King Publishing. The book, titled 21st Century Hotel, is due to be published on April 25th and it contains information, comment and photographs on selected international hotels.
The Radisson SAS sits alongside hotels in Times Square, Tokyo, Paris and San Francisco, in fact all of the great cities in the World. It is one of only five UK projects.
"The book is stunning" says Alan Dunlop "and the Radisson SAS looks great. It's featured with the best new hotels throughout the world, we are delighted and chuffed for Glasgow"
The publication has an editorial and commentary written by Graham Vickers, a well respected writer on design, architecture and marketing. Of the Radisson SAS on Argyle Street he writes: "it's architectural impact is so strong as to provide the primary focus of interest. Here a whole design approach is flagged by the building itself, which successfully juggles with a range of practical issues and restrictions to create a strong statement reflecting something of the spirit of Glasgow and it's history without ever being reverential or resorting to pastiche" He adds " That appeal resides in the hotels public spaces and, perhaps most of all, in the external impact of this striking, land locked hospitality vessel with its striking green prow".
"It's an excellent publication" says Gordon Murray "and the Radisson looks as good as anything anywhere in the world, in fact better. At last Glasgow has a top hotel to compete with all the major visitor destinations"
Radisson SAS Glasgow Hotel Building images / information from gm+ad architects 120405




Glasgow Radisson Hotel site images by architect Alan Dunlop, gm+ad architects
Architecture in Strathclyde
Radisson Glasgow Hotel : Best Building in Scotland shortlisted in 2003.
Glasgow Building Designs
Contemporary Glasgow Property Designs – recent architectural selection below:
Buchanan Wharf Glasgow Office Development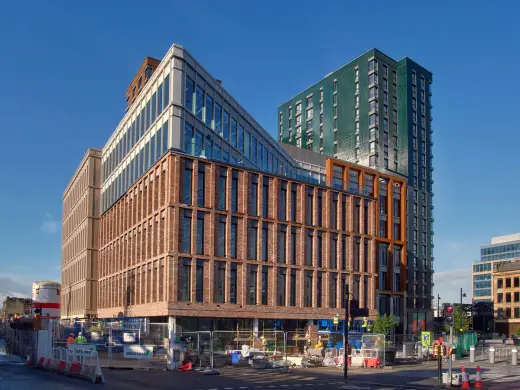 photo courtesy of Drum Property Group
Buchanan Wharf Glasgow Office Development
New Allander Leisure Centre
Design: Holmes Miller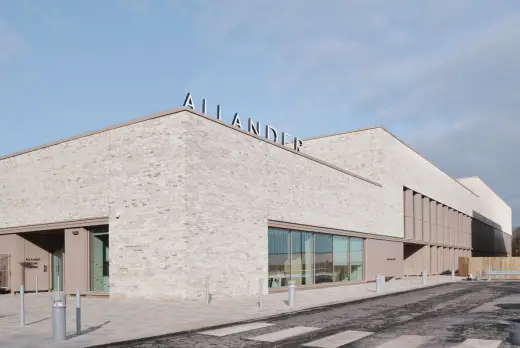 image courtesy of architects practice
Allander Leisure Centre Building in Bearsden
Comments / photos for the Glasgow Radisson Hotel building design by gm+ad architects page welcome.