Tips for making your own dried flower bouquet for the living room, Home décor accessories
Making Your Own Dried Flower Bouquet for a Living Room
13 Feb 2023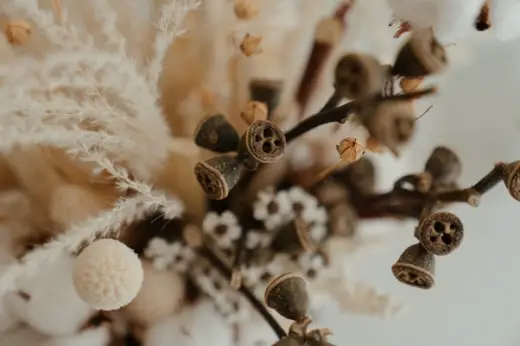 Dry flowers are a great alternative to fresh flowers – especially during the winter months when fresh flowers are more expensive or harder to find. They also last longer, making them an ideal choice for arrangements you want to keep for a longer period of time.
Making your own dried flower bouquet is easy and affordable, and the end result is a beautiful piece that will have guests asking where you got it. We've listed some tips for you to make your own dried flowers bouquet, no matter what season you're in.
Tips For Making Your Own Dried Flower Bouquet For The Living Room
ADD ACCENTS TO YOUR BOUQUET.
Once you have made your dried flower bouquet, you can add some accents to show your creativity and style. You can combine the letterbox flowers with some ribbon, such as a black satin ribbon or a velvet ribbon. You can also look for other dried flowers to add to your bouquet. You can find dried flowers in craft or flower stores.
You can also use other things, such as miniature figurines, to add accents to your bouquet. Of course, it is also possible to combine dried flowers with other elements from the garden such as pampas grass, cereals or other grasses and green plants that dry well. Not sure which plant is suitable for drying? Check by simply taking a plant or stem and putting it down for a day without water. Is the plant or stem is still firm then it is suitable. If it is completely limp, choose something else for your drying bouquet.
BE CREATIVE WITH THE WAY YOU ARRANGE YOUR BOUQUET OF DRIED FLOWERS.
When arranging a bouquet of dried flowers, think about color and shape. You can arrange your dried flowers in a bouquet, or you can use them to decorate the walls or table of your room. You can also make a wreath of dried flowers with your flowers. You can also use them to decorate gift cards. You can also use your dried flowers to make other decorations, such as dried flower collages or dried flower flower arrangement. Thus, dried flowers can actually be used for anything and are actually much more durable than a regular flower bouquet because they last much longer.
TRY DIFFERENT TYPES OF FLOWERS FOR DIFFERENT SEASONS.
When choosing which dried flowers to use in your bouquet, keep in mind that different flowers have different scents, colors and meanings. You can use the flowers below to represent different seasons: Spring: tulips, daffodils, and hyacinths are all flowers that are in full bloom during spring.
You can also use sunflowers, which are associated with the summer season just as: roses, peonies, daisies, and lilies are all good choices for dried bouquets that represent summer. Autumn: The colors of autumn are fiery, so you will want to choose flowers that contain reds, oranges and yellows. Examples of fall flowers are chrysanthemums and marigolds. Winter: Many flowers are associated with winter, such as poinsettias, mistletoe, holly and ivy. You can also use berries in your dried bouquets, as they are associated with winter like an ilex or branches of fir.
PACKAGING FOR THE DRIED FLOWERS.
When your bouquet of dried flowers is finished, you'll want to wrap it to keep it safe during transport at least if you're going to give it away. You can use wrapping paper or decorative bags, depending on the type of bouquet you made, to keep it safe during transport.
Comments on this Tips For Making Your Own Dried Flower Bouquet For The Living Room article are welcome
Buildings
Glasgow landscape designs
Key Buildings in Scotland Articles – architectural selection below:
Merchant City boutique hotel
Merchant City
Springburn Winter Gardens Competition
Comments / photos for the Tips For Making Your Own Dried Flower Bouquet For The Living Room page welcome