Fireclay farmhouse sink tips, Property country decor advice, Rural home kitchen style guide
Fireclay Farmhouse Sink
9 February 2022
Fireclay farmhouse sinks have become the talk of the town because of their durability and unique style.
And rightly so, since they are spacious, timeless, and add a style statement to any kitchen they are placed in. Besides, a fireclay sink is easy to clean and heat-resistant, making it a perfect addition to modern homes.
While this design can transform the look of your kitchen, it comes with a steep price tag. So, we were wondering if it's worth the splurge or not. And if it is, is it the right kitchen sink for your home? We'll answer all these questions in this informative guide and walk you through the nitty-gritty of fireclay farmhouse sinks.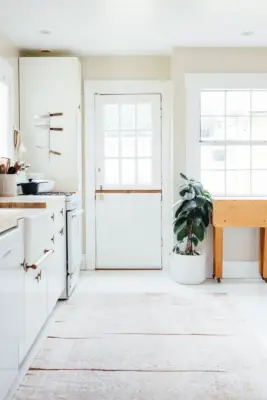 So, without further ado, let's dive right in!
Fireclay Farmhouse Sink History
Did you know fireclay farmhouse sinks have been in existence for centuries? People have been using it since the 17th Century when even running water wasn't available.
Initially, farmhouse sinks were fashioned for farmhouses but soon became excellent options for modern homes due to their unparalleled durability and large size. Besides their aesthetic appeal, people raved about their functionality and ease of installation. Before we get to what fireclay farmhouse sinks are, let's take a look at farmhouse sinks.
What Is A Farmhouse Sink?
A farmhouse sink has a big deep basin fastened to the counter on three sides. Unlike other kitchen sinks, it doesn't come with pre-drilled holes for installing a faucet or other accessories. Hence, you'll have to drill faucet holes on these sinks directly.
Also known as an apron front sink, what sets these sinks apart is their easy-to-use design. Thanks to its wide, deep basin, the sink can hold a variety of kitchen cookware in different shapes and sizes.
When installing a new sink in the kitchen, it's important to go for a durable one so that it can withstand daily use. Traditionally, this highly-coveted kitchen equipment was made by exposing firclay to extremely high temperatures. This hardened the material and produced a highly durable sink perfect for daily heavy-duty use.
However, this technique offered no room for customization and made it difficult to blend the sink with the kitchen decor. Thankfully, in contemporary times, farmhouse sinks can be customized the way you want, which means there's one for every home. Color, style, material, configuration – modify your sink the way you want so that it complements the rest of the decor.
Regardless of contemporary or traditional decor, a farmhouse sink adds a touch of class to a kitchen space. Long story short, this design is exploding in popularity because of its aesthetic design, large size, and functionality.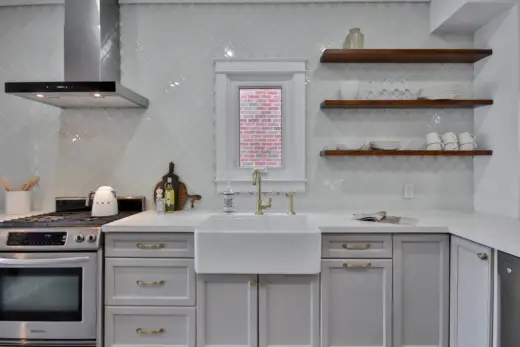 What Is A Fireclay Farmhouse Sink?
Fireclay farmhouse sinks are constructed using the ultra-durable material called firclay, which makes them an excellent choice for kitchen sinks.
This material is highly durable and versatile while also being sophisticated and stylish. What makes each fireclay sink unique is that they are specifically handmade with rare molding clays available only in certain regions.
What Are Fireclay Farmhouse Sinks Made Of?
If you've been wondering why fireclay farmhouse sinks are pricey, let us tell you that every sink is handmade and is different from a regular ceramic sink. The artisans create fireclay by fusing clay and glaze at very high temperatures, with most of them baking their sinks at temperatures above 2000 degrees Fahrenheit.
To begin with, the mixture is poured into molds, which are left untouched for at least two days in a mildly heated room. After the clay dries completely, the artisans spread porcelain enamel before baking it in the kiln.
Next, the temperature of the kiln is increased to 2000 degrees Fahrenheit or above for at least a day. Because of this, the enamel mixes with the ceramic, and forms a durable, heavy-duty, and non-porous sink.
This is why fireclay farmhouse sinks are resistant to rusting, staining, cracking, and chipping. However, if you don't want to go for the classic model, you can render a luxury touch to your home by opting for copper, stone, or concrete sinks.
Why Choose A Fireclay Farmhouse Sink?
1. Highly Durable
One of the main reasons people prefer fireclay sinks over others is because of their excellent durability. While most models crack due to heavy use, fireclay sinks are chip and scratch-resistant.
So, next time you accidentally drop heavy pans, dishes, or knives on the sink, you need not worry about cracks or scratches. What's even better is that they are resistant to rust, discoloration, and fading, so your sink will look spick and span even after years of usage.
Even though the sink doesn't come with pre-drilled holes for installing faucets, you can drill them yourself.
2. Functionality
Regardless of how stylish a sink you opt for, it's useless if it isn't functional. Thankfully, a fireclay farmhouse sink easily lets you wash pans, cooking pots, and other dishes.
What's more, it's also an excellent option for those who love soaking dishes before tossing them in the dishwasher. Want to fill water in a large cooking dish or pot? Well, a fireclay sink will help you do it in a breeze.
3. Sleek Aesthetics
Besides functionality, homeowners install fireclay sinks because of their sleek design. Thanks to its smooth front and large size, it adds a touch of sophistication to a kitchen.
Moreover, you're spoilt for choices and get the freedom to choose from various colors and materials. Regardless of which style you opt for, these sinks will grab the attention of your visitors.
4. Resistant To High Levels Of Heat
Since they are made from fireclay and baked at high temperatures, these sinks can withstand high levels of heat. Though putting hot dishes in the sink will not cause any damage, we strongly recommend you avoid doing so.
Factors To Consider While Buying A Fireclay Farmhouse Sink
Without a doubt, the market is saturated with tons of products, which is why choosing the right fireclay farmhouse sink might be challenging. Since they are more like an investment, you need to get your hands on the best one.
Moreover, it's important to choose the one that will complement your kitchen interior. On that note, we've discussed a few important factors that you must keep in mind while buying a farmhouse sink, so let's take a look at them.
1. Size
Earlier, fireclay farmhouse sinks were made only of fireclay and were available in white color. But now you can choose from a variety of materials and, of course, colors. Dark gray, white, matte or glossy black, brown, sapphire blue – no matter which color you want, you can get one customized.
Coming to the size, fireclay sinks are available in any size you want. While a 33" fireclay farmhouse sink is the most common size, some homeowners opt for a 30" sink. Needless to say, a white color sink never goes out of fashion, so when in doubt, opt for a white one. However, the size totally depends upon the size and layout of the kitchen. While we recommend going for a large size, sticking to the needs of your kitchen is important.
2. Configurations Of Fireclay Farmhouse Sinks
After size, the next thing that you need to take care of is the configuration of the sink. While you get plenty of sizes and colors to choose from, there are few options in terms of configurations.
Either opt for a single bowl farmhouse sink or choose a double bowl sink for your home. If you stack up dishes on your sink more than often, a single bowl sink is the way to go. Meanwhile, on a double side sink, you can use one side to rinse vegetables, meat and keep the dirty dishes on the other side.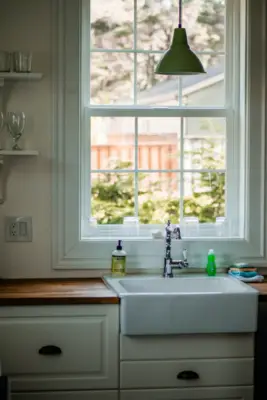 3. Style
It goes without saying that a fireclay farmhouse sink will instantly spruce up your kitchen decor. And rightly so, since its sleek aesthetics is one of the reasons why people prefer installing them over other sinks.
Back in the day, these sinks were installed only in farmhouses, cottages, and Victorian homes, but today, anyone can get one and install them in their homes. This is why you must choose the style that compliments your kitchen decor perfectly. Thankfully, fireclay sinks are available in a variety of styles, so you've plenty of options to choose from.
For monochromatic kitchens or modern space, opt for sinks that come in a matte finish. However, if you're unable to decide the color, choosing a sink of gray or white color will be the best bet.
While having less rounded corners, the sink must also have a smooth apron front that will make a bold statement in every setting.
On the other hand, if you've designed your kitchen in a traditional style, we strongly recommend going for sinks that feature thick walls. That's because such sinks will add a classic touch to your kitchen. Plus, it should also have an apron with a pattern and rounded corners.
Still finding it challenging to decide which style to go for? Then look for sinks that are finished on all sides so you can easily install them with any side on the front. Speaking of corner edges, they can be either curved or straight.
Tips For Installing A Fireclay Farmhouse Sink
Though you might be a pro at DIY installation, it isn't a good idea to install a fireclay farmhouse sink all by yourself. Since these pieces are handcrafted, there may be slight variations in shape and size, which are best handled by professionals.
Unlike other sinks, there are many ways to install these sinks, which is why it's best to call professionals. However, if you still intend to install a fireclay farmhouse sink with your pro friend, keep these points in mind to install it effortlessly.
Make sure the size of the cabinetry is at least 3 inches larger than the size of your sink. For instance, a 33" cabinet will be perfect for installing a 30" sink.
Since they are heavy, custom-made cabinets having a front cut-out will be an excellent option for housing a fireclay sink. Also, we strongly recommend you build a plywood platform that will bear its heavyweight due to water or other attachments such as garbage disposal.
More often than not, the aprons of most fireclay sinks are 10" high, so make sure you leave ample space below the cabinet for plumbing lines, garbage disposal, etc.
Leveling the sink is important, and so if need be, make adjustments with shims, which is best done by a professional.
As fireclay sinks don't have pre-drilled holes, leave enough space behind it to install a water filter, soap dispenser, or faucet.
Install a sink grid at the bottom of your sink, preferably stainless steel, to keep it protected from accidental drops that may lead to cracks.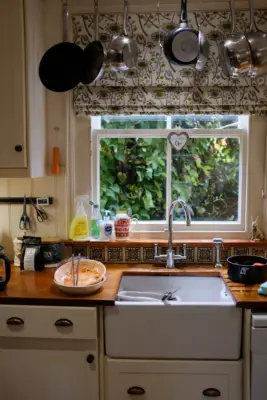 Tips To Maintain Your Fireclay Farmhouse Sink
There is no denying that the more you take care of things, the longer they last. When it comes to fireclay farmhouse sinks, the good news is that it is made with ultra-durable materials, which is why it is highly durable. So, if you take proper care of it, this timeless piece can last for the coming years.
Even though it is resistant to liquids, food, stains, you must not leave your sink dirty for long periods. Don't pile the sink with dirty dishes, pots, and other kitchen items unless necessary. Keeping your sink free from weight will enhance its longevity, so make sure you wash the dishes right away.
Dos
Here are some tips that you can follow to keep your sink spick and span.
Use warm water and a mild cleanser to scrub your sink thoroughly to wipe away greasiness and other impurities. Avoiding chemicals is important, so we recommend going for natural ingredients to maintain the beauty of your sink.
Always use a clean cloth to wipe away water from the sink. Moreover, you can also use a sponge or brush to clean the sink.
Use mild vinegar and warm water to get rid of mineral deposits from the sink.
Don'ts
Avoid using chemicals, oven cleaners, or paint removers to scrub the sink.
Abrasive chemicals are a no-no as they can leave scratches and dull the shine of the sink. Also, test your cleaning solution on a small surface before scrubbing the entire sink.
Make sure you never use abrasive materials to clean the sink, or it will discolor and cause damage. As a rule of thumb, never use a scouring pad or steel wool to wipe impurities from your fireclay farmhouse sink.
Fireclay farmhouse sink – Summing It Up
Without a doubt, a sink is one of the most important elements in a kitchen space. And when it comes to kitchen sinks, you can never go wrong with a fireclay farmhouse sink.
Not only is it aesthetically appealing, but it is also functional and highly durable, which is why it has become a popular option among homeowners. Though it isn't easy on the pockets, you wouldn't regret installing it in your space as it is designed to last for years.
But before we wrap up, here's our last piece of advice – no matter your budget, make sure you choose a high-quality farmhouse sink as low-grade sinks do not last long.
With that, we'll call it a day; hopefully, you enjoyed reading our guide as much as we enjoyed curating it for you. Until next time, happy shopping!
Comments on this fireclay farmhouse sink article are welcome.
Glasgow Building Designs
Glasgow Architecture Designs – architectural selection below:
BDP adaptive reuse design projects
BDP adaptive reuse design projects
Cloch Lighthouse in Gourock
Design: Benjamin Tindall Architects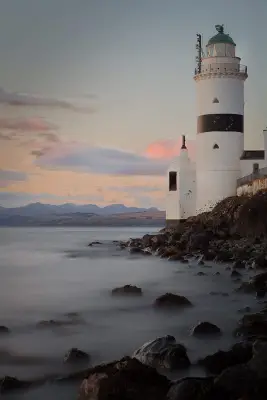 photograph courtesy of Andrew Samuel at www.TallTaleFilms.co.uk
Cloch Lighthouse in Gourock
Golfhill School Flats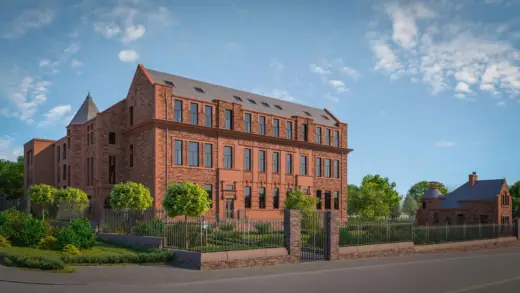 image courtesy of Spectrum Properties
Golfhill Public School Dennistoun Flats
Comments / photos for the Fireclay farmhouse sink advice page welcome