Hidden Gardens Tramway Photos, Southside Design, NVA Scottish Project, Landscape Architect
Hidden Gardens Glasgow Tramway
Project at Tramway Theatre, Glasgow, Strathclyde, west of Scotland Landscape Design
post updated 25 January 2022
Hidden Garden
Design: NVA with City Design Co-operative ltd, Landscape Architects
Contact
0141 433 2722 or 0141 276 0950
Address: via Tramway, 25 Albert Drive, Glasgow G41 2PE
Hidden Gardens Opening times
Summer
Tue – Sat 10am-8pm, Sun 12pm – 6pm
Winter
Tue – Sat 10am-4pm, Sun 12pm – 4pm
check with operators
Address
The Hidden Gardens, Tramway, 25 Albert Drive, Glasgow, Scotland
Founded by NVA public arts organisation in 2003, The Hidden Gardens is an award-winning unique public greenspace and community development organisation located in Pollokshields, one of Scotland's most diverse communities.
The Hidden Gardens exists to promote understanding between people of all cultures, faiths and backgrounds. It celebrates the universal spirit of nature, with subtle references to the paradise gardens that have evolved over the last three thousands years.
In addition to being a beautiful greenspace where people can relax away from the busy city streets, the Gardens is a place of learning and exchange ; a place where people can come together and share stories, skills and histories. In 2013 the Gardens celebrated ten flourishing years. Through its programme of events and activities, big and small, the gardens is striving to create a common ground for all of Scotland's communities to come together.
source: http://thehiddengardens.org.uk/about-the-hidden-gardens.php
Early Hidden Gardens on site photo



Hidden Gardens images 2003 on completion
Images by City Design Co-operative Ltd
Work in progress photos for the Hidden Gardens, the new garden at Tramway Theatre, Glasgow designed by Landscape Architects, City Design Co-operative Ltd.
NVA have been responsible for many inventive lighting projects in Scotland, most recently on the Old Man of Storr in Skye. NVA – website: www.nva.org.uk. Angus Farquhar is their Creative Director.
NVA Lighting – Glasgow Projects
no larger image, apologies:


Adjacent to the Hidden Gardens is the Tramway Theatre by Zoo Architects (who in late 2004 combined with McGurn Architects to from ZM Architecture)
Architecture in Strathclyde
Glasgow Landscape Architecture
Scottish Landscape Design Projects
Public Square, Strathclyde University Campus, Rottenrow
by Gross Max Landscape Architects, Edinburgh
The Tramway occupies the former Coplawhill Glasgow Corporation Tramways depot. The original horse tram depot was constructed in 1894, and further workshops were added between 1899 and 1912. It was converted for use as the Glasgow Museum of Transport in 1964, until the museum relocated to Kelvin Hall in 1987. It was first used as a performance venue in 1988. In 1990, it was a prominent venue as part of the European City of Culture celebrations. It has been protected as a category B listed building since 1990.
In 2003, plans to close the arts centre and convert the building to rehearsal and ancillary space for Scottish Ballet resulted in massive opposition from the arts community and the wider public. Eventually it was decided to house the Ballet facilities in formerly derelict space to the rear of the building, retaining the arts centre in the existing structure.
source: wikipedia
Shedio Artists Workspace, The Hidden Gardens, Tramway, Glasgow, Scotland
Design: DO architecture
Civic Trust Awards 2004 Scotland winner
Website: www.thehiddengardens.org.uk
Base Glasgow Student Housing Development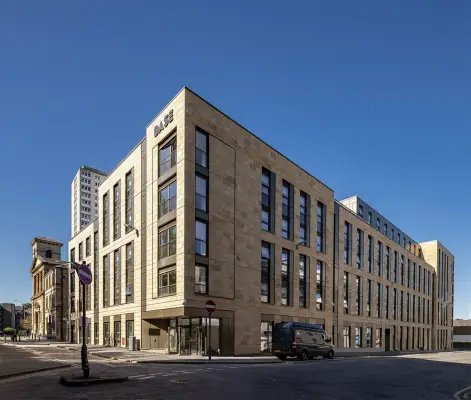 image courtesy of architects
Base Glasgow Student Housing
Comments / photos for the Hidden Gardens Glasgow Architecture page welcome