Glasgow School of Art Artwork by Louise Hopkins, GSA Mural, Building, Dance Number
Mackintosh Building Artwork
GSA large-scale artwork by Louise Hopkins: Digital Print on Metal
25 Oct 2017
Dance Number – large-scale artwork by Louise Hopkins
Design: Louise Hopkins
Dance Number, large-scale artwork by Louise Hopkins, unveiled on Mackintosh Building site wall
Artist has made work responding to "a potent and paradoxical space"
Glasgow School of Art Building Artwork
"I was struck by the juncture between the early 20th century building and the 21st century objects and processes used in the restoration process, and was particularly drawn to both the grid created by the scaffolding and the colours, structure and different qualities of surrounding signage – road signs, pedestrian barriers, contractor signs – which are an integral part of the restoration,"
Louise Hopkins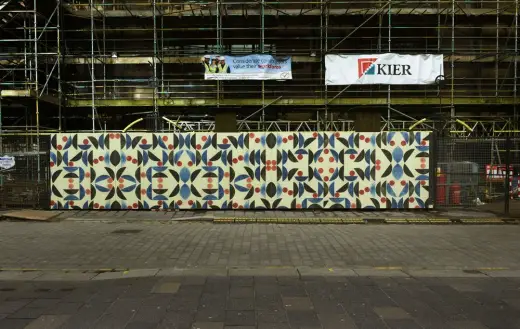 photograph © Alan Dimmick
A new artwork by the leading artist Louise Hopkins has been unveiled on the central wall in front of the Mackintosh Building on 24 October 2017. A 2.5m high and 12.2m long digital print on metal, Dance Number, was specially commissioned by the GSA and is the artist's largest work to date.
"We are delighted to showcase a new work by one of our acclaimed MFA alumni, Louise Hopkins " says Professor Tom Inns, Director of The Glasgow School of Art." We see the wall between the Mackintosh Building and the street as a space which can demonstrate the creativity for which The Glasgow School of Art has been renowned since its foundation in 1847."
"Louise has created a work that responds both to the space in which it is sited and to the work which is going on around it."
"Louise Hopkins is known for pieces that relate to a specific context and for work that explores the relationship between painting and printmaking," adds GSA Exhibitions Director, Jenny Brownrigg. "There is also an element of destruction and reparation in her practice that chimes with what is happening to the Mackintosh Building."
For Hopkins, the outdoor space in which the work is sited is both paradoxical and potent with its contrast between the historic building and a modern building site, and between the public face of the restoration and the hidden nature of what is happening in the Building.


photo © Alan Dimmick
"I was struck by the juncture between the early 20th century building and the 21st century objects and processes used in the restoration process, and was particularly drawn to both the grid created by the scaffolding and the colours, structure and different qualities of surrounding signage – road signs, pedestrian barriers, contractor signs – which are an integral part of the restoration," she says.
Hopkins was also interested in the shape of the space in which the work is sited. This loading bay, a defined area that is trapezoid in shape, has the quality of a stage or arena, and also a barrier and demarcation between public and private space.
As part of the creative process she spent time observing and describing in words the pattern of movement made by workers on the scaffolding and people, materials and vehicles in the street around the building site. This process became almost a form of drawing in itself. During this observation she noticed there were patterns and rhythms, often repeated patterns.
These observations are encapsulated in a colourful artwork comprising a drawn grid structure with painted geometric shapes in blue, red and black. The shapes have been treated as units to be reordered, manipulated, disrupted, linked, repeated and mirrored to make a single dynamic form.
"The Mackintosh Building is a special place," says Louise Hopkins. "In its very particular current state, clad with scaffolding and netting, the usually immediately recognisable building is transformed almost to a state of non-recognition. It is inspirational especially in its current form as it undergoes restoration."
"Being able to make a work that responds to what is happening on site during the restoration has been important for me both because of the special qualities of the Mackintosh Building, and because of what that whole area of Renfrew Street demands in terms of its nature, scale and activity."
Background
Louise Hopkins is an artist and part-time lecturer in the GSA's School of Fine Art. Her practice involves working with what already exists in the world; making paintings onto surfaces that already contain information – such as world maps, patterned fabric and pages from books. Dance Number is her largest scale work to date. Hopkins is currently developing several large-scale works for outside locations.
Hopkins has exhibited widely overseas and in the UK. Earlier this year her work was included in NOW, Scottish National Gallery of Modern Art, Edinburgh. In 2015 a group of 7 works were included in Dévider le réel, at Les Abattoirs, FRAC Midi-Pyrenees. In 2014 she had a one-person exhibition 'Black Sea, White Sea' – part of GENERATION 25 years of Contemporary Art in Scotland. In 2007 she was one of 6 artists who represented Scotland at the 52nd Venice Biennale. In 2005 she had a major one-person exhibition 'Freedom of Information' at the Fruitmarket Gallery in Edinburgh.
Public collections include Jumex Collection, Mexico City; Museum of Contemporary Art, Sydney; MOMA New York, Musee Cantonal des Beaux-Arts, Lausanne; Arts Council of England, London and Aberdeen Art Gallery, Aberdeen
22 Apr 2016
Glasgow School of Art Campus Development Plans
Glasgow School of Art Campus Development Plans
Former "Junior Architecture" studio opened up in the strip out of the west wing. The restored Mackintosh Building will return to its original academic configuration as a home for all first year students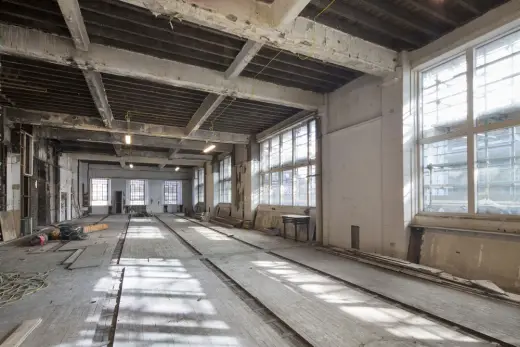 image : McAteer Photo
The Mackintosh Building News
Glasgow's Page Park Architects to Restore the Mackintosh Building
Glasgow School Of Art Links
Glasgow School of Art Competition
Glasgow School of Art Extension Building
Glasgow School of Art Refurbishment
Glasgow School Of Art Degree Show Review
Glasgow Mac Architecture Degree Show
Reid Building at Glasgow School Of Art by Steven Holl
Reid Building Glasgow School of Art



photo © Adrian Welch
Glasgow School Art Book



image from architect
Glasgow School of Art Proposal on TV



picture : Steven Holl Architects
Glasgow School of Art Extension
Glasgow School of Art Building
Date: 1897-1909
Architect : Rennie Mackintosh
Contact Glasgow School of Art: +44 (0)141 353 4526
Mackintosh Conservation & Access Project – Window on the Mac


Art School interior photo : Andrew Lee
Glasgow School of Art Architect : Charles Rennie Mackintosh
Address: GSA, 167 Renfrew Street, off Sauchiehall Street, Glasgow, Scotland
Glasgow Walking Tours – best of Scottish Architecture


Glasgow School of Art entry facade – image from Mackintosh Tours 2004



Glasgow School of Art phase 2 building – west view ; southwest – photos © Adrian Welch
Glasgow School of Art context : Sauchiehall Street Buildings
Historic Glasgow : best Glasgow architecture of the past
Comments / photos for the GSA Mackintosh Building Artwork page welcome.
Mackintosh Building Artwork Building – page