Efficient Home Heating Advice, Green Homes Grant Scheme Help, Homeowners incentive money tips
A Beginner's Guide to Efficient Home Heating
21 Sep 2020
With the Green Homes Grant scheme providing homeowners with an added incentive to invest in the future of their homes, interest in home heating improvements has never been higher. But what exactly makes for an efficient heating system, and what should we consider when evaluating changes to a new or existing home? Let's run through the problem, step by step.
Where are you Starting From?
Every home is different, and thus it's difficult to make broad recommendations. A home is only as energy-efficient as its weakest point, after all; if the seal on your double-glazing has failed, then there's little point in replacing the boiler.
So, how do you know where your weaknesses are? Fortunately, there's a solution in the form of an Energy Performance Certificate. If you're considering a new property, this document will provide a rough overview of which improvements will yield the biggest improvement.
Boiler Replacements
A boiler that's old isn't just likely to be inefficient; it'll cost you more in repairs, too. Talk to your boiler installer about what sort of boiler is the best match for your home. Bear in mind that certain engineers are given financial incentives for installing certain brands of boiler, and thus their recommendation might be taken with a pinch of salt. Most modern boilers today are combination boilers. This basically heats water as it's required, and thereby eliminates the need for a large hot-water tank.
If you're replacing a boiler, then you'll want to be sure that you're covered against possible breakdown in the future. Warrantywise provides cover for every gas boiler model up to fifteen years old, with no compulsory excess.
Alternative Fuel Sources
According to a report from the CBI, all new gas boilers must be banned from 2025 if the government is to meet its emissions target. With most of the country's electricity still coming from non-sustainable sources, a logical alternative is a ground-source heat pump. This is a device which draws heat up from the earth and uses it to heat the home – and which the exact opposite during summertime.
At the same time, boiler manufacturers are rushing to adapt to the coming challenges. Worcester Bosch and Baxi are already at work on hydrogen-based alternative boilers. Hydrogen could be transmitted via the existing gas network – but making the transition will require a gradual change.
Insulation
Of course, however efficient a boiler might be, it's best used in a well-insulated home. Let's look at some effective measures.
Cavity-wall insulation
Not all walls in the UK have cavities. Those that do should be insulated. This will markedly limit the transmission of heat from the interior of the home to the exterior.
Double-glazing
Windows are naturally a point of weakness as far as energy-efficiency is concerned. A double-glazed window will insulate better than a single-glazed one. If you're in a period property, double-glazing might not be allowed; look into secondary glazing instead.
Loft Insulation
A sizeable portion of your property's heat will travel straight up and out through the roof. A generous layer of loft insulation will prevent this.
Comments on this Beginner's Guide to Efficient Home Heating advice article are welcome.
Glasgow Buildings
Prince & Princess of Wales Hospice Building
Prince and Princess of Wales Hospice Glasgow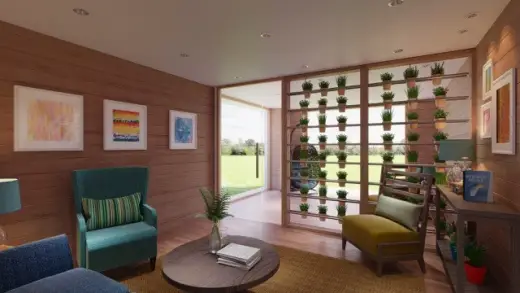 image courtesy of architects
Maggies Glasgow by Page & Park
Comments / photos for the A Beginner's Guide to Efficient Home Heating page welcome.