House for an Art Lover Scotland, 20th Century Glasgow architect guide, Mackintosh architecture photo
Glasgow's Hidden Art Nouveau Interiors
Charles Rennie Mackintosh Building in Bellahouston Park, Strathclyde, Scotland
1 Dec 2015
Glasgow's Hidden Art Nouveau Interiors
The Glasgow Style is a major component of what makes architecture in this city so unique, and this can be seen not only in the exterior of famous buildings like The Lighthouse and the Glasgow School of Art, but also within their hidden interiors. A number of artists and architects flocked to Glasgow at the end of the 19th century, when the Art Nouveau style was flowering in its prime. As a result you'll see some hidden interiors that still reflect this ornate, organic design style, particularly in the West End and Southside.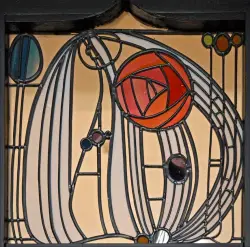 image source: By dalbera from Paris, France, via Wikimedia Commons
Glasgow's Hidden Art Nouveau Interiors – Designs
Sloan's Café Bar
One of the most well-known interiors is located at Sloan's Café-Bar, which is thought to be the oldest public bar in Glasgow. It dates back to 1797, but was given a delightful Art Nouveau redesign at the turn of the 20th Century. Exquisitely detailed stained glass and ceramic tiles were added to modernize the café. This Art Nouveau style of tile flooring is still used by a number of designers today, and the interior also features warm wooden accents and unique lighting fixtures.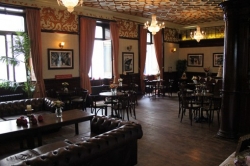 image source: Sloan's Glasgow
YCSA Offices, Darnley Street
One of the city's most striking Art Nouveau interiors is tucked away in residential Pollokshields. It was designed by DB Dobson from Gordon & Dobson in 1901, and is located on Darnley Street. Once a publishing office for art publishers Millar and Lang, the interior of this unassuming building includes a stained glass door upon entry, including whales, dolphins, and colourful mermaids. And the marble dragon with electric eyes in the bathroom must be seen to be believed.
The Mackintosh House
While the interiors mentioned above are working commercial establishments, if you want to see a perfectly preserved interior you can also head over to the Hunterian Art Gallery to see a reassembly of Charles Rennie Mackintosh's home. It may not be exactly hidden, but it gives you a strong sense of what this style was all about from one of the masters of the movement.
Although the original house was demolished in the 1960s, all of the details were moved to this new, perfectly preserved location. The architects were very careful to try and replicate the same sequence of rooms and lighting effects, so that you can see the same authentic furnishings, curtains, and ornamentation. Of course, you can also visit House for an Art Lover or the Willow Tea Rooms for more of the same!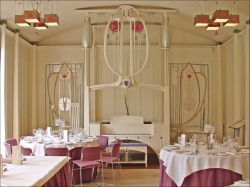 image source: By Jean-Pierre Dalbéra from Paris, France, via Wikimedia Commons
There are hidden Art Nouveau gems all over Glasgow, which is part of what makes wandering through the city so great!
House for an Art Lover
Location: Bellahouston Park, Glasgow, Scotland, UK
Charles Rennie Mackintosh building constructed to his original plans in Bellahouston Park, Glasgow. Designed in 1901.
The House for an Art Lover resulted from an architecture competition design by Charles Rennie Mackintosh.
House for an Art Lover by Charles Rennie Mackintosh in Glasgow: built on the former site of Ibrox Hill House in 1989-96 with the assistance of Glasgow City Council. Graham Roxburgh and architect Professor Andy Macmillan were instrumental in creating Charles Rennie Mackintosh's House.
Mackintosh's entry (submitted under the pseudonym Der Vögel (`The bird`) was disqualified due to being incomplete on the deadline. On resubmission Charles Rennie Mackintosh received an honorary award due to his house's originality. The Art Nouveau house designs were published in 1902 and exhibited at the International Exposition in Turin.
House for an Art Lover architect : Charles Rennie Mackintosh

Glasgow Rennie Mackintosh Buildings
Key Charles Rennie Mackintosh works in Scotland – selection:
Glasgow Architecture
Major Strathclyde Building Designs – selection:
Glasgow Transport Museum



photograph : Alan McAteer
Historic Glasgow : best buildings of the past
Burrell Collection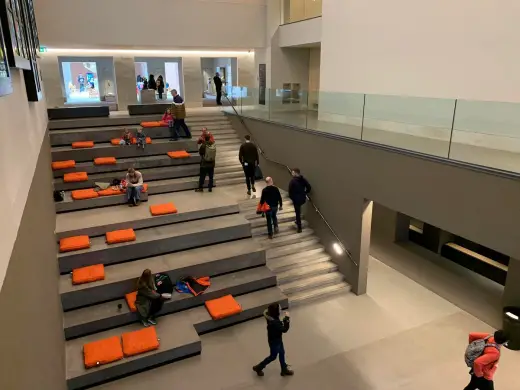 photograph © Adrian Welch
Burrell Museum – just south of House for an Art Lover
Comments / photos for the Glasgow's Hidden Art Nouveau Interiors page welcome