Scottish Building Exhibition, Venice Biennale, Italy, Show, Publication
Landforms : Exhibition of Scottish Architecture
Architecture in Scotland – Landforms
Landforms Exhibition
Architecture in Scotland 2002-04 Exhibition
The Lighthouse, Glasgow was from 18 Sep
Architecture in Scotland 2002- 2004 publication launch, 23 Sep 2004
Architecture in Scotland review copies available from 25 Aug
by Titan Crane
Architecture in Scotland information:
The Lighthouse, Scotland's national Centre for Architecture Design and the
City, today confirmed details of the three major international exhibitions it will be staging next month as part of its fifth anniversary celebrations, and the publication of its latest survey of Scottish Architecture. The programme will begin in Utrecht on 3 September and culminate in Glasgow on Thursday 23 September, with the centrepiece being Scotland's first dedicated exhibition in the official Pavilion of the Venice Architecture Biennale.
Announcing the programme Dr Stuart MacDonald, director of The Lighthouse, said: "What has emerged through The Lighthouse's investigations of post devolution architecture is that any appreciation of it is nuanced. Perhaps because it lacks a single, coherent narrative that dictates how it should be understood, there is space for imagination and creativity. Our architects are now populating that space. They are also clearly aware of continuity; the on-going relationship between Scots and their topography, which is so intimate, is fundamental. Indeed the Scots and their stones might be said to form a single cultural landscape. We therefore need to study, examine, analyse, discuss, and learn more about this relationship.
These exhibitions and publication offer the chance to mine the rich seam that is contemporary architecture in Scotland."
The international programme opens with the unveiling at
Architectuurcentrum Aorta, Utrecht of a new, smaller-scale, version of The Lighthouse's international touring exhibition, Landforms. Meanwhile, the main Landforms exhibition, which features 17 ground-breaking Scottish developments commissioned or completed since devolution, opens on Friday 10 September. This will form the Scottish showcase in the Artiglierie of the Arsenale at the 2004 Venice Architecture Biennale – the first dedicated Scottish exhibition in the main Pavilion. Both exhibitions have been designed by Glasgow-based practice NORD architects. Key buildings featured include An Turas, Dance Base, Falkirk Wheel, Loch Lomond Gateway, Mount Stuart, Museum of Scotland, Scottish Parliament Building and Tigh na Drochaide.
On 18 September 2004, a major exhibition, Architecture in Scotland 2002-2004 opens in Glasgow. Designed by Chris Stewart Architects, it showcases around 40 keynote buildings created in Scotland by 30 different architects practices since 2002. The developments range in size from major projects such as The National Galleries of Scotland Playfair Project and the Scottish Parliament to small-scale residential designs, and feature a variety of uses from domestic to commercial, medical, educational and leisure. Together the projects represent a £600+ million investment.
Featured practices and buildings include: Allan Murray Architects; Charles Jencks with Terry Farrell Partners (Gulbenkian Prize winning, Landform UEDA, Edinburgh); Dualchas Building Design, Frank Gehry & Associates Inc. (Maggie's Centre, Dundee); Gareth Hoskins Architects Ltd; Gordon Murray and Alan Dunlop Architects (Radisson SAS Hotel, Glasgow); jm architects; Malcolm Fraser Architects; PagePark Architects; Richard Murphy Architects and Reiach and Hall Architects.
The associated publication, with introduction by Stuart MacDonald and a series of authoritative essays by leading architects and commentators, will be launched on 23 September. 2004 Contributing writers include Malcolm Fraser, Gordon Murray, Deyan Sudjic and Terry Farrell. Review copies available from 25 August 2004.
The Lighthouse Opening Hours
The Lighthouse, 11 Mitchell Lane, Glasgow G1 is open Mon, Wed – Sat from
10.30am – 5pm, Tue from 11am – 5pm and Sun from 12 noon – 5pm.
Individual tickets giving access to all areas of the building are priced £3 adults, concessions and children from £0.80. A range of membership and multi-visit tickets also available. For further information on The Lighthouse call + 44 (0)141 221 6362. Free access on 18/19 September during Glasgow Doors Open Day.
The Landforms exhibition in Utrecht is part of the Scottish Executive Scotland in the Netherlands initiative. The Scottish Pavilion at the 2004 Venice Biennale is supported by the Scottish Executive. The Architecture in Scotland 2002-04 exhibition and publication form part of The National Programme for Architecture, an on-going series of events and initiatives led by The Lighthouse that is delivering a number of the objectives of the Scottish Executive's Architecture Policy.
Architecture in Scotland PR issued 18 Aug 2004 on behalf of The Lighthouse by New Century PR.
Landforms 2: Architectuurcentrum Aorta, Utrecht
Landforms: Scottish Pavilion, Artiglierie of the Arsenale, Venice Biennale
Landforms designed by NORD.
Venice Architecture Biennale 2004: Artiglierie of the Arsenale
The centrepiece of the Landforms exhibition is a datum bench – an accurate representation of a topographical section (or slice) through Scotland from Strathey Point in the north to the Solway Firth in the south – constructed from slices of Douglas fir. Featured projects are related to the datum bench according to their longitudinal and latitudinal co-ordinates.
The Lighthouse Sust re:motion
Sutherland Hussey Architects: Sutherland Hussey Remotion

re:motion PR by Sutherland Hussey
The eight practices in Re:Motion are:
Sutherland Hussey Architects
Gareth Hoskins Architects
Page and Park Architects (with Miles Glendinning)
NORD (Northern Office for Research and Design)
Gross Max Landscape Architects
McKeown Alexander PJMP
Dualchas Building Design
Bennetts Associates Architects
Re:Motion won a Roses Design Award Oct 2003.
Re:Motion Touring Venues
May – Jun 2003: International Architecture Biennale, Rotterdam.
Jul – Feb 2004: Loch Lomond and the Trossachs National Park, Lomond Shores, Balloch.
Feb – Mar 2004 :The Lighthouse, Scotland's Centre for Architecture, Design and the City, Glasgow.
Landform – Charles Jencks, Scotland
RE:Motion
Images from the Lighthouse's RE:Motion Exhibition at the Rotterdam International Architecture Biennale, being held in Holland at present. The Exhibition, curated by The Lighthouse & designed by Graven Images, includes exhibition material by:
Gross Max
Gareth Hoskins Architects
[NORD] Dualchas Building Design
Bennetts Associates
McKeown Alexander
Page & Park
Sutherland Hussey Architects
Landforms, Venice Architecture Biennale : Roses Design Awards 2005 – Exhibition
Design: Silver
Venice Architecture Biennale 2008
Location: Glasgow, Strathclyde, southwest Scotland, United Kingdom
Glasgow Landscape Architecture
Glasgow Building Designs
Contemporary Glasgow Property Designs – recent architectural selection below:
Ingram Street Property Development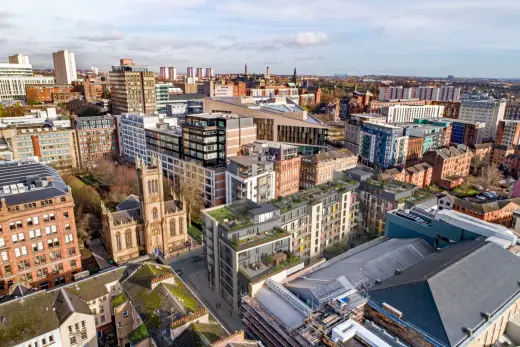 image courtesy of Artisan Real Estate
65-97 Ingram Street Glasgow
HMP Glasgow Masterplan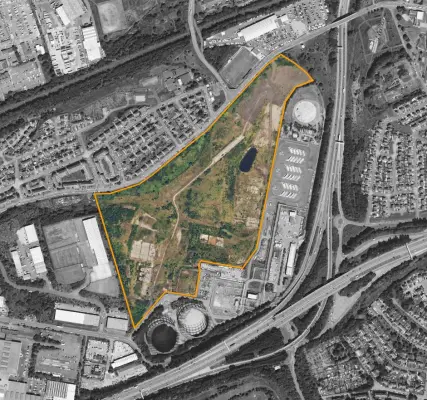 image courtesy of architects practice
HMP Glasgow Masterplan : Barlinnie replacement
Comments / photos for the Landforms Exhibition Architecture page welcome