Hazelwood School, Glasgow City Council, Photos, Alan Dunlop Building, Special Needs Design, Award News
Hazelwood School, Glasgow
Dumbreck school for Glasgow City Council – Special Needs education design by architect Alan Dunlop
4 Oct 2017
HundrED Listing for Hazelwood School, Glasgow, Scotland
HundrED Global 100 Inspiring Innovations launch today 4th October 2017
Professor Alan Dunlop FRIAS FRSA
The multiple award-winning Hazelwood School, Glasgow by Alan Dunlop Architect was today included among an international list of "Inspiring Innovations in Education" 100 Global Inspiring Innovations of 2017 by HundrED.
Hazelwood School Glasgow listing by HundrED


photograph : Andrew Lee
Hazelwood School News
100 inspirational education projects and initiatives from over 40 countries worldwide; including Australia, USA, Canada, Africa and China are listed. However, Hazelwood is the only school building project in the United Kingdom and internationally to be so recognised and the only school project in Scotland.
https://hundred.org/en/articles/our-approach HundrED is a part of Finland's 100th anniversary celebrations of 2017.
https://hundred.org/en/articles/hundred-2017-global-list-of-inspiring-innovations
https://hundred.org/en/articles/hundred-s-innovation-summit-celebrates-100-ways-to-transform-global-education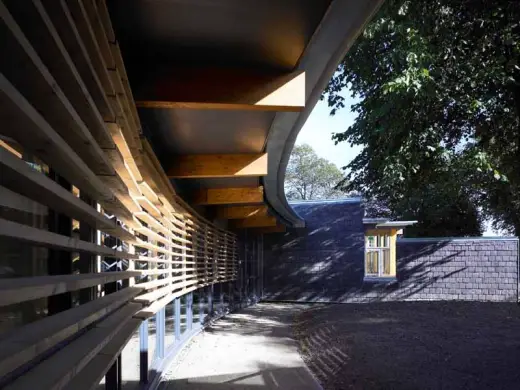 photograph : Andrew Lee
"The ones that made the list had to adhere to strict search criteria. Our in-house research team analysed them to find out if they were addressing a problem from a new perspective, if they provided real impact, and if they could work somewhere else and scale. Over 1000 innovations were researched and interviewed by our expert researchers and then analysed further by our academic advisory panel. The range of the innovations chosen span 41 countries.
The launch event, held in Helsinki on October 4th, is followed by a Summit where the innovators present their ideas to each other, contribute to panel discussions, and receive a huge thank-you from us for innovating education!"
page updated 25 Sep 2016 with new photos
Hazelwood School Glasgow
Hazelwood School, Glasgow, Scotland
16 Sep 2016 – Three articles from the USA and UK, all recognised and featured this school in Glasgow as among the world's best.
It appeared on the 15th of September in a CNN broadcast about the American Institute of Architects 8 world best school designs.
On the 13th the building was noted by The Smithsonian Institute in New York in a Q+A on best classroom design for the 21st Century.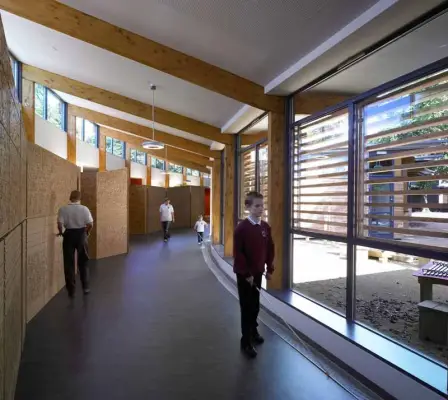 photographs : Andrew Lee
Last week the RIBA listed Hazelwood as one of the top five school buildings in the world.
Previously:
new aerial photo, 26 Sep 2011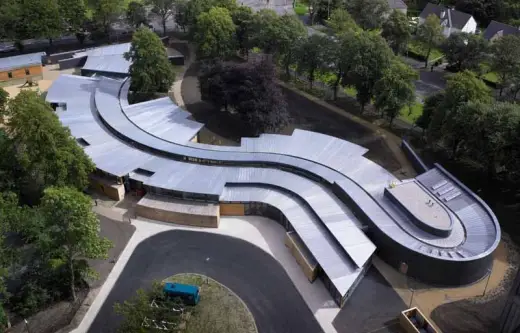 photograph : Andrew Lee
Hazelwood School – TV Appearance
The Designed World
Programme just produced by the BBC on design and craft, initially for their education unit (but soon to be broadcast nationally), in which the Hazelwood School features prominently. The programme is an hour long, the section on Hazelwood starts at 53.30 and runs to the end.
http://www.bbc.co.uk/iplayer/episode/b00l17v1/The_Designed_World/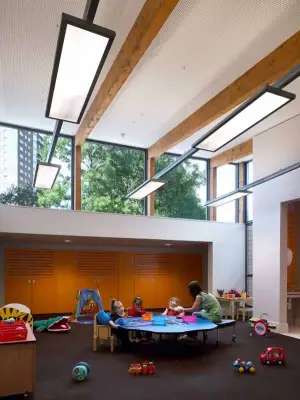 photograph : Andrew Lee
Hazelwood School – Award Shortlists + Results
Jun 2009:
British Council for School Environments Awards
Hazelwood School won one of the top awards for Inspiring Design
gm+ad Highly commended as Best School Architects
Hazelwood was the only Scottish school to win any award and we were the only Scottish architects listed as Best School Architects.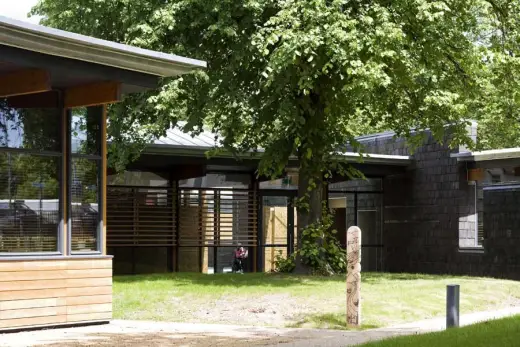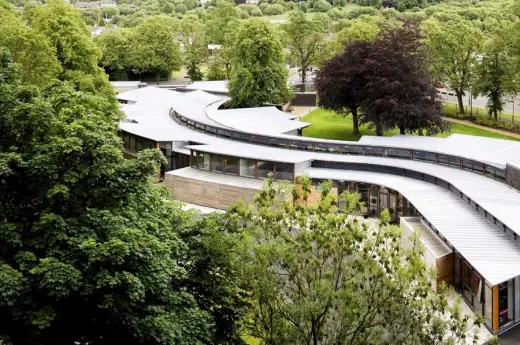 photographs : Keith Hunter
Featured in Phaedon's 21st Century Atlas
Included in the top five "Schools of the 21st Century" by Architectural Record Magazine, USA
RIAI Awards 2009 Shortlist
May 2009:
WAN Education Award 2009:
High commendation and second placing
"Receiving a high commendation from the jury was Hazelwood school in Glasgow, Scotland. Already the recipient of numerous awards, this special needs school was commended for its tactile and innovative use of materials and proved a tough contender to the Technical College." Judges comments
Apr 2009:
International Design Awards from Los Angeles: Second place winner



Hazelwood School photos : Keith Hunter
Apr 2009:
The British Council for School Environments shortlist for its 2009 awards:
Hazelwood School listed in two categories: Inspiring Design (only two Scottish Schools) and Best School Architect (only Scottish Architect)
Hazelwood School – Best New Building in Scotland
The Architecture in Scotland Annual ran a poll to identify Scotland's best new building of 2008. By a huge margin gm+ad's Hazelwood School for the sensory impaired picked up the honour. "It is in the delivery of public service, however that any such project must be measured and in this Hazelwood really excels". Gordon Young Editor, Prospect
"Hazelwood is a beautiful building in which to work and learn. As soon as you enter you feel the vibrancy and sense of warmth that the building exudes." Monica McGeever, Headteacher, quoted in The Herald




Hazelwood School photos : Keith Hunter
Hazelwood School – Scottish Government Report
Scottish Government website report on the Hazelwood School:
http://www.scotland.gov.uk/Topics/Education/Schools/Buildings/CaseStudies/
Glasgow/hazelwoodschool/design
Hazelwood School – US School designer newsletter Issue 23
(goes to all architects involved in school design, universities and all local governments in the USA):
The United States isn't the only country in which architects, school designers and others are championing high-quality school design that meets students' needs.
Article by Ellen Kollie
The word is getting out that a school's design affects students' ability to learn. As a result, in the United States, we're starting to see schools designed to meet students' needs. Not surprisingly, this trend isn't limited to the States. Schooldesigner.com recently learned about efforts to improve school design in the Middle East and Scotland.
Where Things Stand Today
Ahmad El Shawy, chairman and managing director of Cairo, Egypt-based Talimia/Edu-Fun, admits that school design is not a priority in his country and region. Still, he notes that this is just beginning to change. This is based, in part, on his firm's continual championing of high-quality design.
"I always mention in my meetings and lectures," says El Shawy, "that we have so many ugly schools. This shows we do not care about the students, who spend 12 to 15 years in them. I always ask the owners, decision makers, and architects, 'Is this the best you can do?'"
In Scotland, the importance of school design is complex. Alan Dunlop of Glasgow, Scotland-based Gordon Murray and Alan Dunlop Architects, observes that good architects recognize the significance of school architecture. "Good school design is important for children," he notes, "for it says: 'You are our future, and we recognize that you are special.' It's important for teachers, for it places a value on them and helps to motivate. A well-designed school can reduce the burden and pressures of teaching. It helps parents, for it conveys the clear message that they deserve our respect."
Still, Dunlop recognizes that school architecture is not always so important to the national government, other than as a political issue. New schools have to be provided, but present a financial challenge. "To many in government," he says, "a school is just another public building that has to be delivered, not something special that will impact the wellbeing of teachers and children. A classroom is nothing more than four walls and a roof to keep the rain out. This is a great pity."
In the United Kingdom (U.K.), major public projects, including schools are procured generally using Public Private Partnerships (PPP). "Private construction companies and specially formed consortia build the schools and rent back to the local government through a 30-year period," says Dunlop. "The local government essentially has a mortgage on their schools, and they get grant assistance from the national government. The trouble is that this procurement process has resulted in pedestrian architecture driven by bottom-line economics and has resulted in some of the poorest new school design."
Working to Make a Difference
Both of these firms are working to elevate the importance of school design for their nations and even internationally. Talimia/Edu-Fun was established in 1987 as the first Egyptian company in the Middle East to produce and sell educational materials, including nursery, kindergarten and educational furniture; educational toys; and indoor/outdoor play equipment. The firm also has experience with school design, taking note of the purpose of the building and occupant comfort, among other things.
The firm always tries to raise the awareness of the importance of a good learning environment and its direct effect on education. "We do this with architects, decision makers, and the direct users," says El Shawy. "We participate in educational fairs and exhibitions and educational conferences, as well as place articles in magazines. We feel that the message is getting out and slowly things will improve, but not as fast as it is needed and, most importantly, not as fast as is needed for developing countries."
Gordon Murray and Alan Dunlop have been practicing architecture together for 10 years, winning more than 25 national and international awards in that time.
The firm promotes the importance of excellent school design through the national press (including television and radio), in professional journals, and by lecturing at and taking part in conferences where school design is promoted. "It has been a struggle," Dunlop admits. "The national government counters by saying that the teachers who move into new PPP schools are happy and often praise the new school environment. This is perhaps because the schools they left were often dilapidated; many of them were 100-year-old Victorian stone buildings that have outlived their time."
Coming Together
Both firms also are seeing architects, decision makers, product manufacturers and educators coming together to raise an awareness of the importance of education facilities.
In the U.K., organizations like the British Council for School Environments are bringing architects, teachers, and local government representatives together to discuss school design and are lobbying national government. "Together," says Dunlop, "we are beginning to have a positive effect. This new tranche of PPP school projects are not as awful as the first. Local authorities have become better skilled at negotiating commercial contracts. People have become scandalized with the amount of money the consortia are making and the poor quality of the school environments they previously delivered.
"Consequently, pressure is being applied to national government to alter the way we procure our schools but, for national government to change policy and place more emphasis on the significance of good school design, takes time."
Similarly understanding that elevating the importance of school design is a process that takes time and effort, especially when officials turn a blind eye to the issue, El Shawy notes that his firm is staying the course as a measure of raising awareness. "In our 20 years experience," he says, "we have proven that school design can be different. We have proven that an excellent school building has a positive effect on the users and creates a good learning environment."
What Does the Future Hold?
While El Shawy maintains hope that architects, designers, owners, and administrators will make a commitment to school architecture in the future, he observes that many once-developing countries (i.e., Korea, Singapore, and Malaysia) are not currently committed to the development of education. He voices his concern: "It is important to understand that educational buildings and school design is a major part of this needed development. You cannot achieve good development in education without taking care of the learning environment."
Dunlop, too, has hope for the future. "As an architect committed to promoting high-quality school design, I have to remain optimistic," he says. "I genuinely believe that prospects are good." With projects achieving international success and organizations that promote school design, he believes that school design is being recognized as a fundamental issue and important to many people. "As long as this continues, the greater chance there is of improvement," he concludes.
Hazelwood School Building : further information on this special needs school building
Hazelwood School Photos
Photographs by Andrew Lee of completed building from Alan Dunlp Architect 28 Sep 2007:


photograph : Andrew Lee
Shortlisted by the Royal Incorporation of Architects in Scotland for the Andrew Doolan Award. The award is for the Best Building in Scotland in 2007 and is the biggest in the UK.
Dumbreck School : Background info on this school
Hazelwood School concept drawing by Alan Dunlop:



image from architect
21st Century Scottish Schools – RIAS
Comments / photos for the Hazelwood School Architecture design by architect Alan Dunlop page welcome