Glasgow Architecture Talks 2016 – 2017, Strathclyde Building Events, Scottish Architects Design
Glasgow Architectural Events 2017 – News
Strathclyde Architecture Talks + Exhibitions – Western Scotland Construction Lectures
Glasgow Architectural Events 2017 Archive
Archive from 2016 to 2017:
Exhibition – Housing Crisis. Housing Opportunities, Aberdeen
14 – 22 Dec 2017 5.00pm – 10.00pm
Venue: Scott Sutherland School Reception, Sir Ian Wood Building, Robert Gordon University, Garthdee Road, Aberdeen, AB10 7GJ
Cost: Free
Stage 5 Architecture students have created an exhibition covering a variety of issues affecting Scotland today.
Each unit has created their own investigation on their chosen area, which range from the rural Northern islands of Scotland to the densely populated urban cities in the central belt.
Resource Efficient Scotland – New Model Procurement Requirements
5 Dec 2017
Glasgow Architecture Event
Date: 5 December
Time: 9.00am – 11.30am
Venue: Construction Scotland Innovation Centre, Unit 3B, 3 Watt Place, Hamilton International Technology Park, G72 0AG Glasgow
Cost: Free
By attending this free, half day event, you will receive an insight into the forthcoming model procurement wording for waste, hear why major clients build waste reduction into their procurement processes and what your business needs to do to ensure that you meet these requirements.
This event should be attended by:
• Procurement managers
• Contract managers
• Sustainability managers
Glasgow's Britannia Panopticon & West Boathouse
2 Dec 2017
Glasgow Architecture Visit
Date: 2 December
Time: 11.00am – 1.00pm
Venue: meet at McLennan Arch, Saltmarket entrance to Glasgow Green, Glasgow G1 5JZ
Cost: £7, Concession £5
SPAB Scotland is organising a visit of the spectacular Britannia Panopticon Music Hall and the 'cute' West Boathouse, before heading to Glasgow's Christmas Market.
Built in 1857, the Britannia Panopticon, on Trongate, "is an exceptionally rare survival of a music hall and … the earliest and sole surviving example of its type in Scotland" -possibly even the earliest in Britain- as the listing description for this heritage-designated building (Category A) notes. The West Boathouse, in Glasgow Green, dates from 1905 and is now Category B listed.
The boathouse is a "by far the largest" of this "rare building type in Scotland". For both buildings, conservation works are under preparation, and we will learn more from the professionals involved about their challenges and concepts when planning the works. After the building visits, we will head to the Christmas Market to celebrate (a day early) the start of the Advent season.
GSA Exhibition – Anatomies of Architectural Form
4 – 26 Nov 2017
Glasgow Architecture Exhibition
Date: 4 – 26 November
Time: 10.00am – 4.30pm
Venue: Reid Ground Floor Corridor, Reid Building, The Glasgow School of Art, 164 Renfrew Street, Glasgow, G3 6RF
Cost: Free
This is an exhibition celebrating 25 years of precision model-making in the Mackintosh School of Architecture (MSA).
The models form one option within the Stage 4 Research project as part of a self- directed studies project carried out by the students, in a topic of their choice, with contributions from their Academic supervisor and undertaken with the guidance, close supervision and assistance of Suzanne Dunscombe, Architectural Modelmaker.
Over the 25 years in which these have been produced at the Mackintosh School of Architecture, many models have been achieved to the highest industry standard contributing towards various exhibitions. This particular exhibition invites you to see 25 carefully selected models of buildings by various renowned architects as well as equally inventive independent models, driven by the individual student's determination and drive to creatively fulfil an inventive idea.
Seminar – Community Land Ownership for Land Professionals
28 Nov 2017
Date: 28 November
Time: 12.00 noon – 4.30pm
Venue: 125 Princes Street, Edinburgh EH2 4AD
Cost: £45
Community Land Scotland is holding a seminar aimed at land agents, chartered surveyors, solicitors, accountants and other professionals that work with landowners an update on community landownership in 2017.
The event will:
– provide information on the work of community landowners and opportunities for other landowners to sell or gift land to communities
– provide information from the Scottish Government Community Land Team about the wider policy environment and how this is affecting community landowners
– help dispel any myths or misconceptions regarding community land ownership
– allow discussion on Land Reform
– discuss the Scottish Government's aim to double the amount of land in community ownership to 1 million acres by 2020
– allow questions to be asked of community land owners
– provide networking opportunities
As a land professional in Scotland, we hope that this event will give you the opportunity for business growth in an emerging sector and a good understanding of the advisory/support requirements of the community land sectors.
A soup & sandwich lunch will be provided on arrival.
GIA Design Awards 2017 Dinner
10 Nov 2017
Entries to the GIA Design Awards have now been submitted.
The annual GIA Awards are recognised at local and national level and are one of the main highlights of the annual GIA programme.
The Supreme Award winner, Awards winners and Commendations will be announced at the GIA Annual Members Dinner on 10th November 2017.
Date: 10 November
Time: 6.30pm
Venue: Òran Mór, Byres Road, Glasgow G12 8QX
Cost: £70, table of 10 £650
The GIA Design Awards are presented on the evening. The annual GIA Awards are recognised at local and national level and are one of the main highlights of the annual GIA programme.
Headline Speaker:
This year the headline speaker is Russell Wardrop, co-founder and chief executive of Kissing With Confidence. For 17 years he has delivered training at the highest levels and he is now a leading business speaker.
A former academic and award winning architect, he has a passion for continuous personal improvement through behavioural change and tough love. He has a keen interest in political oratory and has appeared on television on a number of occasions, offering critiques of high profile debates and political speeches.
All Award entries can be viewed in the new GIA website.
GIA CPD Event 4
15th November 2017
The liquorice all-sorts of the life of an architect – personal reflections and case studies.
In this session, Rob Campbell, a Technical Director with HKA and a chartered Architect specialising in dispute resolution and expert witness work will discuss his experiences in practice both in architecture and expert witness work.
Spaces of Justice Symposium, Glasgow School of Art
23 Nov
RIAS is seeking nominations to attend the Spaces of Justice Symposium on Thursday 23rd November, 10am-4pm, at the GSA. Please contact Karen Stevenson if you would be interested in attending.
Presentations on the day will include talks on the tradition and future of the courthouse, its design and its use, from:
• a senior advocate,
• a member of the judiciary,
• academics in the fields of law, architecture and urbanism,
• lawyers,
• the Built Environment Forum for Scotland,
• the Scottish Court and Tribunal Service
• and also from the architects -Reiach and Hall – who are currently designing Scotland's first new Justice Centre in Inverness.
There will be a guided tour of the new Reid Building by way of it representing a comparator major building procured for the public sector, and there will also be presentations by artists who have engaged with the notions of law, justice and the trial.
GIA – Scotland Build 2017
Date: 22-23 November
Time: 9.30am – 5.00pm
Venue: SECC, Exhibition Way, Glasgow, G3 8YW
Cost: Free
Free to attend, Scotland Build is attended by the country's 'movers & shakers' in the UK's construction industry from: tier one contractors, subcontractors, builders, developers, local councils, housing associations, government, architects, solution providers and more.
Over the two days there will be with 80 top level speakers, five summits: Future of Construction, BIM & Digital, Architecture, Sustainability and Infrastructure, CPD training workshops, 120+ exhibitors, VR & Digital Construction Trail, Architects Hub, Women in Construction Afternoon Tea, Meet the Buyers, the Christmas Market and Whisky Networking Garden, networking parties.
The Architect's Hub will feature over the two days, giving architecture firms an opportunity to proudly showcase their 3D models and designs – please contact the organisers for more information on how to submit your work.
The GIA is supporting the Architectural Networking drinks on the Wednesday afternoon.
Contract Administrations – SBCC/NEC – your questions asked
18 October 2017, 6:00 pm
at Maclay Murray & Spens LLP 1 George Square Glasgow G2 1AL
RICS Matric's Glasgow & West with Glasgow Institute of Architects offer this topical CPD suitable for anyone involved in Contract Administrations. Kindly hosted and presented by Maclay, Murray and Spens LLP, this CPD will offer answers to YOUR questions on Contract Administration related topics relevant to SBSS/NEC Contracts.
Following a full Q&A format, questions are to be submitted to: [email protected] by 29 September 2017 or as soon as possible thereafter.
A selection of questions will be addressed by the MMS Construction Team on the night. All questions will remain anonymous.
Places for the GIA at this event are limited to 35 so, once booked, please give advance warning if you are unable to attend.
Any queries, please contact [email protected]
Free event.
Specifi Glasgow Event
26th October 2017
Only 20 seats left.
Get yours now or lose out
Your pass gets you 3 events in 1:
TED-STYLE-TALK: The Water Sensitive City by Gary Grant
CONNECT: with 100 fellow landscape professionals
EAT & DRINK:
FREE 3-course dinner and FREE bar#
Where?
The Royal Concert Hall
Buchanan Galleries
2 Sauchiehall St
G2 3NY
When?
Thursday 26th October
4:30pm–11:30pm
GIA CPD Event 3
Architects Code of Conduct, common disputes and how to avoid them
25th October 2017
At CCA
In this session, Simon, Head of Professional Standards at the Architects Registration Board, will explain the relevance of the Architects Code of Conduct, discuss the common disputes architects become embroiled in, and suggest some simple steps as to how they can be avoided.
Royal Scottish Academy Metzstein Architecture Discourse 2017
2 Oct 2017
Event to be held at the following time, date and location:
Monday, 2 October 2017 from 18:30 to 20:30 (BST)
George Square Lecture Theatre
University of Edinburgh
EH8 9LH Edinburgh
United Kingdom
RSA METZSTEIN ARCHITECTURE DISCOURSE 2017
The RSA is delighted to announce that Sir David Chipperfield will present this year's event. Sir David is the first British architect to do so, and has a truly international practice, with buildings in Japan, Germany, Mexico, Korea and elsewhere, as well as in the UK. (His Hepworth Gallery in Wakefield has recently been recognised as one of the county's best.) In an interview, which will be published and available at the event, he talks about how he started, the problems that international investment creates in cities, and how to help people like modern architecture.
Now in its fourth year, the annual Royal Scottish Academy Metzstein Architecture Discourse was founded in 2014 in memory of Isi Metzstein (1928 – 2012), partner of the Glasgow practice of Gillespie Kidd and Coia, Professor of Architecture at the University of Edinburgh and Treasurer of the RSA. The proposition was simple: to bring to Scotland the world's best architects and thinkers and to invite them to give a discourse. Isi Metzstein was not just a remarkable architect and teacher he was perhaps for generations of students and architects who knew him above all an astonishing polemicist. Isi believed that architecture was its own discipline and subject to a logical and penetrating analysis. The inaugural Discourse in 2014 was Alvaro Siza from Portugal, followed in 2015 by Glenn Murcutt from Australia and in 2016, Peter Zumthor from Switzerland.
The RSA is indebted to the continuing support of the Scottish Governement.
The Royal Scottish Academy of Art and Architecture
RIAS strategy feedback workshop
Tuesday 3 October 2017- 18:00 – 20:30
At South Block
GIA/RIAS members discussion : to gather thoughts/critique, stimulate debate and collate ideas on the RIAS 5 years vision strategy
The Royal Incorporation of Architects in Scotland have prepared a draft five year strategy (2017-2022) which was reviewed by members of RIAS Council in June. A second draft of the strategy has now been prepared by RIAS consultant, Eleanor McAllister, following a review of RIAS endeavours since 2007.
The GIA are hosting a workshop event on Tuesday 3rd October to gather feedback on the current draft of the strategy from members of the profession within our Chapter. The event is free to attend but places are limited.
Tue 3 October 2017; 18:00 – 20:30, South Block, 60 – 64 Osborne St, Glasgow G1 5QH
Modernism in Scotland Exhibition
Date: 2 – 28 September
Time: Monday to Saturday 10.30am – 5.00pm and Sunday 12.00pm – 5.00pm
Venue: The Lighthouse, 11 Mitchell Lane, Glasgow, G1 3NU
Cost: Free
As part of the Festival of Architecture 2017 this exhibition showcases 34 post-war
Scottish modernist buildings, from St Peter's Seminary to the Forth Road Bridge, and has been compiled by final year students at the Scott Sutherland School of Architecture in Aberdeen. This collection of beautiful models and informative display panels, showcases an ambitious era of design, that propelled a generation of Architects careers.
For more information see Modernism in Scotland Exhibition at The Lighthouse
RIAS Festival of Architecture 2017
Sep 2017
FoA2017
The month of September will see the whole of Scotland celebrating Scottish Architecture, its legacy and in particular, this year's special theme, our homes, reports the RIAS.
Many different types of events will engage a wide audience throughout Scotland, from school groups to professionals, from the Capital to the islands. Some will be founded on participation and hands-on experience, some purely entertainment, others more educational and even challenging. Accessible, appealing and within reach of everyone, this Festival will ensure that people across Scotland become more confident about engaging with architecture and all aspects of the design of our public spaces.
If you have an idea how to support architecture and make it more accessible for the whole of Scotland, we want to hear from you! All events with an architectural theme will be considered, they can be of any scale and any format.
RIAS is providing the opportunity for events organisers to access support finance to enhance existing or create new activity, reflecting the themes and supporting the aims of the Festival. Applications must be made on the application form and submitted by email to the RIAS Festival of Architecture [email protected] by the 30th June 2017.
Check the new website for upcoming news: www.festivalofarchitecture.scot
GIA Annual Lecture 2017 – Richard Lavington
28th September -6:30pm @ St Vincent Street Church
London Mayor's 'Design Advocate' and co-founder of Maccreanor Lavington Architects will talk about the practice's residential and urban living projects from Europan to the Stirling Prize winning Accordia, both in the UK and internationally.
Richard has been appointed as a 'Mayor's Design Advocate' as Sadiq Khan sets our his vision for the future of London with the Good Growth by Design programme. He will be amongst a number of design advocates chosen to support the new initiative, including Peter Murray , David Adjaye, Wayne Hemingway MBE and Sadie Morgan.
Richard is a member of the Europan UK steering Group, a board member of Design for Homes and has served as a consultant architectural assessor to the Arts Council of England Lottery Fund. He is on the Steering group for the Housing Design Awards, is included on the panel of enablers for CABE and is member of the East of England Design Review Panel.
Tickets:
GIA Members £5
Non-members £7
Students £2
28th September – 6:30pm @ Glasgow City Free Church, 265 St Vincent Street, Glasgow, G2 7LQ
Day Conference and Evening Cultural Celebration : Patrick Geddes:'spirit-in-action'
23 Sep 2017
Speakers and Facilitators: Petra Biberbach, Lord Charles Bruce, Russell Clegg, Prof Bashabi Fraser, Dr Tom Kane, Roger Kelly, Prof Murdo Macdonald, Mike Small and Dr Ian Wight.
Venue: Sanctuary, Augustine United Church, 41 George IV Bridge, Edinburgh, EH1 1EL.
Date: Saturday 23 September 2017.
Time: Registration: 9.30am-10am. Day Conference: 10am-5.15pm.
Registration: 6.30pm-7pm. Evening Cultural Celebration: 7pm-9pm.
Event Description: This Day Conference and Evening Cultural Celebration will look at issues associated with Patrick Geddes, 'spirit-in-action', 'the place of spirit in his own work'. and 'the nature' of his 'spirit-at-work'. What is still to be learned, from Geddes then, for our work in the world today? Framed as 'a learning journey' or as 'an inspiration inquiry'… traversing 'the world without' and 'the world within'…, and the evening event will celebrate writings and creativity associated with the theme.
http://www.eicsp.org/events/event-details/474-day-conference-and-evening-cultural-celebration-patrick-geddes-spirit-in-action-23-september-2017
Doors Open Day at St Peter's Seminary
23 + 24 Sep 2017
Tickets for Doors Open Day at St Peter's will be released today at 10.30am, 29 Aug 2017.
Walked tours of the building will take place on 23 and 24 September. This is a rare opportunity to visit Scotland's most iconic modernist building in its raw and ruined state.
Built as a college to train Catholic priests during the 1960s, the Seminary was only in use for 14 years and has been abandoned for decades. It is celebrated worldwide as a masterpiece of modernist architecture and its decay has only added to its otherworldly charm.
About to be reclaimed by NVA as an arts venue and visitor attraction, this is your chance to visit St Peter's before construction begins.
Saturday 23rd and Sunday 24th September
Places are limited, advance booking essential
Doors Open Day at St Peter's Seminary
Join the conversation online using #DODStPeters
Take part in our Instagram competition to be in with the chance of winning a copy of St Peter's, Cardross. This new book by architectural historian Diane Watters tells the full story of the building for the first time, and includes a stunning photo essay by NVA's creative director Angus Farquhar.
To enter, simply upload your best shot of St Peter's to Instagram, mention the hashtag #DODStPeters in the caption and tag @stpeterscardross
Shortlisted entries will be featured on our Instagram account and the winner will be announced on 2 October.
Mailing address is:
NVA
2nd Floor
15 North Claremont Street
Glasgow, Glasgow G3 7NR
United Kingdom
GIA CPD EVENT – 2016 Award Winners Part 2
20 Sep 2017 6.00pm
Venue: Centre for Contemporary Arts, 350 Sauchiehall Street, Glasgow G2 3JD
Cost: £20
Short presentations from Architectural Practices on their 2016 GIA Award winning projects from the Education and Leisure/Art Categories.
https://www.eventbrite.co.uk/e/gia-cpd-series-2017-2018-season-tickets-36986859693
Doors Open Days Launch
1 Sep 2017
www.doorsopendays.org.uk
On Friday 1st September at 11.00 am the national Doors Open Days 2017 programme will be launched at the Botanic Cottage, Royal Botanic Garden Edinburgh.
All over Scotland, over 1000 buildings will be open and free to enter, many of them not normally open to the public and some opening for the first time. Castles, churches, mosques, museums, fire stations, offices, theatres and even a distillery are just some of the buildings taken part this year. Visit a pet hospital in Dundee, a police office in Aberdeen, a camera obscura in Dumfries, a reconstructed Iron-Age roundhouse in Whithorn, a smiddy in Stirling or a television studio in Glasgow – there is something for everyone! There are talks, tours, heritage trails and plenty more events for all ages. All the programmes can be found at www.doorsopendays.org.uk
Doors Open Days 2017 in Scotland
Cosmic Collisions – Exhibition
Venue: MERZ Studio, Queens Road, Sanquhar, DG4 6DH
Cosmic Collisions, Birth, Rebirth and the Universe
A collaborative exhibition exploring Cosmic Collisions in new and unexpected collisions of art,
architecture and the cosmos. With Charles Jencks, Carlos Frenk, Daniel, Noam and Rachel
Libeskind.
23 June – 10 September 2017, 11am-5pm, closed Tuesdays & Wednesdays.
Daylight on Tour: Design a Brighter Future by VELUX® Modular Skylights
30 August 2017
Architects and window installers are invited to attend a breakfast event that challenges the use of daylight to transform homes and schools into sustainable and healthy indoor learning environments.
Hosted by roof window manufacturers VELUX®, the elite of architecture and design will discuss the findings from research by The University of Salford that natural light and fresh air can speed up learning.
Speakers include Professor Peter Barrett of The University of Salford, Laura Phillips, Associate Director at BuroHappold Engineering, Clara Garriaga, Associate Director at Holmes Miller.
The free event is at The Lighthouse, 11 Mitchell Lane, Glasgow on Wednesday 30 August from 8am to 10am.
Scottish Heritage Angel Awards 2017 – Call for Nominations
Entry Deadline: 11 Aug 2017
Nominations have opened for the third Scottish Heritage Angels Awards in a bid to find those groups and individuals – or 'Angels' – who have played a special part in caring for, recording and celebrating the nation's historic environment.
This year, a brand new set of categories have been introduced for the Scottish Heritage Angel Awards. They are:
* Best Rescue of a Historic Building
* Best Contribution to a Heritage Project by Young People
* Best Craftsperson or Apprentice on a Heritage Rescue or Repair Project
* Best Rescue, Recording or Interpretation of a Historic Place
Launched in 2014 and funded by the Andrew Lloyd Webber Foundation (ALWF), and run by the Scottish Civic Trust in partnership with Historic Environment Scotland, Archaeology Scotland and the Scottish Government, the scheme seeks to celebrate both groups and individuals who have gone above and beyond in their efforts to promote, protect and, in many cases, rescue Scotland's heritage.
Nominations will close on Friday 11th August. For full details see Scottish Heritage Angel Awards 2017
Alexander 'Greek' Thomson Bi-Centenary Travelling Scholarship 2017
Entry Deadline: 1 Aug 2017
The Alexander Thomson Society and the Glasgow Institute of Architects are inviting architects and students below the age of thirty to submit a persuasive essay on the theme of legacy.
THEME: "LEGACY"
Architecture has the unique opportunity to have an active dialogue through time. Reacting to what has come before, responding to the present and place-making to facilitate life in the future. As such, the discipline is intimately concerned with the idea of 'legacy.' Whether by a movement, a culture, a person, or a mark on a page, we are informed by that which precedes us. We tap in to an eternity of resources which, in turn, inform what we leave our successors.
What will speak for you long after you are gone?
Deadline 1 August 2017.
A sum of £1000 will be awarded to a single winning entrant at the discretion of the judges. The winner will also have their entry published and will be invited to speak about their submission at the GIA's 'paper_CUT' event in September 2017.
For more information and to enter:
Alexander 'Greek' Thomson Bi-Centenary Travelling Scholarship 2017
2020 Visions
Entry deadline: 10 Jul 2017
'100 Best'- Scotland's 100 Houses and Housing Developments 2000-2020
As part of the festival of Architecture 2017 the Incorporation is producing a glossy 240+p.p. publication which will be distributed throughout Scotland. With a RRP of £25 this publication will be an important marker of the very best of contemporary architect designed housing in Scotland. It will be distributed to leading developers, businesses, politician and opinion formers to influence the design of housing in Scotland in years to come.
The publication will feature 100 'one off' houses or housing developments in Scotland since 2000. An exhibition will showcase the winning entries alongside the publication.
Architecture practices will be invited to submit their schemes with a deadline of 10 July 2017.
A&DS and RIAS Scottish Student Awards Event
13 Jul
The Architecture and Design Scotland (A&DS) and the Royal Incorporation of Architects in Scotland (RIAS) Scottish Student Awards for Architecture showcase and celebrate the best of Scotland's emerging talent.
The event takes place on13th July at Cafe Camino in Edinburgh, with presentations from this years nominated students.
In 2017, for the first time, judging will take place at a public event where each of the 15 students will have 5 minutes to present their own work to the judging panel and audience.
The 2017 Andy MacMillan Memorial Lecture will be given by guest judge Sunand Prasad PPRIBA Hon FRIAS of Penoyre Prasad and will focus on his recent work and architectural philosophy.
Thu 13 July 2017 14:00 – 19:30 BST
Café Camino, 1 Little King Street, Edinburgh EH1 3JR
Chiff-Chaff
14.00 – 14.10: Student Registration and Guest Arrival
14.10 – 14.15: Welcome
14.15 – 14.40: Best 3rd Year presentations
14.40 – 15.00: Guest Presentation
Break
15.15 – 15.40: Urban Design Presentations
15.40 – 16.00: Guest Presentation
Break
16.15 – 16.40: Best 5th year Presentations
16.40 – 17.00: Guest Presentation
Andy MacMillan Memorial Lecture
17.30 – 18.00: Wine Reception
18.00 – 18.40: Andy MacMillan Memorial Lecture by Sunand Prasad PPRIBA Hon FRIAS
18.40 – 19.00: Q and A
Prize Giving
19.00 – 19.30: Prize Giving
For more information and booking:
A&DS and RIAS Scottish Student Awards 2017
Read more at Scottish Architecture News for 2017
BIM – What Software or Technology do I use?
19 Jul
Date: 19 July
Time: 9.00am
Venue: Construction Scotland Innovation Centre, 3 Watt Place, Hamilton International Technology Park, Blantyre, G72 0AG
Cost: £25
Brought to you by CSIC and Digital Guerrilla, this five part series of breakfast briefings contains all you need to know regarding how to plan for and implement BIM in your construction-related business. The next session will take place on 29 July.
This presentation will give attendees a guide to developing a technology road map for implementing BIM:
– What software should I choose?
– How much will all this technology cost me?
– Who do I get to do the training and who will support us?
– Develop your technology road map
– Getting senior management buy-in
– 15 mins Q&A/wrap up
Intended Participants: Senior management, Directors (IT), decision makers ,as well as those responsible for BIM in their organisation.
SEDA Conference & AGM 2017 – Conservation / Restoration / Retrofit
Date: 23-24 June
Venue: The Engine Shed, Forthside Way, Stirling FK8 2BY
This year SEDA will head to The Engine Shed in Stirling – Scotland's new building conservation centre. Inspired by the venue, this year's theme is Conservation / Restoration / Retrofit.
FRIDAY
Presentation will include:
• The Pagoda in Kew Gardens
• Glasgow School of Art's restoration
• Hab-lab research
• Enerphit project
and some turf and mud heritage from Iceland and Scotland. There will also be a a building tour, lunch, tea/coffee and biscuits too!
SATURDAY
In the morning SEDA will hold their AGM, which will include some interesting SEDA updates including SEDABuild School, The 100 Sustainable Scottish Buildings book and the KJ Awards. Includes lunch, tea/coffee and biscuits.
In the afternoon, you can choose from two exciting activities – a photography competition and a cycling tour of Stirlingshire (its possible to do both).
For more information and booking:
SEDA Conference & AGM 2017 – Conservation / Restoration / Retrofit
Talk – Daniel Libeskind – In the Beginning-The Cosmos and The Spirit as The Source of Creativity
Date: 24 June
Time: 4.15pm
Venue: Sanquhar Town Hall, Church Road, Sanquhar, DG4 6DF
Cost: £5
Hear Daniel Libeskind present his ideas and creations, in conversation with Charles Jencks, the creator of the Garden of Cosmic Speculation and Crawick Multiverse. Friends for many years, they both pursue the question of meaning in design, and how the universe inspires it. Polish-American architect, Daniel Libeskind is an international figure in architecture and urban design. Informed by a deep commitment to music, philosophy, and literature, Libeskind aims to create architecture that is resonant, original, and sustainable.
#DesignPopUp 2017
14th of June from 10am
photos from the event: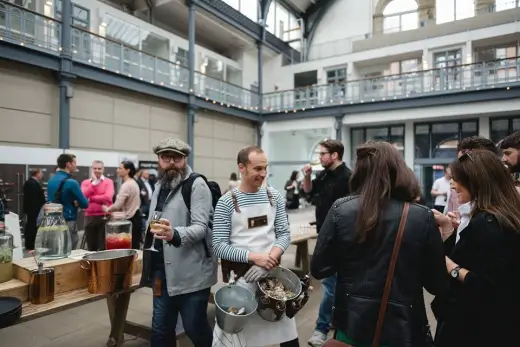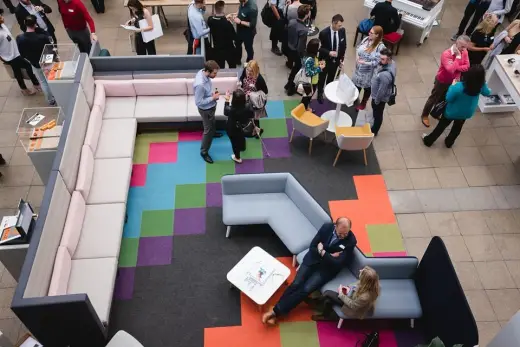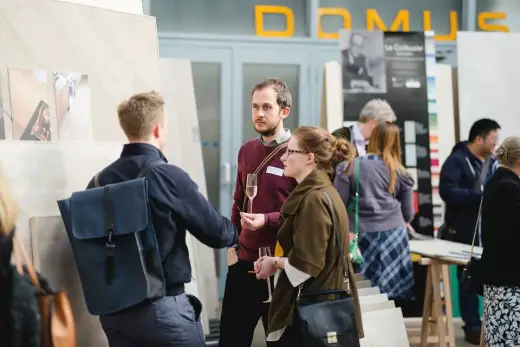 With 14 amazing companies ready to WOW you with their latest products and innovations, and the Parmesan and Prosecco party on Thursday night, we can't wait to welcome you to our Sixth show in Scotland…
#DesignPopUp will be open 10am to 6pm on Wednesday and Thursday, and 10am to 4pm on Friday at the Briggait (G1 5HZ).
RIAS Awards Dinner 2017
14th June – Murrayfield Stadium, Edinburgh
Bookings being taken for this year's RIAS Awards Dinner 2017 on 14th June at Murrayfield Stadium, Edinburgh.
This prestigious, black tie, event, presented by Scottish Television's Political Editor, Bernard Ponsonby, will include the presentation of this year's RIAS Awards (which will become the shortlist for Doolan 2017), the announcement of the RIBA Awards for Scotland and the presentation of the Forestry Commission Scotland/Wood for Good, Historic Environment Scotland, Saint-Gobain (Emerging Architect), Scottish Government (Client of the Year) and Zero Waste Scotland special category awards.
This year's Awards Dinner is generously sponsored by GEZE, Hadden Construction, Nevin of Edinburgh and Tobermore.
Glasgow Architecture Events by GIA
Origins, Narratives and Architecture
7 Apr – 6 May
The Lighthouse – Review Gallery
Graeme Nicholls Architects is an emerging architectural studio formed by Graeme Nicholls, an award winning architect, educator and critic based in Glasgow.
Graeme's work is characterised by an interest in proportion, innovative use of materials, and a rich layering of cultural references to create a unique 'narrative' for each design. The exhibition consists of visuals and physical models and will cover a wide range of the practice's early projects in the UK and abroad.
http://www.thelighthouse.co.uk/visit/exhibition/origins-narratives-and-architecture
RIAS Spring Seminar – More Conservation Challenges
31 May 2017, Edinburgh
Early booking is recommended! This seminar will constitute excellent CPD and we anticipate that places will sell out fast.
Date: 31 May 2017
Venue: The Scottish Storytelling Centre, Edinburgh
Time: 13.00 to 17.00
Cost: RIAS accredited members and members of Practice Services: £22 inc. VAT
RIAS member: £28 inc. VAT
Non-members: £40 inc. VAT
The RIAS conservation spring seminar is now open for bookings. Chaired by RIAS Secretary, Neil Baxter, topics will include conservation work at the Capitol, Washington DC, and the Scottish architectural legacy in India. The technical components will include climate change adaptation for traditional buildings, interpreting thermal imaging and advice on working with lime for pointing and harling, including specification advice and guidance on the causes of failure, 3D laser scanning technique as used in the restoration of Glasgow School of Art.
If you wish to book a place, please complete a booking form and email to [email protected].
Exhibition 'Professors' Sketchbooks' – Glasgow School of Art
Date: 22 – 30 April 2017
Venue: The Reid Building Ground Floor Gallery, The Glasgow School of Art
Taken from over 300 sketchbooks generously loaned to Glasgow City Heritage Trust by the architects' families, the drawings included in this exhibition offer unique insight into the workings of two great architects' minds.
Professors Andy MacMillan and Charles MacCallum were colleagues at the iconic post-war Scottish architectural practice, Gillespie, Kidd and Coia, and at consecutive times, Heads and Professors at the Mackintosh School of Architecture at the Glasgow School of Art, one of the world's great architecture schools.
The exhibition, Professors' Sketchbooks, has been created by The Glasgow School of Art Exhibitions team in collaboration with Glasgow City Heritage Trust and the Mackintosh School of Architecture.
SEDA Green Drinks in Glasgow
Date: Thursday 27 April
Time: 6.00pm to 9.00pm
Location: The Lighthouse, 11 Mitchell Lane, Glasgow – Note Change of Venue
Cost: £7.50 – non-SEDA members / £5.00 – SEDA members
All You Want to Know About Hempcrete with Gillies MacPhail and Alex Sparrow and with presentations by Scott Simpson, Sue Manning, Stephen Farrar and Nick Voase.
Looking at hemp fibre reinforced lime mortar as an environmentally friendly alternative to concrete, with some of the people who have worked with and developed this innovative building material. Anyone interested in green building should attend.
The evening will include presentations from:
Alex Sparrow – Director, UK Hempcrete Ltd
Gillies MacPhail – Architect, John Gilbert Architects
Scott Simpson – Research Scientist, University of East London
Sue Manning – Architect and partner at Ecological Architecture LLP
Steve Farrar – Principal Engineer at JBA Consulting
Nick Voase – Hemp Farmer
Unbuilt Mackintosh
Unbuilt Mackintosh 7 Feb – 24 Mar
Exhibitions at Mackintosh Centre Review Gallery
Unbuilt Mackintosh showcases stunning architectural models based on the unbuilt designs of Charles Rennie Mackintosh. The models produced by Glasgow-based model-makers Ozturk, are fantastically accurate and help us to appreciate Mackintosh's architectural vision.
From Tuesday 7th February 2017, all Unbuilt Mackintosh models will be available to view in our Review Gallery on Level One. This will be the first time in over a year that all models are displayed together.
CDM 2015 Principles and Practice
5 Apr 2017
A one-day interactive training course on CDM regulations from Glasgow Caledonian University
The CDM Regulations were updated in April, 2015, when they were revised to bring them into alignment with the European Temporary or Mobile Construction Sites Directive (TMCSD). The new Regulations affect clients (including domestic clients), designers, consultants and contractors. This course will outline duties under CDM 2015, including the specific duties owed by Clients, Principal Designers and Principal Contractors, as well as guidance on how to discharge these duties with real-life scenarios.
Where: Glasgow Caledonian University campus, Glasgow
When: Wednesday 5 April 2017
Times: 09:30 – 16:00
Cost: £195 exc. VAT
There is a high level of interaction and Q&A included in the course, which makes for a more engaging experience. For more information and to book a place, contact us today at [email protected]
GIA CPD Event 7 – Asbestos awareness
22 March 2017, 6:00 pm
Roger Willery of ACS will provide asbestos awareness training.
This presentation will be followed by a Q&A session.
Complimentary tea and coffee will be available.
CPD certificates will be provided to all attendees as evidence of participation
Places still available – Book Now!
Season Ticket for all 7 Events £65.00
Individual Event Ticket £20.00
1/2 Season ticket for Events 5-7 £38.00
Website: Glasgow Architecture Events by GIA
Architectural Conservation Masterclass, Edinburgh, Scotland, UK
2 Mar 2017
Thursday, 2 March 2017, 5.30 – 7.00pm (followed by a wine and nibbles reception).
Adam House Lecture Theatre, 3 Chambers Street, Edinburgh EH1 1HR (map here: http://www.ed.ac.uk/maps/maps?building=adam-house#main-content)
Heritage and Sustainability: The improbable couple
Ana Pereira Roders, Eindhoven University of Technology
More details on the Edinburgh Architecture events page
This year's full programme: http://sites.ace.ed.ac.uk/sccsmasterclass
GIA CPD Event 6 – Building Tight – Ventilating Right? Studies of ventilation in new homes
22 February 2017, 6:00 pm
Changes in buildings standards and construction techniques have led to increasing 'tighter' buildings, with much lower levels of air infiltration. This has been an important step toward making more energy efficient and comfortable buildings. However, it also means that the vast majority of ventilation provision in homes now has to be 'designed'.
Glasgow Architectural Events 2016
FOA 2016 Events
Festival of Architecture events across Scotland:
– Scotstyle – Building the Century
Celebrating the top 100 buildings from 1916-2015, nominated by the Scottish public.
This Scotland-wide tour will showcase the best of Scotland's architecture, both historic and recent, to a very wide audience. The selection of the 100 buildings was from public nomination, informed by an expert panel.
https://www.foa2016.com/events/2016-june-1-scotstyle-r-building-the-century-r-stirling
Scotland Policy Conferences Keynote Seminar
The future of housing in Scotland – delivery, demand and the impact of policy
with
Lesley Fraser, Director for Housing, Regeneration and Welfare, The Scottish Government
and
Nicola Barclay, Chief Executive, Homes for Scotland; Kay Blair, Chair, Scottish Housing Regulator; Amanda Britain, Associate Director, Craigforth and Chair, CIH Scotland; Dan Cookson, Head of Research, PRS 4 Scotland; June Gilles, Head of Planning, Davidson Chalmers LLP and David Melhuish, Director, Scottish Property Federation
and
Douglas Cochrane, Lloyds Banking Group; David Goldie, Highland Council; Hew Edgar, RICS; Adam Lang, Shelter Scotland and James Strang, Parkhead Housing Association
Chaired by:
Kate Forbes MSP, Member, Environment, Climate Change and Land Reform Committee
@ScotlandPolicy | This seminar is CPD certified
Timing: Morning, Wednesday, 7th December 2016
Venue: Central Edinburgh
The focus:
Policy priorities for housing over the next Parliamentary period.
Context
• Comes at a period of uncertainty for the housing sector, in light of the outcome of the EU referendum;
• Follows recent publication of the Fairer Scotland Action Plan, which includes measures to improve affordability and access to homes and tackle homelessness;
• The Government's response to the planning review – which was published in May 2016 and offered a number of recommendations including forming a clearer definition of effective housing land, aligning housing strategies with local development plans and steps designed to unlock land for development;
• As the Scottish Government consults on the Scottish Social Housing Charter, with the intention to approve a new Charter from April 2017;
• The Scottish Government's investment of £3 billion over the next Parliamentary period, in order to deliver 35,000 homes for social rent; and
• Also follows the passage of the Private Housing (Tenancies) (Scotland) Bill.
Key discussion points:
• Housing within the wider policy context: ensuring housing policy takes into account broader influences, including health and wellbeing;
• Supporting the housing market: access, affordability and economic benefit, as well as discussion on how to encourage investment;
• Tackling the challenges facing the delivery of new homes – with a contribution from Nicola Barclay, Chief Executive, Homes for Scotland;
• Assessing the legal implications of the planning review on housing delivery;
• Responding to local housing needs;
• Ensuring best use of current investment and existing stock – with contributions from James Strang, Chief Executive, Parkhead Housing Association and Adam Lang, Head of Communications and Policy, Shelter Scotland;
• The private rented sector: collaboration, investment and the impact of the Private Tenancies (Scotland) Bill;
• Priorities for regulating social housing – in light of the new Scottish Social Housing Charter; and
• Next steps for the housing policy in Scotland – informed by a contribution from Lesley Fraser, Director for Housing, Regeneration and Welfare, The Scottish Government.
Speakers:
Keynotes: Lesley Fraser, Director for Housing, Regeneration and Welfare, The Scottish Government; Nicola Barclay, Chief Executive, Homes for Scotland; Kay Blair, Chair, Scottish Housing Regulator; Amanda Britain, Associate Director, Craigforth and Chair, CIH Scotland; Dan Cookson, Head of Research, PRS 4 Scotland; June Gilles, Head of Planning, Davidson Chalmers LLP and David Melhuish, Director, Scottish Property Federation.
Further confirmed speakers include: Douglas Cochrane, Head of Housing Development, Lloyds Banking Group; David Goldie, Head of Housing and Building Maintenance, Highland Council; Hew Edgar, Policy Manager, Scotland, RICS; Adam Lang, Head of Communications and Policy, Shelter Scotland and James Strang, Chief Executive, Parkhead Housing Association.
Chair: Kate Forbes MSP, Member, Environment, Climate Change and Land Reform Committee has kindly agreed to chair part of this seminar. Further senior participants are being approached.
Networking
Places have been reserved by officials from The Scottish Government and the Valuation Office Agency. Also due to attend are representatives from Aberdeen City Council; ALACHO; ARK Housing Association; Austin-Smith:Lord; Bield Housing & Care; Big Society Capital; Brodies; Burness Paull; Cairngorms National Park Authority; CALA Homes (West); CBRE; Certsure; Chartered Institute of Housing Scotland; Clyde Gateway; CMS Cameron McKenna; Cockurn Association; Cruden Homes (East); Department for Social Development; Disabled Persons Housing Service Aberdeen; Dunedin Canmore; East Ayrshire Council; Edinburgh Cyrenians; Edinburgh Napier University; Esh Developments; Everwarm; Fife Housing Group; Get Rugged SCIO; Gillespie Macandrew; GL Hearn; Harper Macleod; Hebridean Housing Partnership; Houseability; Hub West Scotland; Hurlford Tenants & Residents Association; ILiS; INCH Architecture & Design; Keepmoat Homes; Link Group; Loreburn Housing Association; Luc; Maclay Murray & Spens; Mactaggart & Mickel Homes; MAST Architects; Max Fordham; Nathaniel Lichfield and Partners; Neo Environmental; Newton Property Management; NG Homes; NLP; North Ayrshire Council; Ogilvie Construction; Orkney Islands Council; Page Park Architects; Peter Brett Associates; Peter McVerry Trust; Reliance Worldwide Corporation; RSM; Rural Housing Scotland; SafeDeposits Scotland; Saltire Society; Scottish Land & Estates; South Lanarkshire Council; Stirling Council; Tenants Information Service; The Highlands Small Communities Housing Trust; The Salvation Army; TPAS Scotland; Travis Perkins Managed Services; University of Stirling; University of the Highlands and Islands and West of Scotland Housing Association.
Agenda:
Organised impartially by Scotland Policy Conferences
CPD certified
Booking arrangements
Glasgow School of Art Research Week Events
Glasgow School of Art Research Week Events
Scottish Architecture Events
Scottish Architectural Events
Recent architectural events in Strathclyde and Scotland generally:
Scotland Build
12 & 24 Nov
SECC, Glasgow
This is a construction expo dedicated entirely to opportunities in Scotland: "Scotland Build is attended by thousands of 'movers & shakers' in the Scottish construction industry from: contractors, developers, government, architects, solution providers and more."
Scotland Build 2016 includes:
• Conference & Workshop floors providing hundreds of hours of expert and CPD-accredited insight, case studies and training from a wide-range of industry experts.
• An Exhibition Floor featuring a very-wide and fascinating range of leading international solution providers
• The Scotland Construction Awards.
• The construction industry's very own Whisky & Beer Festival – network, unwind and have fun
• Multiple Zones and Feature Areas including: an Architects Zone, a Skills Zone, a Tools & Tradesmen Show, a Sustainability Zone; plus much, much more!
• Meet the Buyer sessions providing face-to-face meetings with a wide range of VIP attendees from Contractors, Architects and Developers (please note, attendance to Meet the Buyer sessions is limited to exhibitors only).
• Huge amounts of entertainment, competitions, prize give-aways and fun
Register for your free ticket at: www.scotlandbuildexpo.com
Contemporary Architectural Drawing by Minty Sainsbury – Exhibition
1-31 Oct 2016
Minty Sainsbury is an artist specialising in architectural drawings and has an exhibition in The Mackintosh Church opening at the end of the month and running for the whole of October.
Dunmore Park Pineapple near Falkirk: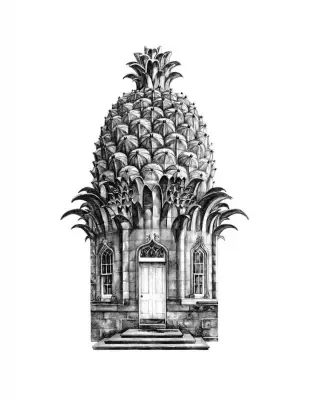 Website with info for the exhibition: http://www.mintysainsbury.com/exhibitions/
Architects' Conversations, Edinburgh
21 Sep
National Museum of Scotland presents ; Architects' Conversations: John McAslan in conversation with Pedro Mendes da Rocha.
The next event in the Architect's Conversation series, to be held at the National Museum of Scotland on the evening of 21st September 2016.
Join John McAslan in conversation with Pedro Mendes da Rocha, son of esteemed Paulo Mendes da Rocha, winner of this year's Golden Lion award at the Venice Architecture Biennale and The Pritzker Architecture Prize winner 2006, as they discuss Paulo's work and the relationship between architecture and engineering.
The evening will commence with a drinks reception from 18.00, followed by an introduction and welcome at 18.45, with ample time being given for Q&A and discussion with the audience.
Ticketed – additional information about the event, included advance ticket booking:
John McAslan in conversation with Pedro Mendes da Rocha
Built Environment Glasgow Event
7 June
Speakers:
Martin McKay, Executive Director of Regeneration at Clyde Gateway
Patrick Flynn, Head of Housing Services at Glasgow City Council
Ross Nimmo, Head of Planning & Development at Glasgow Airport and
Gordon Maclennan, Chief Executive at Stratchclyde Partnership for Transport
Book online:- https://www.built-environment-networking.com/event/glasgow-development-plans-2016/
1530 – 1600; Registration
1600 – 1645; Networking with Wine, Beer and Soft Drinks
1645 – 1815; Speaker Presentations
1815 – 1900; Networking with Hot Food, Wine, Beer and Soft Drinks
Built Environment Networking Limited
4100 Park Approach, Thorpe Park, Leeds, LS15 8GB
www.built-environment-networking.com
Back to the City Conference, Glasgow
Date: 5th – 6th May Time: 9:00am – 8:00pm
Venue: Glasgow of Art, Reid Auditorium
This conference is part of the ongoing research programme. The New Tenement, funded by the Leverhulme Trust, currently being undertaken by Florian Urban at the Mackintosh School of Architecture at the Glasgow School of Art.
Conference organisation has been a collaborative effort between Florian Urban and Ambrose Gillick at the Glasgow School of Art, DOCOMOMO International and Miles Geldinning and Ruxandra Stoica at University of Edinburgh.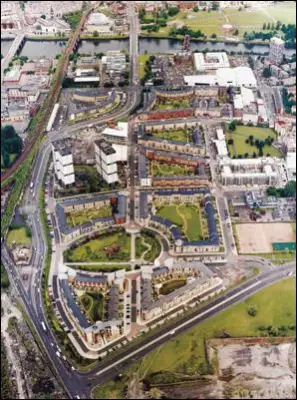 (Re)Imagining Glasgow – Architecture Event by GIA
Premiere screening of (Re)Imagining Glasgow, on Sunday 20th March at 3:15pm.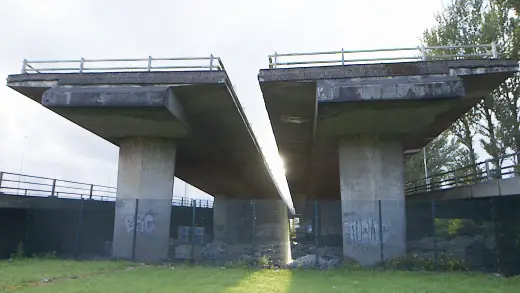 For Scotland's Festival of Architecture 2016, the Glasgow Institute of Architects have commissioned filmmaker Chris Leslie to create a new short film. (Re)Imagining Glasgow looks at Glasgow's regeneration over the past forty years and the pledges made by the Corporation of the City of Glasgow.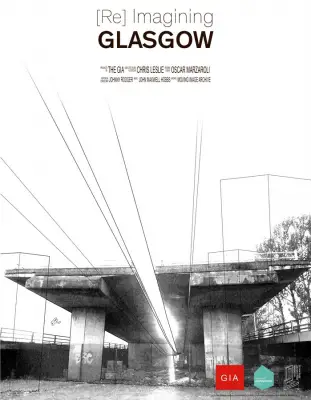 The film playfully reworks Oscar Marzaroli's 1970 film Glasgow 1980 and uses previously unseen footage shot by Marzaroli for an uncompleted follow-up film, Glasgow's Progress, alongside new footage of Glasgow today. It shows how Glasgow has been torn down, reimagined and transformed, and questions the city's seemingly never ending urban renewal.
The premiere screening of (Re)Imagining Glasgow will be held during the Glasgow Short Film Festival at the GFT Cinema, the screening will be followed by a panel discussion, chaired by the Glasgow Institute of Architects.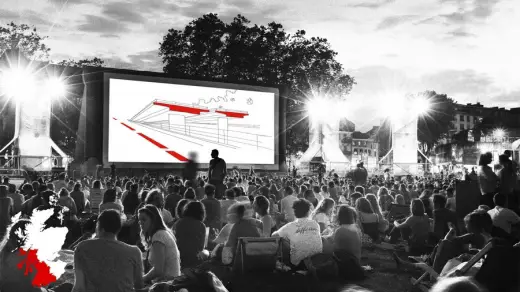 The guest panel:
– Chris Leslie
BAFTA Scotland (New Talent) Award Winner, Documentary Filmmaker, Photographer + Visual Artist
– Emily Munro
Learning + Outreach officer at the National Library for Scotland's Moving Image Archive
– Karen Pickering
Director, PagePark Architects
– Riccardo Marini
Director, Gehl Architects + former Edinburgh City Design Advisor
– Johnny Rodger
Writer, Critic, + Professor at The Glasgow School of Art
Tickets via the GFT website: £6 (Concession £5)
NVA's Island Drift Exhibition
14 November 2015 – 24 January 2016
Street Level Photoworks, Trongate103, Glasgow, G1 5HD
Island Drift is an immersive photographic installation, created in partnership with Loch Lomond & The Trossachs National Park. During an eight month programme of creative interventions at Loch Lomond, designer James Johnson, photographer Alan McAteer and NVA's creative director Angus Farquhar worked with park rangers to manipulate moving and static light sources on land and water, creating a powerful series of images articulating the Highland boundary fault line.
This gallery-based exhibition is a significant departure for NVA. For the first time performing in and with the landscape is not the main intention. Instead the manipulation of light and movement in real time, over large physical spaces, existed purely to release the untouched photographic artwork.
www.nva.org.uk/island-drift
Edinburgh Doors Open Day 2015
26 – 27 Sep 2015
following the theme of Edinburgh's Food & Drink.
Over 100 venues, with activities to celebrate the 25th year of organising this popular event.
Website: www.cockburnassociation.org.uk
Architecture in Strathclyde
Glasgow School of Art Building Extension
Glasgow School of Art Extension
Charles Rennie Mackintosh Architect
Glasgow Walking Tours – best of Scottish Architecture
Historic Glasgow : best Glasgow architecture of the past
Comments for the Glasgow Architectural Events 2017 page welcome