Examining popular Glaswegian buildings advice, Glasgow property, Scottish architecture guide
Examining Popular Glaswegian Builds Guide
7 Dec 2020
Glasgow is one of Europe's finest cities for architecture, but not in a pretentious or in-your-face manner. It's more subtle in Scotland, with the city itself being fairly small compared to the other metropolises that boast photo-demanding towers and buildings. In the review of the best cities in the world last year, Glasgow landed eighth, just ahead of Paris but one place behind Berlin.
Examining Popular Glaswegian Builds and Assessing their Modern Relevance
While the nightlife, friendliness, and size of the city were cited as reasons for its high ranking, so too was that it had changed for the better, mentioned by most people surveyed. Some cities can stagnate in what they perceive as upholding heritage, but in such a rapidly advancing world, some places need updating and bringing in-line with the modern world. Glasgow does continue to improve, but do some of its most popular, culture and entertainment-driven builds need an update?
Popular Glaswegian Buildings
Kelvingrove Art Gallery & Museum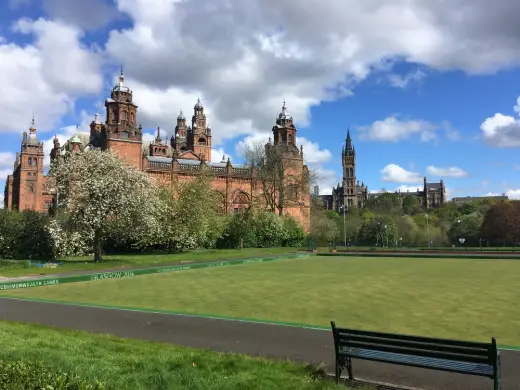 photo source : Pixabay
The Kelvingrove Art Gallery & Museum is the most visited museum outside of the capital city of the United Kingdom, London, and has upheld this prestige since being opened as a Category 'A'-listed building over one century ago. Featuring a 3,000-seater concert hall with a Kelvingrove Park-facing grand entrance, it's become an iconic building of the Glasgow area.
When the Kelvingrove Gallery first opened in 1901, its international exhibition attracted over five million people from around the world to visit. While the exhibit itself was the main point of interest, many became enchanted by the architecture. Designed by E.J. Milner Allen and Sir John W. Simpson from 1888, the architects mixed a distinctly classic style from the continent with local materials, with the Spanish Baroque architecture meeting red sandstone from Locharbriggs. Several stunning buildings around the world have utilised Spanish Baroque, including Paoay Church in the Philippines, Church of La Compañia in Peru, and San Xavier del Bac in Arizona, USA.
Predominantly in Europe, many museums that host historical art and exhibits uphold their original exteriors, where possible, to continue to stand as a place of historical interest and culture. If you go on an online virtual tour of any of the more contemporary museums, they are very distinct from the older builds, both in presentation and content. As such, it's fitting that Kelvingrove Art Gallery & Museum has upheld its tradition, even if the interior underwent some much-needed renovations from 2003 to 2006 to restructure the wayfinding within.
Alea Glasgow
One of the more recent striking builds of Glasgow, the grand Alea Glasgow development project completed in 2008. The build, which primarily functions as one of the city's casino venues, is situated on the banks of the Clyde, having been designed by Burrows Cave International. The £8 million, 2,000m2 building predominantly features glass panels on its exterior, with a stunning waveform structure flowing through the interior.
As far as construction in Glasgow goes, Alea Glasgow is a new site, however, the industry in which it plies its trade has developed exponentially since its opening over 12 years ago. Now, casino style is often driven by the simpler concept of contrast, fuelled by the online casino industry's instant entertainment and technology. Casino websites tend to stick to intuitive designs, often with a bright font colour on a dark background. Vibrancy and design come through the range of online slots and table games that can easily and regularly be updated by the casino platform. Games like Starburst, Cleopatra, and Thunderstruck II demonstrate that flexibility – each has its own unique theme and colours, and the platform's colour scheme helps this to stand out.
That's a trend seen across several other entertainment industries, where the online sector offers more regularly updated, on-demand, exciting, and colourful fun in competition with the more static land-based form. BBC iPlayer's pink-on-black scheme has also been chosen to help their array of "cover" images stand out.
Again, the premise is that it's basic enough to remain stable as the offerings change daily. Alea Glasgow appears to have recognised this need to become more modern and more tech- and entertainment-driven, which is why they've hired Threesixty Architecture, which is now based in the Garment Factory, to design a new, eye-catching entrance tower to the casino. The exterior update should help to modernise what is a modern venue as far as buildings go, but a bit outdated for its industry.
Clyde Auditorium
Concert halls have become something of a showcase genre for the most eccentric minds in architecture. Of course, the designs are supposed to demonstrate the entertainment, class, and quality of the acts staged within. Standing among the most beautiful concert halls in the world are the likes of the Walt Disney Concert Hall, Sydney Opera House, and Auditorio de Tenerife all feature exaggerated, metal sheet-infused designs, as does one of Glasgow's most iconic buildings: the Armadillo.
Officially known as the Clyde Auditorium, the Armadillo is found just to the west of the city centre, showcasing a distinct armadillo shell-esque casing. From afar, much like the aforementioned auditoriums in Los Angeles, Sydney, and Tenerife, the Armadillo looks as though giant sheets of metal have been shaped to create the architectural masterpiece. Designed by Foster and Partners and opened in 1997, it stands as a prestigious, 3,000-seat hall, with its lack of windows and enigmatic structure, the intrigue alone is enough to build excitement among passersby and those with tickets to attend. The Clyde Auditorium certainly follows modern convention, with it and similar metallic-wrapped designs ranking among the most iconic in the world.
These three eye-catching Glaswegian buildings all have their benefits. Despite the changing times, the museum and concert hall manage to maintain the modern standard, while the casino looks to update soon.
Comments on this Examining Popular Glaswegian Builds article are welcome.
Glaswegian Architecture
Contemporary Glasgow Property Designs – recent architectural selection below:
Custom House Building Renewal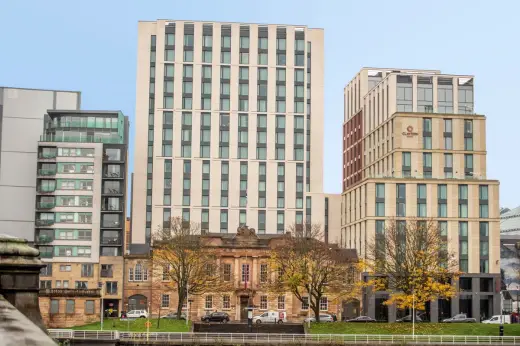 image courtesy of Artisan Real Estate
Glasgow Custom House Development
Paisley Museum Transformation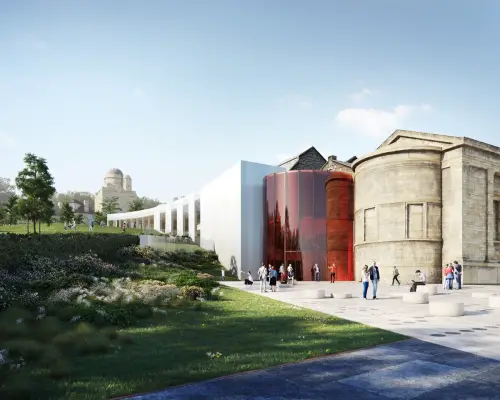 image courtesy of Renfrewshire Council
Paisley Museum Building
Historic Glasgow : best Glasgow architecture of the past
Comments / photos for the Examining Popular Glaswegian Builds page welcome