Celebrating heritage through design, Glasgow Buildings, BDP Architects, Scottish Architecture
Celebrating heritage through design
18 November 2021
Article by Bruce Kennedy, Architect Director at the BDP Glasgow studio:
Celebrating heritage through design in Glasgow Buildings
We walk in the footsteps of our predecessors. Just as the inherited values of past generations shape our society, their aspirations are cast in stone in the built fabric of our cities.
Glasgow draws tourists from around the world, but what attracts us to cities whose character is defined by a legacy of historic buildings, and have we always valued our built heritage as we do today?
Queen Street Station Glasgow building facade: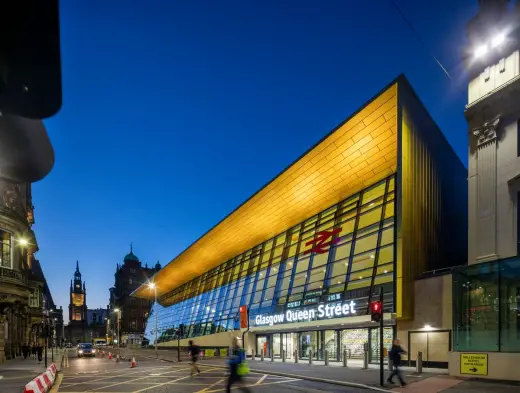 photo © Nick Caville
In the early 20th century, modernism emerged as a new vision that informed the design of everything from buildings to ships and manufactured goods – and central to competing redevelopment plans for post-war Glasgow was the application of modernist principles to roads and transport planning.
One such plan, authored by engineer Robert Bruce in 1945, proposed rail consolidation through demolition of all four of the city's termini – but Glasgow Central and Queen Street prevailed and both have recently been expanded, although not for the first time.
Glasgow Queen Street Station building: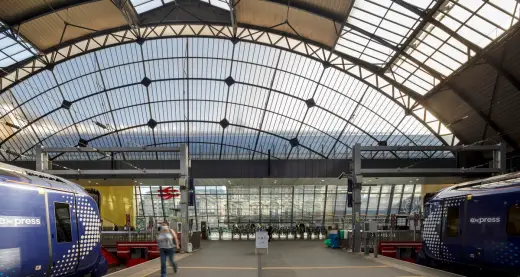 photogrph © Nick Caville
The earliest redevelopment of Queen Street was in 1880, delivering James Carswell's spectacular vaulted structure as a competitive response to the 1879 opening of Glasgow Central.
The 1970s gave the station a brutalist make-over, but wind-forward 50 years and these unloved buildings are gone. Network Rail's EGIP Programme was the catalyst for this latest redevelopment to deliver decarbonisation through electrification and provide more seats on longer trains. But longer trains required platform extensions that would displace the concourse, and BDP was given the challenge of leading a consultant team to develop a masterplan and redesign the station.
As with our heritage projects at Manchester Victoria Station, Aberdeen Music Hall and Kelvingrove Art Gallery and Museum, our approach to Queen Street envisaged an entirely contemporary solution that also enhanced the listed building.
James Carswell's structure used very little material to enclose a vast space. Minimal iron ties restrain the lateral throughst of a soaring vaulted roof and are clearly expressed, making its innovative structure the hero of the Victorian station.
BDP's concourse had to deliver column-free spaces of a similar span but, rather than employing an overtly expressive structure in competition with the pioneering Victorian engineering, our design wraps the structure in ceiling planes that fold to compress and expand space, guiding passengers toward the gate-line and to station entrances where they create shelter.
The concourse opens out to the city, making it physically and socially inclusive, and it improves the setting of the listed building, offering views of this independent structure through a roof-light that detaches it from its younger sibling.
Bruce Kennedy, Architect Director at the BDP Glasgow studio: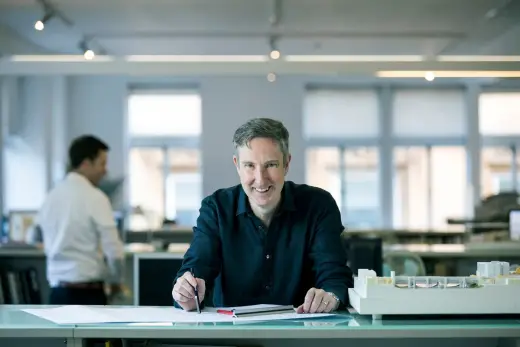 photo courtesy of architects office
At a point when we are rightly questioning our inherited values, embodied in statues and street names, we are bound to consider the relevance of our built heritage.
We recognise that in Glasgow, as in cities across the UK, built heritage sustains our collective memory, reinforcing a sense of continuity and belonging that nurtures communities. The conservation and sensitive adaptation of these buildings allows them to become the medium that links our past to a vision of the future.
Queen Street Station was designed to celebrate rail, a wonder of the industrial age. 140 years later it continues to perform its original purpose admirably – what could be more sustainable? Our contribution to its story speaks of its time – outward-facing, accessible and inclusive – celebrating a decarbonised railway and carrying the torch for a new century of rail travel.
Bruce Kennedy, Architect Director, BDP's Glasgow studio.
Glasgow Queen Street Station Building Design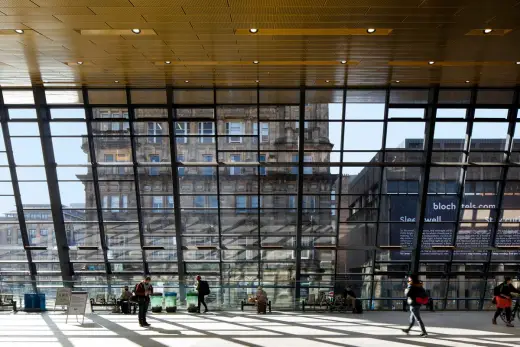 photograph : Nick Caville
Glasgow Queen Street Station Building Design article on e-architect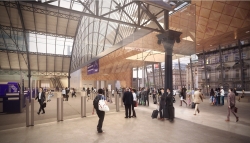 image courtesy of architects practice
Glasgow Queen Street Station
Glasgow Buildings
Glasgow Buildings
Historic Glasgow : best buildings of the past
Comments / photos for the Celebrating heritage through design in Glasgow by BDP Architects page welcome