Designing your future, Building a home on UK land with a mortgage, Finance Tips, Online Advice
Building A Home On UK Land With A Mortgage
25 July 2023
There's a singular pleasure in building your own home, starting with an idea and turning it into a tangible, physical space. In the UK, the allure of creating a unique, personalised living space has led to a burgeoning interest in self-build homes. Financing such a project, however, is not quite as easy as buying a pre-built home. The self-build mortgage is a specially tailored financial product designed to cater to this unique circumstance.
This article will delve deep into the world of self-build homes and mortgages, discussing the process, opportunities, and considerations to keep in mind.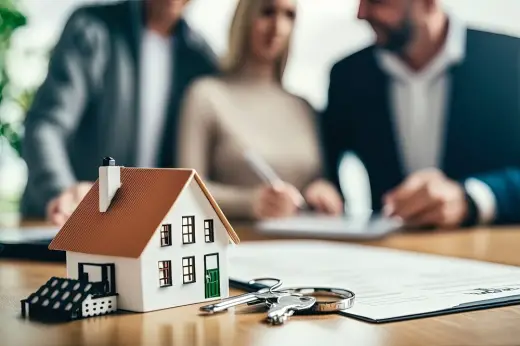 Designing Your Future: Building A Home On UK Land With A Mortgage
Understanding The Basics
What Is A Self-Build Home
A self-build home is a property where the owner is directly involved in its construction. This doesn't necessarily mean you'll be laying the bricks yourself—though you could if you want to. The involvement could be as high-level as commissioning an architect, hiring builders, and managing the project.
What Is A Self-Build Mortgage
A self-build mortgage is a loan taken out to finance the building of a home. It differs from a conventional mortgage in a significant way—the money is released in stages as the building progresses rather than as a single lump sum at the start. This approach reduces the risk for lenders and helps self-builders manage their cash flow more efficiently.
The Self-Build Process And Mortgages In The UK
The process of self-building a home in the UK and applying for a self-build mortgage can be broken down into several stages:
Land Purchase: The first step is finding and buying a plot of land suitable for building. This is often the most challenging part of the process, as competition for land mortgage in UK can be fierce.
Planning And Design: Once you've purchased your plot, you'll need to plan your home. This will involve hiring an architect to design the property and obtaining planning permission from the local council.
Applying For A Self-Build Mortgage: With your plans in hand, you can apply for a self-build mortgage. Lenders will assess your application based on your credit history, income, affordability, and the feasibility of your build project.
Building Your Home: If your mortgage application is approved, you can start building your home. The mortgage funds will be released in stages, often at key points such as when the foundations are laid, the property is made watertight, and the home is completed.
Moving In And Repayment: Once the house is built, you can move in. From here, the self-build mortgage works like a traditional mortgage, with monthly repayments over a set period.
Advantages And Disadvantages Of Self-Build Homes And Mortgages
Self-building and self-build mortgages come with a unique set of benefits and drawbacks:
Advantages 
Bespoke Design: The most obvious advantage is the ability to build a home to your exact specifications and preferences.
Potential Savings: While self-build projects are not without their financial risks, they can potentially save you money compared to buying a pre-built house of equivalent size and quality.
Lower Stamp Duty: In the UK, you only pay stamp duty on the cost of the land, not the value of the finished house, which can lead to significant savings.
Disadvantages
Time And Effort: Self-building is time-consuming and requires significant project management skills.
Unpredictable Costs: Building projects can be prone to overruns and unforeseen costs, which may strain your finances.
Less Mortgage Choice: Not all lenders offer self-build mortgages, so you'll have fewer options to choose from.
Securing A Self-Build Mortgage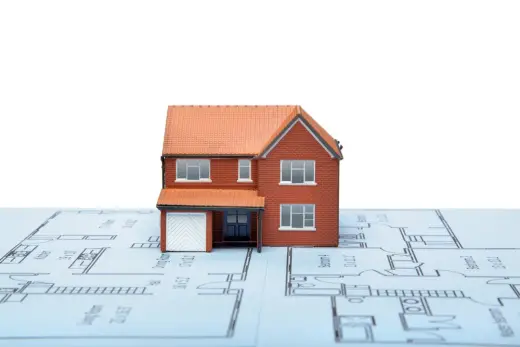 Securing a self-build mortgage requires careful planning and consideration. Here are some key points to keep in mind:
Deposit: Most self-build mortgages require a larger deposit than standard ones—usually between 25% and 40% of the total build cost. This requirement reflects the greater risks associated with self-build projects.
Staged Payments: It's crucial to plan your project carefully to align with the stage-payment structure of a self-build mortgage. Each lender has different criteria for releasing funds, which may be in advance (arrears stage payment) or behind (advance stage payment) the stages of construction.
Professional Expertise: Having professionals like architects and builders involved in your project can improve your chances of securing a self-build mortgage. Lenders tend to have more confidence in projects that are professionally managed.
Insurance And Warranties: Most lenders require a structural warranty for a self-build project, which covers any defects in the construction. Site insurance is also crucial to cover any accidents or damages that occur during construction.
Final Thoughts
A self-build home offers the opportunity to create a unique, personalised living space, and despite the challenges and the different financial landscape, it can be an immensely rewarding experience. As with all significant financial decisions, thorough research, careful planning, and professional advice are key to successfully financing a self-build home with a mortgage in the UK.
Comments on this guide to building a home in UK with a mortgage article are welcome.
Glasgow Building Designs
Glasgow Architecture Designs – architectural selection below:
New Glasgow Architectural Photos
Glasgow Architectural Photos
Holiday Inn Pacific Quay Hotel
Architects: Mosaic Architecture + Design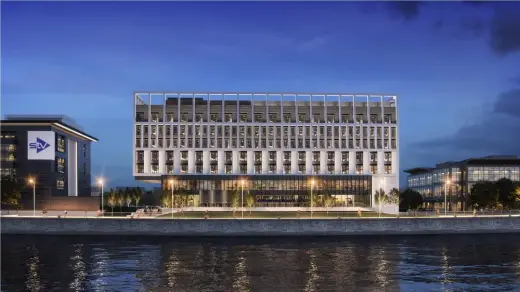 image courtesy of architects
Holiday Inn Pacific Quay Hotel
Merchant City boutique hotel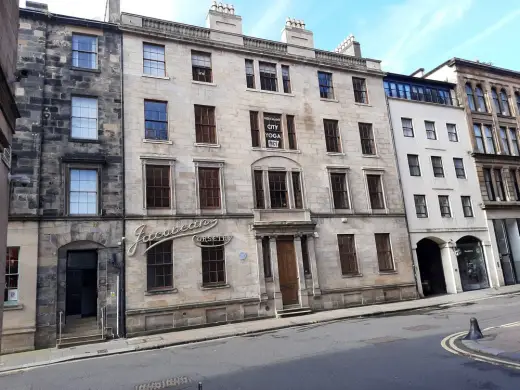 image courtesy of architecture practice
Merchant City Property
Comments on this Designing Your Future: Building A UK Home With A Mortgage article are welcome