Admiral Sir Roddy's Home: Residence for Artists Skye, WASPS Scotland, Scottish Architecture Image
Admiral Sir Roddy's Home: Residence for Artists, Scotland
World War II veteran, painter & Chief of the Skye Highland Games
9 May 2017
Skye Admiral Sir Roddy's Home Becomes Residence for Artists
Wasps project allows generations of artists to benefit from island cottage of a fearless sailor who took his paintbrush and easel to sea
Admiral Sir Roddy Artist in Western Isles of Scotland: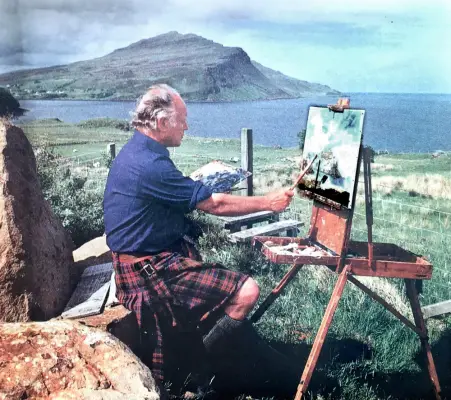 Images : Wasps
Former island home Vice Admiral Sir Roddy Macdonald
The former island home Vice Admiral Sir Roddy Macdonald, World War II veteran, painter and Chief of the Skye Highland Games is about to be officially opened as a residence for artists.
Wasps Artists Studios have invited the public along for the event, on Thursday at 2pm, which marks the completion of the project to restore the house and add new studios.
Generally known as Admiral Roddy, he was a keen watercolourist whose brushes and easel accompanied him on all his travels, including throughout his service during World War II and subsequent conflicts.
Admiral Sir Roddy and ship: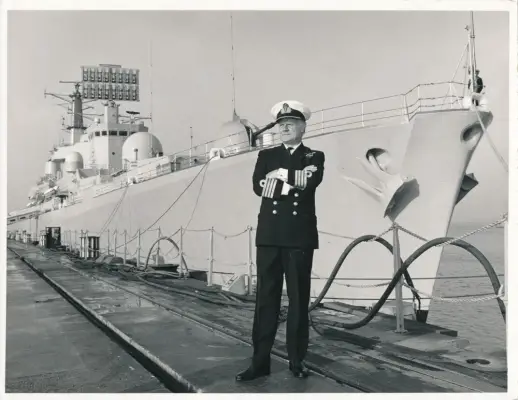 The cottage at Braes, which overlooks the sea, is where he spent many happy years during retirement. It was gifted by his estate to Wasps and now has three studios, including the one the admiral used himself.
Pictures, paintings and travel mementoes belonging to Roddy (who died in 2000) are being kept at what is now known as The Admiral's House to preserve the memory of a man who was deeply involved with island life. He was Chieftain of the Skye Highland Games, organised the conversion of the old school into a village hall was instrumental in banning tankers from passing through the Minch. A number of items belonging to the Admiral will also be housed in the Skye and Lochalsh archives.
watercolour by Admiral Sir Roddy: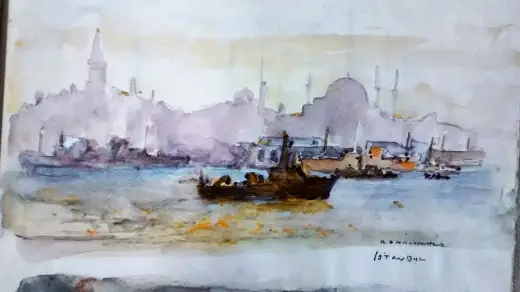 John Macdonald, the Admiral's son, said: "This project has brought all of the family back together again in a symbolic way. It's wonderful that this beautiful place will continue to be a focal point for the rest of the family to come, enjoy and share experiences."
The Admiral's obituary in the Times in 2001 stated that: "If naval officers can be said to divide themselves into two classes, clerks and pirates, then Roddy Macdonald, was a pirate."
His fearless and forceful character served him well in service during the Norwegian campaign and in the last stages of the war against Japan. He later played a significant role in Cyprus. He also caught an intruding Soviet submarine during the Cold War.
His last appointment before retiring in 1979 was as Chief of Staff to the Nato Commander, Allied Naval Forces Southern Europe and he was also an aide to Her Majesty the Queen.
Despite a lifelong career in the Navy he was delighted to retire to Skye saying "One good book to close. And another to open". It enabled him to devote more time to his art and other interests as a trustee of the Clan Donald Lands Trust and President of the Skye Piping Society.
The first resident artist to use the facility is Martin Campbell, a Glasgow based maker originally from Benbecula.
Admiral Roddy Cottage in Scotland: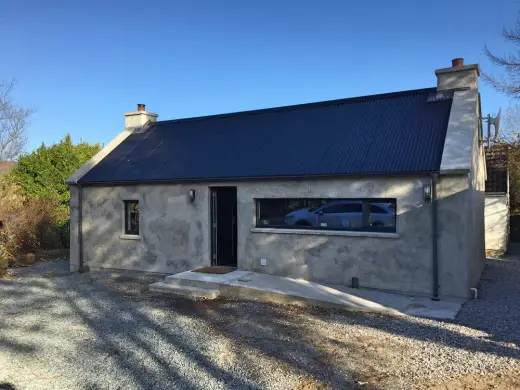 The residency is being delivered by Wasps in partnership with the respected Skye-based Atlas Arts. Future programmes and activities will also be developed in association with Atlas Arts.
Emma Nicolson, Director of Atlas Arts said: "We're delighted to be collaborating with Wasps on the first residency in the Admiral's House at Ollach. We look forward to working closely together in future to bring a diversity of artists to Skye. The three studios offer a beautiful setting to create new work and I am sure will be inspiring to many."
Lady Joan studio: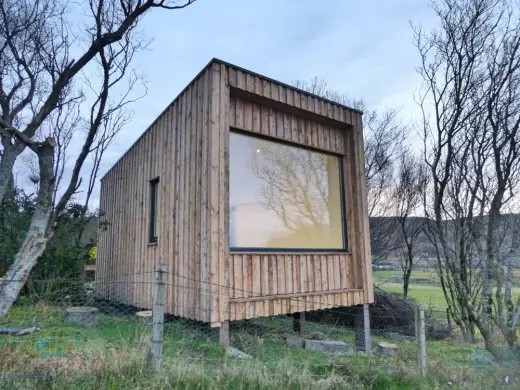 The opening event will take place on Thursday, 11 May and will involve members of the admiral's family along with the local community, artists and representatives from Wasps and Atlas Arts.
Audrey Carlin, Wasps Senior Executive Director for Business Development, said: "We hope that this new residency facility in Skye will attract creative practitioners from all over the world, drawing an international audience to this uniquely beautiful location.
"It will allow artists the time and space to reflect and develop their own practice whilst engaging with the local community and other creative people visiting the house.
"We would sincerely like to thank John Macdonald, Admiral Roddy's son for bequeathing the house to our organisation and will endeavor to ensure it continues to be a centre for inspiration for years to come."
Wasps is Scotland's largest creative community, providing studios and workspaces for artists and other members of the cultural sector across the country from Shetland to the Borders. This year the organisation celebrates 40 years of supporting creative people in Scotland and the opening of the Admiral's House is the first event to mark this anniversary.
This project has been made possible thanks to support from Creative Scotland.
Andrew Leitch, Creative Industries & Capital Projects Officer, Creative Scotland, said: "Creative Scotland is delighted to have supported Wasps in the creation of their new studio and artists residence 'The Admiral's House'. Wasps have transformed the former home of one of Skye's most remarkable characters, Vice-Admiral Sir Roderick Macdonald, through a sympathetic contemporary building solution, which retains the original character of the original building into a remarkable new residence for artists which is an important addition to arts infrastructure on this Scottish island.
"The Admiral's House will allow artists the time and space to develop their own practice whilst engaging with the local community and meeting other creative people using the facility. This is the final project in Wasps Five Cubed project, begun in 2007, whereby the Scottish Arts Council and Creative Scotland through Lottery funding have supported Wasps to deliver more than five high quality facilities for creatives across Scotland."
One of the great appeals of the Admiral's House is that the superb surrounding landscapes provide a strong sense of place and that the residency facility will offer artists the chance to develop their connections with local communities, oral and social histories, music, and Gaelic culture.
Admiral Sir Roddy watercolour painting: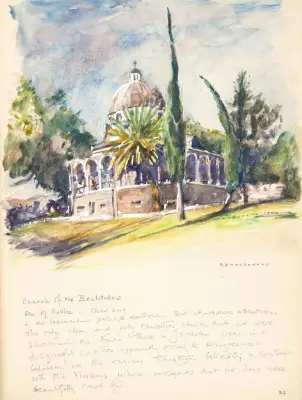 Vice Admiral Sir Roddy Macdonald Former Home
Background to Skye Admiral Sir Roddy Residence for Artists
About the project
• The Admiral's House was kindly gifted to Wasps Studios from the estate of Vice Admiral Sir Roddy Macdonald KBE. The location in Braes, in direct sight of the Straits of Rasaay, provokes a sense of quietness and isolation and a feeling of retreat and of contemplation and space.
• After an intense period of restoration, supported by Creative Scotland, the house provides a communal living and kitchen space, three bedrooms for visiting creative artists and organisations and three creative studios within the grounds.
• Creative practitioners from number of different disciplines will be able to spend time there, developing new work in a peaceful and inspiring location.
• John Macdonald and family have also gifted Admiral Roddy's archive to Wasps.
Martin Campbell
• Glasgow Based designer/maker Martin Campbell grew up in Benbecula and established the Rag and Bone workshop in 2011.
• He likes to facilitate situations where people may re-learn hand and craft skills and promotes the physical and social benefits of making within the local and wider environment.
• Martin's practice demonstrates an environmentally conscious and resourceful use of materials. You can meet Martin at work in the Alan Macdonald Studio during the opening event.
Admiral Roddy
• Vice Admiral Sir Roddy Macdonald KBE or Admiral Roddy as he is more commonly known, was born in Java in 1921.
• He joined the Navy in January 1939 and his first posting was to HMS Belfast in Scapa Flow.
• He also served in Cyprus and commanded the multi national Borneo Naval Force in the 1960s.
• During his time in the Navy, Admiral Roddy commanded six warships and a squadron of minesweepers and frigates.
• He was the Commander in Chief of the Naval Home Command from 1973-6 and in 1975, was appointed as an aide to the Queen.
• He retired in 1978 and pursued a successful retirement career in Painting.
• Admiral Roddy was also the chieftain of the Clan Macdonald, the Skye Highland Games, the president of the local piping society and also of the Inverness Sea Cadets.
• He passed away in 2000 aged 79.
Admiral Sir Roddy watercolour: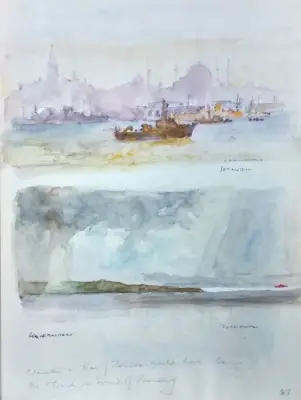 Admiral Sir Roddy's Residence for Artists
• This residence is intended for creative people living in Skye, nationally and internationally. It is an ideal location for retreat, reflection, review and creative renewal.
• The Admiral's House sits in 0.5 acres of ground and is roughly 15 minutes drive from Portree. The house is in Ollach, a very small village in the Braes area of Skye.
• The Admiral's House itself sits back from the road, right on the coast with views of Ben Tianavaig to the north east and the island of Rasaay to the east.
• As such it sits roughly half way between north and south of the island, and can potentially play a role in helping to link the creative communities across the island.
• The environment is rugged and beautiful, changing rapidly with the weather. On a clear day the Old Man of Storr, the Cuillins and other Skye landmarks can be seen from nearby viewpoints.
• The Admiral's House includes three creative studios in the grounds of the house a communal living/kitchen space which is large enough for talks and gatherings, three bedrooms for visiting creative artists and organisations.
The Studios
• Admiral Roddy's Studio: The Admiral's original painting studio.
• Alan Macdonald Studio: A converted garage ideal for sculptural or ceramic practices with concrete floor and wide access doors.
• Lady Joan Macdonald Studio: A beautiful new build timber studio that boasts incredible views across the Straits of Raasay.
Wasps
• Wasps stands for Workshop and Artists' Studio Provision Scotland Ltd. It was established in 1977.
• The ethos behind Wasps is that while art can enrich communities and society by inspiring, educating, entertaining and transforming people's lives, many artists and arts organisations with the talent and ability to achieve this often struggle to work and fulfil their potential because their low incomes make workplace rents prohibitive. Wasps was therefore set up to provide good quality, affordable studio space to enable artists and creative bodies to carry out their work.
• Wasps studios are all across Scotland – and as far apart as Shetland and Kirkcudbright. The sites are: Aberdeen (Langstane Place Studios and Shore Lane Studios), Dundee (Meadow Mill Studios), Edinburgh (Citizens Studios in Leith, Patriothall in Stockbridge and West Park Place in Dalry), Glasgow (Dovehill in Gallowgate, Hanson Street in Dennistoun, South Block and The Briggait, (both in The Merchant City), Irvine (The Courtyard), Kirkcudbright (Canonwalls and Claverhouse), Nairn (The Blue Door), Newburgh (The Steeple), Selkirk (St Mary's Mill) and Shetland (The Booth in Scalloway).
• In recent years the Scotland-wide organisation has been transformed from a small charity into one of the most successful bodies of its type in Britain. In 2014 it was named Scottish Social Enterprise of the Year. It is highly unusual because it is self-financing in its day-to-day operations, normally only seeking loans or grants for capital projects.
• For more see www.waspsstudios.org.uk/
WASPS – Workshop & Artists Studio Provision (Scotland) Limited is a charity registered in Scotland (SC001351). It is also a company limited by guarantee registered in Scotland (SC062117).
The Wasps Trust is a charity registered in Scotland (SC022115).
Workshop & Artists Studio Provision (Scotland) Limited is a charity registered in Scotland (SC001351). It is also a company limited by guarantee registered in Scotland (SC062117).
Wasps Creative Industries C.I.C. is a community interest company registered in Scotland (SC383609)
The registered office for the above entities is: The Briggait, 141 Bridgegate, Glasgow, G1 5HZ.
Creative Scotland
Creative Scotland is the public body that supports the arts, screen and creative industries across all parts of Scotland on behalf of everyone who lives, works or visits here. We enable people and organisations to work in and experience the arts, screen and creative industries in Scotland by helping others to develop great ideas and bring them to life.
We distribute funding provided by the Scottish Government and the National Lottery. For further information about Creative Scotland please visit www.creativescotland.com. Follow us @creativescots and www.facebook.com/CreativeScotland
8 Nov 2013
WASPS South Block Glasgow
WASPS South Block, Glasgow Scoops UK's Richest Architecture Prize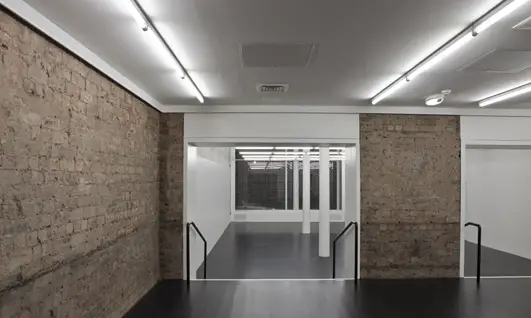 photograph : Dapple Photography
WASPS South Block, Glasgow
NORD Architecture (Client: Wasps Creative Industries CIC)
WASPS South Block:



photograph : Dapple Photography
Address: WASPS South Block, 58-60 Osborne Street, G1 5QH
George Square Glasgow



photo © Adrian Welch
Scottish National Gallery of Modern Art
Glasgow Transport Museum



photograph : Alan McAteer
Ghost of Water Row (no budget – all work and material given in kind)
Edo Architecture (Client: Edo Architecture)
The Ghost of Water Row
4 Linsiadar, Isle of Lewis
studioKAP (Client: Ms Margrit Macleod)
Buildings / photos for the Admiral Sir Roddy's Home: Residence for Artists page welcome.