High traffic building design considerations advice, Facility management tips, Property FM best practice guide
Considerations for High Traffic Building Design
25 November 2019
High-traffic buildings provide a unique set of challenges to overcome for facility managers and operators. Airports are a prime example. The facility managers of these locations are reminded on a daily basis the extreme flux in traffic that accompanies these facilities.
On a smaller scale, schools experience the same issues. There are more people than there are restrooms for use. This doesn't take into consideration when something goes wrong in the restroom, for example, a pipe issue or flooding issue. There are many factors that come into play with space and accommodation with our growing population.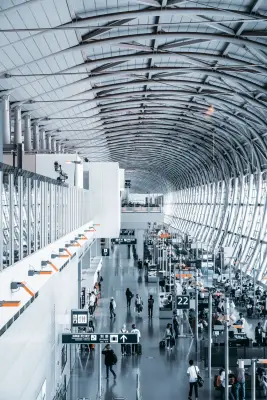 Considerations for High Traffic Buildings – Facility Management
Not only do we need to re-evaluate the restroom space square footage during construction, but we also need to take into consideration the cost of the company to maintain the restroom. Airports take on daily damage from luggage and just unprecedented abuse that has no explanation.
Vandalism is costly damage that some locations have to clean, repair and reconstruct on a daily basis. This is one reason why companies say no to expanding the restrooms or creating more in their location. Now in school vandalism is a big concern but the privacy of the children is an even larger one. Students use the restroom for many different things. As a parent, we want to believe that our children are using a restroom for is main objective but this can vary in the child's perspective.
Schools have to be aware that bullying drug use and skipping can occur in its bathrooms on campus. This is a reason why schools do not want to add more restrooms because it provides more places where these unacceptable behaviors can occur. Reports have shown increased drug abuse in restrooms as well as students using the restrooms to hide contraband. This is where the design, development, and construction of the restrooms can deter students from abusing the restrooms.
Recent studies have shown that the location of the restrooms are very important. Older airports and schools just placed a restroom where there was enough space to accommodate the usual to stall bathroom that includes a handicap stall. In these days and times in both schools and airports, the location of the restroom is key to traffic and safety. For example, in an airport in a large city, there are many different terminals all through the facility.
For this report to only have 4 bathrooms on each floor is a tragedy. Due to the fact that more than, may pass through said location on any given day, the location of the restrooms to the terminals is key in customer satisfaction. The worst feeling in the world is to have to use the restroom, your flight is about to board, and you have to run 10 minutes down the hallway to use the restroom and pray that you make it out in time to catch your flight.
The same goes for the school systems. Some schools are two to three stories high an only have one to two bathrooms on each floor. While this is convenient for staff to regulate and control the misbehavior in the restrooms, it causes an inconvenience for the average student and teacher that has to walk three to five minutes away from their classroom or required location in order to use the restroom.
Schools provide an even larger vandalism issue than airports. While airports do see a significant amount of vandalism and damages, schools are subject to the most damage. Some schools have begun using recycled bathroom stall partitions partitions versus traditional powder coated metal. These partitions are solid color and will never require painting. Due to the design from recycled plastics and the chemical makeup, removing graffiti is simple. You can simply wipe these partitions down with a nonabrasive cleaner. These recycled bathroom stall partitions also hide the hardware of the door. So, in the cause of the rowdy student population where there has been destructive behavior, these doors will survive a removal attempt as well as denting and scratches.
In an airport setting using the recycled toilet partitions can aid in the replacement amounts that these facilities are seeing. Due to customers and visitors of the facility banging their luggage and denting the doors, or the luggage is scraping the paint off of the stall door this can cause an influx in repair costs. However, if the airports with the stalls to the recycled toilet partitions they will experience excellent durability. The dent and scratch resistance is impeccable. The HDPE recycled toilet partitions are created naturally thus becoming naturally resistant to some of the daily damages that people can knowingly and unknowingly inflict in the restroom.
In regards to the design of the newer buildings many architects have begun getting to know their client on a day to day basis. By seeing first hand the traffic that is seen on a daily basis in these locations, one is able to make an educated decision as to what method to use in the construction of renovations or new developments. The strategy of having more restrooms spread throughout the facility may have worked years ago, however now there are more people and less staff in some locations.
An idea was presented where there was a cluster of restrooms placed in the center of a building. This is so that the location is a central location to all corners of the facility and there is a staff janitorial closet and supply room on-site in the central location as well. This will reduce the amount of staff that would need to be hired to control, sanitize, and monitor this restroom whether in a school or airport.
Other locations need to be taken into consideration as well. For example, a corporate office in New York City with a large staff and different sectors. There are 24 floors in this building and over 500,000 employees for this company onsite and offsite at any given time. An operation like this has considerable logistical and environmental challenges.
If this location only has one central restroom per floor this is a major problem. Due to the number of people and the traffic, there should be a restroom outside of every breakroom, and then a restroom in a central location that holds no less than fifteen stalls including the handicap stall. This is also a prime location for the recycled toilet partitions because disgruntled employees are everywhere and you never know when someone may want to tear down a door, write a message for everyone to see or simply just have a kicking rant while in the restroom. The recycled toilet partitions are easily cleaned, dent-proof and are primarily indestructible due to hidden hardware.
Another important factor that also comes into play is the ability for the staff to shut off and disable parts of the restroom for repair without having to turn off the water or electricity in different parts of the building. If the restroom on the left side of the building on the fifth floor needs repair, there is no need to disable all the restrooms in the location and cause mass chaos. So, if you are in the business of growing your business or restructuring your facility be sure to consider recycled toilet partitions to reduce damage and consider grouping your restroom in central locations. Happy building!
Comments on the Considerations for High Traffic Building Design advice article welcome
Major Scottish Buildings
Key Buildings in Scotland Articles – architectural selection below:
Magnet – New Office Building in Glasgow
Magnet Glasgow Office Building
St Enoch Centre Glasgow Redevelopment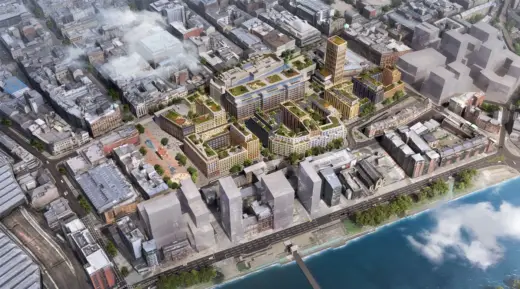 image courtesy of architects practice
St Enoch Centre Glasgow Redevelopment
Historic Glasgow : best Glasgow architecture of the past
Comments / photos for the Considerations for High Traffic Building Design page welcome