Working From Home In A Garden Office, House Job, WFH Advice
Working From Home In A Garden Office
Technological advancements in communication article
6 Sep 2018
The Remarkable Benefits Of Working From Home In A Garden Office
Technological advancements in communication have made it possible for many people to work from home. Not only has this remove the hassle of commuting to and from work, but it has also reduced the number of cars on the roads, and this is great for the environment. Working from home has created an opportunity for most people to balance their work and personal life.
In as much as working from home from may be a save, but you it has its challenges. You may be making use of unused space, but it will be 'dead space' if it is not meeting its purpose. The garden is one of the best places to set up your office when working from home. It is an option with benefits that include:
Working From Home In A Garden Office Benefits
The short commute saves time
The garden office is only a few seconds away from the house. And though will have to commute to the office, the distance covered and time spend is reduced considerably thus you get the opportunity to save time, time you can spend doing other things. Moreover, with the office at home, you can come up with a flexible schedule that allows you to spend more quality time with your family.
You can distinguish between home and work responsibilities
When working in the house in a designated room, it is possible to lose sense of things; you can easily blur the line between your office work and your house duties. The garden office presents an ideal option that helps establish that mental separation between the two. It is the perfect setting that allows you to be immersed in your work yet not completely locked up and secluded from your home.
You enjoy year-round comforts of your garden office
Building an office space in the garden will require you to make use of different materials that ensure you are working in a comfortable environment. Part of the construction plans should include special insulation, climate-control, eco-lighting, appropriate flooring, suitable blinds, and adequate room for you to work.
Your choice of door and windows should allow plenty of air and natural light into the space during the day while giving you a relaxing view of your yard. Most importantly, you should ensure that the construction of your garden office should be as cost-effective as possible – look here for details – https://www.quick-garden.co.uk/garden-rooms.html.
You work in a safe, secure and fully equipped space
Since they understand that your move to work from home is not one that seeks to reduce your work output, they strive to build a garden office that meets your job requirements. For instance, they will install plug points, internet, and Wi-Fi among other important things.
For security, they use robust materials such as toughened glass for the windows, high-security window catches and locks. Soundproofing the structure is also an extra thing that they can recommend if your home is located in a noisy neighborhood or you have kids that love playing in the yard – see https://soundcontrolservices.co.uk/how-to-soundproof-a-room/.
You can create a lovely feel with plants such as succulents in your space – these can really add a lot to the area and make it feel more organic and homely as you can see in this succulent guide book. Additionally, such plants are said to make you more positive and efficient at work.
To enhance the comforts of the garden office, they can include a kitchenette and washroom so that you do not have to make round trips to the house to use such facilities.
Major Scottish Buildings
Key Buildings in Scotland Articles – architectural selection below:
The Garment Factory – Glasgow Office & Retail Development
Original architect: James Thomson ; Renewal architect: Morgan McDonnell Architecture Ltd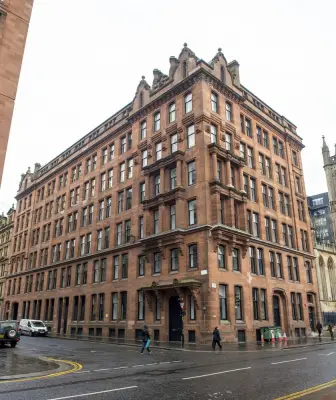 photos : Warren Media
Glasgow School of Art Campus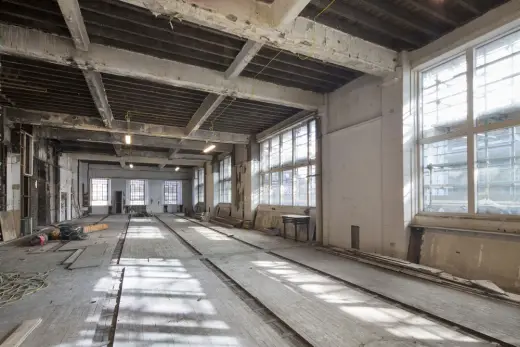 image : McAteer Photo
Glasgow School of Art
Glasgow Walking Tours – best of Scottish Architecture
Comments / photos for the Working From Home In A Garden Office page welcome