Why Window Clings are the Most Underrated Home Décor Items Guide, Building Design Tips, Online Advice
Why Window Clings are the Most Underrated Home Décor Items
7 Feb 2021
Summary – Think of a window décor item that's cheap, reusable, and amazingly aesthetic – dowindow clings come to your mind? No! Here's why they should.
A window cling is an amazing tool to boost your home décor, especially your window. Since most windows in homes are at eye level (forty-four inches above the floor), they instantly catch every visitor's eyes. But, many homeowners choose not to decorate their windows. Some install curtains that look half-decent. Most homeowners completely overlook the amazing opportunities they have to boost their homes' aesthetic appeals by decorating their windows! However, smart homeowners are usingwindow clingsto boost their homes' décor very easily and cost-effectively. Here's why these striking window décor items are must-haves for every homeowner –
Easy to Apply
Think you're going to have to work super-hard to install clings on your windows? You're wrong. Installation of these clings takes less than half-an-hour. The installation steps are –
Cleaning the windows. Eliminate all dirt, dust, or grime on the windows to ensure clings stick to them.
Re-cleaning. Sometimes, wiping glass windows with cloths leaves some dirt residue or fibers. Get rid of these items by gently rubbing a microfiber cloth on the clean window surface.
Place the clings carefully. Make sure the placement of the clings is centered and straight. You can use removable markers to get this part right.
Apply the dry or wet clings.
That's all it takes!
Dry and Wet Clings
Dry cling installation refers to the process of making the clings stick without using any adhesives or water. Homeowners simply have to press the clings hard enough until they stick. To ensure there aren't any air bubbles stuck underneath the clings, homeowners must rub credit cards, heavy books, or other flat surfaces over the clings so that all air bubbles are smoothened, and the clings look seamless.
Wet cling installation is the process of using moisture to make the clings stick in a better way. Users need to clean the window surface, spray some water on it, and then gently roll the cling on the mildly wet surface. This installation method is preferred because the moisture helps hold the placement longer, and there's no risk of air bubble formation.
Amazing Customization Options
Nowadays, homeowners can custom-create clings for their windows. They simply need to partner with cling sellers who give their customers the right to design. You can even check the internet and find exciting design options. Ideally, your window cling should reflect your home and rooms' décor. Their color/s must match the color of your window panes and neighboring walls. Neutral colors are the safest option when it comes to clings. They look good amazing with most windows but don't distract too much attention from the other design elements in your room.
Mixing and Matching
A window cling is reusable and cheap. They offer the perfect chance for homeowners to mix cost-effective décor items with more expensive ones. In the past, mixing and matching was considered taboo by super-strict decor specialists. Now, more and more homeowners and home decor experts aremixing and matchingwith their home décor items. Homeowners must explore this underrated design element and cut down their décor expenses!
Comments on this guide to Why window clings are most underrated home décor items article are welcome.
Home Articles
Glasgow Building Designs
Glasgow Architecture Designs – architectural selection below:
New Glasgow Architectural Photos
Glasgow Architectural Photos
Holiday Inn Pacific Quay Hotel
Architects: Mosaic Architecture + Design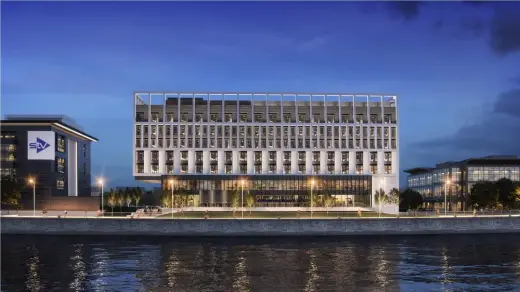 image courtesy of architects
Holiday Inn Pacific Quay Hotel
Merchant City boutique hotel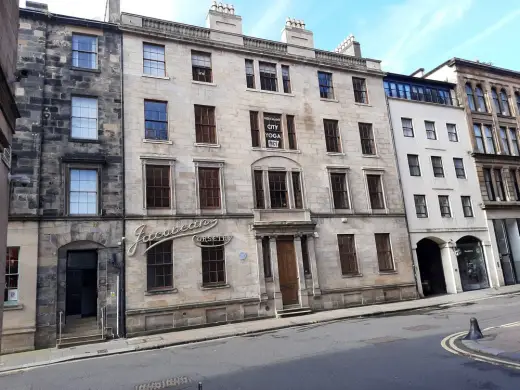 Merchant City Property