intu Braehead Shopping Centre, Renfrew stores location, Southwest Glasgow shops, Phone, Building
Braehead Shopping Centre : Renfrew Shops
post updated 21 September 2023
19 June 2022
Braehead Shopping Centre Housing Development
Dougall Baillie Associates embarks on the final stage of a 25-year association with Braehead with major new infrastructure contract.
Braehead Shopping Centre Glasgow 2017: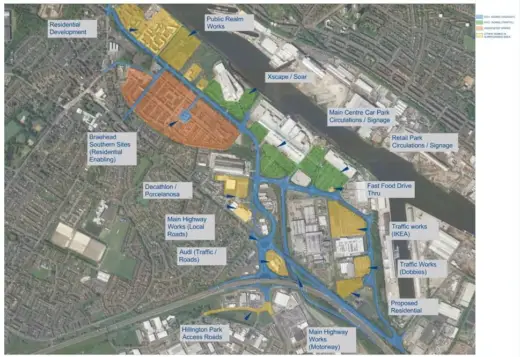 Braehead Shopping Centre News
Dougall Baillie Associates (DBA), the East Kilbride-based independent consulting engineer, has landed a whole structural design contract on a housing development on the last piece of vacant land at Renfrew's massive Braehead Shopping Centre.
Working with Bellway Homes, the specialist firm will provide design services at Laymoor Avenue, Braehead for a selection of apartments, terraced, semi-detached and detached homes minutes from the popular Clyde View Park and complements the 248-unit Ferry Village development at King's Inch Way.
While DBA's latest contract win is likely to be its last residential parcel to be developed at Braehead – since there is no more vacant housing development land along on the King's Inch Road corridor – it completes a chain of association with Braehead which stretches back for more than 25 years.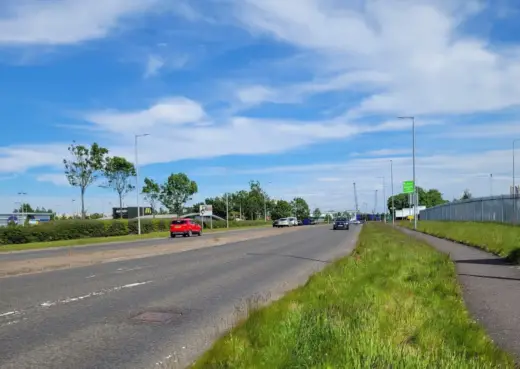 photo courtesy of Fergus
And it could be argued, said DBA Managing Director Fergus Adams, that the 40-employee firm was instrumental in unlocking access to the development in the nineties, allowing it to become Scotland's biggest and best-known retail destination.
"DBA founder Willard Dougall was asked to come up with engineering solutions when Capital Shopping Centres, the original developer, was struggling with the problem of how to get traffic from the M8 motorway into the car parks for the retail destination," said Mr Adams.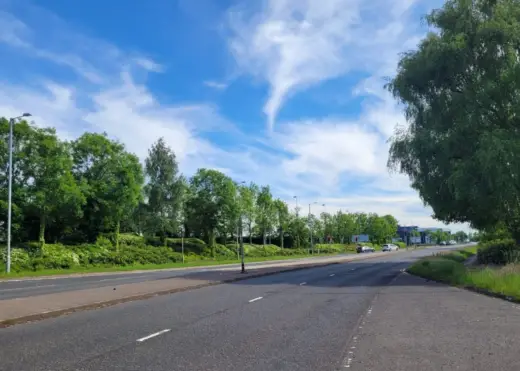 photo courtesy of Fergus
"He developed the radical idea of using an existing railway underpass as a road route, which entailed using in situ bridges and re-aligning railway sidings to thread the motorway off-ramp through the bridges from the M8 motorway to the centre. Willard negotiated the necessary departures from standard with Transport Scotland and secured the approvals.
"It created two points of access from the motorway network and broke the logjam for the development, letting it grow into the centre we now know. His road is still how shoppers and leisure visitors make their way into Braehead today."
The motorway and road works involved at that time, said Mr Adams, amounted to some £20 million of infrastructure works, a remarkable achievement for a small firm which then employed just 20 people.
Braehead Shopping Centre Glasgow 2010: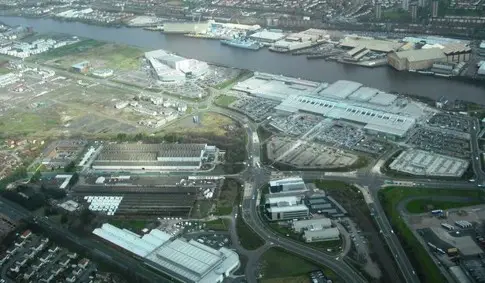 Two years after Braehead opened in 1999, IKEA was built – then the largest branch of the Swedish retail giant in the United Kingdom – and DBA was involved in significant upgrades to the road networks to accommodate the additional traffic flows.
Five years later, the Xsite shopping, cinema and ski and snowboard centre was developed, creating more infrastructure challenges and upgrades for the road network in which DBA's expertise was once again called upon.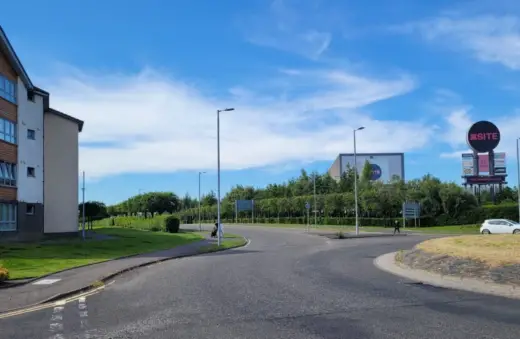 photo courtesy of Fergus
After that, a retail park was developed to the east of the shopping centre and numerous residential parcels started to emerge to the west of the centre, on King's Inch Road. DBA was closely involved in the necessary infrastructure design for this continued growth.
"We have contributed a lot to the Renfrewshire area over the course of the years," said Mr Adams, "and our most recent contracts with Bellway are now underway. In many ways it is the last piece of the Braehead jigsaw."
DBA has expanded from its West Central Scotland base of operations to win substantial work throughout Scotland, particularly with large housebuilders and Housing Associations. In the past year, it has provided Civil, Structural and Transportation Engineering services for schemes with values of up to £200 million, adding nearly 2000 new homes to the housing stock.
While residential homes work now comprises some 80% of the DBA portfolio, the firm also enjoys a varied workload on project such as commercial / industrial developments, drive-throughs and retail developments.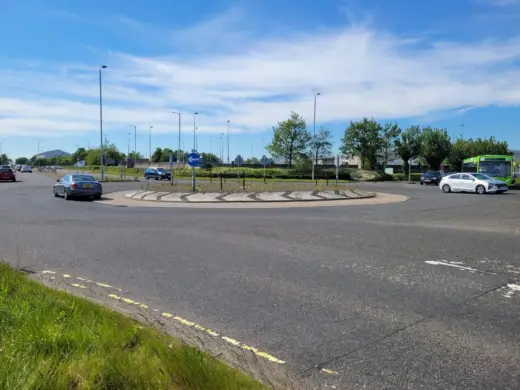 photo courtesy of Fergus
Background:
• Dougall Baillie was founded in 1985 by Willard Dougall and George Baillie and has become one of the largest independent engineering consultancy firms in Scotland. It employs 40 people.
• It specialises in residential development, ranging in size from individual houses to developments with over 1000 units. The company serves all major Scottish housebuilders and provides a comprehensive service including Transportation Engineering, Flood Risk Assessments together with Civil and Structural Engineering.
Previously on Glasgow Architecture:
Renfrew Retail Centre, Scotland – Glasgow Area Stores
The centre was rebranded as intu Braehead in 2013 following the renaming of parent Capital Shopping Centres Group plc as "intu properties plc".
22 Jan 2013
Braehead Expansion
Braehead Shopping Centre Development
Retail developer Capital Shopping Centres (CSC) has submitted a planning application to Renfrewshire Council for permission in principle to build a new mixed use development at Braehead shopping centre.
This follows CSC's submission of a proposal of application notice (POAN) which was issued to Renfrewshire Council and Renfrew Community Council on 15 Aug 2012.
CSC said the £200m investment would create over 2,000 construction jobs – including apprenticeships – and 3,000 direct and indirect jobs in leisure and retail when the development is completed. CSC will work closely with Renfrewshire Council and the local Employability Partnership to maximise the new employment opportunities to benefit local people and households.
The planning application includes new retail and leisure facilities including a new department store and additional shops at the western end of the mall. Between Xscape and the shopping centre, plans include a new arena for ice and other sports, concerts, entertainment shows, conferences and exhibitions, a public square, improved access to the river edge and external landscaped walkways, cafés and restaurants and a 200 bed hotel.
The plans also include a significant boost to public transport with the creation of a new integrated transport interchange for buses and to facilitate the new Fastlink service, which is hoped will extend from Glasgow Southern General Hospital to Braehead and Renfrew.
Peter Beagley, regional centre director for CSC, said: "This will be one of the biggest private investment projects in Scotland for a long time. With planning consent, we will be creating thousands of jobs at a time of economic downturn and it will be a boost not only to Renfrewshire, but also to the wider West of Scotland economy.
"We would hope that the new jobs being created at Braehead will particularly help young people find employment and get their feet on the career ladder.
"Braehead Shopping Centre has been a key part of the local community and the wider Renfrewshire area for the past 13 years and it was heartening to see the overwhelming public support for our proposals during our consultation. We look forward to determination by Renfrewshire Council."
Ref. www.capital-shopping-centres.co.uk
Braehead Glasgow design : BDP architects
15 Aug 2012
Braehead Shopping
Braehead Expansion News
Plans have been lodged for a £200m expansion of Braehead Shopping Centre. Capital Shopping Centres lodged a Proposal of Application Notice with Renfrewshire Council, a first step in the planning process for a series of additions to the Braehead site.
The proposals include the creation of a new integrated transport interchange for buses and to facilitate the new Fastlink service, which is hoped will extend from the South Side of Glasgow to Braehead and Renfrew.
It is expected that a planning application, including proposals for a new department store, will be lodged later in 2012.
A new arena for ice and dry sports events, concerts, exhibitions and conferences plus a new hotel, cafes, restaurants and a new public square are also planned.
Braehead Glasgow
Braehead Glasgow Opening Times
Mon-Fri 10am-9pm, Sat 9am-6.30pm, Sun 10am-6pm
Please check with operators
Location: northeast side of Renfrew, on the Clyde, southwest of Glasgow
Braehead Shopping Centre is one of Scotland's top retail and leisure destinations, attracting 17 million visitors each year and employing around 3500 people.
Customer Information Desk 0141 885 4600
Design: BDP + Cooper Cromar Architects
Braehead Shopping Centre Location
The Braehead Shopping Centre is located off the M8, 5 miles west from Glasgow centre, on Kings Inch Rd. Braehead Shopping Centre opened in 1999 and cost £285m. The Joint Venture was created in 1986 and the Planning application was submitted in 1987.
Braehead Glasgow is reportedly the largest privately-funded waterside regeneration project in the country. Braehead Shopping Centre and Retail Park provide over 1m sqft of shopping and leisure space. Capital Shopping Centres (CSC) run Braehead: the 165 acres of land that surround the shopping centre include a retail park with the largest new build store in the UK – IKEA – completed in 2001. Shields Business Park & Braehead Business Park will include offices and a hotel.
Braehead Masterplan
A master plan has been developed and an outline plan granted permission by Renfrewshire Council for the land between the Braehead Shopping Centre and Renfrew. This development will regenerate the largest area of derelict land in Renfrewshire.
The masterplan will include the following:- Xscape, Scotland's first snowdome plus cinema, health club, specialist sports and leisure shopping a 175 room hotel (to be developed by Capital & Regional in partnership with CSC), a 28,000 sqm business park, almost 900 homes including flats, townhouses and family homes and public riverside parkland – the Riverside Boardwalk – for the local community. New roads, footpaths and cycleways will be built to ensure that the area is connected to Renfrew town centre: this development is the major part of the North Renfrew plan linking Renfrew to Braehead.
Leisure facilities include an eight-sheet curling rink, home to Braehead Curling and a 4000-seat international arena. Behind the Braehead leisure mall, adjacent to the River Clyde, is Clydebuilt – the Maritime Heritage Centre.
Ferry Village
£245m new community at Braehead
Young and Gault Architects & others
Braehead Shopping Centre: BDP Architects with Cooper Cromar Architects, both Glasgow – 2000
Xscape Braehead Snow Centre



image from Braehead / Xscape's PR agents 130306
Xscape Braehead Snow Centre
Snow Centre at Braehead Shopping Centre: 350,000 sqft, £70m leisure/retail development for X-Leisure, Odeon with 12 screens. Scotland's first indoor ski slope, opened in 2006. The architect is Faulkner Browns.
Xscape Glasgow
Xscape Braehead, Glasgow is being jointly developed under the Xscape
Braehead Partnership, a 50/50 joint venture between Capital and Regional PLC and Capital Shopping Centres PLC and will be managed by X-Leisure.
Xscape Braehead is part of the phase 2 development of Braehead. Phase 1, which opened in Sep 1999 and attracts 20m visitors a year, offers 1.06 m sq ft of retail and leisure with 117 shops and stores, a 4,000 seat arena and skating and curling rinks. A 300,000 sq ft IKEA occupies an adjacent site. Phase 2 involves further substantial regeneration activity including some 1,350 new homes, a riverside park and walkway, 750,000 sq ft of offices as well as Xscape.
Architecture in Strathclyde
Major Glasgow Project by BDP:
Science Centre Glasgow
Anoher Glasgow Retail Project:
Glasgow Fort, Auchinlea
Glasgow Shopping Centres
St Enoch Centre Glasgow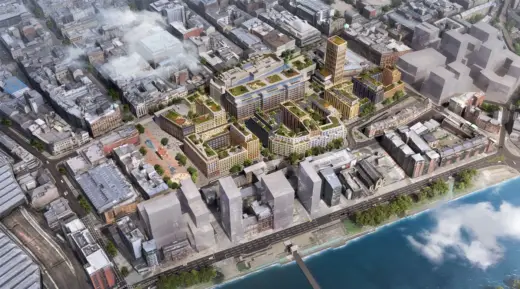 image courtesy of architects practice
St Enoch Centre Glasgow + St Enoch Centre Glasgow Redevelopment
Braehead Renfrew architects : Building Design Partnership
Burrell Museum – Art Fund Museum Of The Year 2023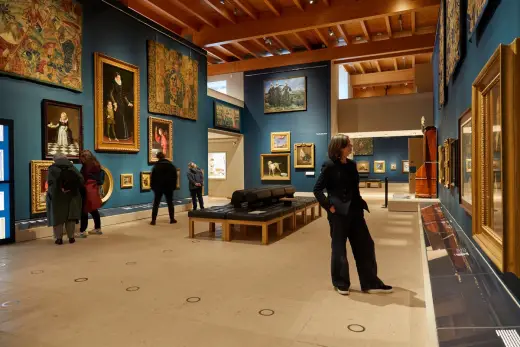 photo © Janie Airey Art Fund 2023
Burrell Museum
Comments / photos for the intu Braehead Glasgow Shops – Retail Park Renfrew Shopping Centre – page welcome
Braehead Shopping Centre – Website: https://shopy.co.uk/braehead/
Ref. www.keystonebathrooms.co.uk
Xscape Glasgow Leisure Complex – Website: www.xscape.co.uk